10 Sweet Places for Dessert in BGC and Uptown Bonifacio
No time is better than dessert time.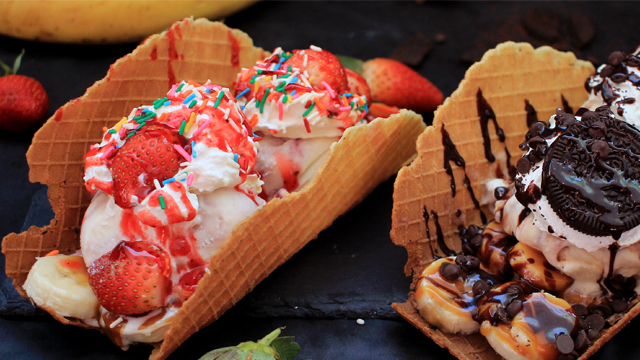 (SPOT.ph) You know what they say—there's always room for dessert. Especially around BGC and Uptown Bonifacio where all kinds of unique and must-try treats await. Today, we're putting the spotlight on the sugar lover's favorite meal of the day: Dessert! Here are 10 places you absolutely can't miss when you want to satisfy those pesky cravings for sweets.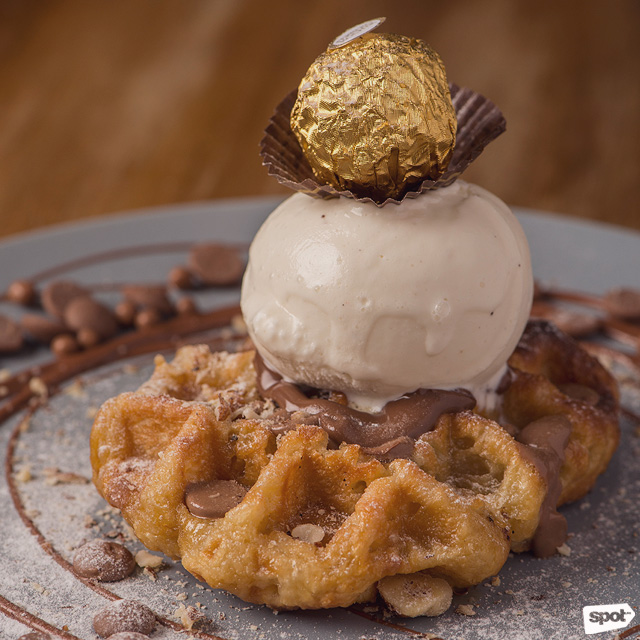 ADVERTISEMENT - CONTINUE READING BELOW
St. Louis House of Fine Ice Cream & Dessert
With all their fascinating desserts to choose from, it might be hard to decide just where to start. We're eyeing their too-good-to-be-true Ferrero Waffle (P380), drizzled with maple syrup and topped with chocolate, nuts, and a piece of Ferrero Rocher decorating the dish like a cherry on a sundae. You also wouldn't want to miss out on their Sweet Amelia Journey (P380), featuring their crowd-favorite ice-cream flavor, the St. Louis, which is sandwiched between a classic French macaron and shortbread crumbs with strawberries, raspberry coulis, and lemon curd. With everything else on their menu, it'd be hard not to find something to suit your mood.
St. Louis House of Fine Ice Cream and Dessert is at Unit C3-104 High Street Central, Bonifacio Global City.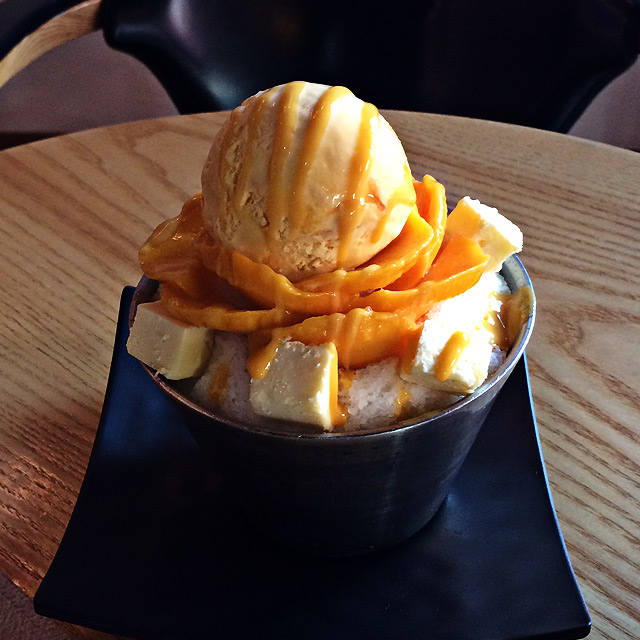 Seol & Bean Café
Admit it: You aren't over bingsu yet and you're not sure if you ever will be. So Seol & Bean Café in the middle of BGC makes for a great spot to grab your fix of some icy goodness. They cover all your favorite basic bingsu flavors like Red Bean Paste (P180/single, P250/double), Injulmi or Korean rice cake (P190/single, P260/double), and Mango (P190/single, P260/double). But for something a little more special, their Black Sesame (P210/single, P310/double) and Mango Cheese (P240/single, P340/double) flavors hit all the right spots, too.
ADVERTISEMENT - CONTINUE READING BELOW
Seol and Bean Café is at G/F The Fort Pointe Building, 7th Avenue corner 28th Street, Bonifacio Global City.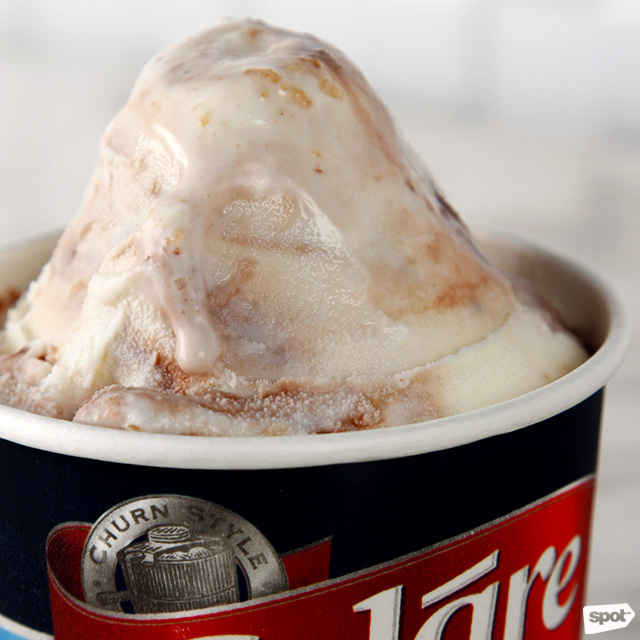 If you love ice cream, waffles, or both, then you're in luck because Gelare devotes their time to crafting some of the best iced treats and waffle dishes in town. Their ice cream is imported all the way from Australia, where the brand originated, and all their ingredients are free from artificial flavors. Those are some major bonus points! A cup of their thick and creamy Peanut Butter 'n Brownies (P120/single scoop, P199/double scoop) is a flavor any certified sweet tooth wouldn't be able to resist. Their waffle selection is pretty impressive, too. Here, you can have their eggy and sweet waffles A la Mode (P285) with a scoop of ice cream of your choice. Not sure which flavor to get? The Wild Strawberry (P120/single scoop, P199/double scoop) is pretty darn awesome!
ADVERTISEMENT - CONTINUE READING BELOW
Gelare is at 3/F Uptown Place Mall, 36th Street corner 9th Avenue, Uptown Bonifacio.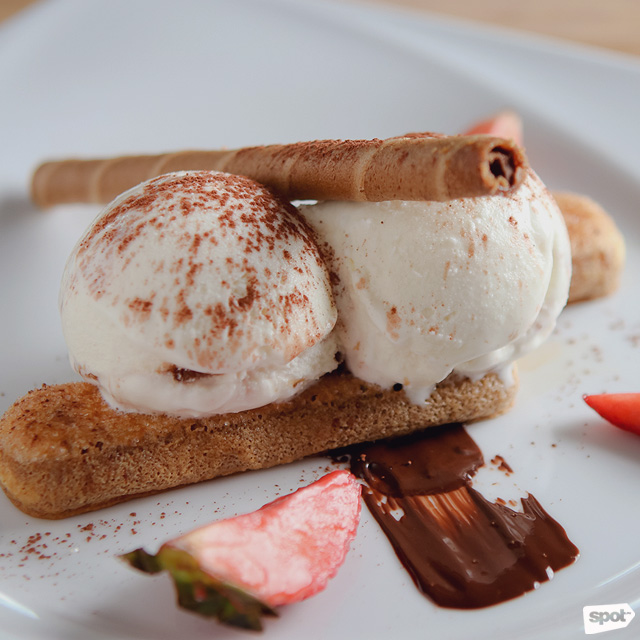 When you just want to treat yo' self, gelato is never a bad idea. With Gelatofix, just about any of your wildest gelato dreams can come true. You've probably never imagined you'd have Gelato Sushi (P75/piece, P200/three pieces, P300/five pieces) in your life, but now you can! Available in six flavors, these are sushi-shaped gelatos that don't only look good, but taste good, too. And if you're a lover of all things tiramisu, why not try Gelatofix's Tiramisu-lato (P260), a plate of coffee-soaked ladyfingers with tiramisu gelato and a generous dusting of cocoa powder?
Gelatofix is at BGC Corporate Center, 30th corner 11th Street, Bonifacio Global City.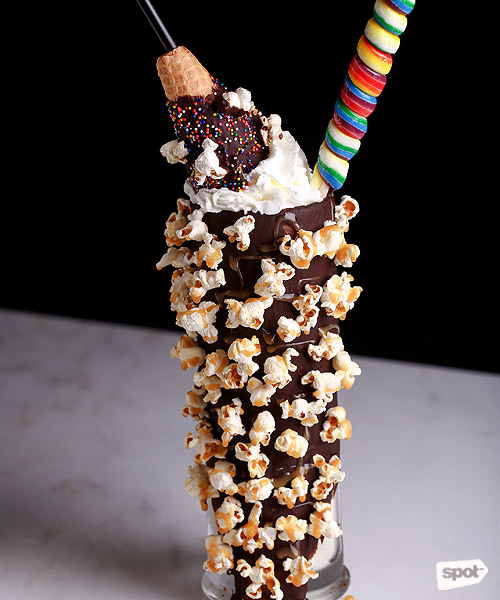 ADVERTISEMENT - CONTINUE READING BELOW
If the name doesn't tip you off, then just a glance at Sugar Factory's dessert menu will. Their menu is a chock-full of the craziest milkshakes, ice-cream sandwiches, and sweet cakes that anything you order will appeal to your inner kid. Have a taste of their heavenly NY Style Cheesecake (P339), with a huge dollop of whipped cream and lemon zest. The Mudslide (P220), one of their gourmet ice-cream sandwiches, is made up of double chocolate chip cookies packed with coffee-fudge ice cream and Oreo bits.
Sugar Factory is at G/F, High Street Park, Shangri-La at the Fort, 30th Street corner 3rd Avenue, Bonifacio Global City.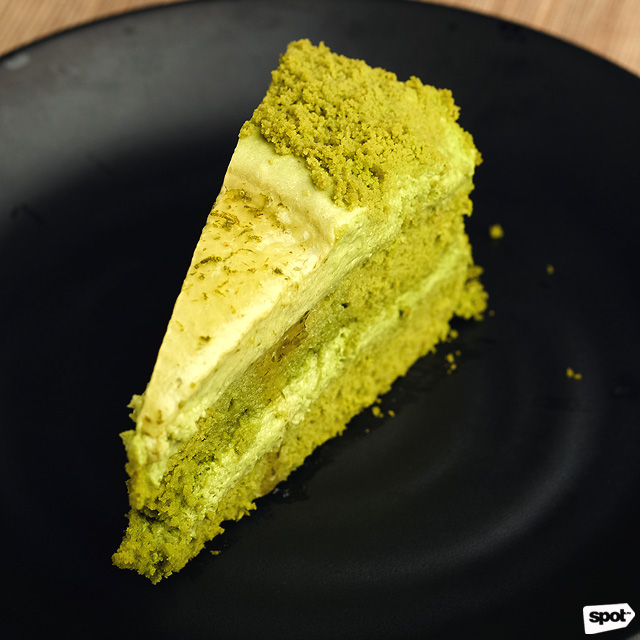 Matcha lovers, here's one dessert joint you should add to your bucket list. Tsujiri comes all the way from Japan and they don't only offer hot and cold matcha drinks, but cakes and soft-serve, too. If you want to cool down, their frozen bestsellers include the Sundae (P275), the Tsujiri Shaved Ice (P275), and Tsujiri O-Matcha Soft Ice Cream (P150). But if pastries are more up your alley, Tsujiri also whips up a selection of matcha-infused cakes for any occasion.
ADVERTISEMENT - CONTINUE READING BELOW
Tsujiri is at 3/F SM Aura Premier, C5 Corner 26th Street, Bonifacio Global City.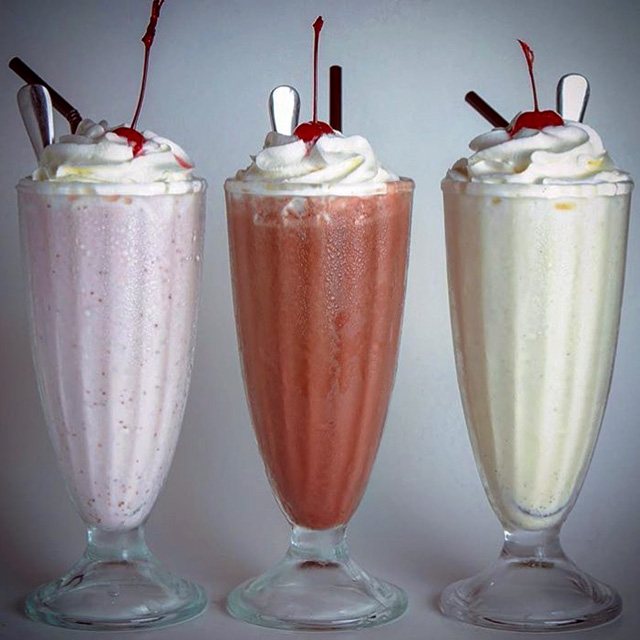 Farmacy isn't only a cool dining destination in BGC that serves all-day classic comfort meals. They're also a hip dessert place that's patterned after a pharmacy. When you're here, you can design your own Ice Cream (P150/single scoop, P190/double scoop, P230/triple scoop) with lots of toppings to choose from (starting at an additional P25). Or you can go for the Ice Cream Sandwich (P225) where you can pick the ice cream and cookie combo according to your heart's content. Their Ice Cream Float (P270) is another must-try, combining the joint's homemade sodas and ice cream into one sweet and refreshing drink-slash-dessert.
Farmacy is at G/F Net Lima, 4th Avenue corner 26th Street, Bonifacio Global City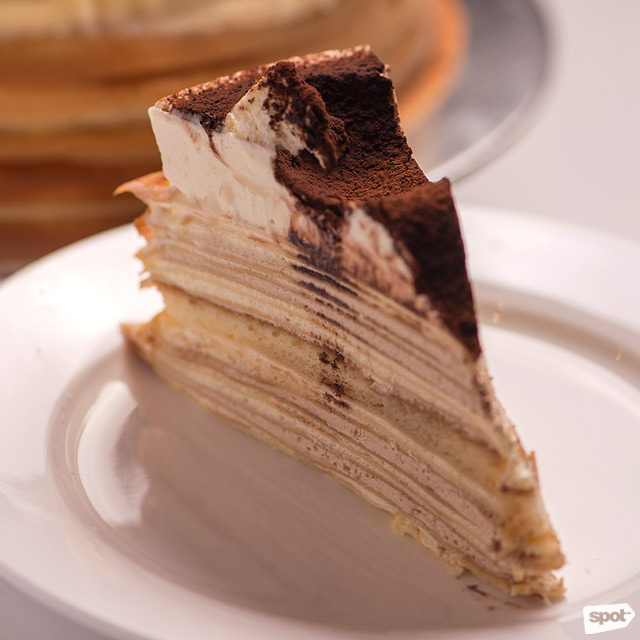 ADVERTISEMENT - CONTINUE READING BELOW
Paper Moon Café cooks up some of the best crepe cakes in the Metro, and if you haven't tried them yet, you should schedule a visit. Their Mille Crepe (P225/slice) comes in a variety of flavors: Original, Chocolate, Mango, Ube, Tiramisu, and Blueberry Cheesecake. Paper Moon Café also has their fair share of regular cakes that equally pack a punch. Choose from their Strawberry Shortcake (P325/slice), Checkered Cake (P250/slice), or their Red Velvet Mousse Cake (P200/slice) to add a little sweetness to you day.
Paper Moon Café is at 2/F Uptown Place Mall, 36th Street corner 9th Avenue, Uptown Bonifacio.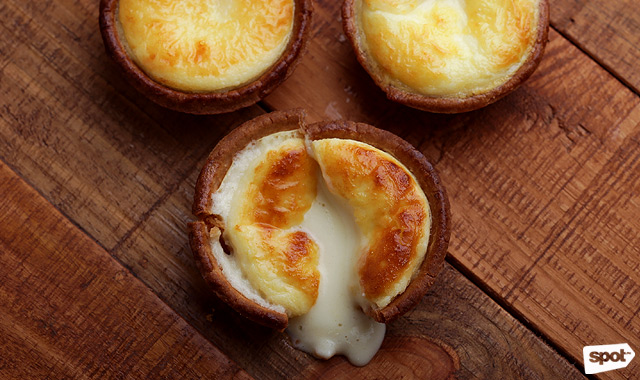 If you're a fan of anything cheesy, then you might want to have some of LAVA's signature cheese tarts. Their Original Cheese Tart (P80/piece, P240/three pieces, P450/six pieces) has that right mix of sweet and buttery flavor on the outside, and a gooey, cheesy center that might make a little bit of a mess at the first bite. The cheese-tart spot also serves up some lip-smacking soft-serve Cheese Ice Cream (P85) that makes for a great and not-too-sweet dessert option!
ADVERTISEMENT - CONTINUE READING BELOW
LAVA Cheese Tarts is at LG/F Uptown Place Mall, 36th Street corner 9th Avenue, Uptown Bonifacio; and LG/F SM Aura Premier, Bonifacio Global City.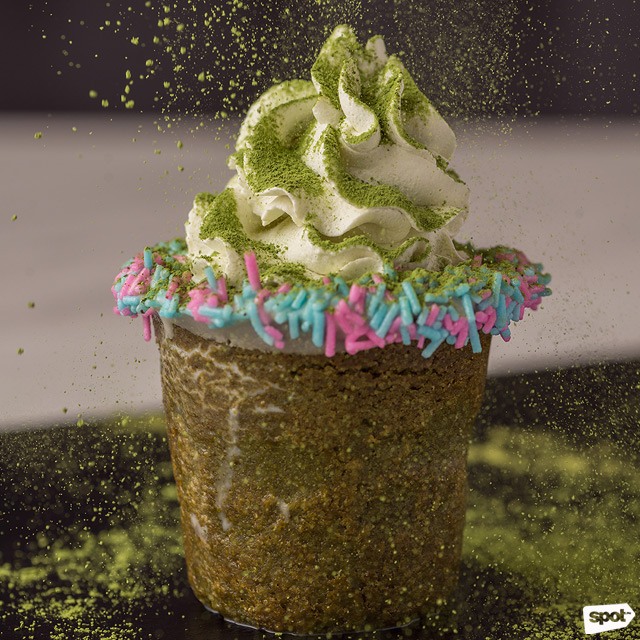 Yet another haven for matcha aficionados, Nomi Matcha creates some delicious brownies, tiramisu, and cakes that put the limelight on that irresistible green-tea flavor. Some of their signature desserts, which you must indulge in, are the Tea-ramisu Dream (P180), their matcha-infused take on the classic tiramisu; the Legendary Greenies (P90), or a green-tea brownie; and Matcha Churros (P150), complete with a luscious white-chocolate drizzle.
Nomi Matcha is at G/F W City Center, 30th Street corner 7th Avenue, Bonifacio Global City.
Load More Stories