BCN by Rambla
Unit G10, Bolanos Street, Legazpi Village, Makati City
Contact: 0966-331-1352
Open daily from 11 a.m. to 1 a.m.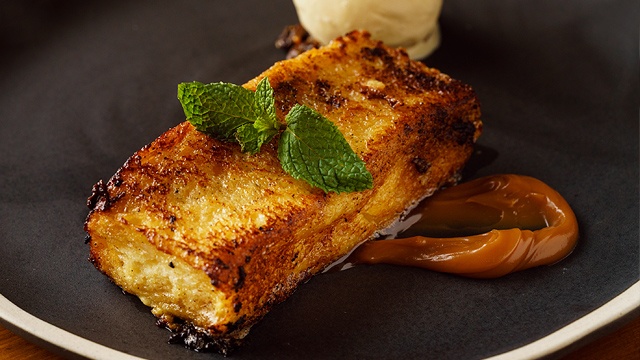 (SPOT.ph) Whenever you visit a country for the first time, no one could blame you for heading for the landmarks some may call "touristy," like the Eiffel Tower and the Louvre of Paris, Merlion Park in Singapore, or the Statue of Liberty and Empire State Building in New York. In Barcelona, the favorite of tourists is a street called La Rambla. "It's where all the tourists go," says Sergi Rostoll of Bistronomia (formerly La Lola Group). "I joke that it's like Disneyland. So when we opened Rambla in Rockwell, I said, 'Okay, let's do something touristy.' So at Rambla, we have the typical Spanish dishes that everyone already knows, like paella."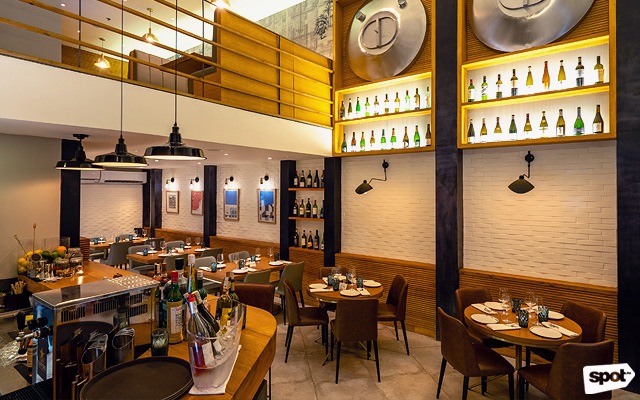 ADVERTISEMENT - CONTINUE READING BELOW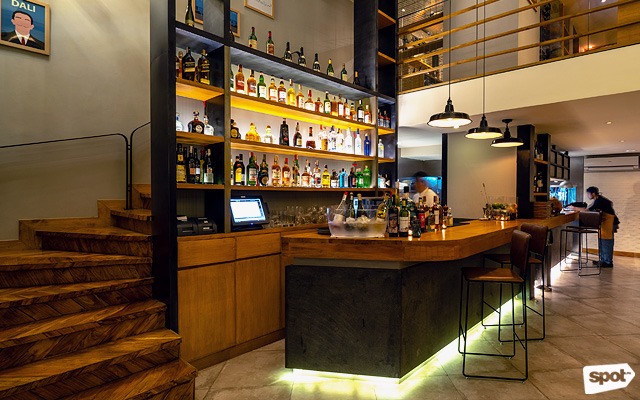 But if Rambla depicts your first visit to Barcelona, BCN By Rambla, the newest restaurant by Bistronomia is your second, third, and fourth time coming back. "Here, we thought we'd do food that you might not find at the very center of Barcelona," says Rostoll. "But it's food you'll find in the neighborhoods. So here, we won't do your usual paella, but we'll do rice cooked in a charcoal oven. They're a bit different than what you're probably familiar with."
BCN By Rambla, named after the the airport code of El Prat Airport in Barcelona, is the group's love letter to the Spanish city; after all, Rostoll, and his co-owners Uri Singla and Dani Aliaga trace their roots back to it. The space has framed art featuring Barcelona's landmarks and Spanish icons like Salvador Dali hanging on the walls—it may look sparse now, but Rostoll shares that they aren't finished decorating the place, and have more art to put up.
ADVERTISEMENT - CONTINUE READING BELOW
Recommended Videos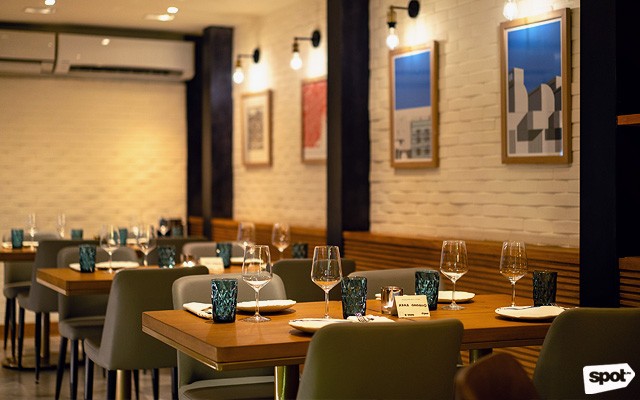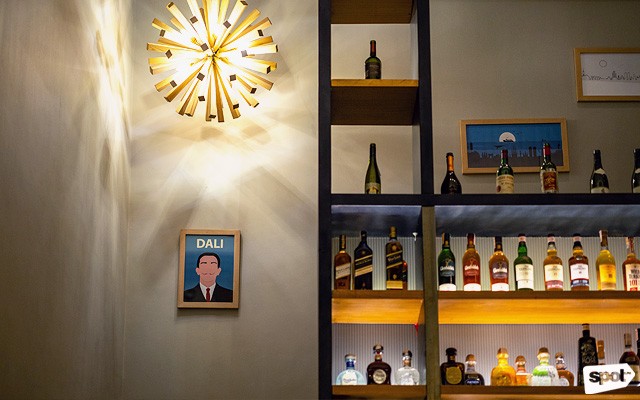 The rest of the décor exudes an air of understated elegance, while the warm, moody lighting adds a cozy vibe. "We wanted to recreate a restaurant from the neighborhoods of Barcelona," says Singla. "We want the place to feel comfortable and not pretentious. It's homey and you can have all the wine that you want to drink from our wine cellar."
ADVERTISEMENT - CONTINUE READING BELOW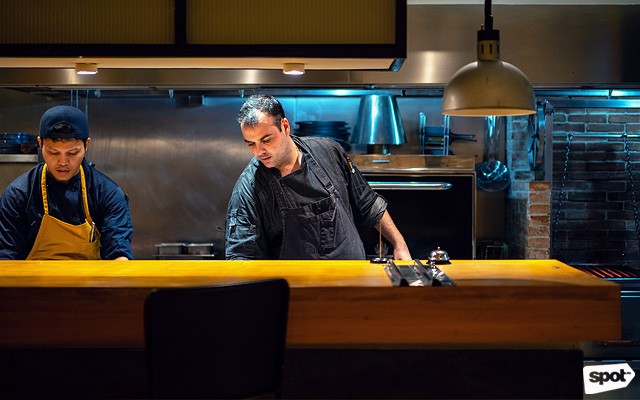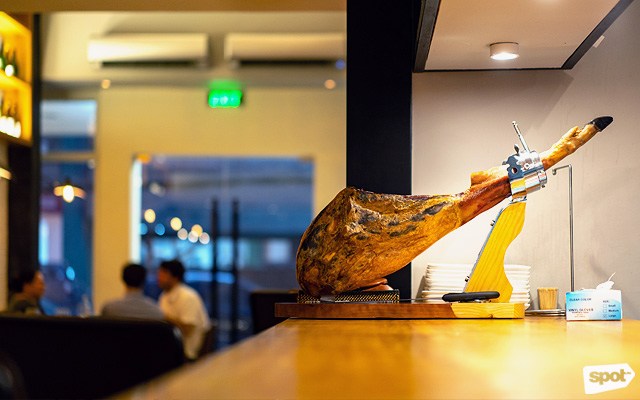 No tapas restaurant is complete without jamón ibérico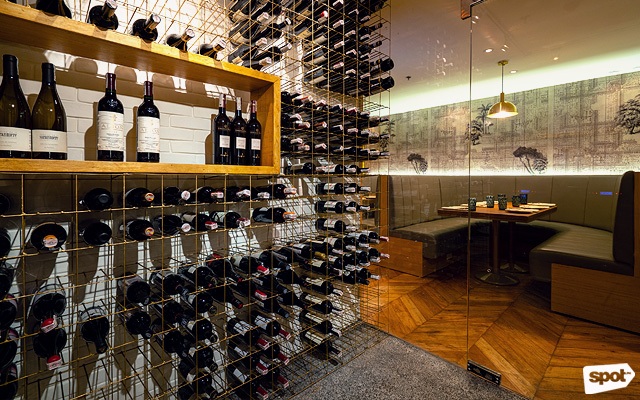 ADVERTISEMENT - CONTINUE READING BELOW
The wine cellar will house over 100 labels
The wine cellar, a finely designed nook on the second floor, is perhaps what they are most proud of. "The wine cellar is what we couldn't build in our other restaurants because we didn't have the space," shares Rostoll. "Before it was impossible to store more than 50 labels, but here at BCN we're going to have more than 100 labels of Spanish wine and others by winemakers we know well. We've been dealing with wine for so many years, so we now know the winemakers and the vineyards, and we put together all of our favorites."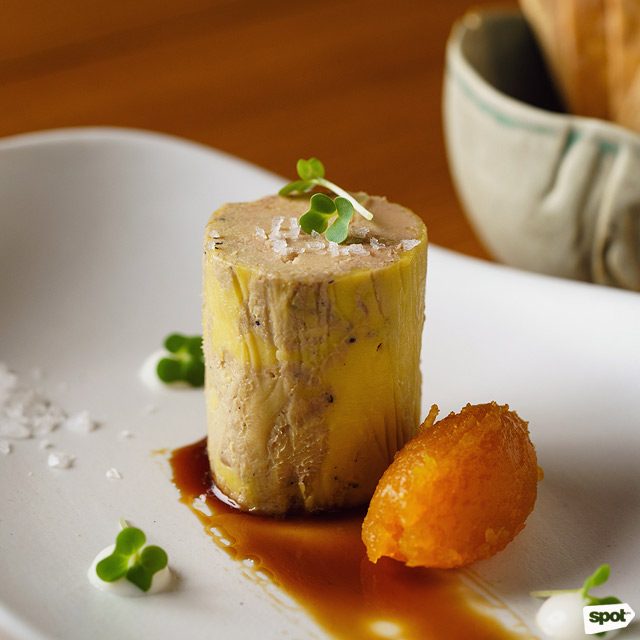 Foie Mi Cuit Con Calabaza y Yogurt
If there is wine, there must be tapas, and BCN adds more credence to Bistronomia's reputation of excellence when it comes to the Spanish small plates. Savory-rich, tart, and an almost heady sweetness are all encased in a single bite of the Foie Mi Cuit Con Calabaza y Yogurt (P695), with foie terrine, sweet pumpkin, yogurt, and a Pedro Ximénez white-wine reduction—spread all elements evenly on the accompanying crisps to appreciate the full spectrum of flavor.
ADVERTISEMENT - CONTINUE READING BELOW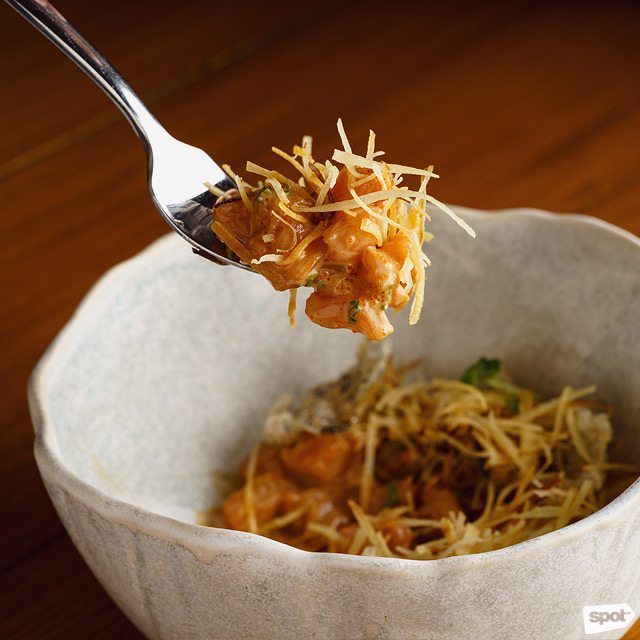 Tartar de Salmon Al Aroma de Trufa Blanca
No amount of wine can make you forget the experience of having Tartar de Salmon Al Aroma de Trufa Blanca (P575). A sesame-oil marinade keeps the salmon tartare light yet tasty on its own, making it the perfect foil to the stronger earthy richness of the white truffle oil. Yuca chips and crab add crunch and texture that keeps each mouthful interesting.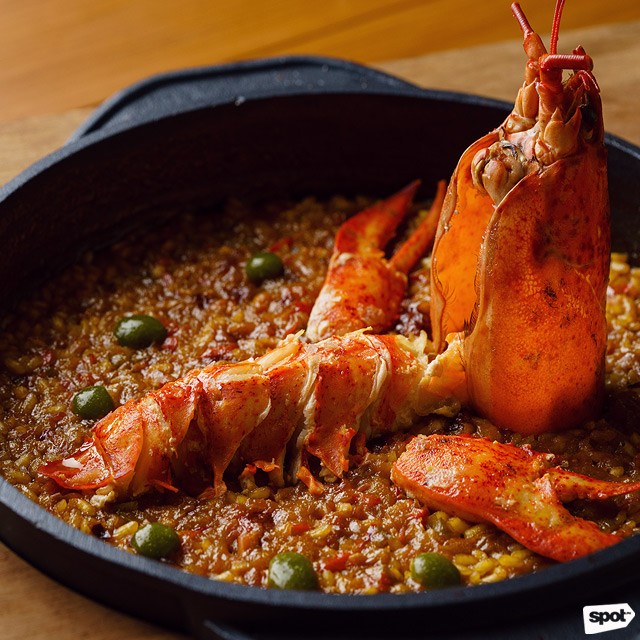 ADVERTISEMENT - CONTINUE READING BELOW
Arroz de Bogavante a La Parrilla
BCN's kitchen comes equipped with a charcoal grill they built themselves and a charcoal oven imported from Spain, both of which are put to good use. You can have paella from every other Spanish restaurant, but it's not often you can find Arroces a La Leña or charcoal oven rice dishes on the menu. The Arroz de Bogavante a La Parrilla (P2,995) has an entire lobster cooked on the grill, just enough to give its natural oceanic sweetness a touch of chargrilled flavor; the rice, too, gets infused with a nice smokiness and a light toasted crunch from spending time in the charcoal oven.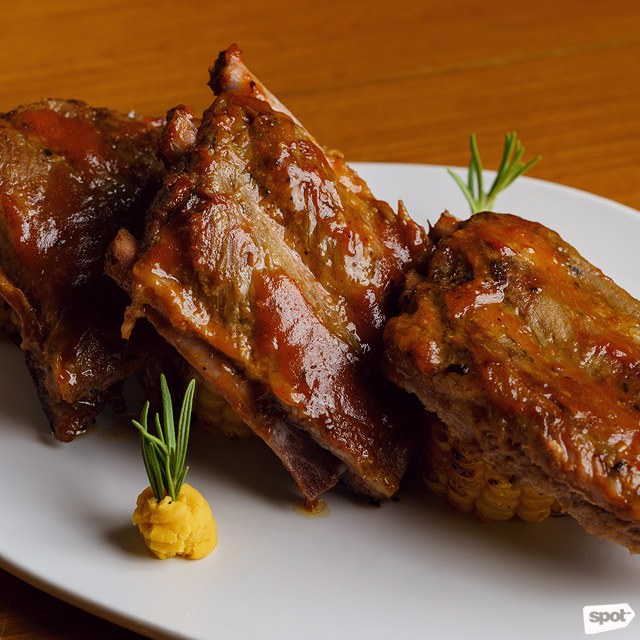 BBQ Costillar de Cerdo Iberico
But the real showstopper at BCN is the BBQ Costillar de Cerdo Iberico (P1,120) Made from the Black Iberian Pig, these barbecued ribs are marbled with generous layers of fat and are so tender, they cut like butter with a knife. Instead of being completely blanketed with barbecue sauce, the ribs are only drizzled with it, letting you appreciate the natural succulence of the pork alternating with bites of the sweet-smoky sauce.
ADVERTISEMENT - CONTINUE READING BELOW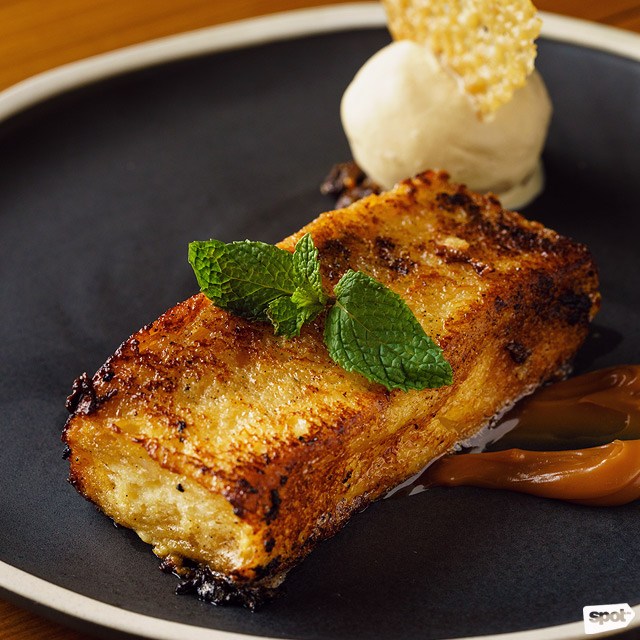 The Torrija de Pan Brioche con Helado de Tiramisu (P275) is a comforting combination of warm pillow-soft brioche and coffee ice cream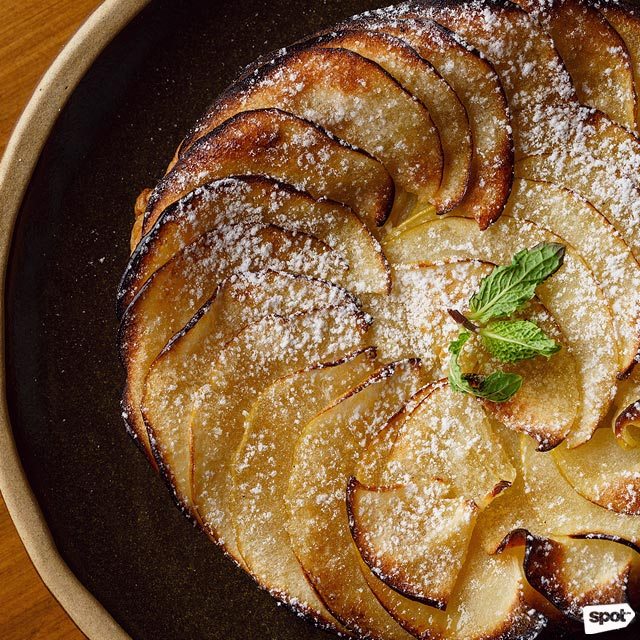 The Tarta Fina de Manzana con Crema de Vanilla (P355) is a flaky and buttery delight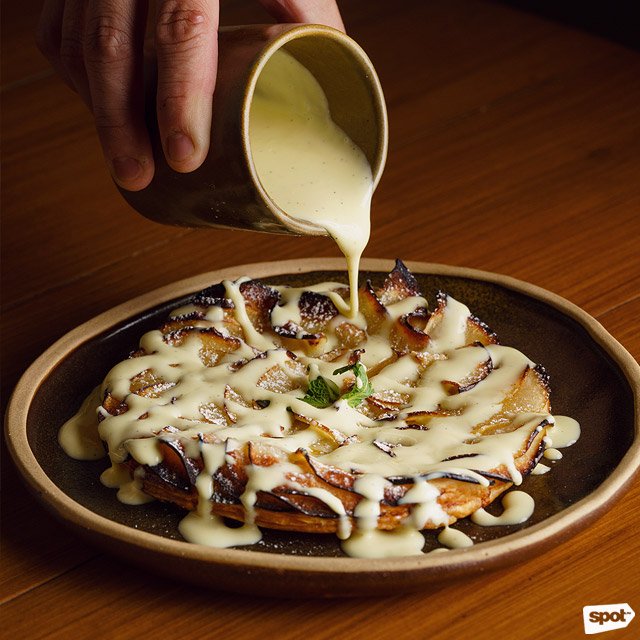 ADVERTISEMENT - CONTINUE READING BELOW
Vanilla sauce tempers the tartness of the crisp apples
Tucked in a quieter side street, BCN by Rambla feels like a neighborhood restaurant you stumble upon during a quiet roam around Legazpi Village. If the folks of Bistronomia wanted to channel the feeling of discovering a local haunt in Barcelona, they've certainly got it right—and with their unforgettable dishes and toasty ambience, this is a neighborhood find you'll end up coming back to so often, it starts to feel like a second home.  
Photos by Patrick Martires
Share this story with your friends!
---
Help us make Spot.ph better!
Take the short survey
Load More Stories