This Easy-to-Miss Neighborhood Pizzeria Makes Grilled Pizzas Like You've Never Had Before
Flavor and flatbread come together in these smokey grilled pizzas.
Pizza Grigliata
2/F 8 Missouri, Missouri Street, Greenhills, San Juan City
Contact: 0917-549-7310
Open from 11 a.m. to 11 p.m. (Monday to Thursday) and 11 a.m. to 2 p.m. (Friday to Sunday)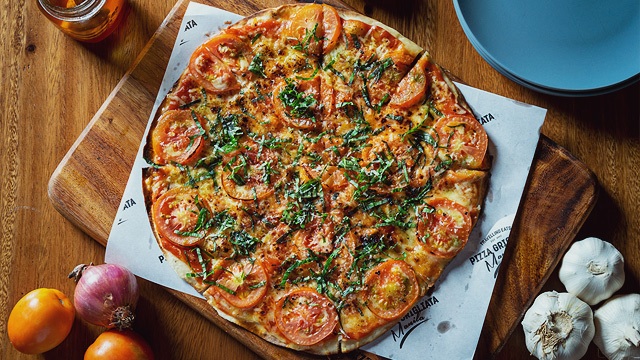 (SPOT.ph) "Grigliata is the Italian word for 'grilled.' Our pizzas here are grilled and torched," says Isabel Co, part owner of Pizza Grigliata Manila, a cozy 30-seater neighborhood pizza place along busy Missouri Street in Greenhills.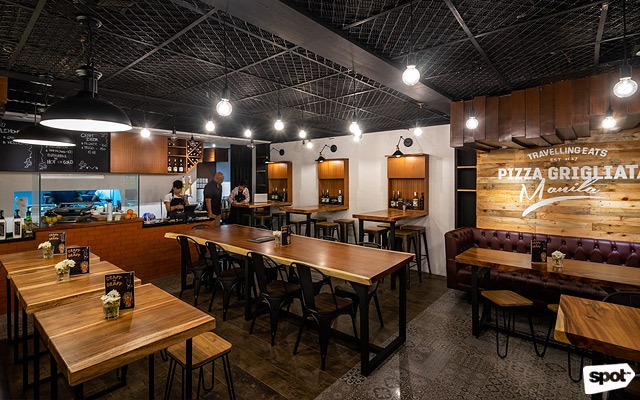 ADVERTISEMENT - CONTINUE READING BELOW
It's been a little over a year since Isabel, her husband Edward, and Chef Emman Galvez launched a "traveling eats" pizza business, making their way around the bazaar circuit with frequent pop-ups before, slowly transitioning to catering. "The concept began because Chef Emman had a griller that we could use for pizza-making," Co shares. "We wanted to cook on-site so people can enjoy our food hot and fresh."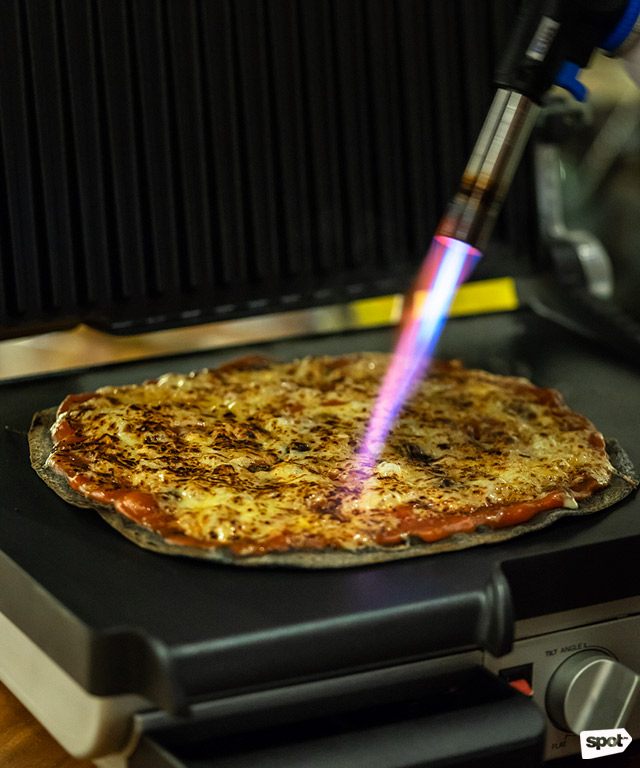 Pizzas are grilled and torched to perfection at Pizza Grigliata
CONTINUE READING BELOW
Recommended Videos
Pizza Grigliata was founded on the idea of a total pizza experience—more flavor than bread, which explains why their dishes are served on a supremely light and thin crust. When their Quattro Formaggi Pizza with Truffle Oil (P320) flavor garnered grand-champion status at a recent taste test, their already sought-after pizza became even more in demand.
"At pop-ups, we always get asked where people can find us since we didn't have a permanent place where people could always go and enjoy the food," she says. Eventually, the group decided to open a homey joint in a small neighborhood, still banking on serving up the total pizza experience in a brick and mortar.
ADVERTISEMENT - CONTINUE READING BELOW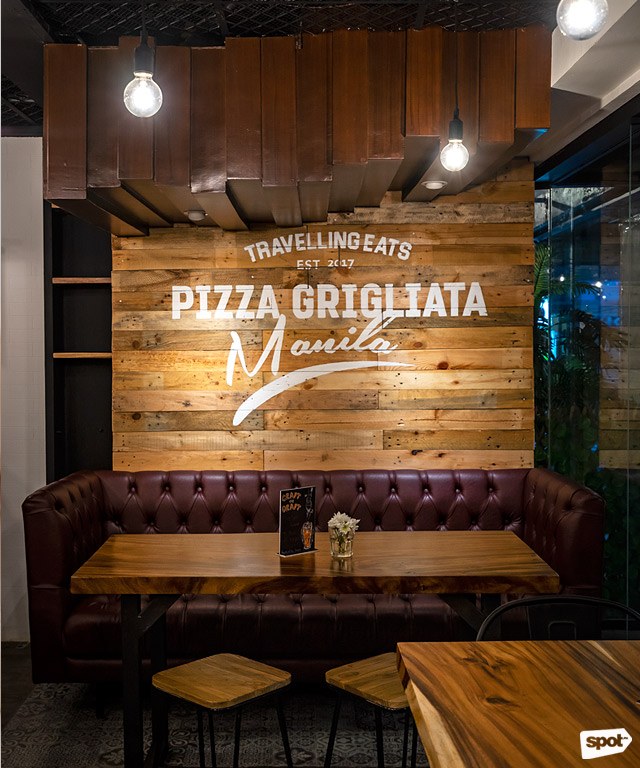 Their location on the second floor of 8 Missouri building is warm and welcoming, mixing patterned tiles, wood, concrete, and an open kitchen that encourages an interactive vibe among guests and staff. "The total experience isn't just about the food—it's all about talking to guests, shaking their hands too," adds Chef Emman.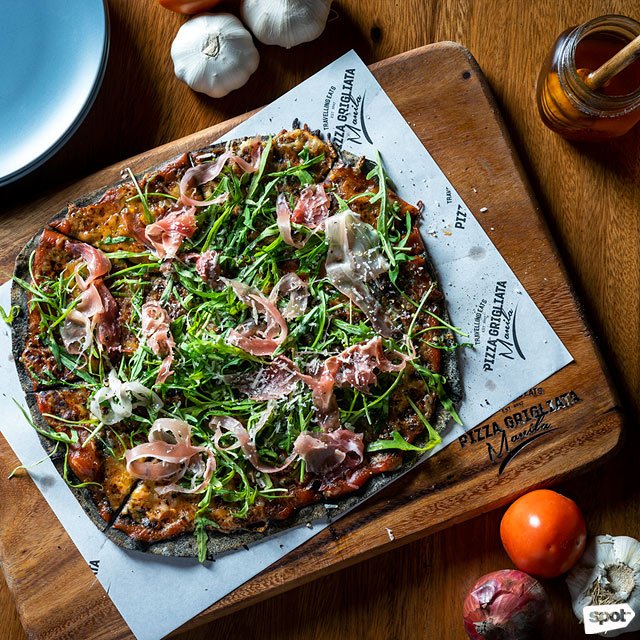 Prosciutto Arugula 
ADVERTISEMENT - CONTINUE READING BELOW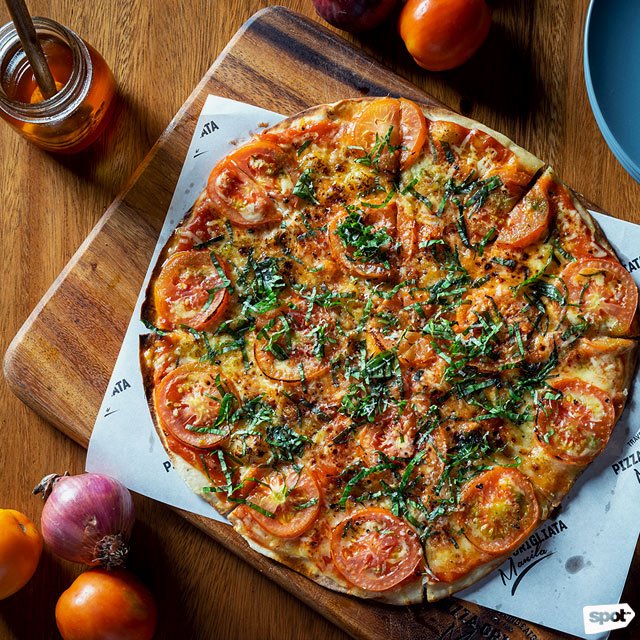 Margherita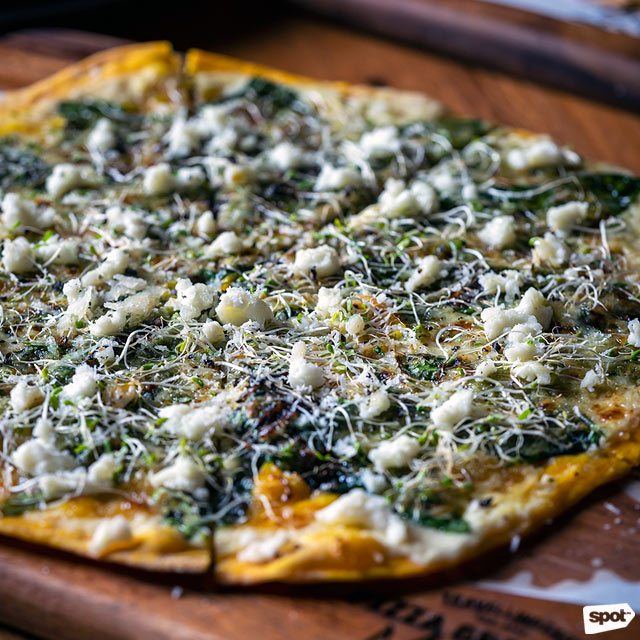 The Spinach and Pesto in Squash Dough (P280) is topped with creamy two-cheese sauce, alfalfa sprouts, spinach, pesto sauce, and a sprinkling of cottage cheese
Pizza Grigliata's mainstays are the staples that they kicked off their pop-ups with. Like their famed four-cheese pizza, the Prosciutto Arugula (P400), Margherita (P280), Pepperoni (P380), and Bacon and Mushroom (P300) are served with either a regular white dough or black dough made with squid ink. All the pizzas are light on the belly, easy on the eyes, and great for sharing. "That's why our hashtag is #PizzaMadeSexy—it's because our dough is very slim. But we have had customers who eat whole pizzas on their own," laughs Co.
ADVERTISEMENT - CONTINUE READING BELOW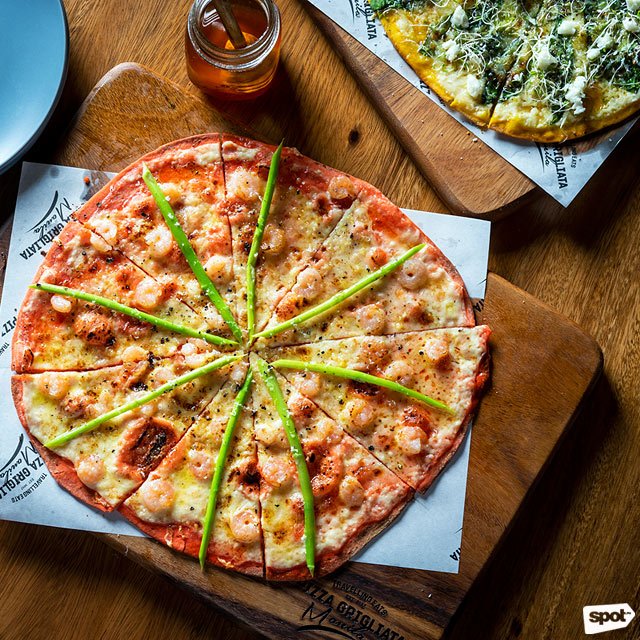 Shrimp and Asparagus Pizza in Carrot Dough (P420)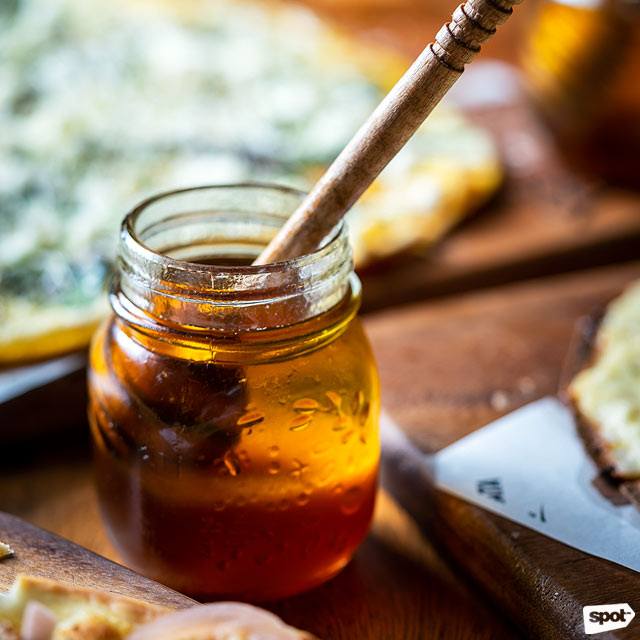 You can drizzle their homemade spicy honey on everything!
What's unique about Pizza Grigliata, aside from their pizza-grilling technique, is their wild selection of colored doughs: Red for beetroot dough, orange for carrot dough, and yellow for squash dough. Unexpectedly fun pizza flavors like Kani Mango (P400), Vigan Longganisa (P350), and Tequila Lime Chicken (P300), a must-try for Mexican food lovers, are also in the pipeline. Their lineup is flexible and will include new additions in the coming months.
ADVERTISEMENT - CONTINUE READING BELOW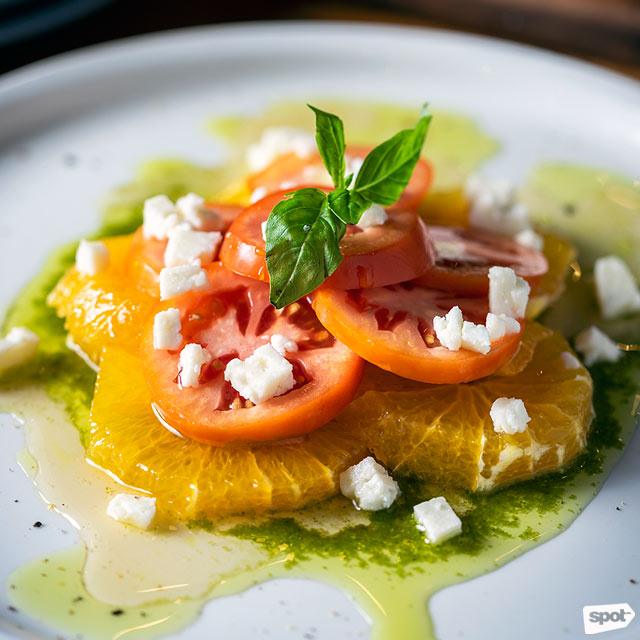 Signature Salad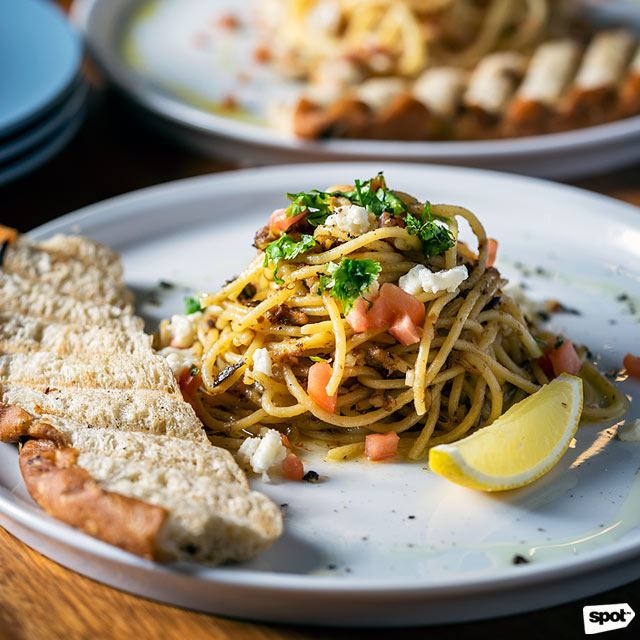 Spicy Garlic Sardines
Coupling the pizzas are starters like the Signature Salad (P350), a refreshing twist on your usual caprese, which uses orange slices and cottage cheese and the Spicy Garlic Sardines (P350) with kesong puti and coriander.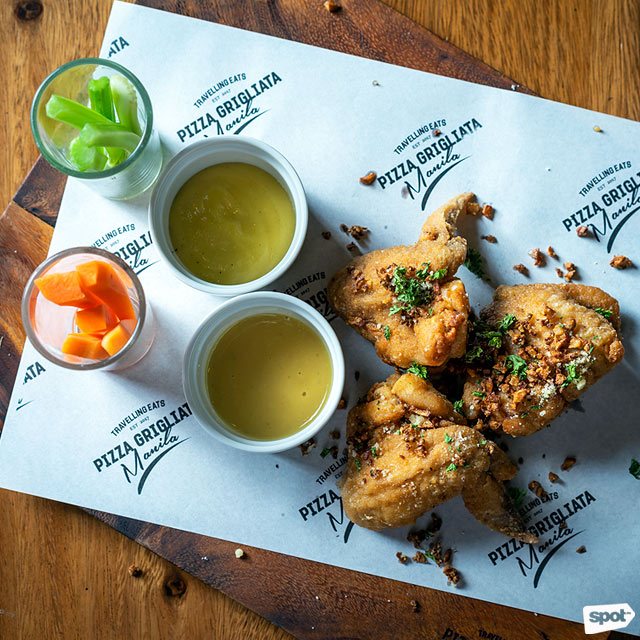 Pizza Grigliata has Fried Garlic Parmesan Chicken Wings (P380), too!
ADVERTISEMENT - CONTINUE READING BELOW
And because pizza is always better eaten with beer, Pizza Grigliata has teamed up with another brand that frequents the bazaar circuit, Bulul Brewery. "Our expat customers at the pop-ups always liked pairing our products together. Their Pilsner and Trigo brews are very light, complementing our pizza," shares Co. "We definitely wanted to offer something craft and local to go with our food, since everything we use is also sourced locally."
A surprising part of the beverage menu is the specialty coffee, which offers a kick without losing smoothness. "We had a special blend made for us, with beans sourced from Sultan Kudarat, Bukidnon and Sagada," says Edward. "Local beans typically give us that maasim flavor, but I personally prefer something nutty and chocolatey—that's why we had this blend made," Co adds. "We decided to offer coffee so our customers are not rushing out to transfer to another place after their meal."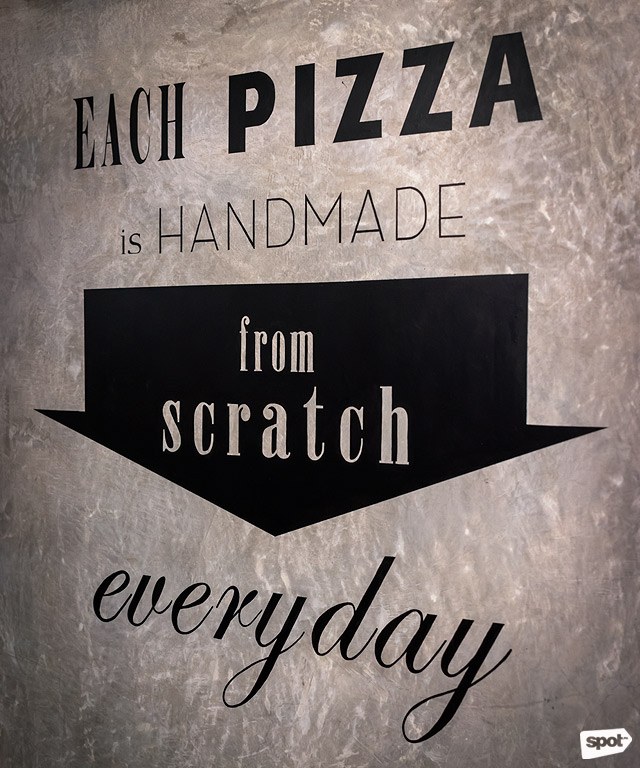 ADVERTISEMENT - CONTINUE READING BELOW
The hands-on approach that the owners and Chef Emman bring to the table is another reason to make Pizza Grigliata a pit stop. Every menu item is explained to eager customers, and service is quick, no muss, no fuss. Above all, it's easy to see why they became a cult-favorite among bazaar vendors—their pizzas are delicious, satisfying, and made with love.
"What we do is written plainly on our wall," Chef Emman says. Each pizza is handmade from scratch every day, reads their mural. For the discerning pizza lover and foodie who loves supporting local businesses, that's good enough reason to give Pizza Grigliata a visit.
Photos by Toto Labrador
---
Help us make Spot.ph better!
Take the short survey
Load More Stories