Caffeined by Artesania
910 Arnaiz Avenue, Makati City
Contact: 0908-890-9593
Open from 8 a.m. to 9 p.m. (Monday to Friday) and 7 a.m. to 10 p.m. (Saturday to Sunday)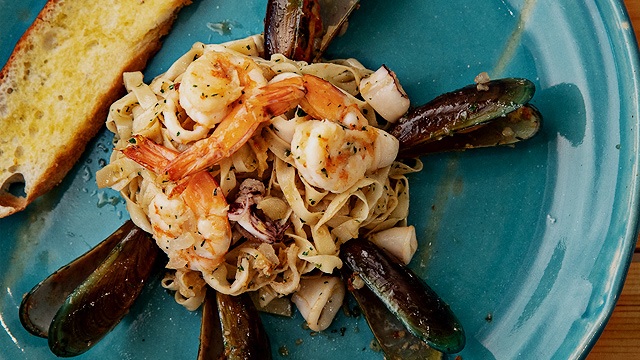 (SPOT.ph) It was a secret known by those working in the Ortigas and Pioneer area—a cozy coffee shop hidden in a beautiful furniture showroom along Sheridan Street. Caffeined by Mozaic Living was one of Manila's coolest cafés; after all, it wasn't often that you could have a cup of joe while surrounded by beautiful home pieces, which often changed as they were also for sale.
ADVERTISEMENT - CONTINUE READING BELOW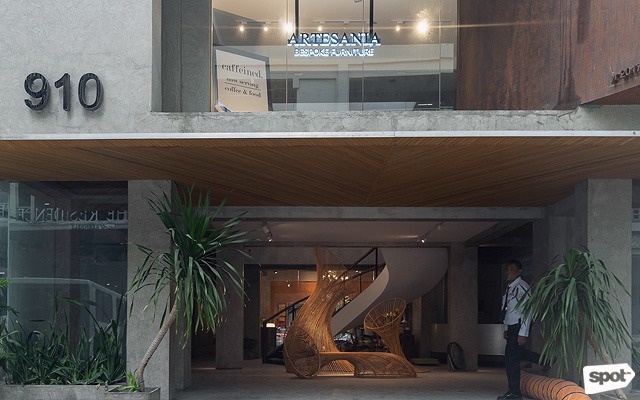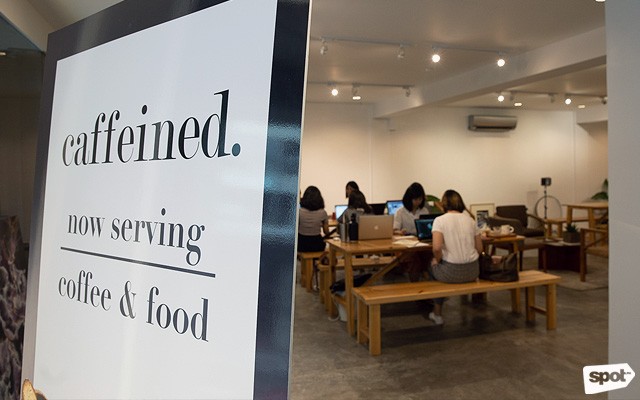 ADVERTISEMENT - CONTINUE READING BELOW
Recommended Videos
It was a pretty big loss for the neighborhood when Caffeined by Mozaic Living quietly closed down in Mandaluyong, but Makati folks just got lucky because the café has moved to Arnaiz Avenue. Mozaic Living has been renamed  Artesania—"It means craftsmanship," shares owner Francine Gacrama—but the café kept its name.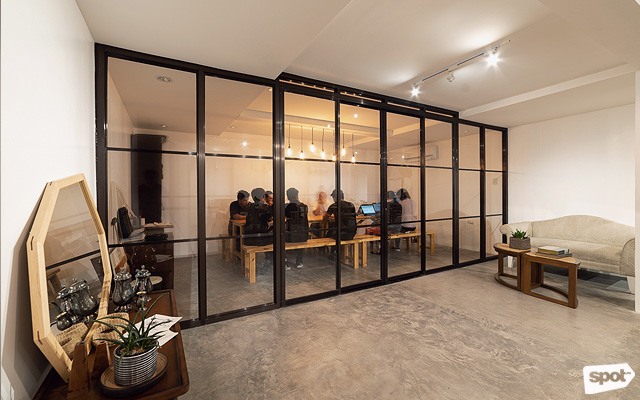 ADVERTISEMENT - CONTINUE READING BELOW
You can reserve the private room for small meetings and intimate gatherings
Now known as Caffeined by Artesania, the coffee shop keeps the lived-in charm of being located in a furniture showroom, full of pieces and art done—all for sale—by local craftsmen. "Even when we started in Mandaluyong, we always thought a showroom would make the perfect setup for a café," shares Francine. "It's like how you see it in movies; people would walk in homes for sale and there'd be cookies and coffee. It gives the setting such a homey vibe."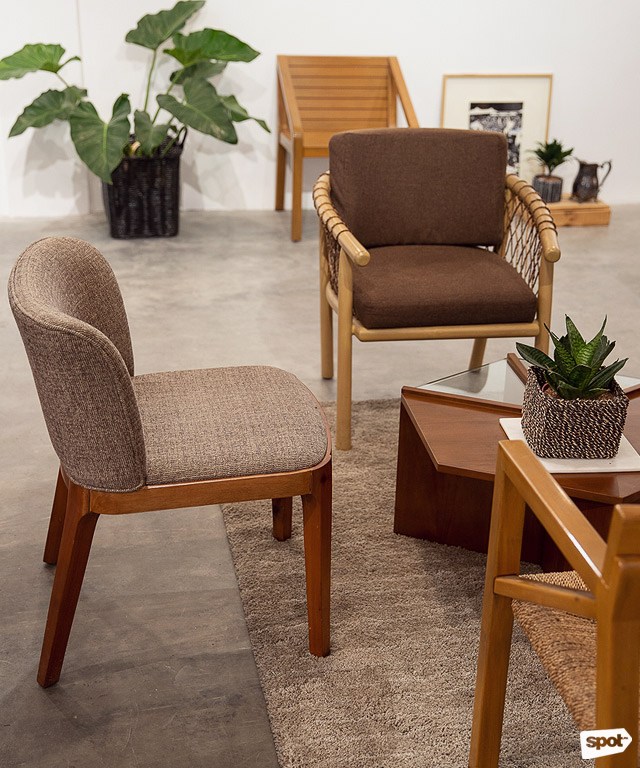 ADVERTISEMENT - CONTINUE READING BELOW
All furniture displayed in the café are for sale
Even their gorgeous hand-molded stone clay mugs by Mia Casal have found a new home in Makati City, but a huge change for the café is their expanded menu, something Francine and her siblings and co-owners Francesca and Arvin are excited about. "Our problem before was that people wanted food," she shares. "They wanted rice, they wanted pasta, but we couldn't do it before at Mozaic because the area right beside our bar was [the only space] we had to prep."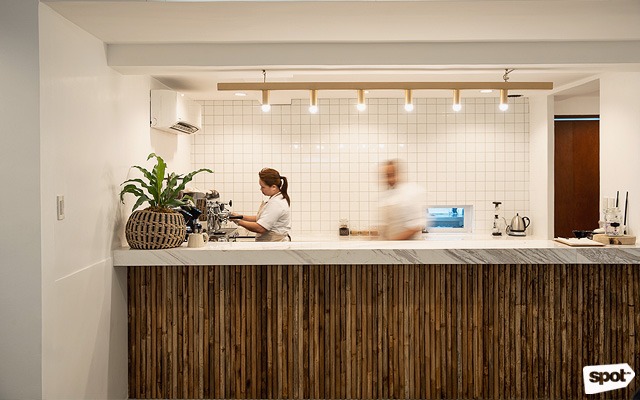 ADVERTISEMENT - CONTINUE READING BELOW
Aside from a bigger counter, with subway tiles, dark wood, and a clean design making it one of the best-looking bars in any Metro Manila café, the new Caffeined also boasts a more spacious kitchen. This gave Arvin, who serves as chef, space to play around and expand the menu to include starters, pasta, and even rice meals.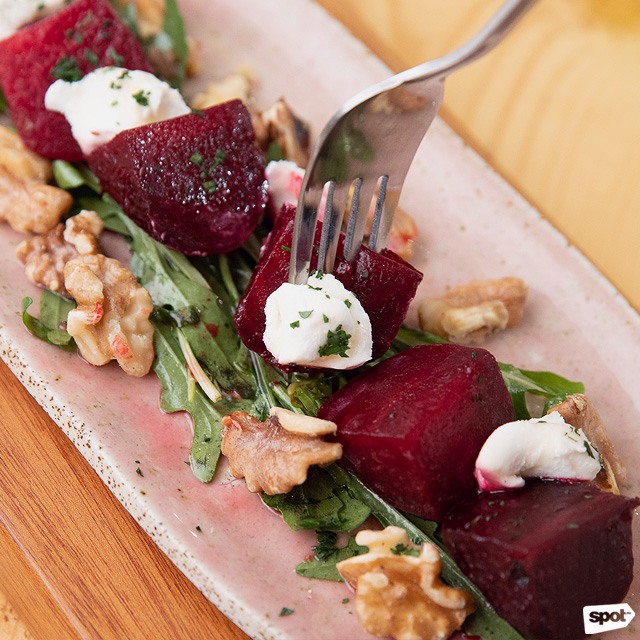 ADVERTISEMENT - CONTINUE READING BELOW
With walnuts, goat's cheese, rocket, honey, and balsamic vinegar, the Roasted Beetroot Salad (P290) might just make you fall in love with beets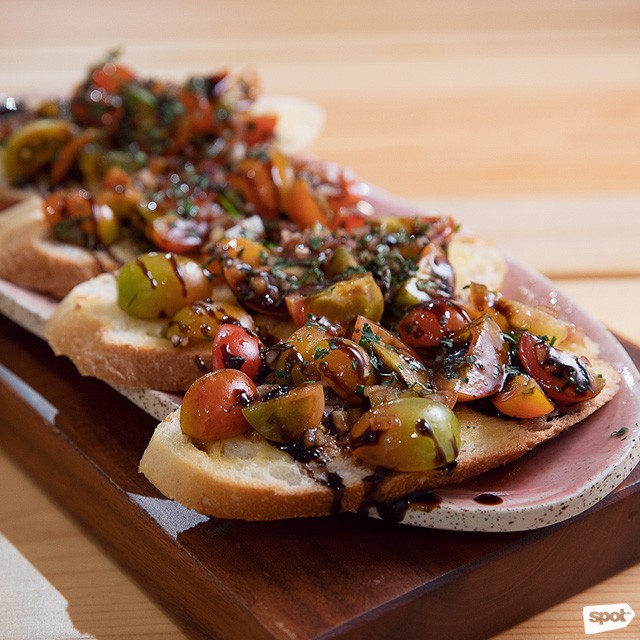 Cherry Tomato Bruschetta
There really is no other way to describe Cherry Tomato Bruschetta (P250) other than fresh. Perhaps, also vibrant, not just in looks but also in flavor. Only lightly seasoned with balsamic vinegar to bring out the natural sweet-acidic notes of the tomatoes and the spice of the basil, these generously topped bruschettas make for great quick bites while you work.
ADVERTISEMENT - CONTINUE READING BELOW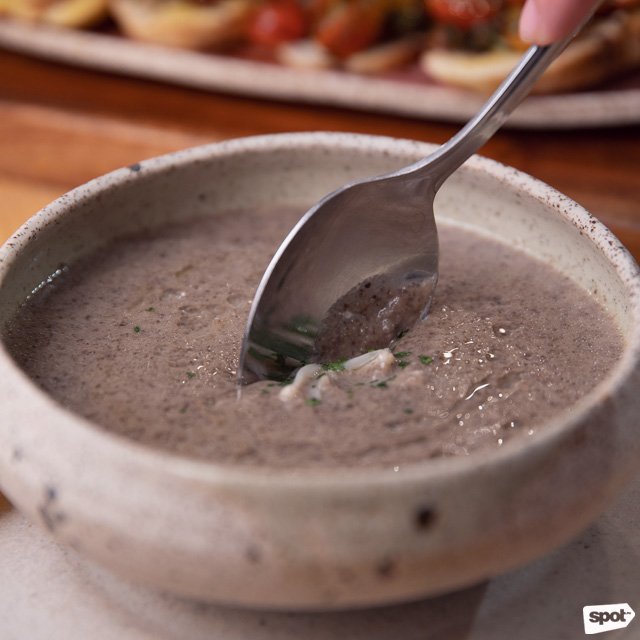 Wild Mushroom Bisque
Arvin shares that the Wild Mushroom Bisque (P250) is probably "three-fourths mushroom." He uses a blend of enoki and button mushrooms plus generous helpings of truffle oil to create an indulgent, umami-rich soup, hearty and comforting like a warm hug on a rainy day.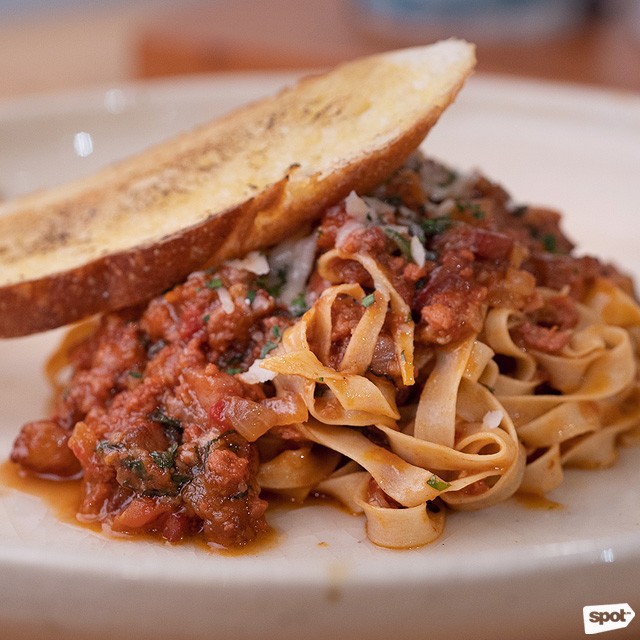 ADVERTISEMENT - CONTINUE READING BELOW
The classic Bolognaise (P350) will make you feel nostalgic for your childhood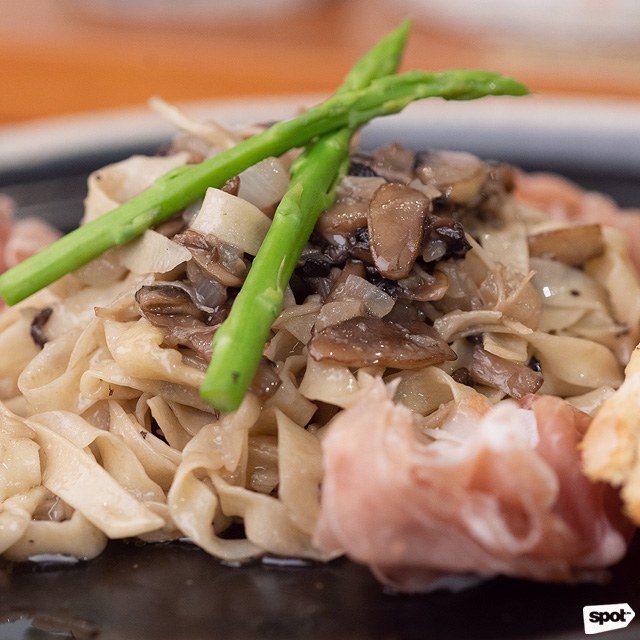 Mushroom Truffle Pasta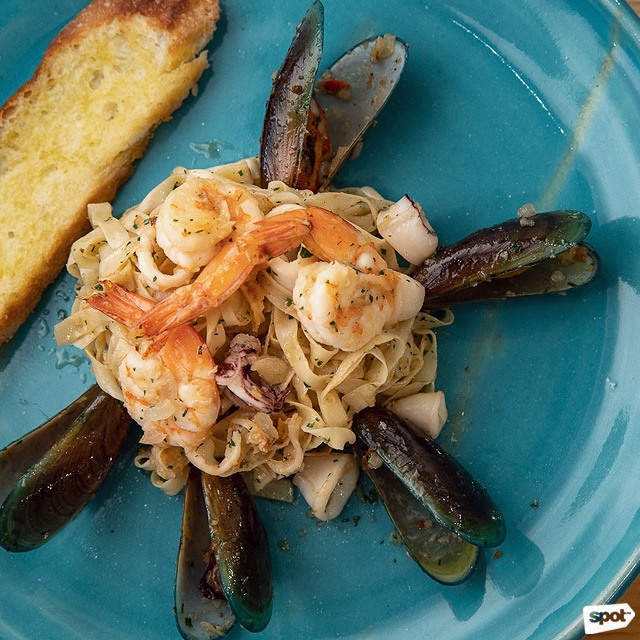 ADVERTISEMENT - CONTINUE READING BELOW
Seafood Aglio Olio
Equally full of truffle goodness is the Mushroom Truffle Pasta (P450), though don't expect your usual cream-based dish. Preparing it aglio-e-olio style makes this pasta light on the belly yet full-flavored, with parma ham adding a punch of saltiness. For seafood hankerings, the Seafood Aglio Olio (P350) should do the trick. The clams and plump shrimp have the distinct sweet-briny taste of fresh seafood; the pasta, always freshly made in-house, gets lots of that fresh-from-the-ocean flavor, too.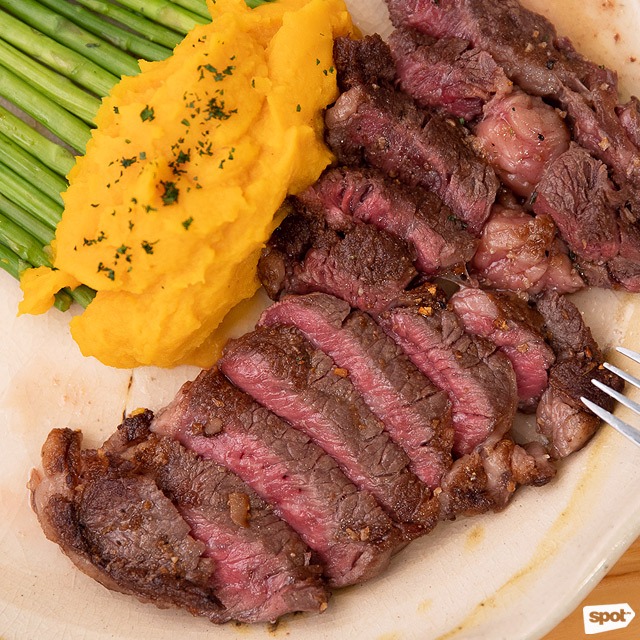 ADVERTISEMENT - CONTINUE READING BELOW
Soon, Caffeined will also add steak to their menu,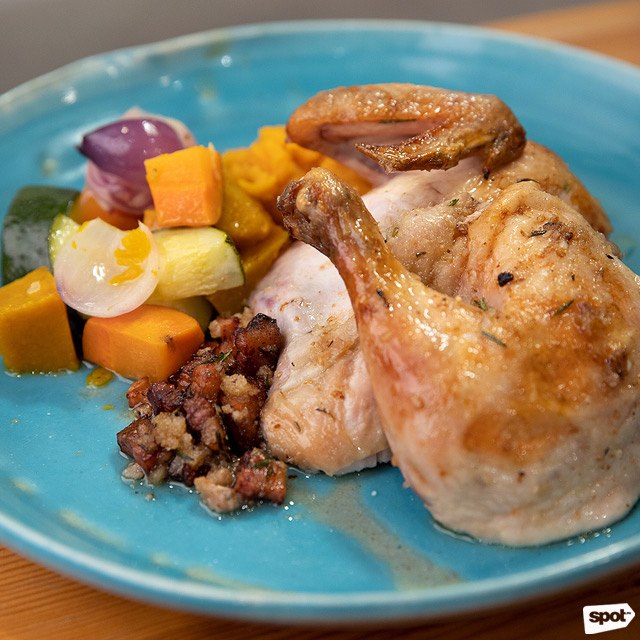 as well as Roast Chicken served with pancetta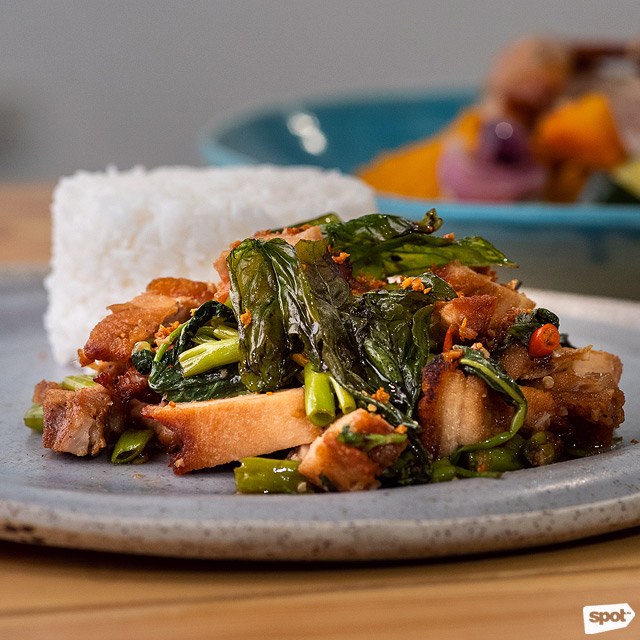 ADVERTISEMENT - CONTINUE READING BELOW
and Thai Stir-fried Pork with crispy pork, crispy kangkong, and chili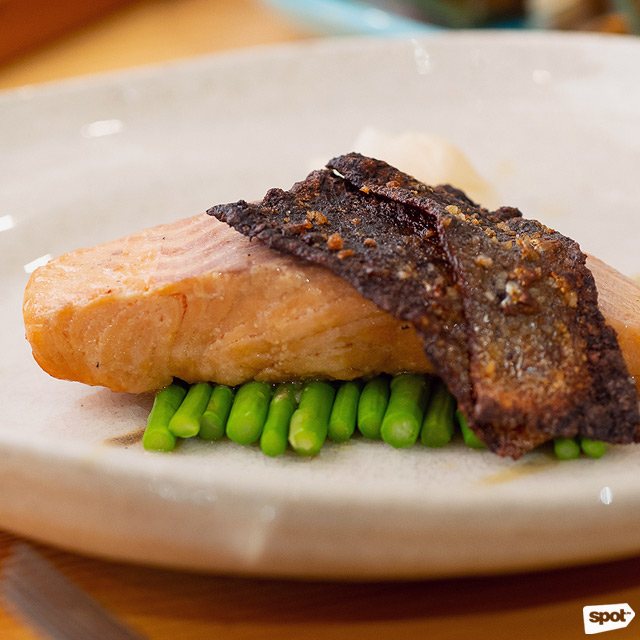 Miso-Glazed Salmon
Though Caffeined already has a menu much more varied than your average café's, they still have other entrées they're launching soon: The Miso-Glazed Salmon, in particular, is already a winner, with a hefty slab of salmon that's cooked medium to make it absolutely fork-tender. A marinade of mirin, sake, and brown sugar gives the fish just the lightest sweet-saltiness—be sure to have your bites with the accompanying pickled ginger for a jolt of tartness and heat.
ADVERTISEMENT - CONTINUE READING BELOW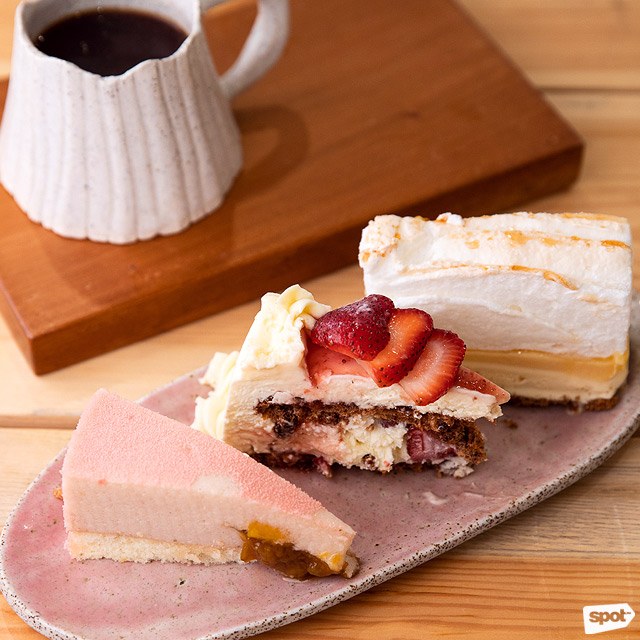 Caffeined's cakes go perfectly with their coffee. From left to right: Guava Cake (P250), Strawberry Charlotte Cake (P260), and Frozen Brazo de Mercedes (P190)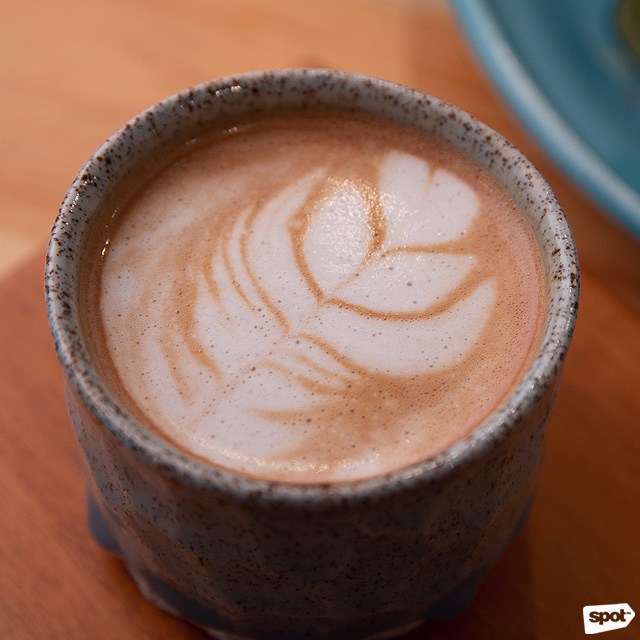 ADVERTISEMENT - CONTINUE READING BELOW
Caffeined sources their coffee beans locally, like this Mocortado (P160) from Kalsada Coffee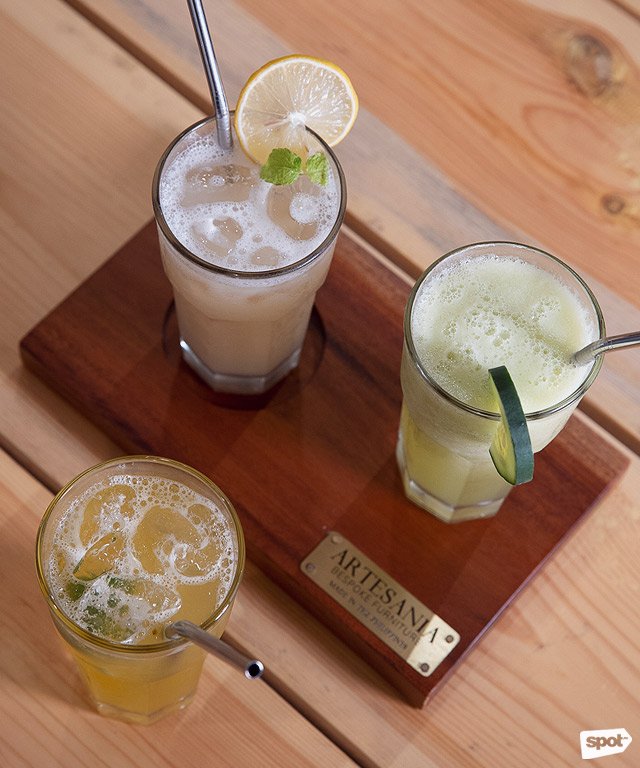 Their refreshing juices are inspired by childhood favorites. Clockwise from bottom: Honey Calamansi Juice (P130), Yakult Lemonade Mint Juice (P160), and Cucumber Calamansi Juice (P130)
There are many homey cafés in the Metro, but not many look and feel like an actual home. It makes Caffeined by Artesania worth a visit, and if they get hype because of it, they prove they very much deserve it, with a menu full of winning dishes that can rival a full-service restaurant's. Combined with good coffee, in their ceramic mugs of course, and the welcoming home-away-from-home ambience, Caffeined will easily be one of your favorites in Makati.
ADVERTISEMENT - CONTINUE READING BELOW
Photos by Ian Santos
Share this story with your friends!
---
Help us make Spot.ph better!
Take the short survey
Load More Stories