10 Great Vietnamese Restaurants in Manila
For your everyday pho fix.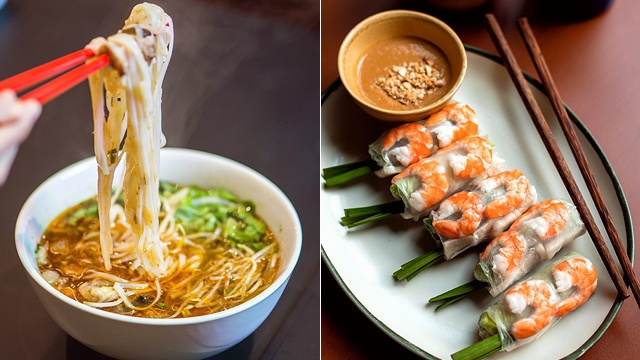 (SPOT.ph) With the cuisine's tongue-twisting and hard-to-read dishes, Vietnamese can seem downright intimidating—until you try it and find yourself becoming an instant fan. There's plenty to love about the Southeast Asian country's staples, and it's mostly because of a distinctive characteristic highlighted by flavors from fresh ingredients, fragrant herbs and spices, and a lot of vegetables. So whether you want to try something new or are looking for authentic flavors to remind you of that memorable trip to Hanoi, we round up the best Vietnamese joints in the Metro for your eating pleasure.
ADVERTISEMENT - CONTINUE READING BELOW
CONTINUE READING BELOW
Recommended Videos
Also read: 
10 Places for Great Taiwanese Food in Manila
10 Great Restaurants for Indian Food in Manila
10 Great Spanish Restaurants in Manila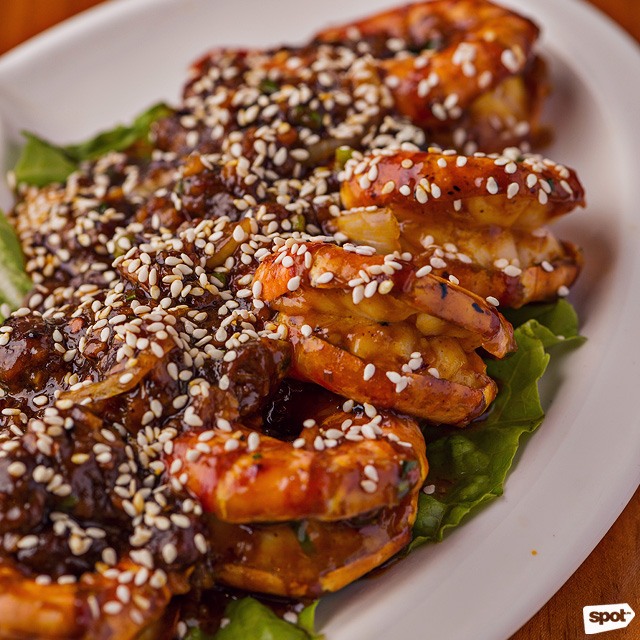 Bawai's Vietnamese Kitchen
The same, traditional Vietnamese dishes that made Bawai's Vietnamese Kitchen a must-visit in Tagaytay are now more accessible to people in the Metro, with a new branch in Uptown Bonifacio. Veer away from the typical meals and try something different, like the Pho Bites (P320), or lettuce and chewy rice noodles wrapped in thin-cut beef; Com Suon Cha (P435), or grilled pork belly with a caramel-lemongrass marinade, and; Tom Rang Me (P550), or black tiger prawns with sweet tamarind paste. All these showcase the five elements that the cuisine is known for: Spicy, sour, bitter, salty, and sweet. 
ADVERTISEMENT - CONTINUE READING BELOW
Bawai's Vietnamese Kitchen has branches at 79 Katipunan Avenue, Bellitudo Lifestyle Strip, White Plains, Quezon City; and G/F Uptown Parade, 9th Avenue corner 36th Street, Bonifacio Global City.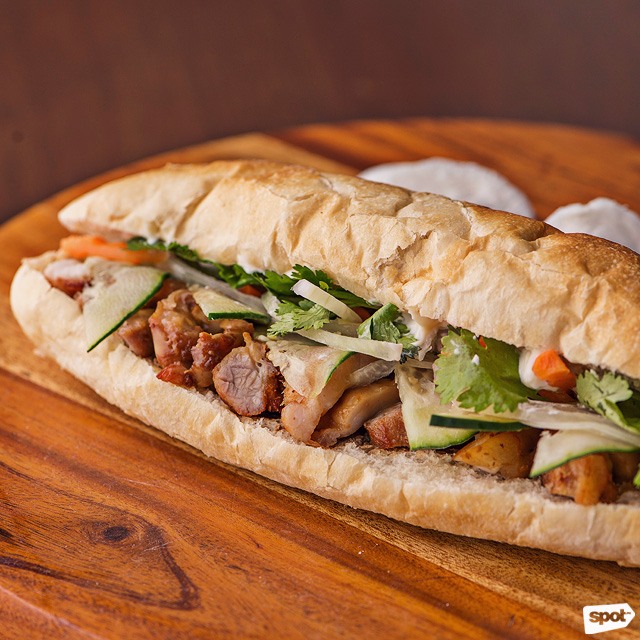 Ba Noi's
You'll be impressed with the food selection at Ba Noi's—from fresh spring rolls and sweet salads to savory crepes and freshly baked baguettes. A complete meal would be any of their bun or dry-noodle variants, like the Bun Cha Gio Thit Nuong (P250), a tasty bowl of rice noodles topped with fried spring rolls, grilled pork patties, and nuoc cham sauce. Meanwhile, regulars also rave about the restaurant's handcrafted coffee beverages. Get your daily dose of caffeine with the Original Blend (P110), which can either be served hot or cold. What's great about this drink is even with the rich condensed milk, you can still taste the coffee's robust flavor—a characteristic Vietnamese beans are known for.
ADVERTISEMENT - CONTINUE READING BELOW
Ba Noi's has branches at 12B Tropical Palms, 103 Dela Rosa Street corner Perea Street, Legazpi Village, Makati City; and 1/B Estancia Mall, Capitol Commons, Oranbo, Pasig City.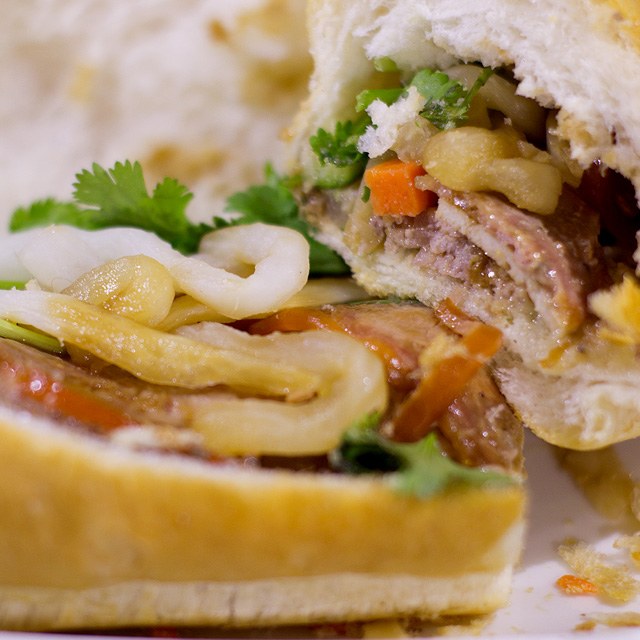 BONBanhmi
Nothing could be more clear-cut than BONBanhmi's menu, which puts the popular Vietnamese-French hybrid sandwich in the limelight. Picture a classic baguette that's crunchy on the outside but soft and chewy inside, then filled with different protein, veggies, and a very smooth liver paté that seals the deal. The options here are basic and affordable—the Traditional Banhmi (P99/medium, P119/large) has Vietnamese ham, crackling pork skin, pickled vegetables, and a generous slathering of mayo and butter. Much like other banh mi variants such as grilled beef, shredded chicken, pork barbecue, roasted pork, and pork meatballs, most of the sandwich's ingredients are made from scratch, including the signature bread. It's good as a snack or a light meal, but given their tiny space in the middle of a residential area in Makati, the sandwiches are also perfect for people on the go.
ADVERTISEMENT - CONTINUE READING BELOW
BONBanhmi is at 8390 Mayapis Street, San Antonio Village, Makati City.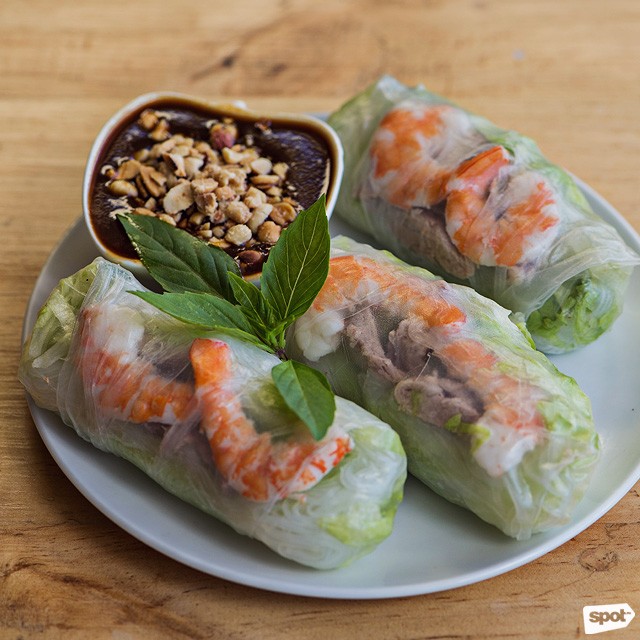 Ca Phe Saigon
Finding this hole-in-the-wall in Marikina can be quite a challenge since the neighborhood eatery looks more like a house than a restaurant; what's certain is the food here is worth the drive. (Thankfully, they've also opened up a stall at The Corner Market at The Podium for those who can't wait.) Everything on Ca Phe Saigon's menu is freshly made by their Vietnamese cook, and while you're here, don't forget to sample the house specialty: Ca Phe Saigon Crispy Noodles (P140). The crispy-noodle dish lets you choose your protein, including beef, pork, chicken, or shrimp. Eat it along with a side of greens and a special peanut sauce, then cap your meal with a glass of iced Vietnamese Coffee (P100), brewed using a metal-drip filter and sweetened with condensed milk.
ADVERTISEMENT - CONTINUE READING BELOW
Ca Phe Saigon has branches at 14 Red Cedar Street, New Marikina, San Roque, Marikina City; and The Corner Market, 2/F The Podium, ADB Avenue, Ortigas, Mandaluyong City.
Jam & Viet Sandwich House
Stop by this no-frills eatery and you might feel like you're eating at a sidewalk joint in Saigon. Jam & Viet Sandwich House's Traditional Banh Mi (P98/regular, P128/large) is generously filled with slices of steamed and roast pork, pickled veggies, liver paté, and fresh herbs. Pair it with another street-food favorite, Hu Tieu (P148), a flavorful rice noodle soup with pork and shrimp, and you'll have a substantial and satisfying meal that won't break the bank. Also don't miss the chance to try their coffee, which got a spot in our Top 10 Vietnamese Coffee list.
Jam & Viet Sandwich House has branches at 3792 Mascardo Street, Santa Cruz, Makati City; Filmore corner Diesel Street, Palanan, Makati City; and Food Circle, 2/F Cash & Carry Mall, Palanan, Makati City.
ADVERTISEMENT - CONTINUE READING BELOW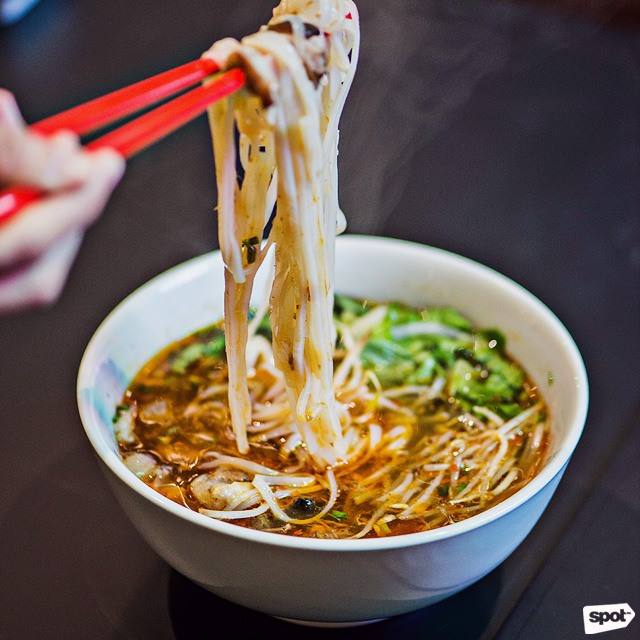 Phat Pho
If a restaurant is named after a particular dish, then a good rule of thumb is to order the specialty, and it's pretty obvious what the hero is at Phat Pho. All you have to do is pick your preferred protein and you'll get a hot bowl of soup that's almost ready to eat—just add the condiments available on each table such as hoisin, fish sauce, Sriracha, lime, and pickled garlic. The Pho Special (P230/small, P395/big) is a good choice especially for meat lovers because this one has shaved U.S. Angus beef, meatballs, and some really tender tendon. You'd be happy to know that the Cebu-born restaurant only uses locally sourced ingredients, including herbs from their organic gardens. Their Com Chien (P295) is another worthwhile order, with the flavors of chicken, prawns, and squid mingling harmoniously with the smoky fried rice.
ADVERTISEMENT - CONTINUE READING BELOW
Phat Pho is at L/GF Power Plant Mall, Rockwell, Makati City.
Pho Hoa
Practically the go-to Vietnamese joint in all of Metro Manila, Pho Hoa continues to please diners with their no-fail noodle soups and more. They've categorized the menu to distinguish pho beginners from the more adventurous ones. If you're somewhere in between, order the regular Pho Chin, Nam (P295/small, P315/large), with beef brisket and flank strips swimming in their signature pho broth. Unleash your inner chef and tinker with the condiments, spices, and herbs on your table to fit to your taste, and complement the meal with a refreshing side order of their Vegetarian Cha Gio (P230), or fried rice-paper roll with lettuce wrap, or Goi Tom Buoi (P255), a sweet and delicious pomelo shrimp salad.
See a list of Pho Hoa branches.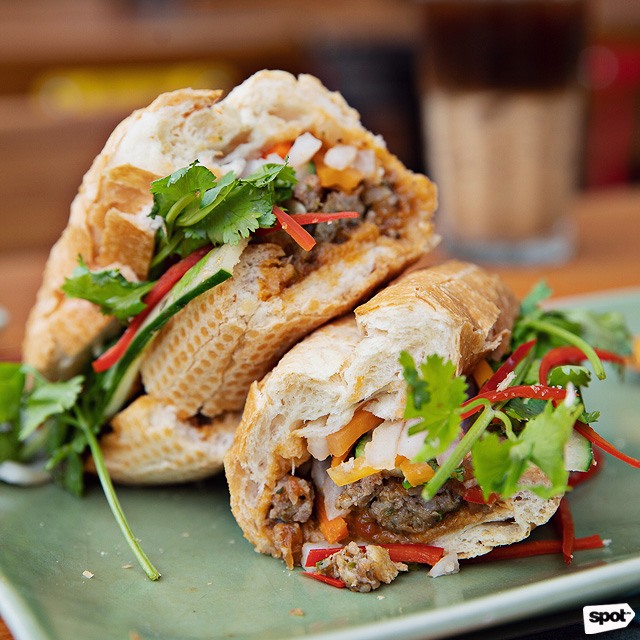 ADVERTISEMENT - CONTINUE READING BELOW
Propaganda Vietnamese Bistro
If the colorful walls are any indication, then you'll surely have a fun dining experience at this newly opened Vietnamese restaurant in Makati. Propaganda Vietnamese Bistro's menu is fresh and exciting, plus they have a wide array of beverages ranging from Vietnamese coffee to craft beer, wine, and cocktails. Their menu has the usual fare, but there are also other interesting items to try such as the Crunchy Tri-Colored Rice Bowl (P350) with barbecue chicken, mixed vegetables, and fried egg; or the "Shaken" Beef Shank (P490), which is served with sweet potato fries. Although pricier than most, dining here is worth it because of their unique take on the cuisine. 
Propaganda Vietnamese Bistro is at 2/F Greenbelt 5, Ayala Center, Makati City.
Tra Vinh
Just because the restaurant was originally from Australia doesn't make their dishes any less authentic. Tra Vinh's owners are, in fact, Vietnamese, and this hidden gem in Banawe has been dishing up tasty bowls of pho and other comforting meals for the past couple of years. A definite must is the Tra Vinh Special Noodle Soup (P230/regular, P299/large), which has a combination of chicken and seafood in its broth. It's topped with prawns, squid, pork-loin slices, pork liver, fish balls, quail eggs, and prawn crackers. You get to choose your preferred noodles for this dish, but we think it goes best with thin egg noodles—you can add toppings at minimal cost, too! Similar to other Vietnamese establishments, this resto knows no shortcuts; nearly everything is made from scratch—from the broth and sauces, down to their best-selling iced tea.
ADVERTISEMENT - CONTINUE READING BELOW
Tra Vinh has branches at Unit 3, 109 N.S. Amoranto Street corner Cordillera Street, Maharlika, Quezon City; and 2/F Ayala Malls Cloverleaf, A. Bonifacio Avenue, Balintawak, Quezon City.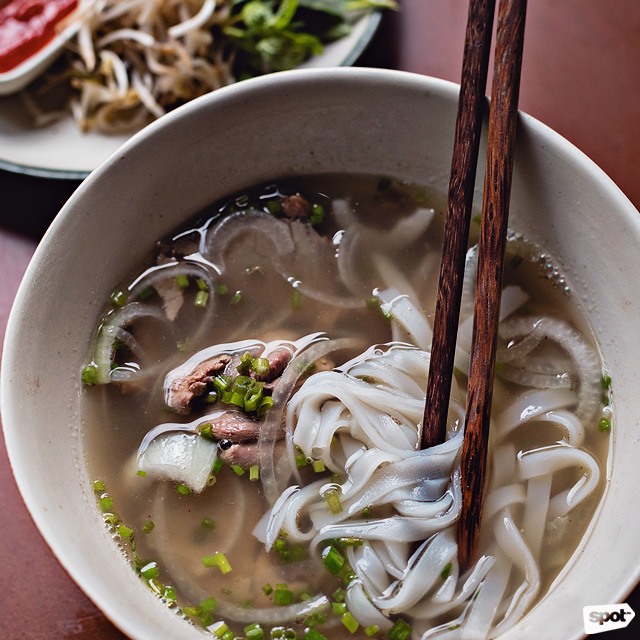 Nha Em
Nha Em hits the spot—this homey and elegant restaurant offers the perfect setting for a casual night out with a group of friends or family. Their warm wooden décor, Vietnamese-inspired lanterns, and citrus-colored upholstery create a nice backdrop for a great meal. A must-try is the Banh Xeo (P425), which is a 17-inch crepe made with a homemade batter, sautéed beansprouts, shrimp, and pork. Wrap the crepe with some greens and dip it in their special nuoc mam sauce. And if you're still not over the salted-egg craze, go for the Day Hu Chien Trung Muoi (P340), or fried tofu cubes coated in salted egg and topped with savory pork floss—you won't regret it.
ADVERTISEMENT - CONTINUE READING BELOW
Nha Em has branches at 5/F SM Aura Premier, Bonifacio Global City; 5/F Podium Mall, ADB Avenue, Ortigas, Mandaluyong City; and 3/F Uptown Place Mall, 36th Street corner 9th Avenue, Uptown Bonifacio.
Are you sure you want to delete this list?

Load More Stories