Top 10 Matcha Desserts in Manila
Which among these sweet treats will be your perfect matcha?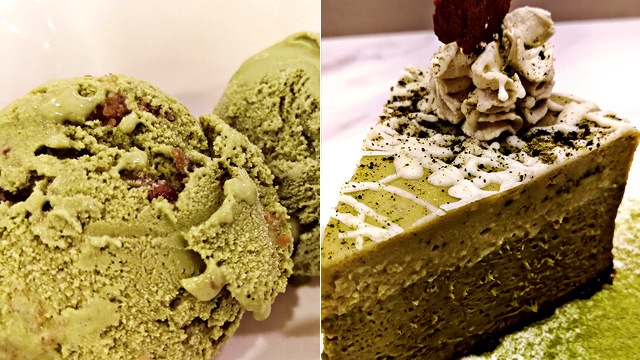 (SPOT.ph) Food trends may come and go but matcha will stay evergreen (no pun intended). The Japanese green tea has achieved mainstream respect in recent years and is considered a delicious option alongside classic flavors like vanilla, chocolate, and strawberry. Many of you may have acquired a taste for green tea due to its unique, earthy flavor that just wraps the palate with a wholesome goodness, but maybe some are drawn to its healthy qualities. Either way, it's one of those hard-to-resist flavors, whether it's in your after-meal drink or in dessert form. For this list, we've narrowed down the best green tea-flavored treats in the Metro to suit every kind of sugary craving, and ranked them according to sweetness, the matcha's strength, and overall flavor. You can never have too matcha dessert!
ADVERTISEMENT - CONTINUE READING BELOW
CONTINUE READING BELOW
Recommended Videos
All SPOT.ph Top 10 lists are researched, paid for, tested, and selected by the writers and editors. They are discreetly conducted without any notice made to the restaurants or their owners.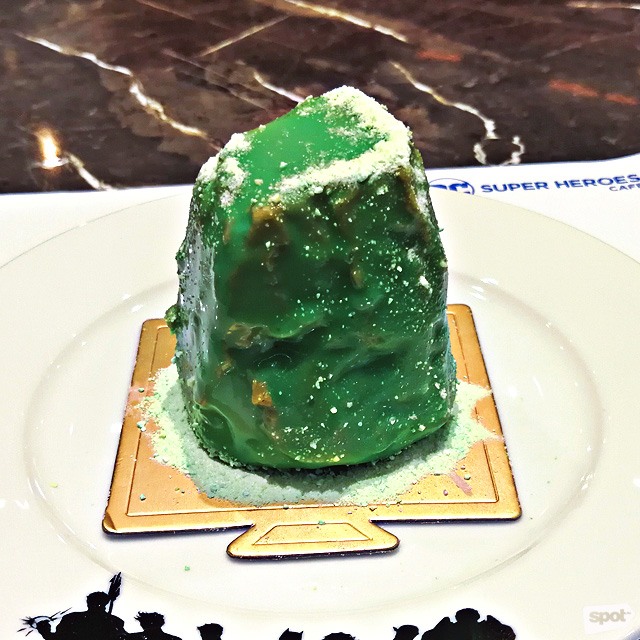 10. Matcha Crystal Cake from DC Super Heroes Café (P170)
This unusually shaped cake was made to look like Kryptonite—quite apt for someone harboring a sweet tooth. Underneath the sugary glaze hides a fudgy center filled with buttercream frosting. The vanilla flavor is more apparent in the cake, with the slightest hint of green tea, but remains an enjoyable dessert. This might just be any sugar lover's weakness.
ADVERTISEMENT - CONTINUE READING BELOW
DC Super Heroes Café is at 4/F Mega Fashion Hall, SM Megamall, Ortigas, Mandaluyong City.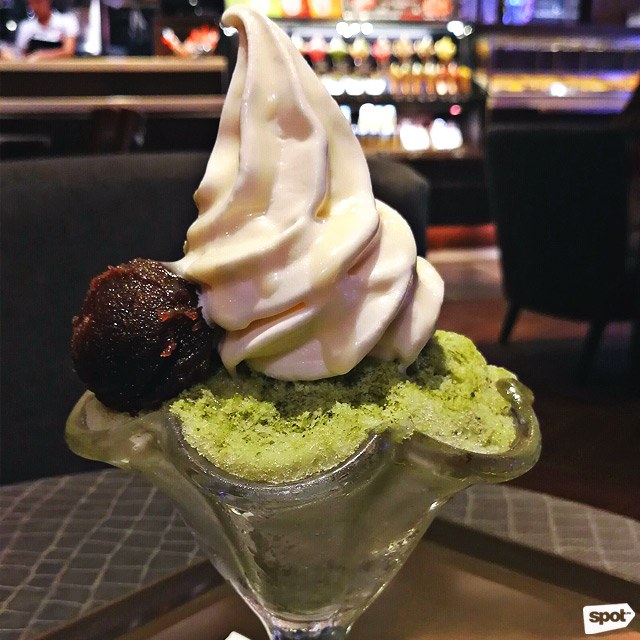 9. Matcha Milk from St. Marc Café (P230)
A spoonful of finely powdered ice flavored in beautiful matcha is just what you need to beat the heat. We suggest you dig into the matcha ice before mixing in the vanilla soft-serve to fully appreciate the green tea's umami flavor. Meanwhile, a generous scoop of red bean paste on the side provides a delicate tartness and chew to balance out the sweet milk, making this one of the best matcha desserts you can have in town.
ADVERTISEMENT - CONTINUE READING BELOW
St. Marc Café has branches in SM Megamall, Mandaluyong City; UP Town Center, Quezon City; Greenbelt 3, Ayala, Makati City; One Parkade, Bonifacio Global City; and Robinsons Place Manila, Manila City.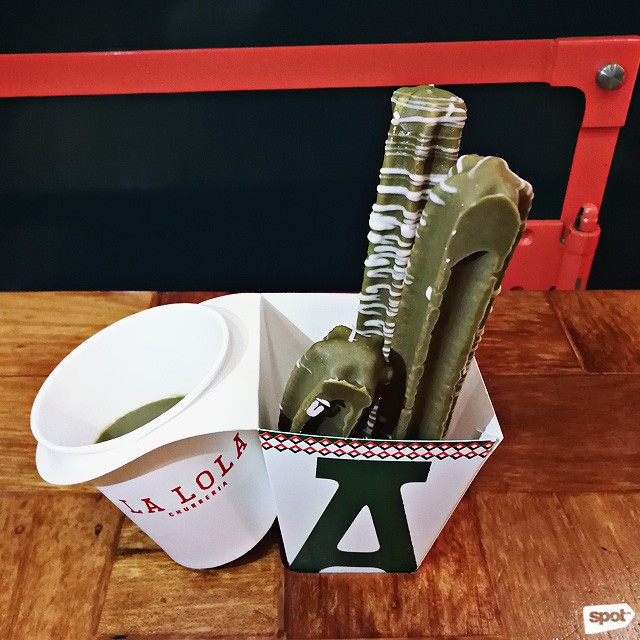 8. Matcha Churros from Churreria La Lola (P130/three pieces)
If you can't live without sweets, then this might be your best bet. The green-tea coating of Churreria La Lola's Matcha Churros leans toward the sweeter side of the flavor spectrum, while the crispy fried-dough pastry gives a satisfying richness and crunch to round everything out. Chomping down on this Japanese-Spanish-inspired snack will also remind you of eating a supersized version of a certain commercially available matcha-flavored candy bar…but that doesn't mean you won't see us grabbing another bag of these bad boys.
ADVERTISEMENT - CONTINUE READING BELOW
See a list of Churreria La Lola branches.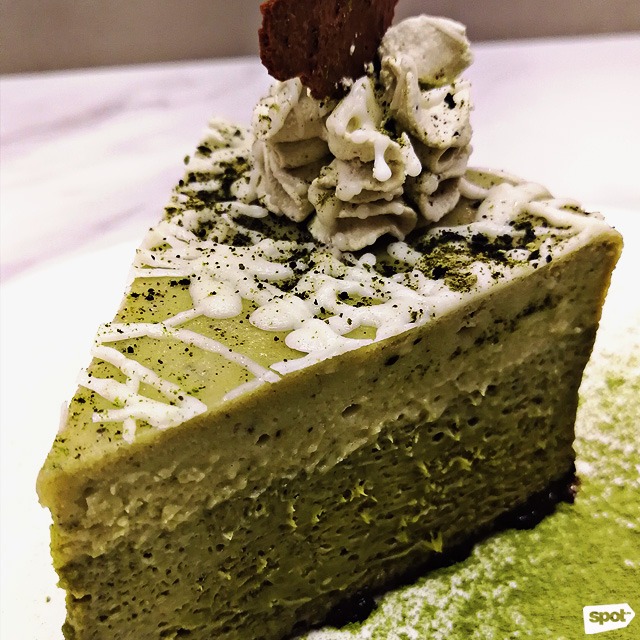 7. Matcha Cheesecake from Nomi Matcha (P240)
Nomi Matcha's green tea-flavored brownies, otherwise called Greenies (P90), has been a hit among matcha fanatics since the restaurant opened early this year. But if you haven't been to the cutesy eatery lately, you should know that they've just dropped a big matcha bomb, offering what seems to be another crowd favorite in the making. Nomi Matcha's Matcha Cheesecake is made up of matcha flown all the way from Kyoto. And if that's not enough to convince you to have it, maybe this will: Besides the pretty green-tinged cake's exterior is a decadently thick layer of velvety cheesecake mousse sitting on top of a fluffy matcha sponge cake anchoring everything in place. What's great about this treat is it's not too sweet, with the earthy flavor of matcha evident in each forkful. You'll be licking the plate clean before you even realize it!
ADVERTISEMENT - CONTINUE READING BELOW
Nomi Matcha is at W City Center, 30th Street, Bonifacio Global City.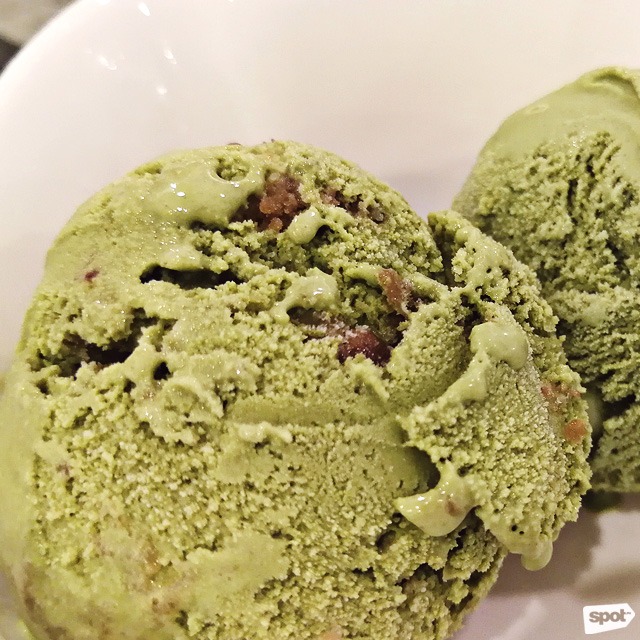 6. Matcha Ice Cream from Carousel Creamery (P95/single scoop, P160/double scoop, P225/triple scoop)
Get a bittersweet yet pleasant kick reminiscent of frothy matcha lattes from a scoop of Carousel Creamery's milky (and punny) Matcha Bean Up To? ice cream. Every spoonful of this green-tea frozen snack has adzuki red beans mixed in, serving up that classic and familiar Japanese flavor profile. This matcha dessert is fuss-free and highly addictive—don't say we didn't warn you.
ADVERTISEMENT - CONTINUE READING BELOW
Carousel Creamery is at 8 Missouri Building, Missouri Street, Greenhills, San Juan City.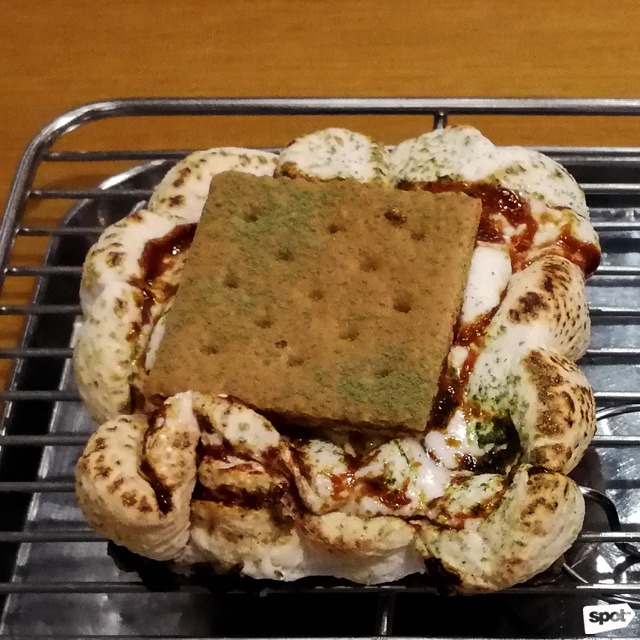 5. Matcha Miso S'mores from Scout's Honor (P95)
Who knew that miso, a staple in every Japanese restaurant, can add some oomph to an otherwise simple matcha cookie? The sprinkling of sea salt makes the umami flavors pop out even more. A fair warning, though: The Matcha Miso S'mores of Scout's Honor is best consumed while it's still hot and fresh off the oven. With this, you've got that distinctive matcha flavor mixed in with savory miso, and a sweet ooey-gooey marshmallow that just melts into one wonderful sticky mess. And while the green tea in this boss-looking snack shares the spotlight with other superstar components, the taste of matcha is still pretty out there—a definite plus in our books.  
ADVERTISEMENT - CONTINUE READING BELOW
Scout's Honor has branches at Hole in the Wall, 4/F Century City Mall, Makati City; and G/F Ayala Malls Vertis North, Quezon City.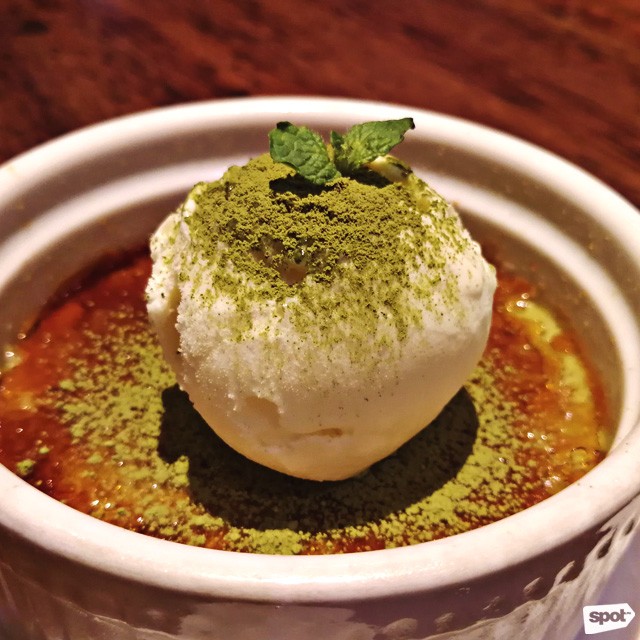 4. Matcha Creme Brulee from Ippudo (P165)
Perhaps the sole purpose of Ippudo's green tea creme brulee is to cleanse the palate after consuming a big bowl of rich ramen. But after having the dessert, you might think otherwise. You might even come back for seconds, even without an order of the Japanese noodle soup. What'll catch your attention first is the generous dusting of matcha powder all over, from the creamy scoop of vanilla ice cream to the creme brulee base, hinting at what's to come once you crack open that glassy caramelized sugar shell. The silky matcha custard underneath has just the right amount of eggy sweetness while still retaining its unique green-tea flavor, making for a light and airy post-dinner treat you'll be dreaming about for days to come.
ADVERTISEMENT - CONTINUE READING BELOW
Ippudo is at 3/F Mega Fashion Hall, SM Megamall, Ortigas, Mandaluyong City.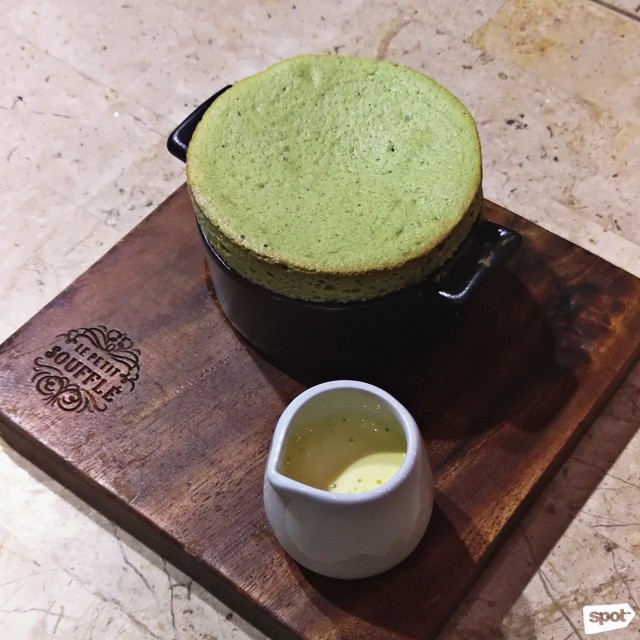 3. Matcha Soufflé from Le Petit Soufflé (P350)
Le Petit Soufflé is known for their Japanese-French dishes and their take on the perfect matcha dessert won't disappoint. The Matcha Soufflé is more than just a sweet end to a meal—it's an experience. The first thing you might notice is the crust, which is toasted just right and on the cusp of caramelization. Lightly sinking in your spoon into its pillowy surface reveals a beautiful combination of smooth white chocolate and green tea mixture. A drizzle of vanilla crème anglaise, served in a separate container, adds more depth to the soufflé. We just wish it had more blackberries to cut through the soufflé's strong matcha flavor. Nonetheless, eating this cloud-like creation is one we'd gladly do over and over again.
ADVERTISEMENT - CONTINUE READING BELOW
See a list of Le Petit Soufflé branches.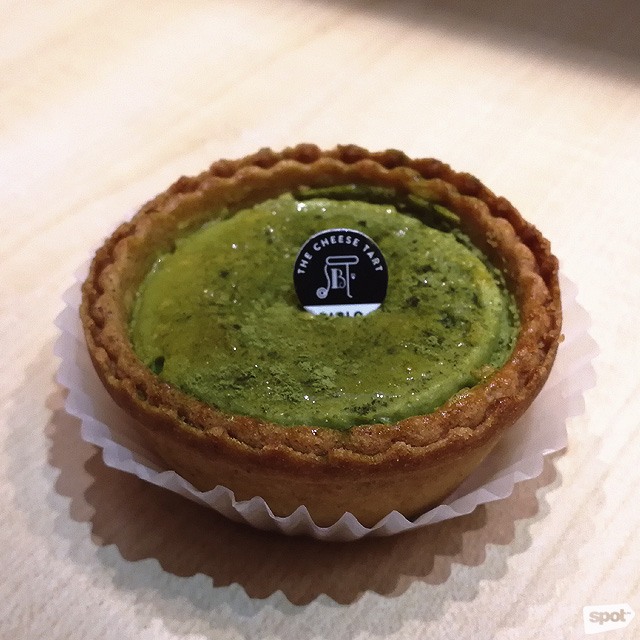 2. Mini Matcha Cheese Tart from PABLO (P125)
PABLO's Mini Matcha Cheese Tart is delicious in its simplicity and doesn't resort to unnecessary add-ons; the flavor speaks for itself. A proper bite gives you the right amount of crust-to-filling ratio. The sweet outer shell braces you for a sudden gush of the creamy green tea custard, but you can also use a spoon to scoop up the filling and avoid a big mess. It may seem small and unassuming, but this cheese tart packs a strong matcha flavor that will leave you craving a box of dozen. Or maybe a full-sized cheesecake, all for yourself.
ADVERTISEMENT - CONTINUE READING BELOW
See a list of PABLO branches.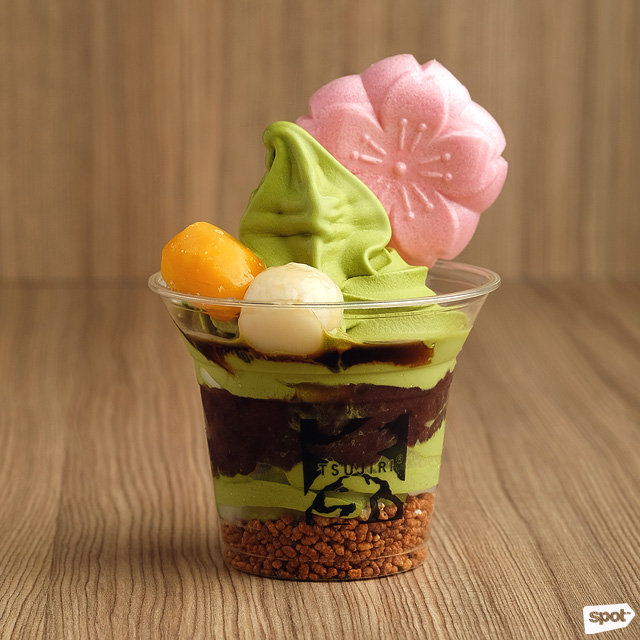 1. Matcha Jelly Sundae from Tsujiri (P295)
One of Tsujiri's best-selling desserts stays true to its Japanese origins. The Matcha Jelly Sundae is made up of several hard-to-miss components: Soft-serve matcha ice cream, red beans, toasted rice, mochi, and green tea jelly. The ingredients are carefully arranged as if it were an ikebana (the art of flower arrangement) piece, even topped with a Sakura-shaped wafer, reflecting a minimalist aesthetic. Despite a lot of things going on in this handheld dessert cup, nothing feels out of place and the different components work together in harmony to enhance the star of the show, the matcha ice cream.
ADVERTISEMENT - CONTINUE READING BELOW
To get the most out of this sundae's flavor, you must take a bit from every topping before tasting. The red bean gives it a jolt of sweetness, the mochi and green tea jelly adds more chew, and the toasted rice adds a contrasting crunch and a pleasant appetizing aroma. The soft-serve itself has a strong matcha flavor reminiscent of someone whisking away at ceremonial tea. The sundae strikes a Zen-like balance (needed in all things) in its overall flavor profile serving the kind of dessert that doesn't have to prove itself. Tsujiri's Matcha Jelly Sundae deserves the top spot because a bite makes you feel one step closer to sheer enlightenment.
See a list of Tsujiri branches.
Photos by Karen Mae de Vera and Louie Manay
Load More Stories