10 Best Cafés in and Around Katipunan
There's always time for coffee.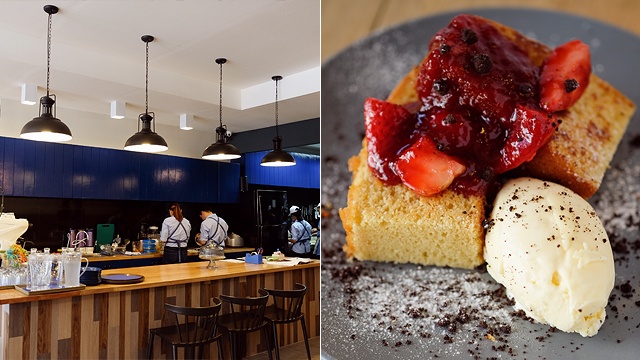 (SPOT.ph) Katipunan is known for a lot of things: Cool hangouts, budget-friendly shops and restaurants for your everyday needs, and—at least for this list—great coffee stops for the café addict in you. So if your criteria for visiting coffee shops involves amazing coffee, the perfect ambience, and plenty of good eats in between, we've narrowed down some of the best coffee joints in and around Katipunan that'll surely hit all the right spots.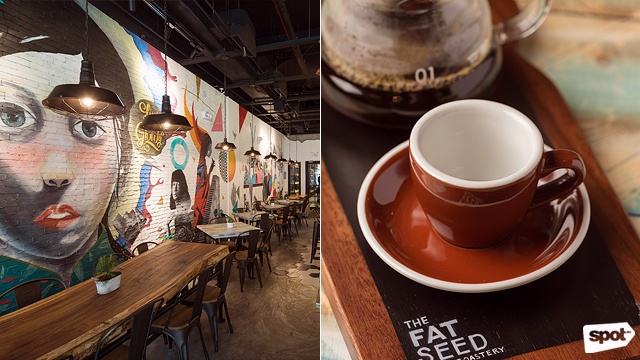 ADVERTISEMENT - CONTINUE READING BELOW
The Fat Seed Café + Roastery
The Fat Seed Café + Roastery has all kinds of folks coming in, and there's a great chance you'll find something you like here. Waffle person? Don't miss the Buttermilk Fried Chicken with Ube Waffle (P325), served with an irresistible helping of bacon-infused maple syrup and salted-egg sauce. If you fancy some seafood, get a load of their Smoked Salmon Benedict (P330), complete with herbed cream cheese, a delicious hollandaise, and some poached eggs and a salad to match. And with a drink menu that's as extensive as the food choices, you can go from their specialty Single Origin (P150) coffee to one of their many delicious cocktails in a snap.
CONTINUE READING BELOW
Recommended Videos
The Fat Seed Café + Roastery is at G/F UP Town Center, Katipunan Avenue, Quezon City.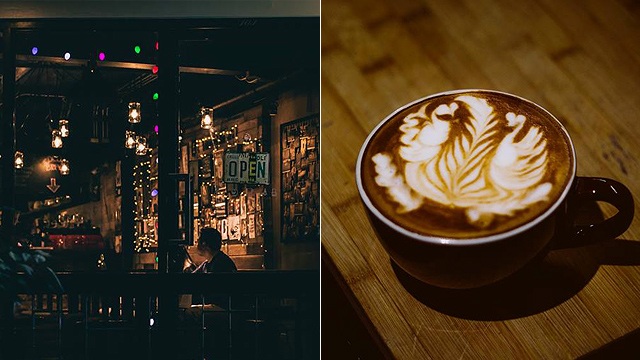 Ella and the Blackbird
Ella and the Blackbird will appeal to the inner artist in you, even if all you're there for is a cup of their coffee. Crowd favorites are the Cappuccino (P120) and Minty Mocha (P160), both making fantastic companions for anyone visiting solo. If you're looking for a hearty meal at the joint, take your pick from their rice and pasta dishes, like their Beef Salpicao (P235) or garlicky Aglio Olio (P235). For dessert, we wouldn't pass up the chance to have a slice of their creamy Frozen Brazo (P130)—some people even drive all the way to Quezon City just for this!
ADVERTISEMENT - CONTINUE READING BELOW
Ella and the Blackbird is at 88 Esteban Abada Street, Loyola Heights, Quezon City.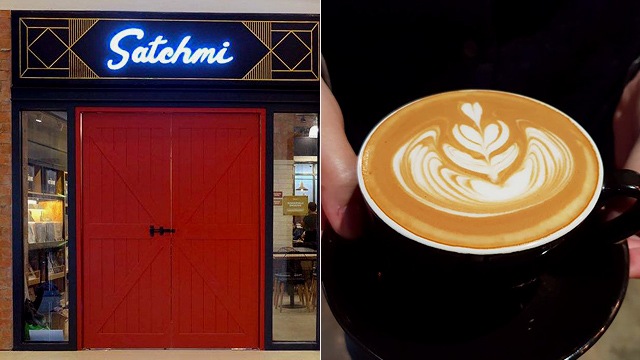 Satchmi
It's hard to find anyone who hasn't heard of Satchmi because the name is constantly being thrown around for anything and everything to do with vinyl music. But one thing you might not know is that they serve some pretty mean cups of joe. For a rich caffeine experience, we'd go for their Slow Brew (P140) made from their house-blend coffee, which is brewed manually with your preferred medium: Aeropress, V60, or Kalita drip. And in case you want something on the slightly sweeter side, their Iced Mocha (P160) deserves a special shout-out, too.
Satchmi is at 2/F Cinema Building, UP Town Center, Katipunan Avenue, Quezon City.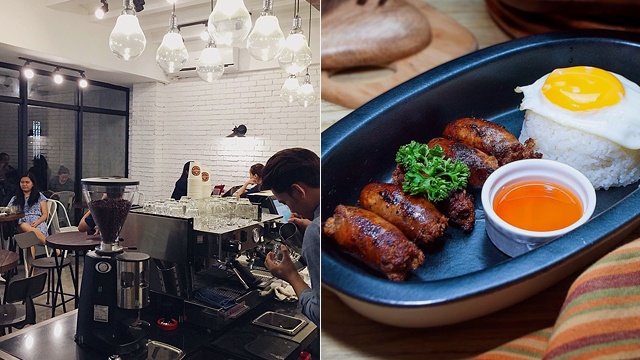 ADVERTISEMENT - CONTINUE READING BELOW
Equatorial Coffee
If you love a café that ticks off all your requirements—from great coffee to sleek and classy interiors—then you'll love Equatorial Coffee, an all-time favorite hangout of students from nearby universities. You'll also be sure to enjoy everything about their straightforward aesthetic. There's always going to be something to pair with their coffee creations, like the Chorizo Fried Rice (P190) or Chocolate Marble Waffles (P160), which are great for any time of the day. You can have some of their signature blends, like the dark Charcoal Latte (P150), or double shots of espresso over milk and activated charcoal. Ube lovers also can't miss the Ube Dream Frappe (P155)—its wild color will make you whip out your cameras in a snap!
Equatorial Coffee is at 325 Fabian B. Dela Rosa Street, Loyola Heights, Quezon City.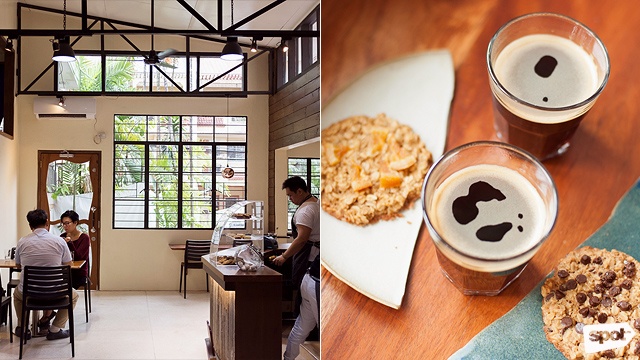 SGD Coffee
We're sure you've heard about the full-flavored goodness that local coffee has to offer. And whether or not you've tried some of their brews, it's definitely worth a visit to SGD Coffee in Teachers Village. The joint is dedicated to bringing out the best of Philippine coffee beans, which is why anyone with a passion for caffeine has to try the robust SGD Black (P120) at least once. But don't worry, the café also has their fair share of comfort food in their arsenal; their all-day breakfast plates, pastas, sandwiches, and all kinds of sweet treats will accompany you whatever the weather or mood you're in.
ADVERTISEMENT - CONTINUE READING BELOW
SGD Coffee is at 45 Maalalahanin Street, Teachers Village, Quezon City.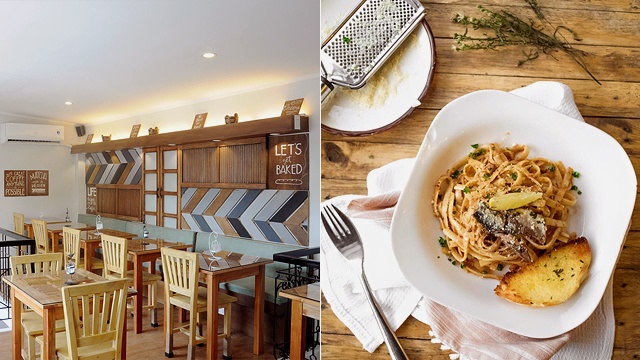 Theo's
Theo's wants to be the any-day café where you can just grab some home-cooked meals, handcrafted coffee, and no-frills merienda anytime you've got the munchies. Their creamy Carbonara (P140) and Mama's Special Beef Tenderloin (P180) are both crowd pleasers, so you'd have to drop by and taste them for yourself. Their drinks menu also appeals to any type of drinker, from the casual, frappe-loving soul all the way to the hardcore caffeine purist. Don't leave without trying their best-selling White Mocha Frappuccino (P120), a decadent beverage that can pass as a sweet dessert!
Theo's is at 106-C Maginhawa Street, Teacher's Village, Quezon City.
Xocolat
Take a guess: If there's one thing Xocolat is known for, what would it be? As the name suggests, this joint is an absolute haven for all chocolate enthusiasts, and you really have to pay a visit and see all their chocolatey concoctions to get what we mean. Their Taza de Xocolat (P175) is the real star of the show, a sinful and rich cup of hot chocolate that doesn't quite compare to anything else. They've also got a myriad of cacao-inspired dishes that are worth the gastronomical adventure. Take the Xocolat Chicken Pasta (P245), with cacao-rubbed chicken strips tossed in a light cream sauce, for example. The dishes will leave you wanting more—and did we mention it has chocolate shavings on top?
ADVERTISEMENT - CONTINUE READING BELOW
Xocolat is at 172 B. Gonzales Street, Loyola Heights, Quezon City.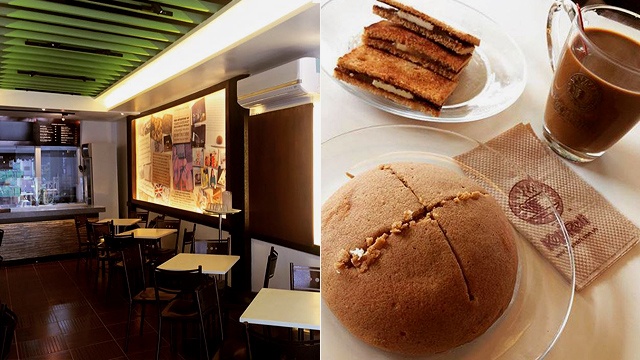 Kopi Roti
Inspired by the flavor-packed coffees of Southeast Asia, Kopi Roti is a classic spot in Katipunan. We wouldn't dismiss their brews just by judging their affordable price points; a Hot Kopi with Milk just costs P80, after all. Almost all of their beverages are well within that price range, making it a favorite hangout of students. Still, people flock here to get a taste of authentic Singaporean brewed coffee and tea—but don't just take our word for it, you have to drop by and indulge in a cup yourself.
Kopi Roti is at 226 Katipunan Avenue, Blue Ridge, Quezon City.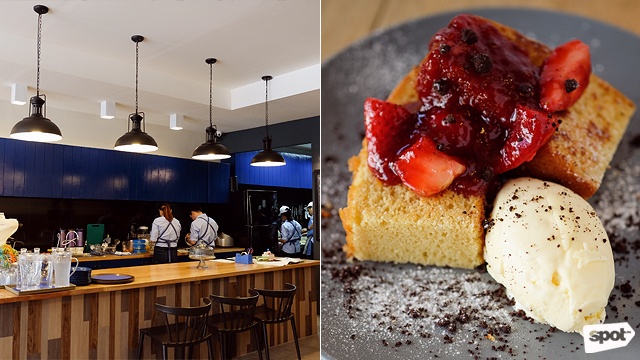 ADVERTISEMENT - CONTINUE READING BELOW
Tyler's Café
For your all-day breakfast cravings, Tyler's Café is your best bet. If their minimalist aesthetic doesn't draw you in from the outside, then we're sure it'll be when you feast your eyes on their delectable dishes. The Patty Melt (P280) looks like a sweet little sandwich—that is, until you take a bite and discover all the meaty, cheesy, even buttery flavors waiting inside. There's also the Ricotta Pancakes with Strawberries (P275) waiting for anyone who loves to start their day on the sweet side. And lest we forget about their coffee, we think very few things compare to that moment when you get that first sip of a hot cup of Americano (P105). We'd plan that next coffee date if we were you.
Tyler's Café is at 317 Katipunan Avenue, Quezon City.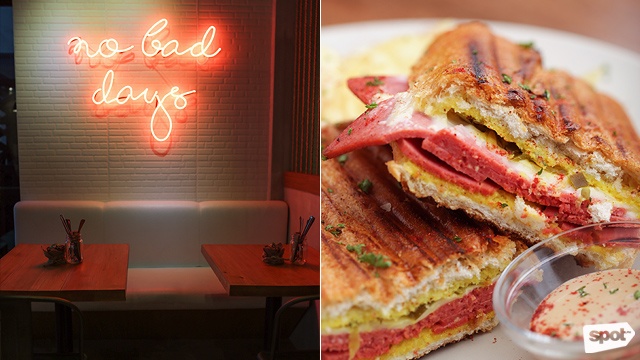 Common Folk
Things don't get much homier than Common Folk, complete with chic décor and interiors that just seem to beg to be on your IG feed. Meant to be a home for both coffee addicts and beginners alike, you can bet every cup they brew is meant to bring out all the goodness that great coffee has to offer. Delight in familiar blends like the Café Latte (P150) or a Flat White (P140) for the instant jolt. We also recommend their House Sub (P250), which is stuffed with ham, cheese, and pepperoni, if you're looking for something savory and filling at the same time.
ADVERTISEMENT - CONTINUE READING BELOW
Common Folk is at Bellitudo Lifestyle Strip, 79 Katipunan Avenue, White Plains, Quezon City.
Share this story with your friends!
---
Help us make Spot.ph better!
Take the short survey
Load More Stories