Borough Is Back And It's as Cozy as Ever
Did you miss their gooey grilled cheese?
Borough BGC
UG/F C2 Bonifacio High Street Central, 7th Avenue, Bonifacio Global City
Open from 11 a.m. to 2 a.m. (Monday), 8 a.m. to 2 a.m. (Tuesday to Saturday), and 8 a.m. to 11 p.m. (Sunday)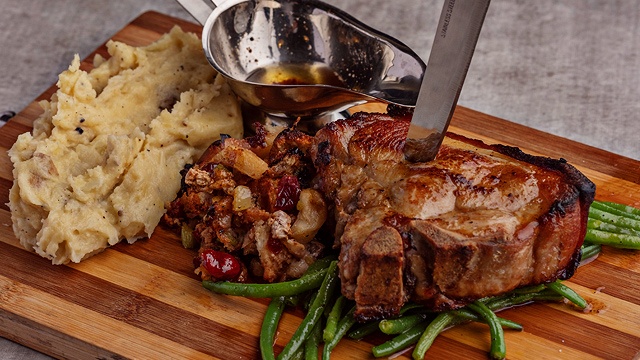 (SPOT.ph) If you're familiar with Borough's old branch at The Podium—who could forget their cult-favorite milk and cookies?—you'll be surprised to walk into their newest location in Bonifacio Global City. It has a whole different feel, which strays away from the moody, pub-like atmosphere it was originally known for.
ADVERTISEMENT - CONTINUE READING BELOW
CONTINUE READING BELOW
Recommended Videos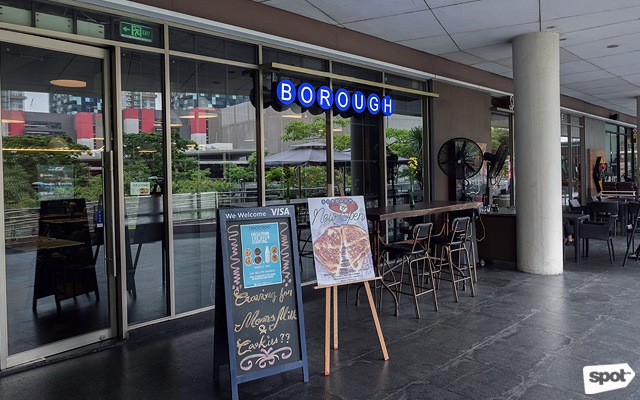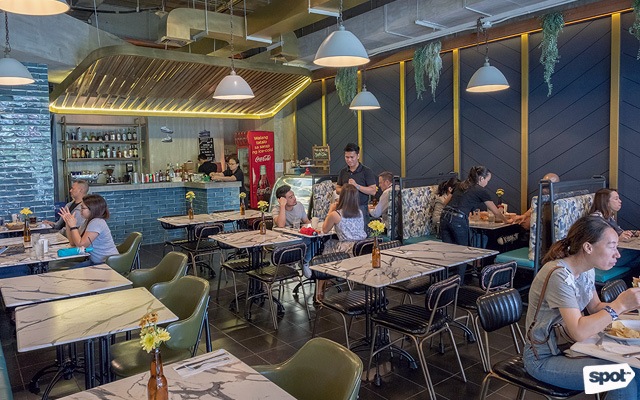 ADVERTISEMENT - CONTINUE READING BELOW
Now, the restaurant looks more polished, playing up the trendy New York City vibe quite nicely. Though the space is smaller than the original branch, the feel is bright, light, and airy, from the white marble tabletops to the refreshing green brick walls. The space's high and exposed ceiling showcases industrial beams and ductwork, plus a light fixture made of repurposed wood that shadows over the counter.
Even Borough's menu has undergone a noticeable makeover. "We tried to keep our more popular items and just freshened up the menu," shares Chef Cuit Kaufman. A true-blue New Yorker, the chef added more dishes that he grew up with, and the melting pot of cuisines that is New York City was his inspiration.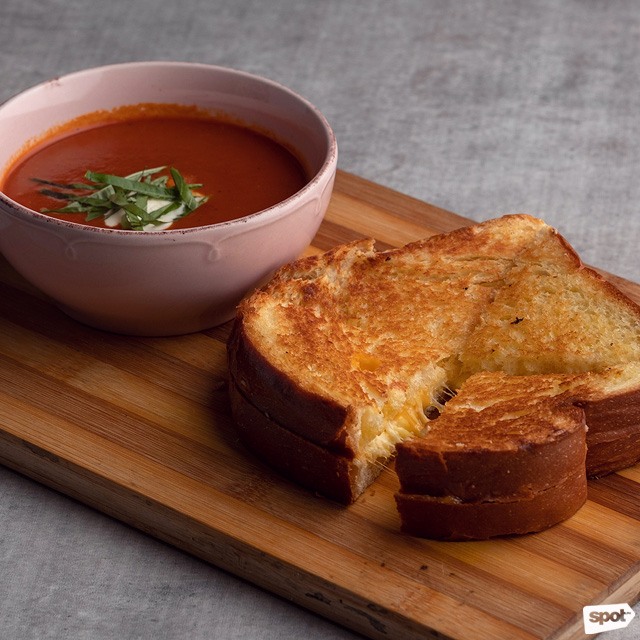 ADVERTISEMENT - CONTINUE READING BELOW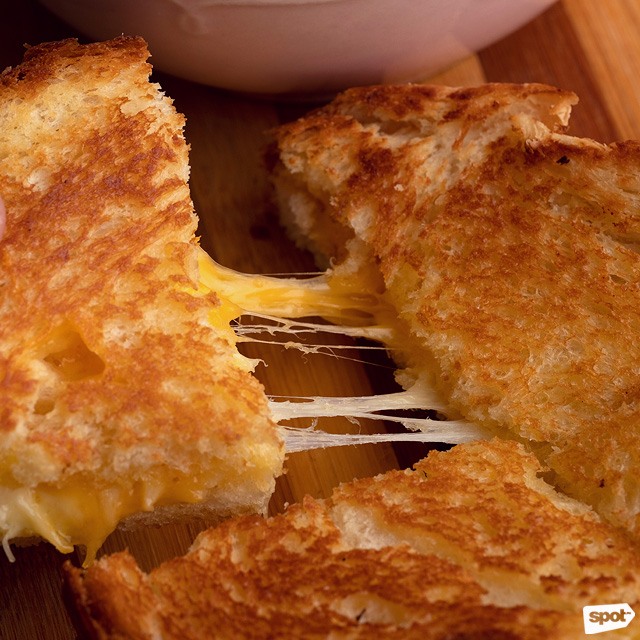 Borough fans don't need to worry much about these changes because the restaurant has kept their ever-popular Grilled Cheese and Tomato Soup (P320) on the menu. After all, no one can resist the gooey cheddar and mozzarella cheese sandwiched between two fluffy brioche buns, which also come with a good serving of creamy and tangy tomato soup—the comfort meal of all comfort meals.
ADVERTISEMENT - CONTINUE READING BELOW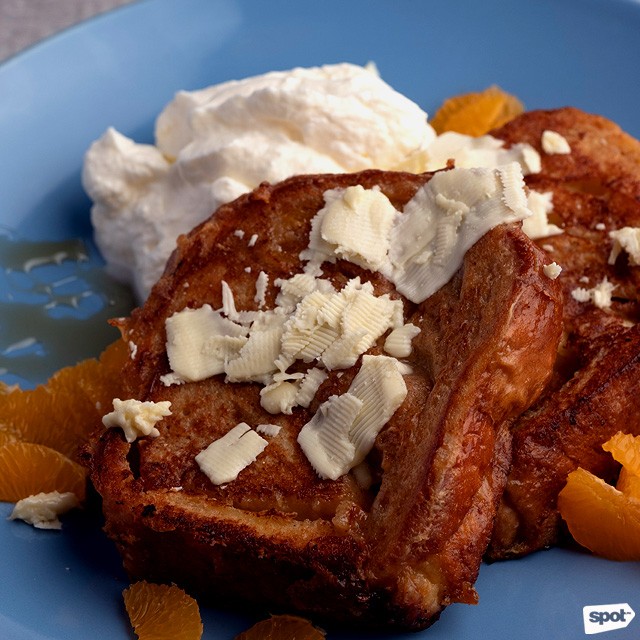 If you happen to be there for brunch, start your day right with a heaping serving of White Chocolate Orange Brioche French Toast (P420). The restaurant prides itself in making all their breads in-house, including the brioche, which is infused with orange bits and white chocolate, and then soaked in custard. It's plated with fresh citrus slices, your choice of whipped cream or butter, and a drizzle of honey. For a chocolate-based dish, it's surprisingly not too sweet—and it helps that the orange's acidity balances out the sugary white choco.
ADVERTISEMENT - CONTINUE READING BELOW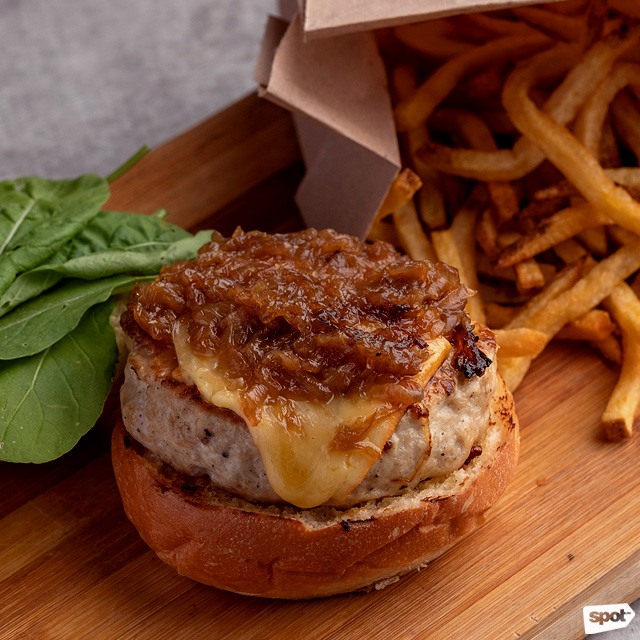 A delicious choice from the menu's sandwiches and mains category is the Borough Pub Chicken Burger (Borough Brewskie Burger) (P410), a generous chicken burger topped with smoked Gouda, beer-caramelized onions, and arugula on a brown mustard-slathered brioche. It's a lighter alternative to the beef burger but still very satisfying, especially with Borough's signature French fries on the side.
ADVERTISEMENT - CONTINUE READING BELOW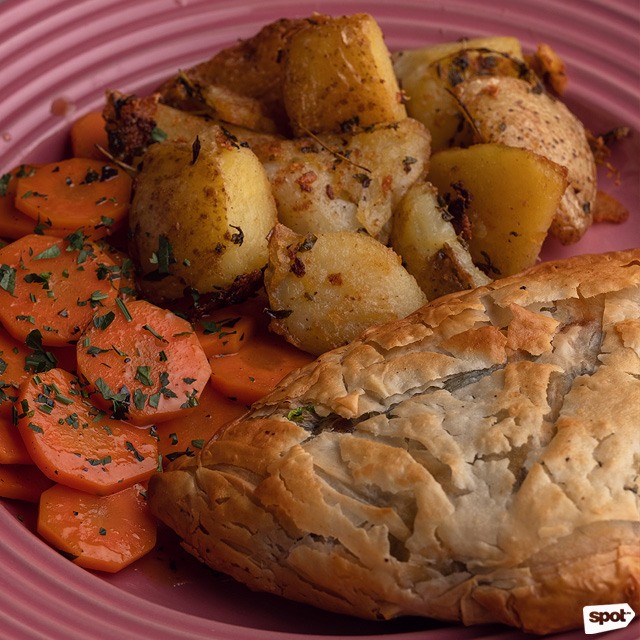 Another light but tasty option is a Greek-inspired dish called Spanakopita (P550), which is basically a buttery phyllo pastry filled with spinach and cheese. This delightful version is served with tzatziki, lemon and thyme roasted potatoes, and braised carrots.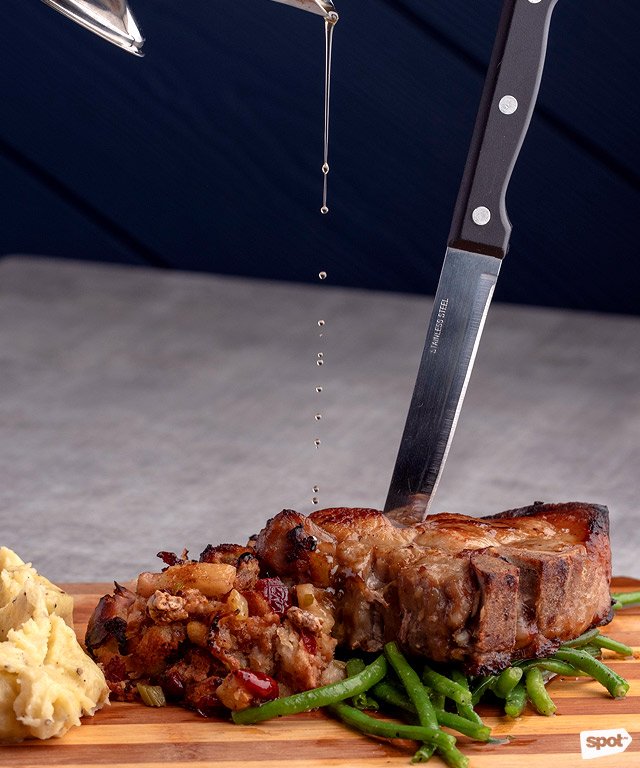 ADVERTISEMENT - CONTINUE READING BELOW
Something that's only available during dinnertime, and one that you definitely shouldn't miss, is the massive Apple Cranberry Stuffed Pork Chops (P680). This huge carnivorous meal has more than an inch-thick bone-in roasted pork chop with cranberry-apple brioche stuffing, "dirty" skin-on mashed potatoes, and buttered French beans. And did we mention that it's bathed in its own drippings?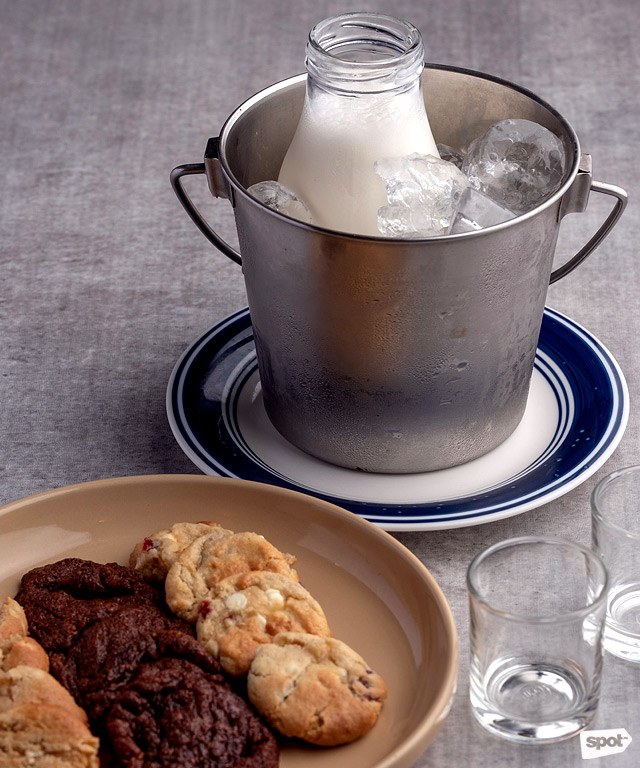 ADVERTISEMENT - CONTINUE READING BELOW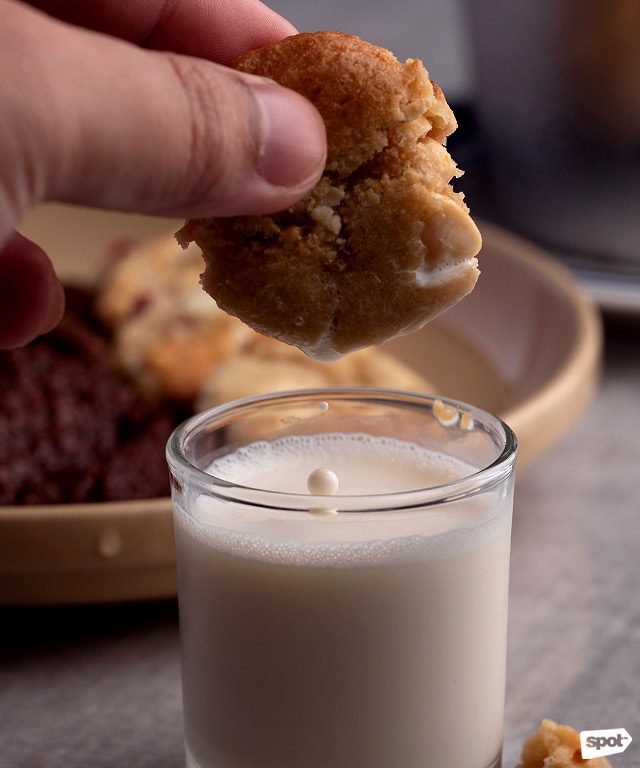 End your meal with the comforting, classic goodness of the Mom's Milk and Cookies (P250), which features three kinds of fresh-from-the-oven cookies and a special blend of ice-cold milk. During our visit, we got to try the peanut butter, gingerbread, and white chocolate with cranberry cookies. On other days, though, you might chance upon flavors like oatmeal raisin and dark chocolate chip.
ADVERTISEMENT - CONTINUE READING BELOW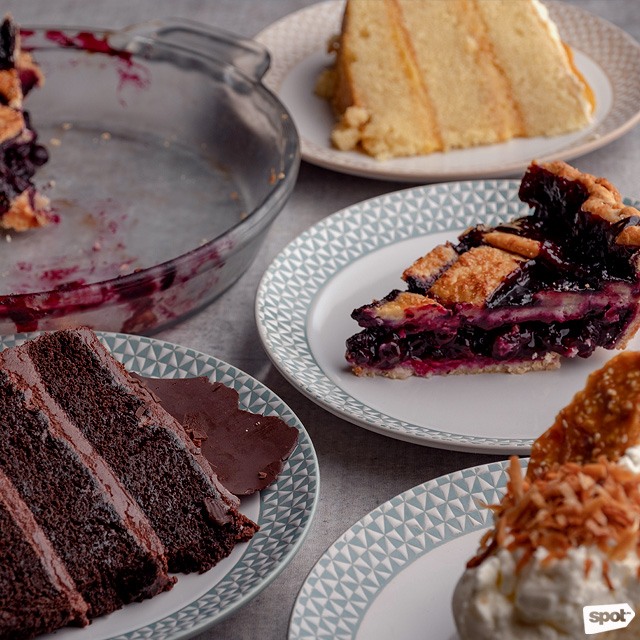 Don't miss Chef Kaufman's other sweet creations, too—after all, he was a pastry chef in Manhattan. Chocoholics will enjoy the Old Fashioned Chocolate Cake (P230), while those looking for something refreshing and tangy will love the Blueberry Pie (P300). But if you're hankering for a different and more unique taste, the Lemon Olive Oil Cake (P260) is highly recommended, with lemon peels, a lemon-curd filling, and a base made with extra virgin olive oil. You might think you'd get an overwhelming amount of citrus, but the symphony of flavors is pretty spot on.
ADVERTISEMENT - CONTINUE READING BELOW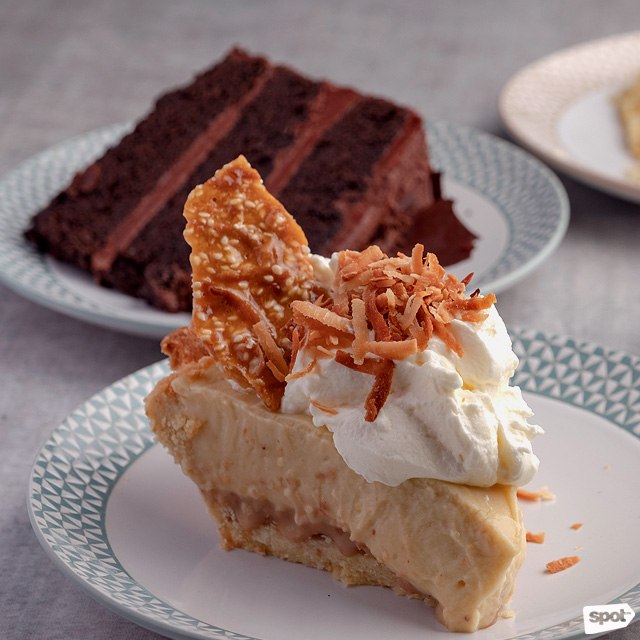 The restaurant rotates its pie selection regularly, and if you happen to get a glimpse of the Big Bird Coconut Cream Pie (P280), you better grab a slice, stat. Unlike its traditional version, this one has a sesame-seed shortbread crust with a sesame-coconut caramel layer in between the creamy filling. It's pretty irresistible since it's topped with whipped cream, toasted coconut flakes, and sesame-coconut brittle.
ADVERTISEMENT - CONTINUE READING BELOW
The pie is named after the children's classic, Sesame Street (also a popular street in New York), which Chef Kaufman watched a lot as a kid. Too bad we didn't see the Snuffaluffanutter Pie, a decadent dessert that mixes marshmallow fluff and peanut butter (or was that our imagination?). And before you go into a food coma, you might want to get yourself some coffee, with beans supplied by Yardstick.
So whether you go to Borough for breakfast or in the wee hours of the morning, know that this new outpost still has your back. It might look and feel different now, but trust us when we say they've still got that same charm and coziness it was known for, just like the good ol' days.
Photos by Hans Fausto
Are you sure you want to delete this list?

Load More Stories