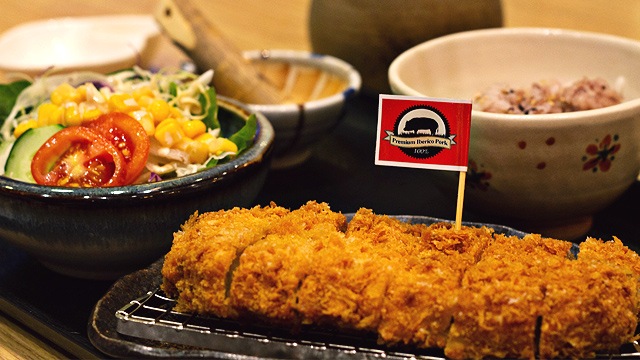 (SPOT.ph) Did anyone really think that our affection for tonkatsu (as a nation, not a publication, though that also applies) was ever going to go away? It's a winning combination of flavors and textures, really, so it's not hard to fathom why the trend has since turned into a virtual mainstay. For this list, we ranked these succulent Japanese pork cutlets according to overall flavor, tenderness, and crispness of breading.
All SPOT.ph Top 10 lists are researched, paid for, tested, and selected by the writers and editors. They are discreetly conducted without any notice made to the restaurants of their owners.
Also read: Top 10 Tonkatsu in Manila (2015 Edition)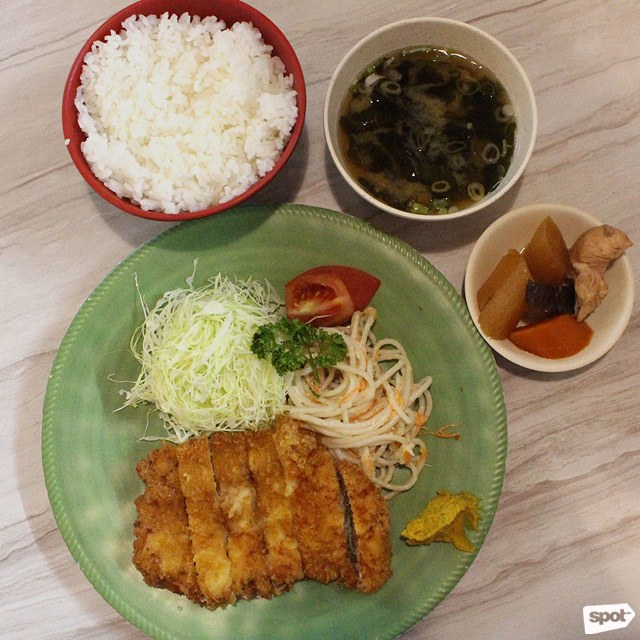 ADVERTISEMENT - CONTINUE READING BELOW
10. Tonkatsu Set from Yamazaki (P216)
All cards on the table, this place has a lot of things stacked up against it: The location and the unpleasant parking situation, just to name a couple. So the fact that Yamazaki made the list tells you that their tonkatsu is a great budget-friendly option and surprisingly good. Served with a tart-sweet sauce and near-pearlescent rice, their tonkatsu is a slightly unusual take on the standard pork cutlet set, thanks to the creamy spaghetti on the side. The golden deep-fried pork is above average, nonetheless, in terms of overall texture and crunch.
Yamazaki is at Little Tokyo, Chino Roces Avenue, Legazpi Village, Makati City.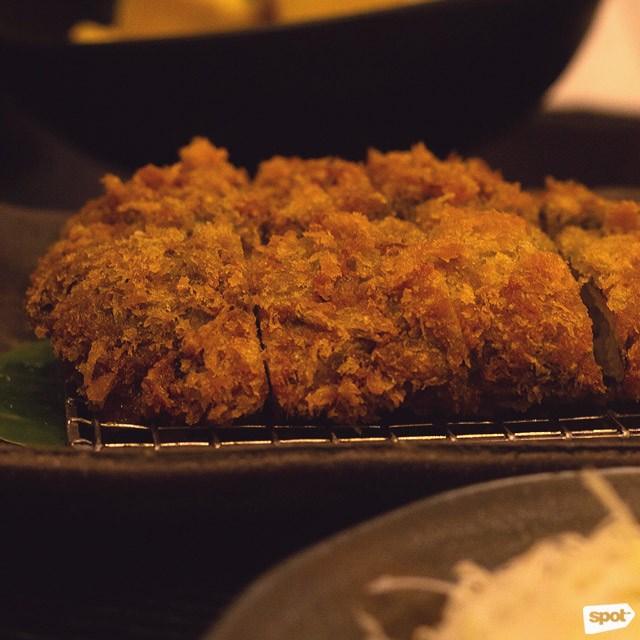 9. Black Pepper Katsu Set from Kimukatsu (P380)
Though the sauce at Kimukatsu is more aromatic than flavorful—which can be excellent, depending on what you want—the way they experiment gets good marks in our book. Their Black Pepper Katsu, in particular, sports a façade of simplicity that belies its literal layers of black pepper beneath its crunchy coating. Overall, Kimukatsu's strong point is that dreaded word: Moistness.
Kimukatsu has branches at Shangri-La Plaza, Ortigas, Mandaluyong City; and Century City Mall, Kalayaan Avenue, Poblacion Makati City.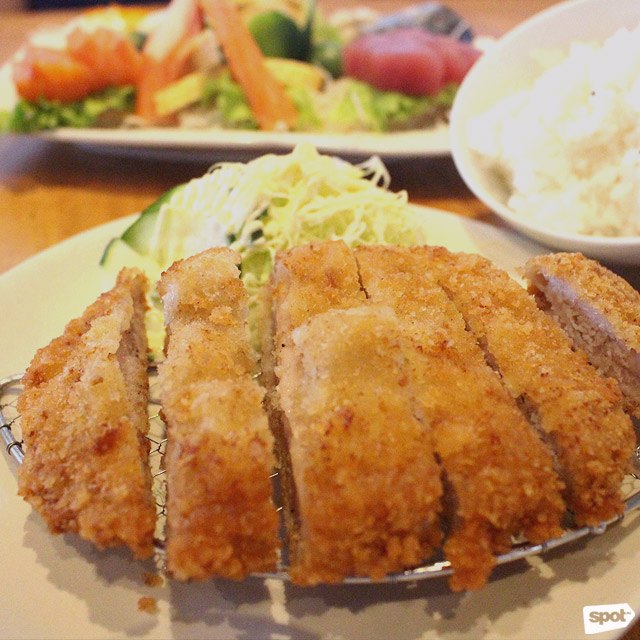 8. Tonkatsu Set from Kenji Tei (P260)
Tonkatsu isn't Kenji Tei's specialty, but it's still pretty dang good. It's not an experience in the same way some higher-ranking items are, but it's still a champion combination of juicy and tender pork and beautifully shiny sticky Japanese rice that satisfies cravings remarkably well. It just trumps the last two by way of the pricing and that undeniable crunch, cushioned by that yielding meat.
Kenji Tei has branches at Alabang Town Center, Alabang, Muntinlupa City; Greenbelt 5, Ayala Center, Makati City; and Lucky Chinatown Mall, Binondo, Manila City.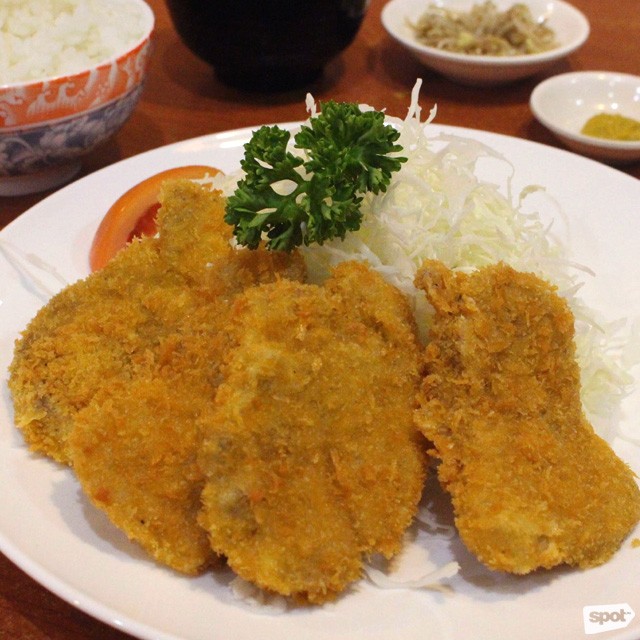 ADVERTISEMENT - CONTINUE READING BELOW
7. Hirekatsu Set from Tonkatsuya (P240)
In spite of a slightly sweeter sauce, this tenderloin tonkatsu (thus, "hire" in hirekatsu) dish manages to hit equilibrium by being one of the most tender slices of deep-fried pork and one of the crispiest. The no-frills location makes it seem unlikely, but this basement joint doesn't disappoint. Featuring a delightfully mild miso soup on the side, the whole thing makes for a virtually perfect rainy-day hideaway. In short—we still love this place even after all these years.
Tonkatsuya has branches at Saint Paul Street, San Antonio Village, Makati City; Antipolo Street, Poblacion, Makati City; and Amorsolo Street, Legazpi Village, Makati City.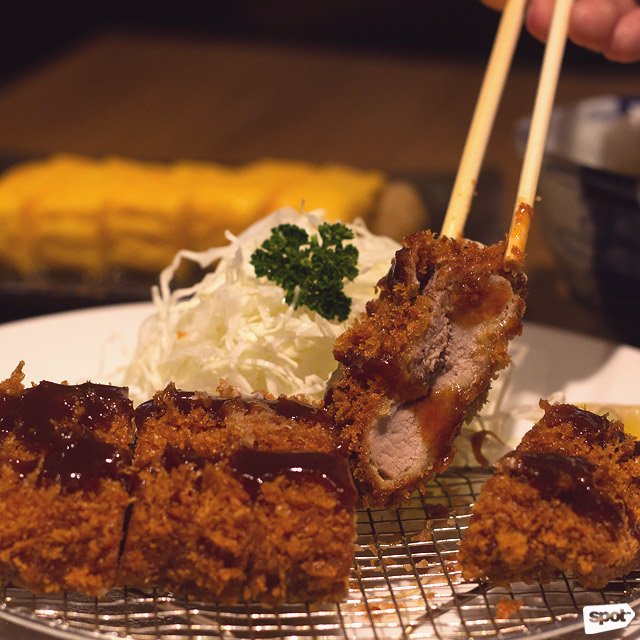 6. Kurobuta Katsu from Maisen Tonkatsu (P630)
While the price point packs a punch, so does the size of this absolutely tasty tonkatsu set from Maisen Tonkatsu. The words for this interpretation of tonkatsu are just short of inappropriate—it's that good, and we're only on number six—seeing as we're generally a family show, we'll refrain. We'll stick to calling it thick (or thicc, as the children say) and ridiculously juicy. The almost-uniform breading makes it quite the looker, too. 
Maisen Tonkatsu has branches at Greenbelt 5, Ayala Center, Makati City; SM Megamall, Ortigas, Mandaluyong City; and Shangri-La at The Fort, Bonifacio Global City.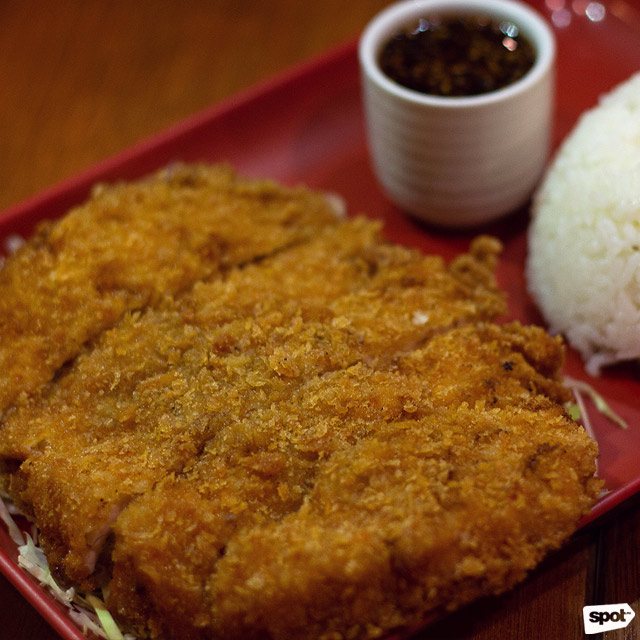 5. Tonkatsu from Crazy Katsu (P180)
There's nothing wrong with a great wallet-friendly option, and this isn't even their best item yet. What Crazy Katsu might lack in a fancy-schmancy atmosphere, they make up for in neighborhood vibes, because sometimes that's all you need to feel better. Though its à-la-carte serving might leave some wanting, this variation of the dish puts on no airs and toots no horns; it's just delicious, and done so well. Crispy, tender, great with white rice, and steaming as it's brought to your table—what more could one ask, apart from another order to take home?
ADVERTISEMENT - CONTINUE READING BELOW
See a list of Crazy Katsu branches.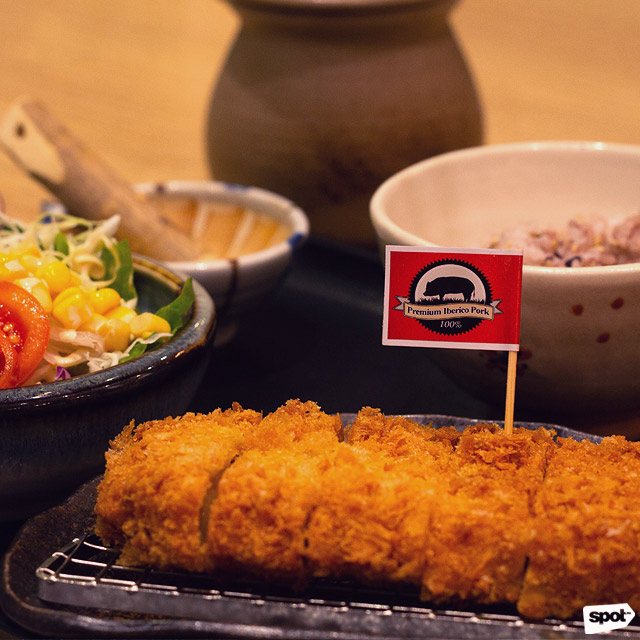 4. Iberico Pork Set from Katsu Sora (P675)
We're edgy to have to put this so high up the list with a price that could almost burn a hole in your wallet, but hear us out: You're paying for quality (hello, Iberico!) and you're paying for some strangely appropriate fanfare. With fresh salad, a particularly tart sauce, and glorious Japanese deep-fried pork cutlets made basically the way it should be—succulent, thick but pillowy soft, and crunchy all at the same time—it's stayed on this list with good reason.
See a list of Katsu Sora branches.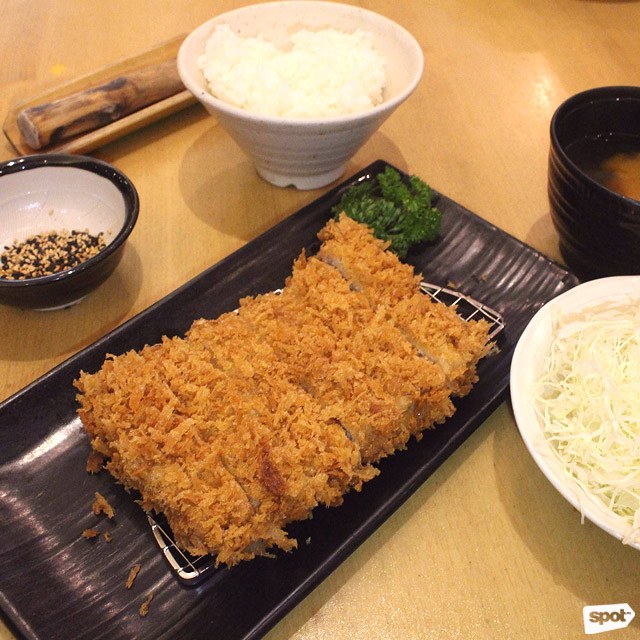 3. Medium Tenderloin Set from Saboten (P425)
Forget tender—this is straight-up soft. An unexpected twist here is that the sauce is slightly more thinned out, which you might think would take away points. What actually happens is that you get all the flavor of the standard sweet sauce, without the smothering that tends to happen when you dunk a little too long. With mildly pickled vegetables, a clean, non-gritty miso soup, and undoubtedly gorgeous rice, Saboten's take on tonkatsu has earned this spot.
Saboten is at G/F Serendra, Bonifacio Global City.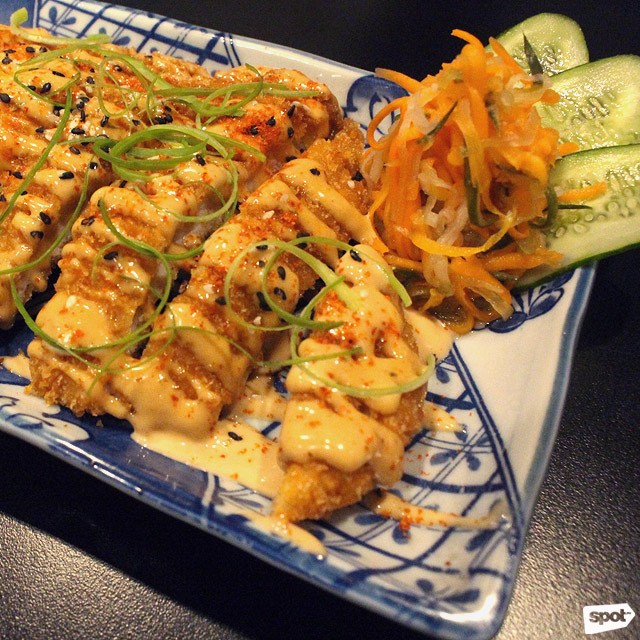 ADVERTISEMENT - CONTINUE READING BELOW
2. Pork Tonkatsu from Ebi 10 (P165)
Out of left field, we present you with a place that has A) arguably the best lighting, B) the version of tonkatsu that can't be improved on save for a cold beer, and C) the best and punchiest umami flavors ever found on the humble fried pork cutlet. Having just the right amount of thickness, it's easy to devour this crispy, meaty godsend with or without rice—it doesn't feel heavy nor does it leave an unsightly blanket of grease over your lips. That's it. Nothing more has to be said. It's just excellent, and even the pickiest of eaters will want to go on the adventures Ebi 10 has planned. It may not come in a set, but the fact that it's ranked this high without that tells you just how good they're serving it.
Ebi 10 is at Tambai Alley, Felipe Street, Poblacion, Makati City.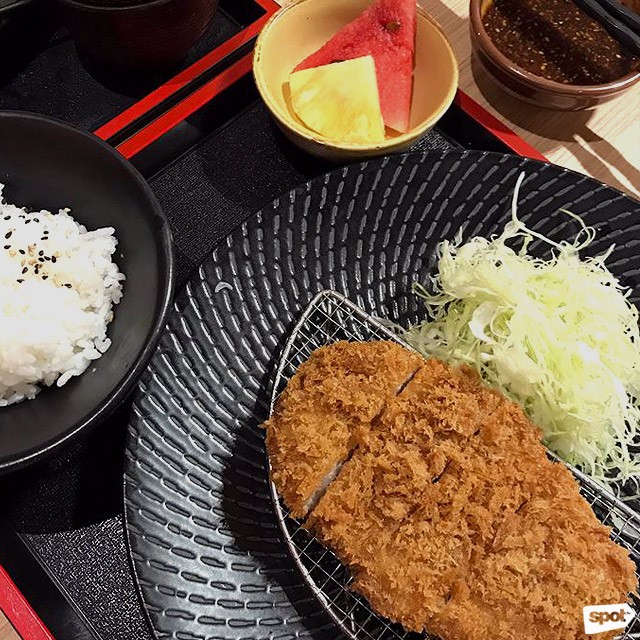 1. Rosu Set from Yabu (P445/180 grams)
All hail the returning champion, the conquering hero. Yabu stays on top with their traditional pork cutlet that's so tender you could call it pliant, and delicately golden breading so crunchy you can hear the other table go to town on it. Long story short, (too late?) it's exactly what you envision when you think of Japanese fried food. That, and then some, because it also tops the list for the unlimited sides, which are good in and of themselves. Yabu hasn't failed us or ever suffered all these years—not in their service, not in their servings, and certainly not in the quality of their food. Done. Dusted. We wash our hands of this whole affair—at least until next time.
See a list of Yabu branches.
Photos by Michiko Manalang, Debbie Zara, and Criselda Carreon
Share this story with your friends!
---
Help us make Spot.ph better!
Take the short survey
More Videos You Can Watch
Load More Stories