This Rustic Restaurant Offers a Fantastic View of the Metro
You can find it inside Masungi Georeserve.
While being updated is a must these days, staying online 24/7 can actually take its toll on us with busy news feeds and nailing that Instagram-worthy shot. Because of these, many have been trying digital detox to rediscover what it's like to stay offline for longer periods. Aside from picking up a new hobby, revisiting well-loved spots, and maximizing time spent at home, many are discovering the wonders of the great outdoors by setting up camping trips and hiking adventures.
Nestled within the rainforests of Rizal, Masungi Georeserve is a popular destination that brings visitors closer to nature. It features exciting trails, breathtaking pathways, set amidst a lovely limestone landscape. Masungi Georeserve is also a conservation area and rustic rock garden that offer a close encounter with wildlife and plant species. If you've seen the photos, we're sure you've been curious about those giant, web-like platforms that offer a view of the surroundings.
ADVERTISEMENT - CONTINUE READING BELOW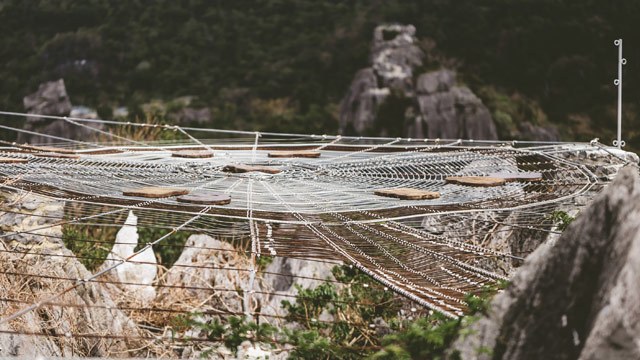 Traversing the Discovery Trail, which lasts for three to four hours, will bring you to stops like Yungib ni Ruben, a cave formation that's part of a karst landscape; Tatay, a tall natural sculpture and formation composed of rocks; and Liwasan, a valley-like area with a bird bath and a rest area meant for relaxation, to name a few. Anticipating the need to have a good meal after a long yet fulfilling trek, the team behind Masungi added a secret escape within the area called Silayan Dining Room.
ADVERTISEMENT - CONTINUE READING BELOW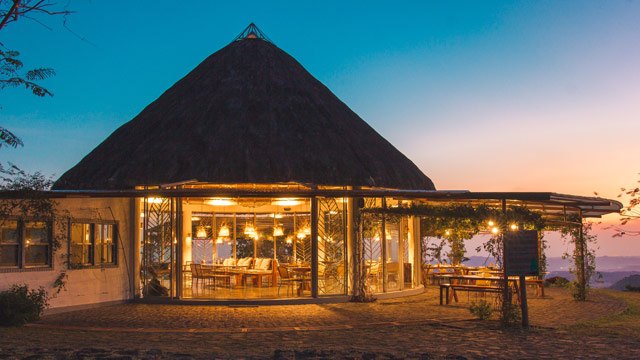 Masungi Georeserve's Silayan Dining Room is housed in a quaint hut that can be reached within five to 10 minutes from the trail entrance. It offers delicious meals made using local and indigenous ingredients found within the georeserve. 
"It's part of the geotourism model of Masungi which highlights tourism that enhances the geographical character of an area while empowering communities. Silayan was initially opened to serve hungry guests after their trail visits, so it was initially exclusive to the trail guests. This year, we slowly launched three set menus for non-trail guests since some of the guests wanted to come back with their families and friends to share some of the unique food we serve," shares Billie Crystal Dumaliang, Masungi's advocacy specialist.
ADVERTISEMENT - CONTINUE READING BELOW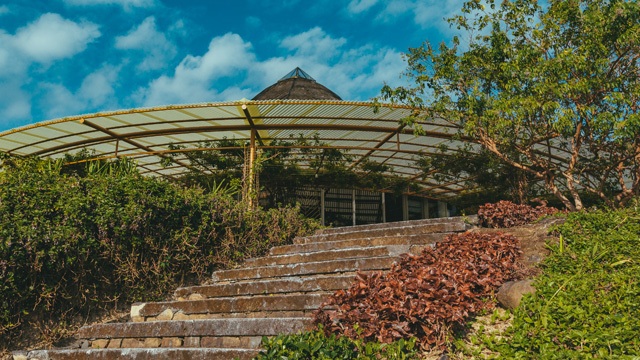 According to Dumaliang, their in-house design and engineering team took the lead in designing and constructing the glass hut. "We collaborated with an independent interior designer for layout planning. The main direction was to go as local as possible, to use only local and recycled materials found within the premises," Dumaliang adds.
ADVERTISEMENT - CONTINUE READING BELOW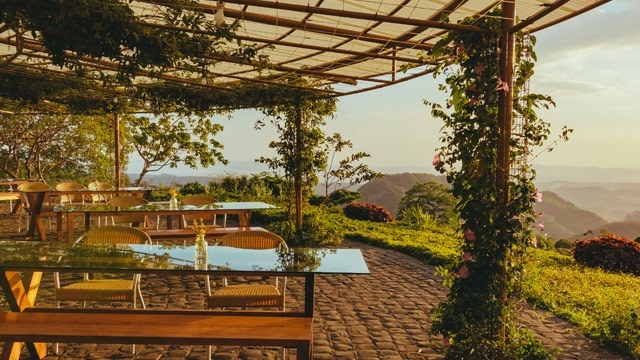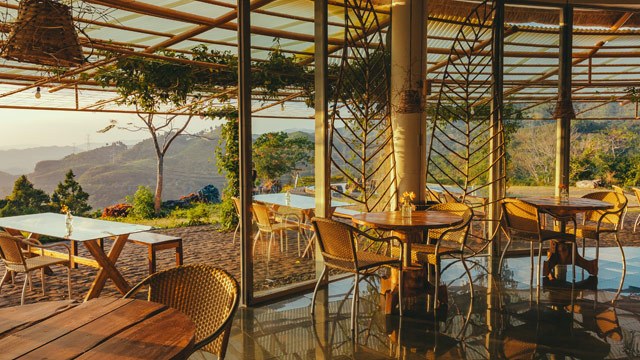 ADVERTISEMENT - CONTINUE READING BELOW
The roof of the hut is made up of pure cogon grass with corrugated plastic roofing protecting the outdoor tables from the elements. Adding a whimsical appeal to Silayan are the climbing vines sprucing up the poles and trellises supporting the roof.
"The parts of our tables are made from tree trunks that fell during Ondoy. Meanwhile, the wall accents are made from bamboo," adds Dumaliang. Dining outdoors allows guests to relish the view while enjoying a hearty meal. Some of the tables have benches paired with matching chairs, ideal for big groups and family get-togethers. 
Inside the hut are smaller round tables good for two. What we love best are the rustic-inspired elements and accessories that add warmth to the space. Perhaps to conceal the columns supporting the structure, huge leaf-like accents liven up corners, alluding to the refreshing surroundings.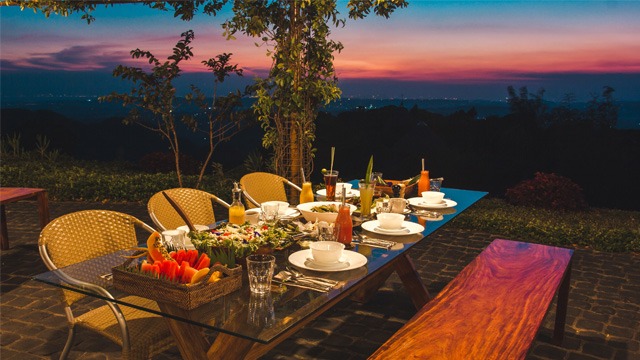 ADVERTISEMENT - CONTINUE READING BELOW
"Guests can expect to be enveloped in nature and be amazed by the 360-degree view of the city, the Sierra Madre, and the Laguna de Bay. They will enjoy the privacy that only a mountain dining experience can offer as well as food, sauces, and other intriguing concoctions you can't find anywhere else," she adds.
With seasonal menus that highlight local ingredients and a spectacular view, we won't mind staying a couple of hours more for dessert, coffee, and tea.
The Silayan Dining Room is open from Tuesday to Sunday from 10:00 a.m. to 5:00 p.m. Non-trail guests are also welcome from 12:00nn to 2:00 p.m. It's best to reserve a table three days in advance. Get in touch with the restaurant through mobile numbers 0995-186-9911 or 0908-888-7002.
The Masungi Georeserve is located at Kilometer 47, Marcos Highway, Baras, Rizal. For directions and inquiries, visit their website.
This story originally appeared on Realliving.com.ph. Minor edits have been made by the Spot.ph editors.
ADVERTISEMENT - CONTINUE READING BELOW
Recommended Videos
Load More Stories