210 Degrees Kitchen + Drinkery
Unit 1D, G/F Icon Plaza, 25th Street corner 6th Avenue, Bonifacio Global City
Contact: 0995-015-2192
Open from 5 p.m. to 1 a.m. (Monday to Saturday)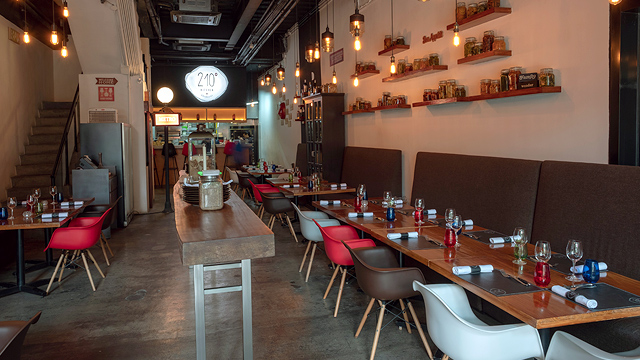 (SPOT.ph) You might be more familiar with the omakase-style Japanese restaurant next door or the famous ramen joint near that almost always has a queue, but not many might have heard about 210 Degrees Kitchen + Drinkery, a low-profile restaurant at Icon Plaza in BGC. 
For over a year now, this neighborhood hangout has been silently serving sophisticated yet fun cuisine to diners. Think of it as the baby sister who's being overshadowed by its elder siblings. She may be the littlest one, but she's still worth knowing.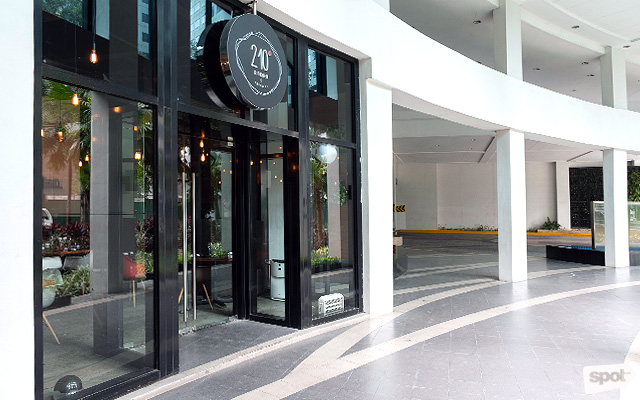 ADVERTISEMENT - CONTINUE READING BELOW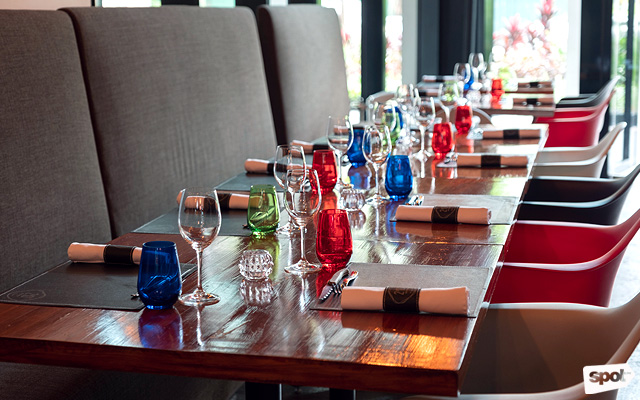 210 Degrees Kitchen + Drinkery used to be under the helm of Chef William Mahi, who came from two Michelin-starred restaurant Spondi, but the former recently had a total revamp in its menu.
"Now, our cuisine, I would say, is globally inspired," shares Head Chef Josiah Alexis Sanga, who was previously the sous chef of Mahi. With his training under Mahi's tutelage, plus his experience working in Jean-Georges Restaurants, he came up with his own brand of cuisine that brings together the best of French techniques, Asian influences, and inspirations from his travels. "Now, we have pasta on the menu, burrata, fried chicken, and soon, burgers."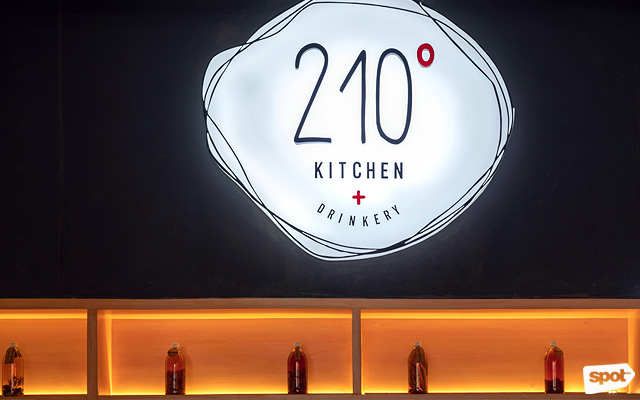 ADVERTISEMENT - CONTINUE READING BELOW
Recommended Videos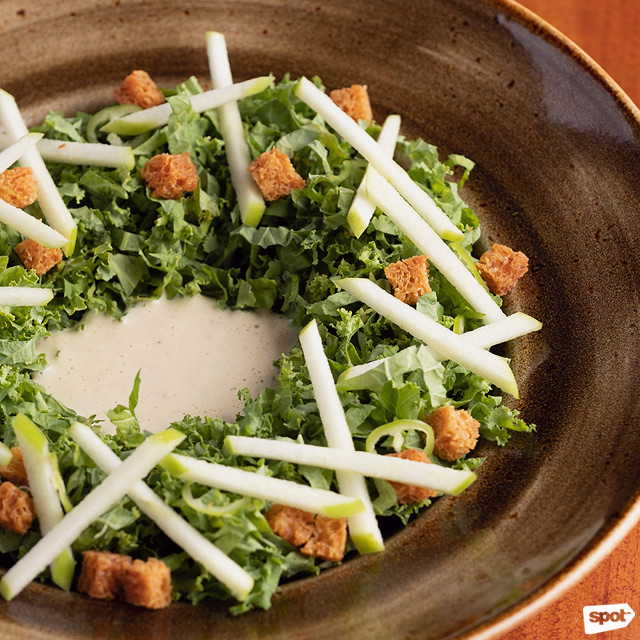 Such dishes might seem run-of-the-mill, but wait until you see the chef's artistic twists to it. For starters, you can order the Kale (P460), a beautifully plated salad that has slivers of Granny Smith apple, sourdough croutons, and a creamy lemon-Parmesan dressing at the center. It mimics the taste of the classic caesar salad, but iT's lighter and a bit more refreshing thanks to the sweet apples.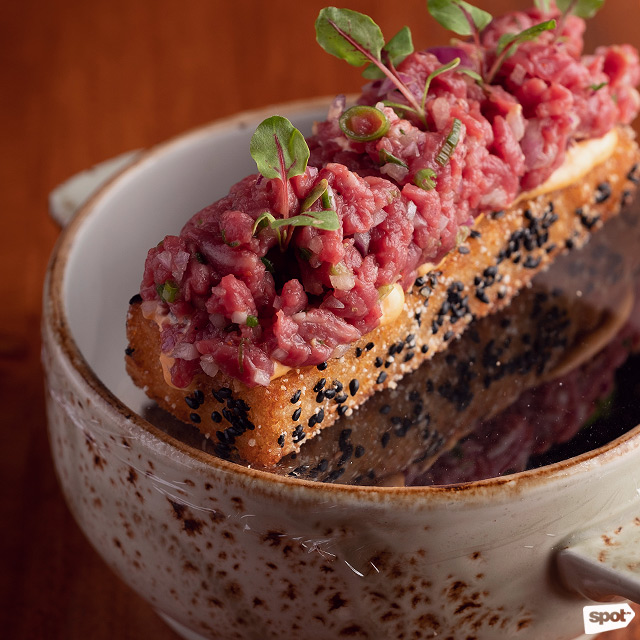 ADVERTISEMENT - CONTINUE READING BELOW
Something that would pleasantly surprise your palate is the Wagyu Beef Tartare (P560). Its menu description doesn't even do it justice when it said, "crackling rice and pimiento emulsion." With minced raw-tenderloin beef sitting on top of a sushi roll-like log, the base is smeared with a delicate chipotle-mayo dressing, coated with sesame seeds, and then deep-fried to a crisp. This glorious starter is garnished with micro greens and rests on a cling wrap-covered bowl—oddly enough—with more sesame seeds inside. Although this dish seems too pretty to eat, the chef suggests you devour it with your hands. You'll fall in love with your first bite, which marries the soft beef and the warm rice with toasted seeds.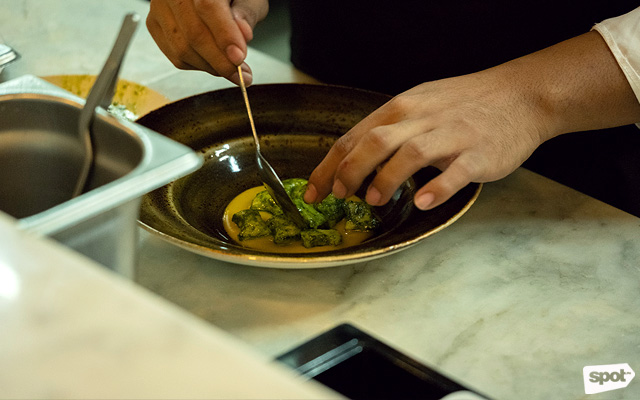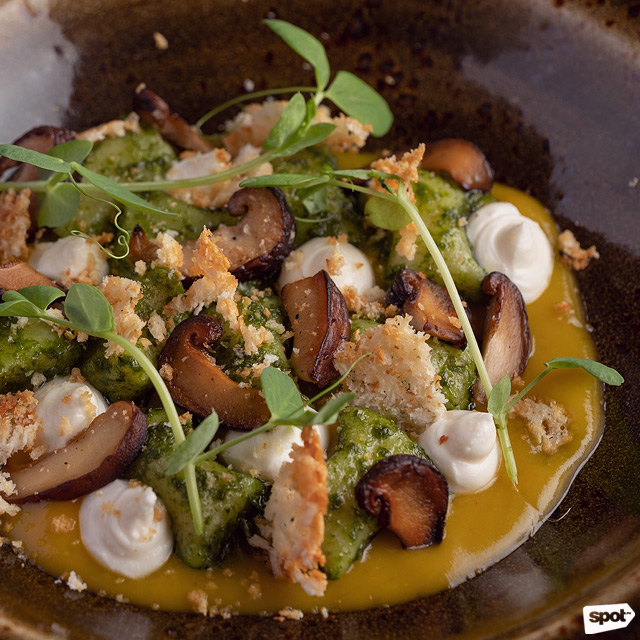 ADVERTISEMENT - CONTINUE READING BELOW
If you're looking for something heavier, treat your taste buds to Gnocchi (P480) where you'll enjoy pillow-soft potato dumplings that are coated in pesto and served in sweet pumpkin sauce and a smooth mix of mascarpone and feta sauce. Slices of shiitake mushrooms and crispy Parmesan bits add texture and depth to this very refined dish. Should you want a more familiar pasta dish, we suggest you visit on a Monday for Meatball Mondays, where you can try a full serving of spaghetti and meatballs with a complimentary glass of either red or white wine for P490. There's also an option for a three-course set menu—just ask the servers about it.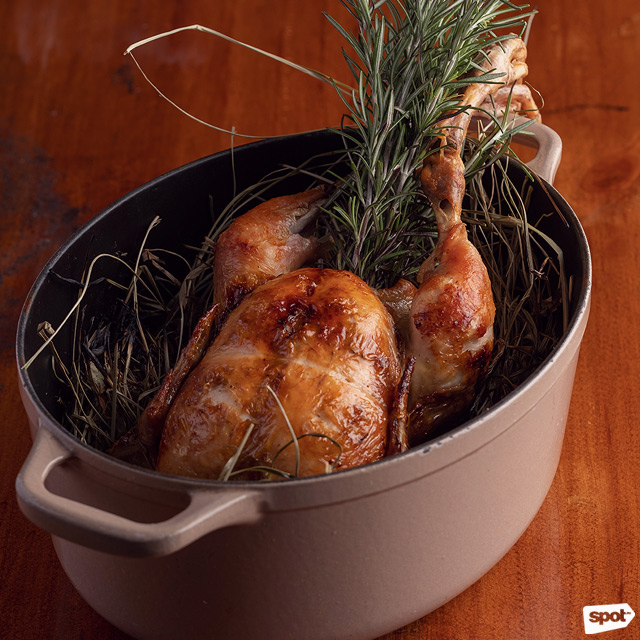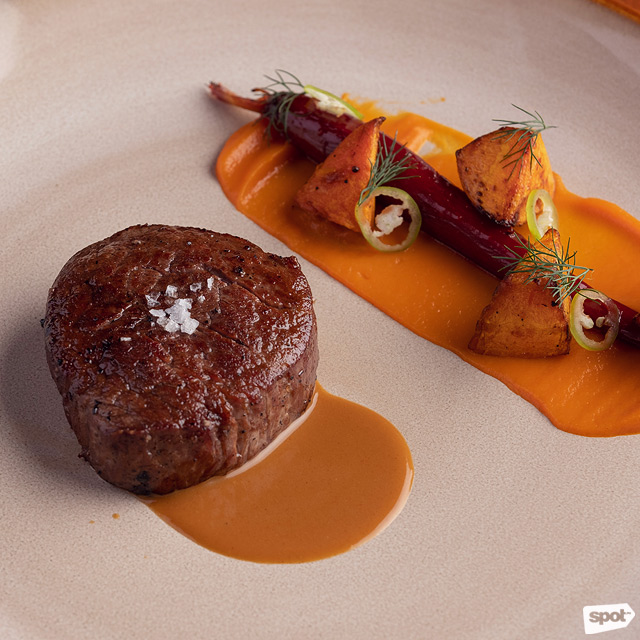 ADVERTISEMENT - CONTINUE READING BELOW
If you want to head to the meat of the matter, take your pick from the restaurant's curated and protein-laden menu. There's the 210 Degrees Roast Chicken (P2,000), which features a whole chicken cooked in the ideal temperature of 210 degrees, and served with foie gras, truffle jus, fresh truffle, and crunchy potatoes. This slow-cooked meal requires 45 minutes for roasting, so you might want to consider other options while waiting: we're talking about the show-stopping Beef Tenderloin (P980), a 120-gram Australian tenderloin steak. The steak is cooked to your preference and is served with carrots cooked three ways: Roasted, glazed, and puréed (spot the purple carrot!). A pool of miso-mustard sauce is also placed beside the steak in case you want to add a different flavor profile to the fork-tender beef.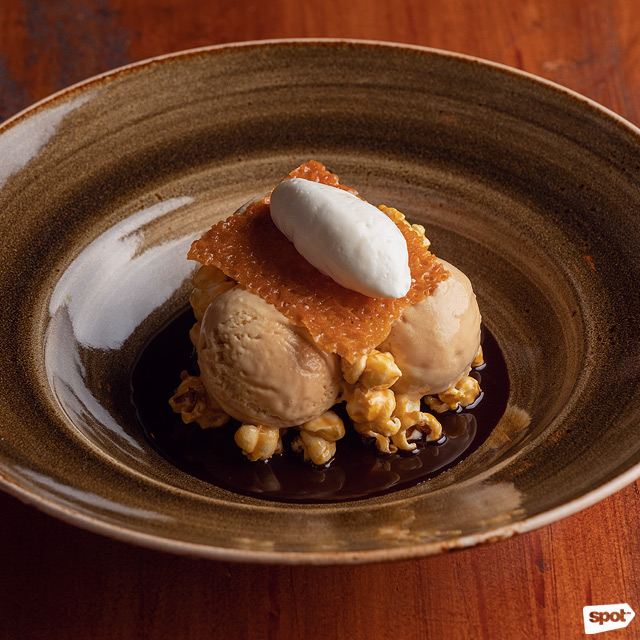 Dessert lovers would enjoy a sweet ending like the Ice Cream Sundae (P380), where you'll find three scoops of salted-caramel ice cream on a bed of Malagos Chocolate fudge sauce and caramel popcorn, and decorated with sugary tuile. You'll get a thrill out of the play of textures in this sweet and cool treat.
ADVERTISEMENT - CONTINUE READING BELOW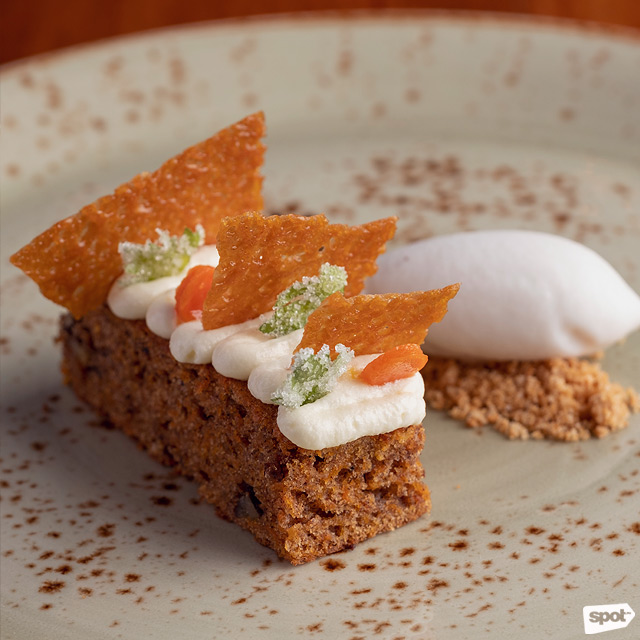 If cake is more your thing, then go for the Carrot Cake (P360), which looks like a simple dessert—until you see and taste its components, from the brown-butter to the cream-cheese frosting that's embellished with actual crystallized celery leaves and carrots. On the side is a scoop of coconut sorbet and spiced crumbs.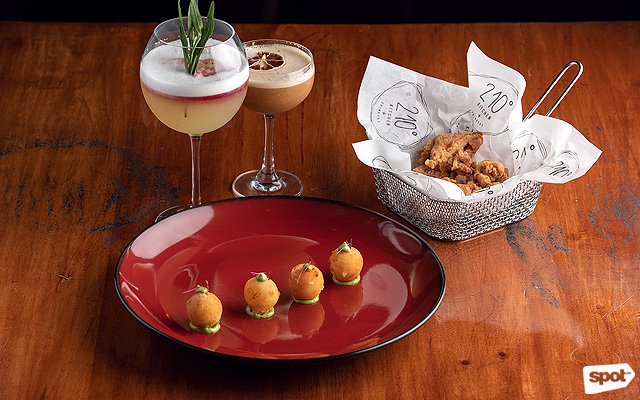 ADVERTISEMENT - CONTINUE READING BELOW
Just because you're done with dessert doesn't mean that you have to leave. After dinner, you can head up the second floor where you can unwind with a glass of wine, craft beer, or other spirits. Pro tip: Happy Hour goes from 5 p.m. to 7 p.m. and if you order any cocktail, you can get your second one at just half the price. Choose from three cocktail options: Raging Bull, Peachy Keen, and Royal Rumble. Don't miss the chance to chill with their signature cocktails like Garden of Eden (P380), a potent gin-based drink, and Tea-Tos of Manila (P380), a fragrant tea-infused vodka creation. While you're at it, grab some Fried Chicken (P480) with saffron aioli, Croquetas (P320) made with Gruyère cheese, and other bar bites while you take in the cool upstairs vibe that'll make you think of your university days.
There's a library with a full shelf of books, a chalkboard menu, cozy lounge chairs, and not to mention, '80s and '90s music playing in the background. Don't say you heard it from us—but beyond those shelves is a speakeasy where you can host private events, too. With all these up their sleeve, it'd be worth coming back. One of BGC's most underrated restaurants might not stay low-key for long.
Photos by Hans Fausto
Share this story with your friends!
---
Help us make Spot.ph better!
Take the short survey
Load More Stories