Top 10 Roast Chicken in Manila (2018 Edition)
Who doesn't love lechon manok?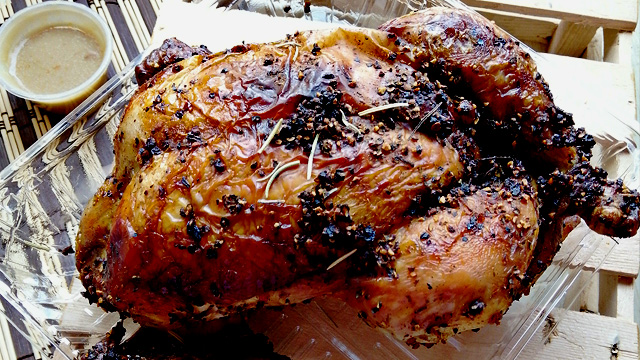 (SPOT.ph) When it comes to potluck parties or impromptu dinner celebrations, expect that someone will always bring a whole piece of the classic roast chicken. You can get it almost anywhere— from neighborhood stalls in the Metro to local groceries—and it's not too expensive (most of them cost less than P300). It's always safe to assume that people just love good ol' lechon manok. But in case you want to level up your potluck game and bring one to the table (or are simply too lazy to cook—we all are), we found the best roast chicken in Manila and ranked them according to overall flavor, tenderness, accessibility, and value for money.
ADVERTISEMENT - CONTINUE READING BELOW
CONTINUE READING BELOW
Recommended Videos
All SPOT.ph Top 10 lists are researched, paid for, tested, and selected by the writers and editors. They are discreetly conducted without any notice made to the establishments or their owners.
Also read: Top 10 Roast Chicken in Manila (2015 Edition)
Where can you get the best roast chicken in Manila?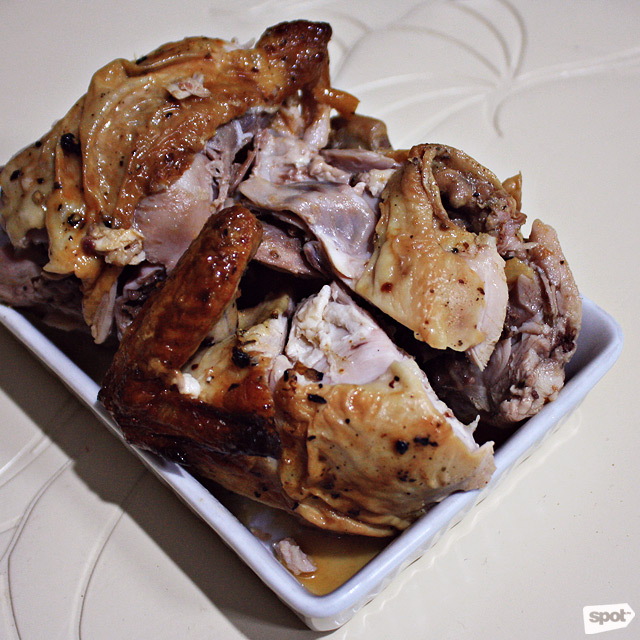 10. Classic Roast Chicken from SM Hypermarket (P159)
ADVERTISEMENT - CONTINUE READING BELOW
SM Hypermarket's roast chicken doesn't hold back on the bold lemongrass flavor so it might be a bit too intense for people who want their lechon manok on the milder side. And although its pale appearance can possibly make you turn the other way, the juiciness and wallet-friendly price tag more than make up for it, making this an easy choice for last-minute dinners when you're on a tight budget.
See list of SM Hypermarket branches.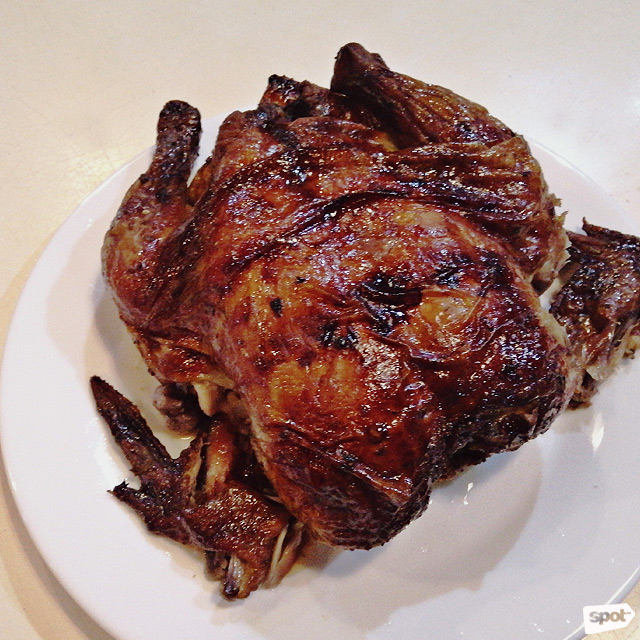 9. Roast Chicken from Robinsons Supermarket (P239)
ADVERTISEMENT - CONTINUE READING BELOW
The fork-tender meat and generous size of Robinsons Supermarket's roast chicken make it a clear and strong contender, but it would have ranked higher if the flavor were consistent throughout the entire chicken. Despite that, this succulent lechon manok boasts a lip-smacking herby flavor from what we would conclude are rosemary and thyme, both of which you'll be able to taste from the glistening reddish-brown chicken skin down to the bones.
See list of Robinsons Supermarket branches.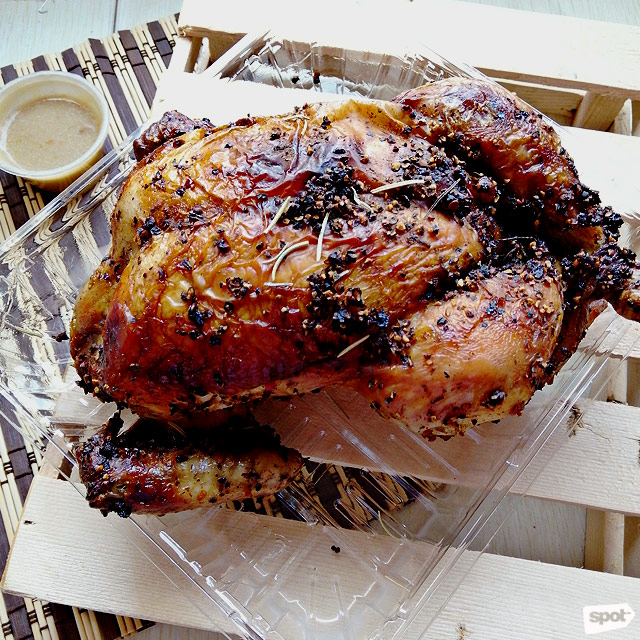 8. Roasted Chicken from Marketplace by Rustan's (P360)
ADVERTISEMENT - CONTINUE READING BELOW
The roast chicken from Marketplace by Rustan's banks on a blend of secret herbs and spices and loads of crushed peppercorns to please those with discerning palates. And even though it's the most expensive option on the list, it could easily be your top choice if you want to impress your friends (or picky mom). On the other hand, you might notice that most of the chicken's flavor comes from the spice-packed skin and not too much from the supple meat. Don't worry, the semi-sweet gravy that comes with this beautiful piece of roast makes everything so much better. 
See list of Rustan's Supermarket branches.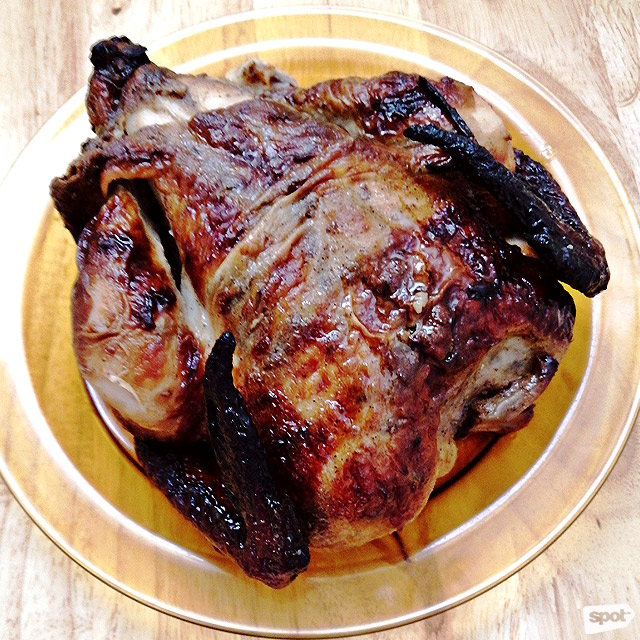 7. Rotisserie Chicken from S&R (P299)*
ADVERTISEMENT - CONTINUE READING BELOW
Thanks to food-delivery apps like Honestbee and Food Panda, non-members can now have a whole roast chicken delivered from S&R right to your home or office—convenient, yes? S&R's take on the classic roast chicken might be less juicy than you'd expect (we know you're saving the drippings for your rice!), but it's an excellent choice if you're looking to eat something generously portioned and meaty, and pleasantly salty and peppery around the edges.
See list of S&R branches.

*Honestbee price, exclusive of delivery fee. S&R's rotisserie chicken is at P216.95 for Luzon branches (except Congressional branch, P214) and P219.95 for Visayas and Mindanao branches.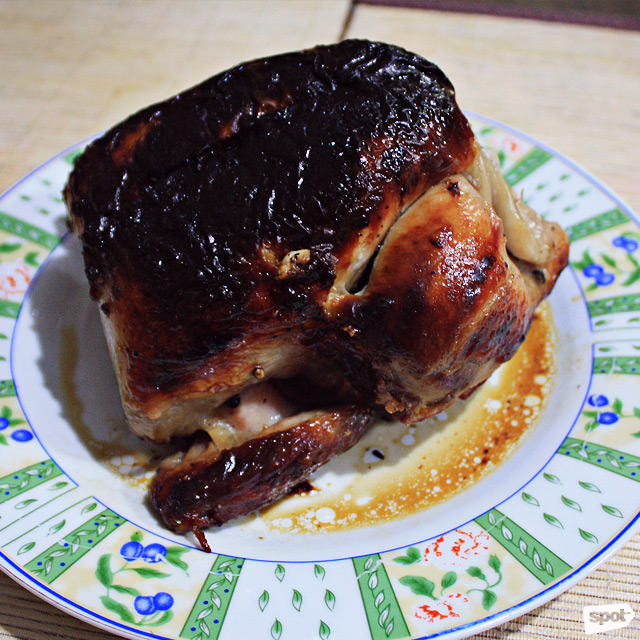 6. Pepper Roast Oven Chicken from Chooks to Go (P239)
ADVERTISEMENT - CONTINUE READING BELOW
Chooks to Go's tagline is "Masarap kahit walang sauce!" and we won't argue. You can choose between the Sweet Roast, which is glazed with honey, and the Pepper Roast, which is marinated with a lot of pepper and herbs. It doesn't matter, though, because both are flavorful on their own—if you can forgive the chewy texture. On the bright side, you can have a whole chicken delivered to your doorstep anytime via Honestbee or Food Panda or, you know, just walk to the nearest Chooks to Go stall because they're practically everywhere.
See a list of Chooks to Go branches.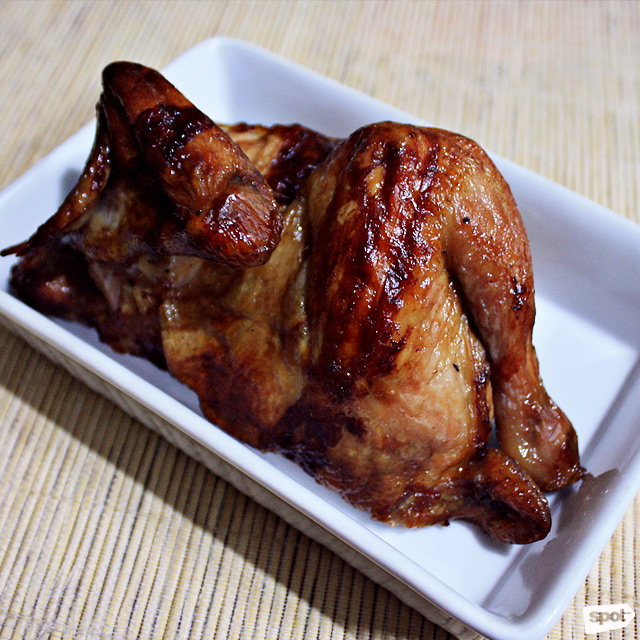 5. Original Jumbo from Andok's (P259)
ADVERTISEMENT - CONTINUE READING BELOW
Good ol' Andok's has been around since 1985 and it's practically become a staple at any party (or for those lazy nights where you just can't be bothered to whip up a meal). The Original Jumbo from Andok's is a good choice if you're not going to feed a big group—with its petite size, it might just be enough for two adults or one very, very hungry person. It's also a great choice if you're not a fan of sweet marinades because this lechon manok can be quite zesty (we suspect it's calamansi juice). While it's a really tasty option, it could use an extra spin in the rotisserie to cook it more evenly—some parts can be a bit on the dry side. 
See list of Andok's branches.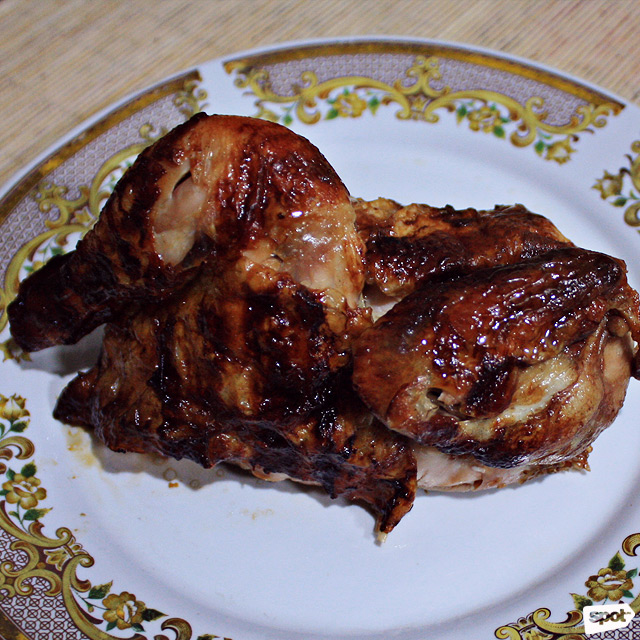 4. Lechon Manok from Baliwag (P258)
ADVERTISEMENT - CONTINUE READING BELOW
Baliwag first opened in 1985 and launched a full-service restaurant in 2000. Neither milestone comes as a surprise; they offer sweet-tasting roast chicken that's succulent and perfectly cooked. One flaw, though: Some of the white meat lacks a bit of seasoning, but the addictively peppery gravy sauce, which enhances the chicken's perfect tenderness, more than makes up for it. You could almost eat the sarsa with rice! And even though you have the option to buy just half a lechon manok, we doubt you will.
See list of Baliwag branches.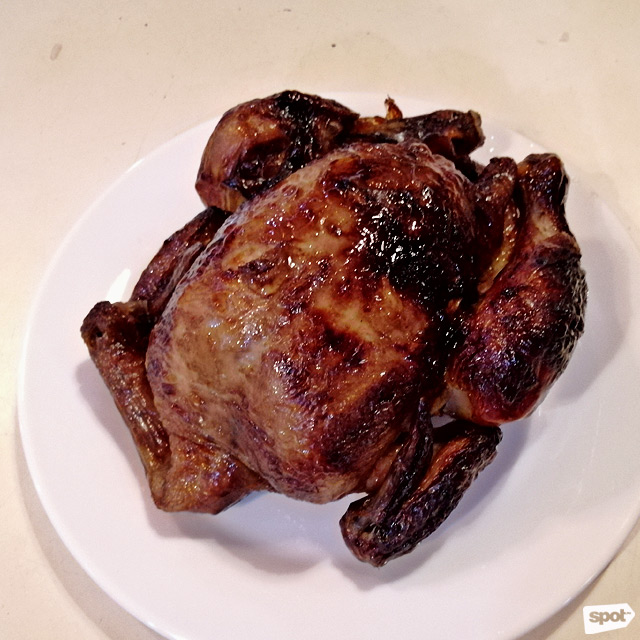 3. Jumbo Manok from Mang Bok's Manok (P229)
ADVERTISEMENT - CONTINUE READING BELOW
This roast chicken's intensely charred skin might put you off (is it burnt?), but don't let that stop you from having a bite of the juicy and supple meat. The smoky-sweet flavor is even throughout the whole chicken, which actually holds its own even without sauce. Still, you can dip each glorious morsel in their special sarsa, which has just the right balance of sweet, tangy, and spicy. You'll be licking your plate clean in no time.
Mang Bok's Manok has branches all over Metro Manila.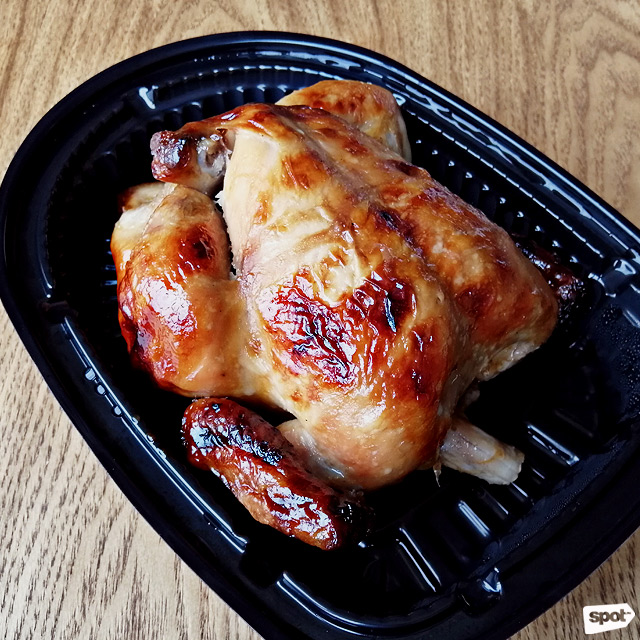 2. Roast Chicken from Landers Superstore (P214.75)
ADVERTISEMENT - CONTINUE READING BELOW
Landers' roast chicken could have gotten the top spot if not for its exclusivity—you have to sign up for membership (P800/year) to get inside a Landers Superstore. But with a subtly sweet flavor that permeates well beyond its well-seasoned skin, you might just be tempted to get yourself a card if only for the lechon manok. The tenderness that comes with every juicy bite, not to mention the chicken's substantial size and easy-on-the-wallet price, make every trip to a Landers branch (there are only four in Metro Manila!) worth it.
See list of Landers Superstore branches.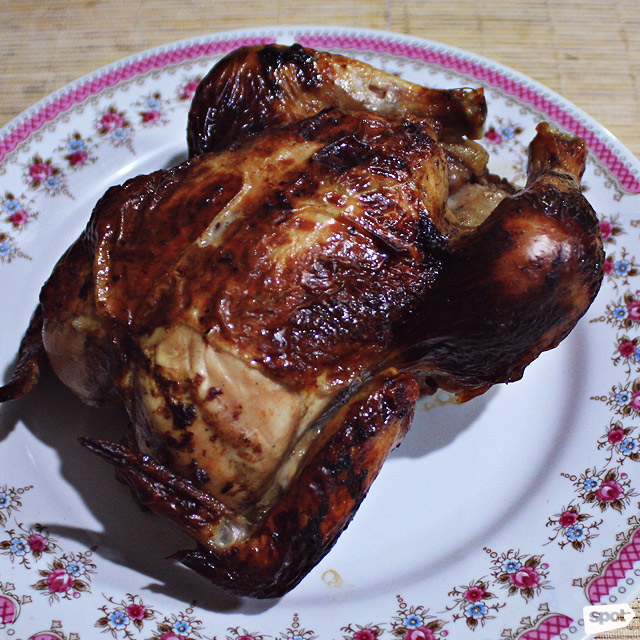 1. Lechon Manok from Ang Lechon Manok ni Sr. Pedro (P210)
ADVERTISEMENT - CONTINUE READING BELOW
What puts Sr. Pedro in the top spot is consistency in their perfectly seasoned and cooked roast chicken—from the flame-kissed, salty-sweet skin, to the succulent meat that we surmise is marinated with lots of spices and a whisper of lemongrass. Cut through it from any angle and you'll see how juicy this tender roast is. With a chicken this moist, there's no need for any sauce or gravy, but still you have the option to douse each sliver with their simple but toothsome mix of soy sauce and vinegar, which is unique to this family-grown brand. With more than 300 outlets all over Metro Manila, you could pretty much get this budget-friendly and satisfying meal any time, anywhere. This roast chicken is one of the Metro's most underrated—we say get your hands on it, stat, unless you want to be thinking about it all day.
Ang Lechon Manok ni Sr. Pedro has branches all over Metro Manila.
ADVERTISEMENT - CONTINUE READING BELOW
Load More Stories