This Unli-Tapas Bar Is the Best New Thing to Happen in Greenhills
All-you-can-eat Spanish food tops the dinner game!
Más Tapas and Cocktail Bar
18 Missouri Street, North East Greenhills, San Juan City
Contact: 0945-430-6269
Open from 6 p.m. to 2 a.m. (Tuesday to Sunday)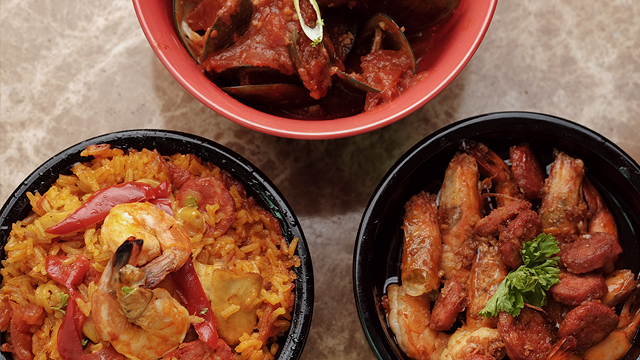 (SPOT.ph) Did anyone else ever watch those sitcoms and slice-of-life shows syndicated off of the BBC that always had the protagonist going on holiday somewhere in Spain? Like the ones where you hoped they'd forget their crappy office/neighbor romance and find love with the next Juan, Julio, Maria, or Valentina who came up to them at the tapas bar? (Do you see where we're going with this?)
ADVERTISEMENT - CONTINUE READING BELOW
CONTINUE READING BELOW
Recommended Videos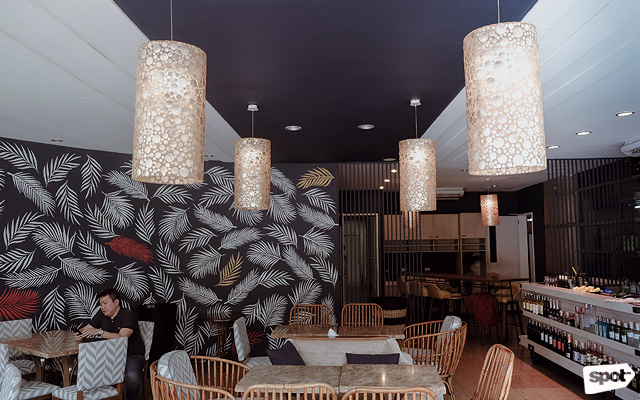 Regardless, the young notables behind The Rooftop in Katipunan decided to give Más Tapas and Cocktail Bar a bit of that old-fashioned, southern-Europe vacation vibe. They mixed that with exactly the right amount of millennial sensibilities, topped off with a touch of Filipino hospitality. And that's just what it looks like—wait till you get a load of the menu.
ADVERTISEMENT - CONTINUE READING BELOW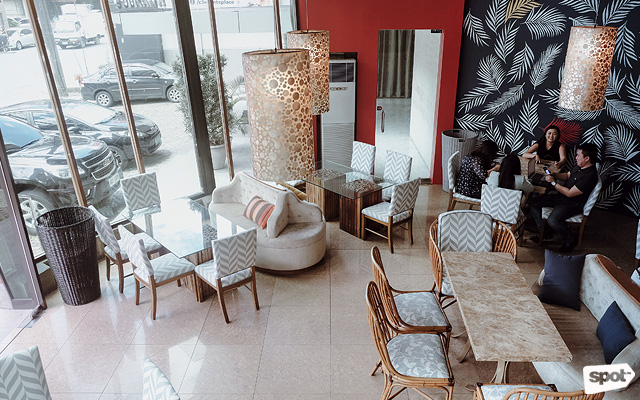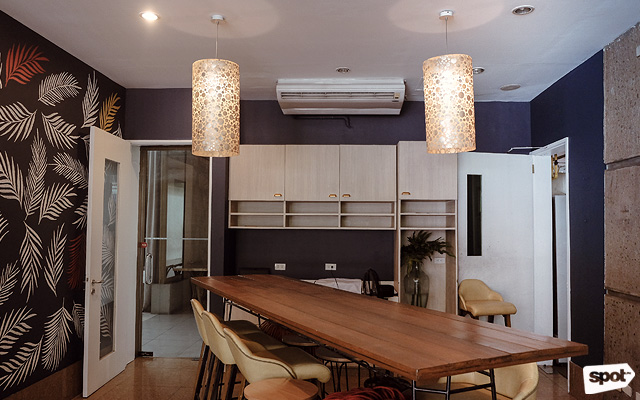 ADVERTISEMENT - CONTINUE READING BELOW
Put together by Geri Camahort and Tori Olbes, Más' repertoire takes you for a bit of a ride, though definitely not an unwelcome one, as you'll soon find out. These ladies seem to know Spanish culinary traditions like the backs of their hands, or at least enough of the rules to know just how to bend and break them.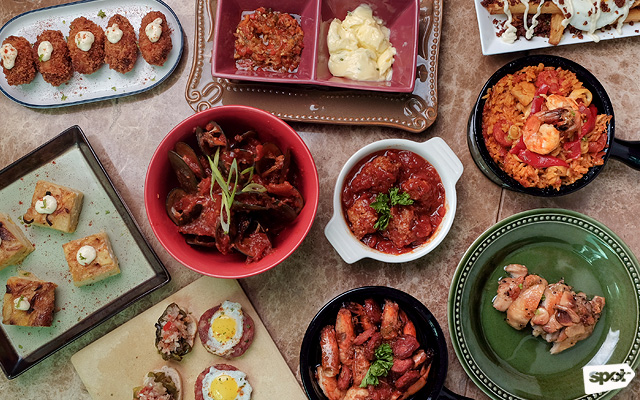 ADVERTISEMENT - CONTINUE READING BELOW
They start you off—and rightly so—with the ever-reliable complimentary bread and butter, but even that comes with a twist. The butter is whipped (so much so that it almost looks like scrambled eggs) and mixed with chives. On the side, there's a bell-pepper dip that has all the softness of a stewed pepper, but all the bite of a fresh one. Then you have the Más Classics (P550), an eat-all-you-can lineup of unique takes on five Hispanic staples.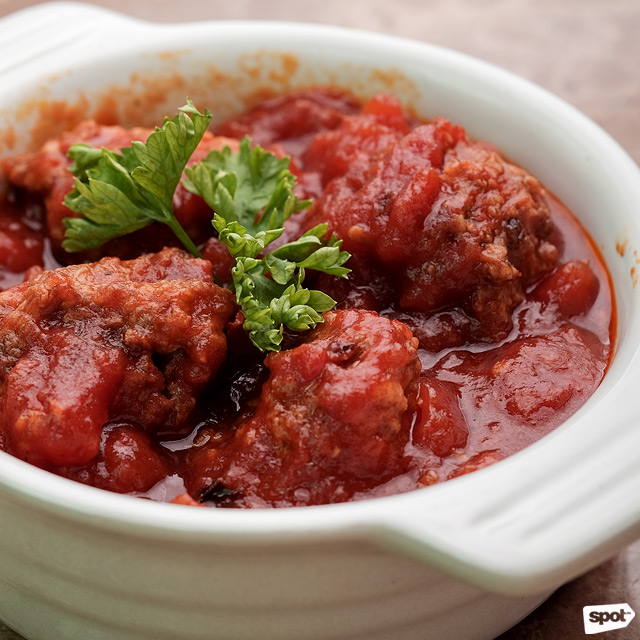 ADVERTISEMENT - CONTINUE READING BELOW
The Albondigas is a nice, punchy way to kick off dinner and drinks; the beef is almost light enough to mistake for turkey, but the tomato sauce it swims in is sharp enough to remind you that the night is young, and so are you. (At least on the inside. On a good day.)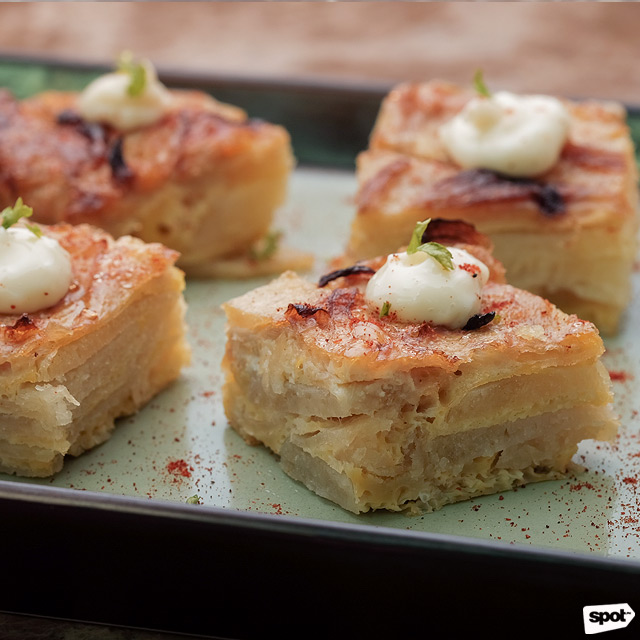 ADVERTISEMENT - CONTINUE READING BELOW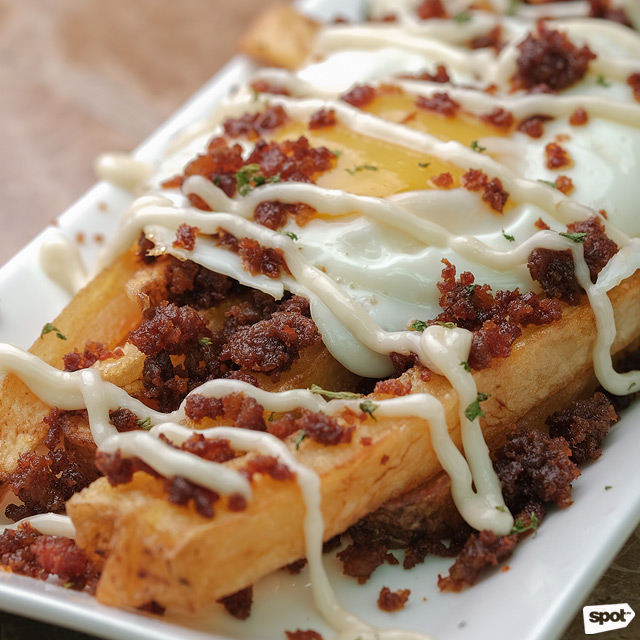 Soften the blow with their Tortilla de Patata, which are dense, creamy little slabs of—ostensibly—potato, topped with their in-house aioli. We can only speak for ourselves, but this stuff shouldn't be served as tapas; give us a four-inch square of it any day. But then you wouldn't have room for the Huevos Rotos, a plate of fries, crispy and soft (depending on how long you leave it before you eat it), covered in crumbled chorizo, more of that beautiful aioli, and a fried egg. It would come as no surprise if they decided to serve this for breakfast someday. Either way, we recommend ordering a zesty Amaretto Sour (P250) to cut through the starch.
ADVERTISEMENT - CONTINUE READING BELOW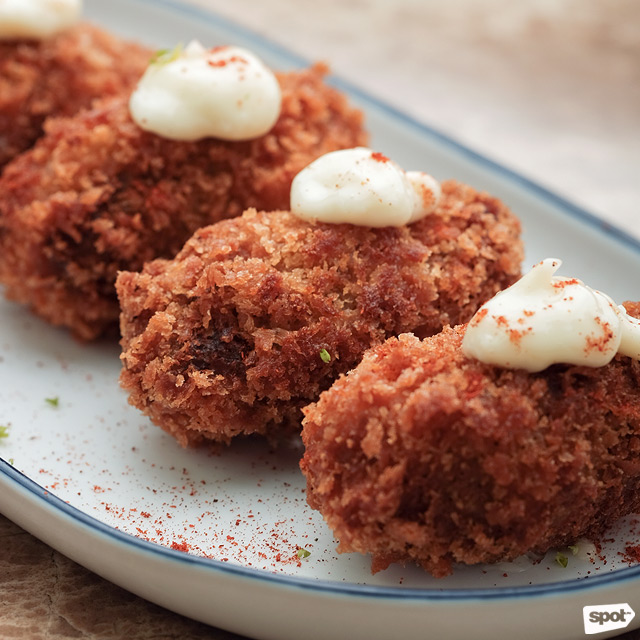 The addition of Croquettas Bombas might sound like more potato than your body can probably handle, but that's where you'd be wrong. In fact, there ain't no potato in these little torpedoes of salty, crunchy, comforting deliciousness. And since apparently no one can get enough of that aioli—it is gorgeous, admittedly—it's garnished with that, too! If they ever bottle that stuff, we'll line up for it. As should you.
ADVERTISEMENT - CONTINUE READING BELOW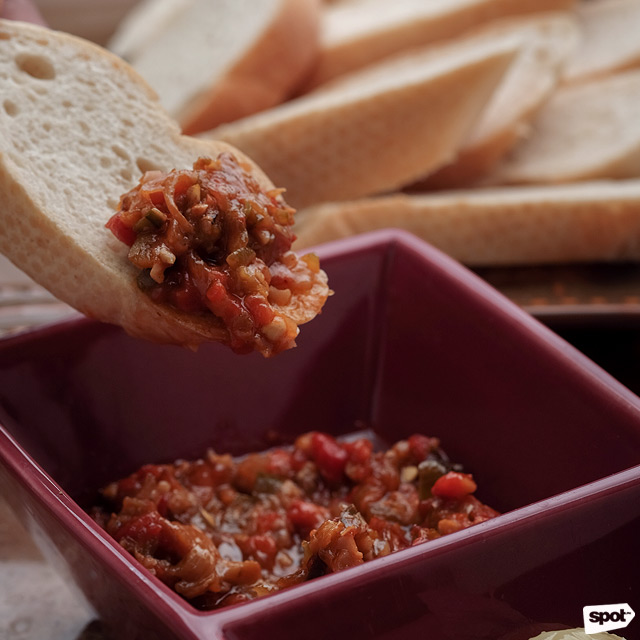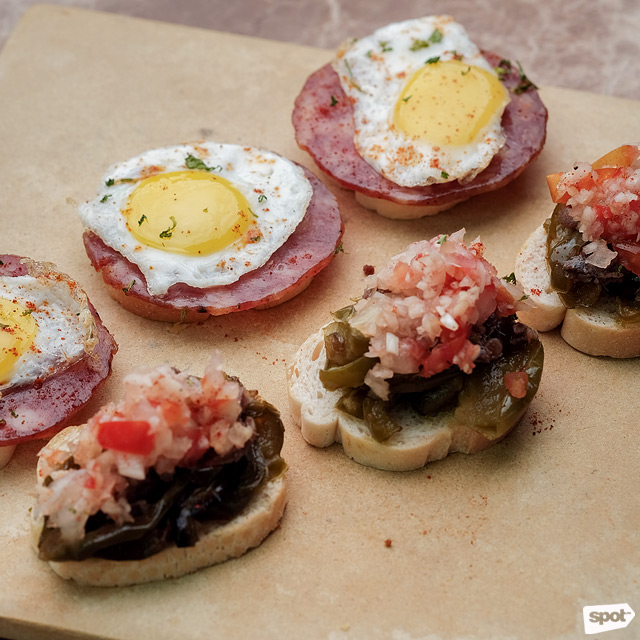 ADVERTISEMENT - CONTINUE READING BELOW
For a bit more heat and adventure (because what else are holidays in Spain for?), Más' pintxos are the way to go. No need to burden yourself making the choice; Anchovies & Salsa come on the same plate as the Salchichon & Quail Egg. Each set of toppings has its own appeal; anchovies and salsa are obviously for your adventurous friends who can stand a bit of heat, while your tito friends have probably set their sights on those quail eggs. We're making them out to be bites meant for two different kinds of people, but the truth is that if you've got a love for all things savory, spicy, and saline, you'll have a hard time resisting these.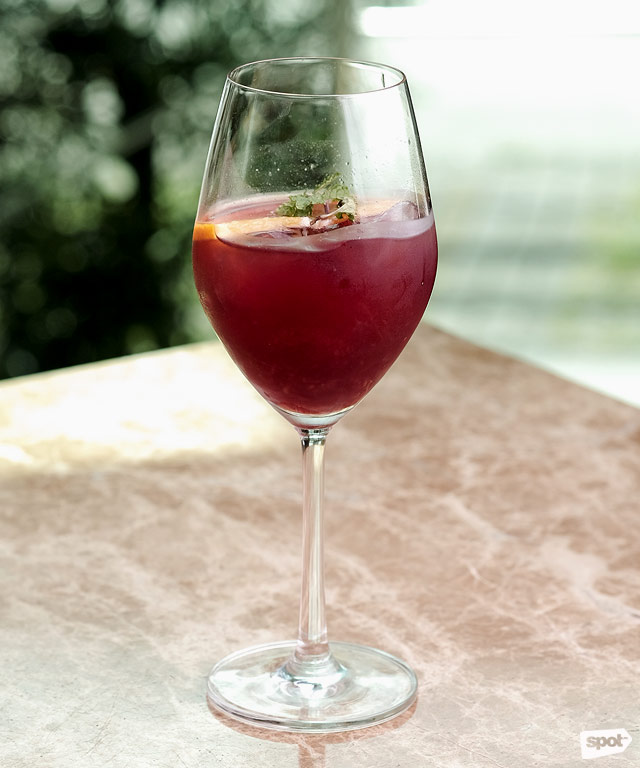 ADVERTISEMENT - CONTINUE READING BELOW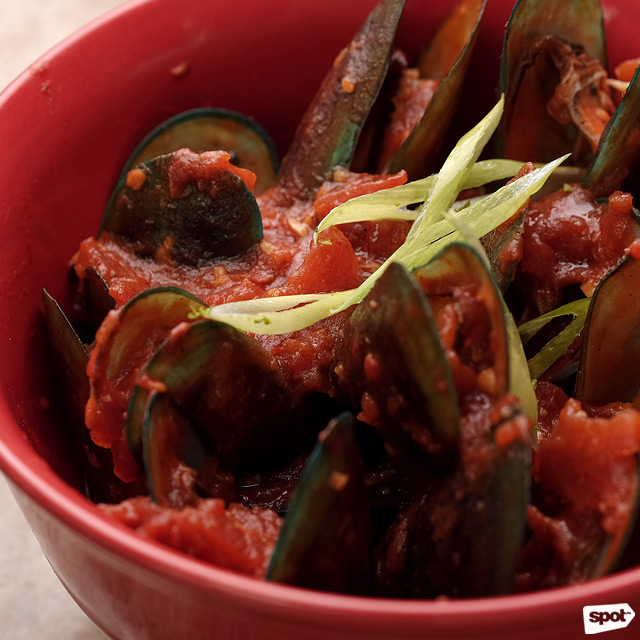 You could cap everything off with a couple of their Sangrias (P170/each) and call it a night, but to really get the Más Experience (P750), the next four platters really bring the festive feels to the forefront, in addition to the Classics. Mussels in Wine Sauce are the perfect tomato-ey gateway into the seafood smorgasbord this place is looking to serve you. They really taste like a glamping bonfire on the beach, if that makes any sense.
ADVERTISEMENT - CONTINUE READING BELOW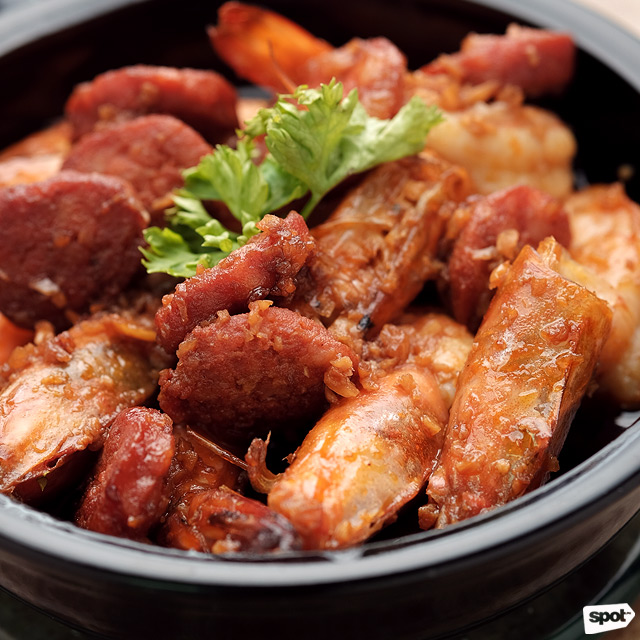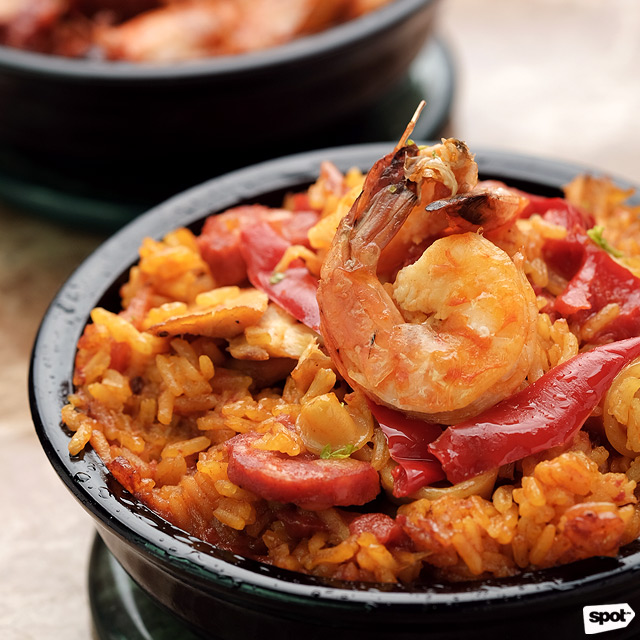 ADVERTISEMENT - CONTINUE READING BELOW
We're going to be completely honest and admit we would pay the full P750 for servings of the Gambas with Chorizo and the Paella Mixta on their own. (And maybe the Croquettas Bombas on the side…) They are that good. People don't seem to realize how easy it is to mess up gambas, but Más doesn't seem to be in any danger of that. If anything, their bread is in danger of being drowned in that coral-tinged oil. The paella helps carry so many flavors, both within itself and from the other dishes, without ever overpowering.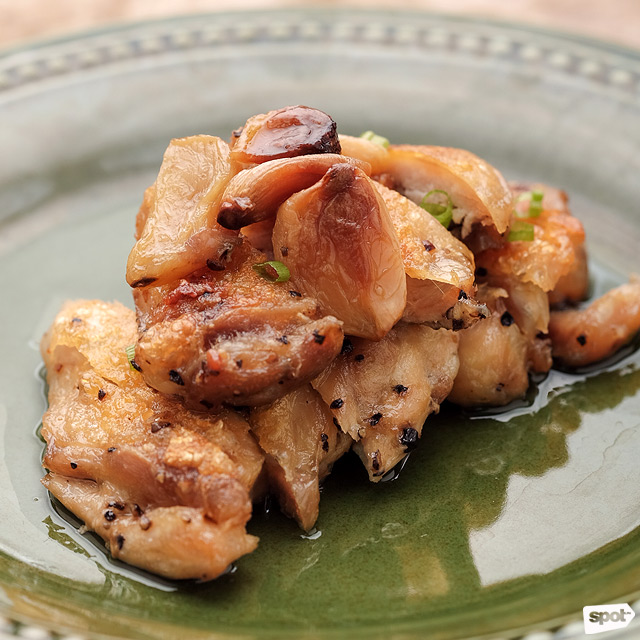 ADVERTISEMENT - CONTINUE READING BELOW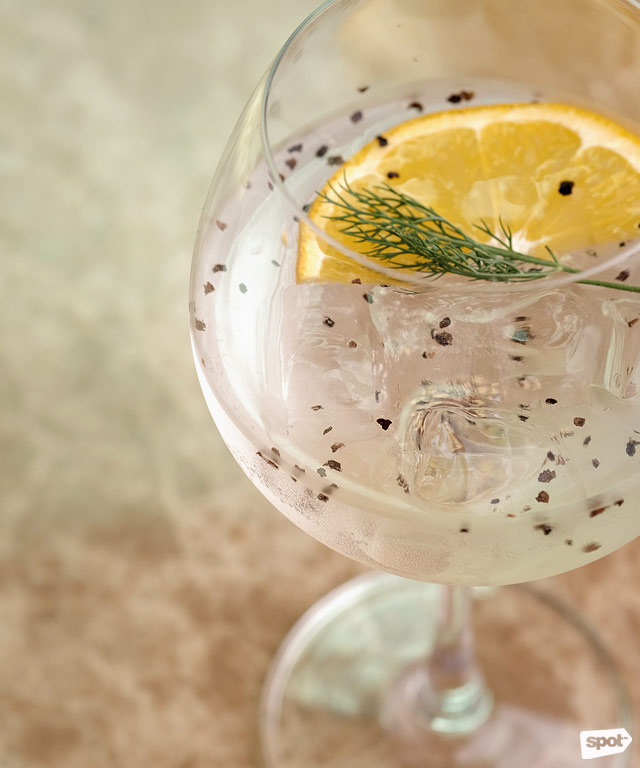 But since we're not actually talking about meals as we would typically picture them, you've obviously got to have something of an in-betweener; not a palate cleanser per se, but just something a little less bold to cushion the stronger tastes. Enter the Chicken Iberico, which isn't as intimidating as it sounds—simply, it's really tender meat that's almost got a silkiness to it, and chicken skin that stays good and crispy. When the richness starts getting too real, order a Gin & Tonic (P170); it's one of the best G&Ts we've had, boasting that signature bubbly sting to wake you up, but also enough of an herby undertone to keep things mellow.
ADVERTISEMENT - CONTINUE READING BELOW
Your expectations for nights out or evening meetings could change for good. This comfortable, unworried space and its accompanying collection of great bites are looking to blow some minds, but something tells us that hope is really more of a prediction. If you're looking for a bit more fiesta in your Friday night food, we're calling it now—you needn't look any further.
Photos by Majoy Siason
Are you sure you want to delete this list?

Load More Stories