Nomu
G/F W City Center, 30th Street corner 7th Avenue, Bonifacio Global City (inside Nomi Matcha)
Contact: 821-8769
Open from 5 p.m. to 12 a.m. (Monday to Thursday) and 5 p.m. to 2 a.m. (Friday to Sunday)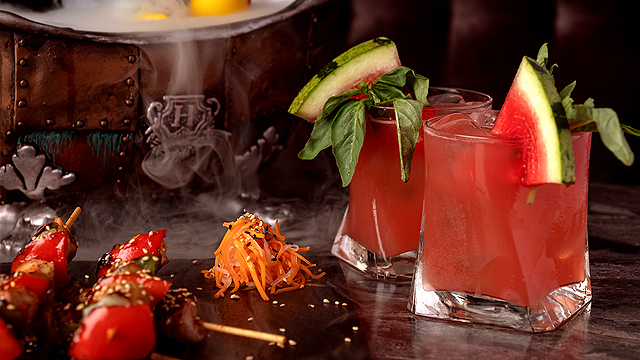 (SPOT.ph) We've previously gushed about Nomi's matcha-making skills, but who knew that there lay a secret within its walls? One might find out about the hidden area from one of the waiters and waitresses if they lingered near Nomi's closing time. If you fancy yourself an intrepid explorer, the discovery may be the result of wandering aimlessly in search of the restroom then accidentally leaning on a trick wall.
As you stumble inside Nomu, a bartender greets you from across the room that's illuminated by a golden-orange glow, reminiscent of the authentic Japanese whisky on display. The area is intimate enough for deep conversations but can also accommodate 20 to 25 visitors at a time should you prefer more company. Nomu provides a stark contrast to the family-friendly, brightly lit interiors of pink and green that Nomi is known for. Even the names are polar opposites, as the Japanese word "nomi" means to drink a beverage while "nomu" means to consume something alcoholic.
ADVERTISEMENT - CONTINUE READING BELOW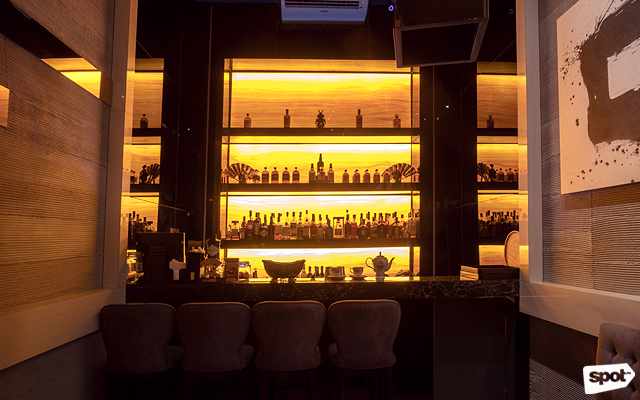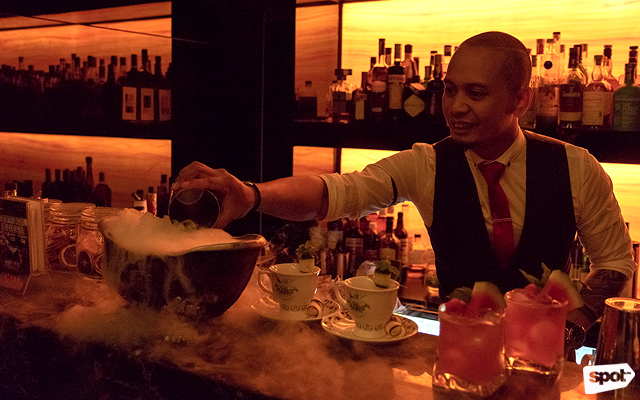 Owners Take Hosomi and Asuka Hosokawa explain the inspiration behind the concept: "It's literally a yin and yang with Nomi being the bright side during the day and then when customers go to Nomu, they see the dark side," says Hosomi. Meanwhile, Hosokawa adds, "This was a very impulsive decision among us when we first opened [Nomi], because there was an extra space at the back. Since we party a lot, we might as well put a secret bar."
Nomu's interiors are a subtle nod to Japanese culture with ningyo figures and sensu (fans) on display. A minimalist black-and-white painting by famous Japanese ceramic artist Shiro Tsujimura hangs on the wall, representing the deities of the sun, moon, and stars. Much like the Zen concept of the artwork, Nomu provides a relaxing ambience that's ideal for weary office workers around the area who need to take a break from the daily grind. Completing Nomu's modern Japanese theme is the very hands-on service you would expect in the bars of Tokyo. 
Filipinos often prefer having a filling meal with their beer or cocktails. With that in mind, the snack portions are good for a group or one very hungry individual. Tasked with concocting the drinks that would help the customers unwind is head bartender and 2016 La Maison Cointreau champion Cedric Cello. He regards his mixing as a bespoke procedure where he can pinpoint your preference. After all, part of a great dining experience is enjoying drinks and dishes that are the perfect marriage of flavors, and we got to try some of the recommended pairings.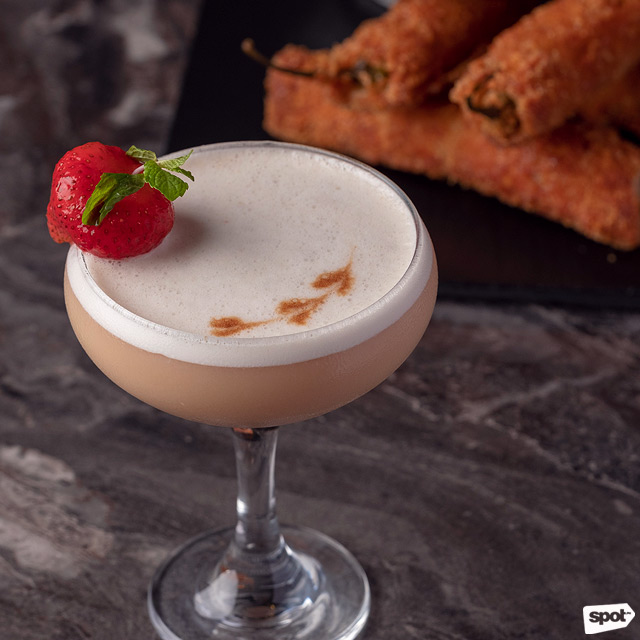 ADVERTISEMENT - CONTINUE READING BELOW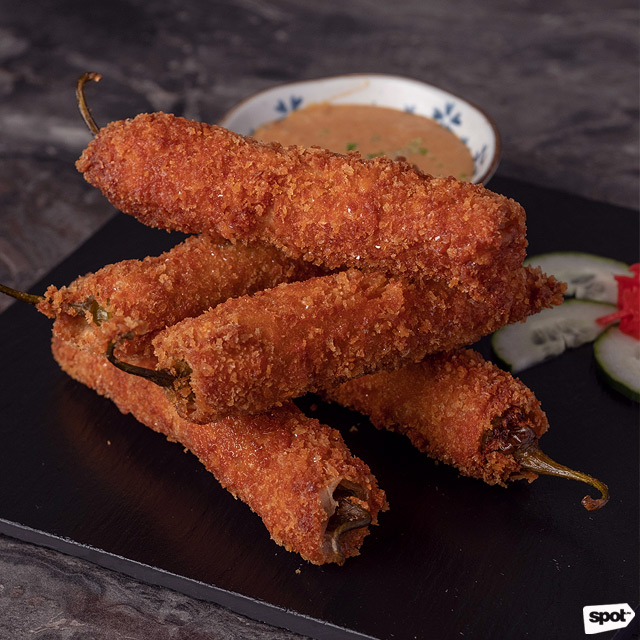 A boozy version of the classic American sandwich, the PBJ (P400) is a sweet bourbon mixture of the titular peanut butter and strawberry jam, the tangy undertones of lemon and chocolate bitters rounding out the flavors. The dessert drink cuts the spiciness of the Jumbo Chili Pepper Rolls (P250). This supersized version of a Filipino favorite looks just about as big as actual dynamite. The green chili used is the type you might find in sinigang. The pepper roll is stuffed with ground pork and gooey cheese—with tartar sauce on the side—effectively toning down the spice levels while also giving contrasting textures with every bite.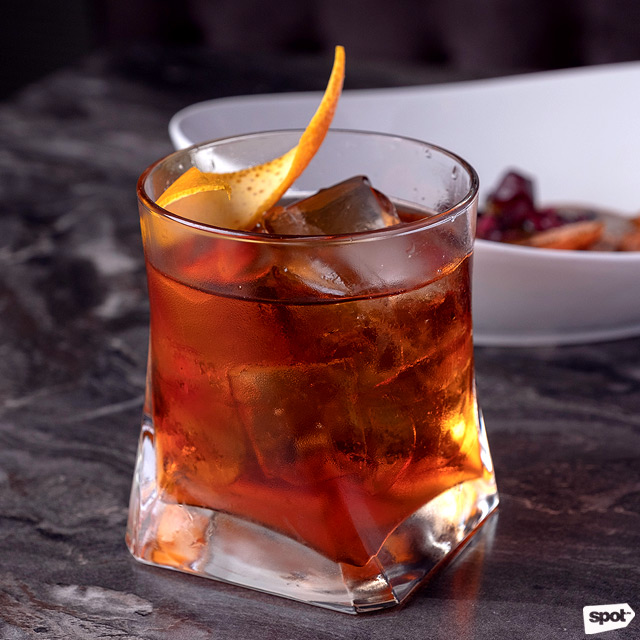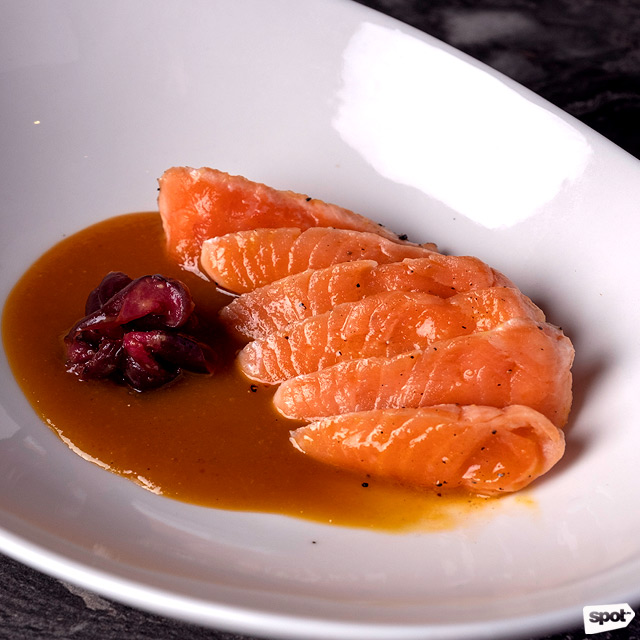 A glass of the spirit-forward Takeroni (P450) combo of reposado (resting/aged) tequila and agave-based mezcal distilled alcohol gives a smooth taste. The syrupy maraschino subdues the bitterness and mellows out the taste for prolonged sipping. Because of its simplicity, it avoids muddling the clean taste of the Seared Salmon on Miso (P330). The Nobu-inspired torched salmon sashimi's exterior lends a smokiness that adds depth, coupled with the caramelized miso sauce. We suggest popping a fatty slice into your mouth to savor that tender, melt-in-your-mouth texture.
ADVERTISEMENT - CONTINUE READING BELOW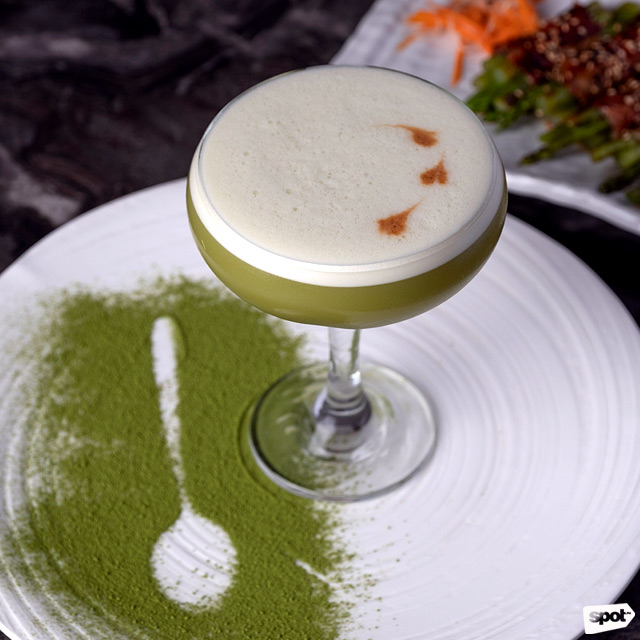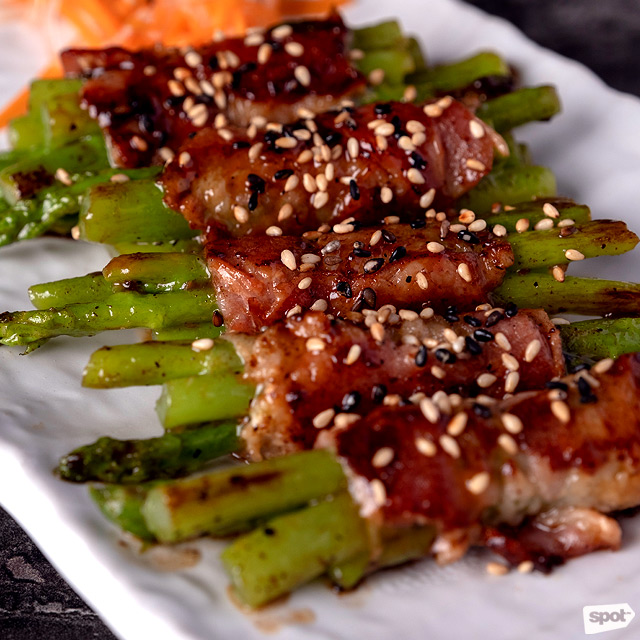 The Matchka (P400) is a Japanese-inspired take on the amaretto sour. Nomu's version contains herbal notes of matcha and angostura bitters. The drink will boost the sweetness found in the Bacon Asparagus Wrap (P320). Drenched in teriyaki sauce, this crispy and crunchy dish satisfies that specific sweet-and-salty craving.
If you thought that your arduous search has ended after you've wandered inside Nomu, think again! There's much more to find—they have a secret menu. We've made like detectives and snooped around for these elusive items. Here's a sneak peek at two of these off-menu drinks: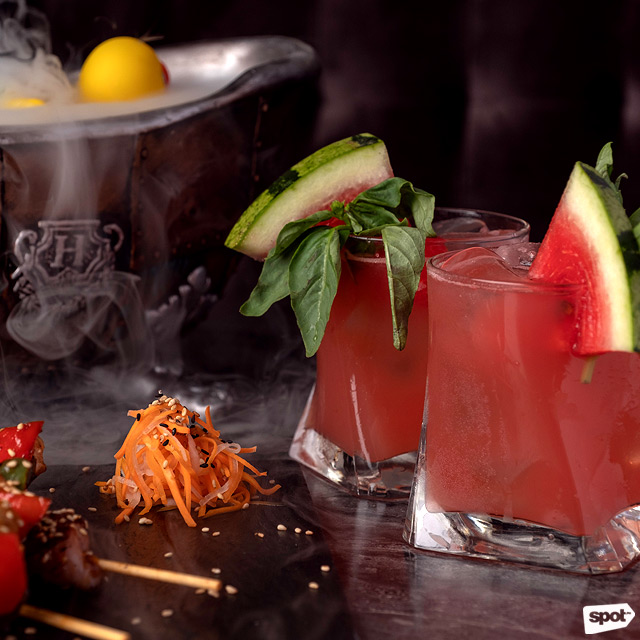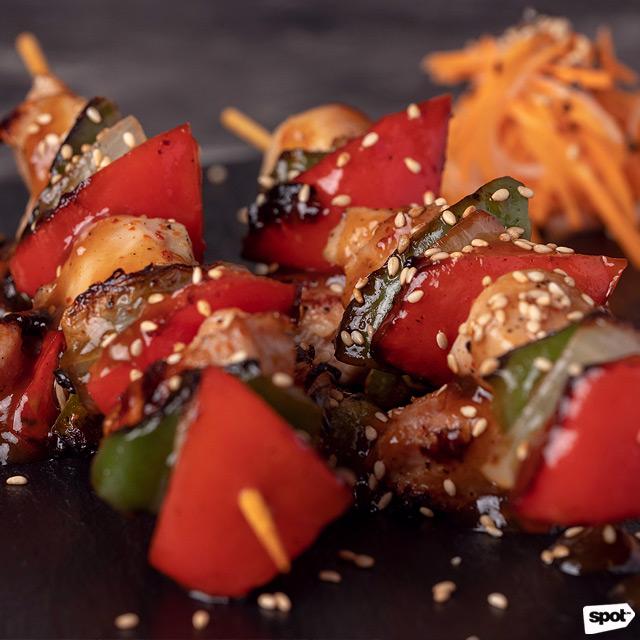 ADVERTISEMENT - CONTINUE READING BELOW
The first thing you'll notice about the Ducky Punch (P980) is that it's served in a huge tub (ideally good for four servings or your thirsty self) with a bright yellow rubber duck swimming on top. (We assure you that it wasn't thrown in by mistake.) Then you get a whiff of the cooling aroma of basil and mint before guzzling down the vodka-based drink. The bright notes from the fresh watermelon, green mango, and lemon complements the savory taste of the Yakitori Chicken Stix (P260). The classic Japanese appetizer is skewered with capsicum and onions, and grilled just right.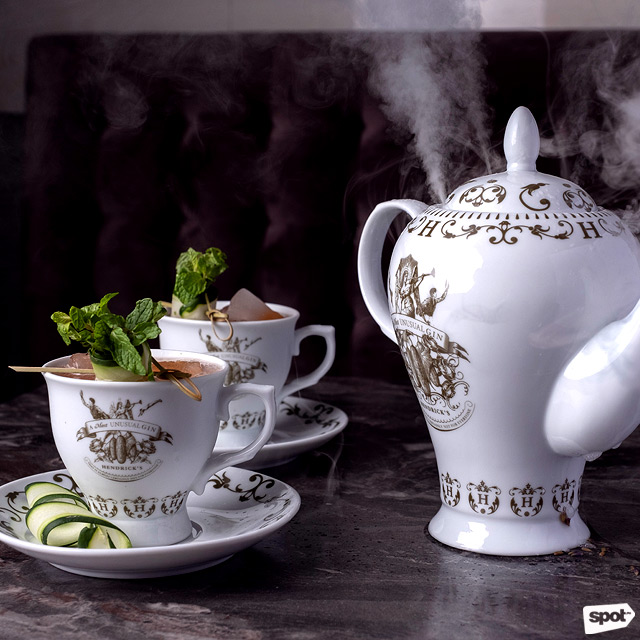 The next off-menu item is so mysterious that it has yet to be named and so we shall personally dub it "Spill The Tea" (P980) until they come up with their own. Even before it was served on the table, the sputtering noises from the teapot immediately called attention upon itself being extra AF. Now that's what you call drink-tertainment. It's quite a surreal experience pouring yourself some spiked tea into a dainty teacup. Once you take a sip (with your pinky up, naturally) of this gin-based mixture, your senses will be filled with the fruity notes of apple and lemon juice plus, the relaxing scent of lavender-infused syrup and mint. Nothing like a cold cup of a low-caloric alcoholic beverage to calm those nerves while still making you feel like a fun millennial tita or tito.
Asked about speakeasies, Hosomi says, "It's always that split-second moment of anticipation when you're looking for the entrance and when you find it, it's like a huge surprise." Hosokawa adds, "You have to find the door and figure out how you'll get there and boom—totally different world from where you came from."
We agree that there's a certain kind of appeal with the thrill of a hunt and the satisfying sensation of discovering a new place. So, the next time you excuse yourself to visit the bathroom, you might want to linger a bit longer and explore the place. Who knows what you'll unlock.
Nomu is on soft opening and will officially launch on October 11.
Photos by Hans Fausto
Share this story with your friends!
---
Help us make Spot.ph better!
Take the short survey
More Videos You Can Watch
Load More Stories