205
C2 U/G High Street Central, Bonifacio Global City
Contact: 0917-858-1942, 759-4827
Open from 8 a.m. to 2 a.m. (Monday to Saturday) and 8 a.m. to 12 a.m. (Sunday)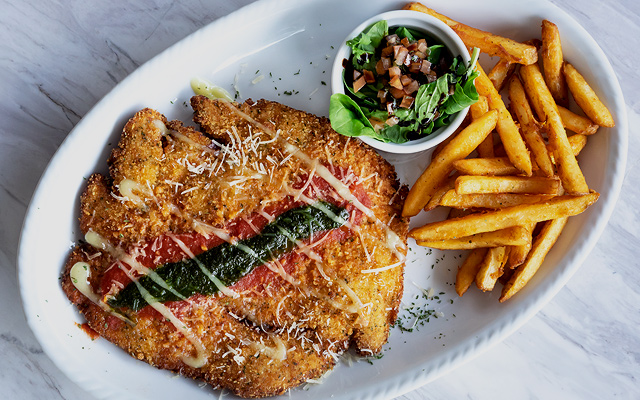 (SPOT.ph) "Ten years ago, our idea of a chill place to hang out [in] was loud music, lots of people, and drinks," says Denise Cabotage, partner at one of Bonifacio High Street's newest restaurants, 205. "You start looking for different things when you and your friends get a little older." From the parties of the early aughts (Think: Dim lights, throbbing beats, and crowded bars), she and her friends found an organic predilection towards a more professional atmosphere—a quiet place to sit, have a conversation to go with cocktails, good food, and great company.
ADVERTISEMENT - CONTINUE READING BELOW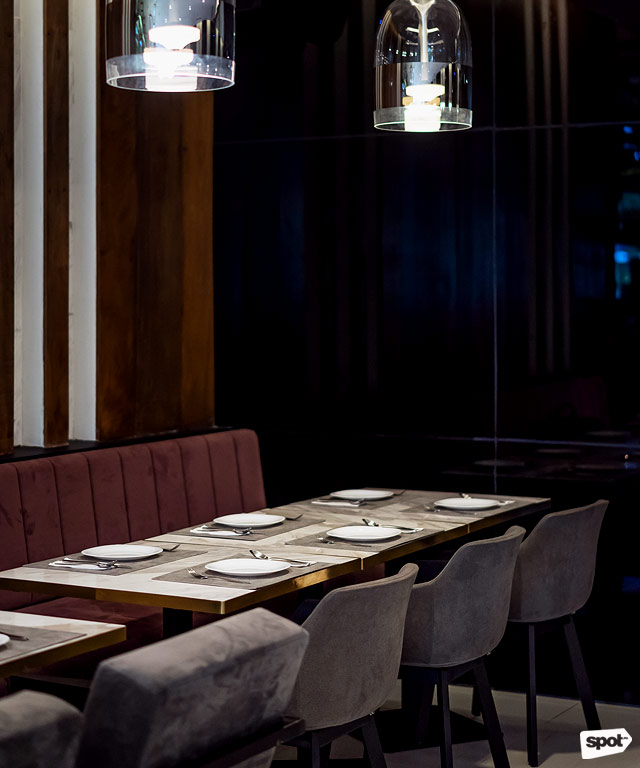 This natural evolution sparked the beginnings of 205 (two-oh-five), a new café-lounge along High Street Central's row of restaurants. The venue is polished and clean, reflecting a hotel-lobby aesthetic that epitomizes the cleaned-up, professional vibe Cabotage and her partners were going for. Decked with a classic bar, banquette seating alongside round table set-ups, mirror-lined walls and gold and brass detailing, 205 is posh and sophisticated, with a sprinkling of Art Deco charm. "We want our customers to feel like they're hanging out at the living room of a friend—someone from the group with a really nice house," she laughs.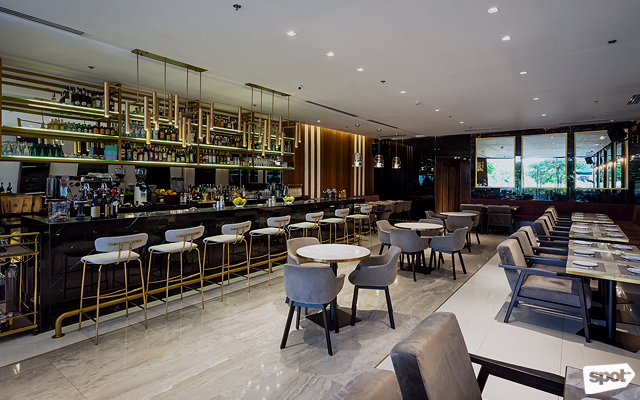 Passersby may expect hotel prices for such a beautifully appointed space, but 205's biggest draw is how friendly the food, drinks, service, and prices are. Open at 8 a.m., they serve breakfast to the neighborhood's early risers and office folk, all-day coffee and comfort food, as well as a wonderful atmosphere for people to unwind at the end of the day, all the way up to 2 a.m.
ADVERTISEMENT - CONTINUE READING BELOW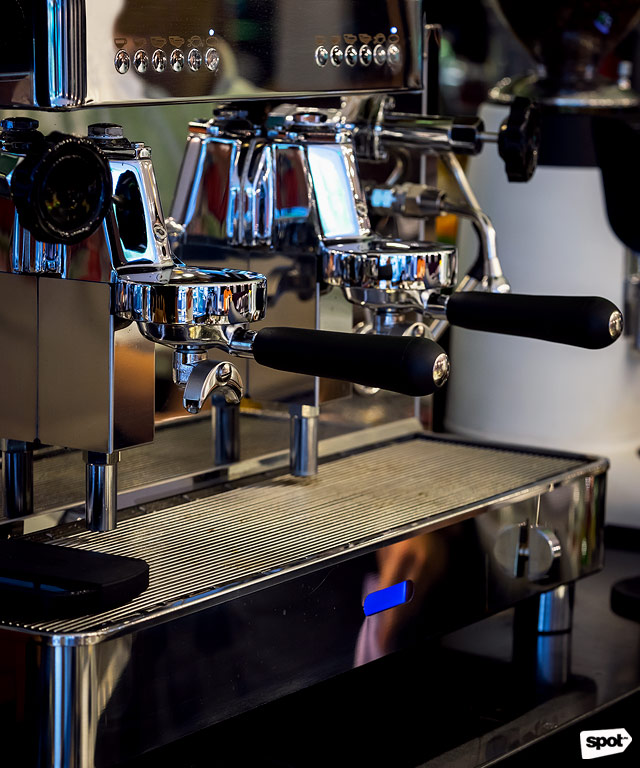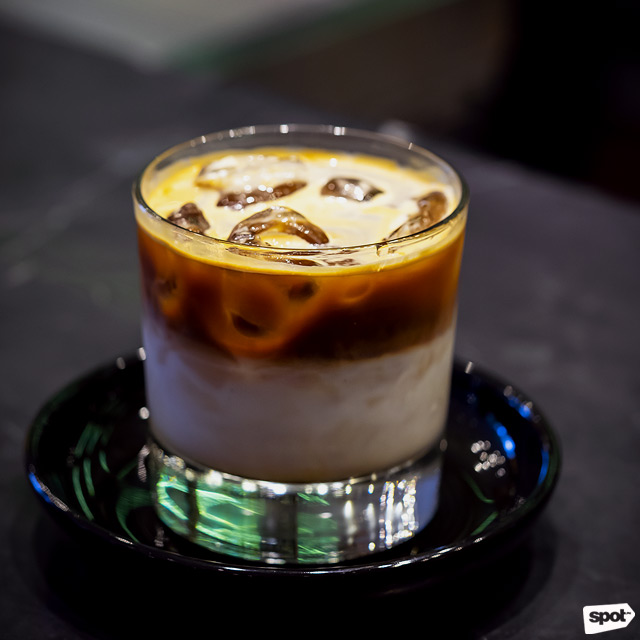 ADVERTISEMENT - CONTINUE READING BELOW
The lounge atmosphere 205 offers is a lovely alternative to your run-of-the-mill coffee shop. Another boon to this place is the type of coffee it offers. With YKW beans and baristas trained by the group behind EDSA BDG and The Curator, 205 provides specialty coffee at a P150 to P180 price range. With espresso-based offerings, brews for the day, and pour-over coffee, people needing a mid-day perk can swing by and get a quality caffeine kick. 205's baristas and servers are personable, striking up conversations with their regular clientele, who consequently keep making their way back to the café.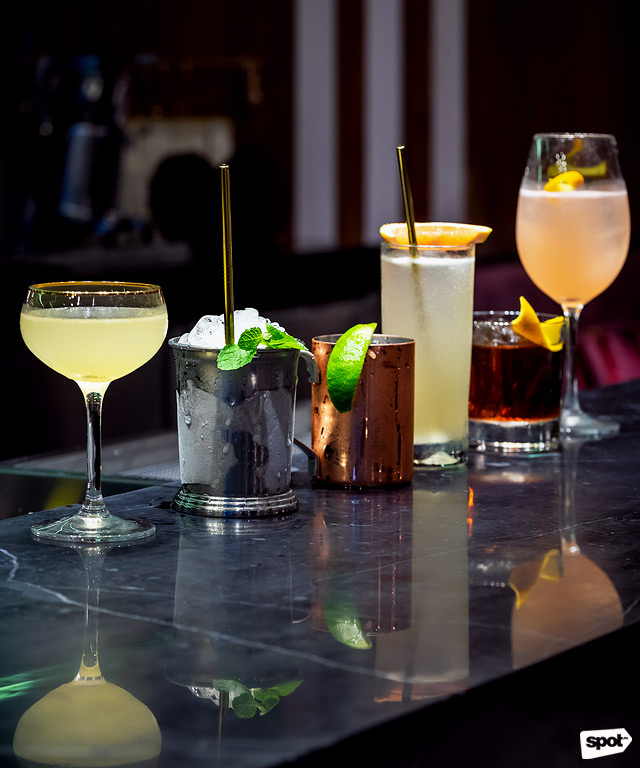 ADVERTISEMENT - CONTINUE READING BELOW
If cocktails are more your flavor, 205's prime selection of alcoholic beverages is well crafted. Their five signature cocktails showcase the five different personalities of their partners, and are well suited to different flavor preferences and profiles. Early favorites include the refreshingly sweet Gin Pom(plemousse) and slightly dry and bubbly IDGAF. Every cocktail uses fresh-fruit juices, precise measurements, and proper aeration so you're ensured you get bang for your buck as far as cocktails go.
If you haven't figured out what your favorite cocktail is just yet, the servers and bartenders can create custom cocktails for you, too. All you have to do is pick a shot of the liqueur you want and get a tailor-fit drink for P200.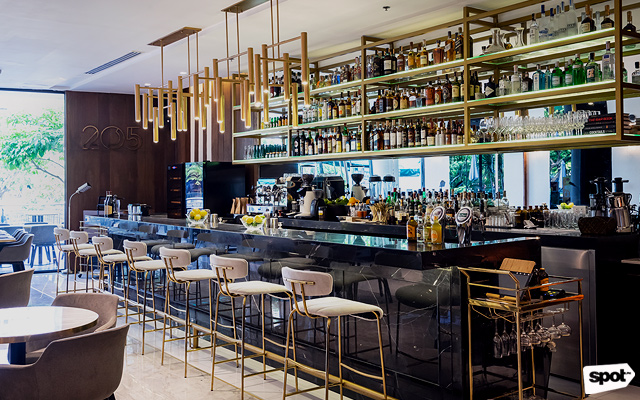 ADVERTISEMENT - CONTINUE READING BELOW
205 also offers a Bottle Service, which includes a selection of premium alcohol and any kind of cocktail. Your drinks are built tableside, so not only do you get special treatment, you're able to engage with your bartender, too. Well-trained and well-spoken, 205's staff can talk technique, history, and create special cocktails to suit your personal taste. Bottle Service is possible round by round without any restrictions as to how many drinks are created for you. "And if you don't finish your bottle? We'll keep it for you. It's like having your own personal bartender on hand."
The pièce de résistance of 205, beyond the coffee and cocktails, is the food they offer. What's a cup of piping-hot coffee in the morning without a delicious breakfast to go with it, after all? Their pizzas, pastas, small bites, and entrées are also the perfect preamble to a round of drinks at night—a great way to solve the typical dinner dilemma of where to go for drinks or coffee after your meal. 205's extensive menu has you covered from start to finish.
ADVERTISEMENT - CONTINUE READING BELOW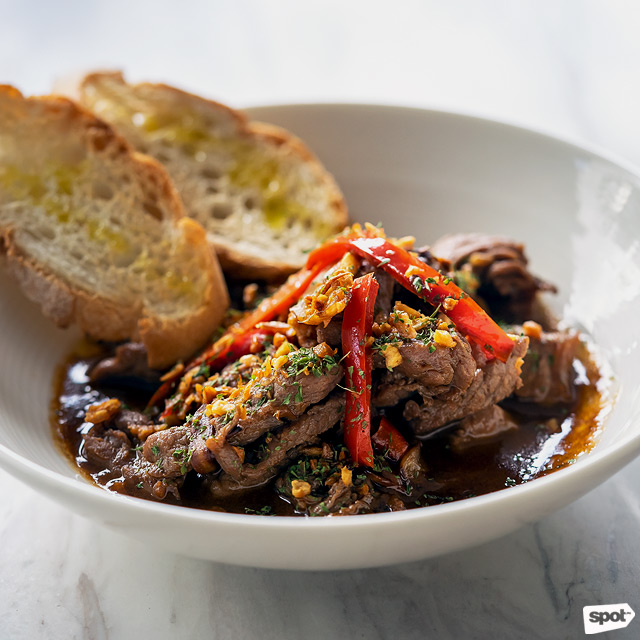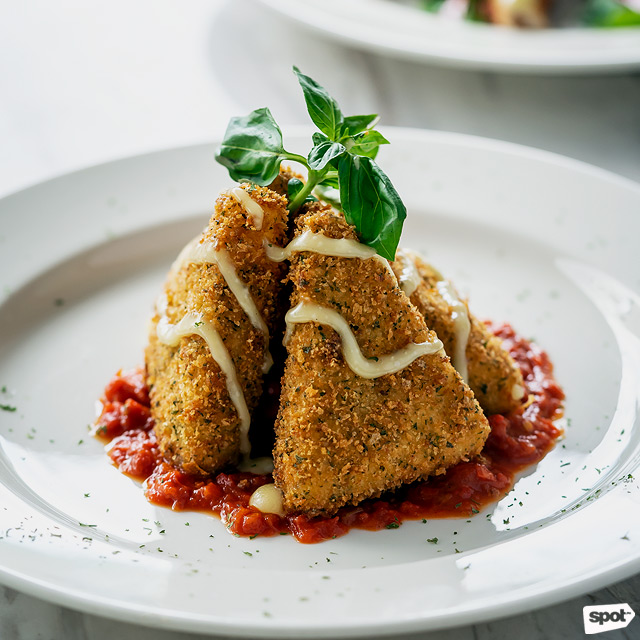 ADVERTISEMENT - CONTINUE READING BELOW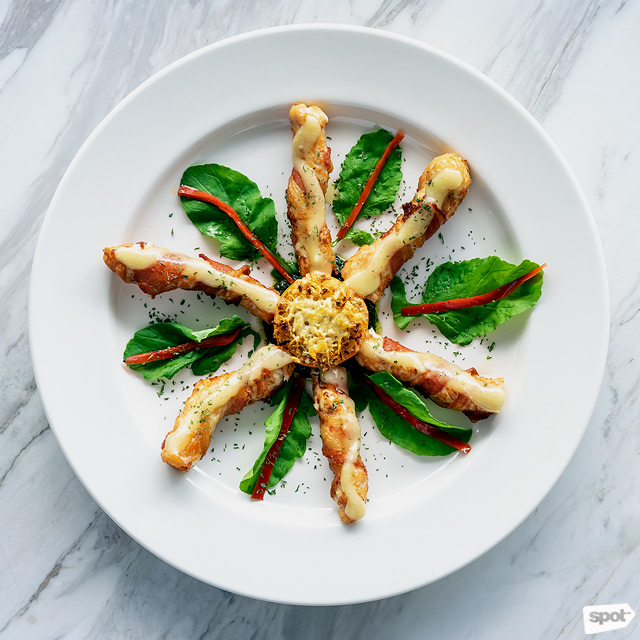 Stellar small plates include the Beef Salpicao (P375), which is tender, savory, and saucy; as well as the chunky Fried Mozzarella (P280) with a tomato-based romesco and aioli dip. And for those who can't resist a hefty serving of bacon, the Chicken Roll-Ups (P350) pair deep-fried chicken with pancetta and cheddar cheese. The pancetta's saltiness is tempered by the creaminess of the cheddar cheese. 205 also offers a variety of bruschetta and salami platters.
ADVERTISEMENT - CONTINUE READING BELOW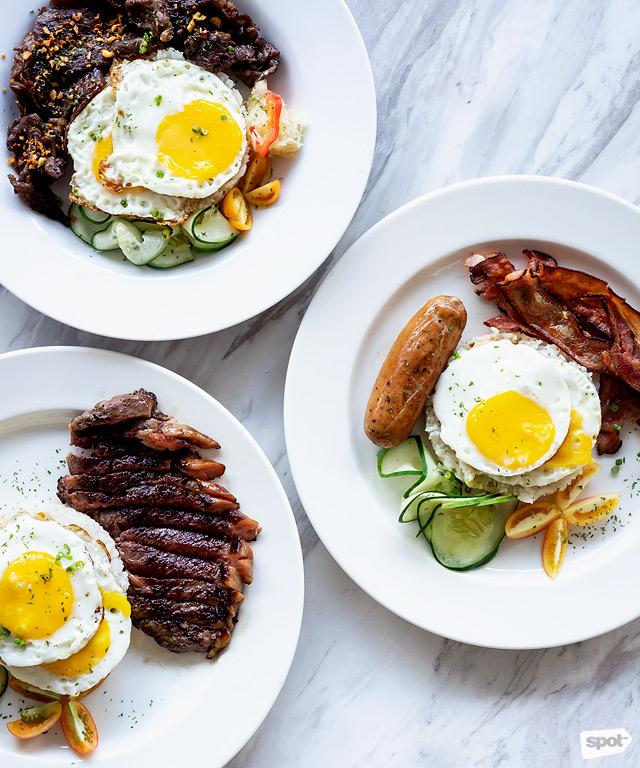 Their breakfast plates are served with garlic rice and eggs, done your way, and with an option to add P80 for a cup of coffee. Available from 8 a.m. to 4 p.m. and 11 p.m. to 1 a.m. daily, you can have your fill of their succulently fork-tender Beef Tapa (P280), Steak and Eggs (P650) and more at affordable prices. 205 is committed to delivering value-for-money meals that are competitive, especially amidst BGC's notoriously high price points.
ADVERTISEMENT - CONTINUE READING BELOW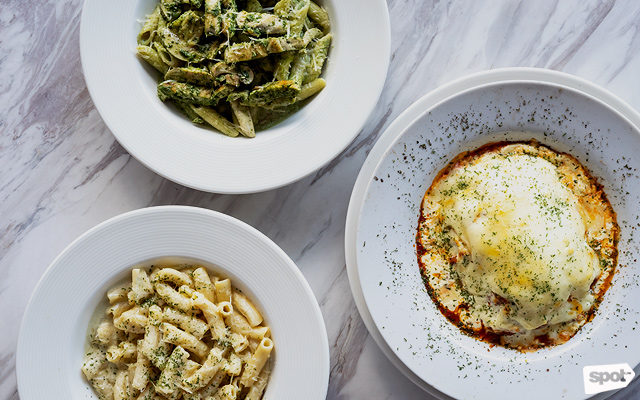 To-die-for pasta dishes include "The Best Damn Mac & Cheese" (P350), which uses homemade al-dente maccheroncini (or pasta shaped like narrow tubes) with parmesan, gorgonzola, and mozzarella to create a beautiful symphony of strong and pungent flavors, as well as Lasagna the Great (P350), where five layers of pasta come together with a rich and meaty Bolognese sauce, oozing mozzarella, parmesan, and creamy béchamel. You will want to recommit to carbs once you've had a bite of these dishes.
ADVERTISEMENT - CONTINUE READING BELOW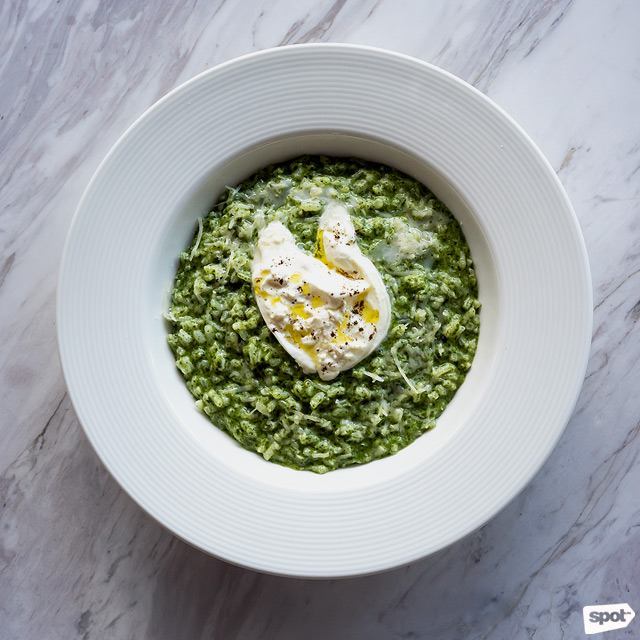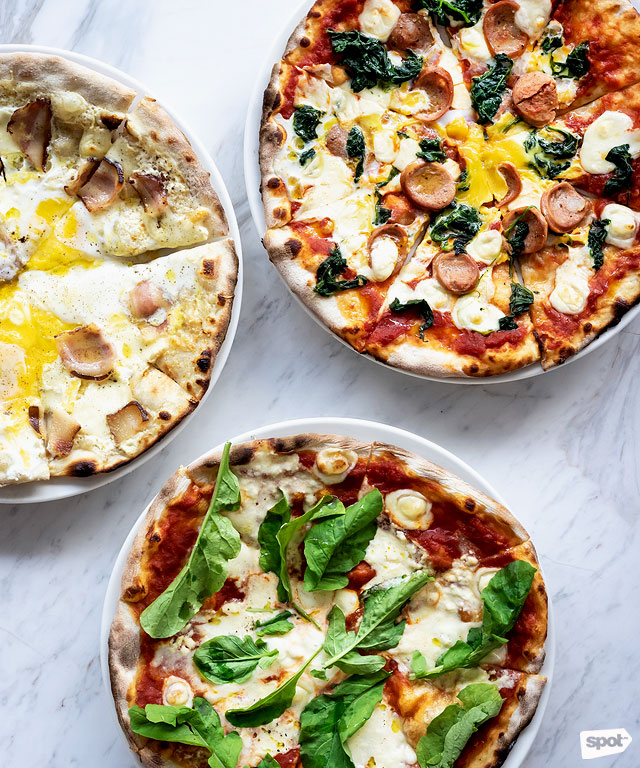 ADVERTISEMENT - CONTINUE READING BELOW
Other highlights include the Spinach and Burrata Risotto (375), the fresh burrata lending a lot of silkiness, the Carbonara Pizza (420), with a creamy sauce and fluffy crust that perfectly complements the salty bacon, and the Breakfast Pizza (P420), an explosion of salty and savory, mixing spinach, ricotta, sausage, eggs, and tomato sauce all on a freshly made dough.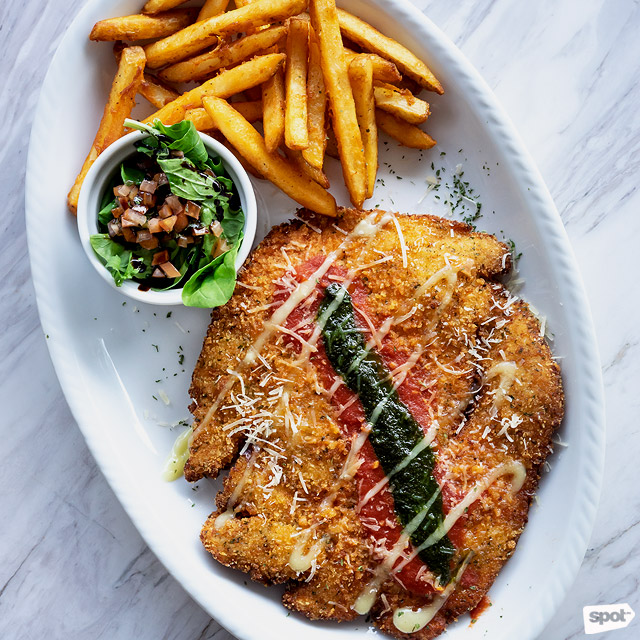 ADVERTISEMENT - CONTINUE READING BELOW
In the two-and-a-half months it's been running, 205 has already seen two proposals (both successful!), family lunches and dinners, work meetings over coffee, as well as friends casually hanging out. On Thursday to Saturday nights, DJs come in at night to play some deep house and old-school funk—exactly the kind of music you'll want to chill to when you're with a group of friends, no muss, no fuss.
Great for folks who want to keep things casual without losing an appreciation for the aesthetics of cool, 205 is the perfect spot for all kinds of meetings. Whether you need to perk up with a bold brew, relax with some cocktails, or indulge your appetite with some good-for-the-soul comfort food, this will be your new go-to place in BGC.
Photos by Toto Labrador
Share this story with your friends!
---
Help us make Spot.ph better!
Take the short survey
More Videos You Can Watch
Load More Stories