Top 10 Chocolate Chip Cookies in Manila (2018 Edition)
You need a cookie. Now.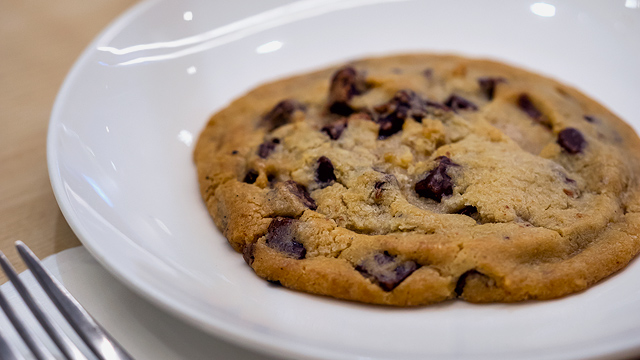 (SPOT.ph) Is there anything more comforting and heartwarming than a classic chocolate chip cookie? This chewy, sometimes crispy, always chocolatey treat is a universal snack loved by kids and kids-at-heart all over. It's hard to mess up a cookie as classic as this one, but don't you think it's harder to find the perfect one, with all the different recipes out there?
We survey the city for the best and most basic variation—that means no nuts, no complicated add-ons, just your run-of-the-mill chocolate chip baked with good old-fashioned dough. Whether you're in search of the softest, chewiest sweet treat or appreciate more crunch in your cookie, we'll have you running to fill your jars with these masterful treats.
All SPOT.ph Top 10 lists are researched, paid for, tested, and selected by the writers and editors. They are discreetly conducted without any notice made to the restaurants or their owners.
ADVERTISEMENT - CONTINUE READING BELOW
10. Chocolate Dipped Cookie from Purple Oven (P70)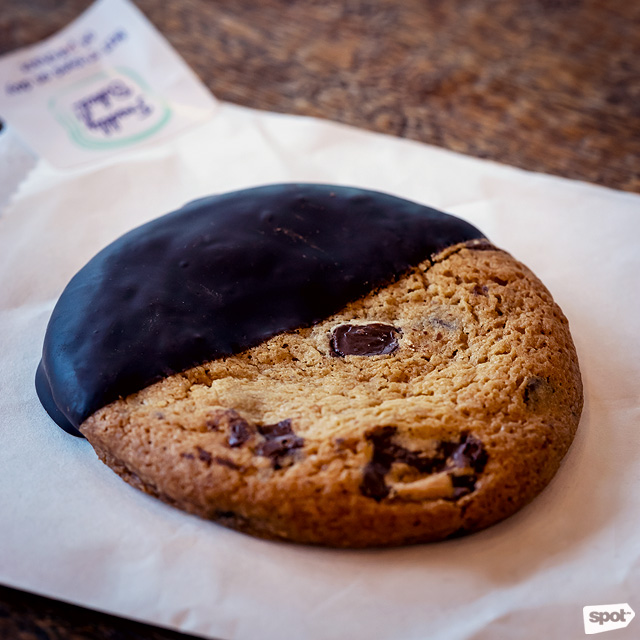 Purple Oven has become a household name for good reason. Their offerings are consistent, tasty, well-priced, and are always a hit for the tita or tito crowd. Their four-inch chocolate chip cookie is half-dipped in a bittersweet dark chocolate, giving it an extra edge over most cookies in the Metro. While it may not satisfy those looking for moist, soft batch-style cookies, its friendly and wholesome taste is universally pleasing.
Purple Oven has branches all over Metro Manila.
9. Chocolate Chip Cookie from 205 (P110)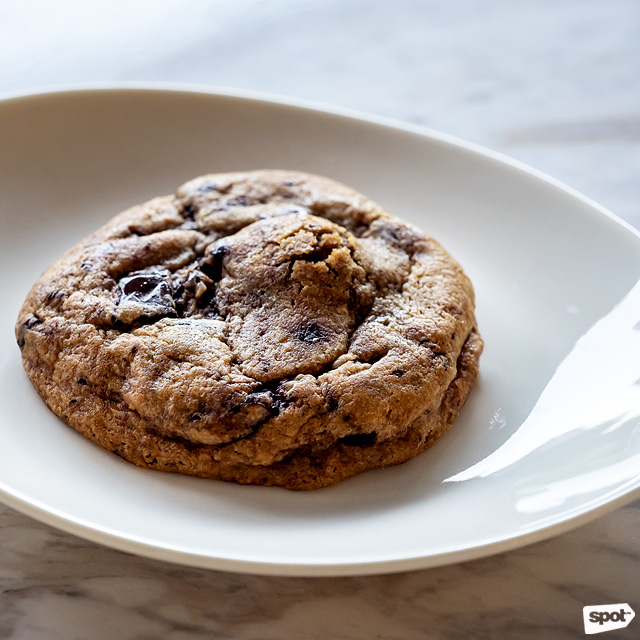 ADVERTISEMENT - CONTINUE READING BELOW
If you find yourself wandering around BGC with a crazy cookie craving, drop by 205, a new lounge-inspired restaurant, for their signature coffee coupled with one of their thick and chunky chocolate chip cookies. Served hot off the oven, their 3.5-inch cookie is chewy—a delicious treat for those who want an alternative to cookie-dough ice cream. The best thing about this cookie is how it veers away from the sweet scale but still manages to deliver an impactful punch to your taste buds.
205 is at U/G C2, Central Square, Bonifacio Global City.
8. Chocolate Chip Cookie from Wildflour Café + Bakery (P120)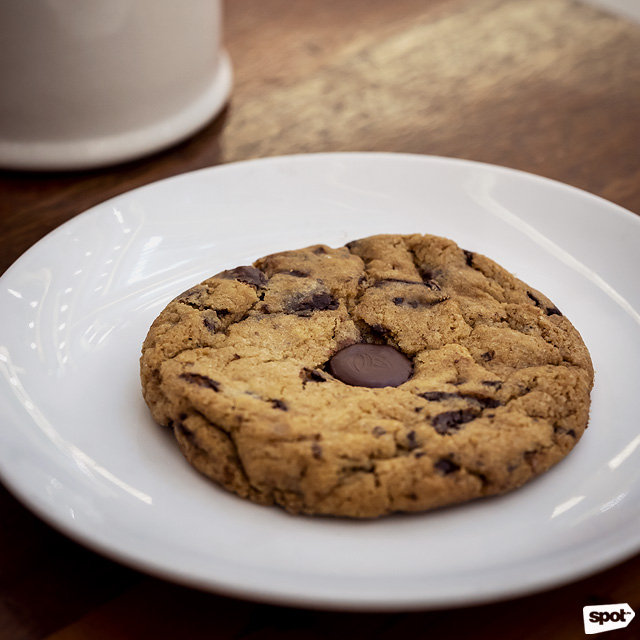 When your dessert craving is intense, you can never go wrong with a trip to Wildflour Café + Bakery. Their chunky, thick four-inch chocolate chip cookie has a solid reputation and is often sold out despite its relatively hefty price tag. The cookie comes with a slight crunch, but what makes it extra special is the chocolate quality. You know you're getting value for money as far as taste and quantity go. Pair it with a scoop of vanilla ice cream from neighboring dessert shop Farmacy and you're set.
ADVERTISEMENT - CONTINUE READING BELOW
See a list of Wildflour Café + Bakery branches.
7. Classic Chocolate Chip Cookies with Maldon Sea Salt from Ollie's Kitchen (P300/half dozen)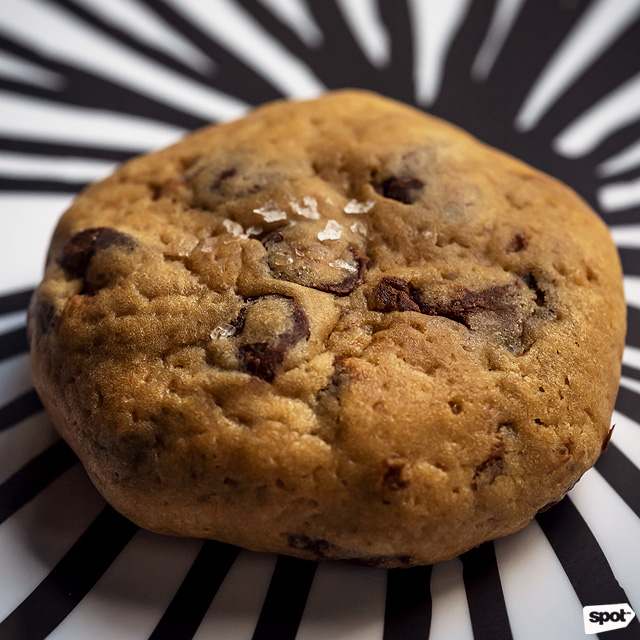 A hit in the homebakers circuit, Ollie's Kitchen's cookies are for the foodie with a discerning palate. Chewy and soft, they taste like they're fresh out of the oven even a day after you purchase them. Individually packed and sealed, these cookies would be a pretty good Christmas giveaway for your friends. The 2.5-inch cookie is also topped with a very subtle sprinkling of sea salt, which provides a nice, elevated touch to the typical soft batch-style cookie.
For more information, log on to Ollie's Kitchen's Facebook page.
6. Chocolate Chip Cookie from Subway (P35)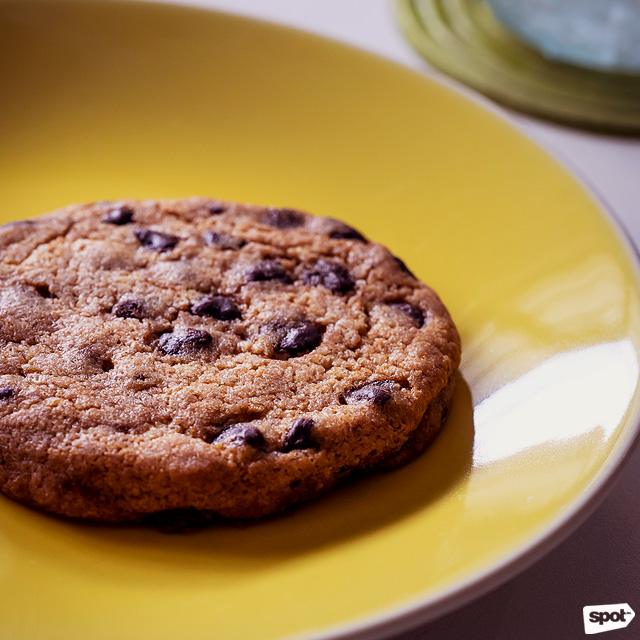 ADVERTISEMENT - CONTINUE READING BELOW
There is absolutely no way you can go wrong with a P35 cookie. You'll be surprised, however, at how this low price point belies the excellence of the Subway cookie. Baked fresh every day, this chewy 3.5-inch cookie offers homemade quality taste at a commercial price. Expect a slightly bittersweet chocolate—it only serves to make this cookie even better than it already is.
See a list of Subway branches.
5. Chocolate Chip Cookie from Pi Breakfast & Pies (P65)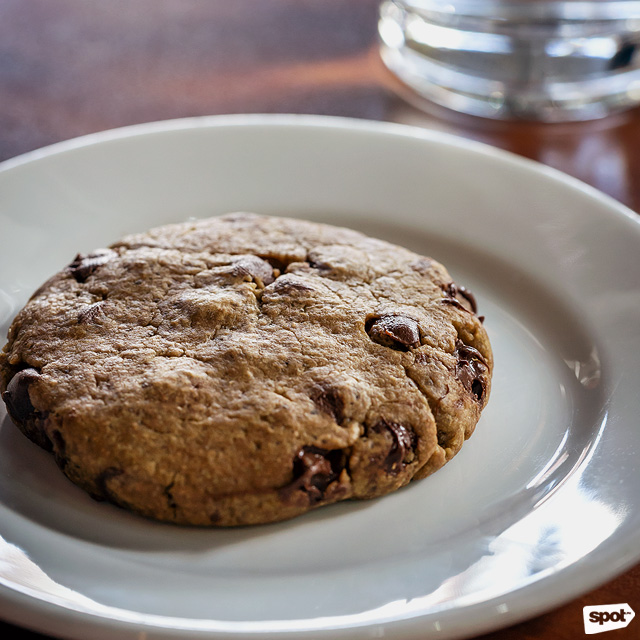 If you're looking for a chocolate chip cookie you want to sink your teeth into, head over to this Teachers Village staple. Thick and soft to the bite, they serve this cookie slightly heated so every chocolate chip melts in your mouth. Its softness has a distinctive baked-at-home quality. This three-inch cookie will be worth every calorie-laden bite. You'll be begging for an ice cream to go with this sweet treat, for sure.
ADVERTISEMENT - CONTINUE READING BELOW
Pi Breakfast & Pies is at 39 Malingap Street, Teachers Village, Quezon City.
4. Milk Chocolate Cookie from M&S Café (P60)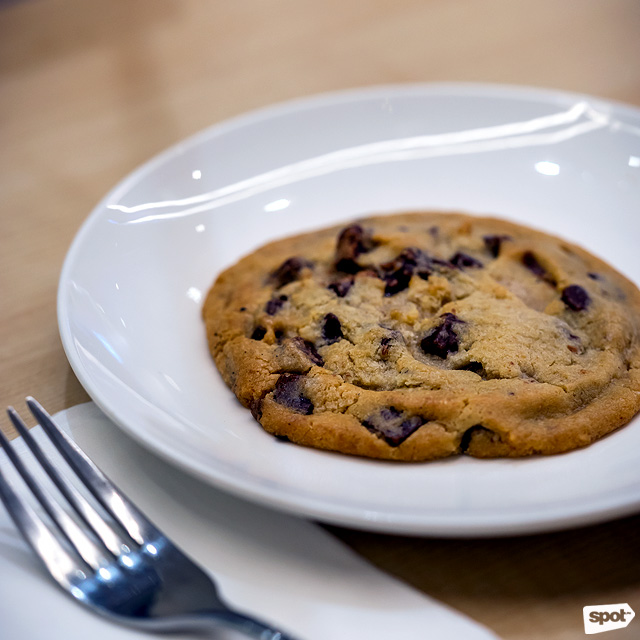 If you haven't walked by Marks & Spencer's café and smelled their cookies baking in the oven, then you're missing out. This cult-favorite three-inch cookie is thin and slightly grainy, delivering a unique texture not present in most other cookies around town. If you're a sweet tooth at heart, this is the cookie for you. Make Santa happy and buy an entire batch in time for Christmas Eve.
M&S Café is at 3/F Central Square, Bonifacio Global City.
3. Chocolate Chip Cookie from Cookies by the Bucket (P150/12 pieces, P250/20 pieces)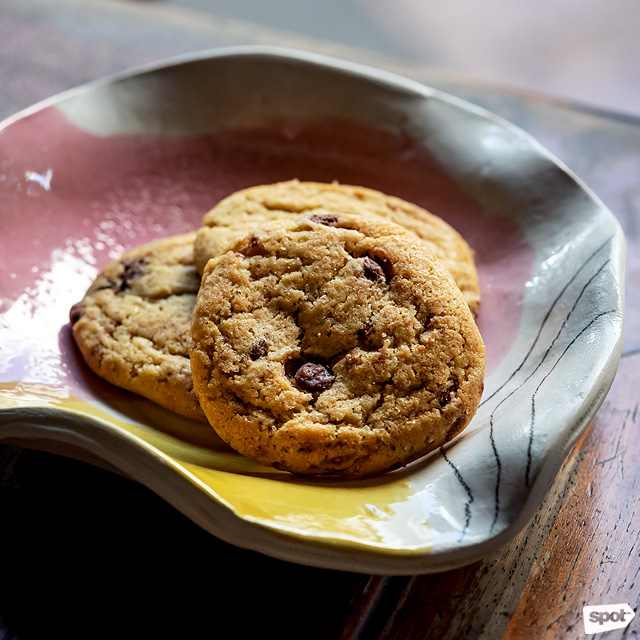 ADVERTISEMENT - CONTINUE READING BELOW
Only to those who are privy to the mall bazaar or kiosk circuit will have uncovered the wonderful secret that is Cookies by the Bucket. A non-descript stall in many malls around the Metro, this low-key place delivers some of the best-tasting, most inexpensive cookies in town. Their two-inch treats are deceiving—small by most cookies' standards, but with an unrivaled chewy-slash-toasty texture that is hard to find. You'll definitely want to eat the entire bucket—large (12 pieces) or giant (20 pieces). Best bonus? You also get a free cup of milk—win-win.
Cookies by the Bucket is at L/G Ayala Malls The 30th, Meralco Avenue, Pasig City. For more information, log on to Cookies by the Bucket's Facebook page.
2. Chocolate Chip Cookie from Toby's Estate (P70)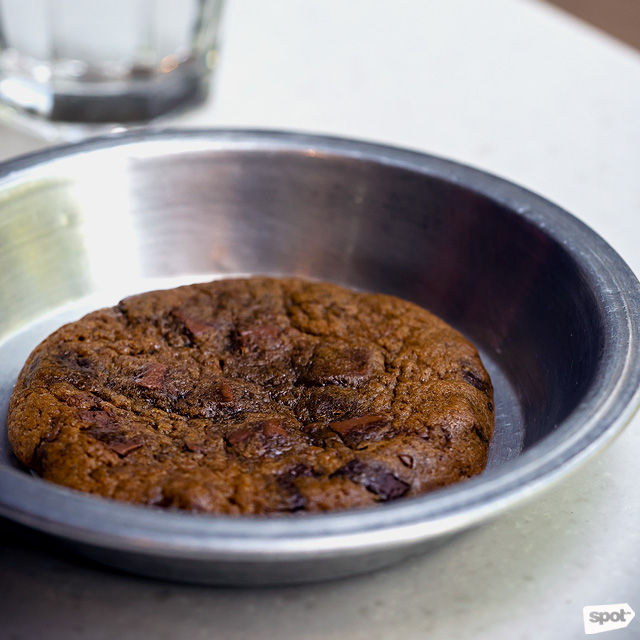 Toby's Estate hits it out of the park once again with their beautiful 3.5-inch cookie. But instead of chocolate chips, you get bittersweet chocolate chunks! Served warm, this cookie will be worth the wait for its extremely soft texture mixed with a very subtle crisp around the edges. Along with the melted chocolate, you'll notice a hint of indulgent butteriness—which, in our book, is an absolutely wonderful thing. Its wallet-friendly price is also worth mentioning, giving you the perfect excuse to order a cup of latte with it.
ADVERTISEMENT - CONTINUE READING BELOW
See a list of Toby's Estate branches.
1. The Chocolate Chip from Mo' Cookies (P120)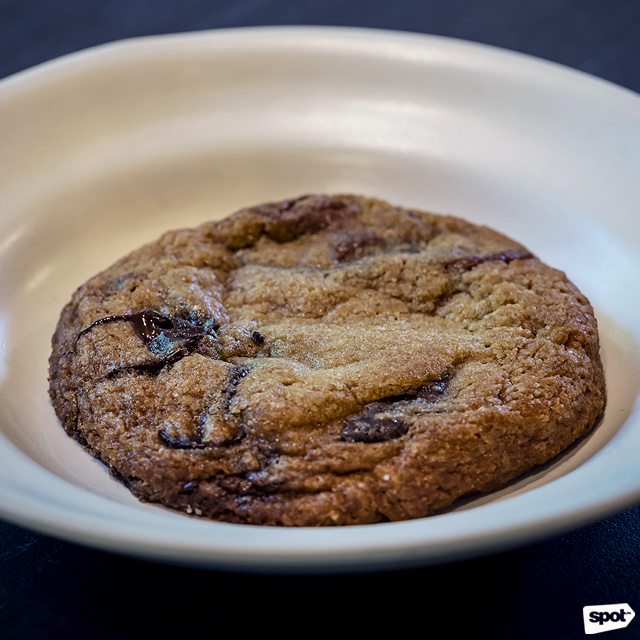 Do yourself a favor and call in advance if you're going to try these cookies because they have a massive cult following. The Mess Hall's famous chocolate chip cookies are the first to go as soon as they open at 11 a.m., and these have earned a reputation for good reason—they're so thick you'll need to share them, plus they deliver a surprising crunch at first bite. The cookie then manages to transition magically into an unparalleled gooey, melt-in-your-mouth treat that will have you wanting more. If you're having a bad day (or a bad week for that matter), it's hard to imagine not coming out with a smile after having had a bite of this.
Mo' Cookies is at The Mess Hall, Karrivin Plaza, 2316 Chino Roces Avenue Extension, Makati City.
ADVERTISEMENT - CONTINUE READING BELOW
Photos by Toto Labrador
**Update as of 5 p.m., November 15, 2018: The Mess Hall's Chocolate Chip Cookie (Top 1) has been renamed to The Chocolate Chip from Mo' Cookies. Price has also been updated.
Load More Stories