10 Places for Great Crispy Fried Chicken in Quezon City
Craving some Southern-style fried chicken goodness? These places are your best bet.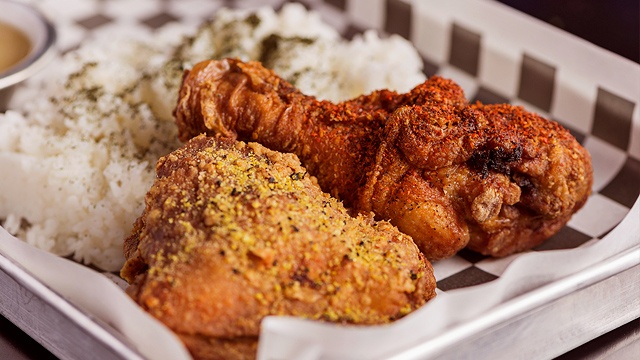 (SPOT.ph) There's nothing else more comforting and familiar than having a plate of fried chicken—biting into a piece with crispy golden brown skin, and having your taste buds come into contact with perfectly seasoned, juicy and moist meat. You don't really have to go too far to find this classic comfort food, especially in Quezon City. Whether you're a white meat or dark meat kind of person, here are all the must-try fried-chicken spots in QC.
Also read:
10 New Places for Great Crispy Fried Chicken in Manila
Nono's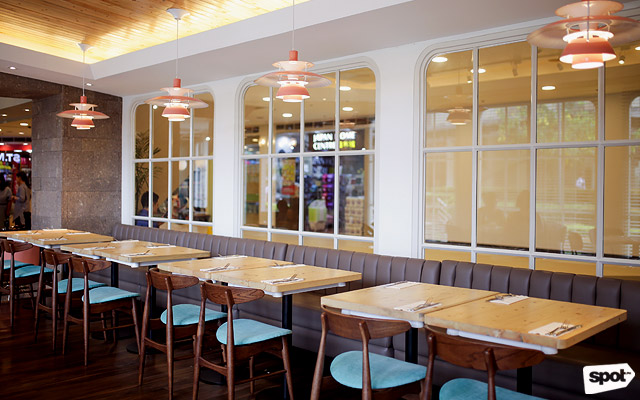 ADVERTISEMENT - CONTINUE READING BELOW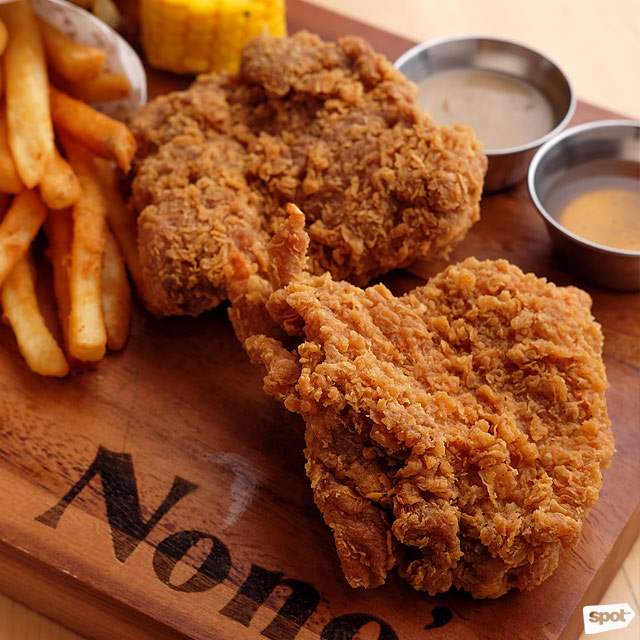 Nono's Homestyle Fried Chicken (P565) seems like a simple dish but just one bite and you can tell it's one of the best restaurants for fried chicken you can find in the Metro. Every piece comes with a satisfying crunch that you can only get with a perfectly fried chicken. The meat is also juicy and flavorful, having been marinated with a secret blend of spices. To get the full experience, mix the honey and gravy served alongside the chicken and use it as your sauce. The sweetness of the honey perfectly complements the spiced chicken and herby gravy.
Nono's is at G/F UP Town Center, Diliman, Quezon City.
TETSUO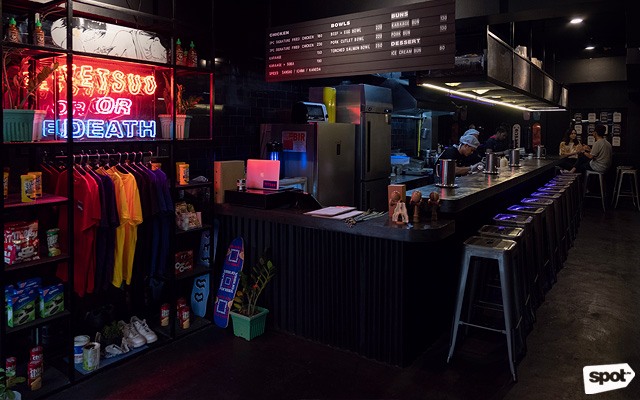 ADVERTISEMENT - CONTINUE READING BELOW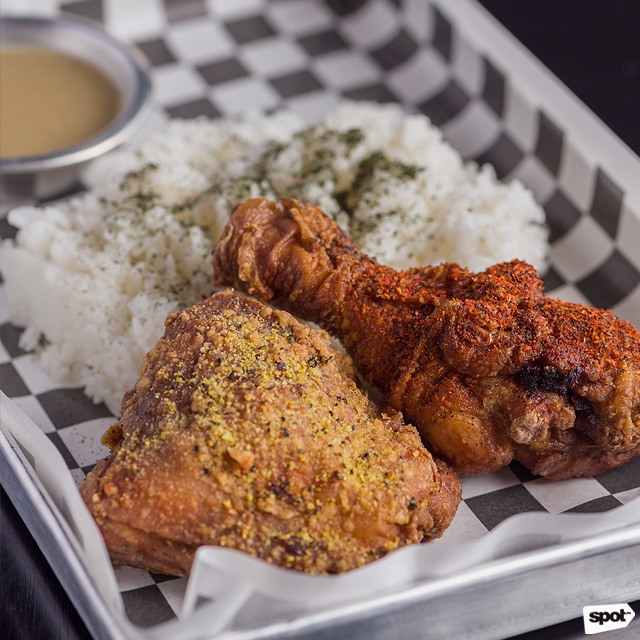 At first glance, TETSUO may seem more like a hipster bar than a fried-chicken joint, but this place serves some of the best fried chicken in Quezon City. Their Signature Fried Chicken (P180/two pieces, P230/three pieces) is bursting with umami, thanks to the buttermilk and secret seven-spice marinade. Each piece is fried until it's golden on the outside but still tender and juicy on the inside. You also have three spice levels to choose from: The peppery and lemony Sansho, the mildy spicy Ichimi, and the deeply smoky Kaneda.
TETSUO is at 88 Esteban Abada Street, Loyola Heights, Quezon City
Toritake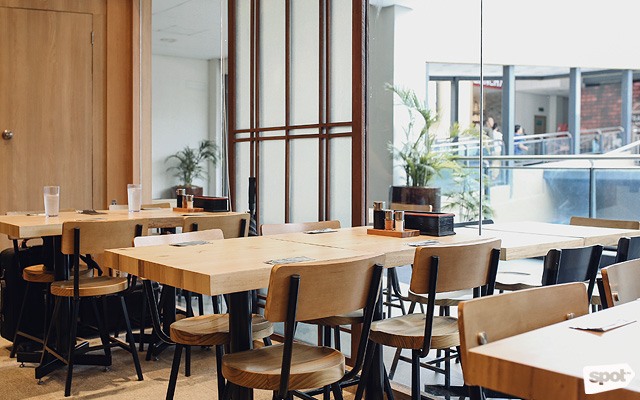 ADVERTISEMENT - CONTINUE READING BELOW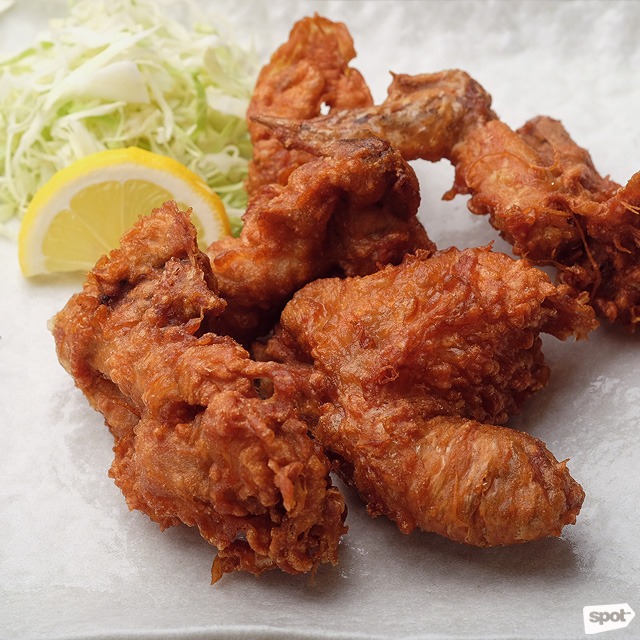 This Shibuya-famous spot might be known for their grilled meats, but their Chicken Kaarage (P195) also deserves some space in your belly. These deep-fried bite-size pieces aren't just ultra-crispy, thanks to a light golden brown batter, but the meat also remains juicy and moist. Try squeezing a bit of lemon to each bite; the zest helps complement the chicken's saltiness.
Toritake is at 2/F UP Town Center, Katipunan Avenue, Diliman, Quezon City.
White Camp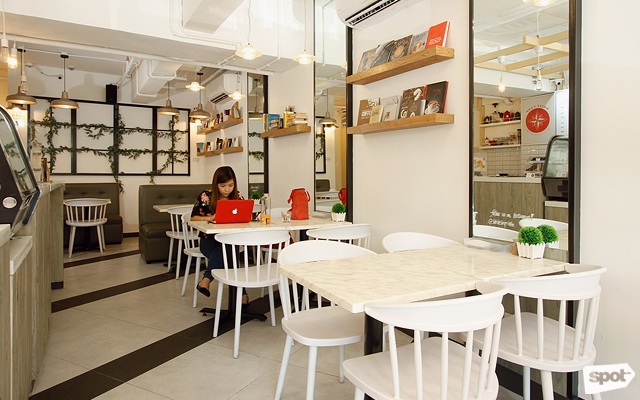 ADVERTISEMENT - CONTINUE READING BELOW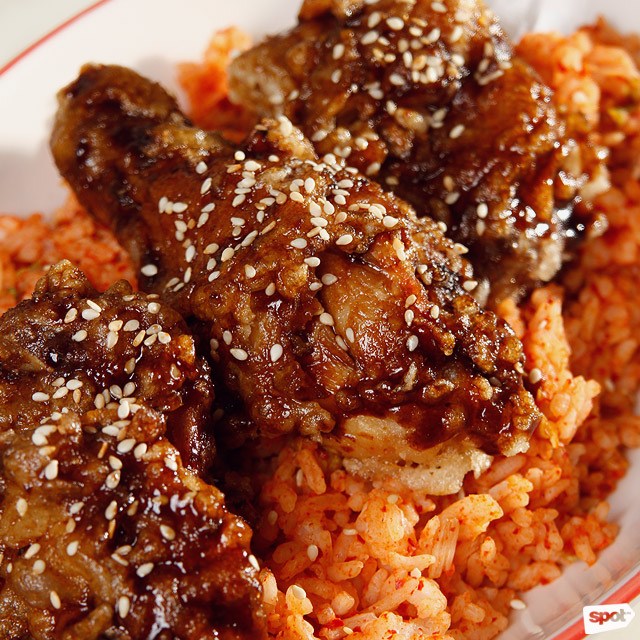 A coffee shop is probably the last place you'd think of when it comes to fried chicken, but White Camp's version of the dish will keep you coming back for more. Their Korean Fried Chicken (P279), with its sweet soy-garlic glaze will remind you of a certain fast-food chain, but the meat here is more flavorful, as the marinade seeps through the chicken's crispy skin. It's paired with a generous amount of spicy kimchi fried rice, which actually helps balance out the chicken's sweetness.
White Camp is at 62 Sgt. Esguerra Avenue corner Mother Ignacia Avenue, South Triangle, Quezon City. 
Giulia by Casa Italia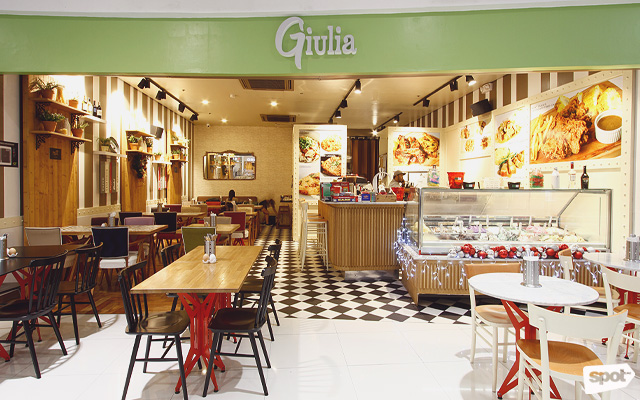 ADVERTISEMENT - CONTINUE READING BELOW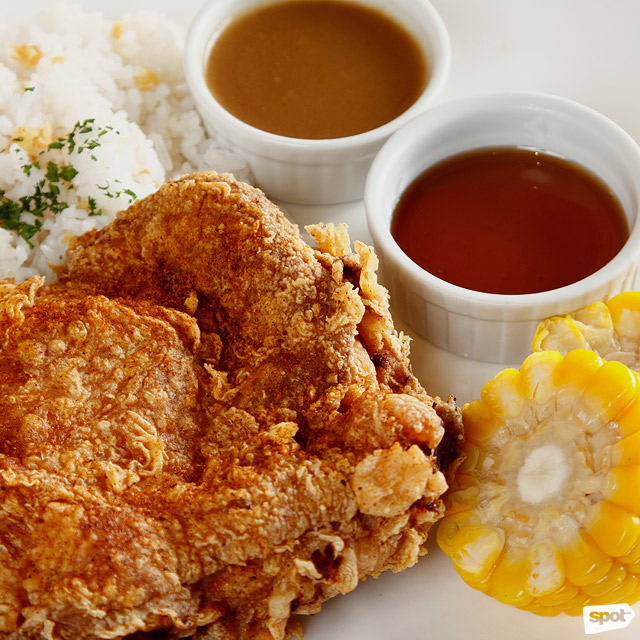 This Italian restaurant doesn't just serve up classic fare like pizza, pasta, and gelato, but they also have a pretty mean fried chicken. Their Aunt Giulia's Legendary Fried Chicken (P285/single, P495/sharing) is an old heirloom recipe, passed down from generation to generation. Each piece crackles with every bite, which then bursts with flavor from cayenne and paprika. The chicken is served alongside a variety of sides, from mixed grains to chunky potato fries and spiced corn.
Giulia by Casa Italia is at G/F SM North EDSA, Quezon City.
Bad Bird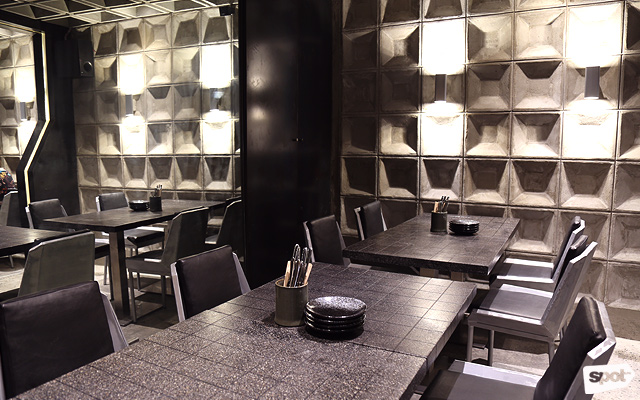 ADVERTISEMENT - CONTINUE READING BELOW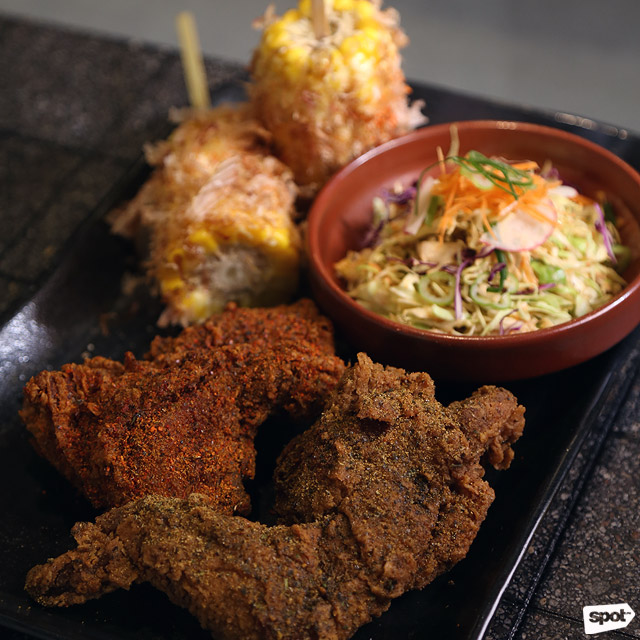 Bad Bird is, of course, home to umami fried chicken. Every piece is fried until golden and crisp, but still retains its juiciness. The fried chicken comes in three levels of spiciness: The mild Safe, the hot Spicy, and the extreme Chemical. You also have a wide variety of sides, from Bad Bird's signature sweet potato waffles that come with miso butter and maple syrup; to corn that's covered in Japanese mayonnaise, bonito flakes, togarashi, and cheese, along with some kimchi coleslaw. There's also fried rice mixed with scrambled egg and bonito flakes.
Bad Bird is at G/F UP Town Center, Diliman, Quezon City.
Kko Kko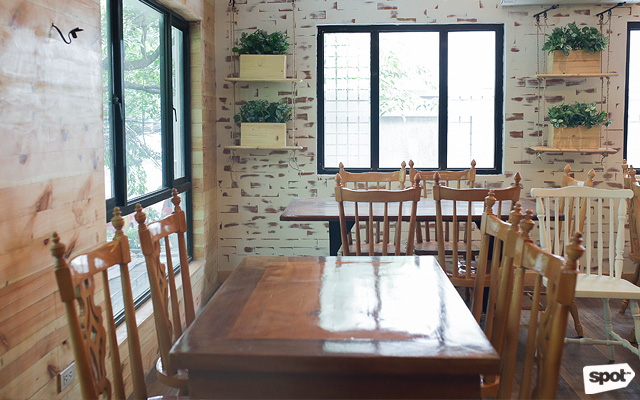 ADVERTISEMENT - CONTINUE READING BELOW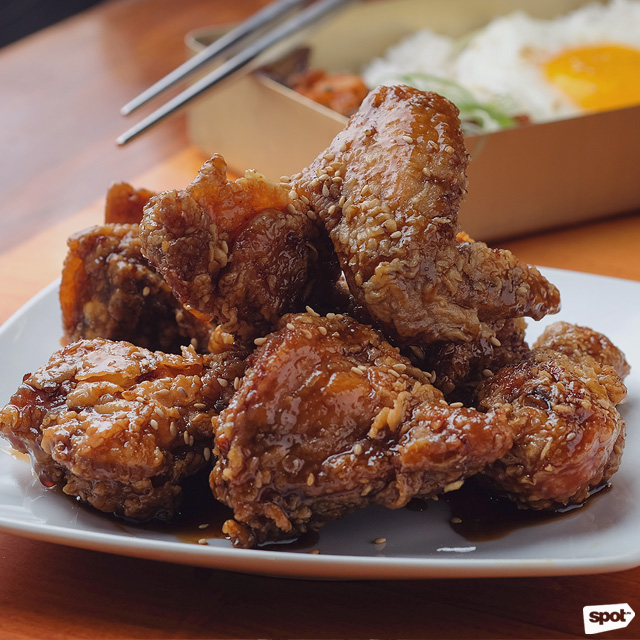 They might be more known for their cheese-fondue dishes, but Kko Kko's versions of fried chicken don't disappoint either. There's the straightforward Yang Nyum (P368/half, P598/whole) or crispy fried chicken tossed in classic soy, sweet chili, or garlic glaze. The breading is not only ultra-crisp, it's also quite light, letting you enjoy the moist, perfectly seasoned chicken meat. But if you prefer your chicken to be in smaller, bite-size pieces, there's Snow (P368/half, P598/whole) or chicken popcorn covered in a creamy, savory cheese powder. If you want your chicken with more of a kick, you can have it tossed in some spicy Fire Chili.
Kko Kko is at G/F UP Town Center, Diliman, Quezon City.
Catabolic Café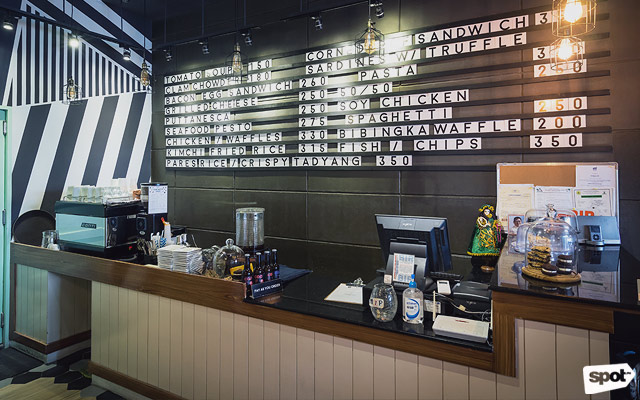 ADVERTISEMENT - CONTINUE READING BELOW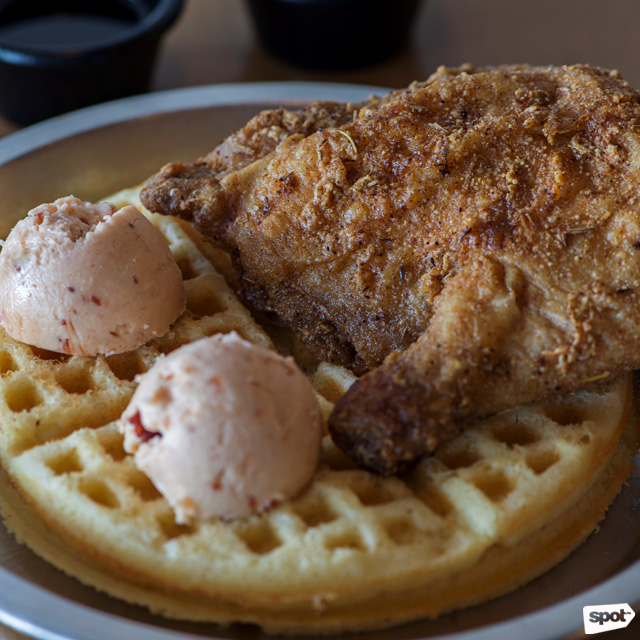 If you look up the meaning of fried chicken in the dictionary, you'd probably find a picture of Catabolic Café's Chicken & Waffles (P330) next to it. The team at this café took months of testing and research to perfect their fried chicken and the effort was clearly worth it. The golden brown skin is not only crispy; it also comes with a peppery bite, due to a special spice marinade. The meat, pairs perfectly with the spicy-sweet maple syrup that comes with the fluffy waffles—which you can actually order well done for an added crunch.
Catabolic Café is at 22 Malingap Street, Teachers Village, Quezon City.
The Fat Seed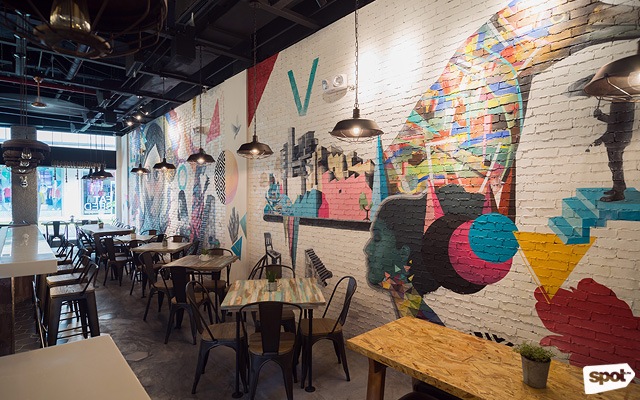 ADVERTISEMENT - CONTINUE READING BELOW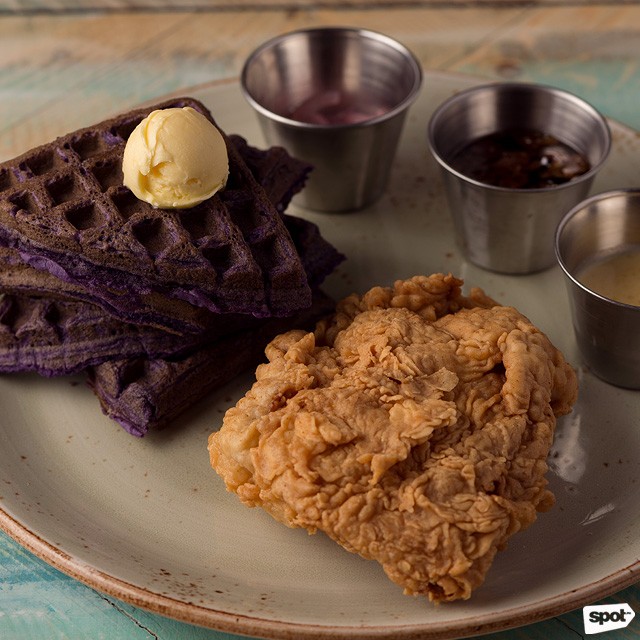 We've all heard of the classic chicken and waffles but The Fat Seed puts a unique and Filipino spin on the dish with their Buttermilk Fried Chicken with Ube Waffles in Salted Egg Sauce (P325). It may sound like an odd combination, but the crispy and juicy fried chicken actually pairs well with the sweetness of the ube waffles. Did we also mention you can dip both your waffles and fried chicken in their bacon-maple syrup?
The Fat Seed is at G/F UP Town Center, Diliman, Quezon City.
Palm Grill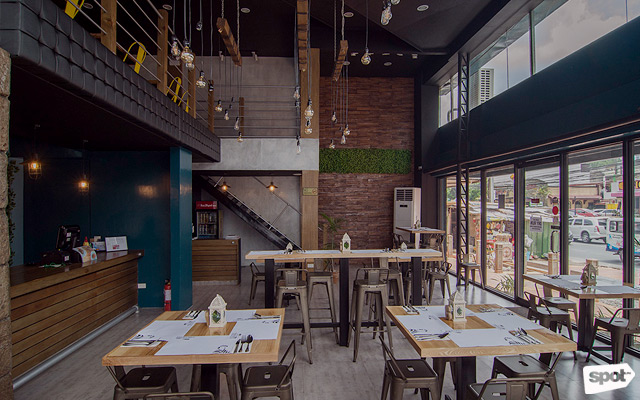 ADVERTISEMENT - CONTINUE READING BELOW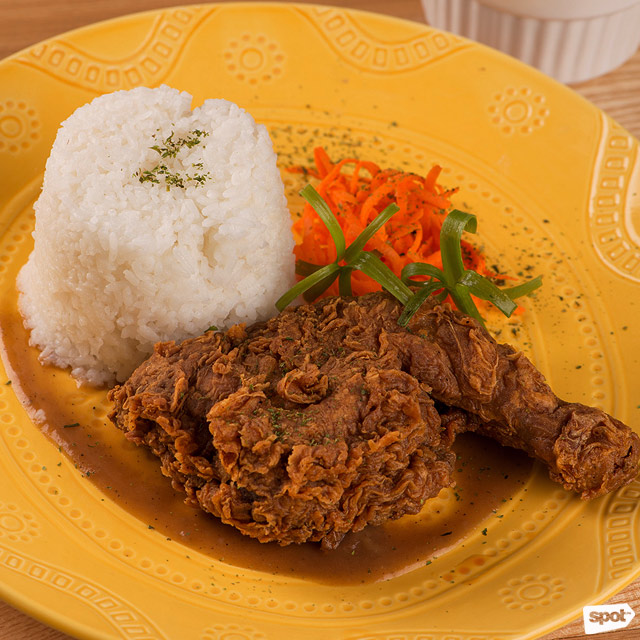 Palm Grill specializes in all kinds of chicken dishes, whether it's stewed in coconut milk or roasted in its own juices. But one of the stars of the menu is Oswalda's Fried (P229/quarter-piece, P339/half-piece, P649/whole) which may remind you of grandma's own fried-chicken recipe. Each piece is marinated in a special blend of herbs and spices before being coated with a light golden breading. You can opt to pair it with rice and gravy or with the restaurant's special creamy potato salad.
Palm Grill is at 175 Tomas Morato Avenue corner Scout Castor Street, Diliman, Quezon City.
Load More Stories