Top 10 Mall Food Courts in Manila (2018 Edition)
Take a break from shopping!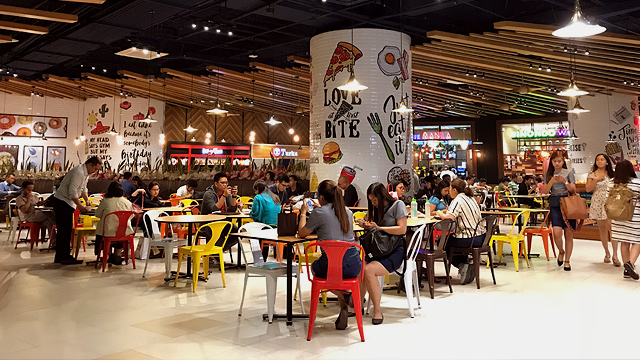 (SPOT.ph) Shopping can be tiring, physically and mentally, with all the walking around (no wonder it's an exercise), not to mention the task of finding the perfect outfit for your next night out, or the right gift to give your best friend. The thing is, you're bound to get hungry after a few hours. But what if you've only got so much time for a quick break? That's where mall food courts come to the rescue.
ADVERTISEMENT - CONTINUE READING BELOW
Gone are the days when food courts meant uncomfortable seating areas, deep-fried fast food, and shabby designs. Today, these communal eating centers right smack in the middle of a mall have leveled up, not just aesthetically but in terms of food selection, too. Don't be surprised if you can now get ramen or lechon—food courts these days mean serious business. We searched for the best ones in the Metro and ranked them according to selection, ambience, and overall experience. You'll never get hungry at these spots!
All SPOT.ph Top 10 lists are researched, paid for, tested, and selected by the writers and editors. They are discreetly conducted without any notice made to the restaurants or their owners.
10. Eastwood's Food Junction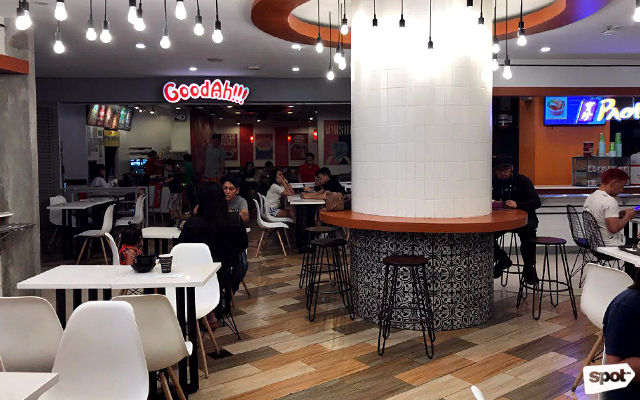 ADVERTISEMENT - CONTINUE READING BELOW
Not many people know that Eastwood actually has its own food court—though we can't really blame them, with the multitude of options you can get everywhere else in the neighborhood. Still, if you're strapped for cash and just need a quick meal, the Eastwood Food Junction is a pretty solid option. The small, closed-off area has two floors and ample seating, and turnover is pretty quick so you're sure to get a table any time you drop by. The choices are reliable Filipino and Chinese quick-service stalls like Binalot, Tapa King, Good Ah, Paotsin, and Hen Lin. While the options aren't as varied as their counterparts, you can be sure to get a satisfying, comforting meal from any of these stalls. Fair warning though: Because it's in a closed-off area, it can smell a little too smokey inside.
Food Junction is at 2/F City Walk 2, Eastwood City, Libis, Quezon City.
ADVERTISEMENT - CONTINUE READING BELOW
9. Gateway's Food Express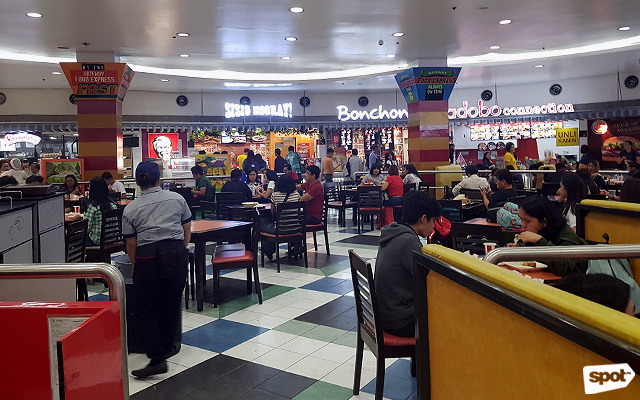 Located just outside the cinemas, Gateway Food Express has become a hub where people hang out before or after a movie—they do discourage loitering, though, with visible signages so if you're lingering, you might as well grab a bite from their wide variety of options. Gateway Food Express has a mix of the usual fast food names plus express options of restaurants like Hap Chan and Pepper Lunch, food court staples Mr. Kimbop for fast Korean fare, Davao Tuna Grill for sizzling plates, Sisig Hooray, and more. There are lots of snack options, too, if you aren't in the mood for a full meal from stalls like Auntie Anne's, De Original Jamaican Pattie Shop and Juice Bar, Turks, Potato Corner, and more. Aside from variety, Gateway Food Express also gets plus points for improved cleanliness from previous years—the staff are brisk in clearing tables so you're sure to get a newly cleaned one immediately (though we also have to say, practice CLAYGO!).
ADVERTISEMENT - CONTINUE READING BELOW
Gateway Food Express is at 3/F Gateway Mall, Cubao, Quezon City.
8. Trinoma's Food Choices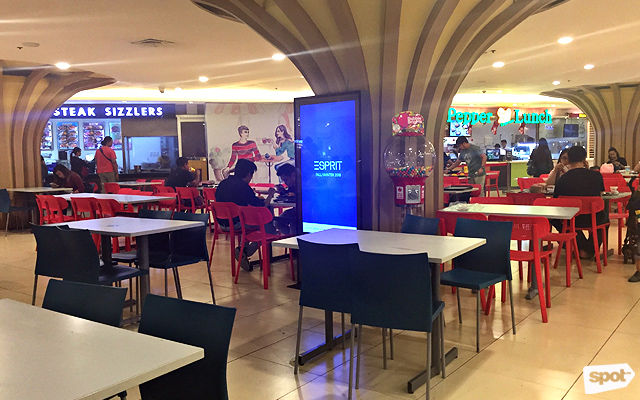 Trinoma's Food Choices on the second floor may be one of the smallest food courts in town, but its seamless layout makes it easy for diners to take their pick. It's also easy to spot and call on a table cleaner, so you don't have to worry about picking up trays and the previous diner's trash. And even if the food court has fewer stalls than most of its rivals on the list, it's got a strong roster of great finds such as Manam Express, Mesa Steak Sizzler, Pepper Lunch, Lord Stow's Bakery, and all-time crowd favorite World Chicken. This fuss-free dining destination is perfect for indecisive diners—after all, you've only got 18 food stalls to choose from!
ADVERTISEMENT - CONTINUE READING BELOW
Food Choices is at 2/F Trinoma Mall, Bagong Pag-asa, Quezon City.
7. Robinsons Magnolia's Food Court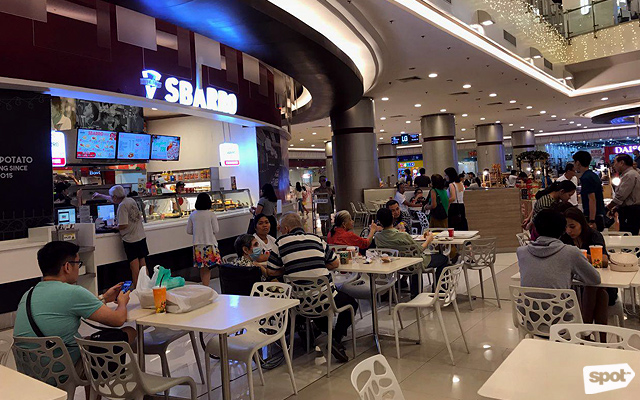 The layout of Robinsons Magnolia's Food Court isn't like your usual. The dining areas are separated by stalls that are positioned like islands all over the food court. It can make seeing all your options in one go a little difficult, which is a shame because you should check everything out and take in the pretty excellent and beyond-the-usual food stalls you can get here. Perhaps because of the large Chinese-Filipino population of nearby New Manila, Robinsons Magnolia Food Court has a lot of Chinese food stalls, from the usual Hap Chan Express to a food-court version of Binondo's Sincerity Café and Restaurant, as well as Lord Stow's Bakery and Famous Kitchen, where you can get roast duck and char siu at super affordable prices. Not in the mood for Chinese? Robinsons Magnolia Food Court also has Sbarro, Bacolod Chicken Inasal, Pepper Lunch, Adobo Connection, Potato Corner, and more. The food court usually also hosts bazaars so you can check out small homegrown businesses, too.
ADVERTISEMENT - CONTINUE READING BELOW
Robinsons Magnolia Food Court is at LG/F Robinsons Magnolia, New Manila, Quezon City.
6. SM Megamall's Food Court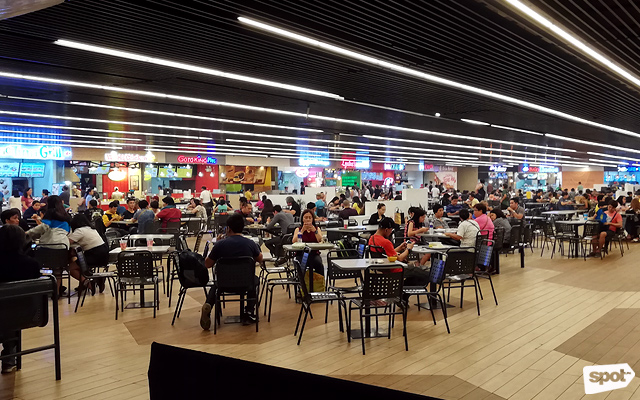 Though often overshadowed by SM Mega Food Hall, SM Megamall's OG food court at Building B is still a reliable choice. For one, they have an almost dizzying variety of options—more than 60 at that! You're sure to satisfy whatever it may be you're craving—from chicken by food court-favorite Kipp's Chicken to lechon from Lydia's Lechon, shabu-shabu, sizzling meals, and even vegetarian options from Bodhi. There are lots of snack options, too, if you're just in the mood for a quick bite—Moshi Manju and their Korean mini cakes are a crowd favorite. Plus, they have a beer station and a mini arcade—this food court knows how to get us to unwind.
ADVERTISEMENT - CONTINUE READING BELOW
SM Megamall Food Court is at LG/F Building B, SM Megamall, Ortigas, Mandaluyong City.
5. Glorietta's Food Choices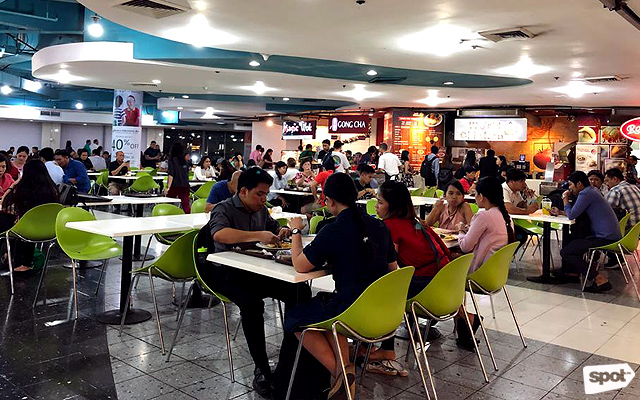 With over 47 food stalls, it's hard to run out of options at Glorietta's Food Choices. In the mood for meat? Count on the classic House of Minis for some sizzling steaks. Craving rich and punchy Indian Food? New Bombay has you covered. Sisig? Manam Express has one of the best sisig in the Metro. Chinese? The famed President of Binondo is here. Although spacious and practically filled with seats, its interiors might need an upgrade to give it a cozier feel and a modern boost. More cleaning staff might help, too. Despite that, this food court covers every cuisine imaginable, from Indian and Mexican to Chinese and Middle Eastern—no wonder it's become a favorite lunch-time destination of cubicle-dwellers working in Makati's Central Business District.
ADVERTISEMENT - CONTINUE READING BELOW
Food Choices is at 3/F Glorietta 4, Ayala Center, Makati City.
4. SM Aura's Food on Four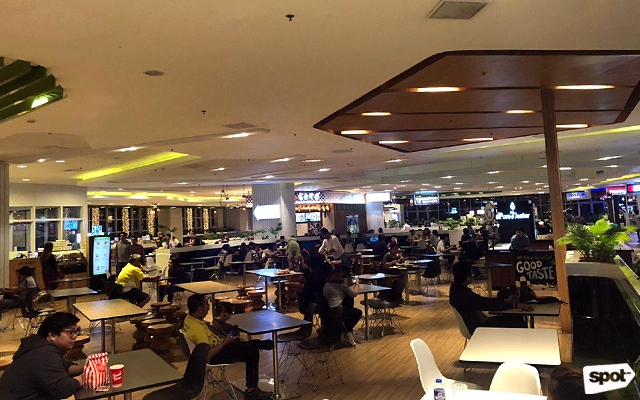 SM Aura's Food on Four stands out for the pleasant vibe of their dining area. The food court is brightly lit, airy, and spacious, so it doesn't feel cramped even when the area gets crowded with diners. Plus, they've got floor-to-ceiling windows that offer a view of BGC's skyline, and a skylight that lets natural light pour in during the daytime. While the stalls aren't as plentiful as what others may have to offer, they're well-curated so you're sure to get excellent grub wherever you might choose to buy from. Notable food stalls include Sushi Nori, Yakitori One, Frankie's New York Buffalo Wings, Poke Poke, and Four Seasons—options you'd be hard-pressed to find anywhere else.
ADVERTISEMENT - CONTINUE READING BELOW
SM Aura's Food on Four is at 4/F SM Aura Premier, Bonifacio Global City.
3. Uptown Mall's The Food Hall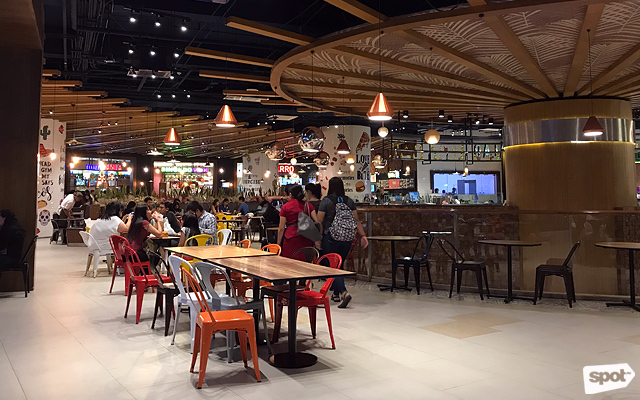 Not a lot of people know that there's a food court at Uptown Mall and it's probably because going there is almost like passing through a rabbit hole. Perhaps the easiest way to get there is by finding the escalator at the far end of the mall's third floor, behind the retail shops and just by the cinemas. Despite that, you'll be surprised at its vibrant mural-laden interiors, which will make you feel like you're in a food hall (as its name suggests). This food court is a winner for its clean and pretty interiors complete with comfy and modern chairs, making it a classy cut above the typical food-court experience. And even though it could use more seats and more wallet-friendly dining options besides the usual Turks and Steak Station, its international cuisine selection is pretty spot on with stalls like BKK Express, CoCo Ichibanya, Frangos Piri-Piri Chicken, and Binondo Wok by Classic Savory. It even has milk tea, a salad bar, and a third-wave coffee kiosk by Chatime, Craft Salad, and Habitual Coffee, respectively.
ADVERTISEMENT - CONTINUE READING BELOW
The Food Hall is at 4/F Uptown Mall, Uptown Bonifacio.
2. Shangri-La Plaza's The Food Forum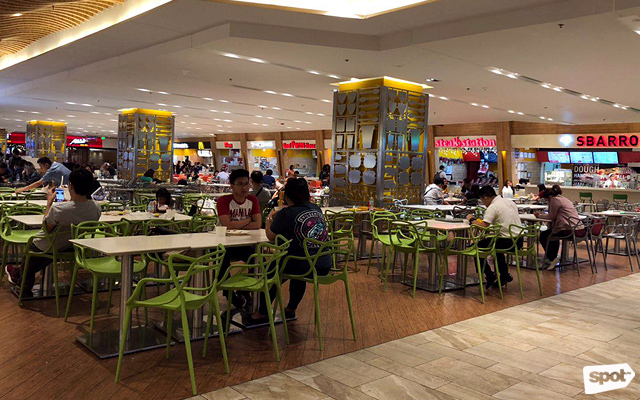 Quietly tucked away at the basement of Shangri-La Plaza's main wing is a haven of food stalls—some new, some still there since you can even remember. Formerly called Garden Court, The Food Forum had undergone a major facelift a couple of years ago to match the mall's new and improved look. Now, its interiors flaunt sophisticated wooden panels and shinier floors, a cozier ambience, and a play of sturdy steel, plastic, and upholstered wooden chairs. Besides ample seating, The Food Forum still has that nostalgia factor going on thanks to O.G. stalls like Sizzling Seafoods, Davao Tuna, Pepper Lunch, McDonald's, and Honey's Kimchi. The food court's 20-plus food stalls range from budget-friendly to mid-priced kiosks, and it's also welcomed newer establishments like Sisig Hooray, Bagnet Boy, and Famous Belgian Waffles. Apart from that, you don't need to worry about dirty tables when you're here since there's always maintenance staff walking around to clean the tables. Shangri-La Plaza's The Food Forum is almost perfect—we just wish we had more dining options to choose from.
ADVERTISEMENT - CONTINUE READING BELOW
The Food Forum is at LG/F Shangri-La Plaza, Ortigas, Mandaluyong City.
1. Robinsons Galleria's Eat Street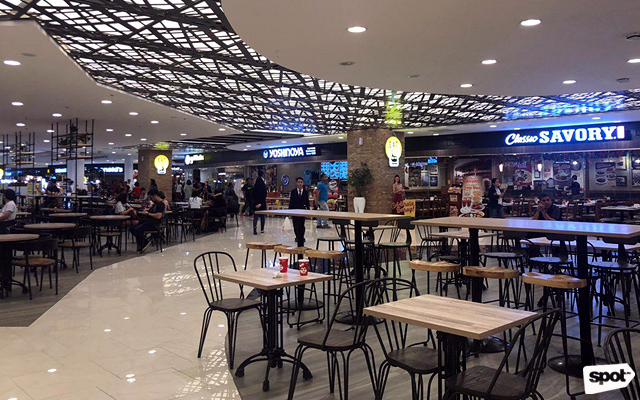 Admit it: You've always wished for a revamped Robinsons Galleria. Now that the shopping destination's almost done with renovation, you couldn't help but think that it might be one of the best things to happen in the Metro's mall scene, with spanking new cinemas and a bigger and better food court. Robinsons Galleria's Eat Street is a foodie's dream, whether you're on a tight budget or not. Dining-wise, you have your usual food-court suspects like Tokyo Tokyo, Sisig Hooray, Pepper Lunch, KFC, and Reyes Barbecue. With over 40 food spots to choose from, it's easy to feel overwhelmed with Eat Street's selection (not that we're complaining because it's actually a good thing—the best thing, even). Amid its brightly lit interiors that give off a sleek industrial vibe thanks to its brick walls, wooden tables and floors, and elegant black accents, are unique food stalls such as Manilachon for your pork-belly fix, cult-favorite dessert stand Maxi Mango, wings joint Buffalo's Wings N' Things, and Pezzo for handcrafted pizza. Asian-food fans will also love Eat Street's wide assortment of Korean, Japanese, and Chinese food stalls. It also gets plus points for offering a free water station as well as having quick cleaning staff! Whatever you're hankering for, whether it be homey Filipino meals, burgers, bibimbap, or ramen, this food court has all you need and more.
ADVERTISEMENT - CONTINUE READING BELOW
Eat Street is at LG/F Robinsons Galleria, Ortigas Avenue corner EDSA, Quezon City.
Are you sure you want to delete this list?

Recommended Videos
Load More Stories