Top 10 Bibingka in Manila (2018 Edition)
The classic rice cake shows the world that Pinoys know how to do Christmas right.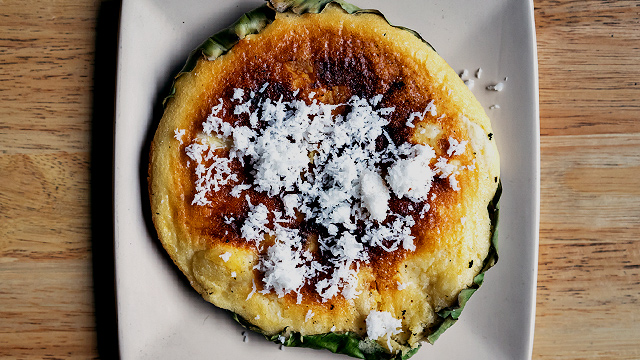 (SPOT.ph) While bibingka is available in the city throughout the year, there's something special about having a slice of piping hot kakanin during the holidays. A staple outside every church especially during Simbang Gabi mornings, this rice cake cooked over hot charcoal is an essential part of what makes Christmas in the Philippines extra special. The cake takes on different variants, sometimes mixed with salted duck egg or itlog na maalat, different types of local cheese, along with a sprinkling of freshly shaved coconut. We've scoured the Metro for the best bibingka so you can feel extra warm and fuzzy during this merry, merry season. 
ADVERTISEMENT - CONTINUE READING BELOW
CONTINUE READING BELOW
Recommended Videos
All SPOT.ph lists are researched, paid for, tested, and selected by the writers and editors. They are discreetly conducted without any notice made to the restaurants or their owners.
Also read:
Top 10 Bibingka That You Can Score All Year Round
10. Bibingka Waffle from Catabolic Café (P180)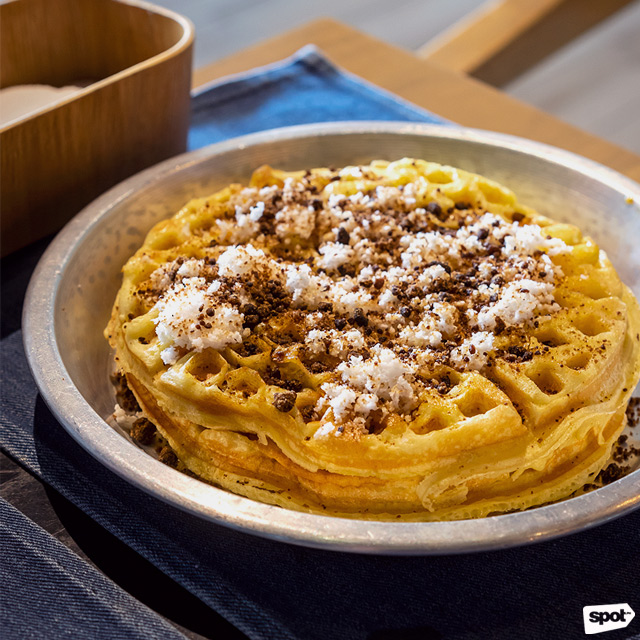 ADVERTISEMENT - CONTINUE READING BELOW
A popular spot for students and QC folk, Catabolic Café is known for their varied menu, delicious coffee, and chill vibe. Another reason to visit this cozy café is their unique spin on bibingka. Cooked waffle-style, the Bibingka Waffle is fluffy and gives the rice cake a breakfast-like twist. Topped with a generous sprinkling of shaved coconut and sugar, it also has just the right amount of salted egg, giving it equal amounts of sweet and salty. The best part about the Bibingka Waffle is its size—your whole gang can order it for dessert, pass it around to share, and go home with heartily full stomachs.
Catabolic Café is at 22 Malingap Street, Teachers Village, Diliman, Quezon City.
9. Special Bibingka from Nena's Bibingka (P90)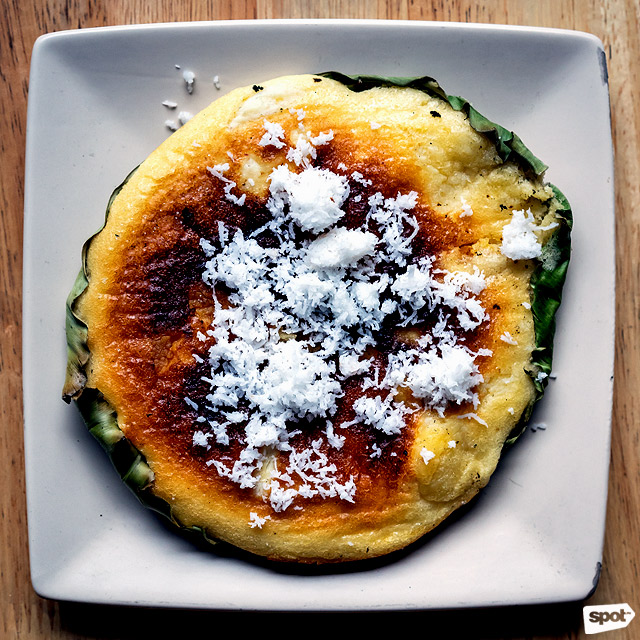 ADVERTISEMENT - CONTINUE READING BELOW
If you hang out at Cubao Expo, you might notice this nondescript spot with a large banner advertising their 105-peso merienda buffet (it's real, folks!). Known among Cubao residents and a favorite among the balikbayan crowd, the bibingka from Nena's Bibingka is big on flavor despite its inexpensive price tag. Thin but dense and compact, it delivers a comforting, nostalgic taste that will hit every Pinoy's sweet spot. Slightly smoky, it's a sure winner for those who favor a burnt top, hinting a certain caramelized flavor with every bite. The bibingka's topping also has a delightful sugary crunch that you won't want to miss.
Nena's Bibingka is at General Romulo Avenue corner Aurora Boulevard, Cubao, Quezon City.
8. Special Bibingka from Roast (P165)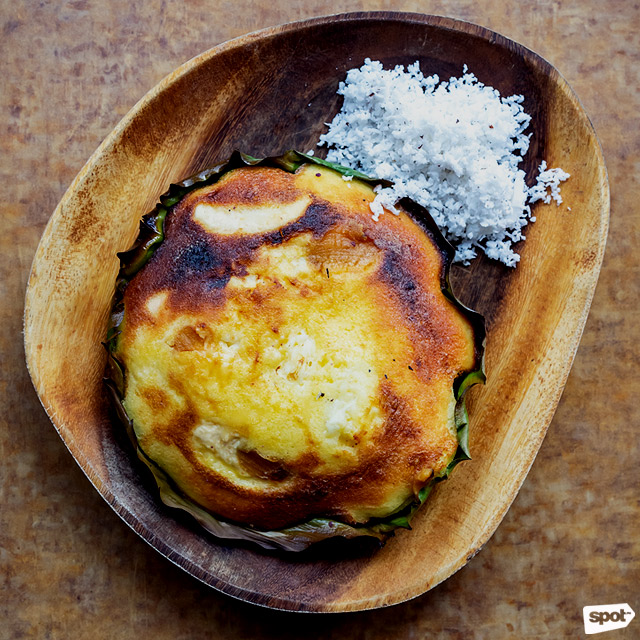 ADVERTISEMENT - CONTINUE READING BELOW
Roast has a coffee shop and restaurant right smack in the White Plains stretch of Katipunan. It also has a dedicated bibingka and puto bumbong station on the building's ground floor, where passersby can do quick takeout runs. Roast's version of the traditional rice cake is as fresh as it gets—you'll have to wait around 15 minutes to get served, but we promise, knowing that your bibingka is going to be piping hot will be worth the wait. Not too sweet and generously sized, their Special Bibingka combines gooey kesong puti and salted egg. Sprinkle the shaved coconut to add crunch to the texture for good measure.
Roast is at Linear Building, 142 Katipunan Avenue Extension, St. Ignatius Village, Quezon City.
7. Extra Super Bibingka from Ferino's Bibingka (P140)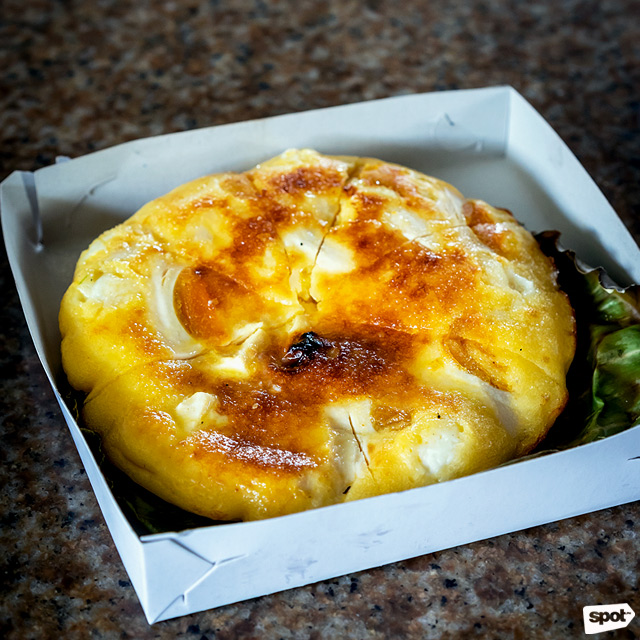 ADVERTISEMENT - CONTINUE READING BELOW
Ferino's Bibingka is a classic to most Pinoys—they've been cooking bibingka since 1938, with many branches all over the Metro. This well-known bibingka brand is a staple for any bibingka list because of their delicious, eggy blend. Their Extra Super Bibingka incorporates salted egg and kesong puti into the mix, with a dollop of butter and sugar on top. The price point is hard to argue with, too. Ferino's is exactly what Simbang Gabi would taste like—familiar and simply comforting.
Ferino's Bibingka is at Market! Market!, McKinley Parkway, Bonifacio Global City.
6. Bibingka from Antonio's Coffee + Bibingka (P140)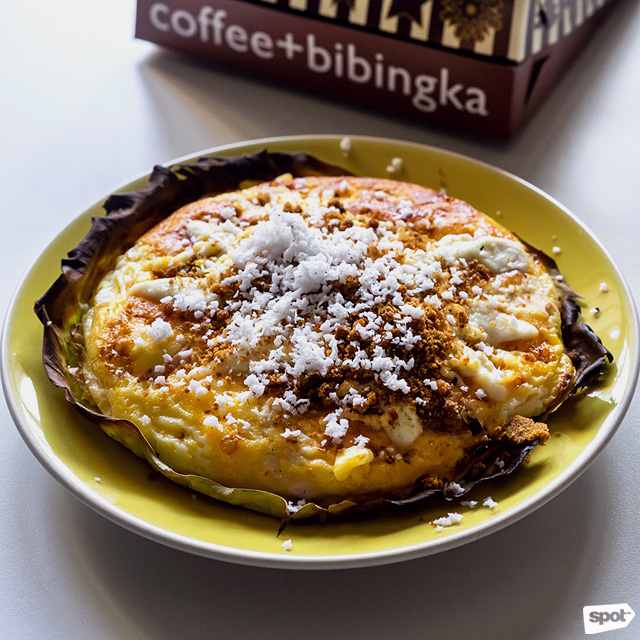 ADVERTISEMENT - CONTINUE READING BELOW
If you find yourself doing some last-minute Christmas shopping at Megamall, give yourself a well-deserved break by heading up to the fifth floor for an authentic Pinoy merienda. The bibingka from Antonio's is spongy and light—almost like a hybrid between mamon and galapong rice cake. Topped with salted egg and gooey sharp cheese, don't be surprised if you'll be able to eat this single serving all in one go. Packaged in a special Antonio's-brand box, it'll also make for a great potluck dessert to bring with you to one of your Christmas get-togethers.
Antonio's Coffee + Bibingka is at 5/F Building A, SM Megamall, Ortigas, Mandaluyong City.
5. Bibingka with Laguna Cheese and Queso de Bola from Via Mare (P185)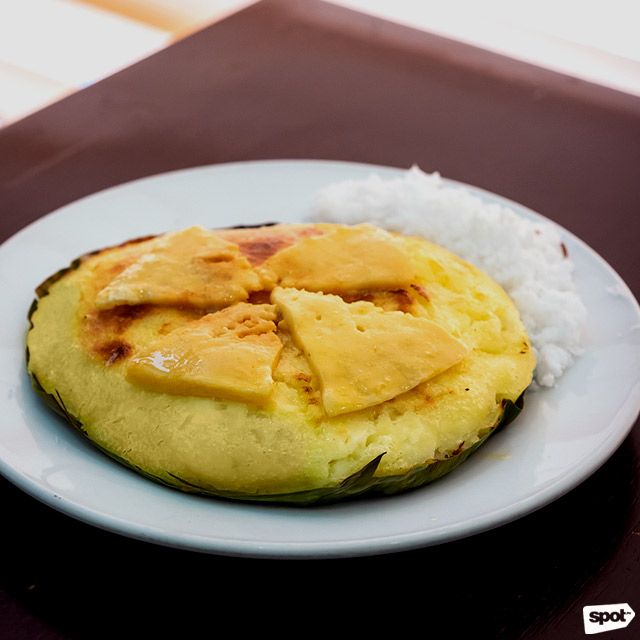 ADVERTISEMENT - CONTINUE READING BELOW
The ultimate tita-pleaser, Via Mare is a no-fail when it comes to Filipino food. Their bibingka is a merienda go-to that's popular across generations. If you're a cheese lover (or aren't a fan of salted egg), this version is a winner. A mix of gooey Laguna Cheese and tougher, saltier quezo de bola is a wonderful foil to its mild, bibingka flavor. Fluffy and airy, Via Mare's bibingka is light and not overwhelming—it's perfect for people with smaller appetites who want to make room for the restaurant's other popular dishes. It's also a comfort to know that with Via Mare's bibingka, the taste of Christmas is available all year round.
See a list of Via Mare branches.
4. Bibingka from Sentro 1771 (P180)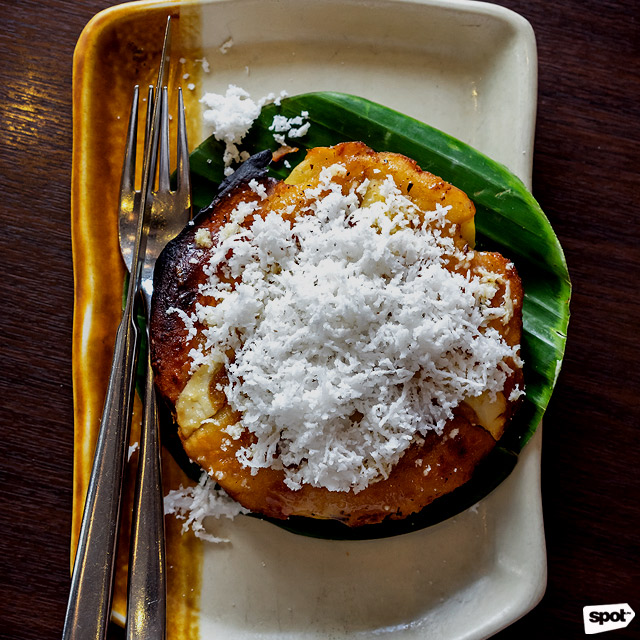 ADVERTISEMENT - CONTINUE READING BELOW
If you're lucky, you wouldn't have to wait the full 20 minutes it takes for Sentro 1771 to cook up a fresh batch of bibingka. Their simple take on the Filipino rice cake is rich, dense, and chewy. It is bibingka with bite, served with an impressively generous serving of shaved coconut, too. Sentro 1771 is able to cook their bibingka just so that it is equal parts gooey and equal parts light. While you may plan to share this treat, don't be surprised if you end up eating it all up on your own.
See a list of Sentro 1771 branches.
3. Bibingka Kesong Puti from Mangan (P160)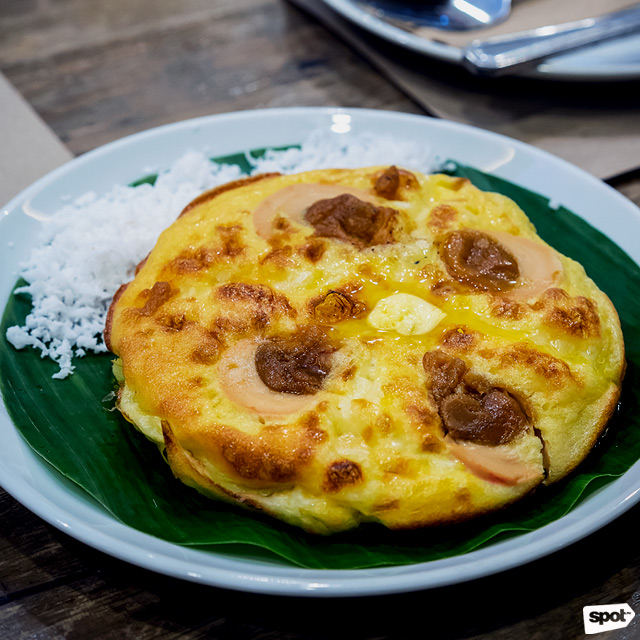 ADVERTISEMENT - CONTINUE READING BELOW
Mangan has been around for many years, but if you haven't tasted their bibingka yet, then it's about time you get acquainted with this long-standing Pinoy-food establishment at Robinsons Galleria. Their traditional bibingka is topped off with kesong puti and salted egg—staff says it's favored over their quezo de bola variant. Unlike other restaurants, Mangan serves their bibingka quickly and with a pool of melted butter right in the middle of the cake. Extremely moist and gooey, this version delivers just the right amount of eggy fluffiness. Consider the delicious grittiness of its salted egg topping icing on the cake.
Magan is at G/F Robinsons Galleria, EDSA corner Ortigas Avenue, Ortigas, Quezon City.
2. Bibingkang Galapong of Salted Duck Egg from Manam (P85/small, P155/medium, P255/large)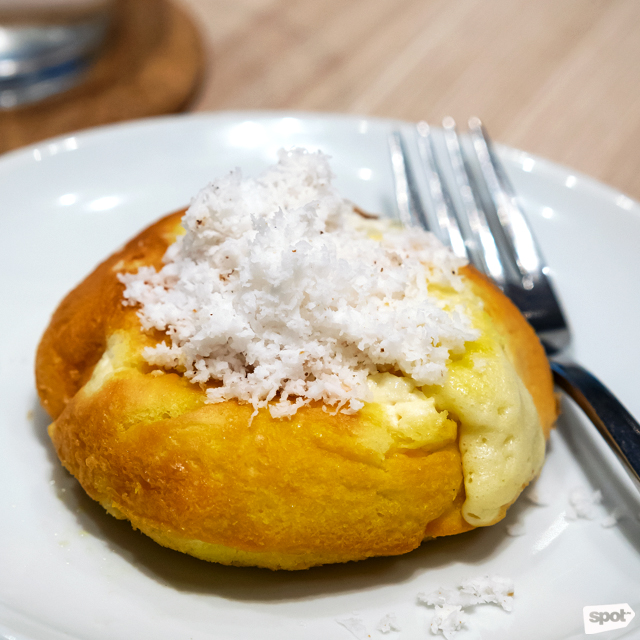 ADVERTISEMENT - CONTINUE READING BELOW
Manam has many bibingka offerings, including variants with ube and leche flan. But the staff's main recommendation was the classic Bibingkang Galapong of Salted Duck Egg, and we couldn't have been more pleased with it. Manam's bibingka come in three sizes, which is great for those who need a little help with self-control over the holidays. Their version is fluffy, with a very rich salted-egg texture and flavor, and a pleasantly moist rice-cake core. Experiencing the salty bits between bibingka bites is heavenly. You've been warned—you may regret ordering the regular once you've had a taste. 
See a list of Manam branches.
1. Bibingka from Provenciano (P150)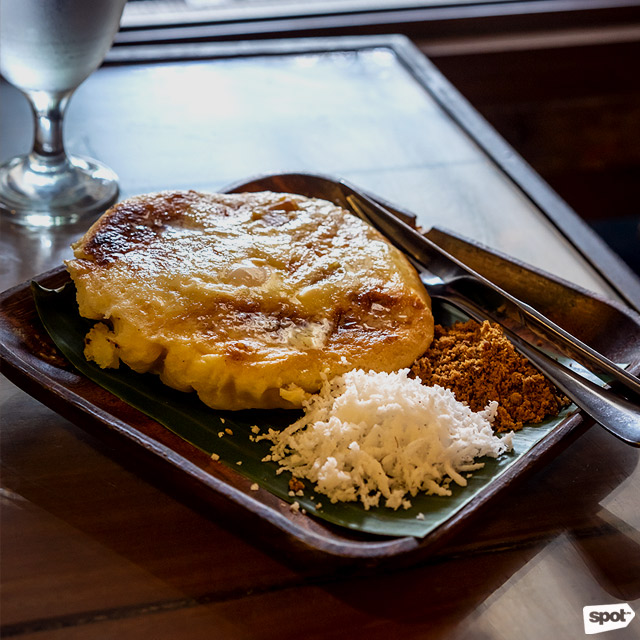 ADVERTISEMENT - CONTINUE READING BELOW
Maginhawa is known for its student-friendly joints and hole-in-the-wall restaurants, but Provenciano gives this QC neighborhood an altogether different atmosphere. Set in a house-turned-restaurant, this spot is all decked out in Pinoy décor, including a real bibingka kubo just outside the entrance. Provenciano's Bibingka is big and buttery with a super-gooey middle that will surprise your taste buds. If you're a fan of itlog na maalat you're going to love this rice cake—it does not scrimp on the salted egg at all. Provenciano's Bibingka also comes with a hefty serving of shaved coconut and coco sugar, which could add to its bibingka perfection but is, quite truthfully, not even necessary.
Provenciano is at 110 Maginhawa Street, Teachers Village, Diliman, Quezon City.
Photos by Toto Labrador
Are you sure you want to delete this list?

Load More Stories