Burnt Bamboo
City Golf Plaza, Doña Julia Vargas Avenue, Pasig City
Open from 11 a.m. to 1 a.m. (Sunday), 11 a.m. to 4 a.m. (Monday to Thursday),  and from 11 a.m. to 6 a.m. (Friday and Saturday)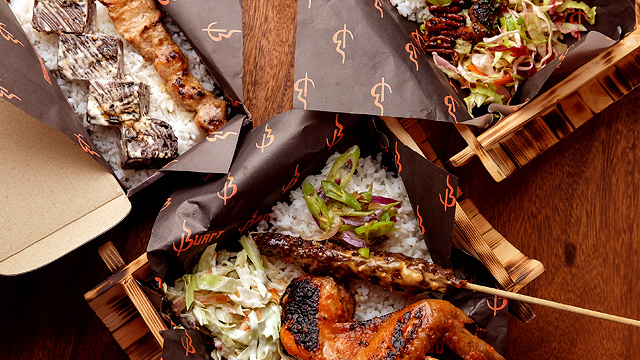 (SPOT.ph) Whether it's yakitori or bulgogi, there's something so instinctively and infinitely satisfying about barbecue. Many people can't help but be both proud and fiercely protective of what makes a particular style their favorite. As more and more barbecue joints are popping up across Manila, it's about time we had a restaurant that gave us all the flavors we want in one place. At Burnt Bamboo, chefs Matthew Hornsby-Bates and Matthew Lim bring together many of the world's traditions of barbecue, from well-loved classics like pork belly and beef tenderloin, to comforting street-food favorites like isaw and chicken feet. Now sharing a space with CargoFish at City Golf Plaza, Burnt Bamboo is setting itself apart from other joints in the Metro by taking a global approach to its freestyle barbecue, intermingled with an impressive assortment of glazes.
ADVERTISEMENT - CONTINUE READING BELOW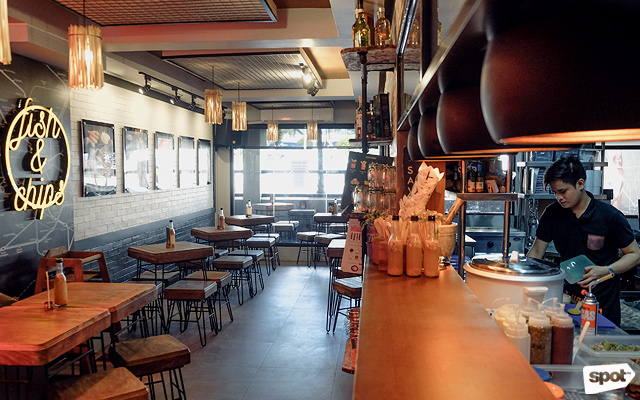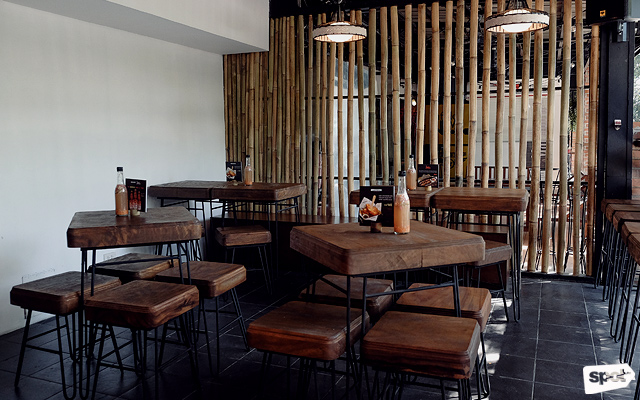 ADVERTISEMENT - CONTINUE READING BELOW
Recommended Videos
That Burnt Bamboo embodies its name is no question. Upon entering the restaurant, we see the bamboo lampshades dangling over tables, a bamboo-lined outdoor seating area, and of course, the sticks we use to eat our grilled meat. Inside, playful touches include a mural of a Charlie Chaplin-esque figure and an eye-popping neon sign that spells out "Burn Baby Burn," emitting a warm glow perfect for boozy nights and chill beats. The space has a lively, casual atmosphere, designed in such a way that one can already imagine the smoky aroma rising from the kitchen, the free-flowing conversations, and drinks in the beer garden outside.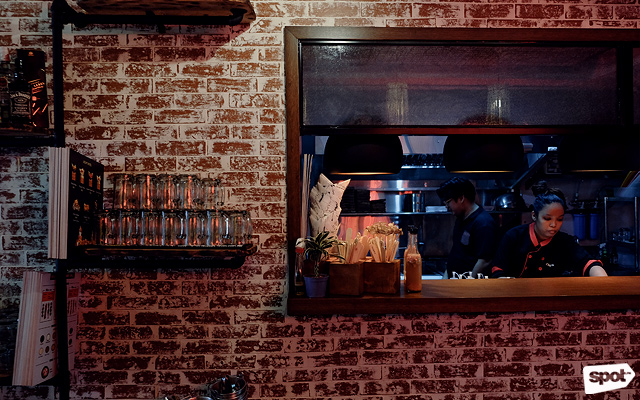 ADVERTISEMENT - CONTINUE READING BELOW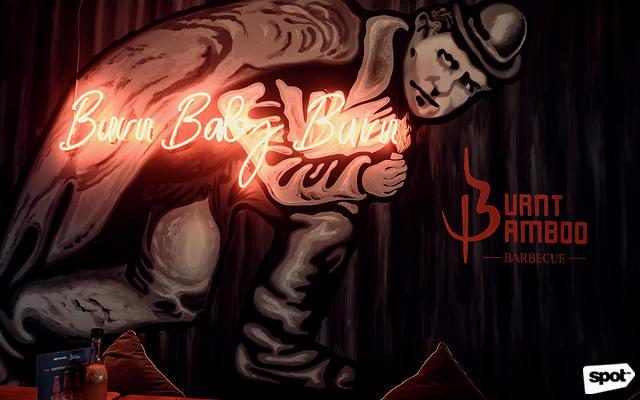 Chefs Hornsby-Bates and Lim, the tandem behind the fish-and-chips concept CargoFish and Early Bird Breakfast Club, have been known to complement each other's strengths with exemplary success. Their latest concept, Burnt Bamboo, interestingly enough, was born out of a healthy debate between the two chefs on what the perfect barbecue should taste like.
ADVERTISEMENT - CONTINUE READING BELOW
"Along the way, we were testing things out and we didn't always agree. But it started to get interesting because we didn't agree, and then we came up with the sauces," says Hornsby-Bates.
It was their differences in perspectives and upbringing—Lim is Filipino-Chinese while Hornsby-Bates is British—that enabled them to find a happy medium and a little something for everybody on the table. After trying different styles of barbecue with varying glazes, they discovered they could let their diners choose their own unique combinations and the resulting flavors would become all the more interesting for it. What you see now at Burnt Bamboo is an extension of their concept in CargoFish, allowing their diners to get creative in their meats, sauces, and sides.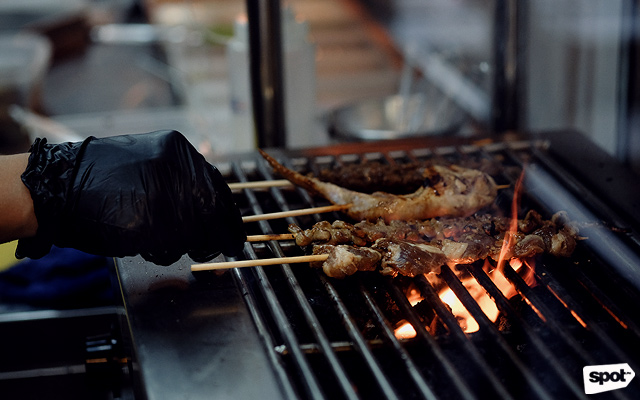 ADVERTISEMENT - CONTINUE READING BELOW
"It's really about options. Matt [Lim] very much likes the street-food style with the isaw and the betamax. Being a foreigner, I came in with things that were more European like the sausage and onion and things like that. We ended up with a hybrid, a real collection of different styles and freedom of choice for the flavor," says Hornsby-Bates.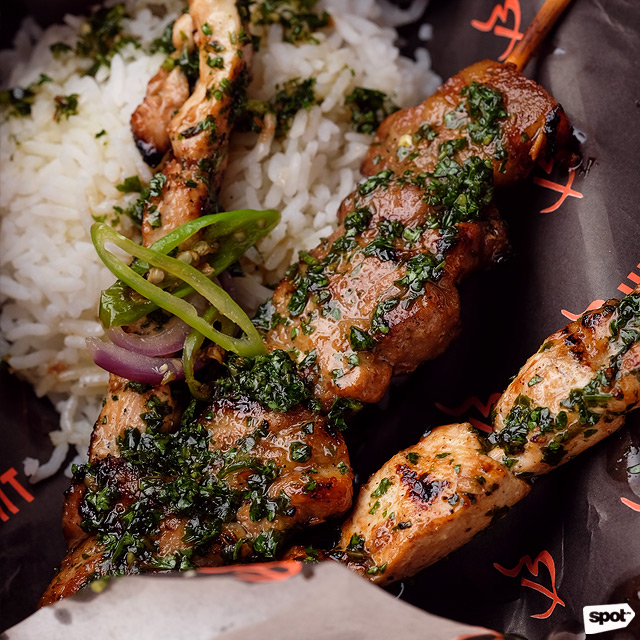 ADVERTISEMENT - CONTINUE READING BELOW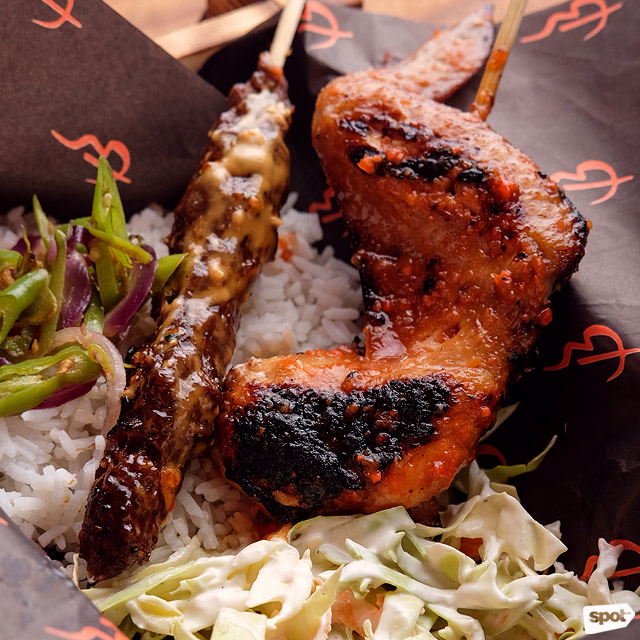 From a delightful array of selections, Burnt Bamboo gives you 12 meat options, 12 glazes, plus salad, rice, and drinks to pair with your food. The Pork Belly (P45) is a guaranteed crowd-pleaser with its oh-so-tender and smoky slices glossed with a vividly green Chimichurri (P25) that will leave your mouth watering for seconds. The lip-smacking Chicken Wing (P45) has a crunchy, hearty balance when anointed with the Hot Sauce (P25)—a mild, not so spicy glaze that even heat-averse diners can enjoy. An equally delectable contender is the Beef Kofta (P45), notable for its aromatic and succulent beef that slides effortlessly down the skewer.
ADVERTISEMENT - CONTINUE READING BELOW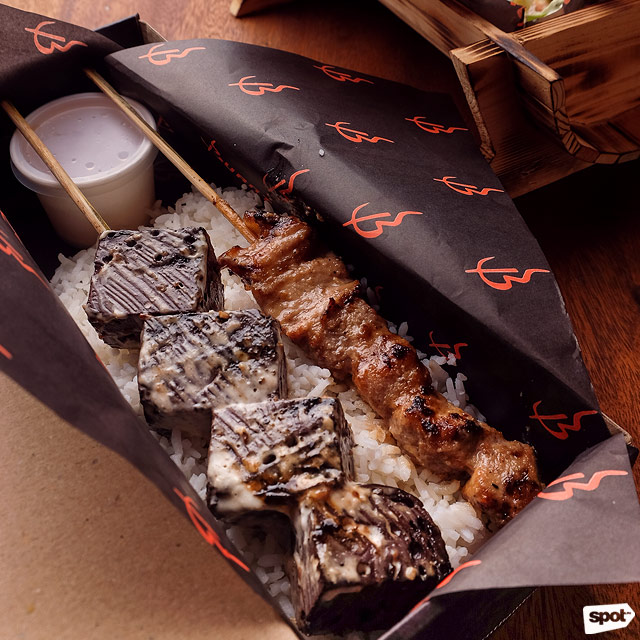 If you've come around this corner for some street food, their Betamax (P35) is a rich and velvety treat to be savored, while the Isaw (P35) maintains a well-seasoned, faultlessly crisp texture that makes for a highly addictive bite. Bursting with a world of flavors, Burnt Bamboo's meat sticks offer fine choices for pika-pika while you crack open a cold one with your friends.
ADVERTISEMENT - CONTINUE READING BELOW
Meat sticks range from P35 to P55 per order, while each glaze is an additional P25. Diners have a choice of either Rice (P30) or Salad (P45) to accompany their dishes. "We intended Burnt Bamboo to be fairly priced and available for take-out or dine in. An order of glazed garlic longganisa and rice meal goes for as low as P65," says Lim.
"Both of our [previous] concepts work well with beers, which became a strong part of our concept at Uptown [Mall]," enthuses Chef Hornsby-Bates. "Not only were we getting diners but we were also getting people who wanted to stay and drink and order pika-pika. We felt that barbecue was ideal for that. It's a twist on what we're already doing with CargoFish, but with meat sticks."
Even before you enter the restaurant, a take-out counter provides a quick-bite solution for those who prefer to need to bring their lunches back to the office. Everything at Burnt Bamboo seems primed for a delicious and easygoing experience for diners. Whether you just happen to feel like eating pork barbecue with nuoc cham in the middle of the night or throwing back some drinks to go with that hefty meat stick, Burnt Bamboo is the barbecue establishment for you and your hungry crew.
ADVERTISEMENT - CONTINUE READING BELOW
Photos by Majoy Siason
Share this story with your friends!
---
Help us make Spot.ph better!
Take the short survey
Load More Stories