Siam Sukh Jai
2/F S Maison at The Conrad, SM Mall of Asia Complex, Pasay City
Contact: 821-6141
Open daily from 10 a.m. to 10 p.m.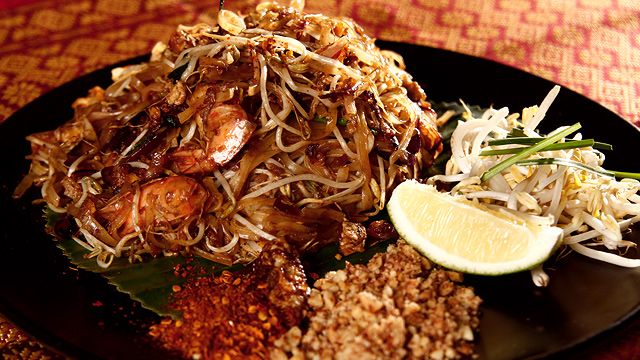 (SPOT.ph) When you think of Thai food, pad thai and tom yum may be the first things that come to mind. Not that they aren't staples in Thailand, but like all other Asian cuisines, Thai food has a lot more to offer in terms of variety and flavor. And Siam Sukh Jai may just be your gateway.
ADVERTISEMENT - CONTINUE READING BELOW
Digs Dimagiba and his wife Des may not be Thai by birth, but they consider Thailand their second home after living in the country for 10 years. They've since moved back to the Philippines, but they often find themselves missing the food they used to have—and when you've had the real deal, it can be pretty hard to find something that lives up to it.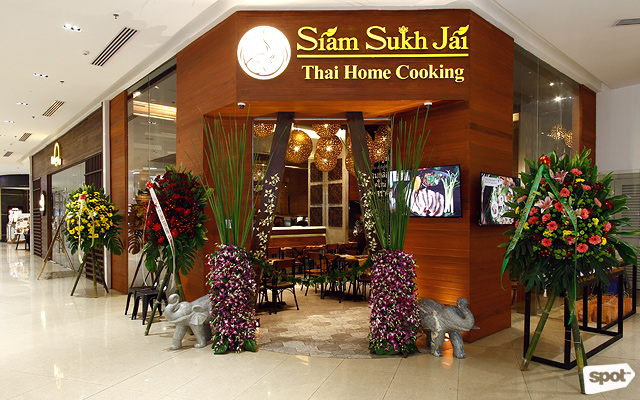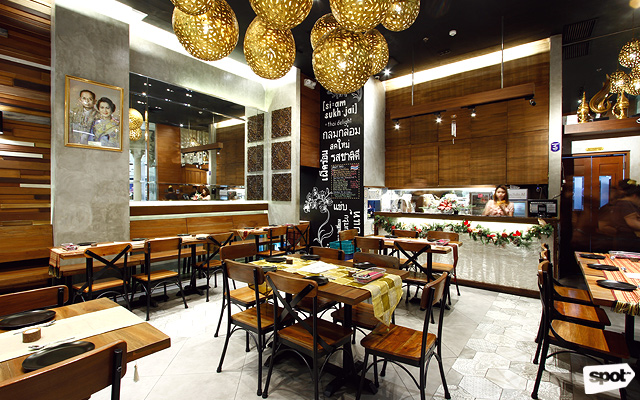 "We came home in 2004," shares Digs, "We stayed in Thailand for a really long time but there was no Thai food here that we really liked." Formerly Facebook Philippines' head and now at Metrobank, he readily admits that he is no restaurateur but he and his wife opened Siam Sukh Jai anyways. "This is really more of a passion project," he shares. "I just want a place where I can eat every week."
ADVERTISEMENT - CONTINUE READING BELOW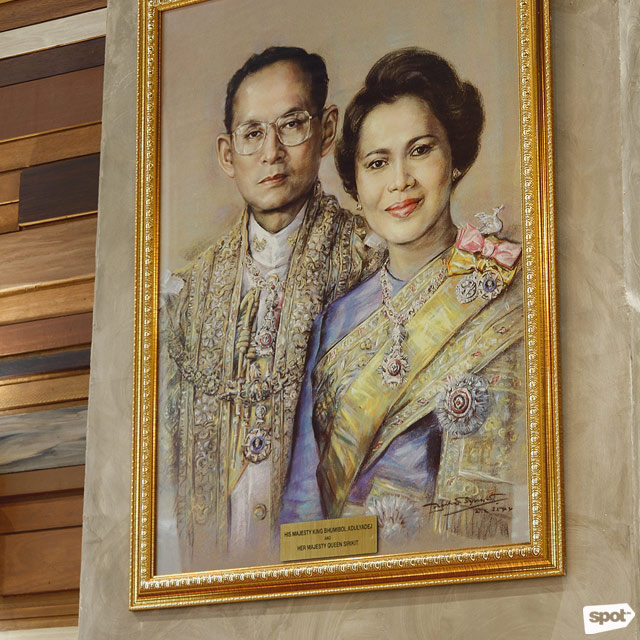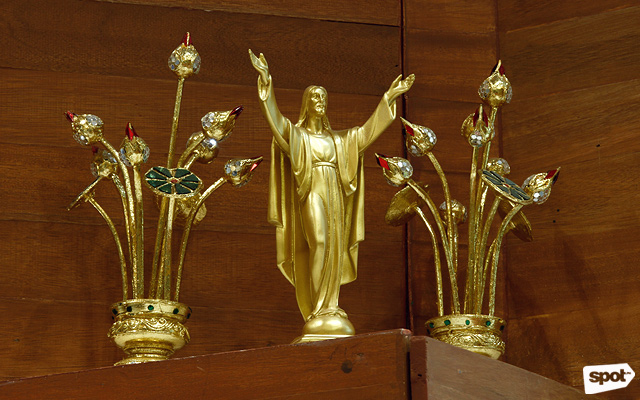 ADVERTISEMENT - CONTINUE READING BELOW
Digs and Des envisioned Siam Sukh Jai as their house in Thailand where they can share Thai home-cooked dishes, and their space at S Maison captures that homey vibe with wood fixtures, rattan decor, and various Thai knickknacks like a photo of the late king Bhumibol Adulyadej and a golden Jesus statue from the Holy Redeemer Church in Thailand. The doorway is adorned by two marble elephants carved from a single block of Romblon marble. "I think it's a great representation of our restaurant—Manila meets Thailand," says Digs.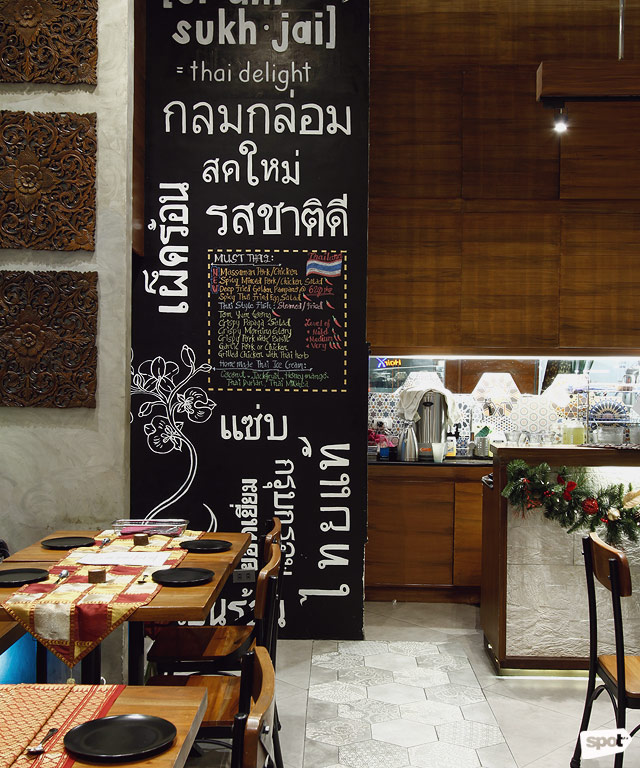 ADVERTISEMENT - CONTINUE READING BELOW
There's always a question of whether a restaurant offering a foreign cuisine has adjusted their menu to the collective Filipino palate. For Digs, the "Filipino palate" is ready for something challenging. "We'll adjust spice levels," he concedes. "Kasi kahit kami, I like to go with mild while Des has a super high tolerance for heat. But that's as far as how we'll adjust it. Our mission is to bring the real Thai lutong bahay experience to Manila. Otherwise, this just becomes another thing we wouldn't want to eat."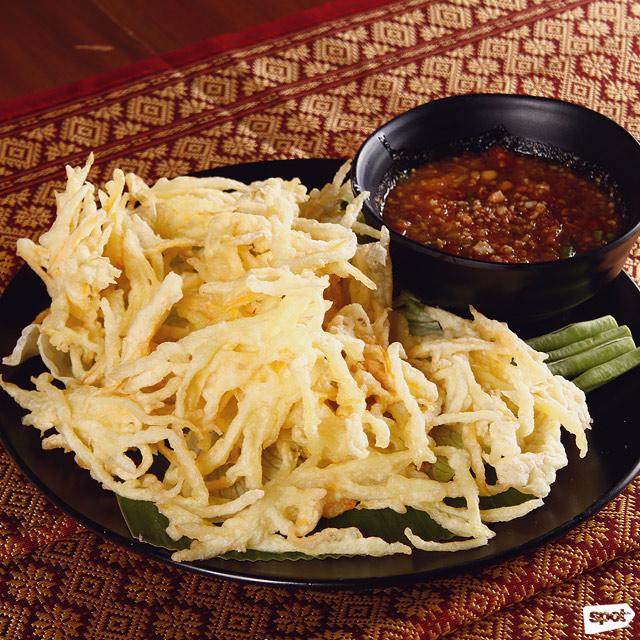 ADVERTISEMENT - CONTINUE READING BELOW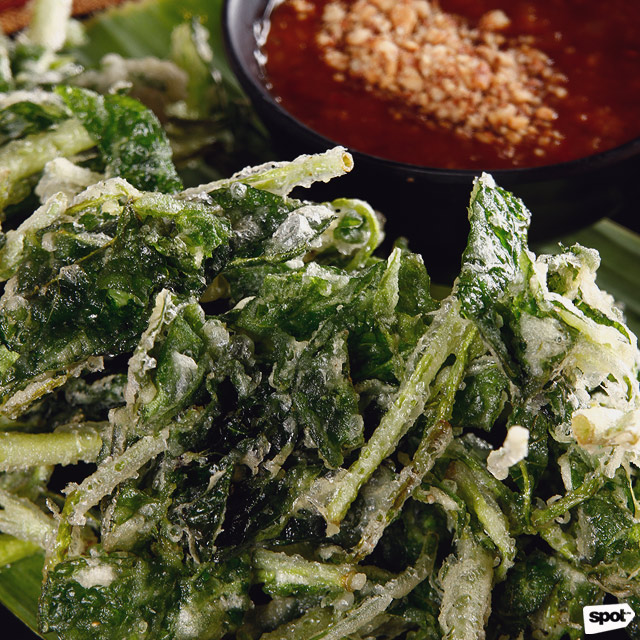 Thai food, after all, isn't just about tongue-searing levels of spice. The Som Trap Goop (P420) is a twist on the classic green papaya salad that's also popular in Thailand and is perfect for those with a lower tolerance for spiciness. In this dish, the strips of green papaya are battered then deep-fried to make them lightly crispy and highly addictive—the dressing, which is made in-house, has just the right blend of sweetness, tang, and spice.
ADVERTISEMENT - CONTINUE READING BELOW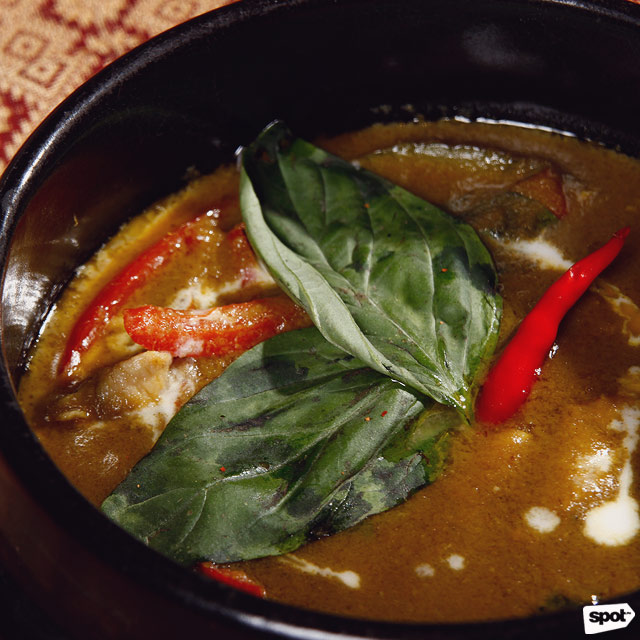 If you're looking for something that'll bombard your palate with the complex sour-spicy flavor profile Thai food is known for, have the Gaeng Khiao Waan Moo (P450). Also known as Thai green curry with pork, the dish packs a lot of heat but also lovely herby notes and a subtle sweetness that takes this beyond simply a barrage of fire to your taste buds.
ADVERTISEMENT - CONTINUE READING BELOW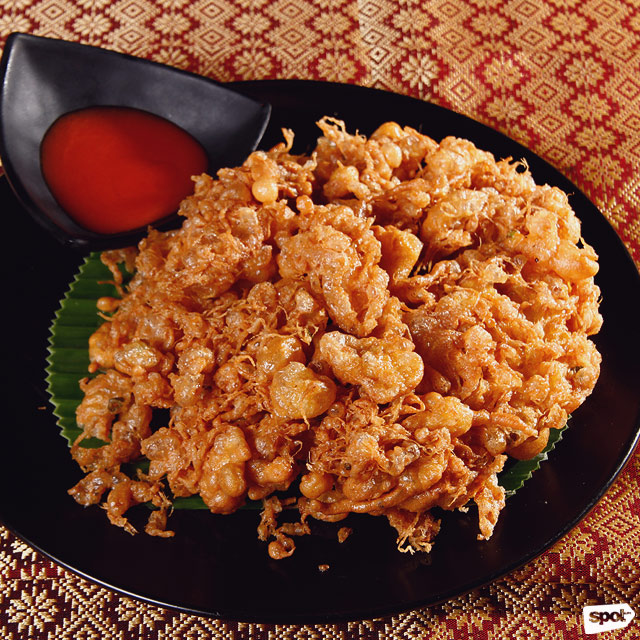 Digs recommends having the green curry with the Khai Jeaw Moo (P220), which is also one of his personal favorites. The crispy Thai omelet actually looks more like a soufflé with its airy fluffiness but its crispiness may remind you of okoy or the Vietnamese banh xeo. Made with finely minced pork mixed with egg, the omelet has every bit of that savory porky flavor in every bite.
ADVERTISEMENT - CONTINUE READING BELOW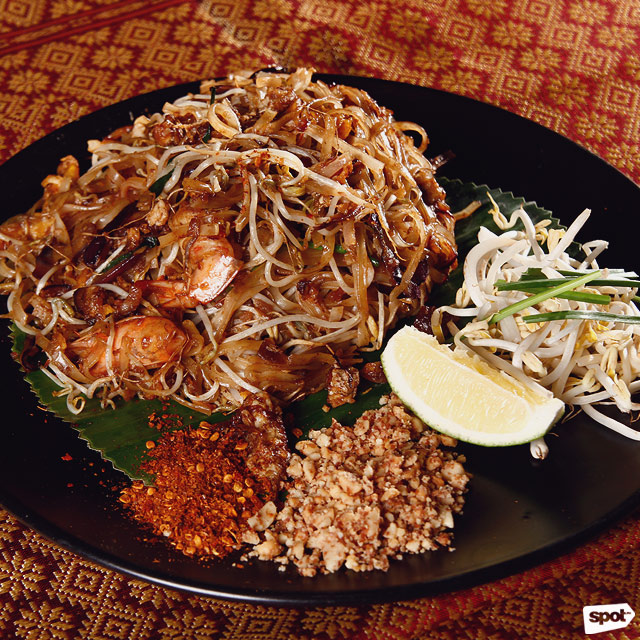 Digs shares that with Siam Sukh Jai, he wants to expand what diners knew of Thai food beyond the usuals—that doesn't mean they don't have those on the menu, though. "Our pad thai, our tom yum, they're not bad," he says and we have to agree. The Phad Thai (P435) is served with the nuts and chili powder on the side. Have the fried noodles without these add-ons first, then season to your preference and you'll appreciate how the spices add not just heat but brightness to the stir-fried noodles.
ADVERTISEMENT - CONTINUE READING BELOW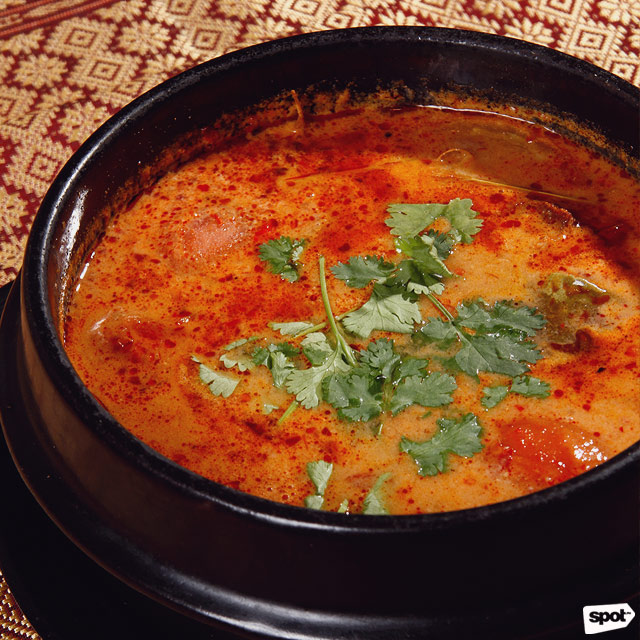 If you have a low tolerance for spicy food, we have to warn you that the Tom Yum Goong (P575) may not be for you; even at the mildest spice level, the shrimp soup boasts an intense heat that you'll feel up to your sinuses. But it gets balanced out with the vibrant acidity of citrus so you can't help but down spoonful after spoonful.
ADVERTISEMENT - CONTINUE READING BELOW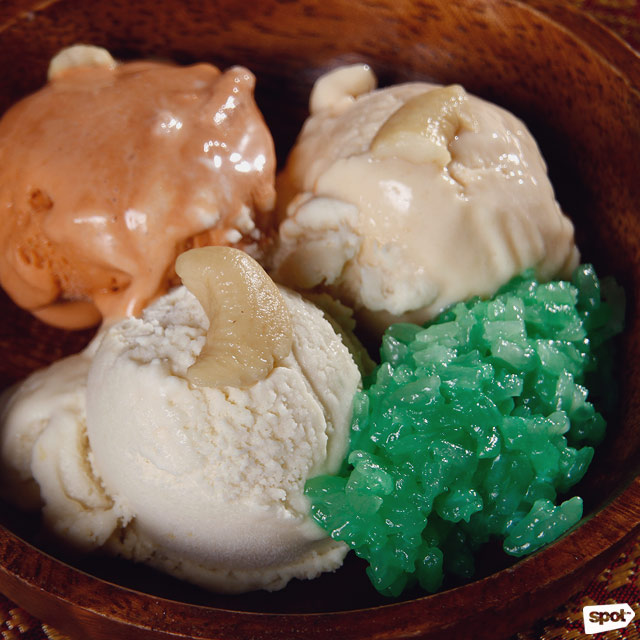 Digs shares that Siam Sukh Jai has become a place where his fellow Bangkok expats gather to feast on the food they miss the most from their second home. "If it doesn't taste like something we'd get from Thailand, we'd be the first critics of our food," says Digs. It's a lofty declaration, but they have the food to back it up.
ADVERTISEMENT - CONTINUE READING BELOW
Photos by Vincent Coscolluela
Share this story with your friends!
---
Help us make Spot.ph better!
Take the short survey
More Videos You Can Watch
Load More Stories