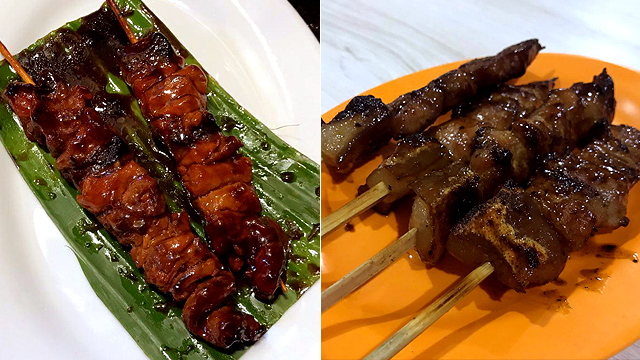 (SPOT.ph) Up there with pancit and lumpiang Shanghai, pork barbecue is a staple in any Pinoy party. The skewers are easy to buy and just as easy to eat—plus, you can feed lots with one bulk order. If you want to impress at your next potluck, order from these 10 places, whose pork barbecue we judged and ranked based on flavor, tenderness, and value for money.
All SPOT.ph Top 10 lists are researched, paid for, tested, and selected by the writers and editors. They are discreetly conducted without any notice made to the restaurants or their owners.
10. Pork BBQ from Buddy's Pancit Lucban (P120/one stick, P179/two sticks)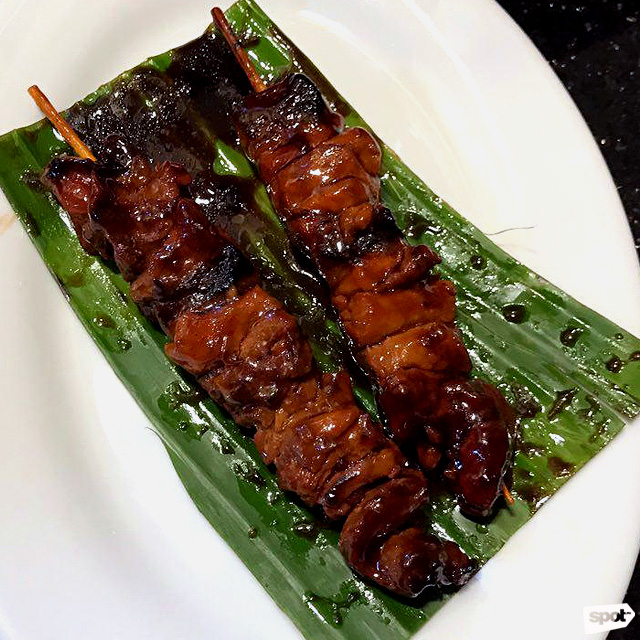 Buddy's may be best known for their Pancit Lucban and Longganisang Lucban, but they've got a long menu of Filipino fiesta favorites, including pork barbecue. You'll immediately notice that the pork barbecue at Buddy's is saucier than average, which makes it great with loads of rice. This version leans strongly on the sweet side, which might be a turn off for some, but this is balanced out with a subtle hint of acidity. Think of this pork barbecue as Chinese asado on a stick.
ADVERTISEMENT - CONTINUE READING BELOW
See a list of Buddy's Pancit Lucban branches.
9. Pork Barbecue from Maty's (P22/stick)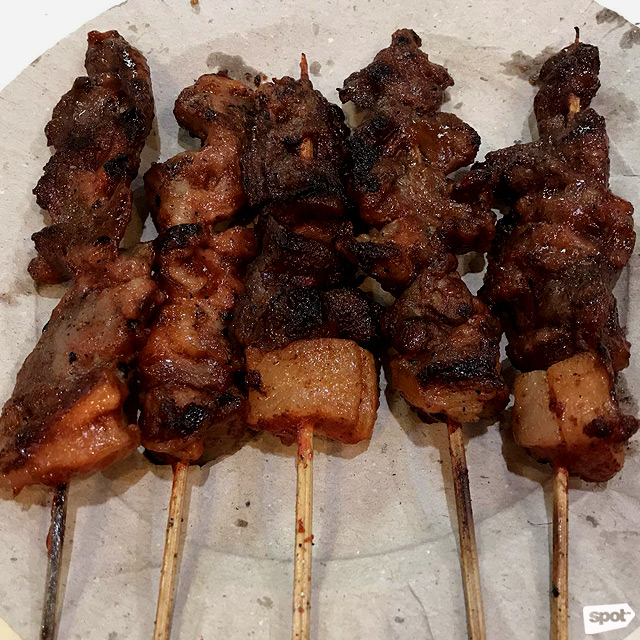 Maty's is another strong contender in the Metro's pork-barbecue wars. Although they're more famous as a tapsilogan, regulars also frequent the diner for the satisfyingly tasty pork barbecue. This version leans more towards the smoky-tangy side of the taste spectrum, so if you're not a fan of slightly sweet barbecue, this is the one for you. Apart from its lean but tender meat, you'll also get a nice, thick layer of fat at the end of each stick as a treat.
Maty's is at Quirino Avenue, Don Galo, Parañaque City.
8. Pork BBQ from Amber (P135/five sticks)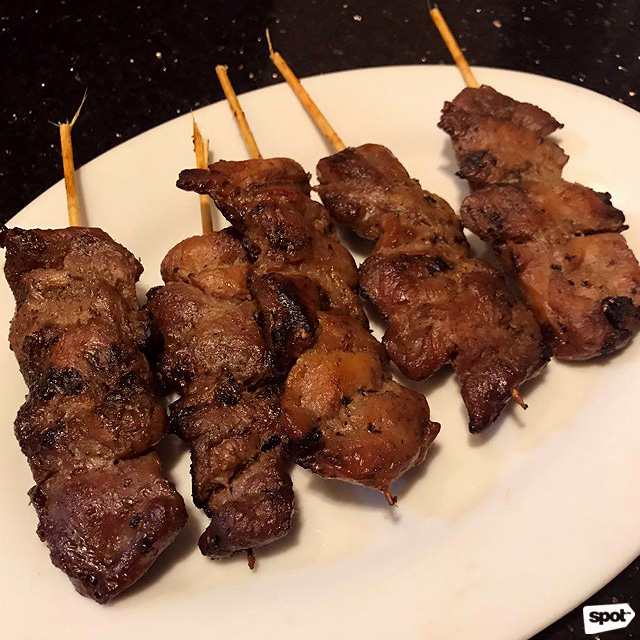 Aside from Amber's pancit and Pinoy-style spaghetti, no potluck is complete without their pork barbecue. Amber keeps their version classic, with the sweet-savory flavor of Pinoy-style pork barbecue and just the subtlest hint of smoky flavor. The chunks are incredibly fork-tender, too—you'll have no trouble munching on these and finishing stick after stick.
See a list of Amber branches.
7. Special Pork BBQ from Ineng's Special Barbecue (P31/eight-inches, P57/12-inches)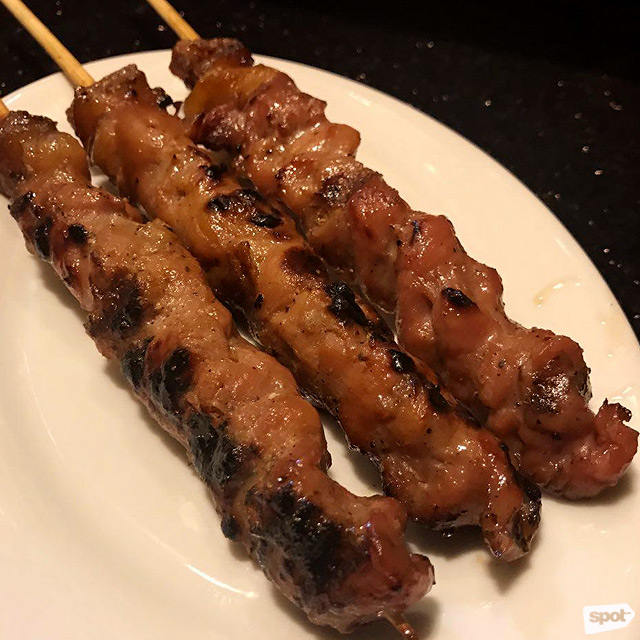 Ineng's takes great pride in their Special Pork BBQ and we can see, or rather taste, why. Their version lets the natural porky sweetness of their meat shine through with a subtle char and a not-so-overpowering marinade. What sets their barbecue apart, though, is the notable peppery flavor of their barbecue. While it may not be everyone's cup of tea, someone is sure to get a kick out of the mild spiciness it adds to each bite.
ADVERTISEMENT - CONTINUE READING BELOW
See a list of Ineng's Special Barbecue branches.
6. Pork Barbecue from Mang Raul's BBQ Haus (P19/stick)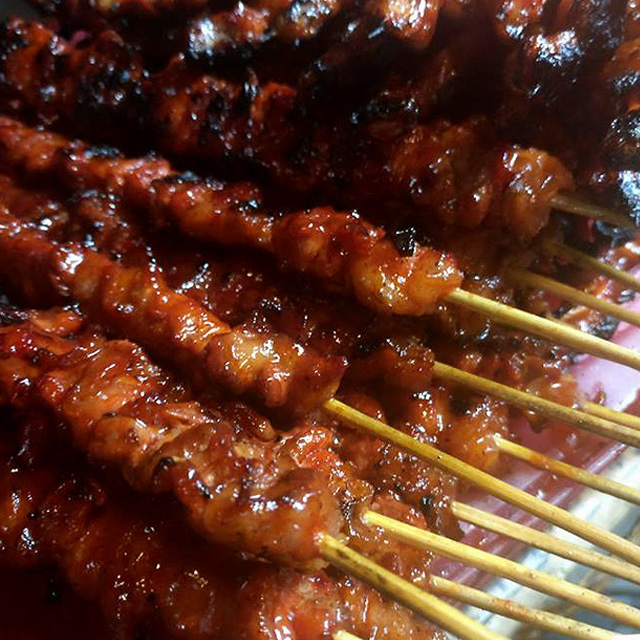 Mang Raul's BBQ Haus is an institution in the south of the Metro. You'll spot a queue as soon as their doors open in the afternoon—a good indication of the wide assortment of chargrilled protein they offer. Their best-selling pork barbecue, however, is one you shouldn't leave without trying. When served, it's always hot-off-the-grill and pleasantly fork-tender without feeling too mushy. This sweet-peppery version can be eaten with or without rice (although we highly recommend the latter, too); juicy and dripping with a glossy, slightly orange-tinged sauce. Pro tip: You can ask for extra barbecue sauce on the side!
Mang Raul's BBQ Haus is at CRM Avenue (near Holy Family Parish), Almanza, Las Piñas City.
5. Pork Barbecue from Mang Frederick's (P13/stick)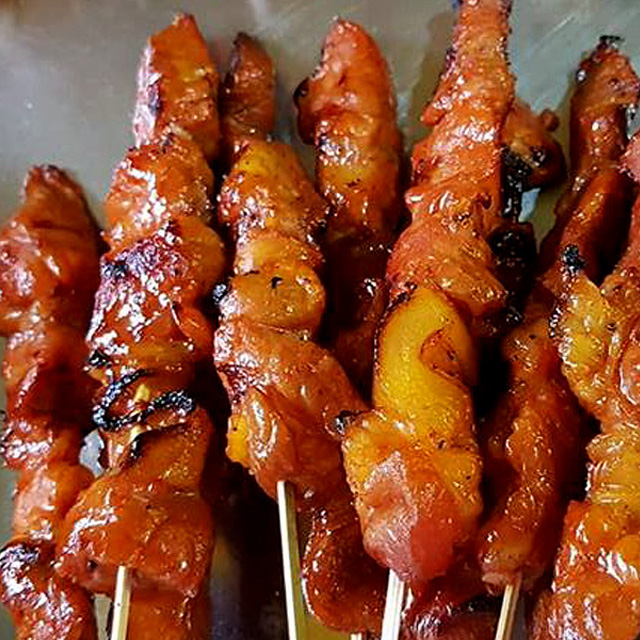 If flavor is your priority, head over to Mang Frederick's. For those who aren't familiar with the stall, it might be hard to find, but ask any Marikina local and they'd gladly lead you to the small takeout counter right smack in the middle of a quiet residential neighborhood. Mang Frederick's has been a crowd favorite for decades and we can see why: From isaw to liempo to the classic pork skewers, they're serious about their grilled meat. You could practically smell the smoky aroma of their barbecue from down the block! You'll love this version for its sweetly marinated meat that has a bit of bite. Plus, it's still good hours after buying it, which will remind you of the barbecue at kiddie parties. Regulars rave about Mang Frederick's spicy, secret vinegar mix, too, so don't miss it!
ADVERTISEMENT - CONTINUE READING BELOW
Mang Frederick's Barbecue is at 165 E. Dela Paz Street, San Roque, Marikina City.
4. Pork Barbecue from Countryside Restaurant (P80/two sticks)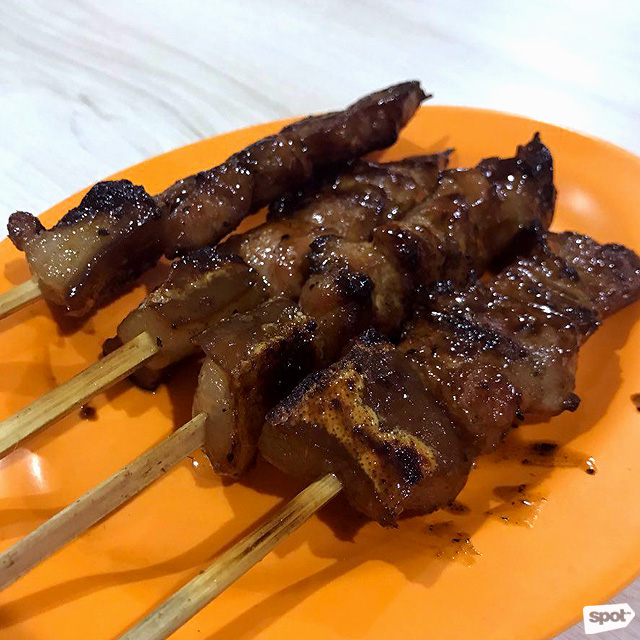 Ask any Katipunan regular where the best barbecue in Manila is and Countryside is sure to come up. This humble eatery along Katipunan Extension has a whole menu of homecooked Pinoy dishes but it's the Pork Barbecue that people flock to, for good reason. The marinade of their tender pork has a lip-smacking balance of sweet and savory, never cloyingly leaning towards one or the other. Also, they're grilled upon ordering, which lends this barbecue a distinctive smoky flavor. Dunk your pork barbecue in their spicy vinegar, the tang making the perfect complement to the flavorful skewers.
Countryside Restaurant is at 228 Katipunan Avenue Extension, Quezon City.
3. Pork Barbecue from Heaven's Barbeque (P293/four sticks)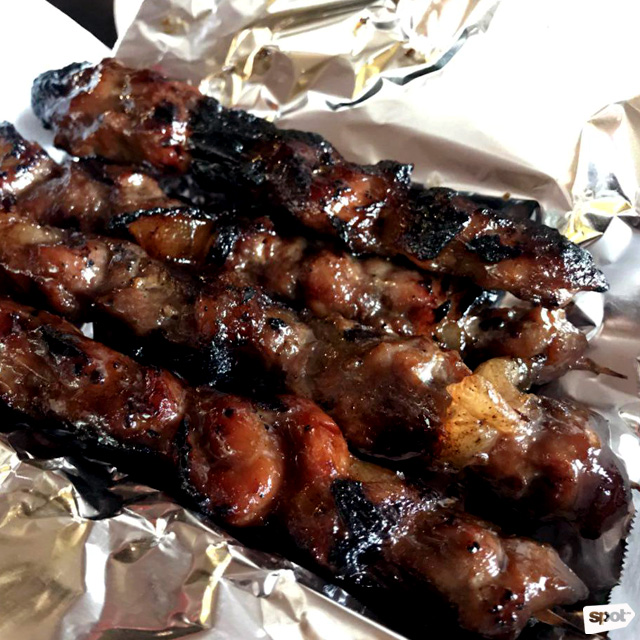 If you think you've been eating chewy, jaw-numbing barbecue all your life, chances are you haven't been to Heaven's Barbeque. This casual eatery probably has the most tender pork barbecue in Manila. The secret? Juicy layers of fat hidden in between each lean-pork morsel, making each bite feel like, well, heaven. Every order comes with a dark peanut sauce on the side, which we think the barbecue can live without. On the other hand, this version's marinade isn't cloyingly sweet and its burnt edges are an addictive treat for your taste buds. It would've ranked higher if not for its hefty price tag, but Heaven's Barbeque is still a clear winner in our book.
See a list of Heaven's Barbeque branches.
2. Pork Barbecue from Danny-licious (P32/stick)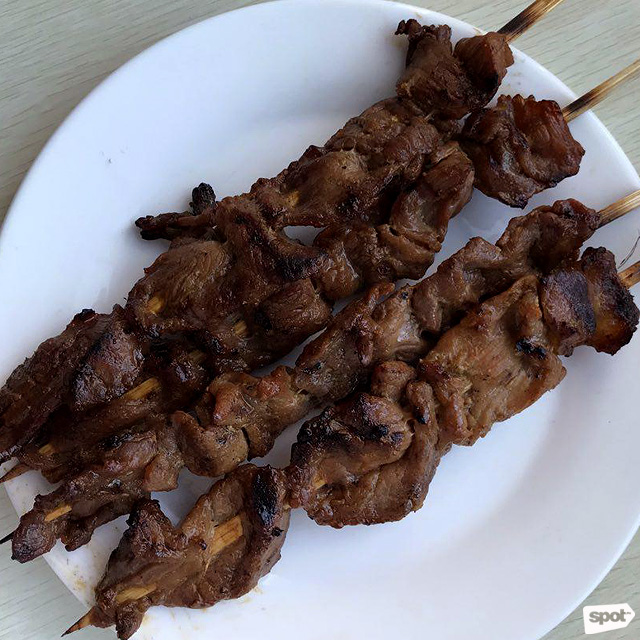 ADVERTISEMENT - CONTINUE READING BELOW
Even after several relocations, regulars continue to flock to Danny-licious for their signature Pork Barbecue. Imagine the barbecue of your childhood parties: That's what Danny-licious' pork barbecue tastes like. (There's a good chance it's probably because they really were from this eatery.) Their skewers have thick pork chunks that are bigger than average, and get the balance of sweet, savory, and smoky down pat with no element of that flavor profile overpowering the other. Have this with lots of spicy vinegar and take a trip down memory lane.
Danny-licious is at 38 F. Castillo Street, Barangay Marilag, Project 4, Quezon City.
1. Special Pork BBQ from Three Sisters' Restaurant of Pasig (P55/stick)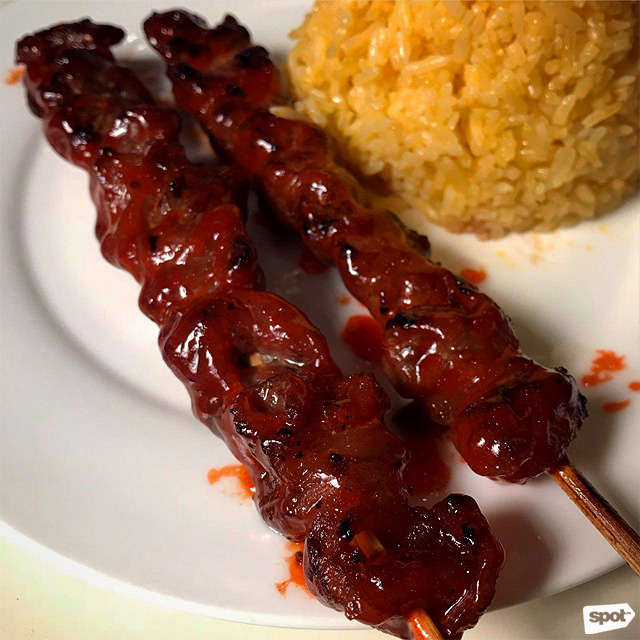 Boasting timeless, homey Filipino dishes, Three Sisters' Restaurant of Pasig has survived the decades with ease—it's been around since 1941 to be exact. This popular Kapitolyo eatery is best known for their pork barbecue, and you'd immediately get why. Skip the vinegar: This charcoal-grilled treat is one of the tastiest you can have in the Metro, flaunting a signature reddish color, which we suspect uses sweet banana ketchup. It's perfect for people who love a saucy barbecue, while one meaty stick is substantial enough to make for a meal, giving you more bang for your buck. With its balanced sweet and tangy marinade, not to mention the charred fatty edges that give each stick a mild smoky taste, we wouldn't be surprised if you end up ordering one—or two—more.
Three Sisters' Restaurant is at 136 West Capitol Drive, Kapitolyo, Pasig City.
Share this story with your friends!
---
Help us make Spot.ph better!
Take the short survey
More Videos You Can Watch
Load More Stories