Corner Tree Café
Level R3 Power Plant Mall, Rockwell, Makati City
Open from 11 a.m. to 9 p.m. (Monday to Thursday), 11 a.m. to 10 p.m. (Friday), and 10 a.m. to 10 p.m. (Saturday and Sunday)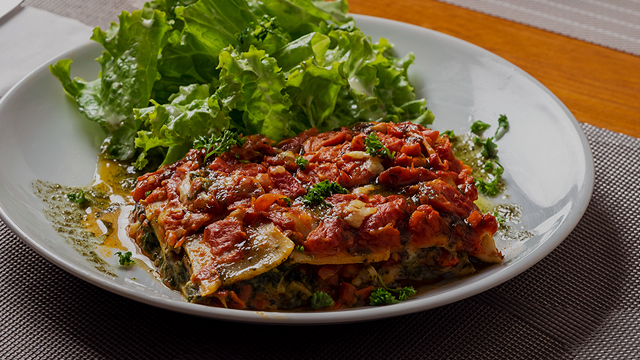 (SPOT.ph) It's taken 10 years for Jupiter Street's neighborhood vegetarian restaurant, Corner Tree Café, to find the perfect second location. "I was never actively looking for a space," says owner Chiqui Mabanta. "I always thought that if someone offered, I would check it out. But nothing was ever attractive enough for me even if I'd gotten offers."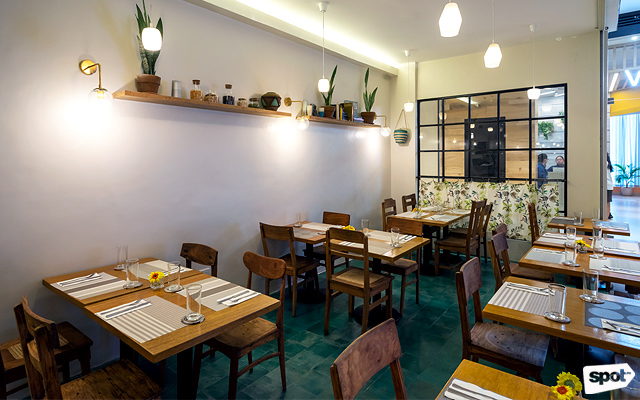 ADVERTISEMENT - CONTINUE READING BELOW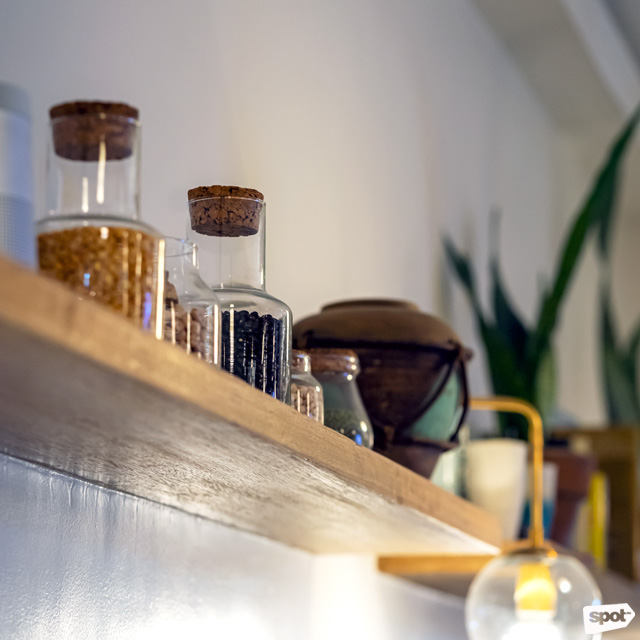 One of the first places to offer vegetarian fare in Manila, Corner Tree Café immediately drew in customers who were looking for healthy and delicious alternatives to the usual offerings. "I love vegetarian food, but I approach it from a meat eater's point of view," she shares. Mabanta's first experience with vegetarian food came from the late '90s, exploring cafés in London. "I was shocked at how different the approach was. Vegetarian food, to me, had to be as good as the kind of food I was already used to. I wasn't approaching it the way a vegetarian-from-birth would."
It's her personal taste that has guided the Corner Tree menu over the last decade, and it's what still guides it now. "If I like a dish, people will—not the other way around, where I have to make what people like."
ADVERTISEMENT - CONTINUE READING BELOW
Recommended Videos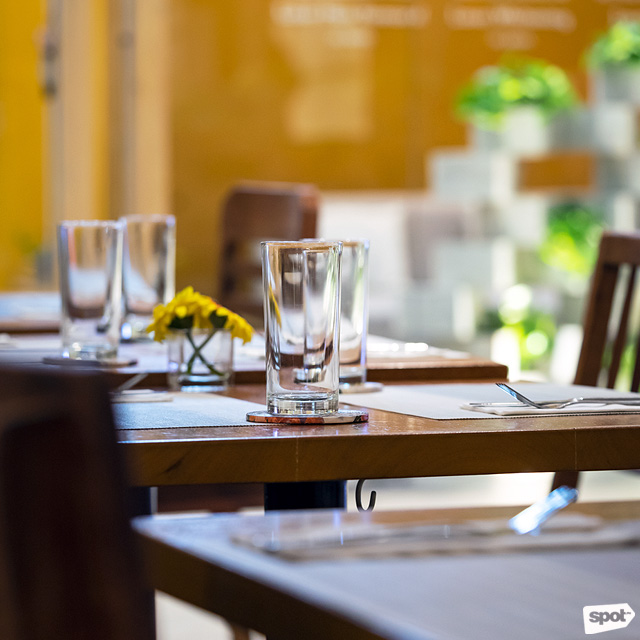 Mabanta was adamant about not opening in a mall location, until an opportunity came to open Corner Tree's second location at Power Plant Mall. "I never wanted to open in a mall but Rockwell is 'my' mall. I'm here every weekend." It only made sense to open amid the different wellness hotspots in Rockwell's expanded third floor. "It's like an oasis here," she says. Her neighbors include Options Studio, Certified Calm, Wink, The Spa, and Saddle Row—all places frequented by health-conscious individuals who are most likely already familiar with Corner Tree.
The menu is generally kept the same, albeit a little compressed to complement the smaller location, too.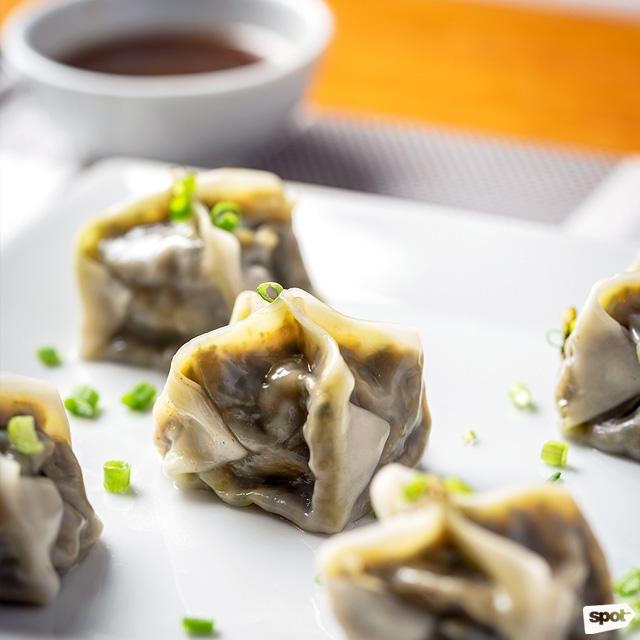 ADVERTISEMENT - CONTINUE READING BELOW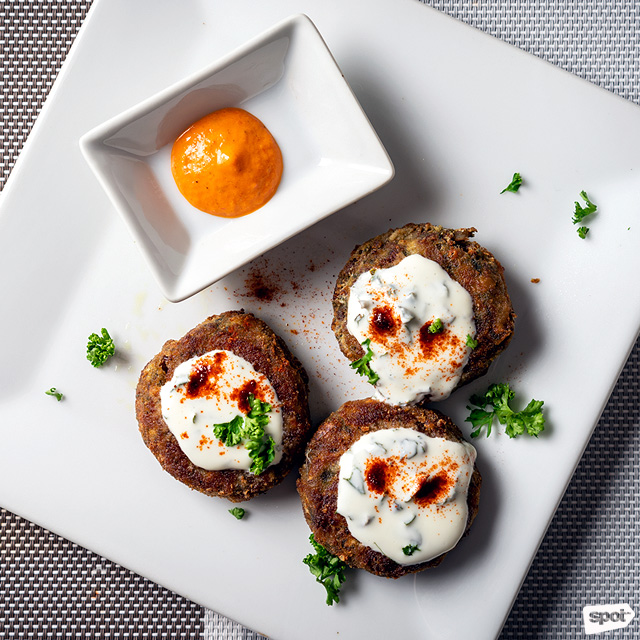 People working out who are desperate for some light bites before class will enjoy the vegetable dumplings or Siomai (P205). Offering a delectable crunch as well as a soft texture, the dumplings deliver a deliciously savory flavor that mixes well with its tangy sauce. The Spinach Feta Croquettes (P220/three pieces, P390/six pieces) are also popular, made with feta cheese that you can taste from the get go. The feta is mixed with red rice and herbs and is accompanied with a subtle, organic mint-and-yogurt sauce. Those who love all things spicy would appreciate a slather of the homemade harissa, served on the side.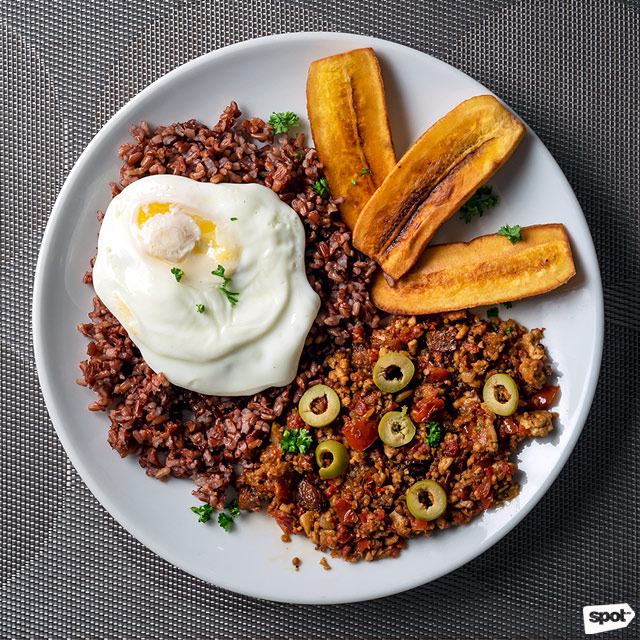 ADVERTISEMENT - CONTINUE READING BELOW
If you're eager to make up for all the calories you've burned after excercising (a.k.a window shopping), try the Arroz a la Cubana (P270), which instantly delivers a comforting taste of a familiar home-cooked dish, minus the meat. Instead, the dish uses minced tofu, tomatoes, green olives, and raisins alongside some fried banana, red rice, and a fried egg.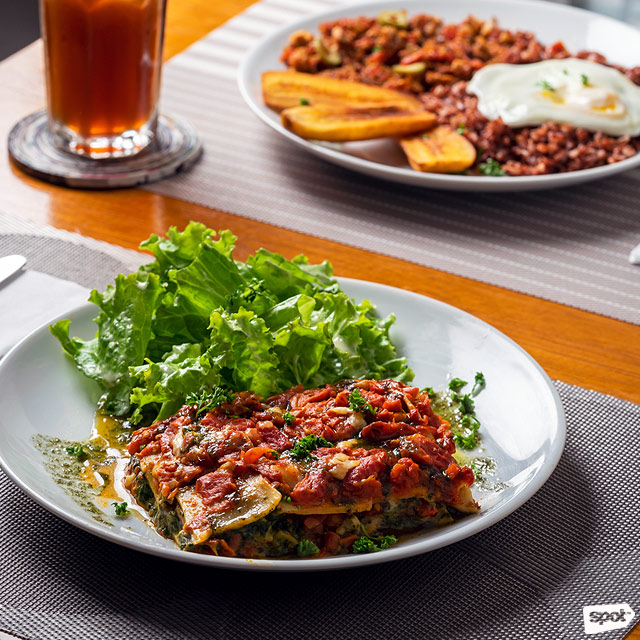 For those with big appetites for hearty fare, the Spinach and Mushroom Lasagna (P550) is a crowd favorite that is large enough to share. Made with spinach, roasted red bell pepper, mushrooms, and three different cheeses, this one is a staple among return customers.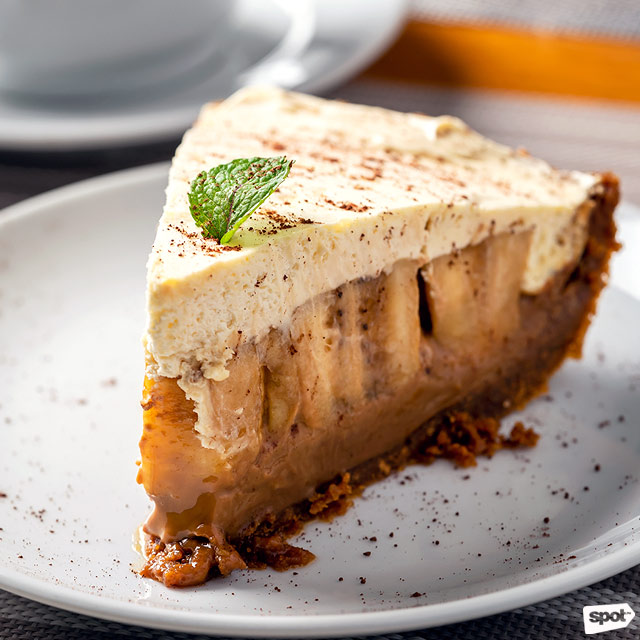 ADVERTISEMENT - CONTINUE READING BELOW
No meal is complete without dessert and Corner Tree's Banoffee Pie (P190) is an easy winner. Made using a recipe by Mabanta's sister, the sweet treat combines a delightful graham crust with rich, luxurious toffee, bananas, and cream with the slightest hint of chocolate. Eating vegetarian, after all, doesn't mean you can't indulge in an unforgettable dessert.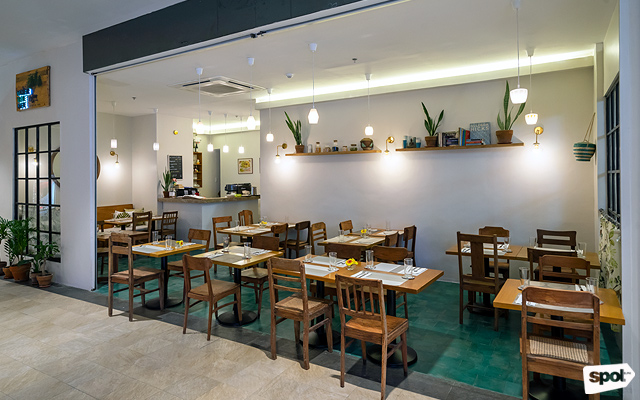 Corner Tree's interiors are cozy and "Scandinavian tropical." Bathed in warm light, it is full of personal touches. "I was asked if I had consulted a feng shui consultant when I was decorating the place and I said no," she recounts. "It turns out that I did everything right—there's a corner representing prosperity and I placed a Buddha on one of our shelves." A Nigerian basket Mabanta had picked up from the International Women's Bazaar mimics the rustic green tiles, while pretty ornaments like a tree lamp, an Allegra Hicks coffee table book, and ornaments fill the charming little corners of the place. "The walls are still bare, but I'll be putting something up soon."
ADVERTISEMENT - CONTINUE READING BELOW
Corner Tree Café is sure to evolve as it plants its roots in Rockwell this year. With a community board that encourages people in the area to post about events, music, art, and yoga, and plans to provide Power Plant cinema-goers with healthy movie-snack alternatives (watch for zucchini with parmesan and sweet potato fries, among others), it's clear that this little corner is planning to make big waves.
Photos by Toto Labrador
Share this story with your friends!
---
Help us make Spot.ph better!
Take the short survey
Load More Stories