Hong Kong Little Kitchen
44 Sonema Square, North Domingo Street, New Manila, Quezon City
Contact: 756-3950
Opens daily from 11 a.m. to 11 p.m.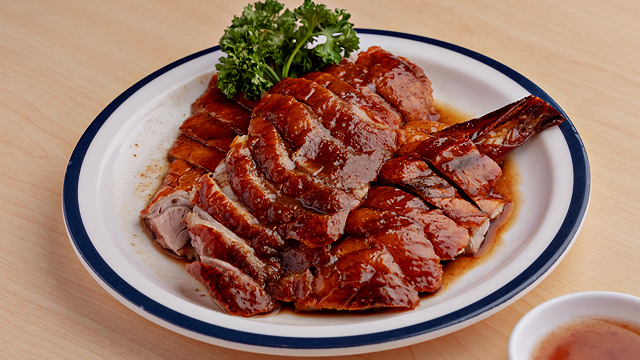 (SPOT.ph) You'll know you've arrived at Hong Kong Little Kitchen when you see the glistening mahogany ducks hanging by the windows. Word on the street is that this humble and charming eatery nestled in a corner of New Manila might be the closest thing to an authentic taste of Hong Kong cuisine without having to leave the country. They may be fresh on the block, but this 28-seater restaurant is the real deal, serving you roasted meats the way they are prepared, cooked, and eaten in Hong Kong.
ADVERTISEMENT - CONTINUE READING BELOW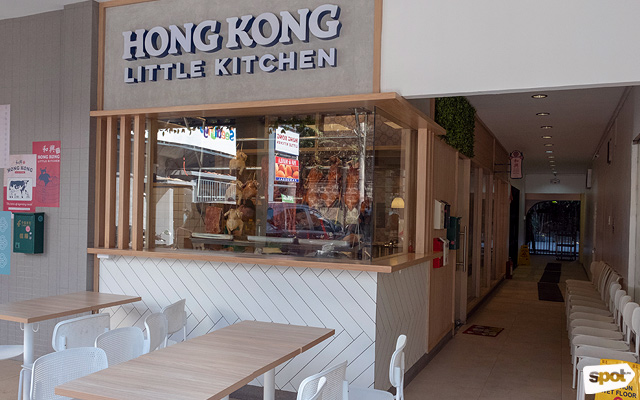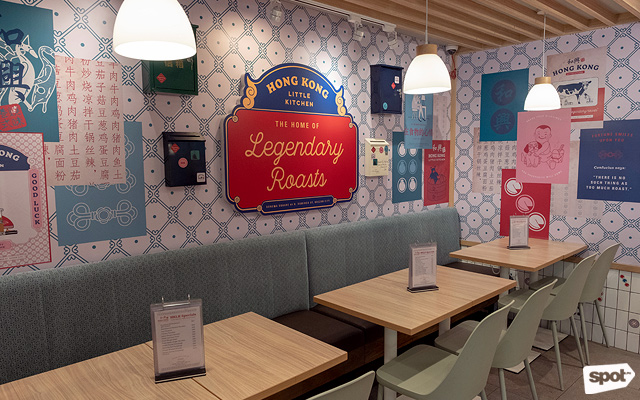 ADVERTISEMENT - CONTINUE READING BELOW
Recommended Videos
Hong Kong Little Kitchen has already gained a loyal following in the neighborhood thanks to word-of-mouth praise, and has become a home to plenty of enthusiastic customers dropping by three times a week—their favorite orders already memorized by the staff—and others coming from even farther distances just to have their roasts to go.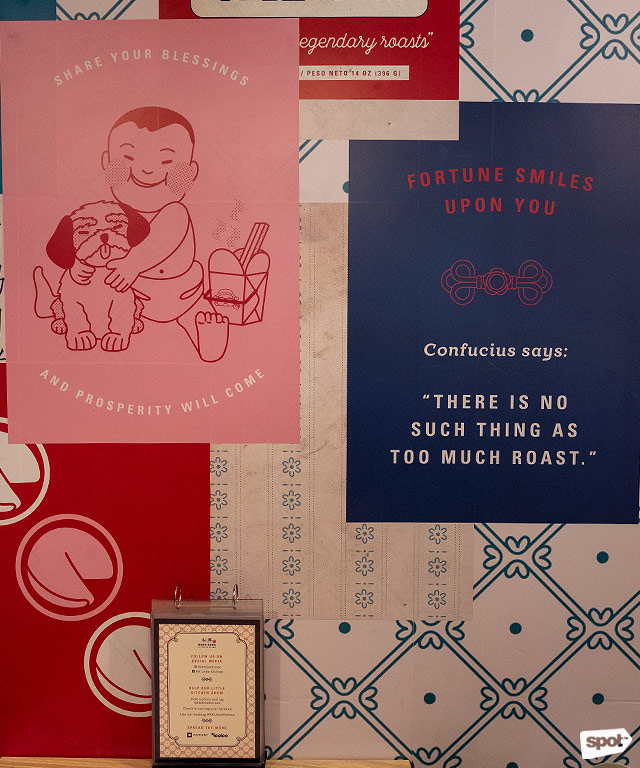 ADVERTISEMENT - CONTINUE READING BELOW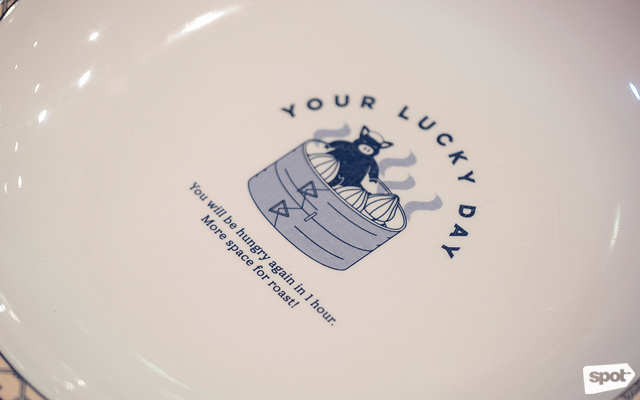 Dining in, however, has its own rewards: The pleasure of eating comfort food with friends, the aroma of roasted meat that carries over in quirky and 'gram-worthy surroundings, courtesy of Serious Studio and Dee See Interiors. Chinese-themed patterns and illustrations decorate the restaurant, branding it with a young and endearing vibe. "There is no such thing as too much roast," claims a decorative poster on the wall. No arguments there!
ADVERTISEMENT - CONTINUE READING BELOW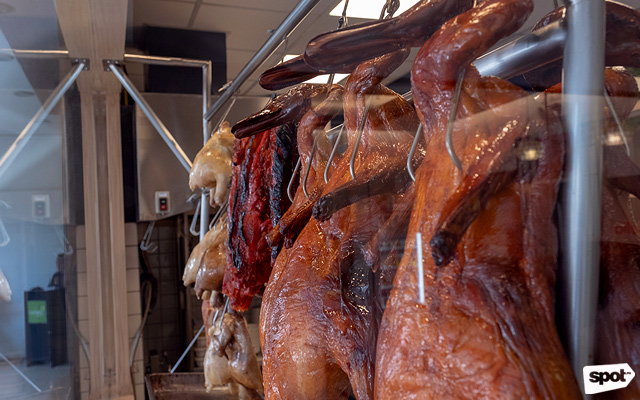 Nelly See, the cheery and genial owner of HK Little Kitchen, attributes much of the restaurant's success to food consistency. All of their ducks are imported from Hong Kong, after which they are marinated and cooked in the same fashion as a goose, then chopped on the day they will be served—and not a day earlier, to retain maximum freshness. They only serve a limited number of ducks each day, so that every customer can embrace the full deliciousness of their food.
ADVERTISEMENT - CONTINUE READING BELOW
While the take-out counter can get busy due to the strong demand for their roasted meats, it is well worth the wait. Using ingredients sourced from Hong Kong, the menu offers a wide array of roasted meats, rice toppings, noodle soup, wantons, and soy dishes. They also have seasonal offerings you'd want to check out, as well as different specials each month.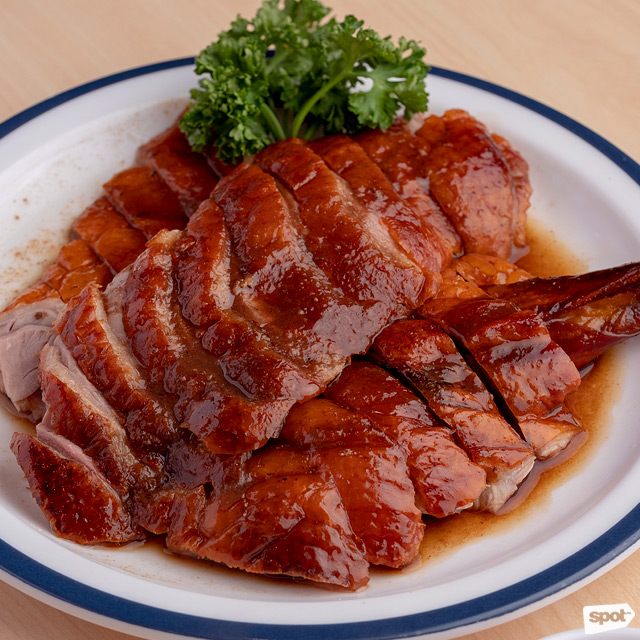 ADVERTISEMENT - CONTINUE READING BELOW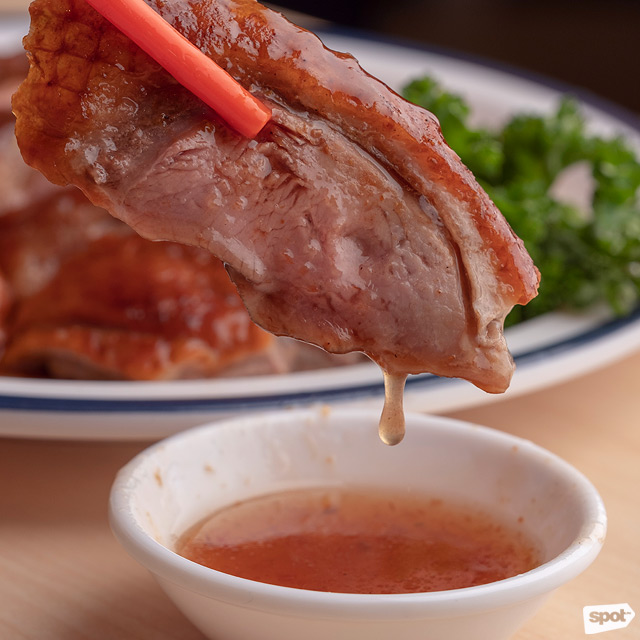 It's hard to believe anyone would see the appetizing sheen of duck skins lined up along the storefront and not want to order one immediately. The HK Roasted Duck (P1,880/whole, P980/half) is sinfully delectable even before plunging it into the plum sauce, with just the right amount of fat to be mouthwatering. Dig your fork into that luscious skin, swirl the duck around in its own drippings, and pour their special sauce all over your rice. Should you dine in with a large group, this is one lip-smacking dish you'd want to keep as close to you as possible.
ADVERTISEMENT - CONTINUE READING BELOW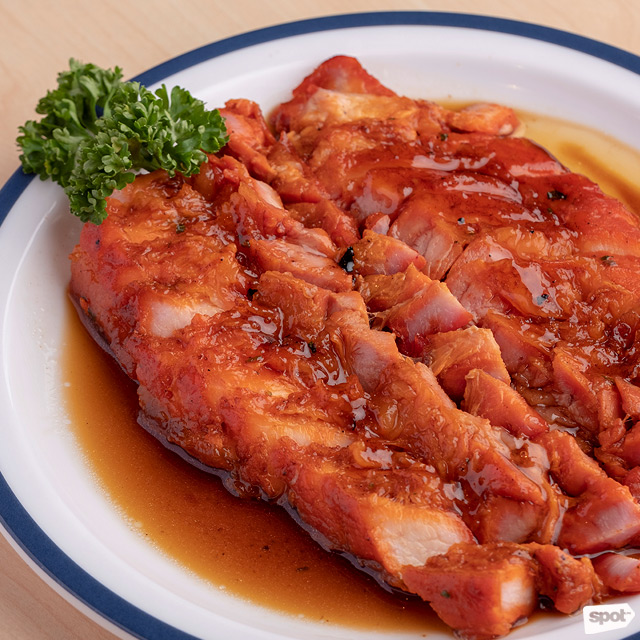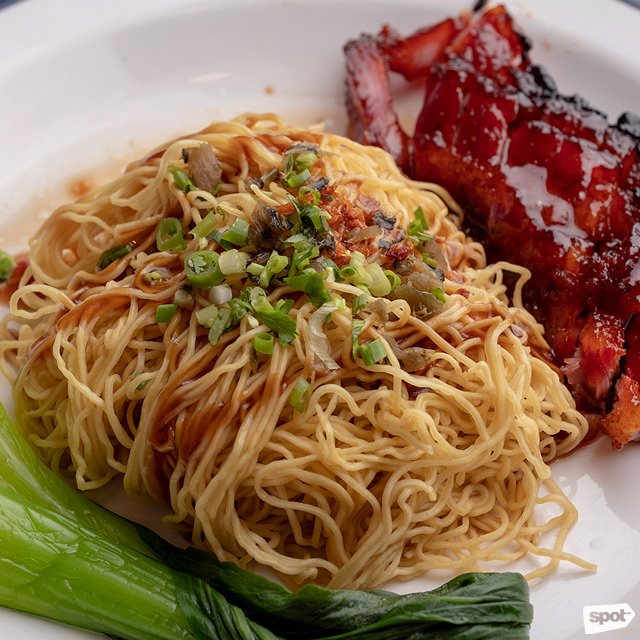 ADVERTISEMENT - CONTINUE READING BELOW
Hong Kong Little Kitchen's spin on the popular delicacy of char siu rewards us with the Roasted HK Barbecue (P1,200/whole, P600/half, P300/quarter)—moist, boneless pork with a beautiful glaze and a slightly charred taste that goes well with the combination of sweet and salty.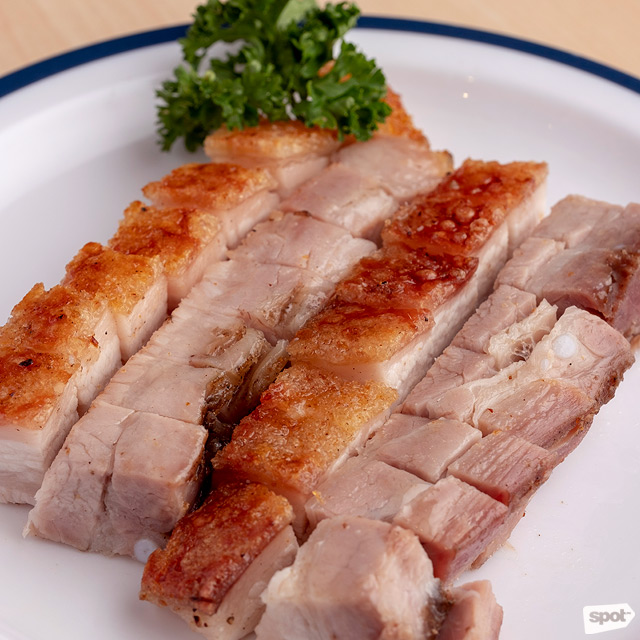 ADVERTISEMENT - CONTINUE READING BELOW
In championing authenticity, this restaurant also introduces customers to new ways of enjoying Chinese food. The Crispy Lechon HK (P1,680/whole, P840/half, P420/quarter) is a dish that stays true to its roots, as the chef encourages diners to dip their lechon Macau in mustard to get the most out of the Hong Kong dining experience. The audible crunch of crispy golden skin evokes satisfaction drawn out with every bite, succulent pork belly giving way to tenderness.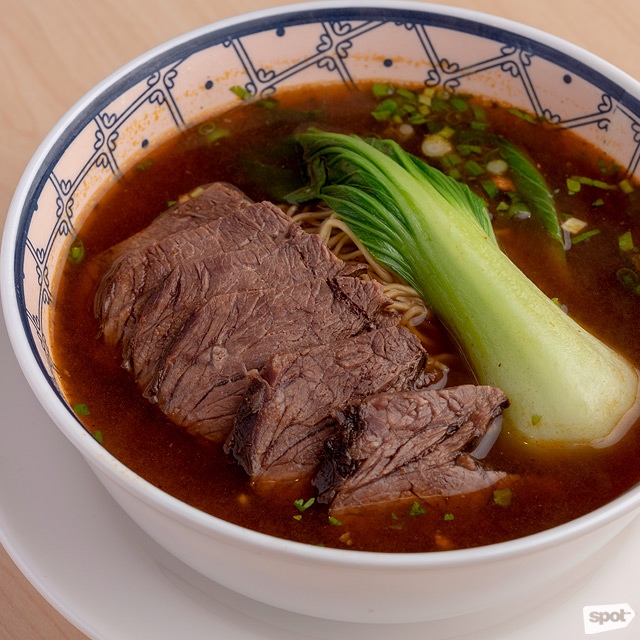 ADVERTISEMENT - CONTINUE READING BELOW
All of their noodles are handmade at their kitchen and it shows. Their best-selling Beef Kenchi Noodle (P228) has thin and fine noodles swim in a dark, mildly spicy, immensely satisfying soup, along with slices of beef that make it an easy feat to get to the bottom of this bowl. Here, the restaurant gives diners the freedom to choose how they want to enjoy their noodle soup. You can pick among regular soup, spicy soup, or dry noodles.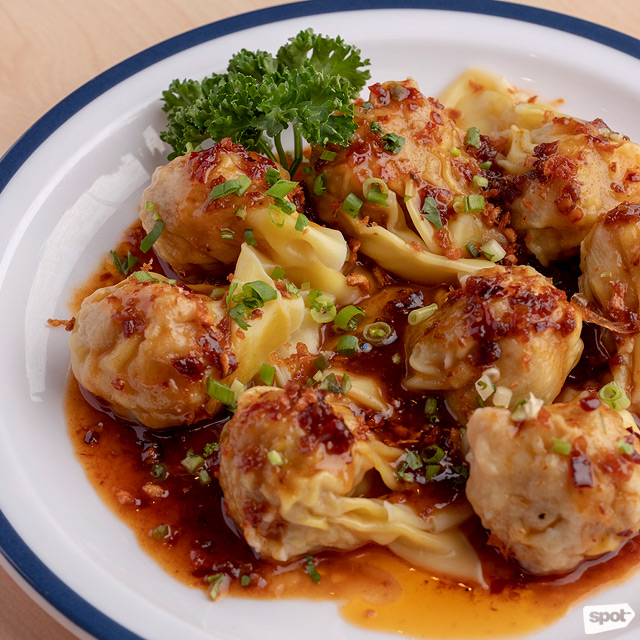 ADVERTISEMENT - CONTINUE READING BELOW
Just the familiar sight of dumplings gathered on a plate is guaranteed to whisk you to Hong Kong. Nothing can explain the gratification one feels biting into the Spicy Shrimp Wanton (P248), dumplings stuffed to the full with a savory and well-seasoned shrimp filling, or that moment when they explode with flavor on your tongue, leaving behind a deliciously spicy kick.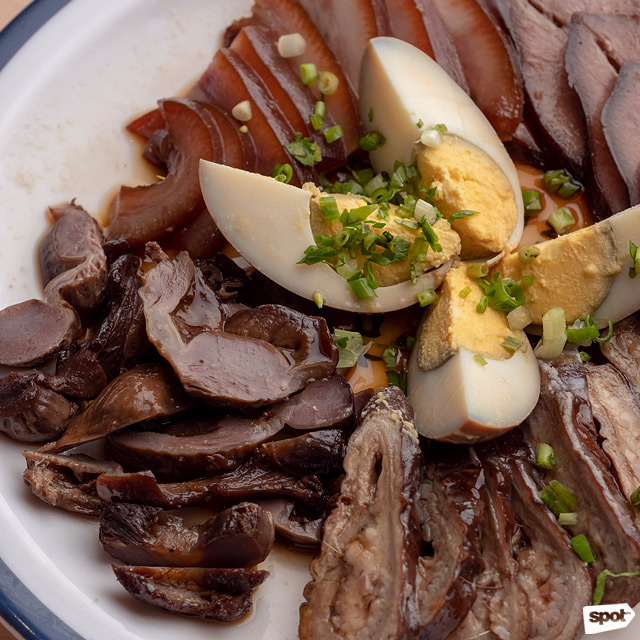 ADVERTISEMENT - CONTINUE READING BELOW
Adventurous diners surely wouldn't want to pass up the varied selection of soy items available on their menu, which include Soy Pork Lengua (P180), Soy Pork Ear (P180), Soy Pork Intestine (P180), Soy Beef Kenchi (P240), Soy Chicken Gizzard (P160), Soy Egg (P50), and Soy Tofu (P160).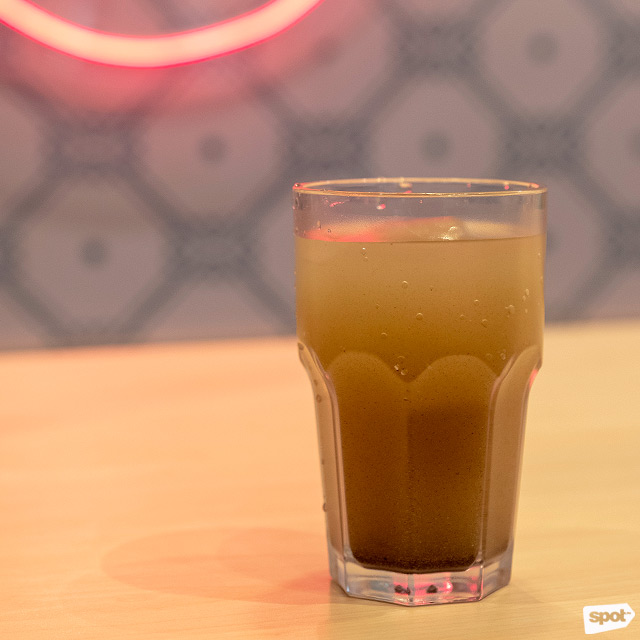 ADVERTISEMENT - CONTINUE READING BELOW
Wind down from all that feasting with a refreshing House Blend Iced Tea (P85) or HK Barley Drink (P85), cool thirst-quenchers that are not too sweet, perfect for cleansing your palate after a filling meal.
Like many best-kept secrets, this one is bound to get out and explode onto the food scene, so you better come here right away. What's most impressive about Hong Kong Little Kitchen is how it elicits that feeling of goodwill after you've eaten at a really good restaurant; you leave it feeling a little bubbly, happier and with a fuller stomach than from when you first came in. For seasoned travelers it conjures fond memories; for the rest of us, it creates new ones, too.
Photos by Hans Fausto
Share this story with your friends!
---
Help us make Spot.ph better!
Take the short survey
Load More Stories