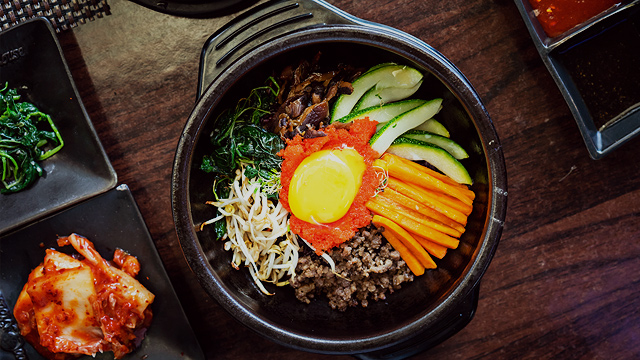 (SPOT.ph) Asian cuisine is famous for its rice. And even outside Asia, nearly every country can speak of one signature dish that captures the flavor profiles of that region using rice as the main ingredient. Spain has its paella, Japan has its kamameshi, Italy has its risotto, China has its many fried rice variations. For Korea, it's bibimbap, which literally means mixed rice ("bibim" means mixed ingredients, while "bap" is rice).
ADVERTISEMENT - CONTINUE READING BELOW
Typically, various vegetables, beef, and an egg are topped over a bed of rice in a bowl and mixed with one of Korean's best-known condiments, gochujang (chili pepper paste). Dolsot bibimbap, on the other hand, employs a hot-stone pot to cook it all up. The best part about the hot stone is that if you leave your bibimbap to cook a little longer, you end up with tutong that adds more texture and crunch to the whole mix. Korean food has grown so popular over the last few years in Manila that nearly every corner of the city can offer you a spot for bibimbap. For this story, we skipped the long, unlimited Korean barbecue lines and headed straight for the main event, the dolsot bibimbap, and ranked them based on the toppings, presentation, overall flavor, and quality of rice.
All SPOT.ph Top 10 lists are researched, paid for, tested, and selected by the writers and editors. They are discreetly conducted without any notice made to the restaurants or their owners.
10. Bibimbap from Korea Garden Restaurant (P320)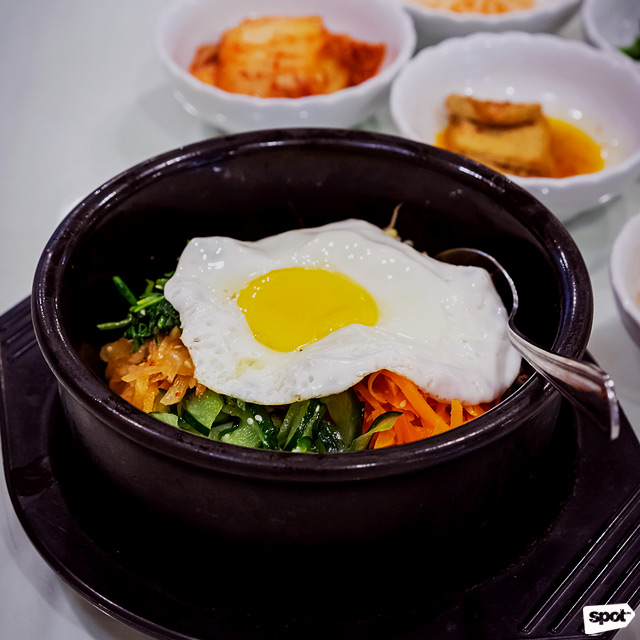 Just a hop and a skip away from Bel-Air Village, Korea Garden Restaurant has been a go-to spot for quality Korean food for many, many years. The vibe here is homey—a house converted into a neighborhood restaurant that offers excellent service you're not likely to find in typical Korean joints. All grilling takes place outside the dining area so you leave smelling fresh without a trace of smoke. Korea Garden's bibimbap offers a petite serving of mixed rice (good for one, if you're really hungry) coupled with some complimentary egg-drop soup. The rice is light and clean—exactly like the ambience of the place. The smattering of meat accompanying the dish is good and offers just the right amount of flavor to go with the subtleness of the bibimbap's vegetable toppings. This is exactly the place you should go to bring your family, parents, or grandparents—clean, well-appointed, with servers on standby to bring you everything you need.
ADVERTISEMENT - CONTINUE READING BELOW
Korea Garden is at 128 Jupiter Street, Bel-Air, Makati City.
9. Dolsot Bibimbap from Kaya (P320)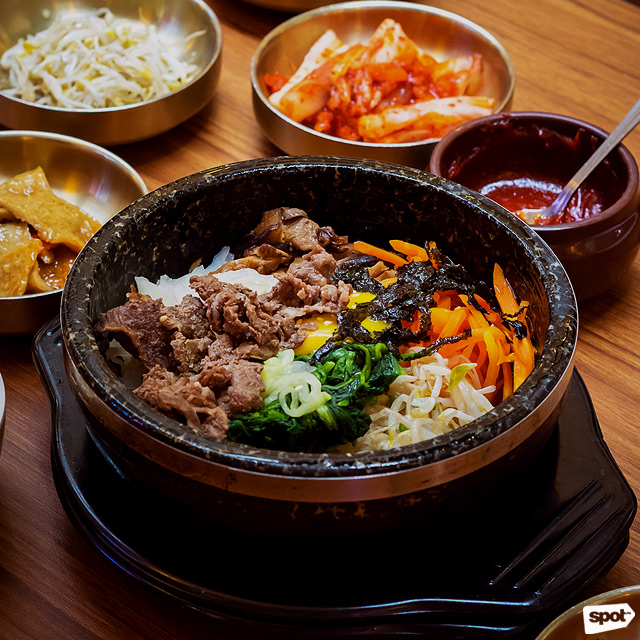 Most traditional Korean restaurants close up shop between 2 p.m. and 5 p.m. so when an intense bibimbap craving hits you during merienda or early dinner, you're not likely to get what you're looking for. Kaya's advantage is that they have multiple locations across the Metro. And while they have a standalone branch along Jupiter Street, their presence in the malls makes them accessible and easy to get to. A reliable favorite, Kaya's Dolsot Bibimbap has a strong sesame flavor coupled with your basic, straightforward bibimbap. It's impossible to go wrong with Kaya because they've been around for years—they know exactly what they're doing. Their version of the mixed rice has beef and assorted vegetables, and comes with a clear soup. If you like your spice, this might be the dish for you as its gochujang is potent and extremely flavorful.
ADVERTISEMENT - CONTINUE READING BELOW
Kaya has branches in Rockwell, Jupiter Street, and Glorietta in Makati City; The Podium, Mandaluyong City; and Santolan Town Plaza, San Juan City.
8. Beef Bulgogi Dolsot Bibimbap from Jin Joo Korean Grill (P400)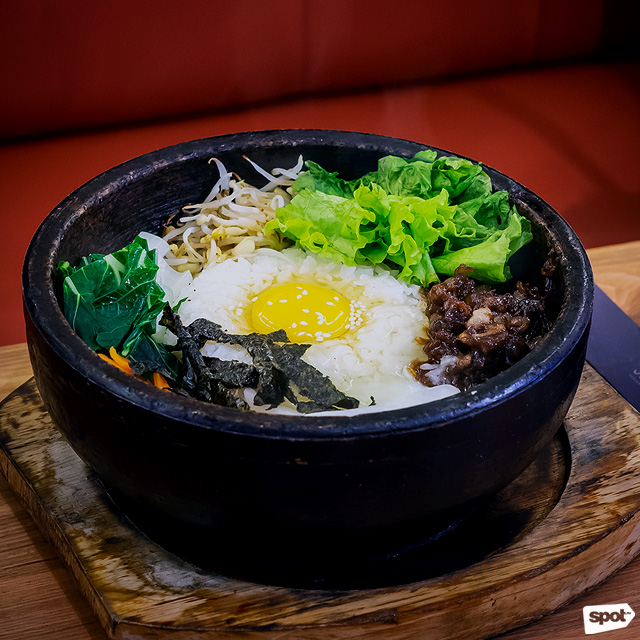 If you're ready to contend with the crowds and coupon holders in line for promos, unlimited meat, and all the noise that comes with it, a trip to Jin Joo Korean Grill would be worth it. This restaurant wins the award for the most number of bibimbap variations out there: Marinated Chicken (P350), Tofu and Mushroom (P320), Grilled Pork (P350), Spicy Seafood (P420), and our preferred pick, Beef Bulgogi (P400). The restaurant's service takes a while (all the servers are catering to the people in it for the unlimited stuff), but when you get your bibimbap delivered to your table, you'll feel that the hassle is worth it. First, the serving size here is huge—three people with tame appetites can probably share one dish. Second, the vegetables in their Dolsot Bibimbap look vibrant and fresh, and the egg that it comes with is hardly cooked so you can control just how runny or cooked you want your topped egg to be. And third, the bulgogi adds a distinctive sweetness to the mix that will appeal to most Pinoys. Hot tip: Let your bibimbap sit a while to cook so that you get the full awesomeness of its tutong.
ADVERTISEMENT - CONTINUE READING BELOW
Jin Joo Korean Grill has branches at The Podium, Mandaluyong City; Glorietta 4, Makati City; SM Mall of Asia, Pasay City; Eastwood Citywalk, Quezon City; and SM Aura Premier, Bonifacio Global City.
7. Dolsot Bibimbap from Min Sok (P320)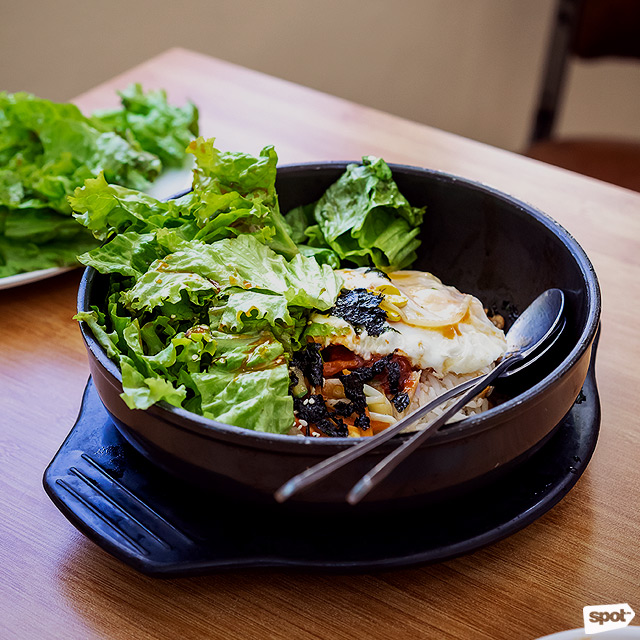 Every fan of Korean food knows that to get to the main source, you need to walk the narrow streets of Poblacion. Before this neighborhood became a hotbed for new restaurants, bars, and hip hangouts, it was the go-to for authentic Korean food. Min Sok is no exception—situated along Don Pedro Street (which has many other Korean restaurants), this joint is worth pointing out because it opens as early as 10:30 a.m. We can't think of a better way to brunch than with their Dolsot Bibimbap. The staff at Min Sok are extremely accommodating, and while their bibimbap is petite in size, it comes topped with a generous serving of lettuce. The greens have a certain magic to them. It almost feels like you're doing your body a favor by scarfing down a bowl of rice and wild vegetables. Min Sok's bibimbap tastes clean, fresh, and is the perfect morning pick-me-up.
ADVERTISEMENT - CONTINUE READING BELOW
Min Sok is at 5655 Don Pedro Street, Poblacion, Makati City.
6. Dolsot Bibimbap from Jang Ga Nae (P350)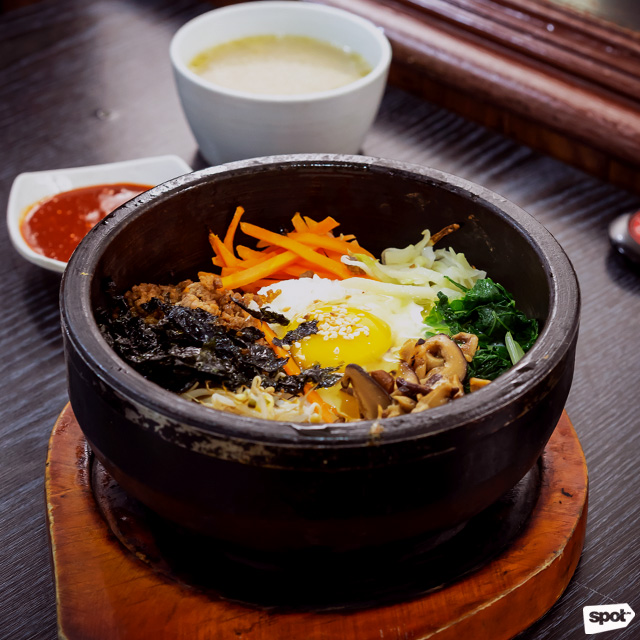 Ortigas folks know that there's a growing Korean contingent in the area, and that the row of Korean restaurants near UA&P is the hub of most of its superstars. Jang Ga Nae has been known for their reasonably priced, tasty food and while their meat selection is usually the highlight, their Dolsot Bibimbap deserves to take center stage, too. The mixed rice is incredibly soft and is countered by lots of fresh, crunchy vegetables. If texture is important to you, then this is the perfect place for you. The dish also comes with a complimentary miso soup—it's a great way to take that strong chili pepper paste taste off your mouth. Jang Ga Nae's bibimbap is flavorful—which is particularly interesting considering that the dish rests solely on its mix of vegetables and condiments.
ADVERTISEMENT - CONTINUE READING BELOW
Jang Ga Nae has branches at Escriva Drive, Ortigas, Pasig City; and Aguirre Avenue, BF Homes, Parañaque City.
5. Dolsot Bibimbap from Sariwon (P380)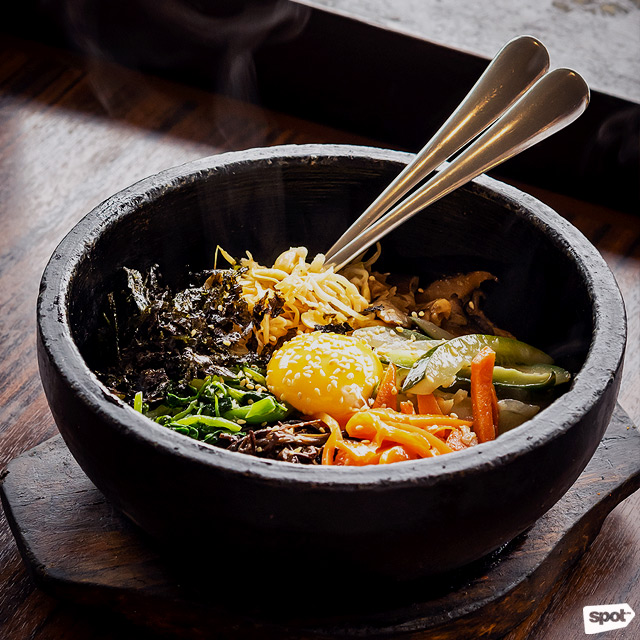 Sariwon has delivered consistent Korean hits over the years, and has also been servicing folks from both north and south of the Metro with their conveniently located branches in Greenhills and BGC. While their set menus are the most bang-for-your-buck items on the menu, you and a friend can head over and order a bibimbap to share and leave feeling completely full. The Dolsot Bibimbap here comes to you with definite snap, crackle, and pop. You hear the rice cooking in the stone bowl way before it's brought to your table. While many Korean restaurants in the city don't bother with presentation and flair, you do get a bit of it at Sariwon. If you're not a fan of gochujang, you'll enjoy this bibimbap variation as it has less of the chili pepper paste than most restaurants. The taste of the vegetables is subtle and sublime—if you're a fan of bean sprouts, you'll enjoy the crunch that Sariwon's bibimbap brings. P.S. The Dolsot also comes with complimentary bone-marrow soup. Yum.
ADVERTISEMENT - CONTINUE READING BELOW
Sariwon has branches at Promenade, Greenhills Shopping Centre, San Juan City; and BHS Central Square, Bonifacio Global City.
4. Dolsot Bibimbap from Seoul Galbi (P280/order, P510/two orders; mandatory one order per person)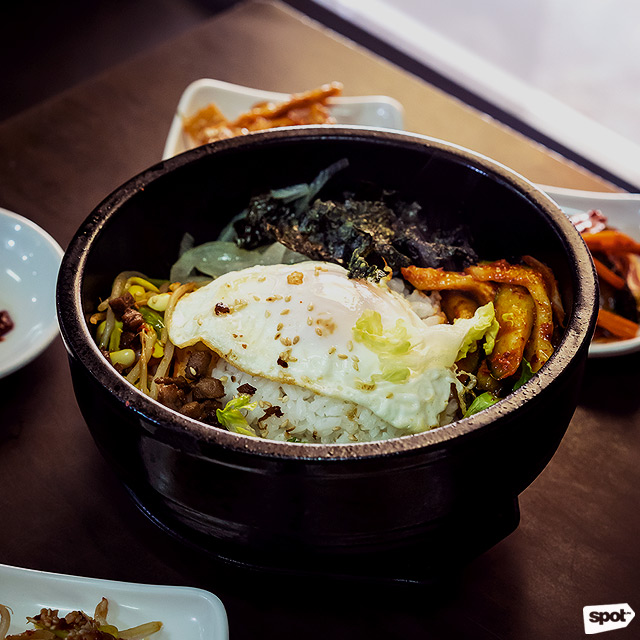 Before a night of drinking in Poblacion, drop by this little restaurant along General Luna Street to fill up your belly. Open until 11:30 p.m., a serving of Seoul Galbi's delicious Dolsot Bibimbap will be just the thing to rev you up for a night out on the town. A word of advice, though—you'll have to eat your fill or bring a friend when you go to this restaurant. We ordered a bibimbap to share and after we had dug into our rice and ban chan, we were notified by the server that ordering just one dish for two people (and the bibimbap was substantial in size) was not allowed. That said, Seoul Galbi can probably make these kinds of demands on their customers because one, their offerings are some of the most reasonably priced menu items in the city; and two, because their bibimbap is really good. The tutong comes up right away, and the thin layer of oil in the bottom of the stone pot may have something to do with how tasty the dish is. In any case, they have come up with exactly the right ratio of rice to vegetables to chili paste to make this dish pretty unforgettable and worth the traffic jam to Poblacion.
ADVERTISEMENT - CONTINUE READING BELOW
Seoul Galbi is at 5362 General Luna Street, Poblacion, Makati City.
3. Dolsot Bibim Bab from Dong Won (P350)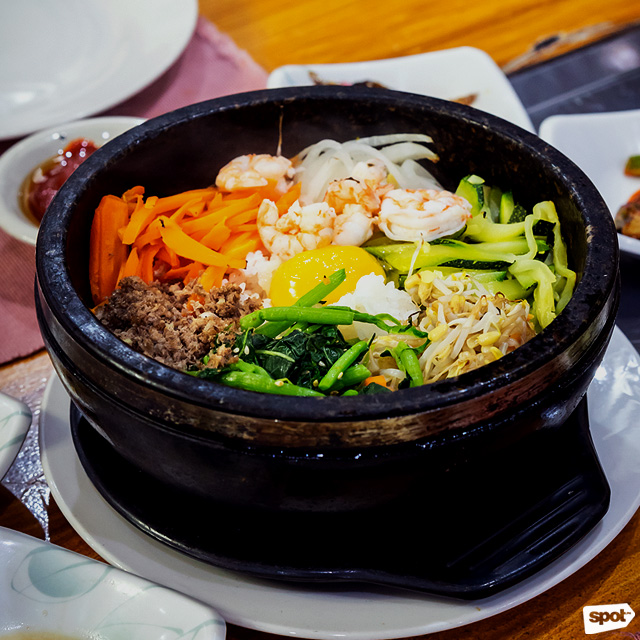 Get ready to throw away any expectations of a fancy Korean restaurant when you step inside Dong Won. This long-time staple along Jupiter Street is as casual as casual gets. It is fronted by a mini-market with fresh produce, meat, fish, and your typical Korean grocery items; and has familiar customers walking in and out of its doors at all hours. Populated by both Koreans and Filipinos, the people who eat here know this is where it's at. Dong Won's bibimbap is mixed with beef, egg, and vegetables, but its most surprising ingredient is a generous serving of shrimp. It's beautifully textured and lighter than most bibimbaps out there—the vegetables also add bite to the mix. Bibimbap is such a simple dish with very similar ingredients, but Dong Won's version makes you wonder how some can stand out in flavor above most others. This one is excellent if you're willing to sacrifice ambience for a good, solid meal.
ADVERTISEMENT - CONTINUE READING BELOW
Dong Won is at 53 Jupiter Street, Bel-Air, Makati City.
2. Bibimbap from Masil (P380/small, P650/sharing)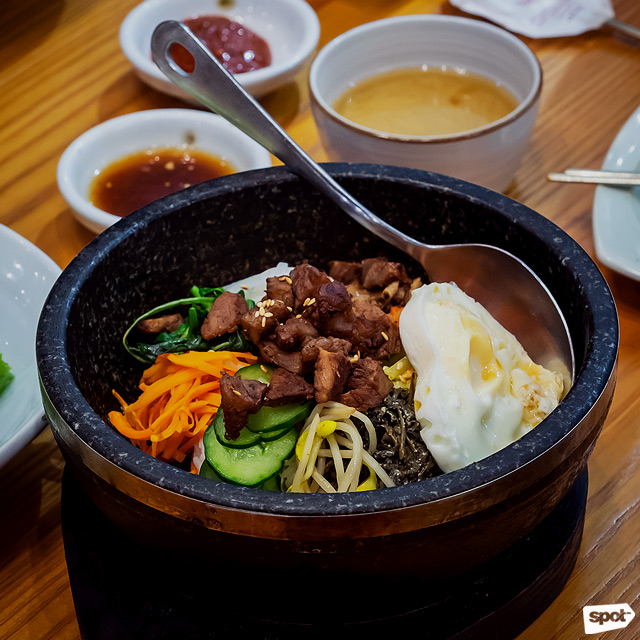 Formerly located along Oranbo Drive in Pasig, Masil fans can breathe a sigh of relief as they have opened their doors again, this time in Megamall. The Pasig go-to has remained consistent in taste and service over the years, and with their new branch, customers can expect an even better, more heightened Masil experience. You'll feel like you're being taken care of in this space—eating at Masil is almost like you've secured a spot in a premier lounge before your flight. The pork bibimbap consists of charcoal-grilled pork mixed with rice and assorted vegetables. Only the single serving gets the Dolsot treatment—sharing portions of this dish are served in a regular, non-hot stone bowl. The dish comes with your regular gochujang but is also accompanied by a separate sauce. Pinoys love their condiments so this bodes well for most people. The bibimbap gets a very subtle flavoring from the pork. For the most part, the dish is smooth and understated, never overwhelming to the taste buds.
ADVERTISEMENT - CONTINUE READING BELOW
Masil has branches at 4/F Mega Fashion Hall, SM Megamall, Mandaluyong City; Tiendesitas, Pasig City.
1. Stone Bowl Bibimbap from Namoo House (P395)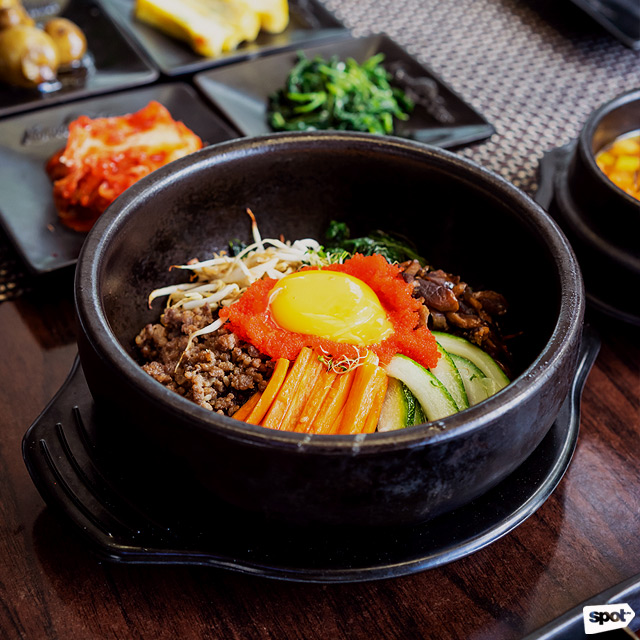 Uptown Parade offers you a host of restaurants to dine in, but we suggest you drop by Namoo House even if the only thing you plan on ordering is the bibimbap. Namoo House gets it right in terms of ambience, décor, and most importantly, food. Their Stone Bowl Bibimbap mixes assorted vegetables and rice. It doesn't take too long for their signature "crispy effect" to come into play. Even those who don't like tutong will become converts once they've had a taste of this delectable rice dish. The most unexpected thing about Namoo House's take on bibimbap is the use of black rice. You would think it would drastically change the texture of the dish, but all it does is add smoothness and substance (especially for those who are avoiding white rice). A similar twist this restaurant introduces is a lovely smattering of roe. The mix of the vegetables, rice, and roe all add up to a very earthy flavor that highlights a unique blend of spices. Another reason to make this your next bibimbap stop? The lovely bean-paste stew that comes with every bibimbap order. It'll be hard to forget this one! 
ADVERTISEMENT - CONTINUE READING BELOW
Namoo House is at G/F Uptown Parade, Uptown Bonifacio.
Photos by Toto Labrador
Share this story with your friends!
---
Help us make Spot.ph better!
Take the short survey
More Videos You Can Watch
Load More Stories