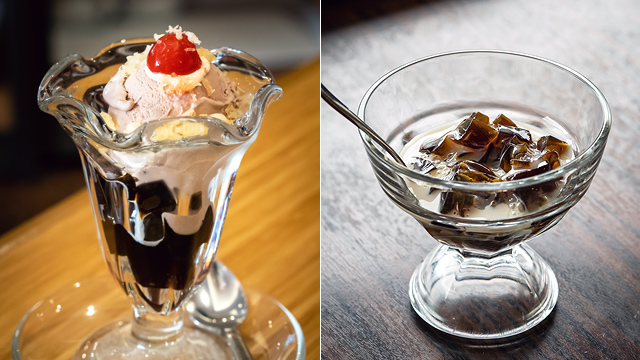 (SPOT.ph) If you find iced coffee too basic, affogato too rich, and a scoop of ice cream not punchy enough, your best bet for the hot weather is to head to your nearest Japanese restaurant and order coffee jelly. Once popular in the U.K. and in the U.S., coffee jelly is now best known as a Japanese dessert. A staple on the menu for a lot of restaurants and cafés, it's also a popular treat found in Japanese convenience-store refrigerators, easily stored in take-away cups. We scoured the Metro for the best coffee-and-ice-cream combos for you this summer and ranked them based on sweetness, creaminess, and overall flavor. Guaranteed: These will keep you awake, and your sweet tooth satisfied.
ADVERTISEMENT - CONTINUE READING BELOW
All SPOT.ph Top 10 lists are researched, paid for, tested, and selected by the writers and editors. They are discreetly conducted without any notice made to the restaurants or their owners.
10. Espresso Jelly from St. Marc Café (P200)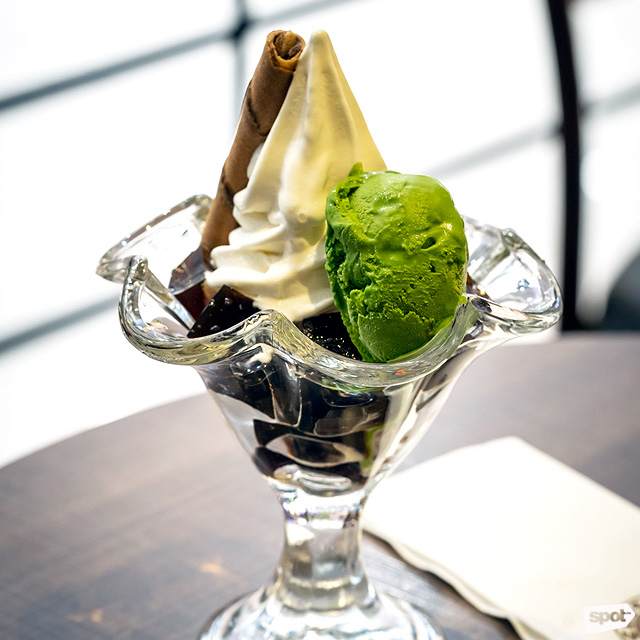 St. Marc Café, most famous for their chocolate croissants, has a lot to offer when it comes to ice-cold treats. Their Espresso Jelly is a twist on your typical gelatin-plus-ice-cream dessert. First, it comes with a wafer stick, a welcome add-on no one would be able to say no to. Second, it uses soft-serve ice cream instead of your typical scoop. Third and most notable is its use of matcha ice cream instead of the typical vanilla. If you're a fan of green-tea ice cream, then this espresso jelly will hit the spot. The jelly itself is extremely mild, making this a kid-friendly treat. If you're looking for a caffeine kick, skip this one and just order actual coffee.
See a list of St. Marc Café branches.
9. Coffee Jelly from Saboten Express (P39)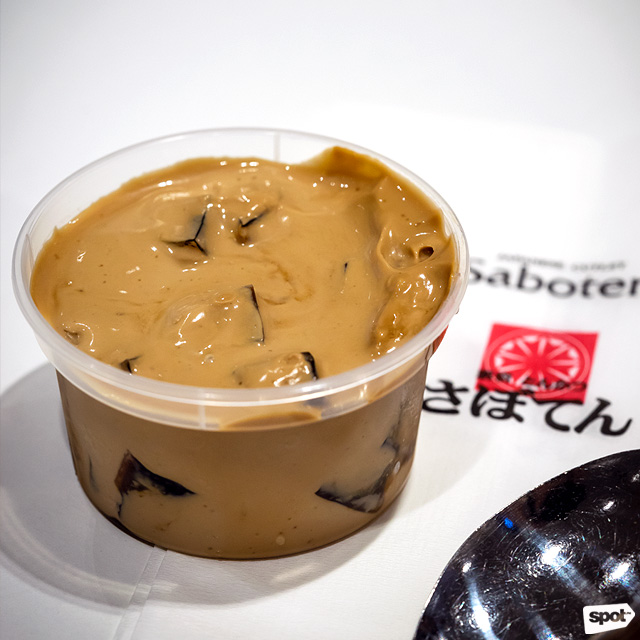 The most appealing thing about Saboten Express' Coffee Jelly is its unbeatable price. At P39, you can hardly go wrong. Don't expect fancy restaurant prep when ordering this over the counter, though. Their Coffee Jelly comes in a takeaway plastic cup and offers you a very chewy jelly plopped into a caramel-tasting cream. Not quite ice cream, not quite heavy cream, the concoction provides you with an interesting, almost yogurt-like texture and flavor to go with the jelly. If you don't need gourmet coffee jelly to satisfy your taste buds, then this is a unique option that won't break the bank.
ADVERTISEMENT - CONTINUE READING BELOW
Saboten Express is at 5/F Mega Fashion Hall, SM Megamall, Mandaluyong City.
8. Coffee Jelly from Kimpura (P115)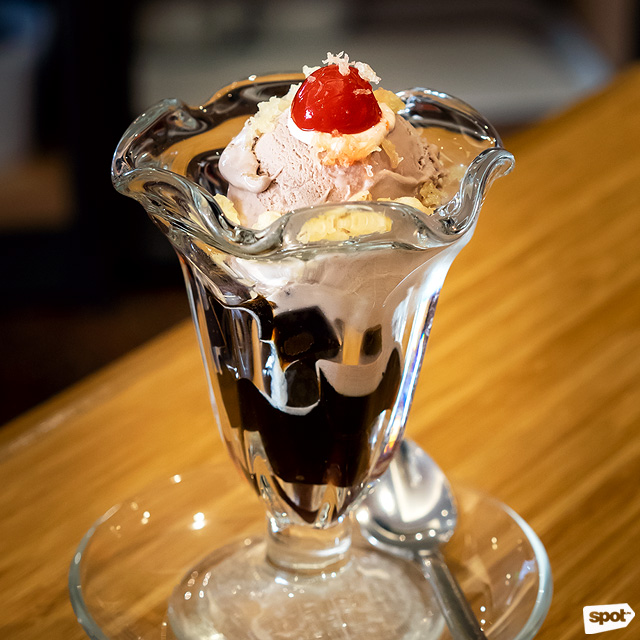 Kimpura has been a household name for decades now. Just stepping into the restaurant will transport you back into the '80s, and their Coffee Jelly will do just the same, hitting both your flavor cravings and your sense of nostalgia. Their preparation comes in a parfait glass topped with a cherry and sprinkled with crunchy, crispy tempura batter, plus a tiny dollop of whipped cream. If you want amped-up sugar when it comes to your desserts, then this will be the one for you. The jelly is sweet—almost coffee candy-like—and is topped off with another classic, mocha ice cream.
ADVERTISEMENT - CONTINUE READING BELOW
Kimpura has branches at Greenhills, San Juan City; Trinoma Mall, Quezon City; and Greenbelt 5, Makati City.
7. Coffee Jelly from CoCo Ichibanya (P100)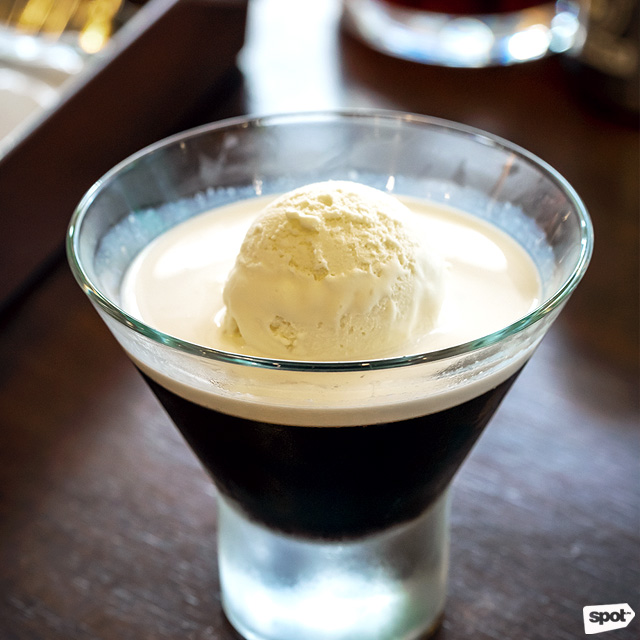 No curry restaurant should go without a coffee-jelly dessert, since it's the perfect sweet treat to take the umay away from a bowl of rich curry over rice. CoCo Ichibanya's version gives diners a cup of firm, solid jelly topped with heavy cream and a small scoop of vanilla ice cream. While many restaurants go for volume, this single-serve portion is enough for just one person. Its coffee taste is subtle, and if you don't like anything too bitter, then you'll appreciate CoCo's secret concoction. Their Coffee Jelly proves that you don't need a lot of sweetness for this simple dessert to actually work—and work well.
ADVERTISEMENT - CONTINUE READING BELOW
See a list of CoCo Ichibanya branches.
6. Coffee Jelly from Haru Sushi Bar and Restaurant (P85)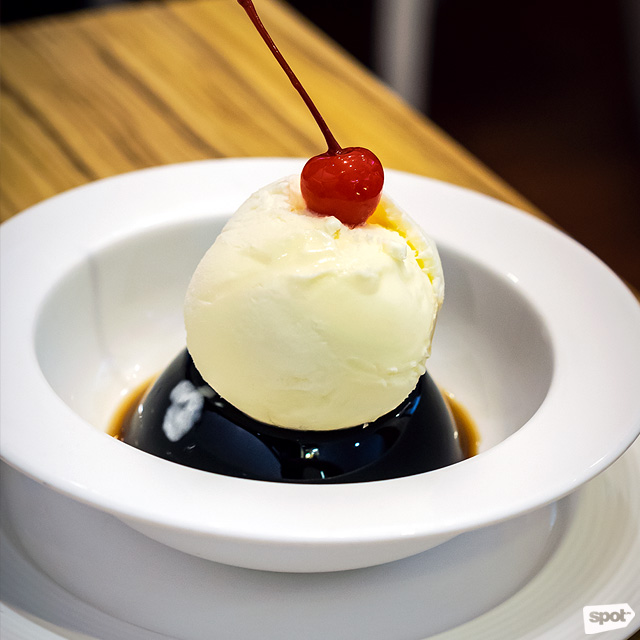 Kapitolyo's resident Japanese restaurant is pretty reliable, as long as you're traveling by foot (parking in this side of town is almost next to impossible!). Their Coffee Jelly is a pretty wallet-friendly, bang-for-your-buck, and what-you-see-is-what-you-get kind of dessert. No surprises here—you get a solid scoop of vanilla ice cream topped with a cherry, plus a cup of good-quality, satisfyingly potent coffee jelly. If you're not looking for extra frills and want something dependable, and likely to turn up the same each and every time you order it, head over to Haru.
ADVERTISEMENT - CONTINUE READING BELOW
Haru Sushi Bar and Restaurant is at 21 West Capitol Drive, Kapitolyo, Pasig City.
5. Coffee Jelly from Icho (P195)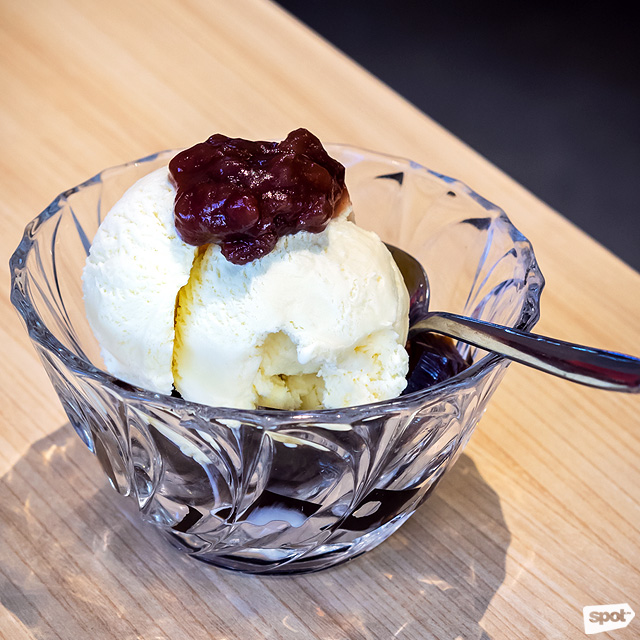 Not satisfied with your ordinary vanilla and coffee-jelly combo? Head over to Icho for a fancy preparation that will certainly impress people looking for off-the-cuff flavors. Icho's Coffee Jelly gives you the option to pick between ube or vanilla ice cream—we say, go with the classic because ube and coffee don't exactly seem to sit right as a pair. Their serving is huge (be prepared to share), and topped with a very welcome serving of red bean. And while the red bean is a nice touch, what makes this Coffee Jelly special is the actual jelly—it's bouncy, smooth, and offers a great texture that's matched by its strong coffee taste.
ADVERTISEMENT - CONTINUE READING BELOW
Icho is at 6 Annapolis Street, Greenhills, San Juan City.
4. Coffee Jelly from Sariwon (P65)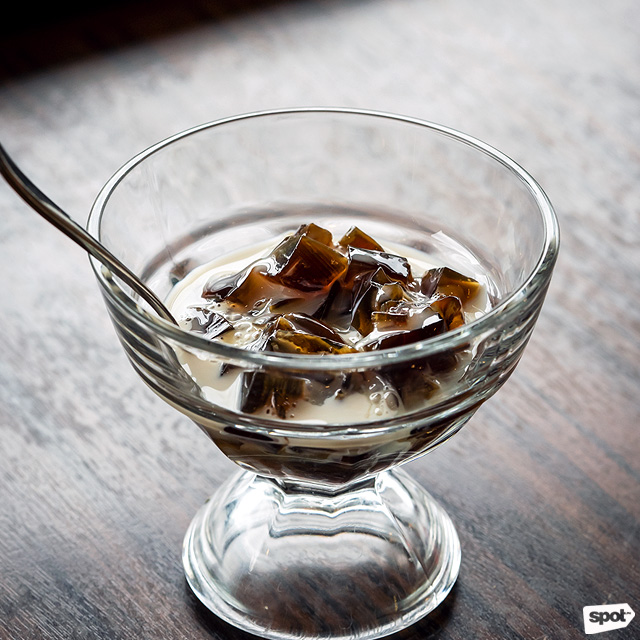 Who would have thought that a Korean restaurant could offer a substantially tasty coffee-themed dessert? Sariwon's version is a win-win for price point and flavor. It's the perfect dessert as it takes the edge off all the gochujang-flavored Korean food you probably just ate. Creamy and milky, your taste buds will delight in the sweet, condensed-milk taste of this preparation. The coffee jelly itself is pretty light, giving you just a hint of caffeine without leaving you full or satiated.
ADVERTISEMENT - CONTINUE READING BELOW
Sariwon has branches at BHS Central, Bonifacio Global City; and Promenade, Greenhills, San Juan City.
3. Coffee Jelly with Ice Cream from Kamameshi Town Honten (P85)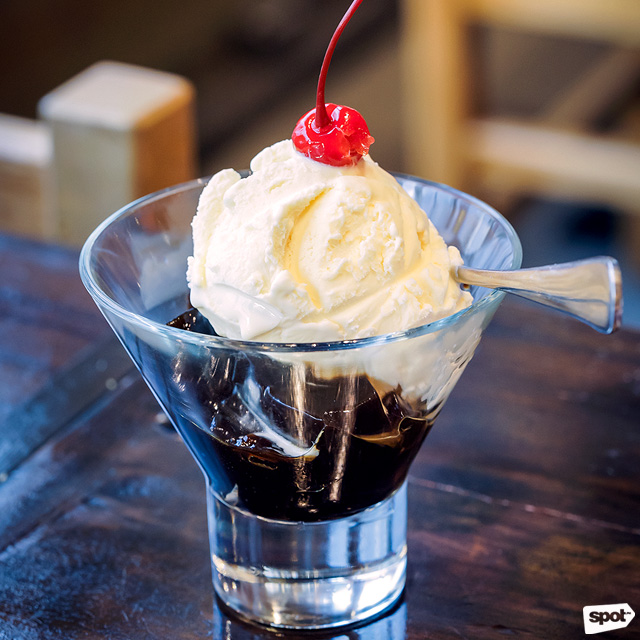 What's noticeable about this restaurant's coffee jelly is its generous ice-cream-to-coffee-jelly ratio. For under P100, you get a lot of both. This version provides you a very milky and vanilla-centric flavor—it's more ice cream than heavy cream, and is thicker and weightier than most coffee-jelly preparations out there. The coffee jelly itself is very good—think of Japanese coffee in cans, which you can pick up at their convenience stores. Solid in flavor, and even better when eaten with slightly melted ice cream. All this comes with a cherry on top, too.
ADVERTISEMENT - CONTINUE READING BELOW
Kamameshi Town Honten is at Greenhills Shopping Center, Greenhills, San Juan City.
2. Coffee Jelly from Hatsu Hana Tei (P160)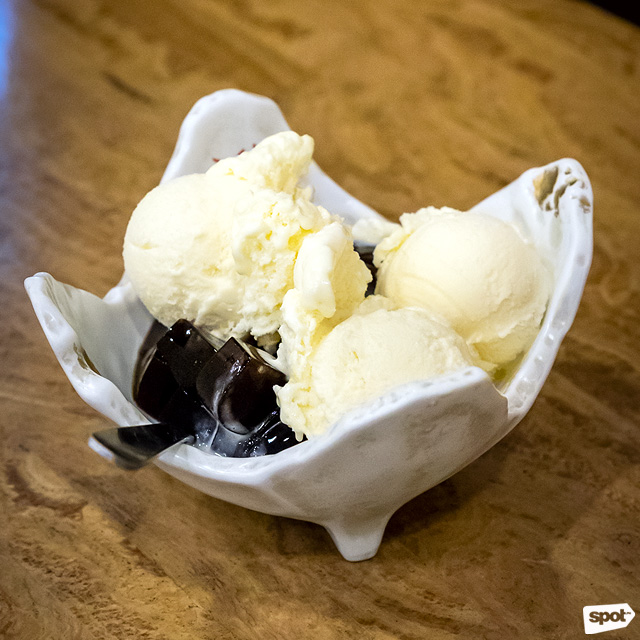 This quiet restaurant just across Little Tokyo has a cult-following of its own. Tucked on the second floor of Herald Suites, Hatsu Hana Tei is known for their sashimi and sushi, and excellent lunch-menu prices. Their Coffee Jelly holds its own, too. With three full scoops of vanilla ice cream, plus a whole lot of jelly underneath, this dessert is definitely made for sharing. If you're a coffee drinker, you'll appreciate the boldness of Hatsu Hana Tei's jelly. Even with a spoonful of ice cream, you will not miss its flavorful punch.
ADVERTISEMENT - CONTINUE READING BELOW
Hatsu Hana Tei is at Herald Suites, 2168 Chino Roces Avenue, Makati City.
1. Sumiyaki Coffee Jelly with Vanilla Bean Ice Cream from UCC Clockwork (P180)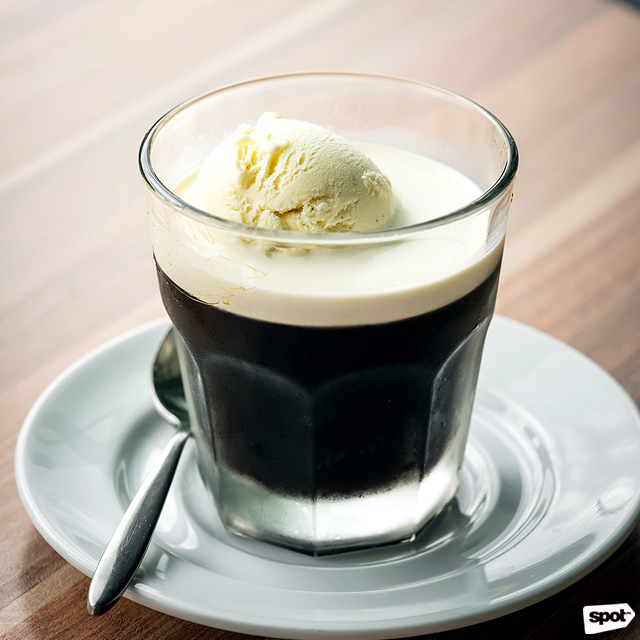 Anyone who's ever had a coffee-jelly craving has probably tasted UCC Clockwork's signature dessert. The Sumiyaki Coffee Jelly has certainly been the gold standard for years, and it still pulls its weight many years after the Japanese coffee shop opened in Manila. Appropriately bitter, the jelly fills an entire glass and is smooth and suave in texture. The sweetness of the dessert comes from the scoop of ice cream that tops the jelly. This dessert was meant to not overpower you with sweetness. Eat the ice cream sparingly and instead, enjoy the coffee for its bold and signature Japanese flavor. You wouldn't want to share this—trust us.
ADVERTISEMENT - CONTINUE READING BELOW
See a list of UCC Clockwork branches.
Photos by Toto Labrador
Share this story with your friends!
---
Help us make Spot.ph better!
Take the short survey
More Videos You Can Watch
Load More Stories