Almacen
5910B Matilde Street, Poblacion, Makati City  
Contact: 0977-291-1920
Open from 6 p.m. to 2 a.m. (Tuesday), 6 p.m. to 3 a.m. (Wednesday to Thursday), 6 p.m. to 4 a.m. (Friday to Saturday) and 6 p.m. to 1 a.m. (Sunday)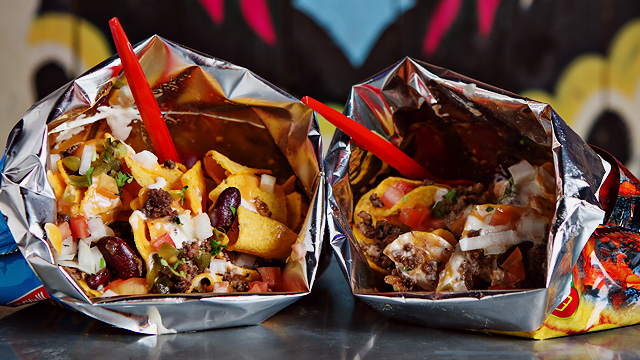 (SPOT.ph) "This is a place to leave your daily burdens behind. We store the bad vibes of your day after work and you come out with good vibes," says Jave Maceda about Almacen, a bar in Poblacion he co-owns—its name, after all, means "warehouse" in Spanish. Great food, creative and colorful interiors, and music to keep you dancing until the wee hours of the morning—these are just some of the things the newest spot on Matilde Street has to offer.
ADVERTISEMENT - CONTINUE READING BELOW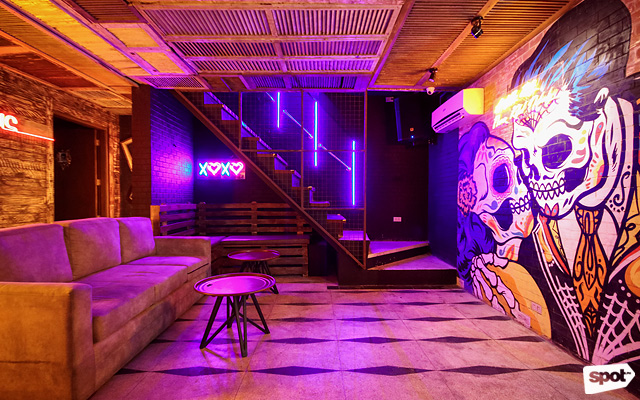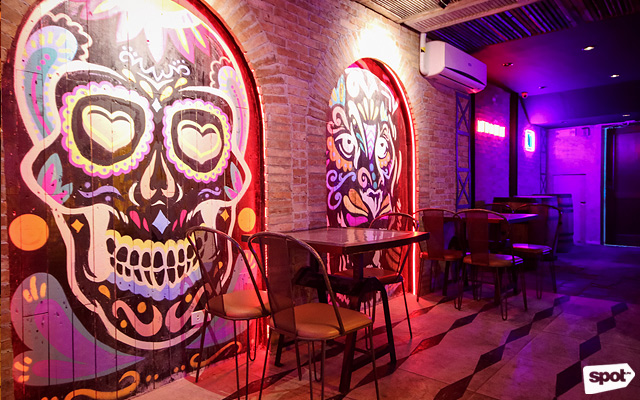 With more bars and restaurants becoming destinations, not just for their food, but also for their overall vibe, Almacen levels up the design ante. You are welcomed into Almacen by a festive neon calavera or skull in a sombrero, beckoning you to enter the two-storey bar. Día de los Muertos (the Day of the Dead), a famous Mexican holiday where families welcome the souls of their dearly departed, is a strong influence on the interiors with an artsy mural of stylized calacas (skeletons) sharing a kiss, more skulls greeting you on the stair landing as you head to the second floor, and as seen in the Pixar movie Coco, vibrantly-colored Mexican spirit animals called alebrijes dominating one whole wall.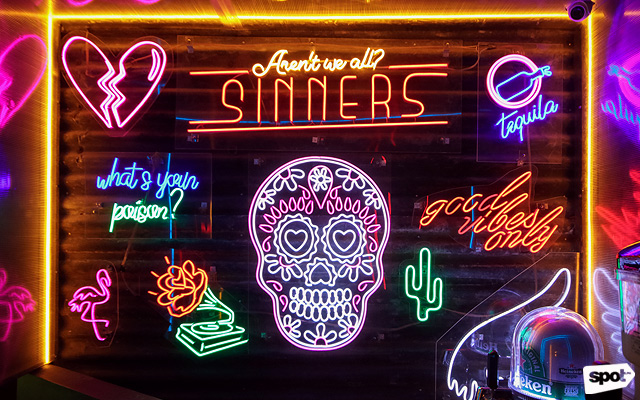 ADVERTISEMENT - CONTINUE READING BELOW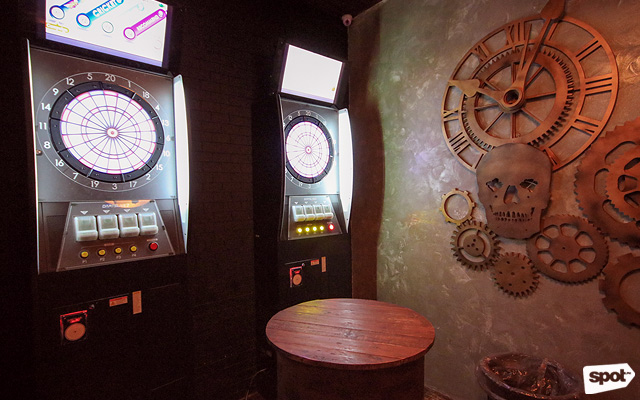 The place is filled with interesting details like old wooden shutters on the ceiling for texture, or the dedicated fotoautomatica photo booth where you can capture the magical (aka: mad) moments of your night out. Intimate little cubby-hole spaces to get cozy with someone special during the evening are on both floors, and all throughout the bar are eye-catching neon signage with bold statements like "Aren't we all sinners," "A little party never killed nobody," and constant reminders for "Good Vibes Only" that beg you to have a 'gram-worthy photo with them to remember the night with. Are dart games your thing? You're in luck because electronic dart boards beside the bar on the second floor are ready to challenge you and your buddies to friendly games over beer.  
ADVERTISEMENT - CONTINUE READING BELOW
Almacen was built out of drinking habits as well, according to Maceda. The downstairs is like a separate bar in itself, with different offerings too for the drinks. It's where you sit and talk with that interesting person you just met or maybe get to know your date for the night. It's chill and relaxed with a steady vibe.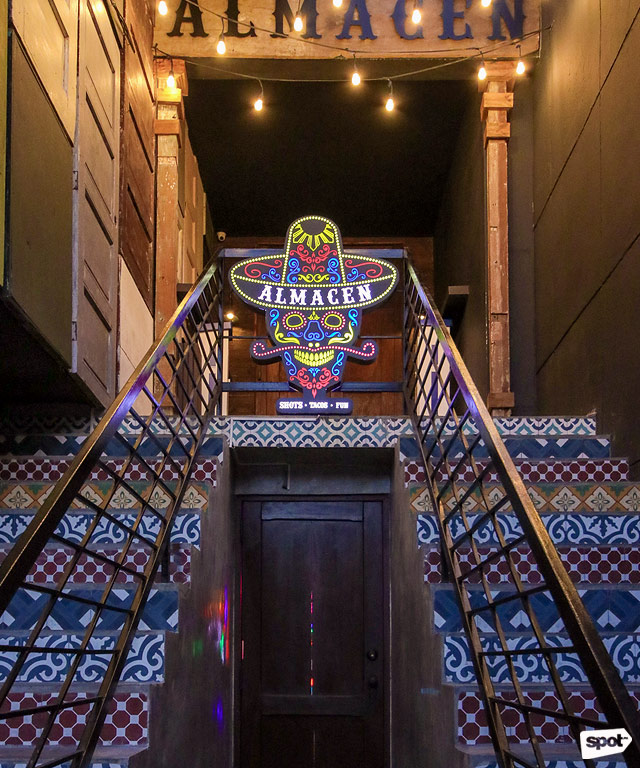 ADVERTISEMENT - CONTINUE READING BELOW
"Upstairs is noisier, where you drink a lot and party and dance, standing room only. It's darker because that's where you're supposed to get lost a bit. Maybe it's where you get lost and then find someone through the night to get lost with," Maceda says with a smile.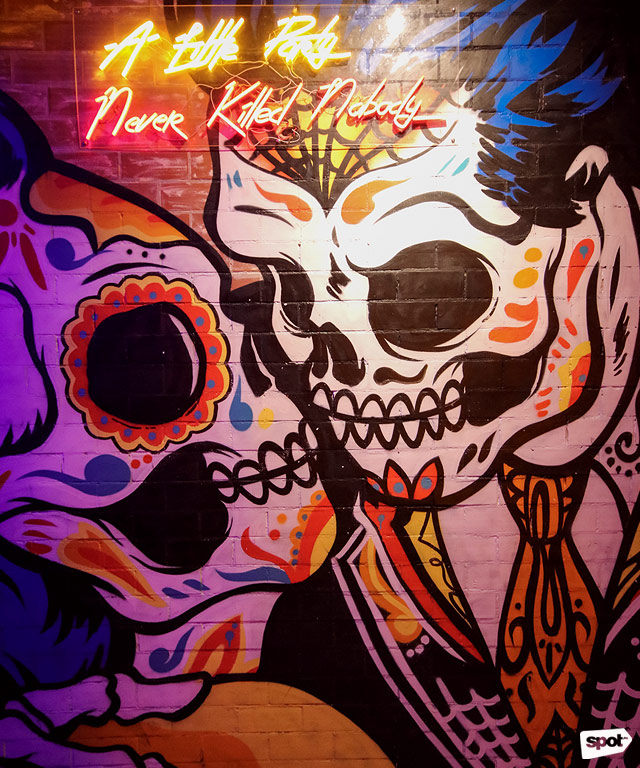 ADVERTISEMENT - CONTINUE READING BELOW
But more than the fun and creative interiors, Almacen is first and foremost a Mexican-themed bar and restaurant with a simple menu that's done well. Maceda stresses that their food is the backbone of Almacen. In coming up with the concept for their restaurant, the goal for Maceda and his partners was "to open a place with a home-feel and spread the good vibes to our customers in Poblacion." The old '70s-style house that they found (which they co-share with Pedro's Tap Room) became the refuge for their imagination, and the scrapbook of ideas taken from their travels to different places solidifies what Almacen is today.  
The food at Almacen is inspired by what Maceda and his friends would crave on their epic drunken nights—this meant food that you would happily eat your feelings away with, washed down with your "poison" of choice: cold beer, tequila, or a cocktail.
ADVERTISEMENT - CONTINUE READING BELOW
Start the night with a Beer-Killa Cocktail (P200), a real thirst-quencher that packs quite a punch with each sip. This potent slushy for adults is part beer, part margarita, and all icy goodness. Take it easy, though, as this frosty drink could knock you out while the night is still young.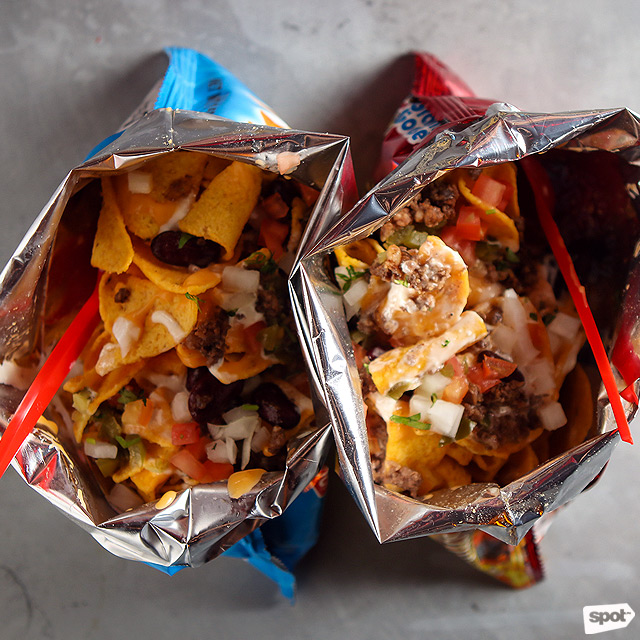 ADVERTISEMENT - CONTINUE READING BELOW
Nachos are the usual go-to appetizer for any barkada on a night out, but Almacen does one better by catering to our inner snack-cravings with the Street Nachos (P100/solo, P150/duo). Who remembers eating local corn chips like Granny Goose Tortillos and Mr. Chips when the munchies strike? Choose between the two and enjoy it with the classic nacho fixings of melted cheese, shredded meat, tomatoes, olives, onions, and jalapenos.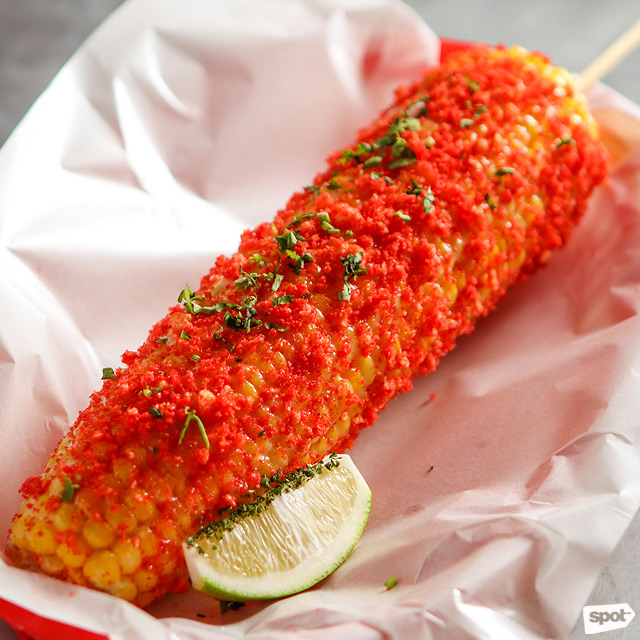 ADVERTISEMENT - CONTINUE READING BELOW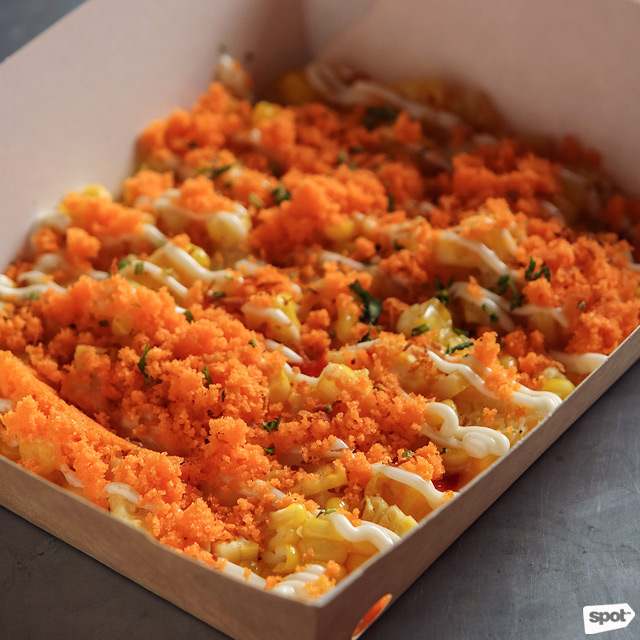 Sweet corn has always been a favorite street food in the Philippines but the Mexican version, also known as elote, gives it a distinctive creamy oomph. Almacen offers Mexican Corn Elote (P150) or fresh corn on the cob roasted and charred straight from the grill (or served in a cup, whatever strikes your fancy) and served with salt, butter, cheese, lime juice, crema fresca and chili powder. But if you fancy a spicy twist, have your corn with Cheetos, Hot Cheetos while for something undeniably Pinoy, try the Binatog Corn (local white corn topped with grated coconut, butter, salt and sugar to taste).
ADVERTISEMENT - CONTINUE READING BELOW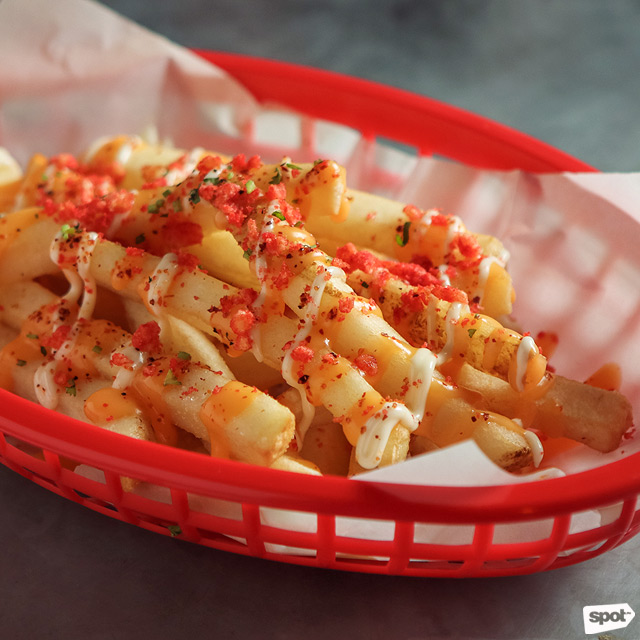 Cheetos makes another appearance in the Hot Cheetos Fries (P250), thick-cut French fries served with melted cheese and crumbles of hot Cheetos on top.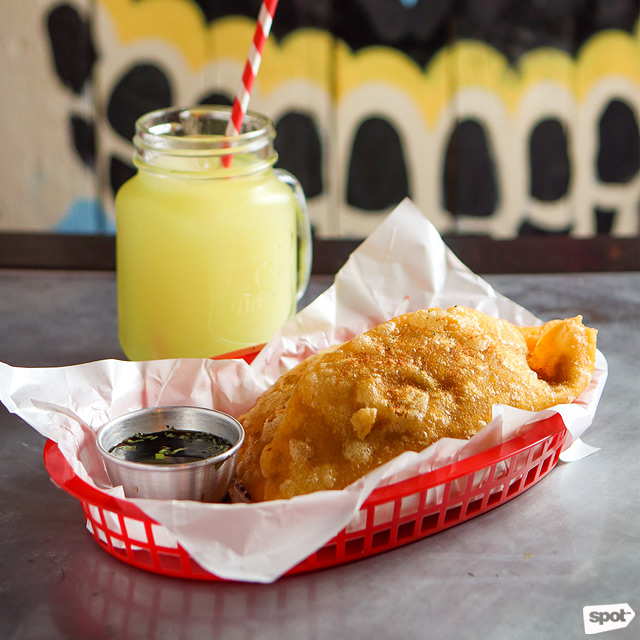 ADVERTISEMENT - CONTINUE READING BELOW
If you're a fan of the deep-fried goodness of Ilocos empanada, Almacen's Chicken or Beef Tacopanada (P150) should be your go-to dish. The dough is made fresh daily, deep-fried until perfectly crisp like the Vigan dish it pays tribute to. Each crispy, spiced bite explodes in your mouth, perfectly moist and flavorful. This is a filling meal on its own to get you in the mood for some dancing and a few more drinks.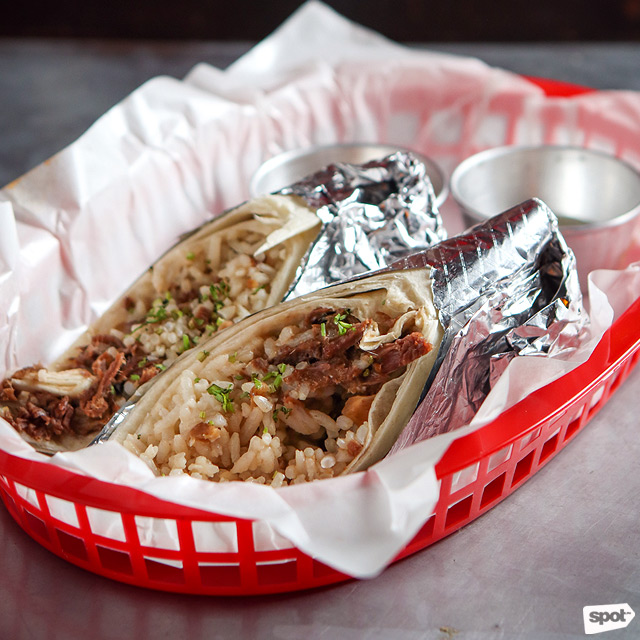 ADVERTISEMENT - CONTINUE READING BELOW
Some dishes are best enjoyed while in an inebriated (read: drunk) state and the Beef Pares Open Burrito (P150) is one example. This hearty braised beef stew dish in burrito form is one to go to town with on a big night out. The stewed beef chunks are meaty and tender, perfect with the seasoned rice in the wrap.  
"Here at Almacen, we store all the bad sh*t of your day for you," says Maceda. With their colorful and cool vibe and sinfully good Mexican comfort food to match, we don't doubt that statement at all.
Photos by Jericho San Miguel
Share this story with your friends!
---
Help us make Spot.ph better!
Take the short survey
More Videos You Can Watch
Load More Stories