Menya Kokoro 
3/F Uptown Mall, Uptown Bonifacio
Contact: 0919-001-9392
Open from 10 a.m. to 10 p.m. (Sunday to Thursday) and 10 a.m. to 11 p.m. (Friday to Saturday)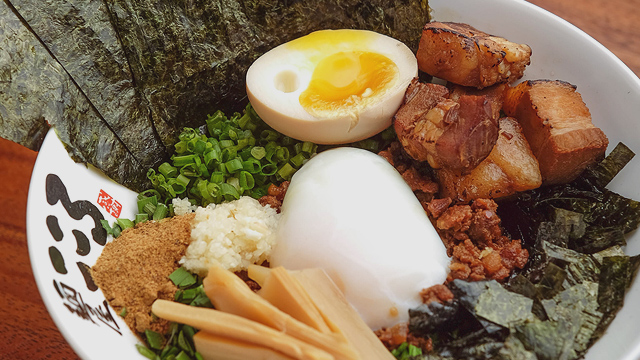 (SPOT.ph) Although both noodles are from Japan, soba is very different from ramen. While both ramen and soba noodles are thinner than udon noodles (which are an entirely different class), ramen is made from wheat and is generally sturdier, while soba gets its distinctive light-brown color from buckwheat flour and is softer than ramen.
ADVERTISEMENT - CONTINUE READING BELOW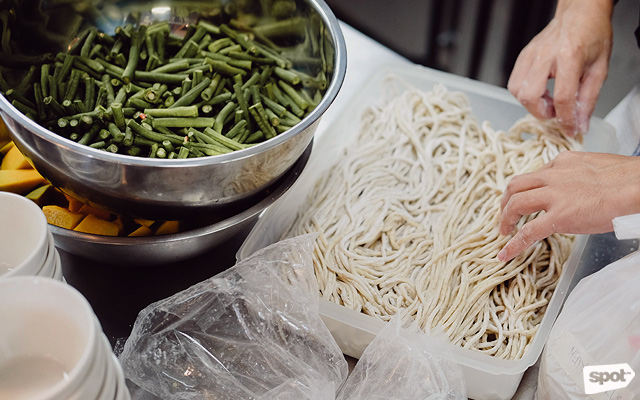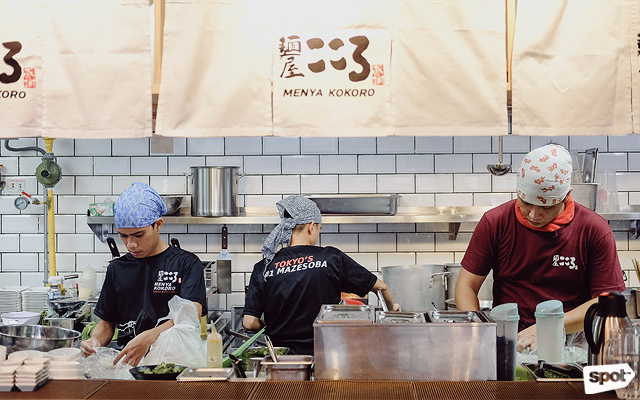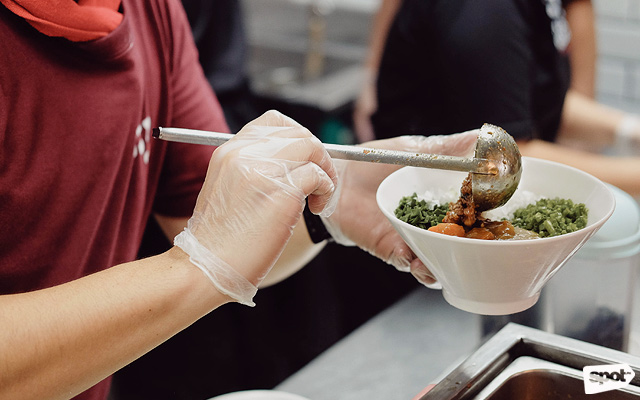 Ramen is pretty much everywhere now in Manila but soba is harder to find—and Menya Kokoro introduces soba that is served in a way that's far from the usual. Soba can be served stir-fried, in a light hot broth, or chilled with a side of dipping broth, but in this Japanese chain, they offer something else: the mazesoba, or soba noodles combined with the typical rich flavors of ramen—minus the broth.
ADVERTISEMENT - CONTINUE READING BELOW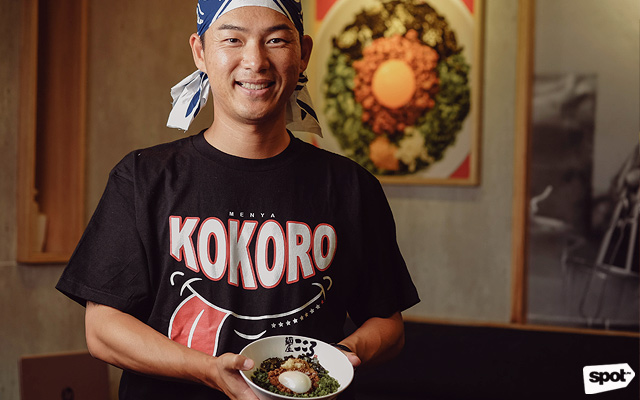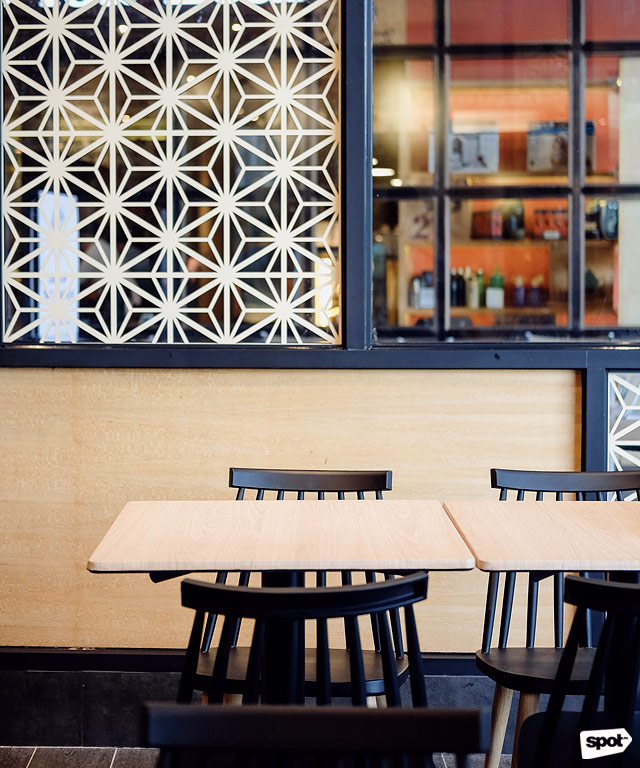 ADVERTISEMENT - CONTINUE READING BELOW
This is the culinary creation of Chef Takuma Ishikawa, who opened his first shop in Tokyo back in 2013. The young chef invented his own kokoro or minced meat recipe, which is used in most of his noodle bowls. "Our secret is the kokoro that is carefully cooked for long hours," tells the chef-owner. He shares that there are a lot of spices and sauces involved, and they import a lot of these ingredients from Japan, including the nori and fish powder. According to him, diners will get "the same menu items and exactly the same flavors." It would just be like you're eating at any of their 18 outposts in Japan. The international mazesoba chain also has outlets in Bangkok, Jakarta, Vancouver, Singapore, and Manila.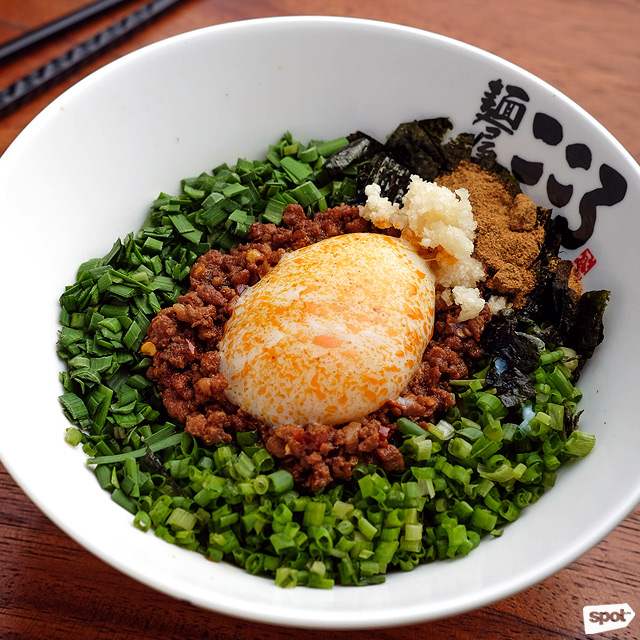 ADVERTISEMENT - CONTINUE READING BELOW
Their simple menu focuses on its specialty but there's a lot to choose from. It would be best to start with the original variant, Tokyo Mazesoba (P350). It has a base of chicken paitan broth cooked for six to eight hours, oil flavored with sakura ebi (small pink shrimp), soy sauce, sesame seeds, and saba (mackerel) fish powder. The chef then heats the soba and bruises it with a wooden stick so that the noodles absorb the sauce. Each bowl has 140 grams of specially made buckwheat noodles that have a soft yet springy texture.
The bed of noodles is then covered with a myriad of toppings—chives, spring onions, chopped nori, special minced-pork sauce (cooked one hour in a blend of spices on high heat), fish powder, minced garlic, and finally the onsen tamago (soft-boiled egg) in the middle of it all. They use locally sourced organic eggs, which they cook at 65 to 75 degrees to get that runny consistency that blends well with the savory base.
ADVERTISEMENT - CONTINUE READING BELOW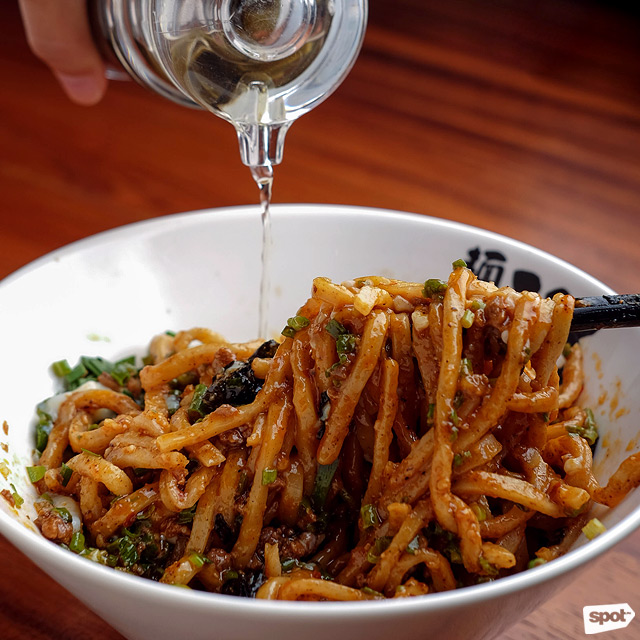 Once you get your bowl, you have to mix everything well to make sure that you get all the toppings in each bite. Prepare your palate for an onslaught of bold flavors with a good amount of spice. If you feel the need to temper the heat a little, just add a few drops of Japanese-grain vinegar infused with konbu (seaweed) that's readily available on each table—it will add some acidity and depth to this dish. Tip: You can also request a non-spicy version.
ADVERTISEMENT - CONTINUE READING BELOW
All of their mazesoba comes with complimentary mushroom shoyu (soya sauce) soup on the side and a small portion of Japanese rice, which you can add to your near-empty bowl to mix in with the remaining toppings—like fried rice!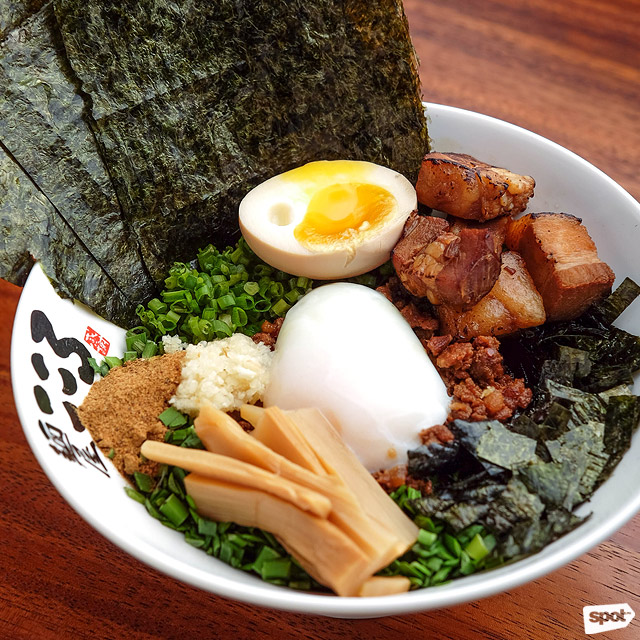 ADVERTISEMENT - CONTINUE READING BELOW
The Zenbu Mazesoba (P470) has the same components as the Tokyo Mazesoba but with the addition of menma (bamboo shoots), ajitama (ramen egg), and chashu (braised pork belly). This tastes closest to the typical ramen because of the similar ingredients, ideal for those looking for familiar flavors. As with the original version, feel free to add vinegar to any of the mazesoba bowls.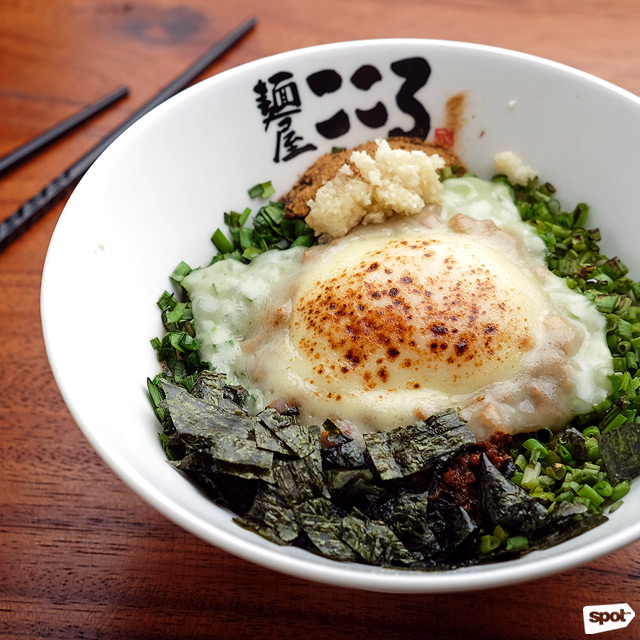 ADVERTISEMENT - CONTINUE READING BELOW
A pretty unique iteration is the Cheese Mazesoba (P430), which has a generous serving of mozzarella cheese. If you look in the open kitchen, you might even see the chef torch the slice of cheese before it's added to this dish. Make sure to mix your mazesoba while it's hot to incorporate all the cheesy goodness in the dish.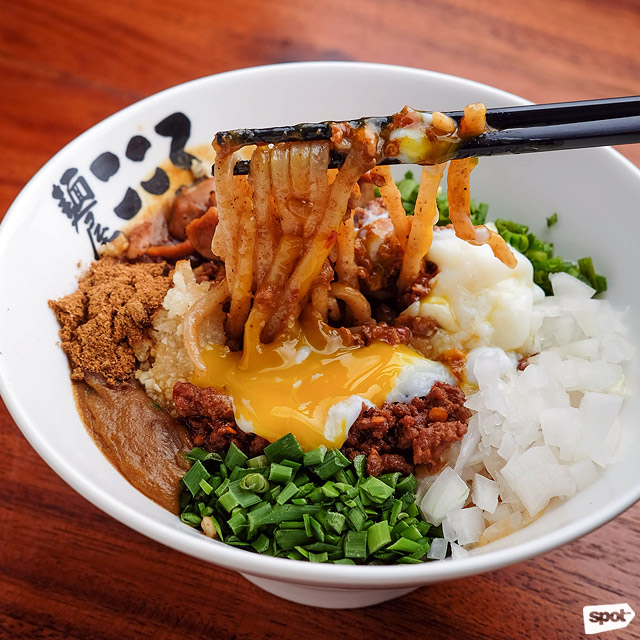 ADVERTISEMENT - CONTINUE READING BELOW
For those who crave the homey comfort of Japanese-style curry, there's the Curry Mazesoba (P430), which features a rich and spicy curry sauce with carrots and potatoes. It's also topped with chashu-style chicken that's marinated in Yamasa soy sauce and mirin.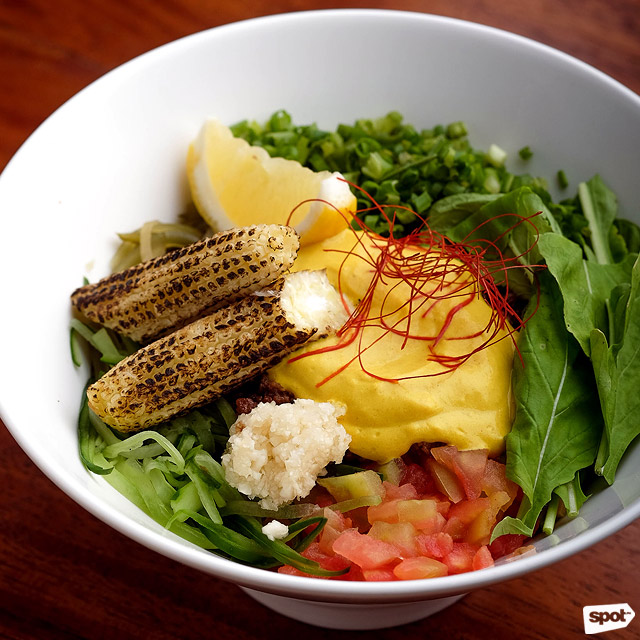 ADVERTISEMENT - CONTINUE READING BELOW
Those looking to skip meat can go for the Vegan Mazesoba (P380). They substitute the chicken paitan broth with an equally flavorful sauce of sesame oil and olive oil. The result is a completely different, fresh flavor profile, especially with the medley of veggies like young corn, diced tomatoes, and peppery arugula. Don't be deceived by this meatless wonder because it's just as filling as the rest of the mazesoba.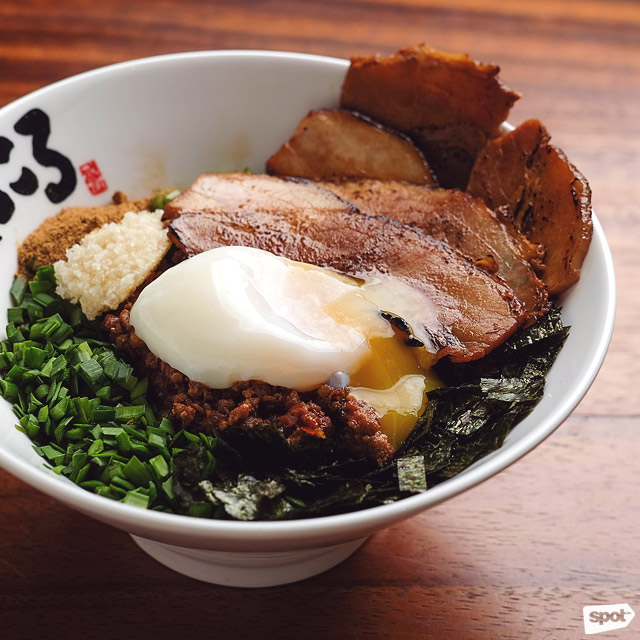 ADVERTISEMENT - CONTINUE READING BELOW
Looking to turn the heat up even further? Dare to try the Spicy Mazesoba (P370), which uses oil infused with Szechuan peppercorns and Korean chili powder. The spice isn't as shocking as you'd expect, although you'll feel a lingering heat after each savoring slurp.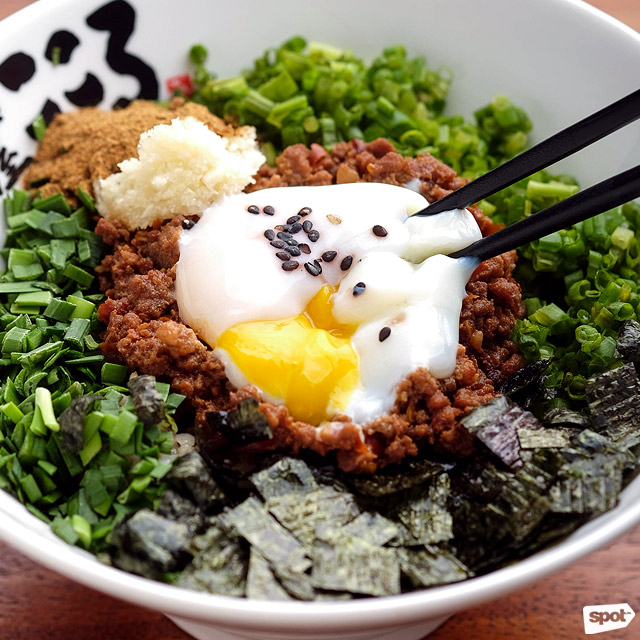 ADVERTISEMENT - CONTINUE READING BELOW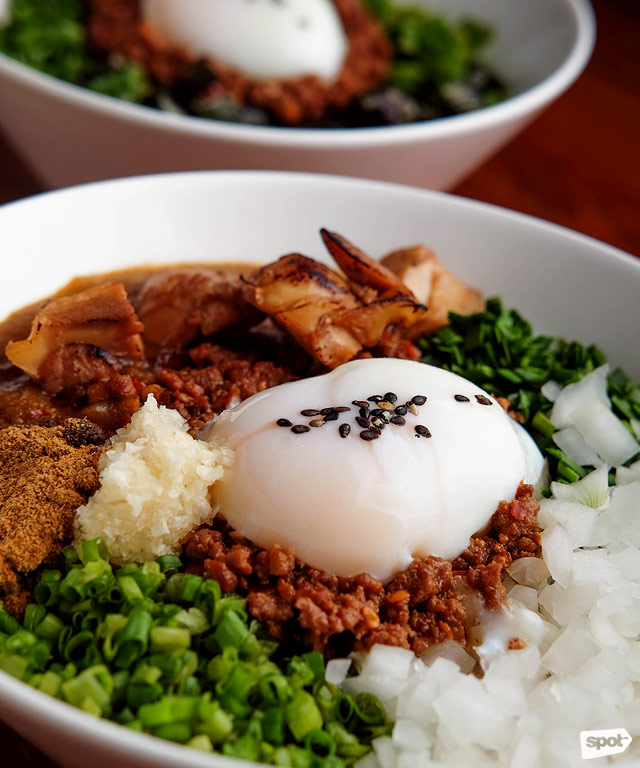 For those still craving rice in this sea of noodles, Menya Kokoro has you covered with rice bowls. There's the Mazedon (P320) with the toppings and sauce of the Tokyo Mazesoba, but with rice instead of soba. Meanwhile, the Currydon (P320) is their version of Japanese-style curry. Both have a non-spicy version.
ADVERTISEMENT - CONTINUE READING BELOW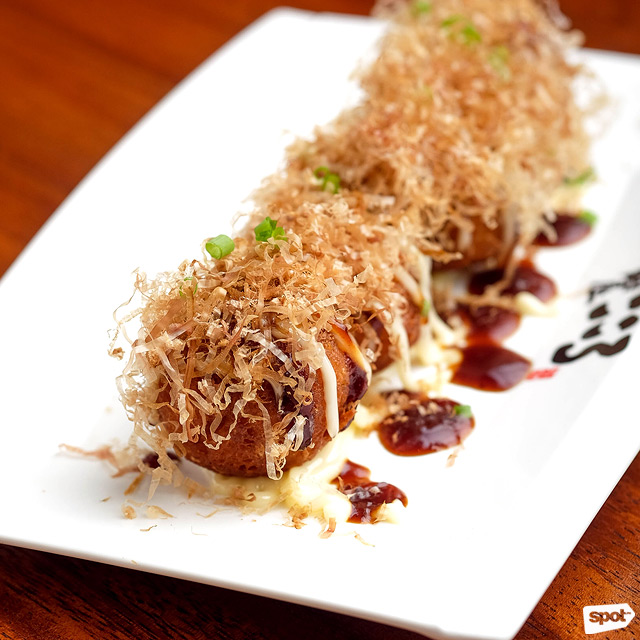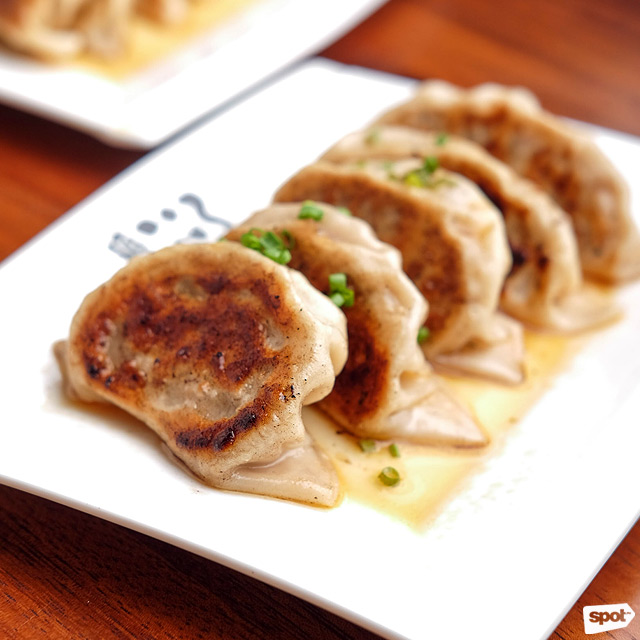 ADVERTISEMENT - CONTINUE READING BELOW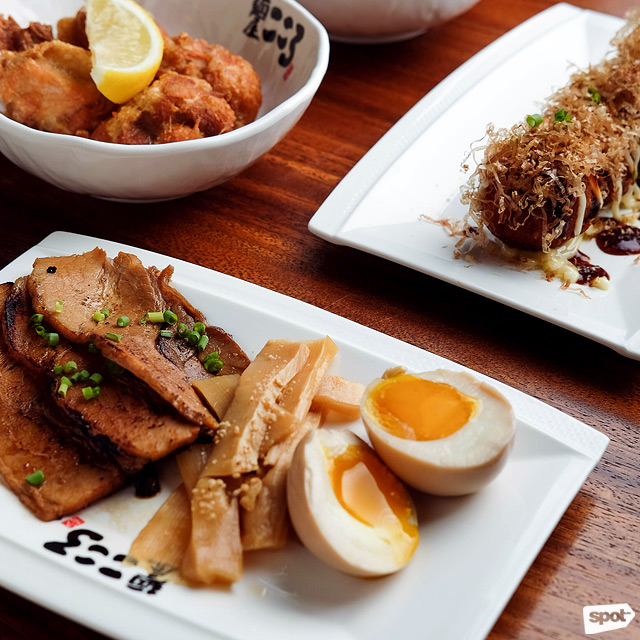 In case you still have room in your belly for some side dishes, Menya Kokoro has a selection of other Japanese treats. The Takoyaki (P140), octopus balls that are fried instead of cooked the traditional way, are not to be missed. Their version has a great contrast of crunchy covering and soft filling. Warning: They're so addictive that you might just finish the whole serving. They also have Gyoza Original (P120/three pieces; P190/five pieces), which are good for sharing—that also comes with other fillings that are more out-of-left-field but are just as tasty like cheese and Wagyu. 
ADVERTISEMENT - CONTINUE READING BELOW
The real star at Menya Kokoro really is their mazesoba—rich and flavorful even without hot ramen broth. Especially with how hot and humid days can get in Manila, "soupless ramen" could just become your new go-to Japanese noodle dish.
Photos by Majoy Siason 
Share this story with your friends!
---
Help us make Spot.ph better!
Take the short survey
More Videos You Can Watch
Load More Stories