(SPOT.ph) Desserts usually have a lot to live up to, especially when it's a well-loved classic like the sans rival, which translates to "without rival" and comes from the French dessert Gateau le Sans Rival. It's a Filipino favorite often served during parties and special occasions, but we wouldn't blame you if you prefer to have the dessert any day of the week.
Much like adobo, a sans rival can be made in many different ways. Some meringue cake bases can be on the crunchy side while others are chewy, and though sans rival usually has butter—hence the buttercream frosting—you'd come across versions that use margarine. The layered cake is often made with cashews, but some use pistachios or macadamias for a variety of flavors and textures.
For this list, we ranked them in terms of the overall balance of its three components: the sweet meringue, the silky buttercream frosting, and the rich, earthy flavors of nuts used, as well as their prices and portion sizes.
ADVERTISEMENT - CONTINUE READING BELOW
All SPOT.ph Top 10 lists are researched, paid for, tested, and selected by the writers and editors. They are discreetly conducted without any notice made to the restaurants or their owners.
Here are the top 10 sans rival in the Metro for when you're craving something sweet:
10. Pistachio Sans Rival from Cafe Juanita (P165/cake)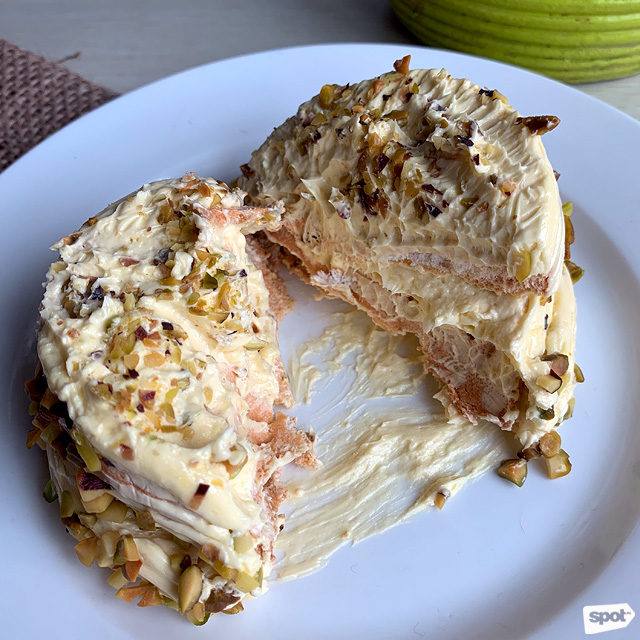 Have a small sans-rival cake on your own, we won't judge. Cafe Juanita's version is just the right serving size for one, but if you're feeling generous, you can share it, too. Butter-frosting lovers will rejoice—this one has loads of it surrounding the chewy meringue. While it deviates from the usual recipe that makes use of cashew, the pistachio nuts add a great crunch and flavor, which elevates the cake's overall taste.
See a list of Cafe Juanita branches.
9. Macadamia Sans Rival from Cipriano Sans Rival (P750/seven-inch cake)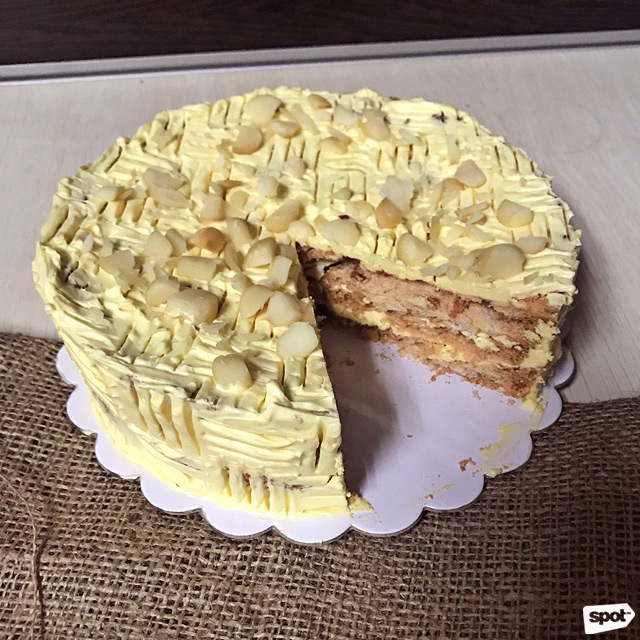 ADVERTISEMENT - CONTINUE READING BELOW
This take on the dessert is less sweet compared to the others in this list, leaving room for the richness of the butter frosting and the taste of macadamia to shine. With crunchy meringue layers and a creamy butter frosting, go for this if you're looking for a lighter option but still want to have a good dessert after a heavy meal.
For more information, visit Cipriano Sans Rival's Facebook page.
8. Macadamia Sansrival from Gay Vazquez Sansrival (P1,200/ whole cake)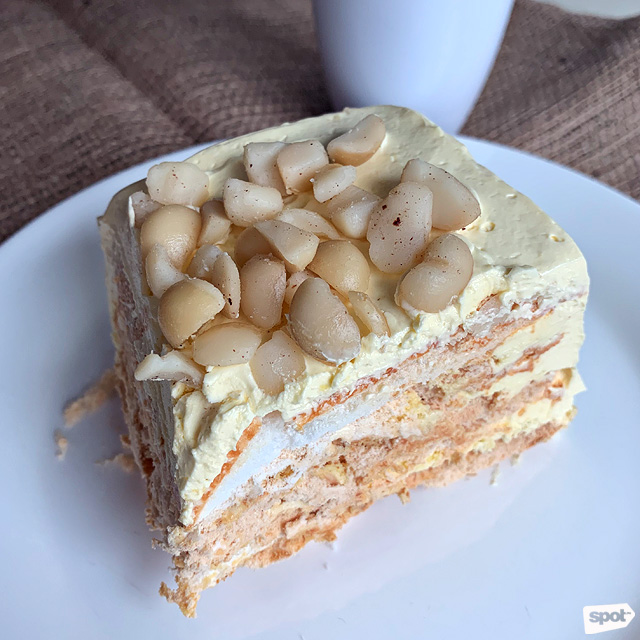 ADVERTISEMENT - CONTINUE READING BELOW
Homebaker Gay Vazquez is well-known for her sans rival, and we understand why—one order is enough to satisfy an entire party. If you're a huge fan of very sweet, chewy meringue and a rich dollop of butter frosting, this cake is for you. It doesn't skimp on the nuts with the entire top layer generously drizzled with macadamias.
For more information, visit Gay Vazquez Sansrival's Facebook page.
7. Mini Sans Rival from Sans Rival Cakes and Pastries (P300/mini cake)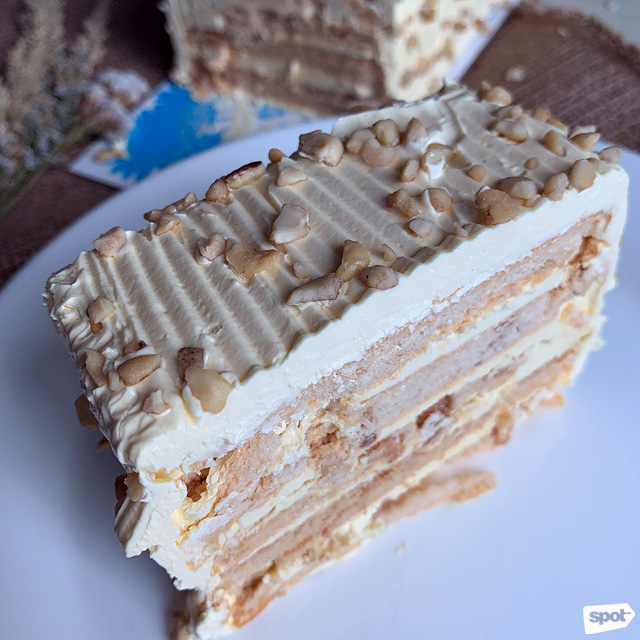 ADVERTISEMENT - CONTINUE READING BELOW
People often confuse the sans rival with its relative, the silvanas, and this is probably one of the reasons why. Featuring generous slabs of meringue wedged in between layers of frosting, the cake is the right amount of sweet and creamy, and its taste and texture resemble that of the silvanas that the Dumaguete-based shop is known for. You might detect an aftertase of margarine, which we think goes well with the chewy meringue.
Sans Rival Cakes and Pastries has branches at 3/F Food Choices, Glorietta 4, Ayala Center, Makati City and 5/F Shangri-La Plaza, Ortigas, Mandaluyong City.
6. Sans Rival from Mary Grace Café (P190/slice)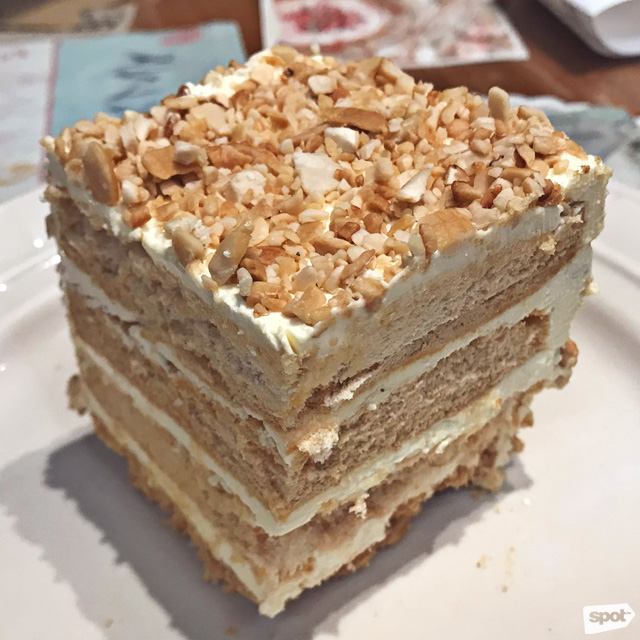 ADVERTISEMENT - CONTINUE READING BELOW
With just the right butter-to-meringue ratio, this sans rival from the ever-reliable café and tita favorite may just be the friendliest and most accessible on our list. Each slice features crunchy meringue layers, a silky butter frosting, topped with a sprinkling of cashews. It's a safe and dependable bet you can always come back to—a good option to introduce the dessert to a newbie without scaring them off, and yet still satisfying die-hard fans.
See a list of Mary Grace Café's branches.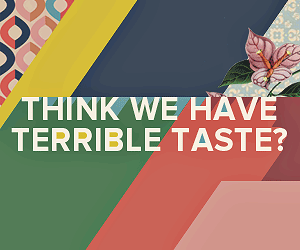 5. Sugar-Free Classic Sans Rival from Kitchen's Best (P235/mini cake)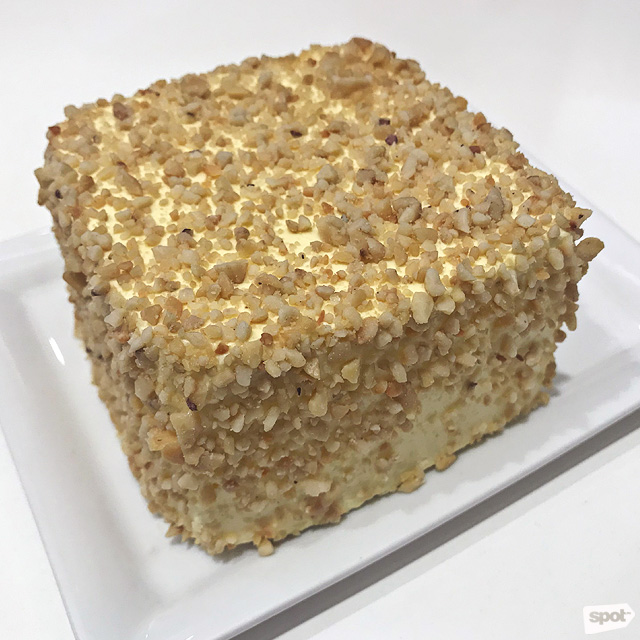 ADVERTISEMENT - CONTINUE READING BELOW
With all the sugar and butter needed to make sans rival, we get why you'd avoid it if you're cutting back on sweets. But here's the fix: this sans rival is sugar-free, and trust us when we say you wouldn't even be able to taste the difference. The butter is silky and the whole cake is sweet but not cloying. Cashew nuts are scattered all over the cake's exterior and add another layer of texture to the meringue's crunchy bite.
See a list of Kitchen's Best branches.
4. Sans Rival from Conti's (P155/slice)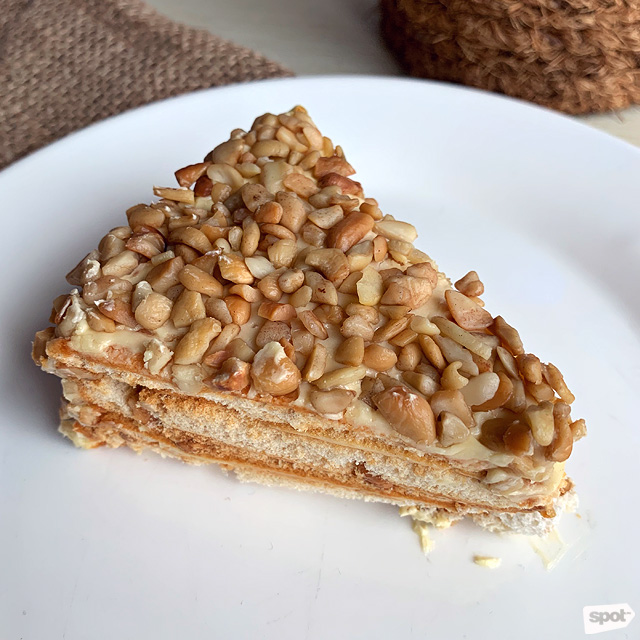 ADVERTISEMENT - CONTINUE READING BELOW
Most sans-rival meringue fall on either the chewy side or the crunchy side, but this one boasts an airy layer that gets compact with every bite. Sandwiched in between each soft layer of meringue is a smooth butter frosting that isn't overpowered by the cashew's flavor. We didn't know meringue could be this fluffy, but now that we've seen the light, we feel it's only right to share our discovery with you.
See a list of Conti's branches.
3. Sans Rival Cake from Granda's Sweets and Delicacies (P210/small cake)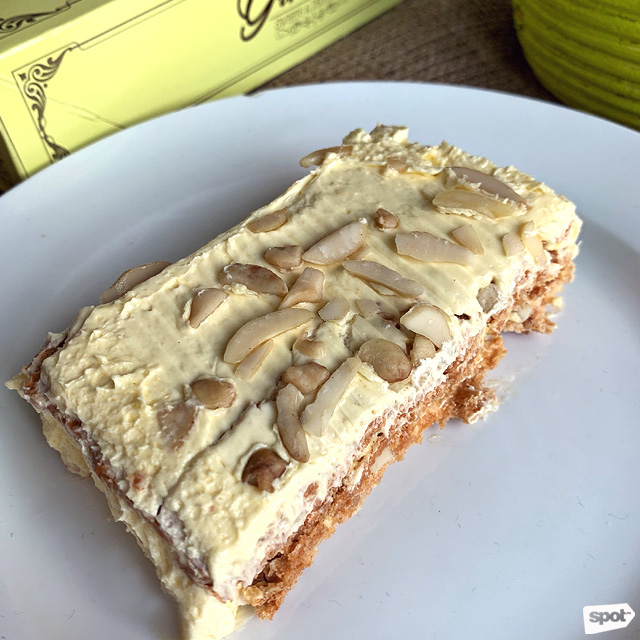 ADVERTISEMENT - CONTINUE READING BELOW
Don't let the small size deceive you because this sans rival is out to wow. Instead of bits of cashew mixed into the cake, the nuts are incorporated into the crunchy meringue for an overall nutty flavor. The butter used in this one is also rich and velvety, and we'd go so far as to say that it has the best frosting. And with that price point, you know you're getting bang for your buck.
Granda's Sweets and Delicacies is at 78 Don A. Roces Avenue, Obrero 4, Quezon City. For more information, visit Granda's Sweet and Delicacies' Facebook page.
2. Sans Rival from Purple Oven (P920/whole cake)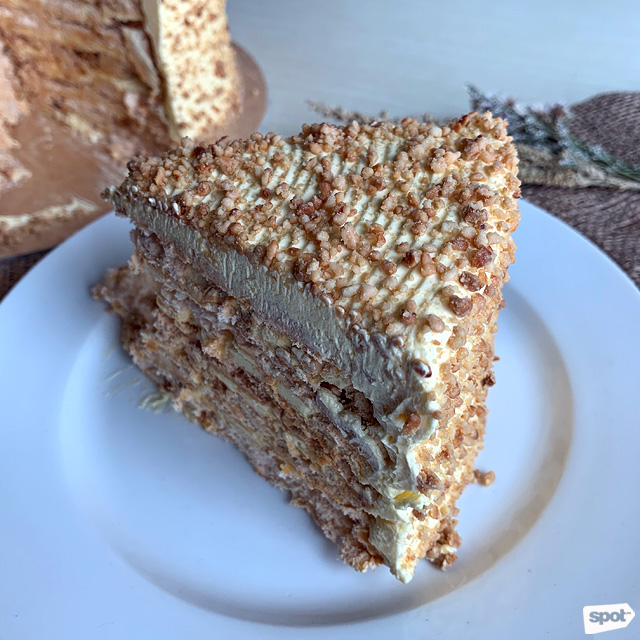 ADVERTISEMENT - CONTINUE READING BELOW
Each slice of this cake packs soft meringue with just the right amount of crunch in between layers of creamy and rich butter frosting that won't leave you overwhelmed. Nutty without being too overpowering, the cashews really shine through and tie all the different flavors and textures together. But what really sets this cake apart is its distinctive caramel aftertaste, which will have you craving another slice.
Purple Oven has branches all over Metro Manila.
1. Sans Rival from Delize by Jill Sandique (P1,500/whole cake)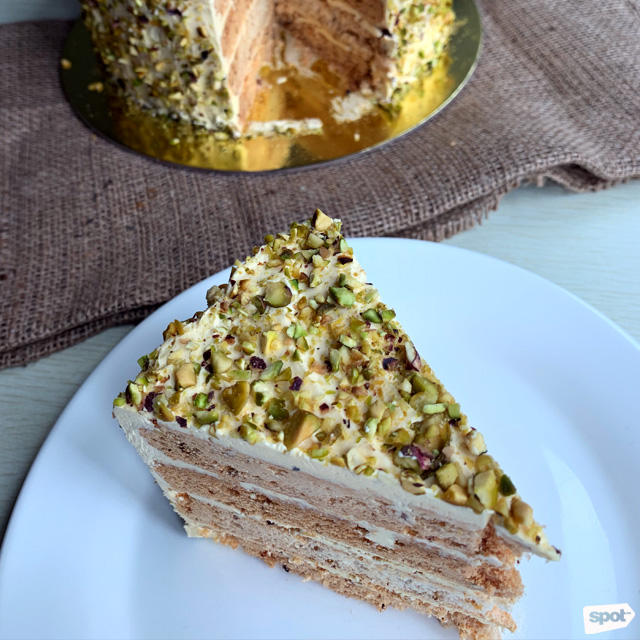 ADVERTISEMENT - CONTINUE READING BELOW
This one tastes as pretty as it looks—it's delicately covered with pistachios—and if you're trying to impress at a get-together, this is the cake to bring. Each layer of meringue is airy and crunchy with just the right amount of sweetness, complemented by the smooth and creamy butter frosting. Among the contenders on this list, this one's got the perfect balance of meringue, frosting, and nuts in every forkful. Slicing this cake is a breeze, too, so if you want to show off those cake-cutting skills, you can count on this one for a picture-perfect portion every time.
Delize by Jill Sandique is at 2/F Cliffpoint Building, Home Depot Compound, Julia Vargas Avenue, Pasig City.
Share this story with your friends!
---
Help us make Spot.ph better!
Take the short survey
More Videos You Can Watch
Load More Stories