Melt Grilled Cheesery
6/F Shangri-La Mall, East Wing, Mandaluyong City
Contact: 754-08-76
Open from 11 a.m. to 9 p.m. (Monday to Thursday), 11 a.m. 10 p.m. (Fridays), 10 a.m. to 10 p.m. (Saturday), and 10 a.m. to 9 p.m. (Sunday)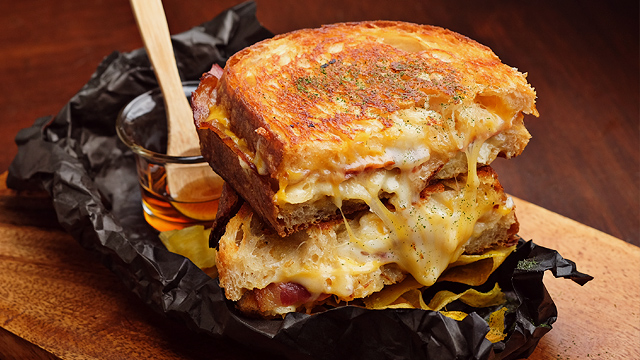 (SPOT.ph) Who doesn't love cheese? Unless you're lactose intolerant (and we know there are those who don't even let that stop them), we really can't understand who wouldn't fall in love with gooey cheese in all forms—from grilled cheese to cheesecake. And when you have a chef for a husband like Chessie Torres, you might just transform that love into a booming business.
ADVERTISEMENT - CONTINUE READING BELOW
Chessie owns Melt Grilled Cheesery, together with her husband, chef James Torres. "[Cheese] is my favorite thing!" she says. "I just told my husband that I love cheese. I'll just dream what I want and he'll execute it! That's how we made Melt's first menu. We just sat down and finished it right away."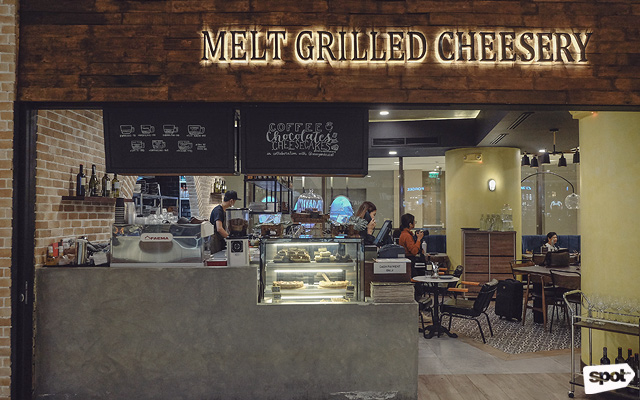 ADVERTISEMENT - CONTINUE READING BELOW
Recommended Videos
Chessie continues, "I come from a family of restaurateurs so I [already] have that background. I just kept the idea hidden until an opportunity came and once we put up everything, it was just so fast from there." It's already been four years since the first branch opened in Uptown Mall and since then, Melt has had another branch in Molito, Alabang, and now, the café-restaurant outpost in Shangri-La Mall.
With the desire to elevate cheese into more than just a topping, the duo thought of putting up a restaurant serving cheese-based meals and dishes that went beyond the usual grilled cheese.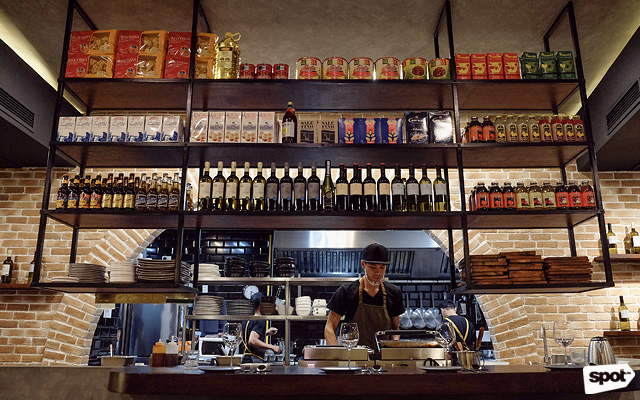 ADVERTISEMENT - CONTINUE READING BELOW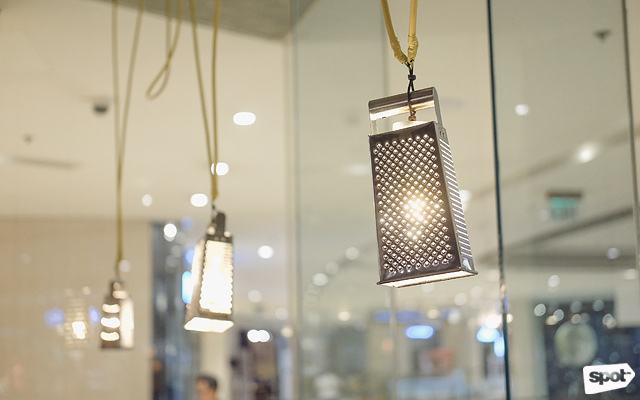 Upon entering Melt Grilled Cheesery, you'll see faux brick-lined walls, mismatched furniture, communal tables, a wooden bar area, and painted interiors in hues of cheese and chocolate, which are thoughtful and deliberate in their execution, evoking a cozy café feel. There are cheese graters strung along the ceiling, the metal gleaming under the dimmed lights. The Melt branches may look different from one another but they all have that same quirky installment which just pulls the look together into a cohesive theme. "[We observed that our customers are] mostly families, so we made it the coziest-looking Melt we have so far. There are also office people who [just want to] work [while] drinking coffee and eating cheesecake," Chessie explains.
ADVERTISEMENT - CONTINUE READING BELOW
The latest branch combines the coffee-shop vibe with specialty java and ready-to-eat treats and the restaurant-style experience of serving heavy courses. Whichever time of the day you decide to drop by, they've got you covered like melted cheese on toast.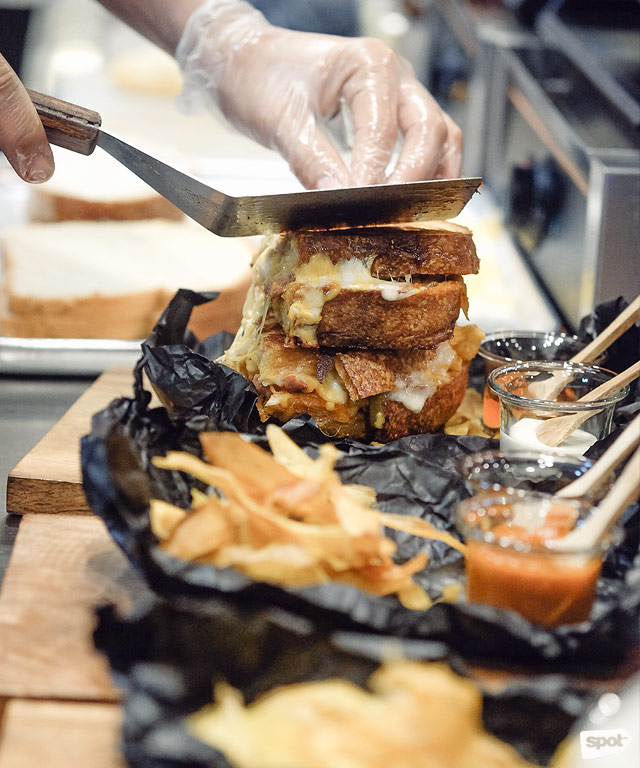 ADVERTISEMENT - CONTINUE READING BELOW
For purists who prefer the no-frills approach to grilled cheese, you'll dig The Classic Melt (P295). The house-blend cheddar packs in the sharp flavor while the mozzarella provides a satisfying string-like stretch. The melt-in-your-mouth filling is sandwiched between thick slices of buttered sourdough bread that's delivered freshly baked to the restaurant. Don't forget to dip the bread into the creamy tomato puree and spiced honey sauces for that kick of heat and acidity.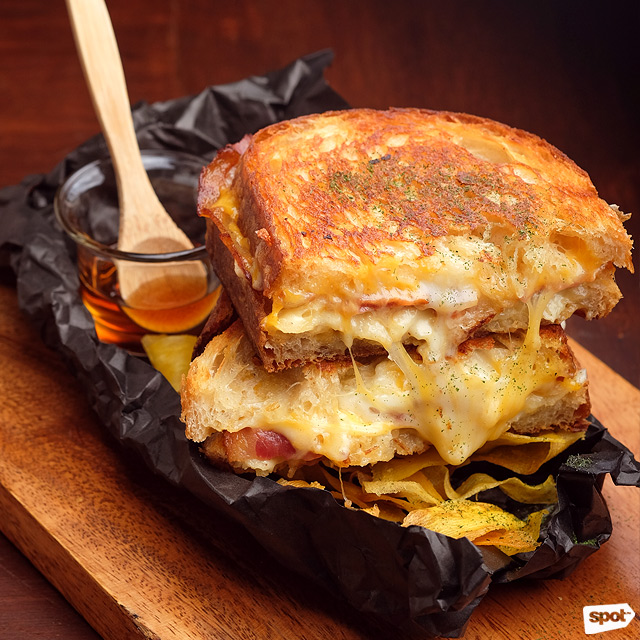 ADVERTISEMENT - CONTINUE READING BELOW
What happens when you pair two of the greatest comfort foods ever? You get the Bacon Mac & Grilled Cheese (P395)! The sandwich is stuffed with Melt's nutty cheese blend, elbow macaroni cooked al dente that's drenched in cheese sauce and bacon chunks. The buttered hunks of sourdough sops up all that goodness. You can counter the salt show with a side of maple syrup.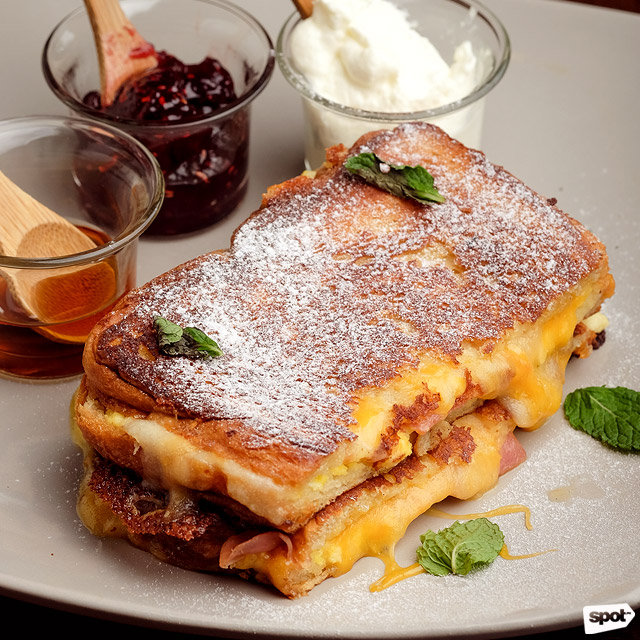 ADVERTISEMENT - CONTINUE READING BELOW
If you prefer a more grown-up sandwich that hits that sweet-and-savory soft spot, the Monte Cristo (P425) should be your bread of choice. This French toast has a house blend of mouthwatering melted cheeses, creamy scrambled eggs, chewy slivers of parma ham, and served with a side of raspberry jam for tartness, maple syrup to temper the salty flavor, and lemon custard cream for a pleasant mouth feel. To top it off, the eggy brioche slices are liberally sprinkled with powdered sugar to cut down on the grease. These complementary flavors will be harmoniously singing in your palate long after you've licked your fingers (and the plate) clean.
The Big Buff (P445) is a fully loaded sourdough sandwich with a fried chicken breast coated in smoked butter and buffalo sauce. Its meaty middle—with pepperoni, caramelized onions, paprika, red bell peppers, and aioli—are all covered in a velvety smooth layer of house-blend cheeses and a blue cheese dipping sauce. It's basically a pizza in grilled cheese form that we didn't know we needed in our lives until now.
ADVERTISEMENT - CONTINUE READING BELOW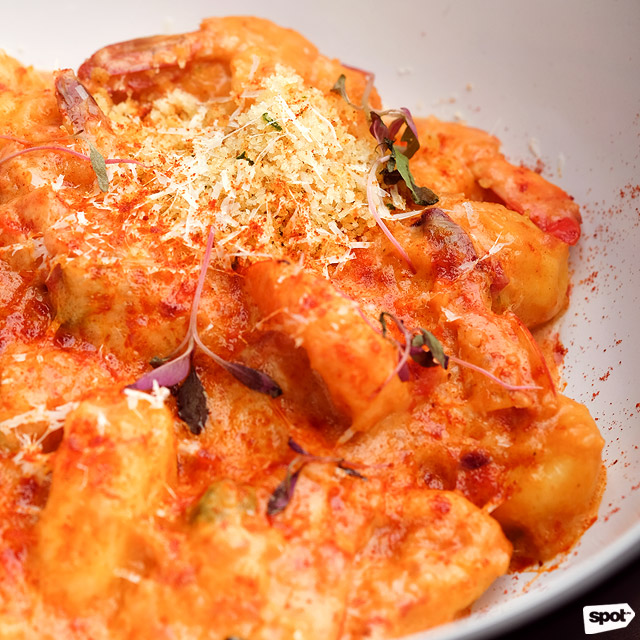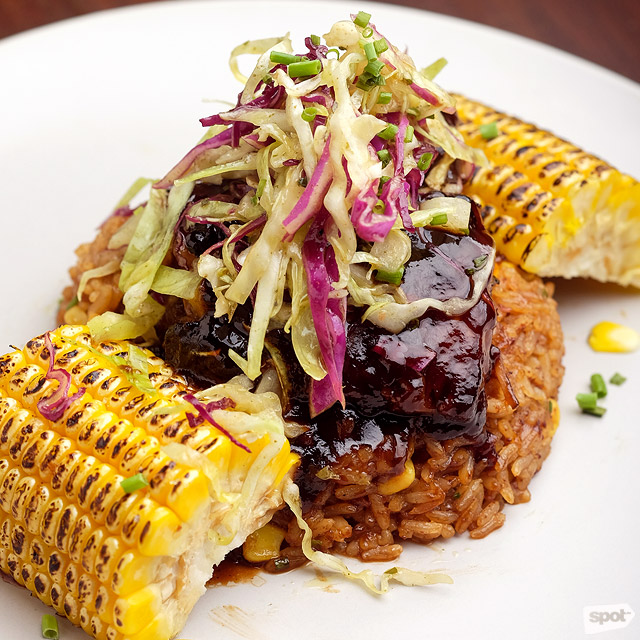 ADVERTISEMENT - CONTINUE READING BELOW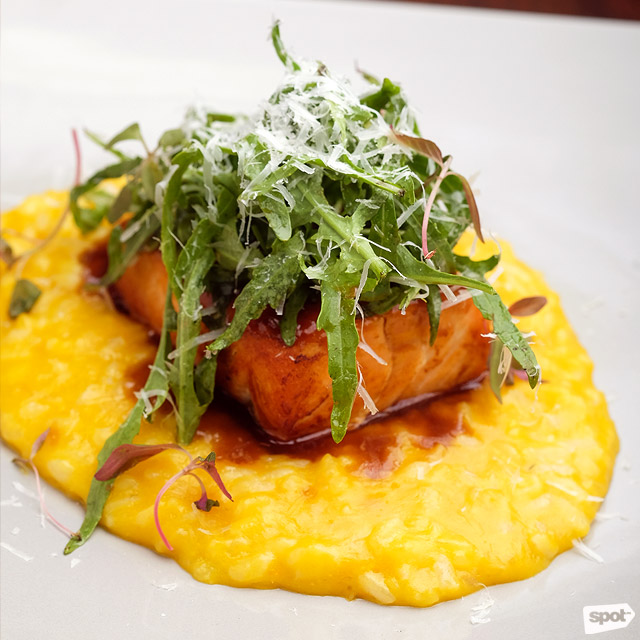 Melt Grilled Cheesery also serves hearty meals beyond buttery bread and dairy. The Shrimp Gnocchi (P450) has pillowy soft potato dumplings swimming alongside shelled shrimps in a pool of creamy tomato sauce. There's also the Slow Braised BBQ Pork With Dirty Rice (P450), with a meaty main that's been cooked for two hours while bathed in a secret blend of sauces languidly draped over a rice mix of chicken liver and soy sauce. For those who like seafood, try the Salmon Teriyaki on Pumpkin Risotto (P460), sweet and fatty teriyaki salmon with a crispy exterior which pairs well with the bed of creamy risotto. The garden greens sitting atop everything rounds out the flavors with a fresh, clean taste and a contrasting crunch.
ADVERTISEMENT - CONTINUE READING BELOW
After you've had your fill of savory fare, make room for Desserts By Melt & Mary & Eucel, a collection of confections that are an exclusive collaboration with Melt Grilled Cheesery's Shangri-La branch. "They're actually friends of mine from church and I always craved [the brownies and bars]. [Mary] is a homebaker with a sweet-tooth who just experiments with everything [in the kitchen.] When [Mary & Eucel] started serving [in] weddings, their house couldn't handle it anymore so I offered the space for them to bake and be kind of like their commissary and that's how we formed the partnership," shares Chessie.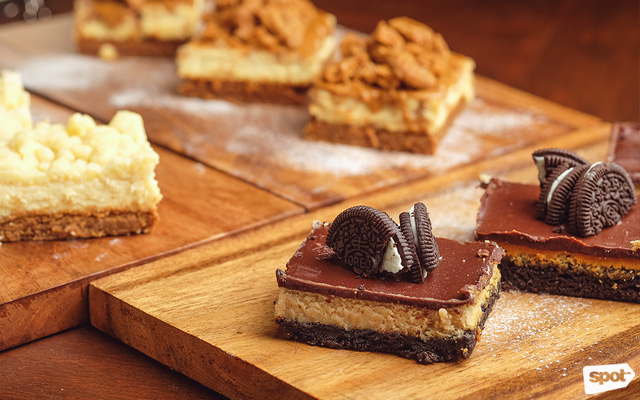 ADVERTISEMENT - CONTINUE READING BELOW
The dessert remains on-brand by utilizing our favorite dairy product as the star in most of their dessert bars. You can sart off with the sweet, salty, and nutty Oreo Peanut Butter Cheesecake Bar (P90). If you want a milder flavor, go for the Lemon Crumble Cheesecake Bar (P120), which looks more like the traditional cheesecake and has a citrusy zing to every bite. Now for the ultimate indulgent experience, sink your teeth into their Cookie Butter Cheesecake Bar (P150) that showcases every variation of the cookie butter from the creamy spread to the crumbly cookie bits, serving you major Speculoos realness all across the board.
When asked about upcoming plans for Melt, Chessie shares that they will be launching a limited run of menu items in the future. "We're going to do a brunch special for all branches. [It's going to be an] open-faced series of grilled cheese like avocado toast, salmon avocado toast," says Chessie.
ADVERTISEMENT - CONTINUE READING BELOW
Grilled cheese from brunch to dinner? Yes, please.
Photos by Majoy Siason
Share this story with your friends!
---
Help us make Spot.ph better!
Take the short survey
Load More Stories