BOA Kitchen + Socials
Mezzanine Floor, 45 ABDC Building, Scout Rallos Street corner Scout Tuazon Street, Laging Handa, Quezon City
Open from 9 a.m. to 11 p.m. (Monday to Thursday) and 9 a.m. to 12 a.m. (Friday to Saturday)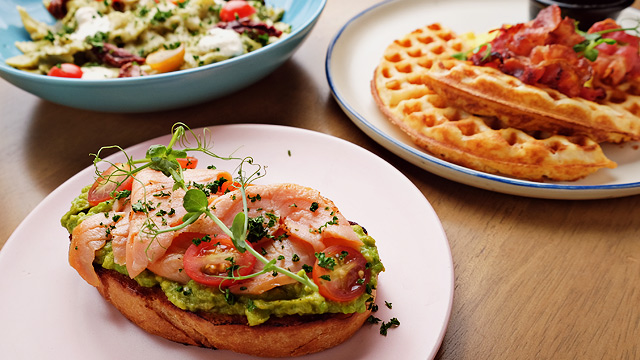 (SPOT.ph) Even if you've never read The Little Prince, you've probably seen or at least heard of the book's famous opening. The novel starts with an illustration that resembles a hat and the author asking the reader what they think the drawing is, eventually revealing that it's actually a boa constrictor eating an elephant.
ADVERTISEMENT - CONTINUE READING BELOW
This drawing is what inspired Joey Marcelo and Chef Julius Necor to open BOA Kitchen + Socials, a new restaurant located in the Scout area of Quezon City. And much like that famous drawing, things aren't always what they seem at BOA.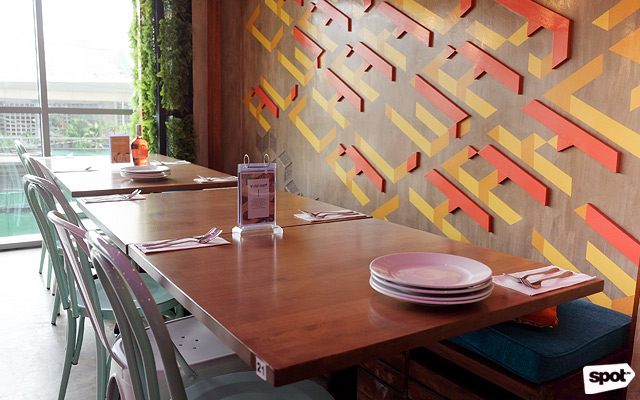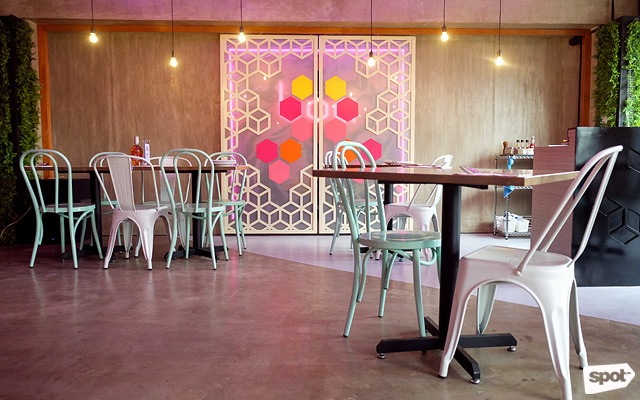 The boa constrictor inspiration is also very much present on the restaurant's walls, half of them painted with colorful geometric patterns that look very much like a snake's scales. The dining area is open and spacious, with lots of natural lighting and bits of greenery here and there.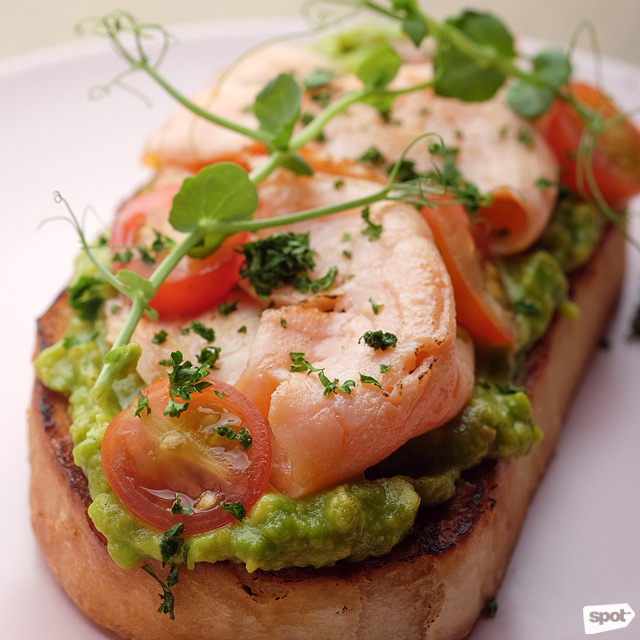 ADVERTISEMENT - CONTINUE READING BELOW
BOA Kitchen + Socials offers diners completely different experiences, depending on the time of day. From opening until six in the evening, the restaurant leans on its kitchen concept. The menu during this time focuses more on hearty, familiar dishes, with an emphasis on brunch. There's the Torched Salmon and Avocado Toast (P245), a seasonal dish that features torched smoked salmon, avocado mash, and cherry tomatoes atop a piece of sourdough bread. The acid of the cherry tomatoes help cut through the salmon and avocado mash's richness, while the crunchy sourdough bread provides a nice texture.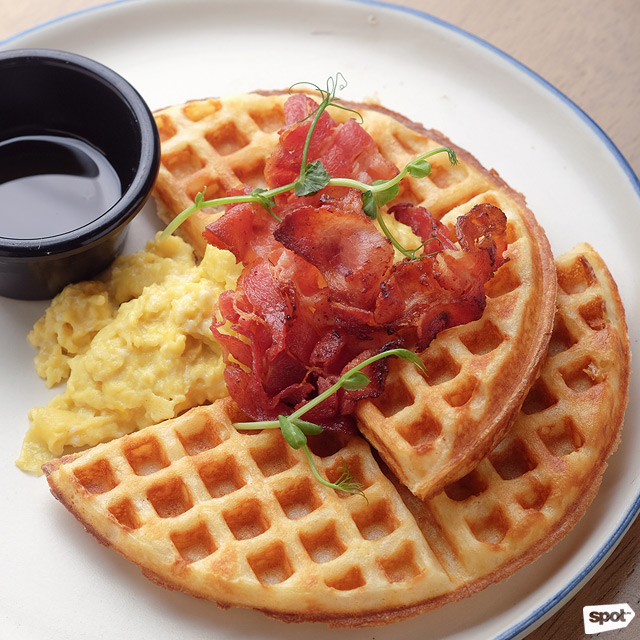 ADVERTISEMENT - CONTINUE READING BELOW
There's also the Waffle with Bacon & Eggs (P245). It's a simple dish, but the waffles go beyond the usual, thanks to a secret ingredient: yeast. Chef Julius says yeast helps the waffle rise, resulting in a fluffier texture.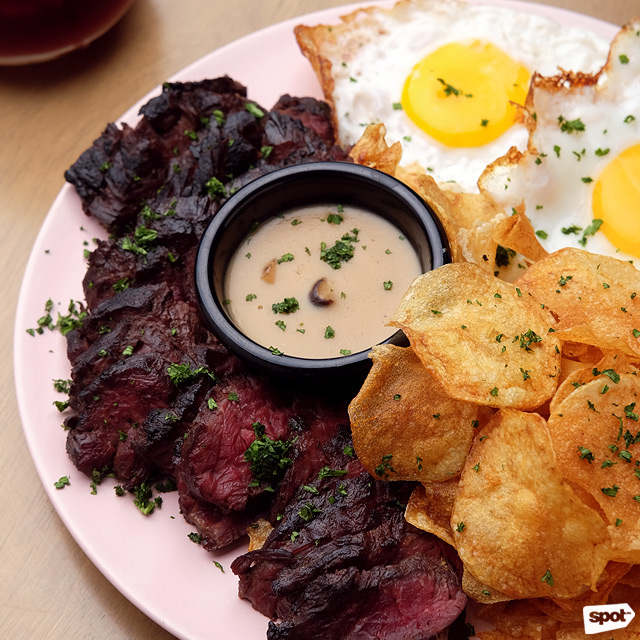 ADVERTISEMENT - CONTINUE READING BELOW
But the real star of the menu is the Steak & Eggs (P495). BOA's version uses hanger steak, which is known for being leaner than other cuts. Their steak is still surprisingly tender—you won't even need a knife. It's also marinated in a sweet miso and honey mixture, resulting in beef that tastes very much like Filipino tapa. You can choose to dip the steak in their homemade shiitake mushroom gravy, which gives it an extra umami kick, but it's very much good on its own. It also comes with two fried eggs and a side of homemade chips.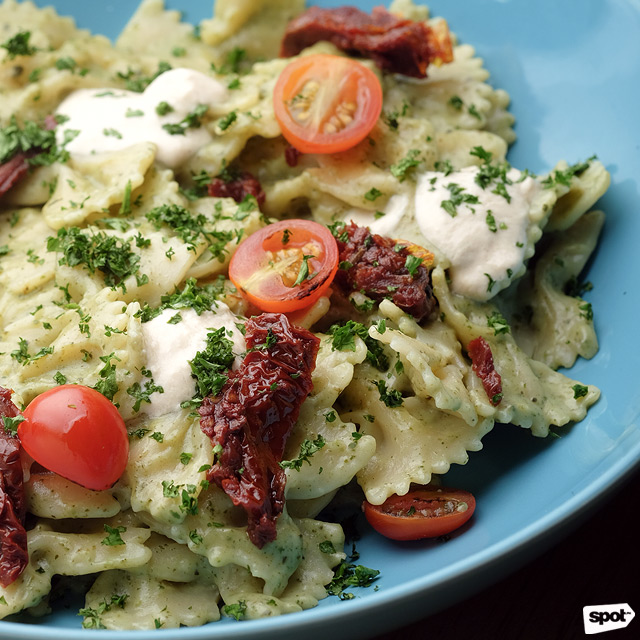 ADVERTISEMENT - CONTINUE READING BELOW
Not much of a breakfast person? BOA also offers pasta dishes during this time like the Alfredo Pesto Pasta (P285), or bowtie pasta cooked in a combination of earthy pesto and cheesy alfredo sauce. Chef Julius says he came up with the unique dish as he's a fan of topping his pesto pasta with tons of cheese.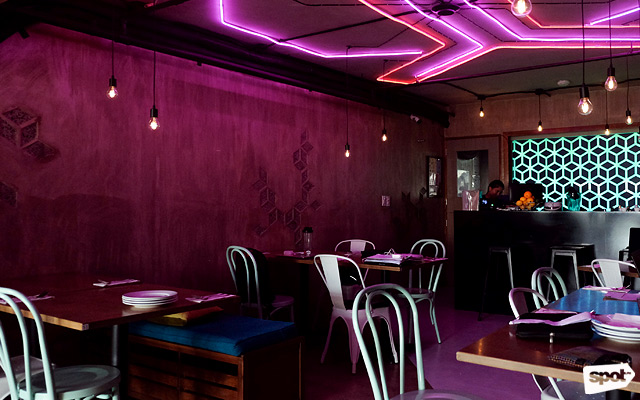 ADVERTISEMENT - CONTINUE READING BELOW
But once the clock hits six, the restaurant completely transforms. Leaning this time on the "socials" part of its name, the restaurant is lit with colorful neon lights—a far cry from the chill ambience in the morning. They also have a different menu for the nighttime.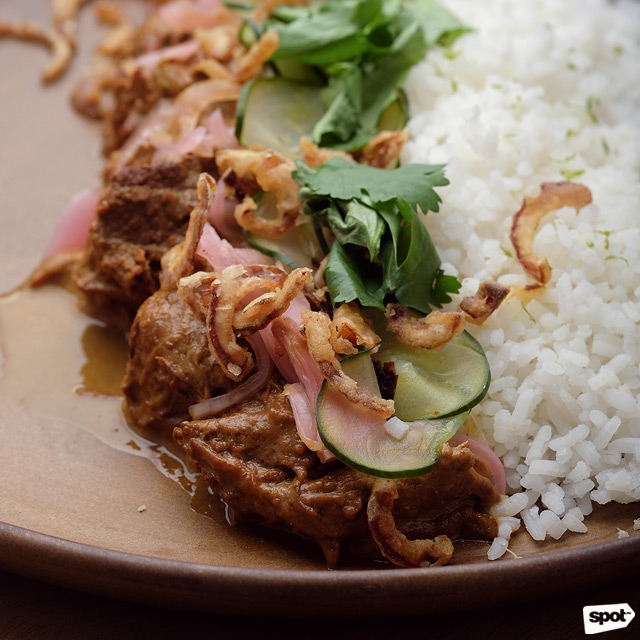 ADVERTISEMENT - CONTINUE READING BELOW
Remember those Steak & Eggs from earlier? At night, the same cut is now featured in the Hanging Tender (P675). The steak is still marinated in a sweet miso and honey mixture but the eggs and chips are replaced with more Asian-inspired side dishes like spicy wasabi-infused mashed potatoes and crispy fried onion roots.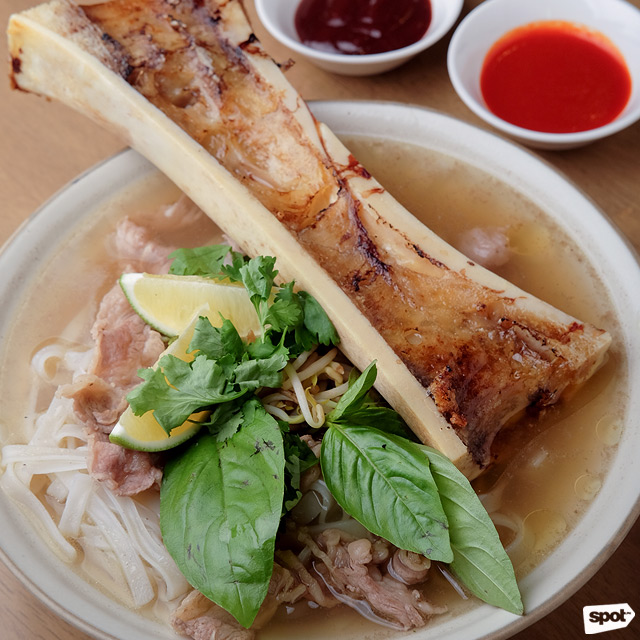 ADVERTISEMENT - CONTINUE READING BELOW
Leftover bones and trimmings from the steak, meanwhile, get turned into broth for the Pho-Lalo (P425), BOA's take on the signature Vietnamese noodle soup. The bones and trimmings are stewed for at least five hours, resulting in a simple and light soup. Add some hoisin sauce, Sriracha and bone marrow, and it transforms into a sweet, spicy, and overall rich broth that pairs nicely with the pho's sukiyaki-cut beef and silky rice noodles.
Also worth checking out is their take on the Beef Rendang (P425). It's noticeably less spicy than other curries, which was a deliberate choice on Chef Julius' part. Their version uses less chili in order to adjust to the Filipino palate, resulting in a richer and tangier sauce. It's served alongside pickled vegetables and coconut lime rice, which help cut down on the richness.
Despite the restaurant's changing menu and interiors, there are some mainstays. Check out their Purple Potion (P320), an Instagram-worthy cocktail that changes from blue to bright purple right in front of your eyes. We don't quite know the science behind it, but the restaurant's owners say it's thanks to local Sirena Butterfly Blue Gin.
ADVERTISEMENT - CONTINUE READING BELOW
They say change is the only thing constant in this world, and this restaurant embraces that adage completely. Change may not always be an easy thing to swallow, but at BOA Kitchen + Socials, you can at least be sure it's an experience for your palate.
Photos by Majoy Siason
Share this story with your friends!
---
Help us make Spot.ph better!
Take the short survey
More Videos You Can Watch
Load More Stories