Meat Plus Café
G/F Entertainment Mall, Mall of Asia, Pasay City
Contact: 282-9434
Open daily from 10 a.m. to 10 p.m.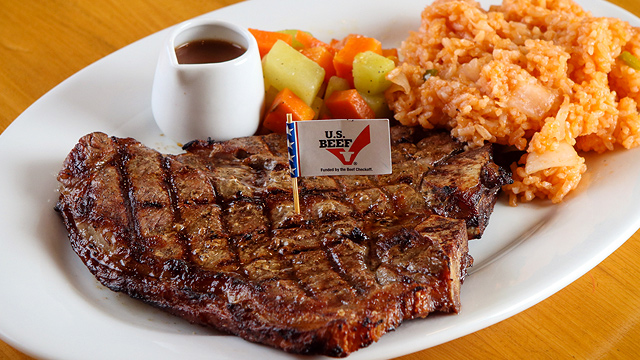 (SPOT.ph) Born in Subic, Meat Plus Café used to be a tiny steakhouse and toy shop that catered to weekend travelers. Twenty-five years later, Subic has kept its status as a weekend getaway destination, and Meat Plus Café has grown into a 300-seater grill place serving road trippers in need of a pit stop. Their Clark branch came second a couple of years after, and in July, their Metro Manila branch opened at SM Mall of Asia, serving both regulars and new diners who haven't had the chance to go all the way to Subic or Clark to try their steak. 
ADVERTISEMENT - CONTINUE READING BELOW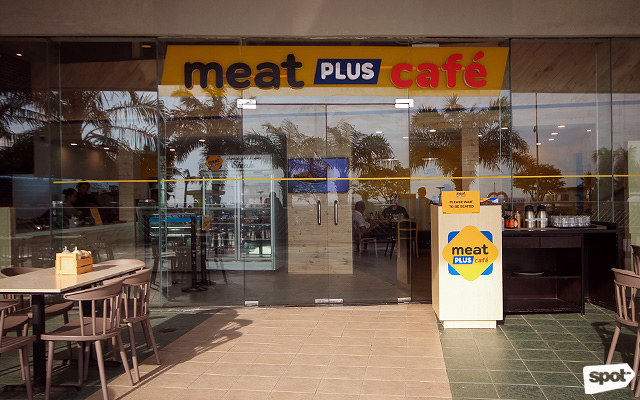 For second-generation restaurateurs Patrick Tanjanco and Chef Chiloy Santos of Meat Plus Café, you don't have to go bankrupt to get a five-star steak. And with almost three decades of experience, it's safe to say they actually know what they're talking about.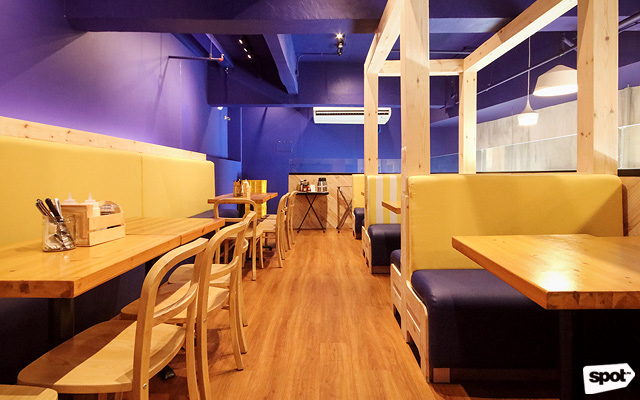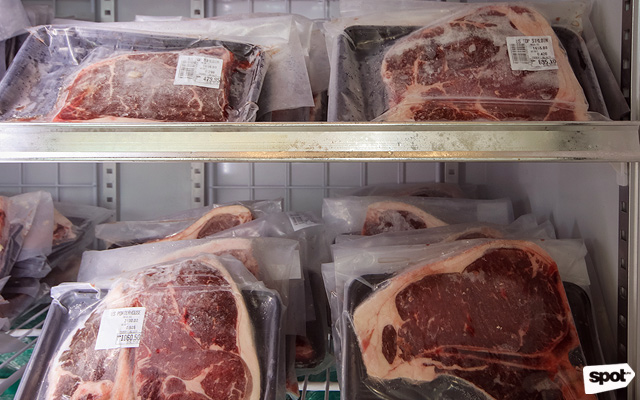 ADVERTISEMENT - CONTINUE READING BELOW
"When eating steak, you want to get that piece of meat with lots of marbling as it's also what gives the beef its flavor and tenderness," shares Tanjanco. "And here, you can choose the one that has a decent amount of it." That's the beauty of dining at Meat Plus Café—from the frozen fridge that greets you when you enter their newest branch, you can choose the cut, the size, and the way you want it cooked.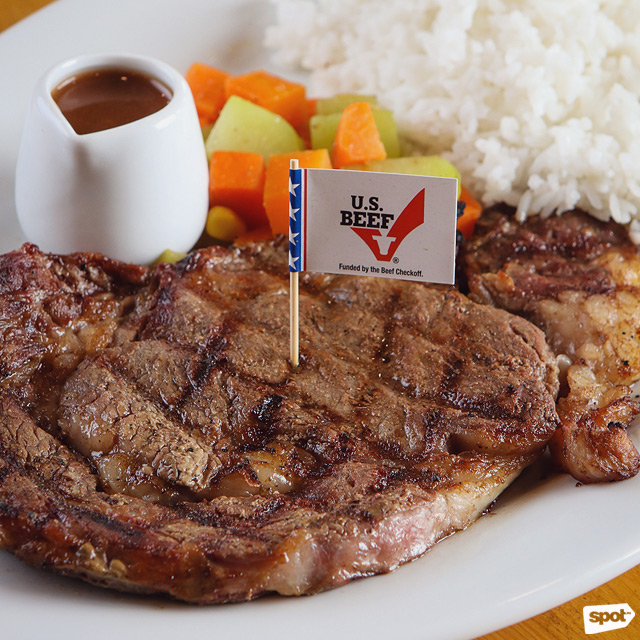 ADVERTISEMENT - CONTINUE READING BELOW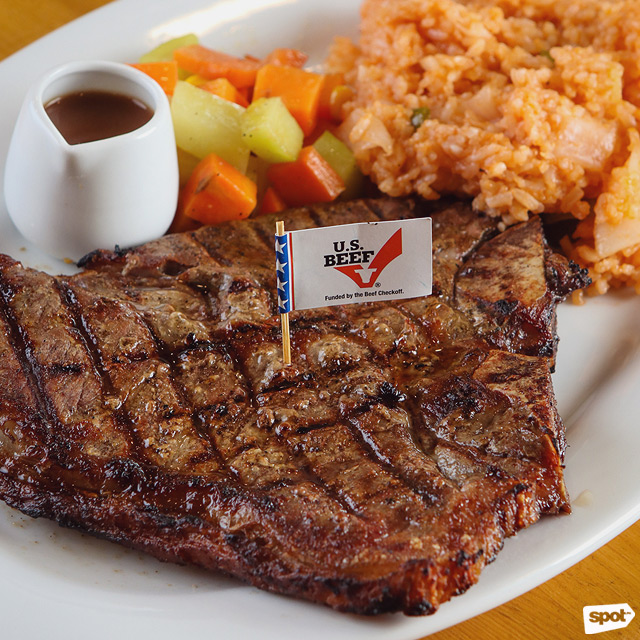 It's almost impossible to not get into the whole great steak debate when talking about what the best cut is and how to cook them. You can't go wrong with these two highly prized cuts: Ribeye and Porterhouse. Ribeye cuts tend to be well-marbled and tender as this part of the cow is closer to the head and neck, which gets less exercise than the rest of the body. If that is a little too fatty for you, the Porterhouse is on the opposite spectrum—this portion has lower fat content but is cut in a bigger portion compared to the Ribeye.
ADVERTISEMENT - CONTINUE READING BELOW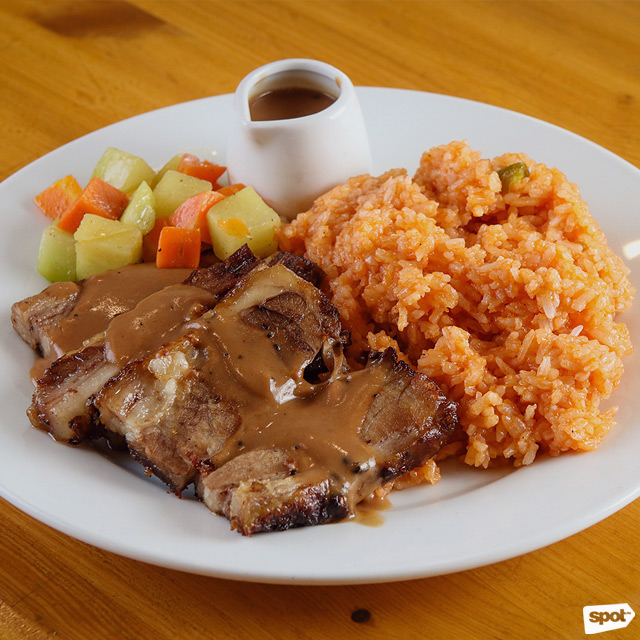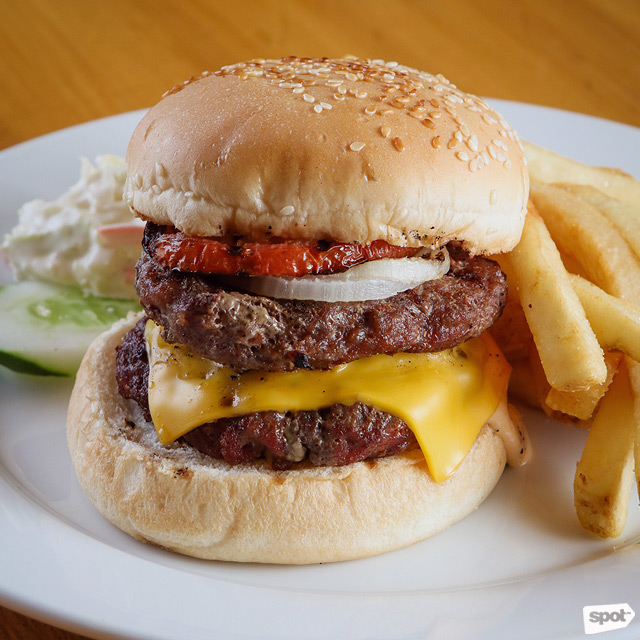 ADVERTISEMENT - CONTINUE READING BELOW
With a wide variety of cuts available, just looking at the two-door fridge can feel a little intimidating. That's why Meat Plus Café has curated some Combo Meals to make it easier for guests to order. According to Chef Chiloy, the Oven Roasted Beef Belly (P365) is a crowd favorite with its tender meat and crispy, charred edges. Served with soup and your choice between Java or plain rice, the beef belly is best smothered all over with their peppery house gravy. Their no-frill burgers are also easy to love but if a single patty burger seems too boring for you, you can double it up with their Meat Plus Burger & Fries (P295).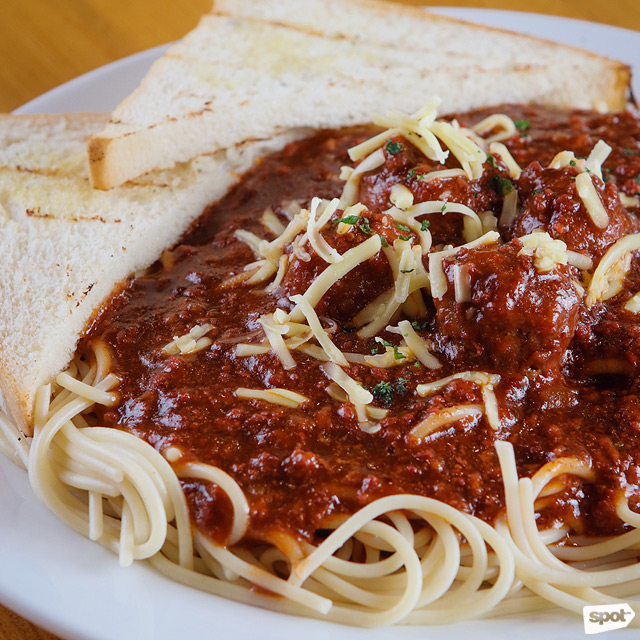 ADVERTISEMENT - CONTINUE READING BELOW
While we'd get it if you head for the steak first, their Spaghetti with Meatballs (P205) deserves the spotlight, too. Made with Filipino-style spaghetti sauce and an honestly astounding number of meatballs, this party plate will remind you of the spaghetti your mom cooked for you and your friends for your seventh birthday party at school.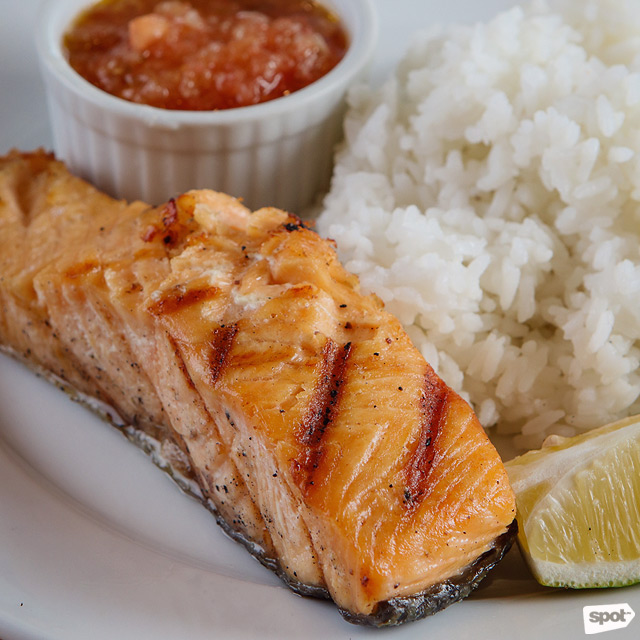 ADVERTISEMENT - CONTINUE READING BELOW
Seafood lovers need not fret as there's also something for them on the menu. The Grilled Salmon Steak (P395) could become your new favorite seafood meal, with fish that's buttery, juicy, and crispy. You can tell the cooks know how and when to flip it by heart because of the perfect sear marks on the skinless side of the salmon.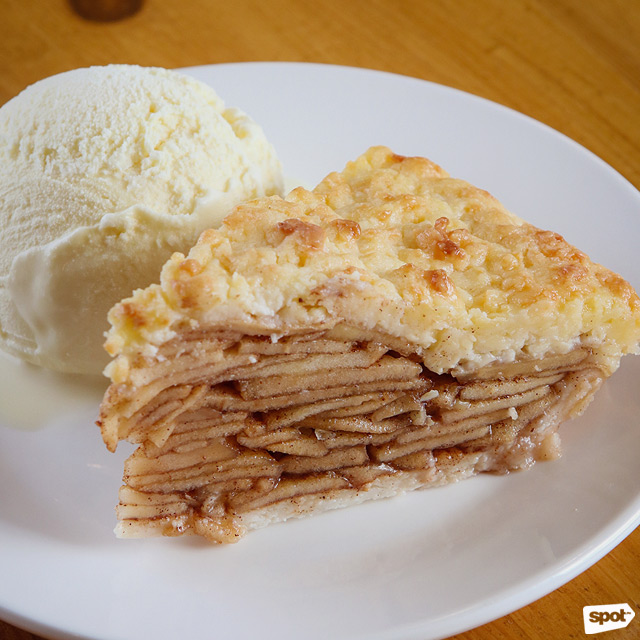 ADVERTISEMENT - CONTINUE READING BELOW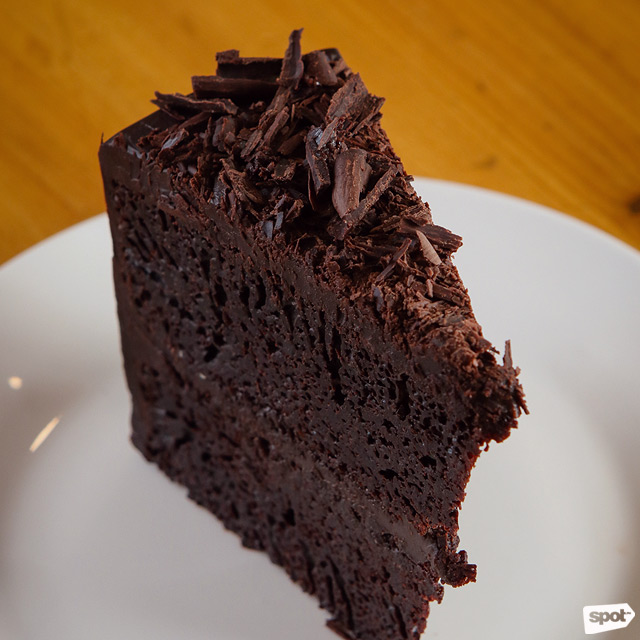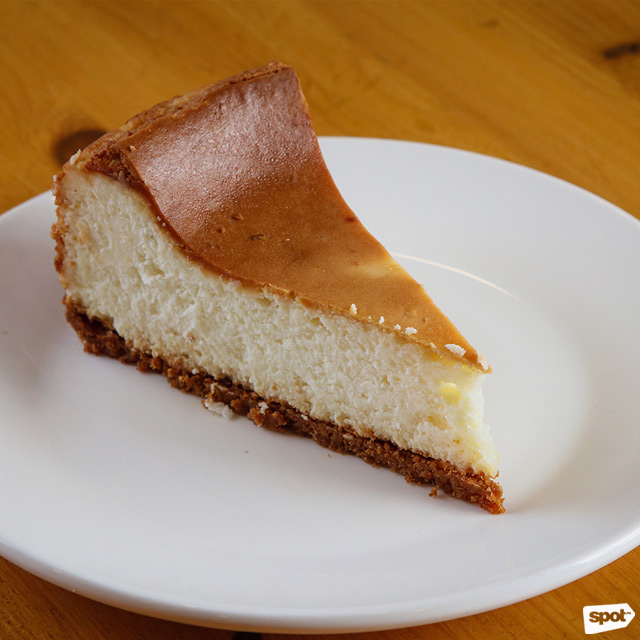 ADVERTISEMENT - CONTINUE READING BELOW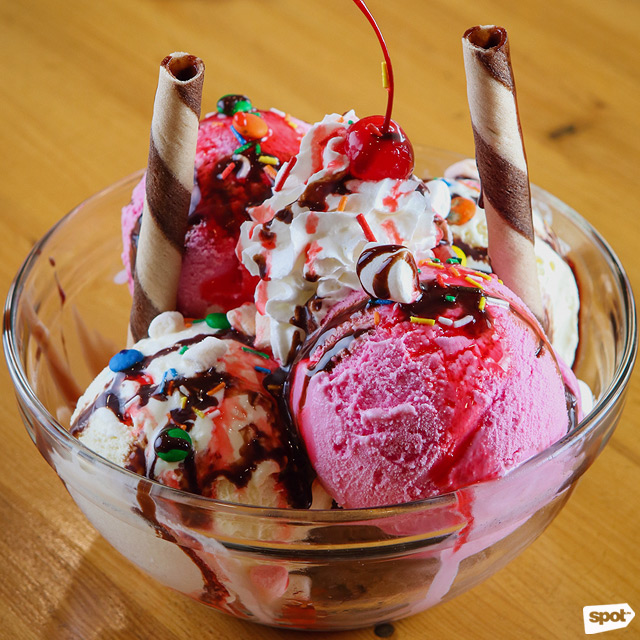 End your meal with the comforting flavors of apples and cinnamon by ordering their Homemade Apple Pie (P165). A longstanding family recipe, it does have that homey quality—just like what your tita would bake for your family reunions. Other options for desserts are the Chocolate Cake (P155), Cheesecake (P195), and this colossal piece of dessert almost impossible to finish on your own: Pleasure Mountain (P425). If you do take it as a challenge, you'll probably find yourself getting brain freeze every five minutes trying to finish it before everything melts.
ADVERTISEMENT - CONTINUE READING BELOW
While spending a little extra on excellent food is something we're willing to do, Meat Plus combines big, high-quality steak with prices that won't burn a hole through your pocket—and that's always a plus.
Photos by Jericho San Miguel
Share this story with your friends!
---
Help us make Spot.ph better!
Take the short survey
More Videos You Can Watch
Load More Stories