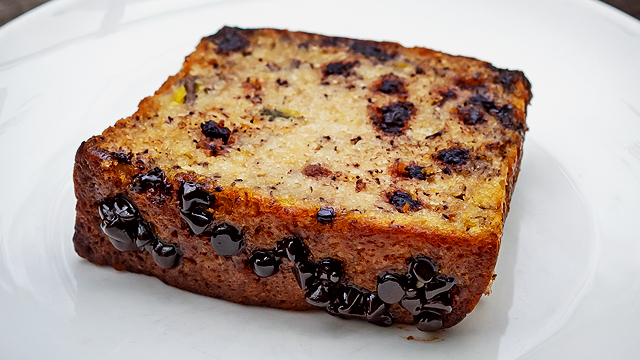 (SPOT.ph) There is something inherently comforting about banana bread. Perhaps it's that familiar yet also slightly fruity scent of freshly baked bread that conjures afternoons of learning how to bake for the first time. A slice pairs equally well with a scoop of ice cream or a cup of warm coffee. Plus, you can even think of it as a healthy snack—it does have fruit, after all.
ADVERTISEMENT - CONTINUE READING BELOW
We searched for the Metro's best banana bread according to taste, texture, and total appeal. For this list, we sought commercially available ones—yes, there are a lot of home bakers with good versions of banana bread, but it's also comforting to know that just about anywhere, you can get a slice of this warm and homey treat.
All SPOT.ph Top 10 lists are researched, paid for, tested, and selected by the writers and editors. They are discreetly conducted without any notice made to the restaurants or their owners.
Here's where you can get the best commercial banana bread in Manila:
10. Banana Cake Slice from Max's Bakery (P22)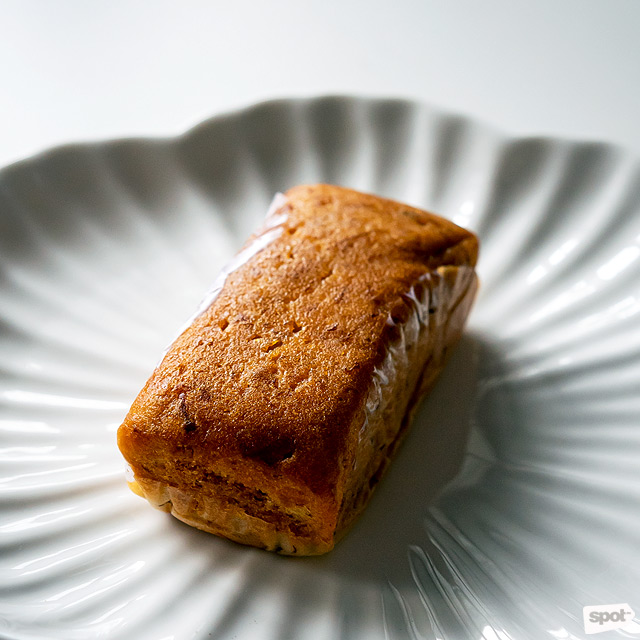 Forego your usual caramel bar and opt for the heftier, denser banana slice instead. What you'll get is just enough fruity sweetness to leave you full and satisfied. The Banana Slice from Max's Bakery falls smack in the middle of moist and dry—it has a powdery texture that is complemented by a thin, sweeter glaze on top. Not bad for a dessert that's under P50.
See a list of Max's Bakery branches. 
9. Banana Loaf from Purple Oven (P380)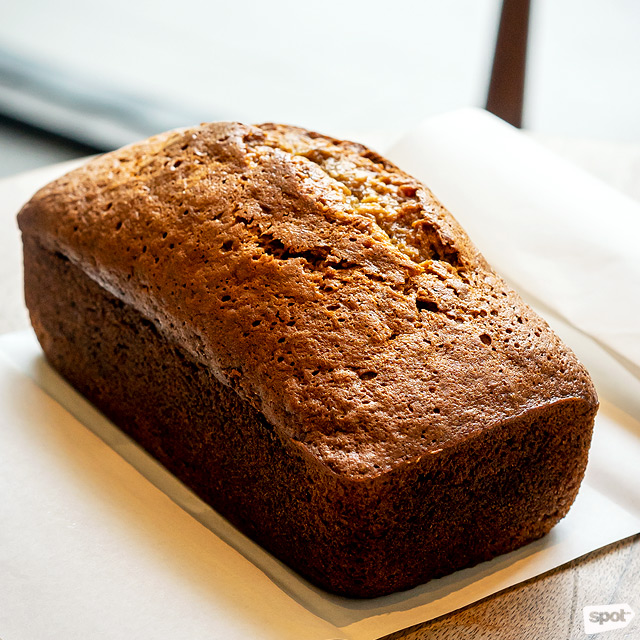 ADVERTISEMENT - CONTINUE READING BELOW
Banana bread can typically be heavy, thick, and solid, so Purple Oven's Banana Loaf is a welcome relief. Spongy and springy, every bite brings lightness with it. As with many of this popular bakeshop's offerings, their Banana Loaf has a lovely homemade taste—something you would expect to pull out of your own oven (if you were an expert baker, that is). It offers a wholesome flavor that becomes 10 times better when you have your slice heated.
Purple Oven has branches all over Metro Manila.
8. Banana Loaf from Toby's Estate (P63)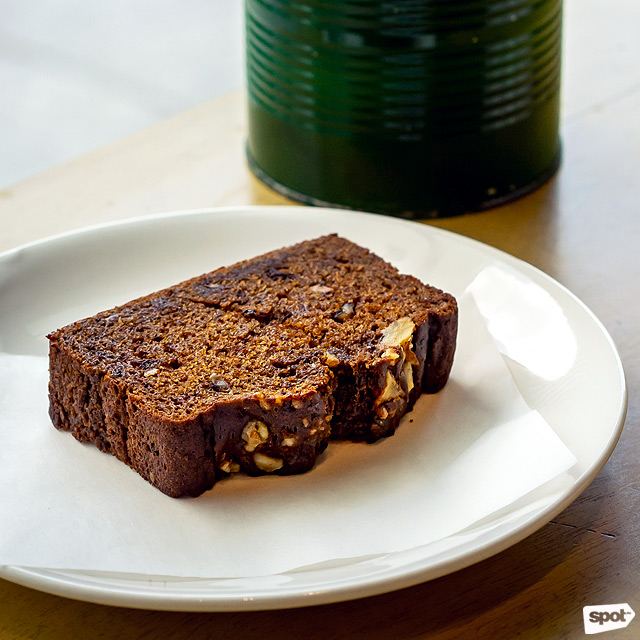 ADVERTISEMENT - CONTINUE READING BELOW
Like their coffee, Toby's Banana Loaf is robust and strong. If you're into spices that taste of the holidays (think cinnamon), then this one's for you. This slice is rich and heavy and leans towards the drier side, making it the perfect complement to a hot cup of coffee. Every slice will get you walnut toppings, which balance out the strong, cinnamon-y taste and add a nice, contrasting crunch, too.
See a list of Toby's Estate branches. 
7. Banana Bread from Starbucks (P65)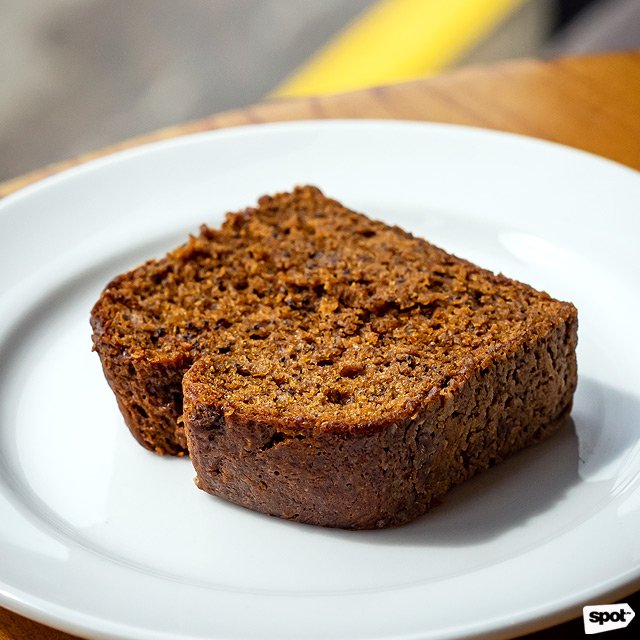 ADVERTISEMENT - CONTINUE READING BELOW
You can never go wrong with Starbucks' banana bread, which has been a staple on their menu since they first opened in the Philippines. If you haven't figured it out yet, you should always say yes when the person at the counter offers to heat up your slice of banana bread—it tastes better that way. Starbucks' take on this snack has just the right amount of fruity sweetness with a very subtle crunch. While soft, it also carries some chewiness to it that makes it great to munch on, especially when consumed with a hot beverage.
See a list of Starbucks branches. 
6. Banana Bread from Mom & Tina's (P225)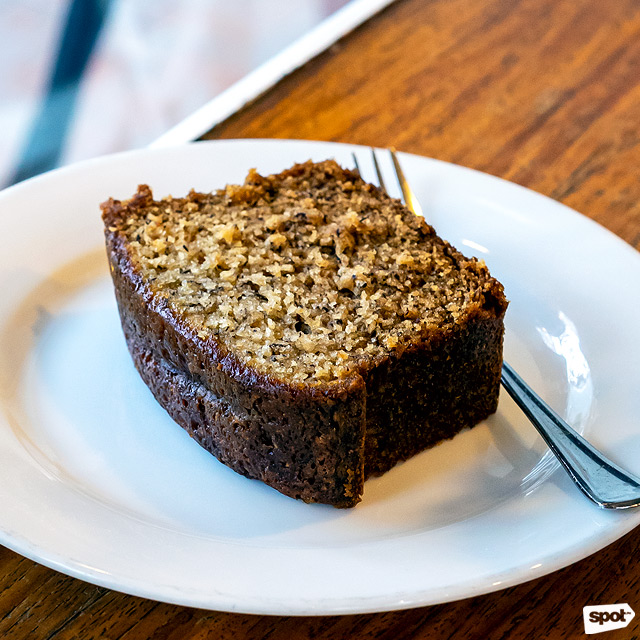 ADVERTISEMENT - CONTINUE READING BELOW
You won't find a better-priced loaf of banana bread in the city—Mom & Tina's Banana Bread gets you a whole party's worth for a fraction of the cost of most commercial banana bread. Once you peel the plastic wrap off this loaf, you'll immediately smell the mix of sugar and bananas wafting through. Just the slightest toasting makes for a light bread with a sumptuously chewy top. Bring this hearty banana bread to your next party—everyone will love it.
See a list of Mom & Tina's branches.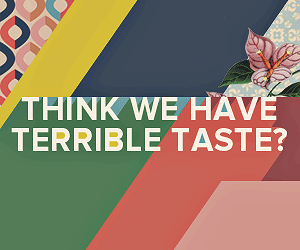 5. Yana Banana from Bucky's (P169)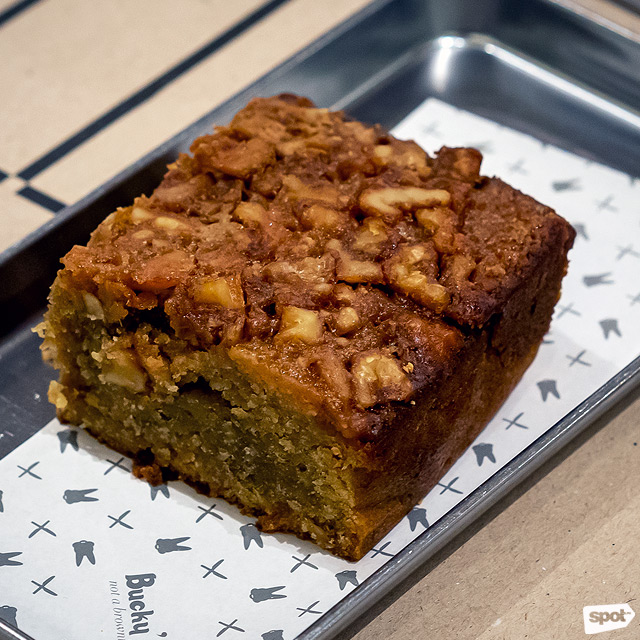 ADVERTISEMENT - CONTINUE READING BELOW
The tagline of Bucky's is "Bucky's not a brownie," but their Banana Bucky can certainly be classified under the banana-bread family. The Yana Banana puts together banana, rhum, and walnuts, creating a heavy and dense dessert with a melt-in-your-mouth texture. If you're feeling extra indulgent, the Yana Banana practically begs for a scoop of vanilla ice cream.
Bucky's is at The Grid, Power Plant Mall, Rockwell, Makati City. 
4. Banana Crunch Slice from Red Ribbon (P22)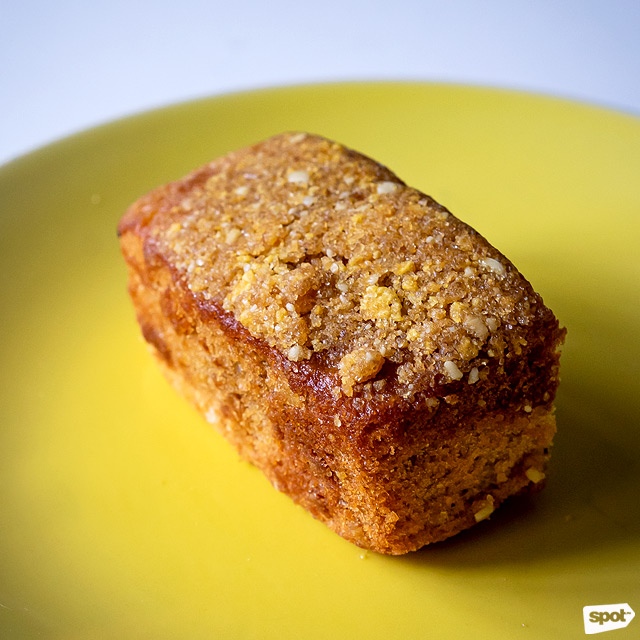 ADVERTISEMENT - CONTINUE READING BELOW
This baon staple makes it this high on the list for a recognizable taste that will leave you feeling nostalgic and grateful that this classic is still on the menu today. The best thing about Red Ribbon's Banana Crunch is its sugar topping—something you will want to save for a perfect last bite. Eat it from bottom to top if you want that crunchy, sugary coating to be your grand finale. Pro tip: Red Ribbon also offers this as a full loaf.
See a list of Red Ribbon branches.
3. Banana Walnut Slice from Habitual Coffee (P130)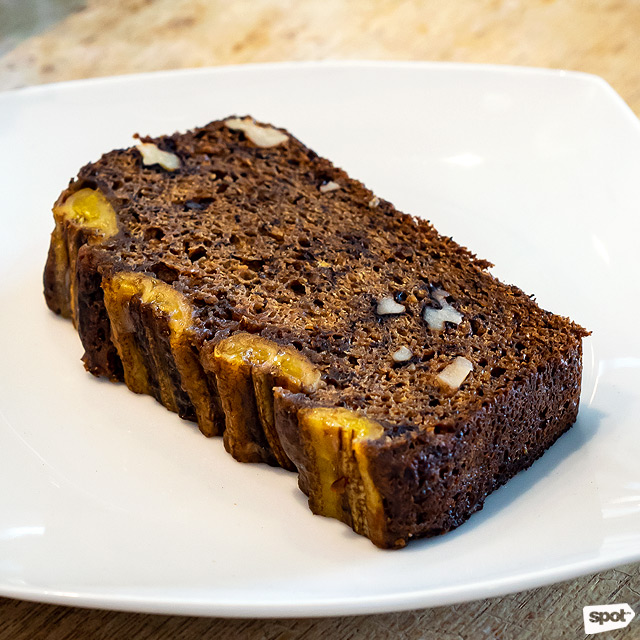 ADVERTISEMENT - CONTINUE READING BELOW
Habitual's Banana Walnut Slice may cost more than your average banana bread, but it's for good reason. What you get is a hefty slice that mixes toasty crunchiness with subtle softness. Take your server's word for it when they recommend a heated slice—you'll want it warmed to amp its comfort food factor. What makes this treat a standout are the actual banana slices that top your bread.
See a list of Habitual Coffee branches. 
2. Organic Choco Chip Banana Bread from Dean & Deluca (P120)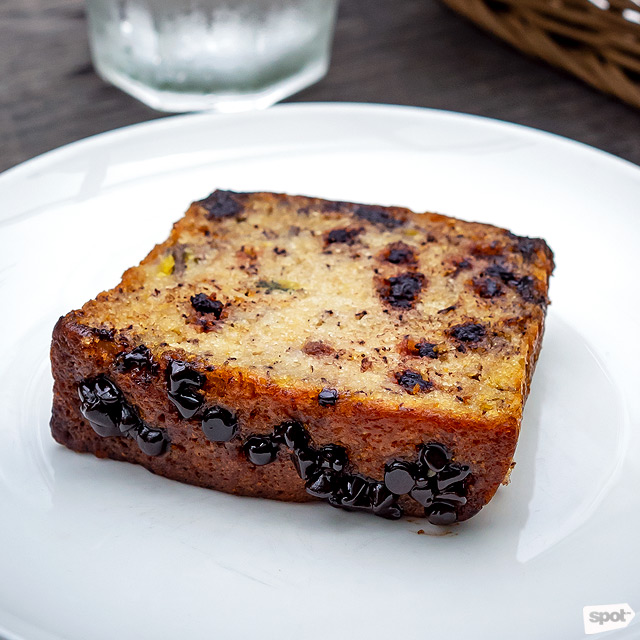 ADVERTISEMENT - CONTINUE READING BELOW
Dean & Deluca offers its banana bread in plain, quinoa, and choco walnut, but its organic chocolate chip variety gives this snack an edge because a little bit of chocolate just makes everything taste better. The bread itself is light and soft, with the sweetness that's not overwhelming, making it the perfect base for a sprinkling of bittersweet chocolate. These come individually wrapped, but if you can manage to find the slice from the edge of the loaf, take that—it'll add a hint of chewiness that will make this slice even better.
See a list of Dean & Deluca branches.
1. Banana Bread from Wildflour (P115)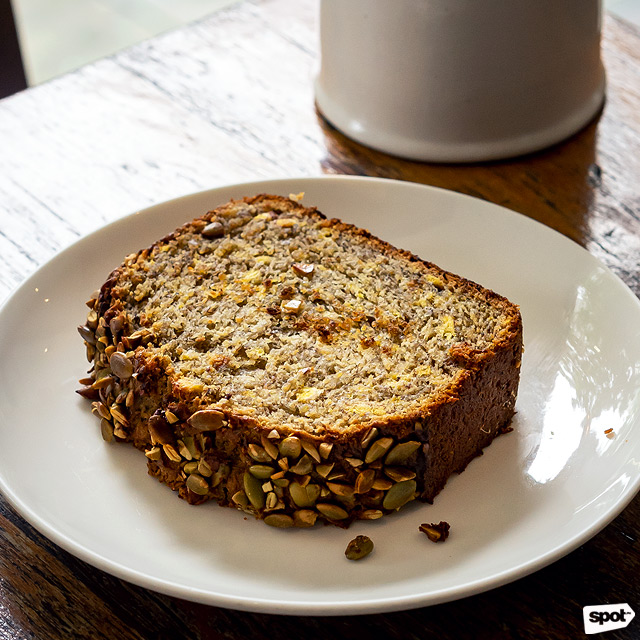 ADVERTISEMENT - CONTINUE READING BELOW
Make sure to bring reinforcements when you order a slice of Wildflour's Banana Bread, because this slice is so huge, you'll want to share it. Wildflour takes the cake when it comes to texture—its banana bread is hearty, buttery, moist, and provides an incomparable crunch. Topped with seeds, it can even pass for a pretty substantial breakfast if you prefer a slightly sweet treat first thing in the morning.
See a list of Wildflour branches.
Photos by Toto Labrador
Share this story with your friends!
---
Help us make Spot.ph better!
Take the short survey
More Videos You Can Watch
Load More Stories