Tomatito
30th Street corner 11th Avenue, Bonifacio Global City
Open daily from 11 a.m. to 2 a.m.
(SPOT.ph) Ever heard of sexy tapas? No? Then let Tomatito explain. The restaurant first opened up its fiery red doors in Bonifacio Global City in 2016, and has been the go-to for fun, playful, always-tasty, and, of course, always-sexy Spanish cuisine.  With the arrival of a new chef—fresh from the flagship resto in Shanghai City—it looks like things are about to get even more fiery.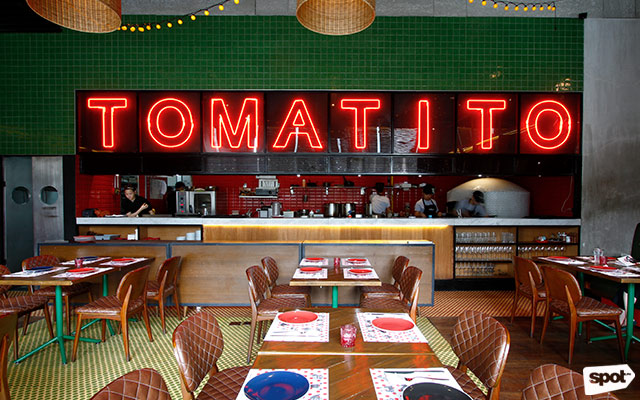 ADVERTISEMENT - CONTINUE READING BELOW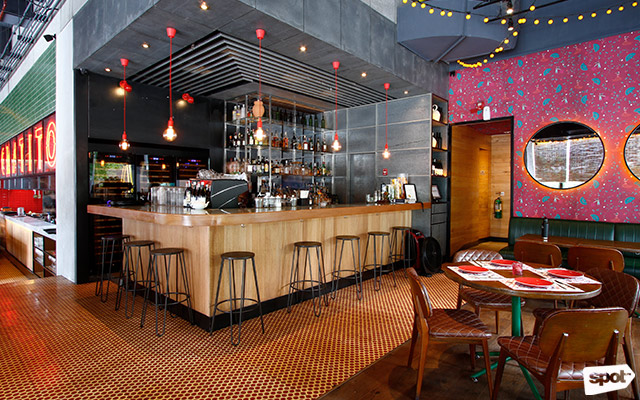 "It's a big loss for Shanghai and a big win for Manila to have this gentleman here," says Chef Willy Trullàs Moreno—who founded the brand in Shanghai—on Chef Iván Fernández' arrival to the BGC restaurant. Chef Fernández had already spent three years at the flagship restaurant in China, so when Chef Moreno felt it was time to shake things up in Manila, he knew exactly who to call.
Chef Fernández arrived on our shores in July, and within a few weeks, he and the team already have several new dishes, as well as a couple updates on Tomatito's classic dishes, in the works: All of it for a better, sexier, Tomatito experience.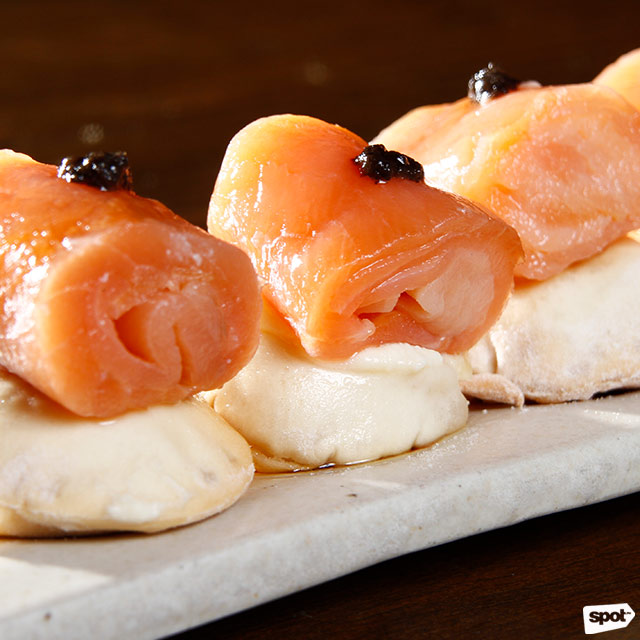 ADVERTISEMENT - CONTINUE READING BELOW
If you want to start somewhere in the safe zone (a misnomer for this resto), you can stick with one of their bestsellers: the Salmon TNT (P625). Aptly named, the little bread airbags are stuffed with cream cheese, topped with a hefty roll of smoked salmon, and drizzled with honey and a touch of truffle. "Two fingers, one bite," is how you eat this kind of dish, says Chef Fernández.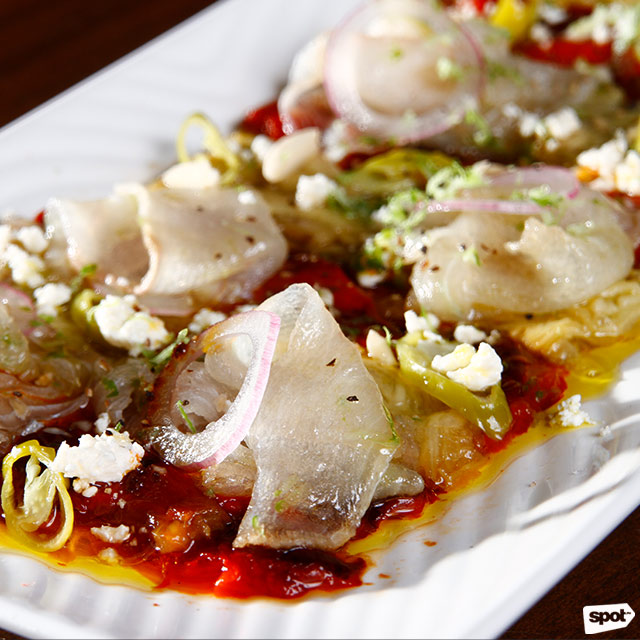 ADVERTISEMENT - CONTINUE READING BELOW
A very-welcome update on a classic vegetable dish is the Escalivada con carpaccio (P575), which is made with our local tanigue, a kind of mackerel that Chef Fernández says they do not have in Spain. Thin and flaky slices of fish are laid atop roasted bell peppers and eggplant, generously mixed with feta cheese and piparra (Basque pickled green chili) then coated with olive oil plus a generous sprinkling of toasted almonds for a flavorful treat. "It's a very traditional salad in Spain," says the Chef, so he was excited to mix it with Filipino ingredients.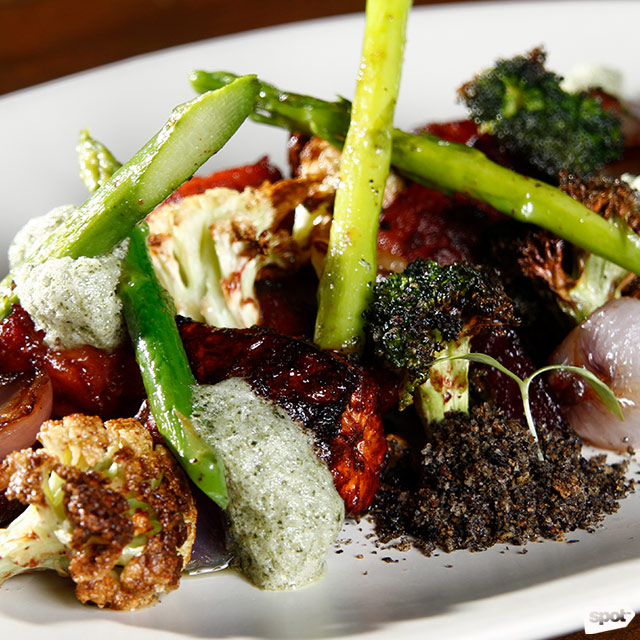 ADVERTISEMENT - CONTINUE READING BELOW
For something a little lighter but no less flavorful, try the Parillada de verduras (P395). Char-grilled vegetables are drizzled with a reduction of balsamic vinegar, topped off with a surprising mix of sea salt, burnt onions, breadcrumbs, and other secrets: a kind of "soil" mixture, says Chef Fernández.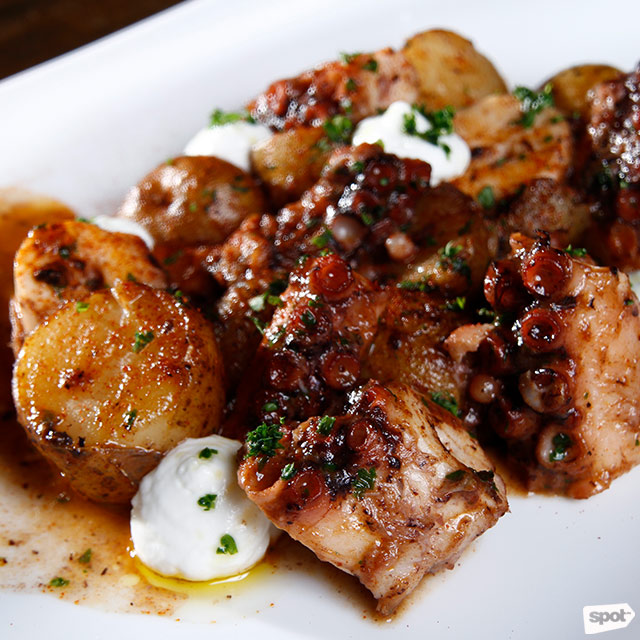 ADVERTISEMENT - CONTINUE READING BELOW
Another example of traditional Spanish fare is the Pulpo a la gallega con aioli. Part of the Chef's Specials, the dish is an inviting mix of tender octopus slices and flavorful potatoes with, aioli, sea salt, and smoked paprika. Tomatito's fresh vibe shines through even in this plate's classic fare.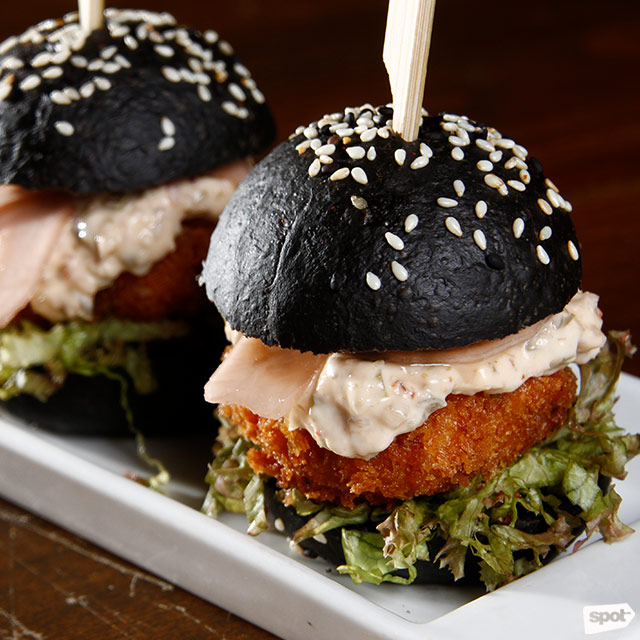 ADVERTISEMENT - CONTINUE READING BELOW
The Mini hamburguesas de salmon y gamba (P495) is a fun new dish that should not be skipped. Served in pairs, juicy seafood patties made from shrimp and salmon are sandwiched between two squid ink buns, accompanied by hot, crisp, baby potato chips—and yes, everything is made from scratch.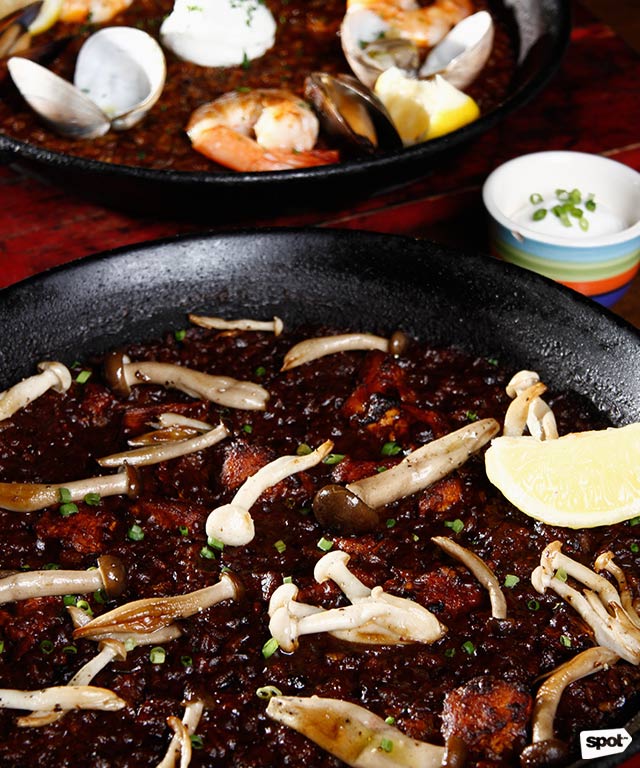 ADVERTISEMENT - CONTINUE READING BELOW
Paella is arguably the very stick by which Spanish restos are measured, and Tomatito's does not disappoint. They've taken their cue from from traditional Mexican cuisine and mixed in magical mole sauce—which takes around 40 ingredients (including chocolate!) to make, says Chef Fernandez. What Tomatito has given us is Paella de mole mexicano, a paella like no other: made with juicy chicken, a generous scattering of mushrooms, and of course, the mole. The rich, earthy taste of this paella is on a different level; very sexy, indeed. 
Tomatito has kept things "fun and casual," says Chef Moreno, who has kept the concept of "sexy tapas" very much alive in the Shanghai, Manila, and Saigon branches. "We do use as much local ingredients as possible, but we don't do too much fusion. Our food is always with a Spanish heart, but open to any influence," he adds.
They may be rolling out an updated menu by mid-September, but expect even more new dishes—and fun inventions—from Tomatito as the new chef in town has plans of creating different Chef Specials every month.  And with a philosophy such as sexy tapas—which Chef Fernandez says is in "everything, from the colors of the restaurant to the music, to the smiles on the staff's faces, the drinks, and, of course, the food"—you'll  always have a reason to come back.
ADVERTISEMENT - CONTINUE READING BELOW
*Prices to follow
Photos by Vincent Coscolluela
Share this story with your friends!
---
Help us make Spot.ph better!
Take the short survey
More Videos You Can Watch
Load More Stories