Mr. Korea Unlimited BBQ
G/F, Glorietta 3 Ayala Center, Makati City
Open daily from 11 a.m. to 11 p.m.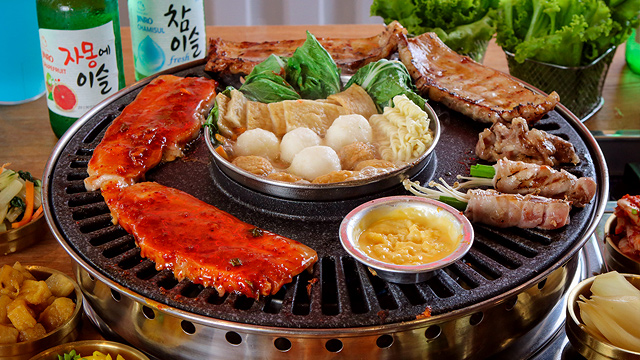 (SPOT.ph)  With all the Korean-barbecue places all over Metro Manila, it's admittedly a difficult time to be a new, aspiring KBBQ chain. But Mr. Korea, which just opened their second branch at Glorietta, has one important advantage: The folks behind the new concept are the same ones that brought us Jin Joo Korean Grill, so you pretty much know that they know what they're doing.
ADVERTISEMENT - CONTINUE READING BELOW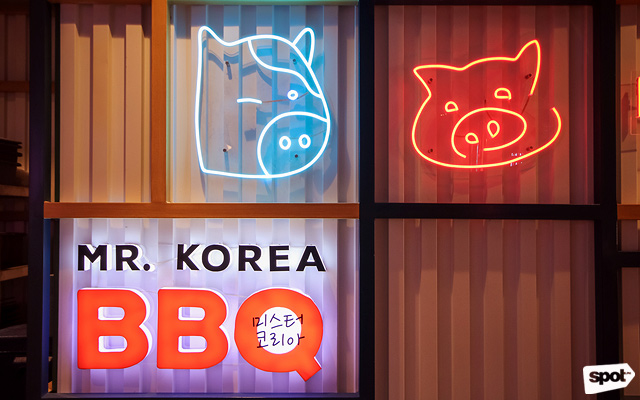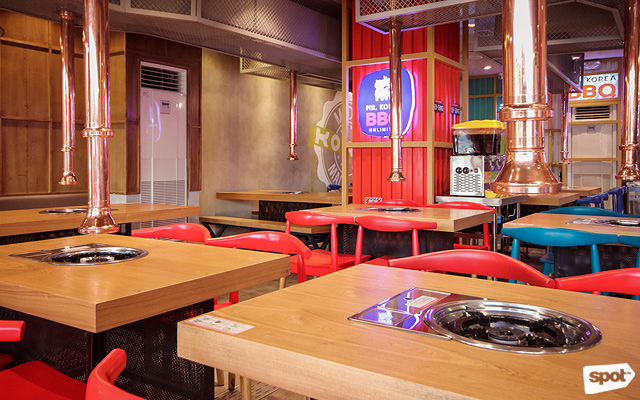 ADVERTISEMENT - CONTINUE READING BELOW
Recommended Videos
But, even without that piece of trivia, the casual mallgoer would find the eye-catching resto difficult to resist, with their catchy signage featuring cute cartoons of a pig and cow and neon lights. Inside is just as vibrant, with red chairs and copper-colored exhaust vents. The look is warm yet industrial, merging wood panels and furnishings with cement walls and exposed ducts, while more neon signage brightens up the atmosphere.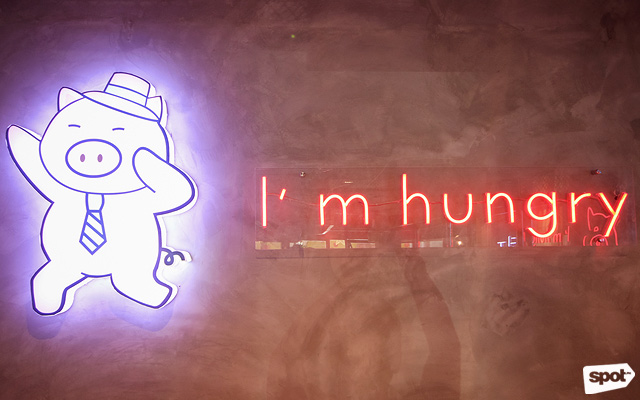 ADVERTISEMENT - CONTINUE READING BELOW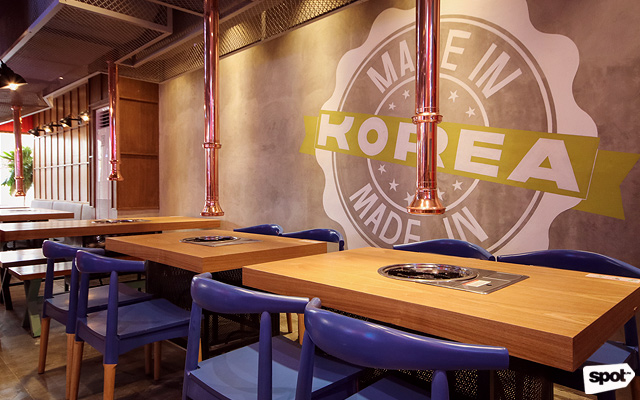 Mr. Korea is a one-stop-shop for both K-BBQ grill and hot pot, but don't expect an à la carte menu here. Instead, you get unlimited barbecue, which includes 14 kinds of premium pork and beef, banchan, hot pot, and drinks at P549 for lunch, which starts at 11 a.m. until 4 p.m., and P599 for dinner, 4 p.m. onwards.
ADVERTISEMENT - CONTINUE READING BELOW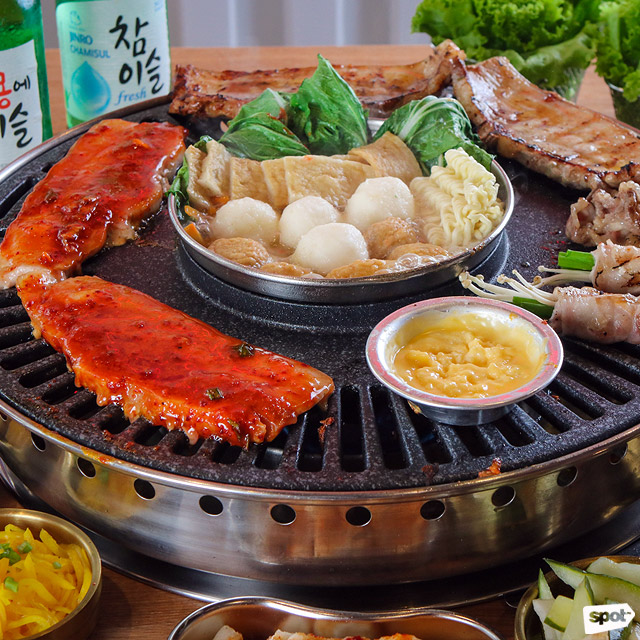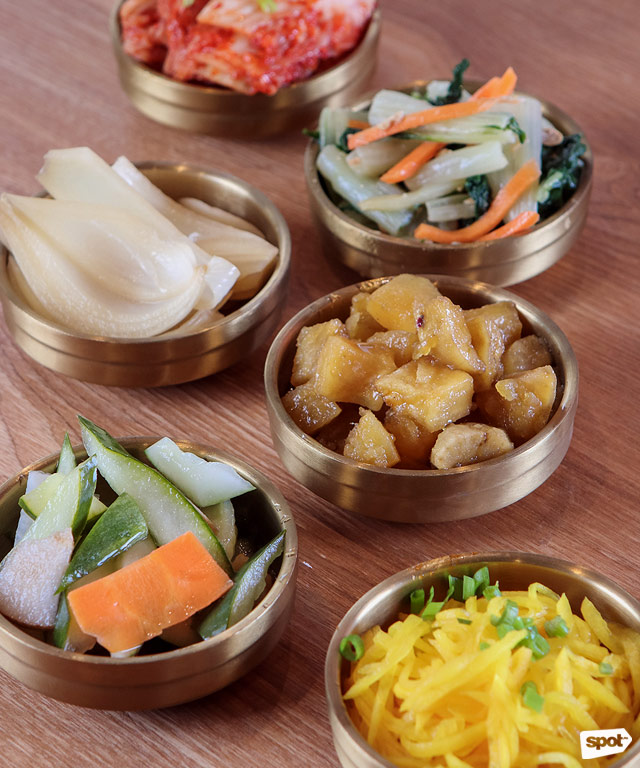 ADVERTISEMENT - CONTINUE READING BELOW
The trick is to start grilling the thicker cuts of meat first. Ask the staff for a serving of hot pot, which will be placed in the middle of the non-stick grill. This way, you can simultaneously wait for the soup to warm up as you cook the pork and beef to your preferred doneness. The hot pot is unlimited, too, but a warning: the ramyun noodles can be quite filling, especially if you also chow down all the fish cakes, assorted balls, and veggies that come with it. A good game plan is to partake of the broth as an occasional breather from eating all the meat. It's best to get a little taste of everything first, then refill your favorites since you are only allowed one-and-a-half hours to dine.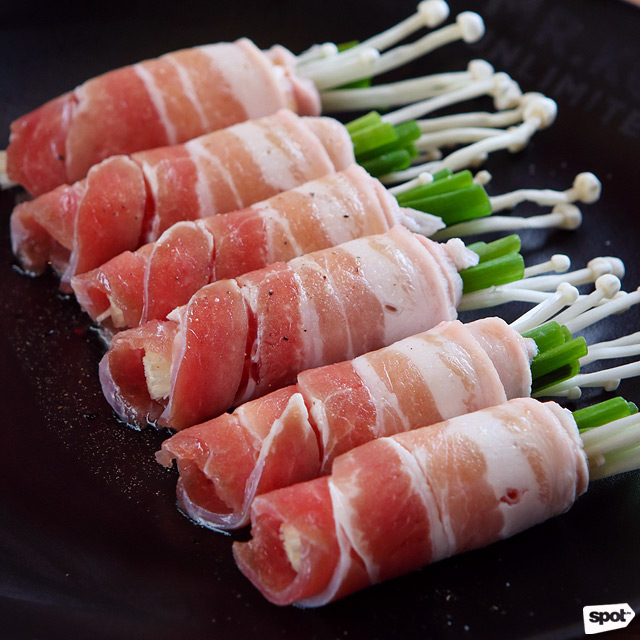 ADVERTISEMENT - CONTINUE READING BELOW
The pork and beef selection comes in various marinades like yangnyeon seasoning, Korean chili pepper, Szechuan, and dry rub. Make sure to order the Enoki Roll, which comes in both pork and beef. This cut bursts with umami, thanks to enoki mushrooms wrapped in either thinly sliced pork or beef. The roll tastes even better when you dip it in either in the ssamjang sauce or sesame oil with salt and pepper—or both, for that matter.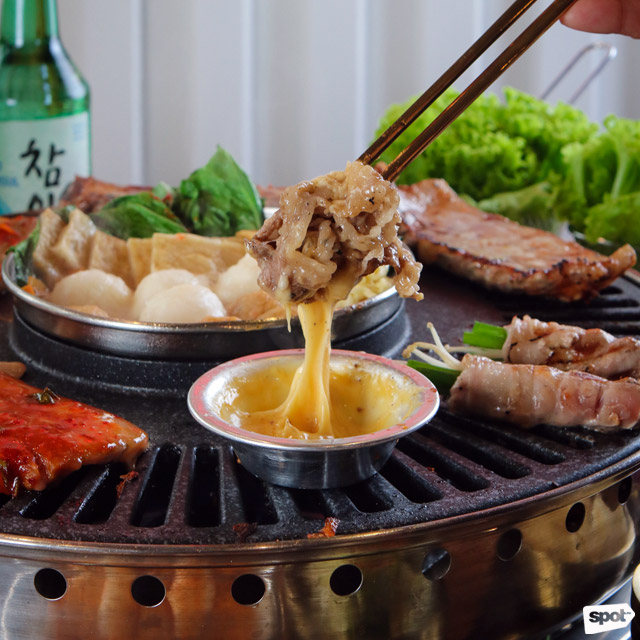 ADVERTISEMENT - CONTINUE READING BELOW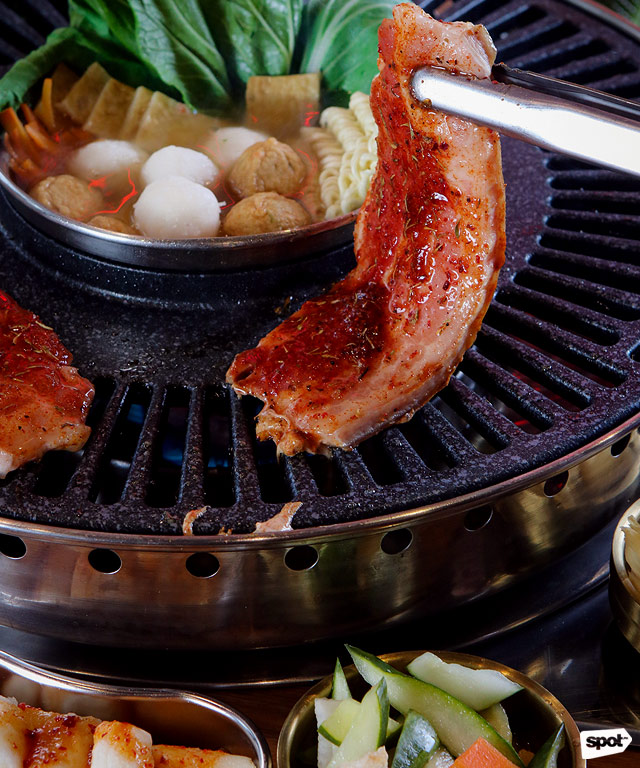 For cheese fans, Mr. Korea has all-you-can-eat cheese sauce that is ideal for un-marinated meat like the samgyupsal (pork belly) and woosamgyup (beef belly). Spicy food lovers, on the other hand, will enjoy the Korean chili pepper marinade. From the bright red color, you can guess that this packs a lot of heat, but it's surprisingly quite tolerable. Cut the pork and beef up to bite-sized pieces before dipping the chunks in seasoned sesame oil and wrapping in lettuce. Then do it the Korean way—eat everything in one bite! You'll enjoy the contrast of the fresh lettuce with the tender, spicy meat and salty-nutty sauce. You can even sneak your preferred side dishes in the wrap—the kimchi actually adds a nice touch.  
ADVERTISEMENT - CONTINUE READING BELOW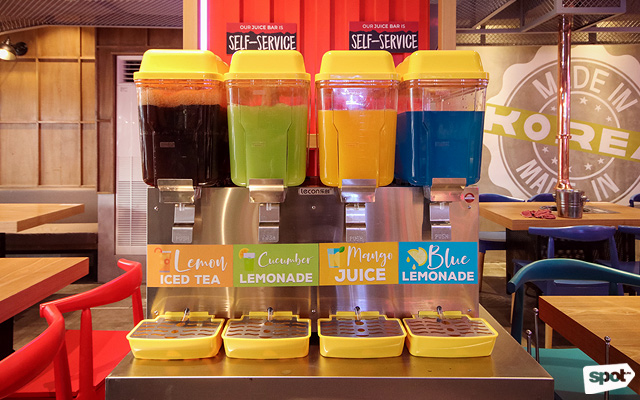 The drinks are unlimited, too. Feel free to head to the self-service juice bar to fill up on lemon iced tea, cucumber lemonade, mango juice, or blue lemonade. The mango juice is sweet enough to counteract any heat from the food. Or if you want an authentic Korean experience, why not order some soju (P280/original, classic, fresh, grapefruit, peach, blueberry)? The clear, distilled alcoholic drink goes well with the smoky barbecue and warm hotpot soup.
ADVERTISEMENT - CONTINUE READING BELOW
With so much to choose from, it's almost impossible to get your fill of everything within their time limit—which just means you have an excuse to keep coming back. 
Photos by Jericho San Miguel
Share this story with your friends!
---
Help us make Spot.ph better!
Take the short survey
Load More Stories