Linamnam Private Dining Experience
31 Greenvale 2, Marcelo Green Village, Parañaque City
Contact: 0917-573-0246
Open from Wednesday to Sunday (By reservation only)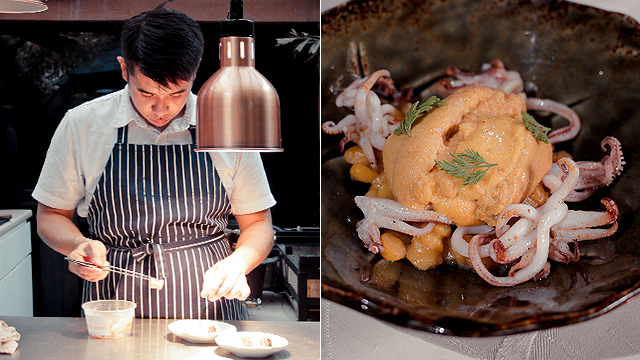 (SPOT.ph) The words "tasting menu" don't exactly strike excitement in the hearts—or stomachs—of people; in fact, it might just do the opposite. Tasting menus have gotten a bit of a bad rap over the past few years, with many writing the entire concept off as a pompous affair, or worse, leaving people still hungry. But Chef Patrick "Don" Baldosano is here to change that with Linamnam, a private dining experience featuring 16 courses of hearty Filipino food, the 2.0 version, served right in his own backyard.
ADVERTISEMENT - CONTINUE READING BELOW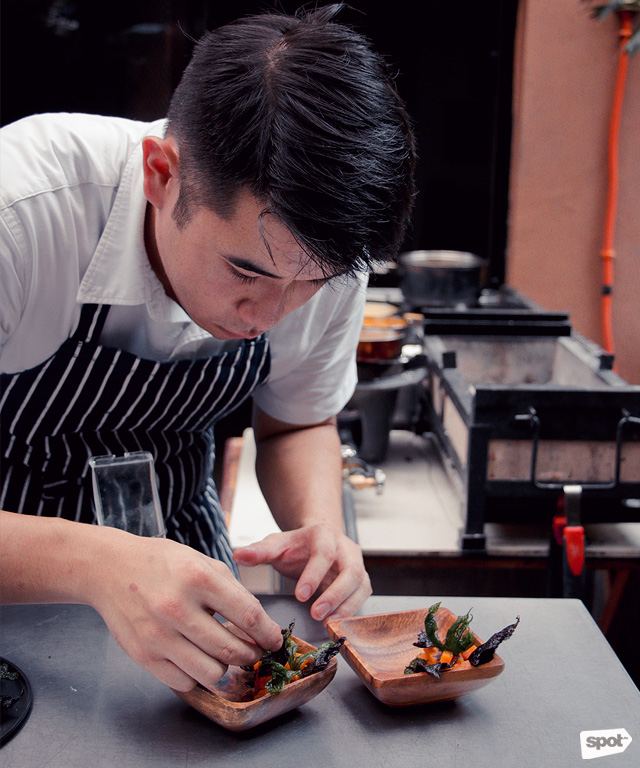 Chef Baldosano has been cooking since he was 12 years old; now at 21, it has become his whole life. From being a contender on Junior MasterChef to training in Toyo Eatery, the chef is passionate not just about the food he creates, but the experiences made while eating them. "I just want to showcase the possibilities of Filipino food," says Baldosano. "My goal is... a casual atmosphere, but the food has to be really good, the kind you'd associate with fine dining," he adds. What this tasting menu serves up then are local ingredients and familiar flavors in fresh, almost unrecognizable, ways, made even better by a homey, come-as-you-are ambience.
Baldosano has created a guide for the Linamnam tasting menu, which costs P1,700 per person. Each course in the 16 dishes he cooks up falls under one of five main categories: they always start with Kagat (the literal one-biters—the only part of the menu that's like this, so no worries), then Lupa, Dagat, Karne, and finally Tamis. This allows Baldosano to create a full menu with a range of incredibly diverse flavors that isn't too overwhelming or heavy. We take you through one of Linamnam's tasting menus; just keep in mind that no two are alike.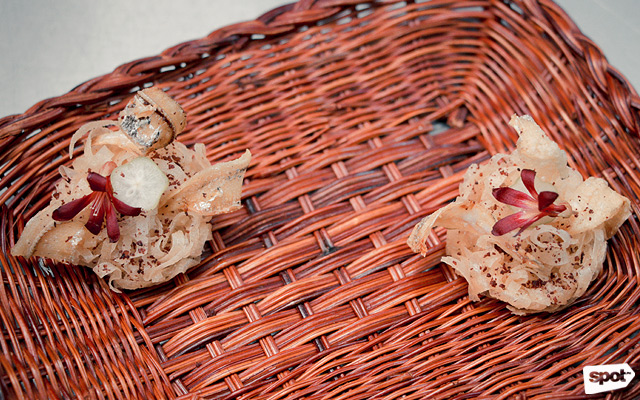 ADVERTISEMENT - CONTINUE READING BELOW
For starters, Linamnam offers the Kagat portion, which is a Filipino word for "bite"—the only acceptable reaction for this part of the menu. Okoy gets a makeover in Baldosano's version with crisp dried fish fried to crunchy perfection and a hint of citric freshness from Kamias flowers (BTW, Baldosano has started his own completely edible flower garden).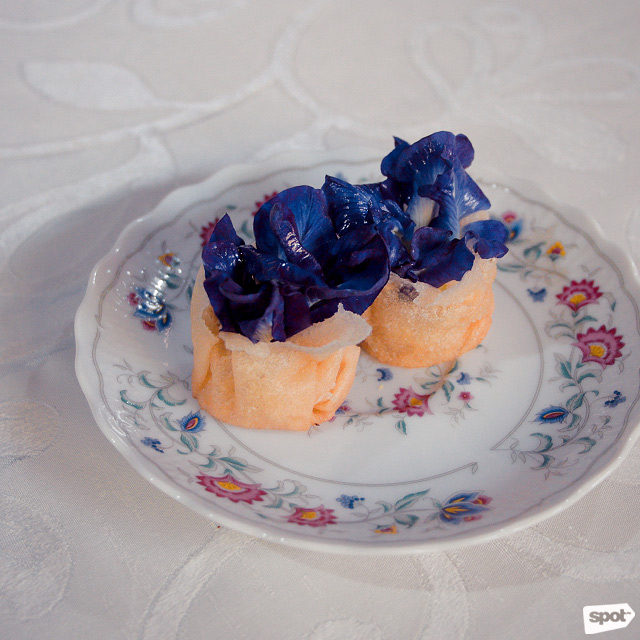 ADVERTISEMENT - CONTINUE READING BELOW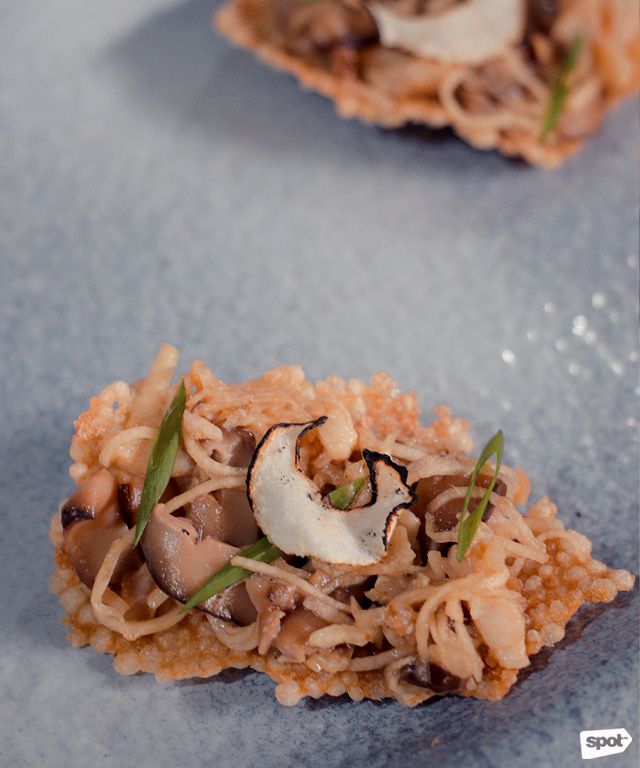 The older, much hotter, sibling of daing also pays a visit in the form of Daing Sa Hardin. A single, fried lumpia wrapper cup is filled with daing-infused butter—yes, daing-infused butter—and topped off with a hint of tomato and a fresh ternate bud for a weirdly fantastic mix of flavor and texture. Sisig Chip isn't one to disappoint: meat may take a backseat in this dish, but the mix of shiitake, singkamas, and a bit of pork on a single rice chip is more than enough leave you wishing for one more bite.
ADVERTISEMENT - CONTINUE READING BELOW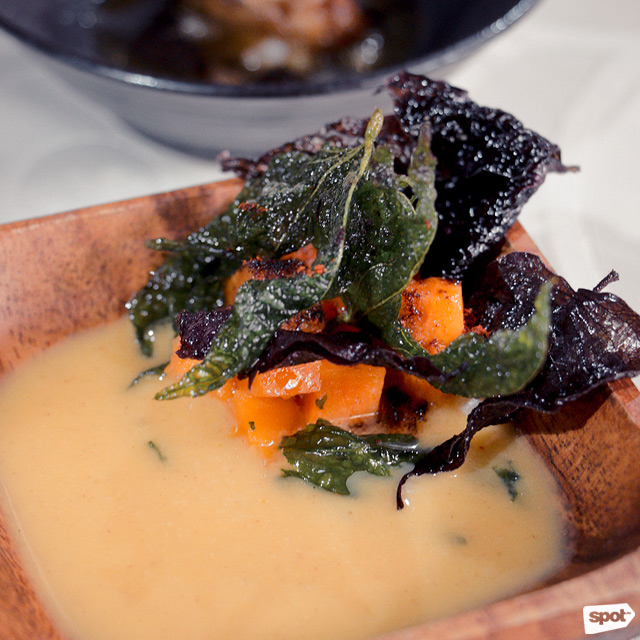 Next up is Lupa. Everyone's favorite root crop shows off its versatile acting skills in Patatas Patatas. Potato skin soup is served with sweet potato confit and topped off with fried potato leaves and a sprinkling of truffle powder and Spanish paprika. What you get isn't even earthy, instead it's a light and smooth dish with hints of rich flavors.
ADVERTISEMENT - CONTINUE READING BELOW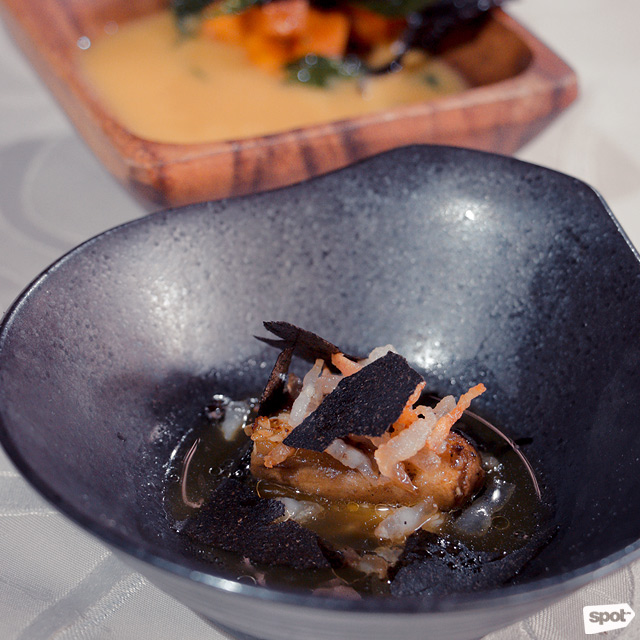 Ensalada was inspired by "memories of a boodle fight," says Baldosano, a phrase that quite accurately describes the mix of eggplant and fried pork fat in light cucumber water, with a garnish of charred bits of eggplant.
ADVERTISEMENT - CONTINUE READING BELOW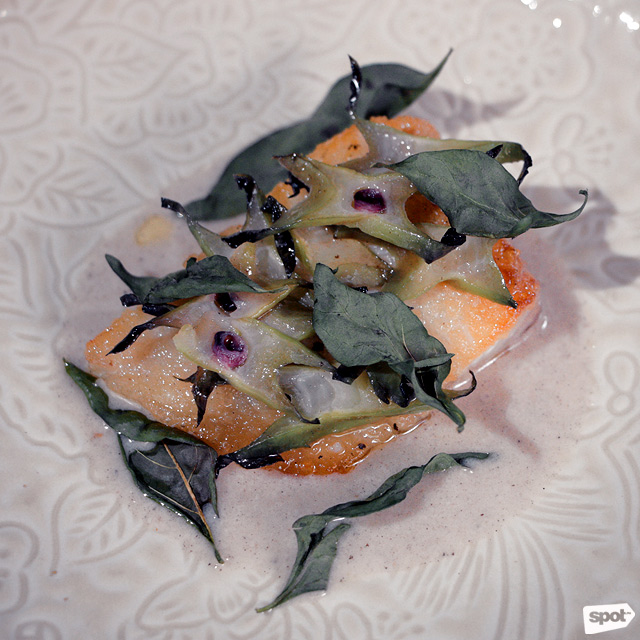 Baldosano wanted to put the focus on seafood with his tasting menu, explaining that our islands are a treasure trove of the very best. A statement proven by the light and flaky fillet of 20-days aged Talakitok he seared and served with rich coconut cream and thin, crisp slices of sigarilyas; ingredients that are simple enough, but with intense depth of flavors.
ADVERTISEMENT - CONTINUE READING BELOW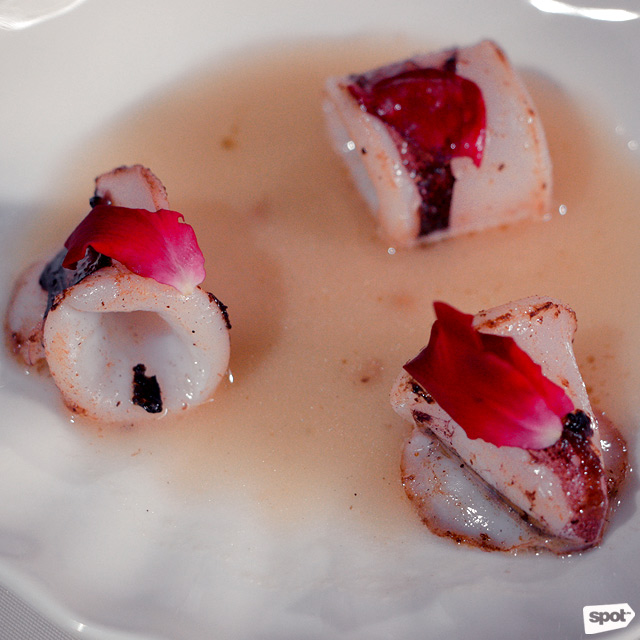 One of his favorite dishes so far, the Squid sa Sinigang, features slices of squid perfectly seared in butter served with guava that was fermented for two months. It has the tart smell of sinigang but is smoother in taste.
ADVERTISEMENT - CONTINUE READING BELOW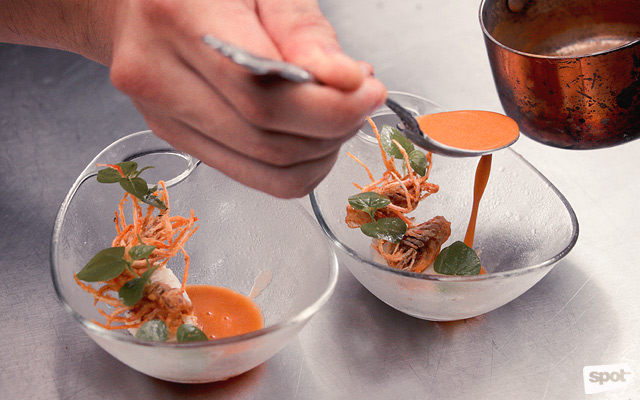 ADVERTISEMENT - CONTINUE READING BELOW
The Alimasag sa Hipon is made with fresh crab meat sitting on a pool of shrimp essence and topped off with crisp shrimp heads—expect nothing less than pure seafood flavor and richness. Dagat at Lupa is exactly what it says: the flavors of the sea is presented by briny uni, fresh from Capiz shores, and balanced out with earthy lentils.
ADVERTISEMENT - CONTINUE READING BELOW
Karne acts like the entrée of a usual multi-course meal. Manok, Sibuyas, atbp. is a fresh and light take on bistek, but with sous vide chicken served with four different kinds of onions.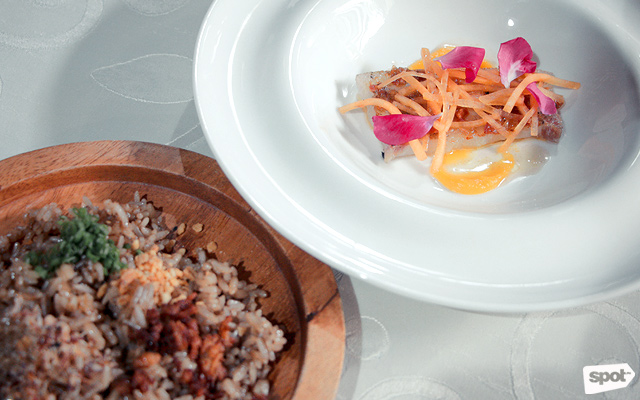 ADVERTISEMENT - CONTINUE READING BELOW
A slice of aged pork belly sits on a bed of sofrito and bits of persimmon for a fruity take on Binagoongan. But since this is good ol' Filipino food, rice is the real star. Sunog na Kanin takes its cue from the bits of rice that have been left at the bottom of the pan, soaking up all the good stuff. Baldosano mixes it in with burnt butter, latik, and ginger, with generous toppings of fried garlic and other fun bits.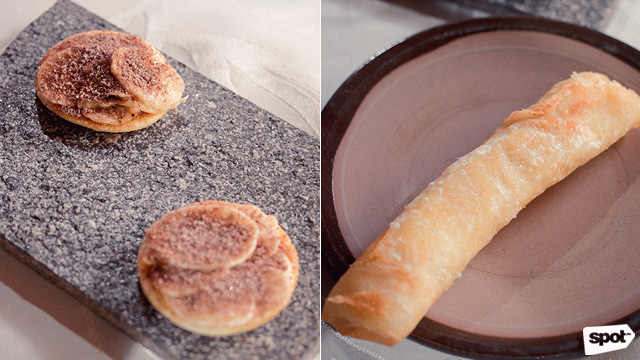 ADVERTISEMENT - CONTINUE READING BELOW
After all that, you may want to leave some room for Tamis. The Pinoy Creampuff takes only a single bite to devour, but the burnt cream and Davao chocolate filling makes up for it with intense oomph. Saging has all the flavors and textures of turon, but in mini-pancake form with caramel and cacao from Camarines Sur. Maja Blanca gets a makeover as a rich and thick fudge stuffed in a lumpia wrapper and then deep fried to a golden crisp.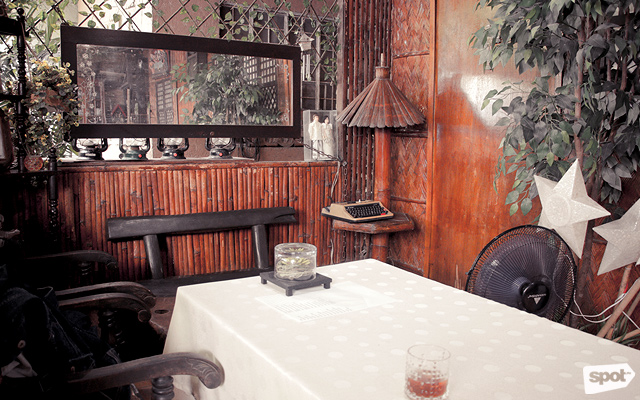 ADVERTISEMENT - CONTINUE READING BELOW
All of this is served in the Baldosano family's backyard. It's a known fact—excuse the exaggeration—that there really is no better place to eat Filipino food than at an actual Pinoy household. Their yard would be a familiar scene to anyone who grew up in the Philippines, with their fruit-bearing plants, outdoor tables, and even the practically mandatory small grotto—the only thing different is the open kitchen taking up a sizeable chunk of the area. This kitchen is Baldosano's kingdom, where he creates each dish with full control and ease; a veritable show as you dine on each course.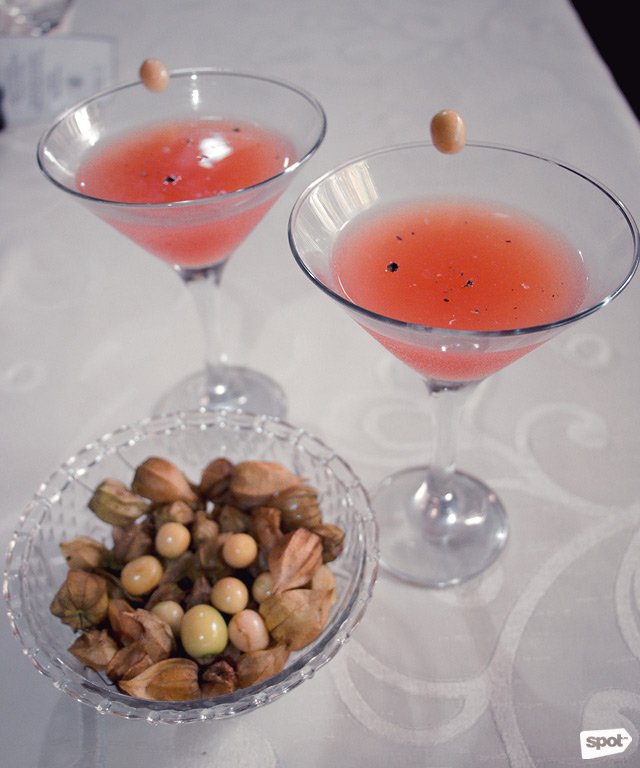 ADVERTISEMENT - CONTINUE READING BELOW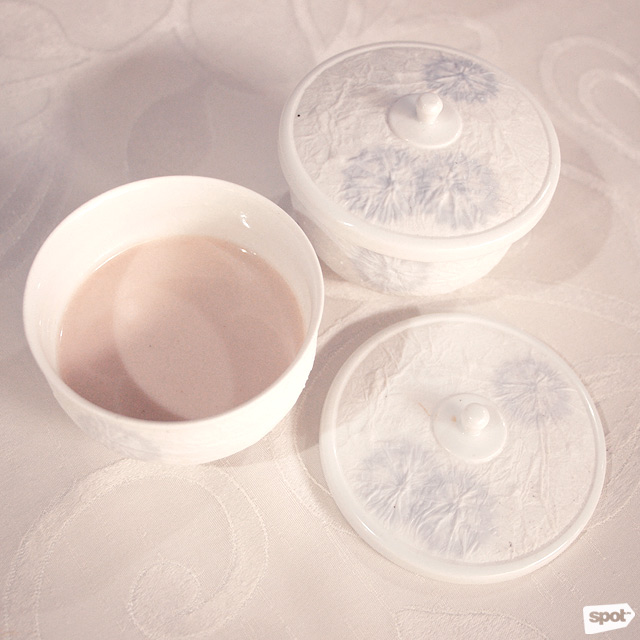 Baldosano has also created a drink pairing for his menu at an additional P500 per person. The drinks are served between specific courses and planned carefully by the chef. Tomato and Tino-Tino (a.k.a. cape gooseberry) is made with light tomato water mixed with Tino-Tino syrup and a bit of Batangas pepper. Walnut Banana Pili Milk is another drink made by steeping the nuts for long periods of time and infusing the result with banana for a rich, creamy beverage with a hint of fruit.
ADVERTISEMENT - CONTINUE READING BELOW
For Baldosano, Linamnam is more than just about the food; it's everything about the experience he wants to create with his tasting menu. This desire to not only bring Filipino cuisine to the forefront, but also to change and play with it without sacrificing flavor, means that you can always expect something new from this tasting menu. It isn't about each dish on its own, or even the tasting menu itself, says the chef, "I want it to be about the entire experience." It's clear that Linamnam isn't your usual tasting menu, and a single bite is all the proof you need.
Photos by War Espejo
Share this story with your friends!
---
Help us make Spot.ph better!
Take the short survey
More Videos You Can Watch
Load More Stories