George Town Super Steak
Level 3, One Bonifacio High Street, 5th Avenue, Bonifacio Global City
Open daily from 11 a.m. to 10 p.m.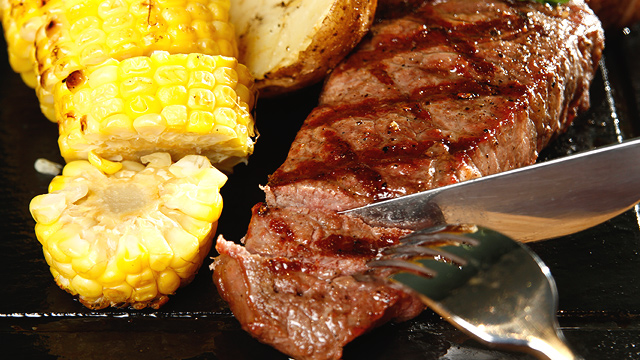 (SPOT.ph) Meat is serious business in the Philippines—and grilling is an art form that few have perfected. If you can't get enough of that hot, char-grilled flavor—whether pork, beef, poultry, seafood, and yup, vegetables get a seat here, too—then you'll want to give the freshly opened George Town Super Steak a try. With the help of a special oven, they've got the science behind a juicy, tender cut of meat down pat.
ADVERTISEMENT - CONTINUE READING BELOW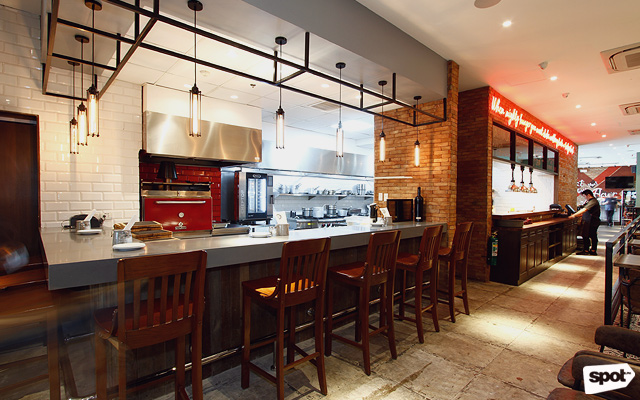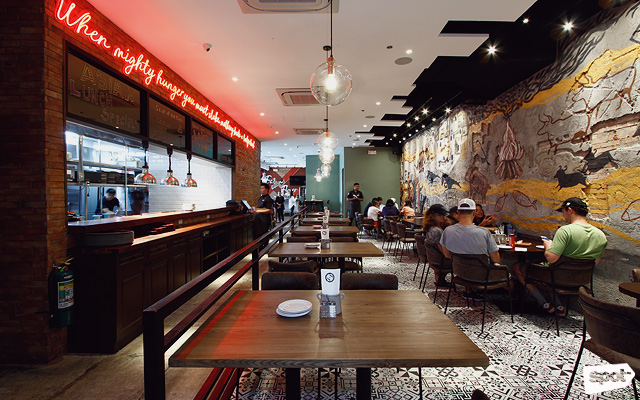 ADVERTISEMENT - CONTINUE READING BELOW
Recommended Videos
George Town isn't even hiding their magical oven; it's one of the first things you'll see upon entering the restaurant. To one side is a mural, almost like a cave painting that tells the story of man and fire. To the other side is an open kitchen and right in the corner, framed by bright red tiles, is the magical Mibrasa oven—the squat, dark red, charcoal-powered grill looks straight out of a '60s family sitcom, but the heat emanating off it is no joke.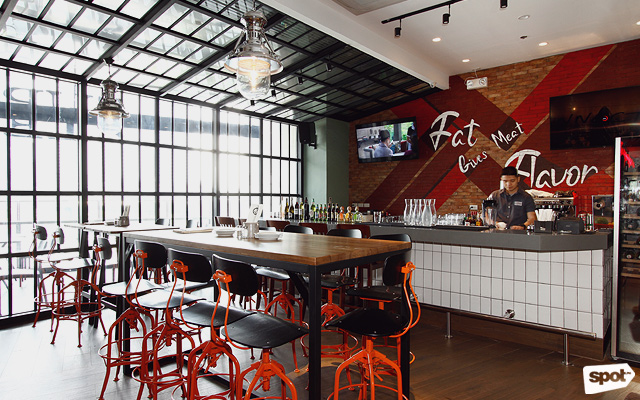 ADVERTISEMENT - CONTINUE READING BELOW
"It's the Rolls Royce of charcoal grills," explains owner George Pua of the Mibrasa oven. "The heat is around 800 to 1,000 degrees, so that's extreme heat. When you put in vegetables, meat, seafood—anything really—it cooks so abruptly that is seals all the juices in," he adds. What takes this grill house to another level is that they don't just cook meat with the Mibrasa oven—they stuff everything from bell peppers to prime striploin into it and out comes a diverse array of dishes; from your vegetarian tito to your carnivorous sibling, there's something for everyone.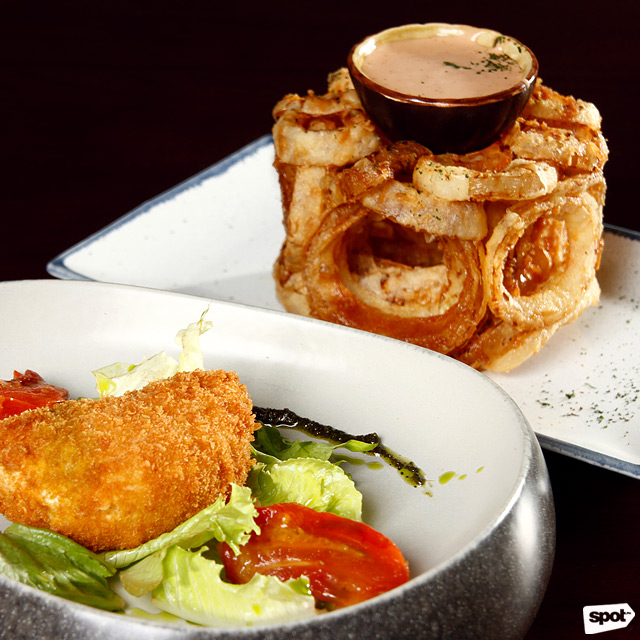 ADVERTISEMENT - CONTINUE READING BELOW
The Crispy Onion Tower (P345) is an impressive starter. Onion rings are molded into a fun little tower, then deep fried to that perfect crisp-on-the-outside-meltingly-tender-on-the-inside goodness that's hard to find. The Peppery Hot Mayo dip is a creamier but with a kick option, but if you like some tang, then go for the Original BBQ. The Golden Brie Basilico and Tomato (P460) is a lighter start, but the intense flavors of the sun-dried tomatoes, basil pesto, and the breaded brie come together for a pretty full hit.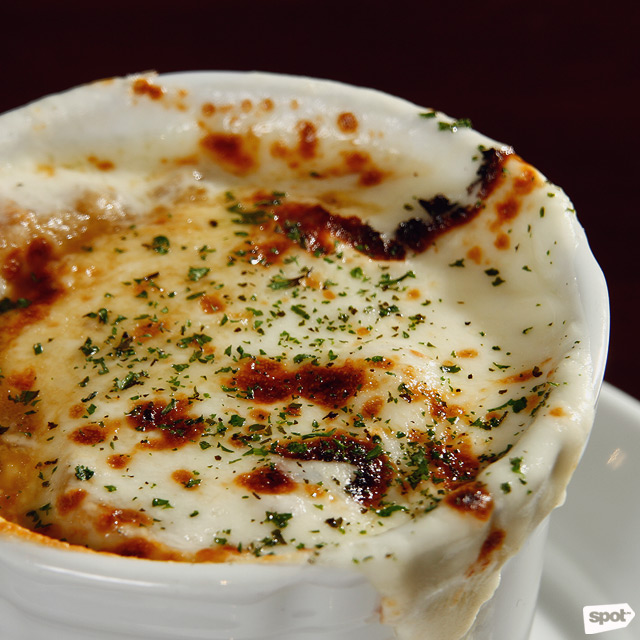 ADVERTISEMENT - CONTINUE READING BELOW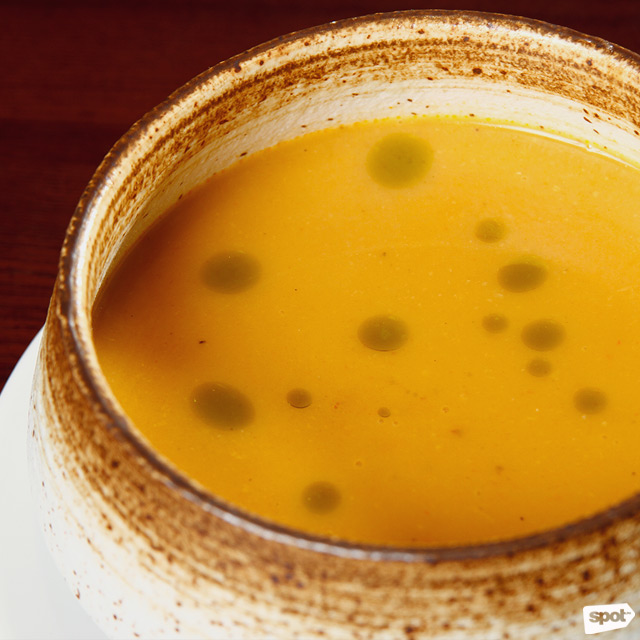 Just because you're at a grill house doesn't mean you shouldn't pay attention to the soup, either. The French Onion Soup (P180) is a hearty bowl of rich meaty stock, lots of onions, soaked croutons and a very, very, generous gruyere top; it could very well stand on its own. The Soup of the Day (price varies) was made with bell peppers roasted in the Mibrasa oven, blended with tomatoes and served with a dash of herb oil. It's a surprisingly smooth and earthy soup without the usual sharpness of bell peppers.
ADVERTISEMENT - CONTINUE READING BELOW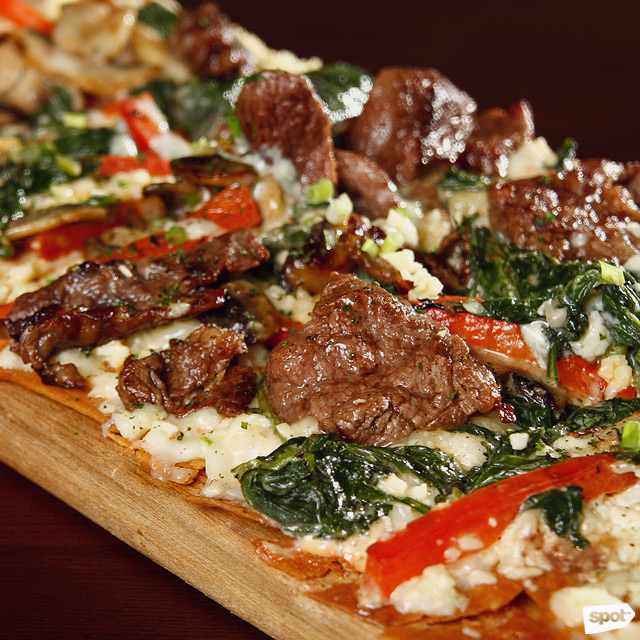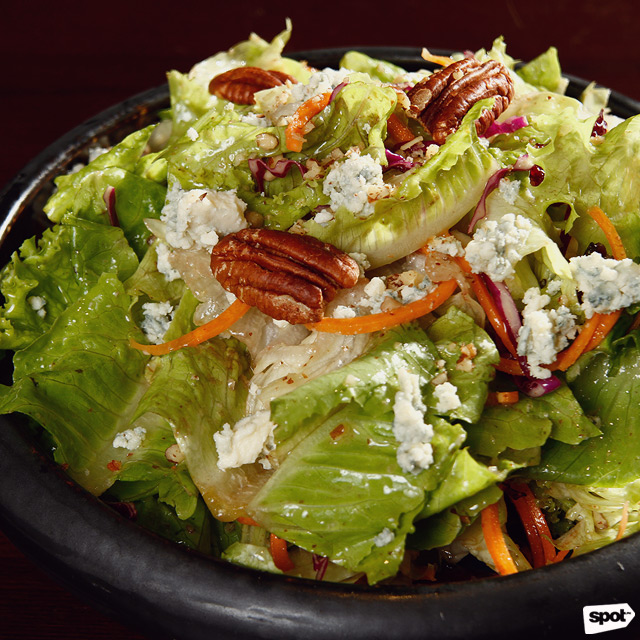 ADVERTISEMENT - CONTINUE READING BELOW
The Steak & Greens (P575) flat bread is great for sharing—but that may be hard to do once you've had a bite. Bits of tender angus beef, mushrooms, spinach, a sprinkling of bleu cheese lie on top of melty mozzarella and a super thin, crisp crust. Beware, it's deceivingly light. The Sonoma Hill Salad (P360) is great if you want to balance out all the meat you might be about to consume. It's a refreshing mix of greens, pecans, green apple slices, dried cranberries, and bleu cheese in a red wine vinaigrette.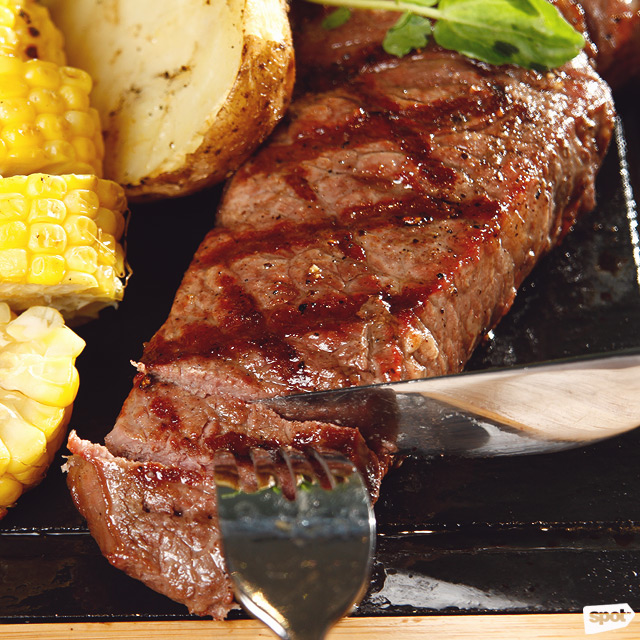 ADVERTISEMENT - CONTINUE READING BELOW
Now, the reason we're all here: the Striploin (P2,199/375 grams). After a short stint in the fiery Mibrasa oven, the striploin is perfectly seared on the outside with a bright, tender pink inside—and pure unadulterated beef flavor through and through. Note that all of George Town's steaks are served medium rare but with a very hot small, stone disc that you can use to cook your bites to whichever degree you prefer. George Town sources its meats from five different countries (ours included) and a peek at the menu, which lists where each cut came from, shows that the striploin is from Australia.
There are also several choices for sauces: fragrant Red Wine Jus, strong Black Peppery, herby Rosemary and Thyme Jus, and pungent Bleu Cheese. But trust us when we say the pure flavor of their meat is something that should be enjoyed on its own.
ADVERTISEMENT - CONTINUE READING BELOW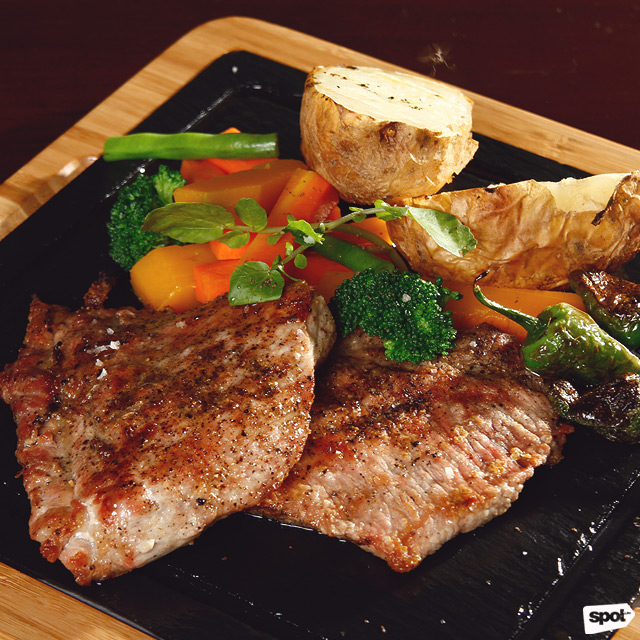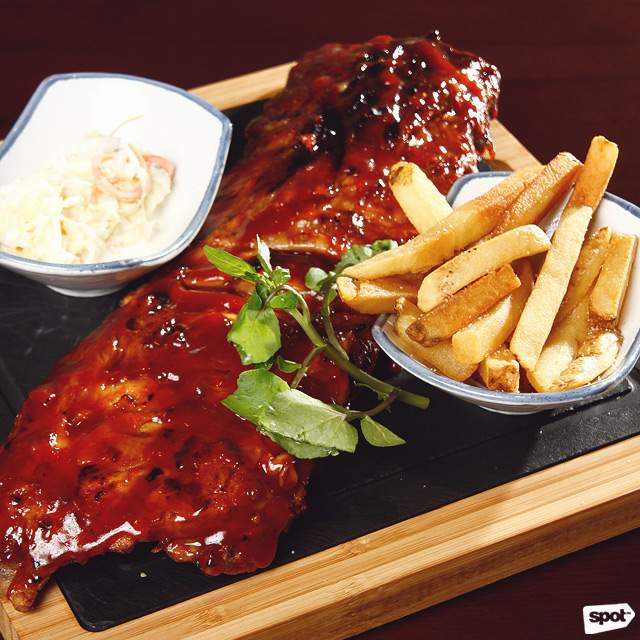 ADVERTISEMENT - CONTINUE READING BELOW
For pork lovers, try the Iberico Secreto (P820). Pork is usually very chewy and dry, but these chops are not only tender, but contain rich, smoky flavors that scream "straight off the grill." If you could describe cooked meat as fresh, then this would be a prime example. Fire-Grill Baby Back Ribs (P650/half, P1245/full) brings new meaning to "fall-of-the-bone" with a generous serving of sweet, barbecued pork.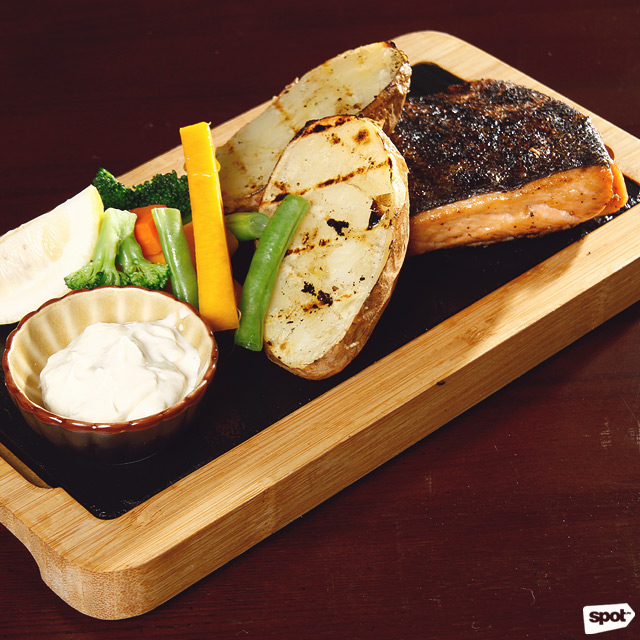 ADVERTISEMENT - CONTINUE READING BELOW
The Norwegian Salmon Fillet Skin-On (P710) is another dish that really puts their Mibrasa oven to the test. The large fillet chunk keeps all the soft flavors of the fish intact, complete with a wholesome flakiness that's difficult to achieve with delicate meat. Add that subtle, charred taste from the crisp skin and you've got yourself a winner.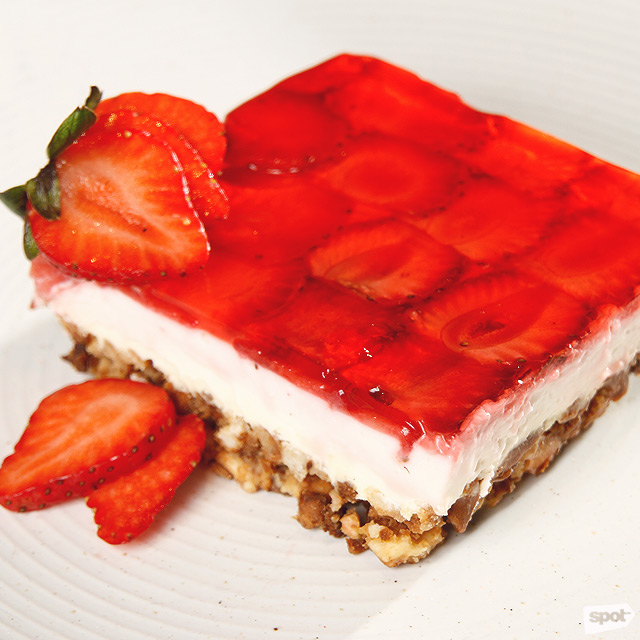 ADVERTISEMENT - CONTINUE READING BELOW
If you've still got space in your tummy, then the Strawberry Pretzel Mousse (P265) is worthy of that last bit. With a salty caramel pretzel base, creamy mousse with a bit of sour tang, and a picture-perfect gelatine top with fresh strawberries, this dessert is a great blend of textures.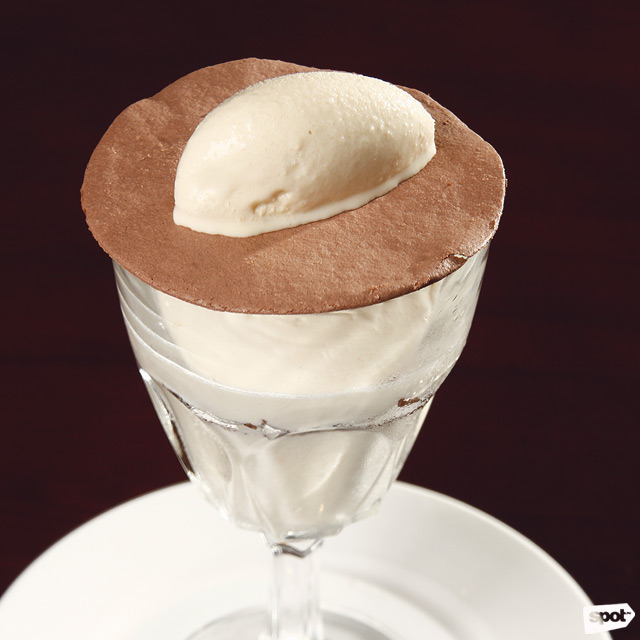 ADVERTISEMENT - CONTINUE READING BELOW
For a real treat, try the Tiramisu To Pick Me Up (P195). It's got all the traditional flavors of an excellent tiramisu: thick layers of fluffy mascarpone, a chocolate sponge with a hint of brandy, and a wafer-like chocolate tuile. Plus, for a surprising hit, a scoop of creamy Kahlua gelato made in-house that TBH, deserves its own spot on the menu.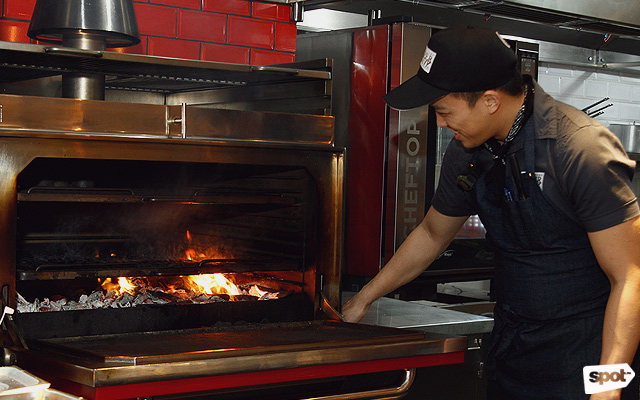 ADVERTISEMENT - CONTINUE READING BELOW
Pua says that he's not a restauranteur, per se, "I'm a foodie," he cheekily admits, and, "when you're a foodie, opening a restaurant is no longer a business." For Pua, it has become a matter of bringing all the good food that he's tried to more people, of being able to duplicate the experience through his restaurants. "You want to see that you have the best food." And that is exactly what he and his team was able to do with George Town. This grill house serves up really good food, from the steaks to the veggies and everything in between—and honestly, most days, that's all we need.
Photos by Vincent Coscolluela
Share this story with your friends!
---
Help us make Spot.ph better!
Take the short survey
Load More Stories