(SPOT.ph) A staple of the holiday season and frequent star of the wedding buffet, roast beef is typically seen as "special occasion" food for most Filipinos. At restaurants, it's usually priced higher than other items on the menu—mainly because beef, and particularly good quality beef, can be pretty pricey. The roasting itself may not be technically tricky, but getting the right tenderness, a succulently flavored rub, and just the exact fat-to-meat ratio to deliver good flavor can be challenging. Whether you're gunning for a lean roast beef or a cholesterol-raising beef belly, your taste buds will be satisfied by these cuts available all over the city.
All SPOT.ph Top 10 lists are researched, paid for, tested, and selected by the writers and editors. They are discreetly conducted without any notice made to the restaurants or their owners.
Also read: Top 10 Roast Beef Dishes in Manila
We look for the best roast beef in Manila:
10. Roast Beef from Smoke'n Sweets (P200)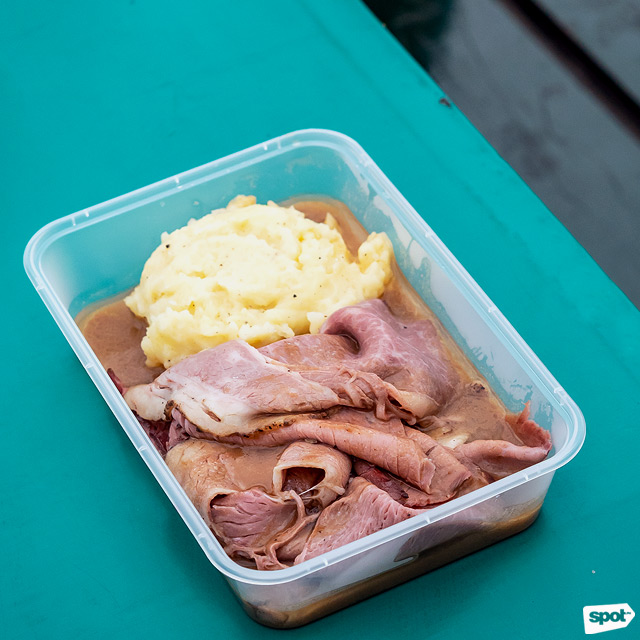 ADVERTISEMENT - CONTINUE READING BELOW
Getting up early to make your way to SIDCOR Weekend Market at Centris may be a chore for most people, but Smoke'n Sweets' generous serving of thinly sliced roast beef is worth setting your alarm for on a Saturday morning. Known for their bacon subscriptions, smoked meats, and pecan pie, this stall's cult following swears by their extremely tender, slightly smoky roast beef, too. If you're looking for the perfect cut for a sandwich, this is your best bet. On the other hand, Smoke'n Sweets' accompanying gravy provides a good amount of saltiness that will make you want to scarf down one (or two) cups of rice along with your roast beef.
Smoke'n Sweets is at SIDCOR Weekend Market, Loop Road, Eton Centris, EDSA, Diliman, Quezon City.
9. Roast Beef Plate from Dayrit's Burger and Roast Beef House (P380)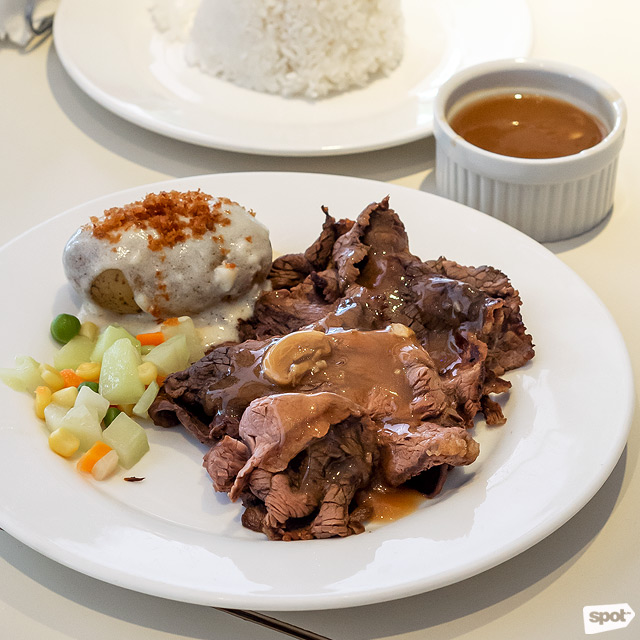 Dayrit's has been around since 1974, and the local joint still makes a good case for its Roast Beef Plate over 40 years later. Served alongside baked potato topped with cheese and bacon bits, vegetable, and your choice between bread or rice, the huge chunk of roast beef is hearty and comforting. Dayrit's roast beef is clean, lean, and tasty without its accompanying gravy. There may be several other restaurants serving up fancy roast beef, but it will do you good to not knock a classic.
Dayrit's Burger and Roast Beef House is at Unit 4 1232 Mega Center Building, Paseo de Magallanes, Magallanes Village, Makati City.
8. Roast Beef from Chef Resty (P180)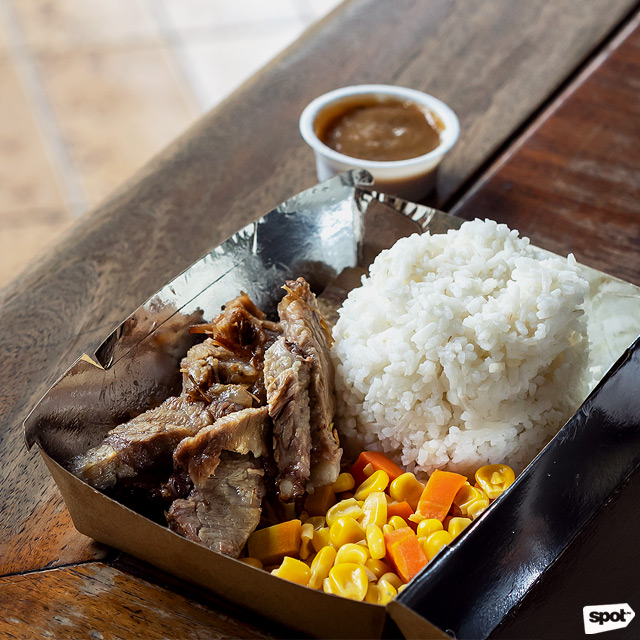 ADVERTISEMENT - CONTINUE READING BELOW
If you haven't picked up a Chef Resty's Roast Beef at the grocery, you've probably tasted it at a party. Known for their catering service, Chef Resty delivers the kind of roast beef that you'd expect from a special family gathering or a reunion at Christmas. Hearty, chunky, and lovely to bite into, this is the kind of roast beef that won't have you wrestling with your fork and knife just to get a good bite. They don't go overly briny with the rub, but you can trust that every mouthful will bring you deliciously salty meat. Trust us, you'll want to go extra on the rice when you order up. Your budget will definitely have room for more, since Chef Resty's Roast Beef is priced so reasonably.
See a list of Chef Resty's branches.
7. Roasted Beef Belly from Nono's (P565)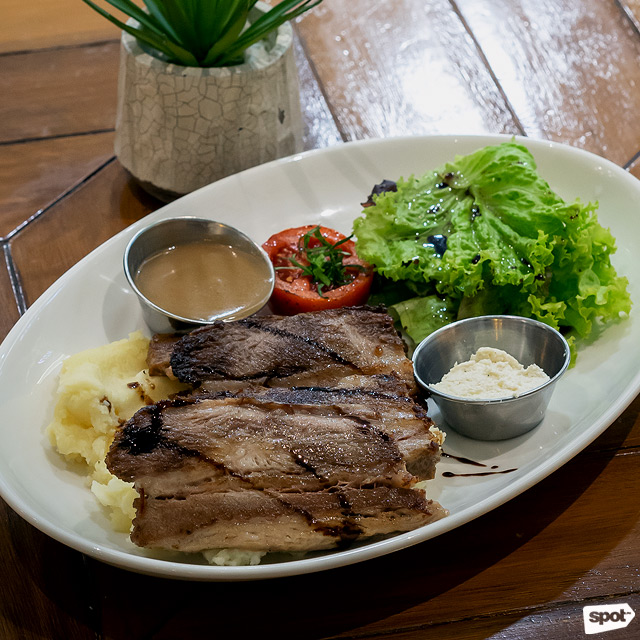 ADVERTISEMENT - CONTINUE READING BELOW
If you're willing to spend a little extra for quality roast beef, then head straight to Nono's, where you're guaranteed three slices of mild, subtly flavored USDA beef belly. Nono's Roasted Beef Belly is unique because it is drizzled with a balsamic glaze. It's served with horseradish cream and mashed potatoes, and the servers are trained to tell you how to get the best taste out of your meal—in this case, by slathering on the horseradish, then dipping your beef in gravy. The beef belly benefits from the sauces, but is so incredibly tender and sinfully fatty that it's good enough to be eaten on its own. Texture-wise, you still get pretty good bite—the beef doesn't fall apart in your mouth and doesn't turn into mush. If you want the kind of roast beef that goes the extra mile, then make Nono's your next stop.
Nono's is at 2/F The Podium, 12 ADB Avenue, Ortigas Center, Mandaluyong City.
ADVERTISEMENT - CONTINUE READING BELOW
6. Most Awesome Angus Beef Belly Single with Rice from H Cuisine (P388/single with rice, P628/for sharing without rice)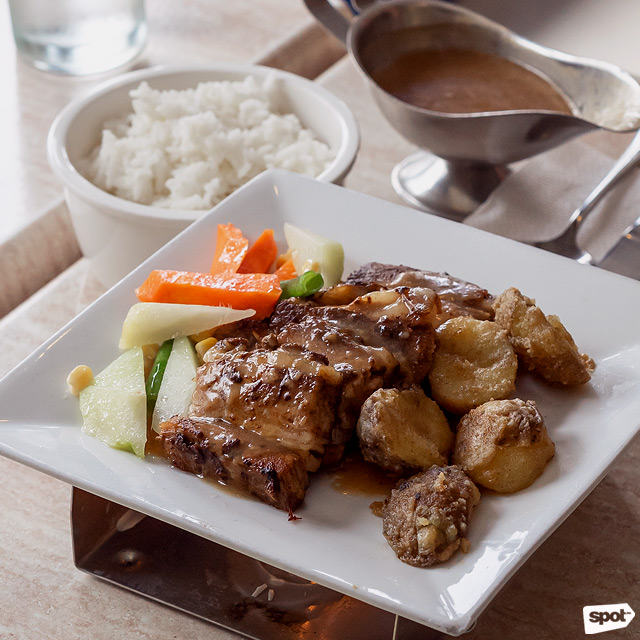 H Cuisine is a little neighborhood haunt in the Scout area of QC, and is known as a go-to for those on the lookout for roast beef pick-ups for parties (serving six to eight people, their frozen roast beef for takeout costs P1,900 and comes with reheating instructions). H Cuisine's Most Awesome Angus Beef Belly is aptly named. The slow-roasted beef is fork tender and served with a demi-glace gravy—the ultimate dish for people who are eager to break out of their low-fat diets for the holidays. Served in a cute mini-chafing dish, the beef is kept constantly warm by a tea-sized candle. Hot tip? Bring someone with you because their single serving with potato and vegetables is good enough to satisfy two hungry beef eaters.
ADVERTISEMENT - CONTINUE READING BELOW
H Cuisine is at 64 Scout Rallos Street, Diliman, Quezon City.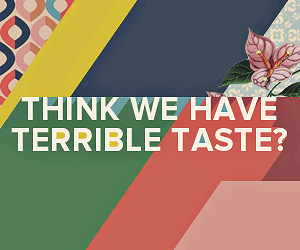 5. Slow Roasted Beef Belly with Au Jus 2 Slices from Relish, Hello Happiness! (P495/two slices;P615/three slices)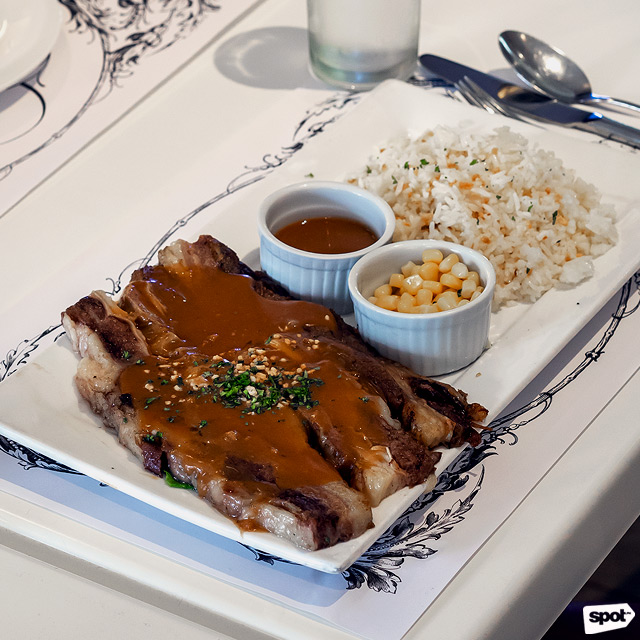 Roast beef is a pretty opulent meal and Relish, Hello Happiness! makes sure you know it. Their Slow Roasted Beef Belly with Au Jus is probably the most bang-for-buck roast beef you'll find in the Metro. Good enough to satisfy three people, their four-hour slow-roasted beef belly has impeccable texture and bite. Seasoned with salt, it delivers the right amount of saltiness that many Filipinos look for in their dishes. The beef sits on top of leafy greens and pick up on that vegetable flavor, which could either be a pro or con depending on how open your taste buds are to the taste of veg. That said, Relish's roast beef is so rich-tasting, it's sinful.
ADVERTISEMENT - CONTINUE READING BELOW
Relish, Hello Happiness! Is at 74 Scout Limbaga Street, Diliman, Quezon City.
4. 8 Hour Angus Brisket from Duck and Buvette (P420)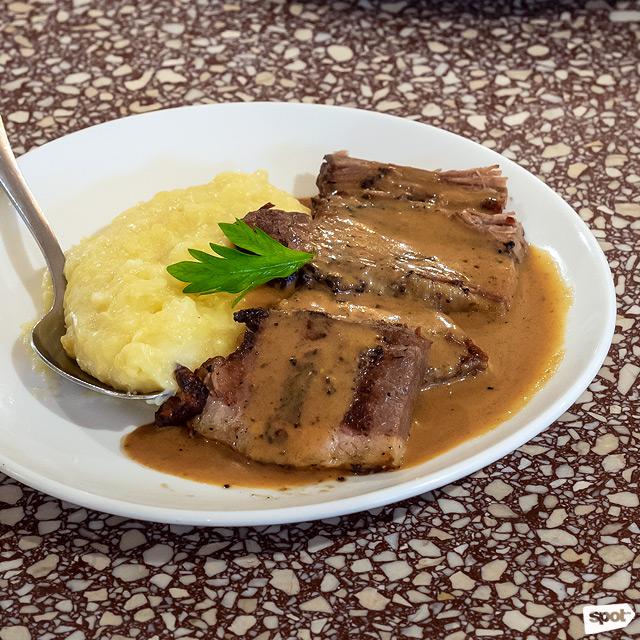 Duck and Buvette's roast beef is served very simply, proving that you don't need a whole lot of extras when you've got really good quality beef. Their 8-hour Angus briskets are a little smoky—something complemented perfectly by its roasted mushroom sauce. Together, they create a flavor that's heady enough to make you want to close your eyes with every bite, but not so flavorful that you can't finish what you're served. If you want to stay away from the fat that usually accompanies a beef belly, you'd be wise to choose this dish.
ADVERTISEMENT - CONTINUE READING BELOW
Duck and Buvette is at Level 2, Main Wing, Shangri-La Plaza Mall, Mandaluyong City.
3. Ten-Hour Roast Beef Belly from Bizu Patisserie & Bistro (P895)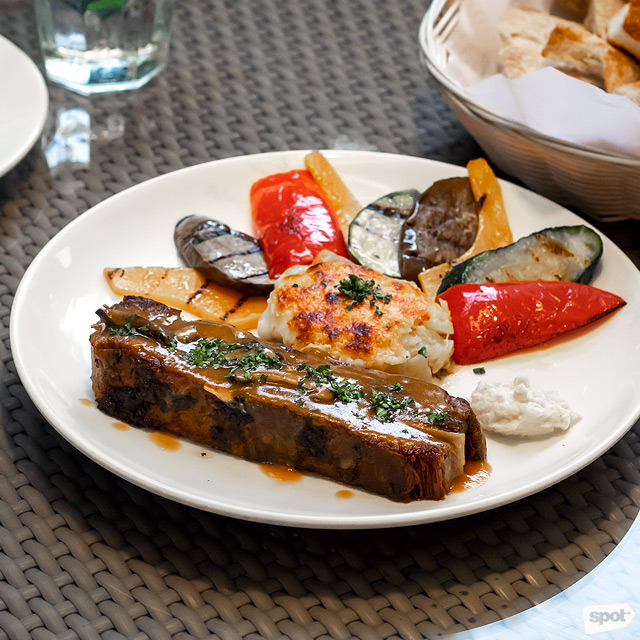 Bizu didn't just bring French patisserie to the Manila food scene, it also brought its special 10-hour roast beef belly to hungry meat lovers everywhere. The breakout star of its catering menu, Bizu's signature slow-roasted Angus beef belly is indulgence for your taste buds—there's no doubt about how this beef's actually been roasted for 10 hours. You can expect every bite to flood you with flavor, and its accompanying potato gratin, grilled veggies, and horseradish and mushroom espagnole just up the ante even more. If you're looking to impress, this attractively plated dish will do the trick.
ADVERTISEMENT - CONTINUE READING BELOW
See a list of Bizu Patisserie & Bistro branches.
2. Muscovado Beef Belly from Grace Park (P695)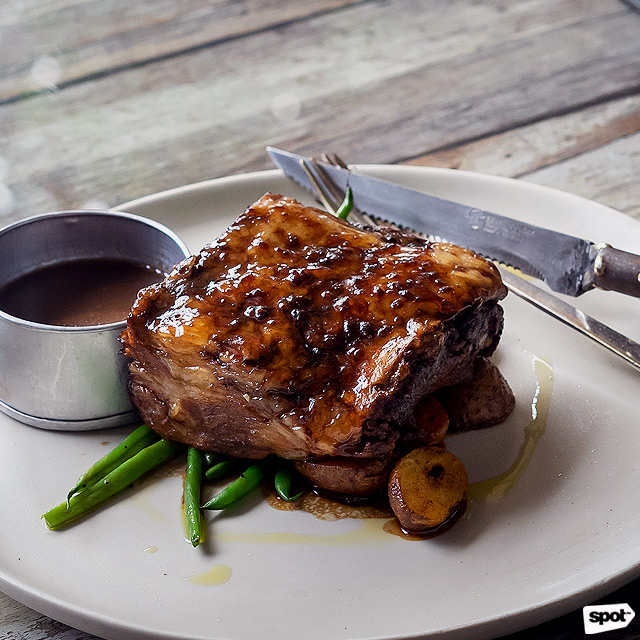 You'd be hard-pressed to find a more tender beef belly anywhere in the city. Grace Park's take on the dish is beautifully slathered with a sweet muscovado topping, balancing out the sumptuously soft beef. There is a certain delicateness to this: instead of a hunk of meat on your plate, you get something quite graceful and subtle—not exactly what you would expect from beef belly, but Grace Park has managed to do it. Their Muscovado Beef Belly delivers a very nuanced flavor that becomes even more heightened when you dip it in its accompanying gravy. If you want beef without the typical heaviness that comes with it, this salty-sweet dish may just surprise you.
ADVERTISEMENT - CONTINUE READING BELOW
Grace Park is at G/F One Rockwell Building, Rockwell Drive, Rockwell, Makati City.
1. Slow Roasted U.S. Beef Belly from Cirkulo (P1,295)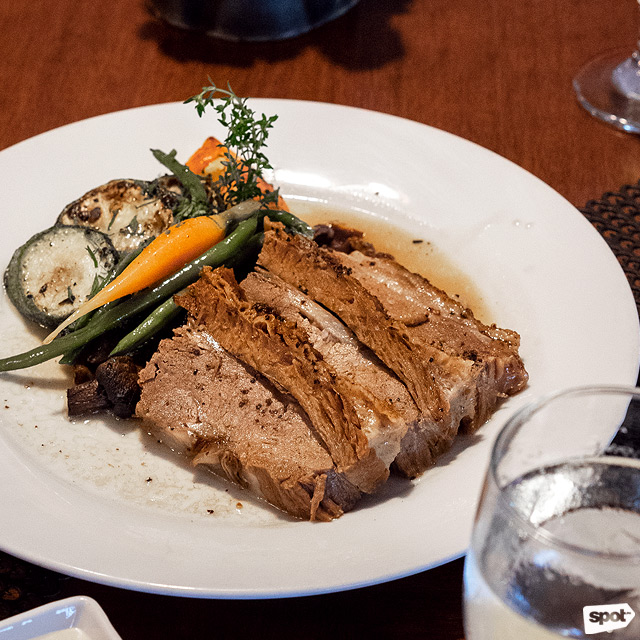 If you're willing to go the extra mile for an already-special dish, then head to Cirkulo, whose beef belly is slow-roasted to such tenderness that you don't even need a knife to cut into it. This U.S. beef belly has a garlic and black pepper crust, which brings in a very light and refined flavor to the meat. The dish comes with portobello mushrooms, roasted tomato, and balsamic shallots as well—exactly what you want when you're eating roast beef and don't want to be inundated by potential heaviness. The beef is not overly fatty, but the fat that does come with the dish gives you little bursts of flavor that you will certainly be thankful for. Cirkulo also provides an aromatic horseradish with its beef belly. Want in on a roast beef secret? While Cirkulo's beef belly is priced on the higher end of the spectrum, you can get it at P695+ with soup of the day or salad, and dessert as part of its Wednesday lunch menu.
ADVERTISEMENT - CONTINUE READING BELOW
Cirkulo is at Milky Way Building, 900 A. Arnaiz Avenue corner Paseo de Roxas, San Lorenzo Village, Makati City.
Photos by Toto Labrador
Share this story with your friends!
---
Help us make Spot.ph better!
Take the short survey
More Videos You Can Watch
Load More Stories