10 Dishes and Drinks to Try in Hanoi If You Only Have a Few Days
You need to try the egg coffee!
(SPOT.ph) When you think of Vietnam, you think of colorful plates, hearty noodle soups, and strong brews. Heavy on fresh herbs and vegetables, Vietnamese cuisine is a balanced medley of flavors, textures, and colors. Vietnam's colonization by the French and its history with neighboring countries have also made for an interesting mix of local flavors with French, Chinese, Malaysian, and Cambodian influences.
The capital city of Hanoi is a great place to get a taste of Vietnamese dishes and drinks. You could spend weeks in Hanoi and find something delicious every day, but this list is a good start if you only have a few days in the city. We've narrowed down spots to limit this list to ones  that are mostly in the French Quarter and Old Quarter, so you can make the most of your time—and tummy space.
Also read:
10 Amazing Street Food Picks for Your Next Taiwan Trip
Here's a quick guide to what and where to eat in Hanoi:
Pho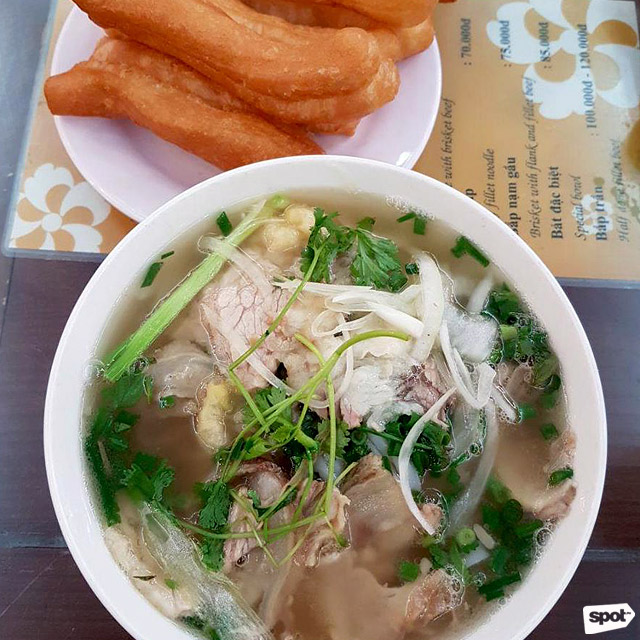 ADVERTISEMENT - CONTINUE READING BELOW
There's nothing like a hot bowl of pho to welcome you to Vietnam after hours of traveling. It's typically made of beef or chicken broth, rice noodles, sliced meat, spring onions, cilantro, and other herbs. You can customize your bowl with lime, chili, hoisin sauce, basil, and more toppings readily available on every table. (A typical restaurant will have trash bins under the table for peels, seeds, and the like.)
For a crunchy yet decadent kick, pair your pho with fried dough, which looks like puffed up breadsticks. Dip it in the broth, let it soak up the flavors for a few seconds, and enjoy.
Pho is said to have originated in the northern part of the country, where Hanoi is located, so make sure you grab a bowl (or five) during your trip. You can get a decent bowl of pho on every corner, but you can start with Pho 10, a restaurant recommended by locals for its quality pho, quick service, and affordable prices.
Pho 10 is at 10 ly Quoc Sur, Hang Trong, Hoan Kiem, Hanoi.
Dry pho
CONTINUE READING BELOW
Recommended Videos
Pho without the broth may seem like blasphemy to some, but hear us out: dry pho is the bomb. It has mostly the same ingredients as pho, but the noodles are infused with a rich, savory flavor similar to a well-known liquid seasoning in the Philippines, so the umami is front and center. Without the broth, the noodles remain springier for longer, too—not that you'd take long to finish the bowl. 
One place that gets packed when it opens at night is Pho Ga Nguyet. They serve dry and traditional chicken pho, plus other chicken dishes. Here, the dry chicken pho is topped with nuts and fried onions and comes with a side of broth. For this dish, you might want to skip the fried dough—dry pho is already plenty rich as it is.
Pho Ga Nguyet is at 5B Phu Doan, Hang Trong, Hoan Kiem, Hanoi.
Banh xeo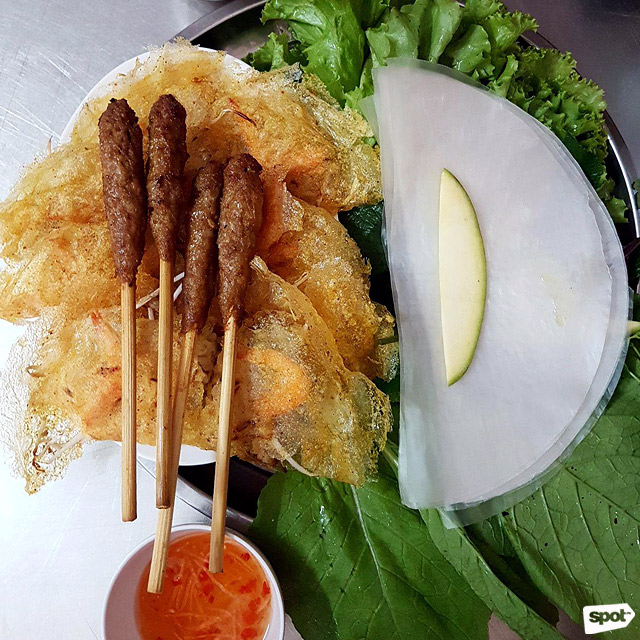 ADVERTISEMENT - CONTINUE READING BELOW
This feast of crispy crepe with shrimp, pork, and leafy greens is best eaten with a group, though it's not hard to imagine finishing a huge order of it on your own. There are many ways to serve banh xeo: different sizes of crispy crepe, with or without rice paper, and with or without leafy greens to use as a wrap.
One store that specializes in banh xeo is Banh Xeo Sau Phuoc. It's a bit farther from the tourist zones of the Old Quarter and French Quarter, but it's well worth the short ride. (Take note: Ride-hailing services, like food, are pretty cheap in Hanoi.)
Here, you take the rice paper and pile on green mango, lettuce, and other leafy greens. Then top with crispy shrimp crepe and crush it to make a snug roll. Or you can top it with skewered pork, roll tightly, and take out the stick. Dunk in chili vinegar for the perfect bite.
Banh Xeo Sau Phuoc is at 74 Cau Dat, Churong Durong Do, Hoan Kiem, Hanoi.
Sticky rice bowl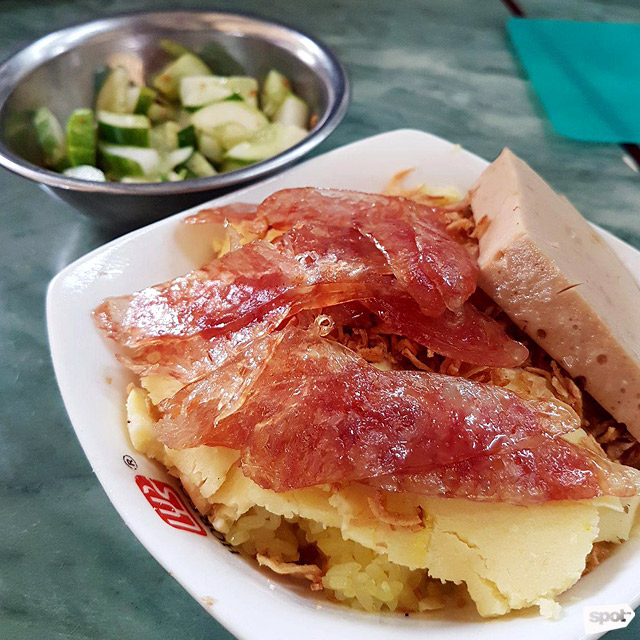 ADVERTISEMENT - CONTINUE READING BELOW
The Vietnamese share our love for sticky rice. In Hanoi, one popular way to eat it is by building a bowl with savory ingredients. Shaved mung beans, pate, braised pork, boiled chicken, Chinese sausage, eggs, and more—there are endless ways to customize your bowl.  
For a quick, satisfying meal, you can't go wrong with the sticky rice bowls at Xoi Yen. Each bowl is topped with a heaping serving of fried onions and comes with a side of spicy cucumber. Simple, filling, and hits all the right spots.
Xoi Yen is at 35B Nguyen Huu Huan, Hang Bac, Hoan Kiem, Hanoi.
Bun cha
This everyday dish in Vietnam exploded into popularity when former U.S. Pres. Barack Obama and the late Anthony Bourdain shared a meal of bun cha and beer in 2016. Bun cha is a mix of grilled pork with vinegary broth, rice noodles, leafy greens, and dipping sauce. Like most Vietnamese dishes, you can customize it with chili, garlic, and sauces.
ADVERTISEMENT - CONTINUE READING BELOW
At Bun Cha Huong Lien, where Obama and Bourdain dined, you can have what they had and see exactly where they sat. What was their spot is now preserved, with a glass box enclosing the table, blue plastic chairs, empty bowls and plates, condiments, and two bottles of beer.
Bun Cha Huong Lien is a bit farther from the city center, but worth the quick ride if you're a fan of Bourdain or Obama.
Bun Cha Huong Lien is at 24 Le Van Huu, Phan Chu Trinh, Hai Ba Trung, Hanoi.
Banh mi
It's said that the best place for banh mi in Vietnam is the city of Hoi An, but if you're not traveling around the country, it's still worth trying it in Hanoi. Bringing together Vietnamese and French flavors, banh mi is a sandwich made of a baguette (introduced by the French during the colonial period), a variety of sliced meat, and fresh herbs and vegetables. 
ADVERTISEMENT - CONTINUE READING BELOW
Pate, pork belly, beef, and chicken are some of the most common fillings. But there are now more fish options, as well as vegetarian fillings like mushrooms, tofu, and eggs. These are stuffed in a soft, flaky baguette typically with carrots, cucumber, coriander, and chili sauce.
One place that offers these varieties stuffed in a perfectly soft, flaky baguette is Banh Mi 25, which almost always have a long queue outside their outlets. They have two spots on one street: a stall where you can get takeout and a two-storey restaurant for dining in.
Banh Mi 25 is at 25 Hang Ca, P, Hoan Kiem, Hanoi.
Vietnamese coffee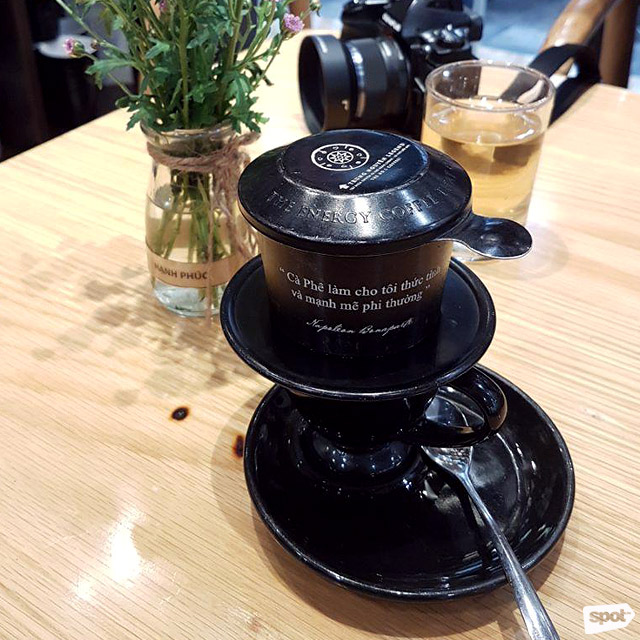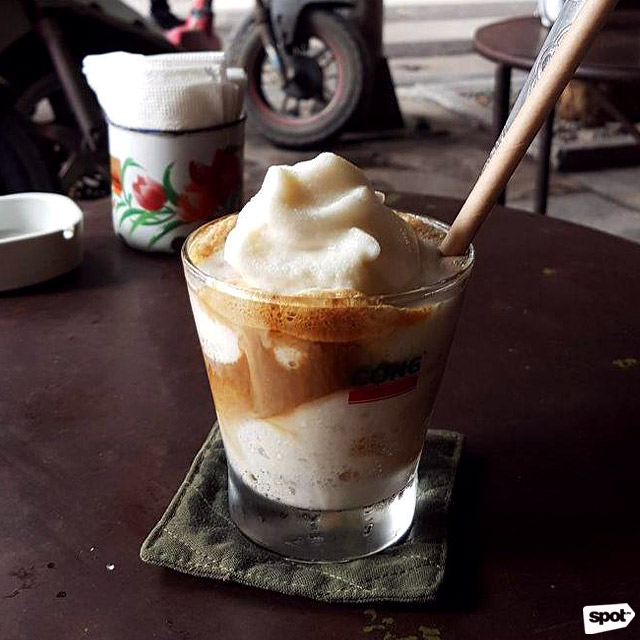 ADVERTISEMENT - CONTINUE READING BELOW
If you're a coffee drinker, you'll be buzzing throughout your trip with all the good coffee in Hanoi. Vietnamese coffee is known for its intense brew tempered by sweet condensed milk. You can easily get your fix at Trung Nguyen, a local franchise which seemingly has a branch on every corner. It's known for the Sang Tao or Creative line of robusta, arabica, and other types of beans in a deep butter roast.
While you'll most likely gravitate towards the classic with condensed milk, it's worth trying other cups of coffee. Trung Nguyen has Ca Phe Mother Land, which has espresso, milk, and ginger—a zinger of a cup. (Pro tip: Their G7 instant coffee makes for great pasalubong.)
For iced coffee, go for a refreshing glass of coffee with coconut gelato or coffee with yogurt at Cong Ca Phe. Grab outdoor seats for a great view of the waves of motorcycles deftly navigating the streets of Hanoi.
Both Trung Nguyen and Cong Ca Phe have various branches in Hanoi. Try Trung Nguyen at 8 Nha Chung, Hang Trong, Hoan Kiem, and Cong Ca Phe at 116 Cau Go, Hang Dao, Hoan Kiem.
Egg coffee
ADVERTISEMENT - CONTINUE READING BELOW
When you think of eggs and coffee, having them separately at breakfast is probably the first thing that comes to mind. But in Hanoi, egg coffee is a decadent, dessert-like drink that's so unique, it deserves its own spot on this list.
Egg coffee was created out of necessity in the '40s when the First Indochina War caused a milk shortage. Without the usual condensed milk, whisked egg was used as a substitute by one Nguyen Van Giang. It made for a rich, frothy cup that is enjoyed to this day at Café Giang, which prides itself on being the original egg coffee shop, as well as other cafés in Vietnam.
Today, egg coffee is made with much more than the original ingredients. Strong robusta coffee is whisked with egg and sugar, plus ingredients like cheese, condensed milk, and butter. It's thick, frothy, and unlike any coffee you've ever had. In fact, it might be best to think of it as a dessert instead of coffee to better enjoy it. 
Egg coffee is typically served in a bowl with hot water to keep the mixture from congealing. Stir with a small spoon upon serving and keep stirring in between sips. 
Café Giang is at 39 Nguyen Huu Huan, Hang Bac, Hoan Kiem, Hanoi, Vietnam.
Egg beer
ADVERTISEMENT - CONTINUE READING BELOW
In Hanoi, the same place that made egg coffee also churns out egg beer, an interesting drink enjoyed around the world using varying techniques and ratios. Café Giang's take is a sweet, extra frothy beer cocktail. The taste may be a bit jarring, but it's a novelty worth experiencing in Hanoi.
Unlike egg coffee, which is ready to drink, egg beer requires some assembling. A glass of whipped egg yolks, sugar, and butter is served with a can of crisp 333 beer. While stirring the egg mixture, slowly pour the beer into the glass until you get the consistency you prefer.
Café Giang is at 39 Nguyen Huu Huan, Hang Bac, Hoan Kiem, Hanoi.
Local craft beer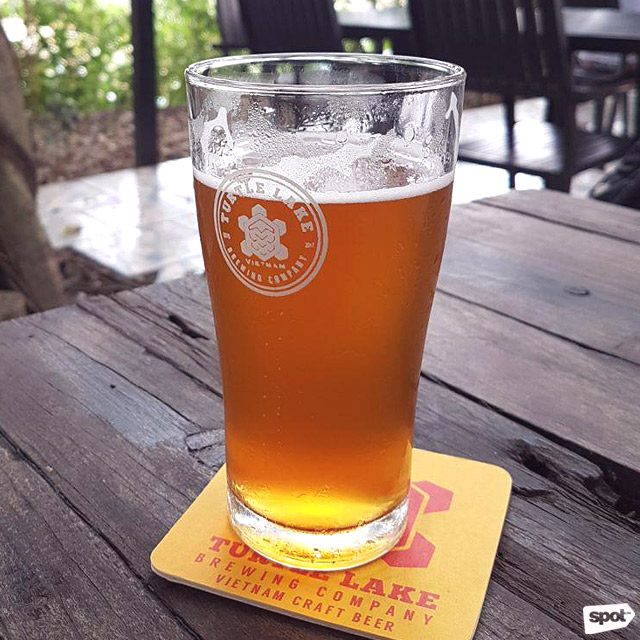 Egg beer aside, the local craft beer scene is a growing industry that combines the east and the west. At Pasteur Street Brewing Co., you'll find Saigon Saison, a Belgian-style brew with Vietnamese heavy hitters ginger, lemongrass, and black pepper from the island of Phu Quoc. At New Gentry Beer House, you can get Hanoi Pineapple Cider, Australian hops with local pineapples and passion fruit.
ADVERTISEMENT - CONTINUE READING BELOW
Farther away from the city center, Turtle Lake Brewing Company brews beer on site like the Vietnamese Pale Ale, a bia hoi or fresh beer that tastes light, hoppy, and clean. The brew house has tempered glass walls, so you can watch beer being brewed while you drink. Named after the turtle legend of Hoan Kiem Lake, the restaurant-bar is surrounded by two lakes and offers scenic views well worth the short drive.
Pasteur Street Brewing Co. is at 1 Au Trieu, Hang Trong, Hoan Kiem, Hanoi; New Gentry Beer House at 7 Hang Manh, Hang Gai, Hoan Kiem, Hanoi.; and Turtle Lake Brewing Company at 105 Pho Quang Khanh, Quang An, Tay Ho, Hanoi.
Photos by Dyan Zarzuela unless otherwise specified.
Share this story with your friends!
---
Help us make Spot.ph better!
Take the short survey
Load More Stories