This Poblacion Stall Serves Tacos That Are Proudly Untraditional
These tacos from Taco-Mata MNL will transport you to the streets of New York.
Taco-Mata MNL
The Pallet, 5804 Dona Carmen Street corner Jacobo Street, Poblacion, Makati City
Contact: 7796-2340
Open 6 p.m. to 2 a.m. (Tuesday to Thursday), 6 p.m. to 3 a.m. (Friday to Saturday), 6 p.m. to 11 p.m. (Sunday)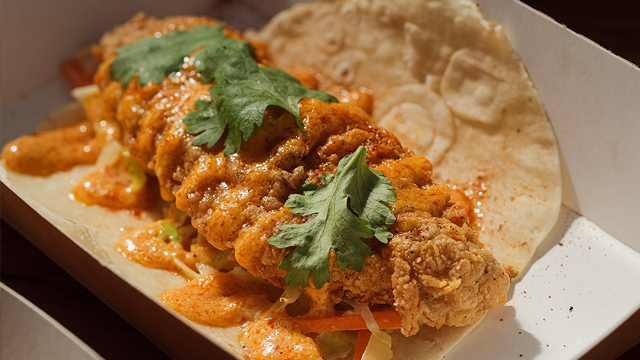 (SPOT.ph) Authenticity is a curious word in this day and age. Surely, there's a place for tradition as tradition dictates—but at the same time, it must be accepted that change is necessary for growth. Rather than let themselves be limited by the need to adhere to tradition—any one tradition, in fact—one couple has embraced the beauty of experimentation, looking towards various influences to pay ode to their experiences living in New York.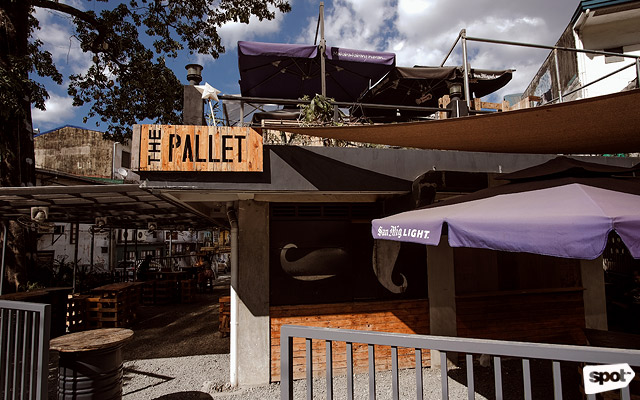 ADVERTISEMENT - CONTINUE READING BELOW
Partners Arra and Arthur Dancel spent the past 13 years of their lives in the Big Apple (Arra was born and raised in the Philippines; Arthur, in the U.S.), working the corporate life in the UN and Wall Street, respectively. Having started to miss the Philippines, the two moved back to the motherland, looking to start anew. After a year of soul-searching, the Dancels realized they dearly missed New York—in particular, its food. In an attempt to fill the gap in their hearts (and stomachs), they decided to make the food themselves instead. Initially, they would hold mini-food tastings just for their friends and family, but the reception was so good, they decided to take the leap and put up Taco-Mata MNL.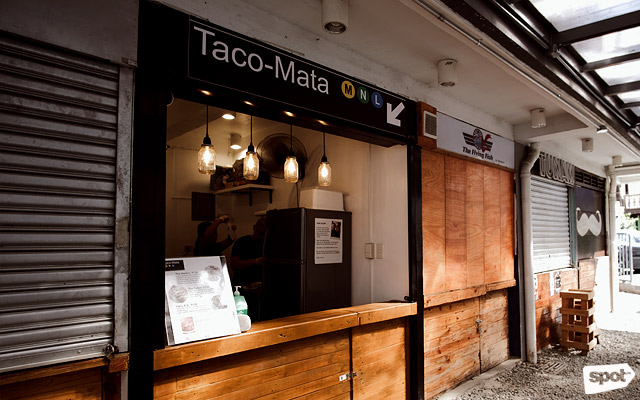 At the moment, Taco-Mata MNL is located at The Pallet food hub in Poblacion, as a pop-up stall that caters to taco lovers six days a week. "We knew Poblacion was the place to be if we wanted to experiment," explains Arthur. The stall greets you as you walk through the food hub's open entrance, which—as with many places in the former red-light district—comes alive as the night, the cool breeze of the wind playing foil to the '90s New York hip-hop music playing and the chatter of people coming together. "There's a community feel [here]," Arra shares. "People are from the neighborhood, [and] you become friends with your customers." True enough, it's the perfect scene to kick back, relax, and enjoy a taco or two after work.
CONTINUE READING BELOW
Recommended Videos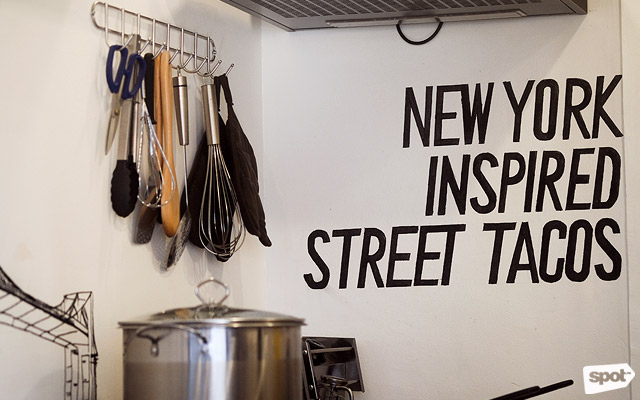 Mind you, the tacos here are unlike anything you'll find anywhere else. Taco-Mata MNL makes all the components from scratch—from the tacos, to the sauces, to the spice rubs and mixes they employ. Moreover, the couple draws inspiration from their experiences in New York, combining elements from different cuisines to form combinations that are as out of this world as they do, surprisingly, work. "We really want to hit on the fact that we're not Mexican food," Arthur clarifies. "We're simply using the Mexican tortilla as a vehicle to present our favorite flavors, our favorite restaurants, and . . . our experiences in New York." New York, after all, is a melting pot of different cultures—just about every cuisine in the book is covered, Arra shares. And that's exactly what you'll find in their tacos: different influences merging seamlessly to form a new identity. Or identities, rather, as they've got three tacos so far, each with its own distinct personality.
ADVERTISEMENT - CONTINUE READING BELOW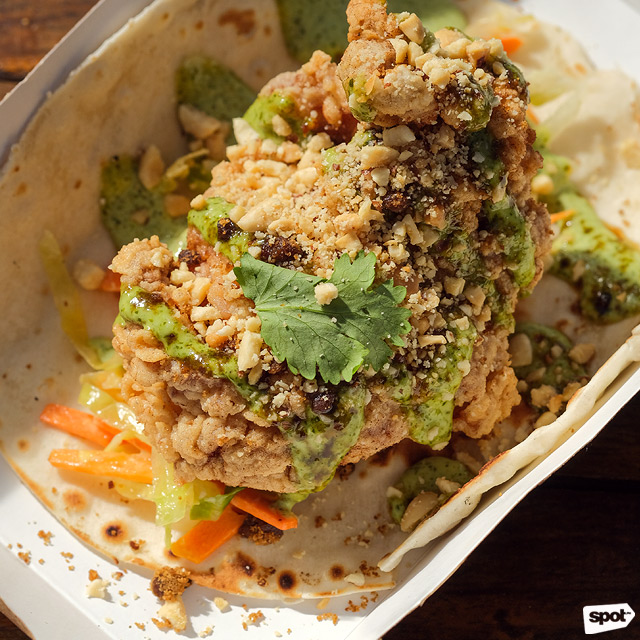 Arthur first introduces us to the Harlem (P130), which features Southern-style fried chicken brined overnight. There's no holding back on the chicken here—the fillets they use are large and juicy, with a just-thick enough batter that makes for a resounding crunch. Coleslaw at the bottom reinforces the American theme so far—but that's just about where it ends. Muscovado sugar and crushed peanuts might sound like an odd addition at first, but they give the taco a surprise nuttiness and mild sweetness that bring to mind Indonesian satay. A final drizzle of a Peruvian-inspired green sauce, made with cilantro, makes for a tangy, zesty bite that balances out the richness of the chicken—and unusual as it sounds on paper, everything comes together cohesively. Taco-Mata MNL is onto something here.
ADVERTISEMENT - CONTINUE READING BELOW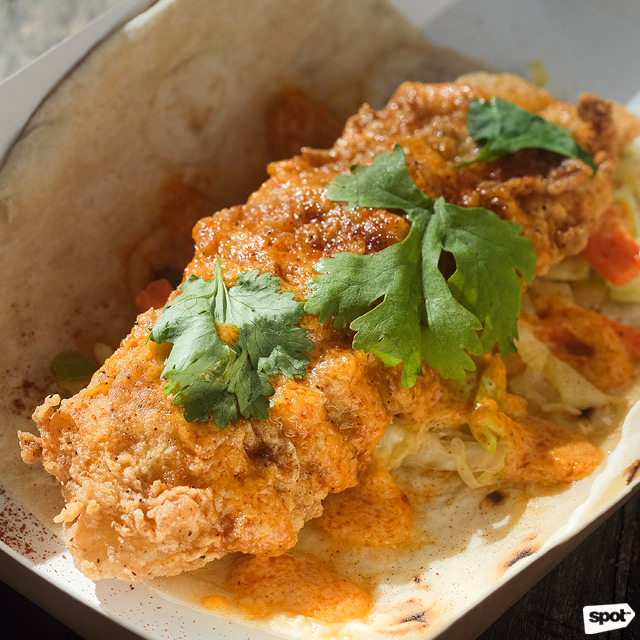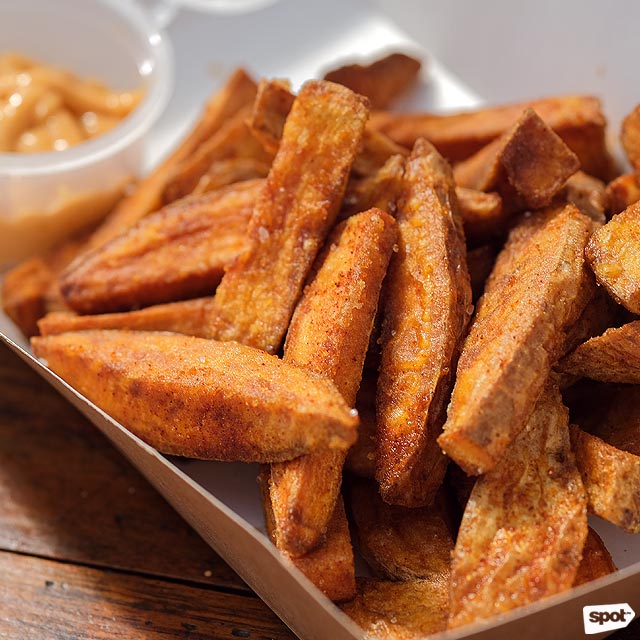 Taco-Mata MNL goes the more Cajun-inspired direction in the Fulton (P120), this time highlighting beer-battered fish that's properly light and crisp outside and succulent within. It's also got coleslaw on the bottom, adding creaminess and crunch. And then there's the kicker: their house-made orange sauce—a rich, buttery, tangy concoction of caramelized onions, butter, lemon, and paprika that goes with just about anything, we'd eat it by the spoonful. The same orange sauce helps enliven their Sweet Potato Fries (P100), which is exactly what it says—and so much more. Crispy on the outside and soft on the inside, the fries are spiked with a special spice rub and Mediterranean sea salt that bring out the sweet potatoes' sweetness. It's hard to stop at one piece—one order, even—especially when devoured in tandem with the tacos.
ADVERTISEMENT - CONTINUE READING BELOW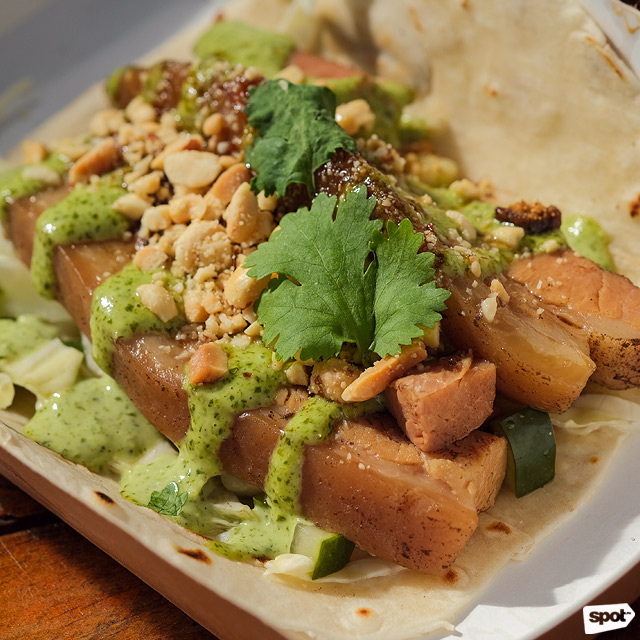 Finally, we get to the final taco in their lineup, and it might just be one of their best. The L.E.S. (P130) is the Dancels' homage to the Lower East Side of New York, which has become "like a hub of experimental chefs pushing the boundaries of cultural cuisine," Andrew explains. "It's [gotten] to a point where, [when] you're eating something in a restaurant, you don't know what the history [or] the ethnic background is. It's just good food." And the same can be said for this taco, which has Hunan-inspired braised pork belly, pickled veggies, their green sauce, muscovado sugar, crushed peanuts, and cilantro. We could try to break it down—the uber-tender pork belly's got a sweet-savory character that balanced out by the tart pickled veggies, the peanuts and muscovado sugar bring in a fresh lumpia-esque vibe that goes well with the pork, and the green sauce adds that extra zing—but really, there's no need to overthink it. All elements mingle with one another and come together like pieces in a puzzle (that may have come from different puzzle boxes, but fit together nevertheless), thus forming a coherent whole.
ADVERTISEMENT - CONTINUE READING BELOW
Of course, anyone can throw together random elements and call it a thing. But the key to Taco-Mata MNL's success is in the details—the delicate balance of flavors and textures, the well-thought out components, the properly cooked meats, the multi-directional pow each resulting bite takes the senses. "Inauthentic" they may be, but these tacos are the real deal.
The couple admits they're currently in an experimental phase and are not necessarily committed to anything long-term (though they do have plans to broaden their menu with influences from other cuisines), but this is only the beginning for Taco-Mata MNL. From how things are now, we can tell that they've got a very bright future ahead.
Photos by Majoy Siason
Share this story with your friends!
---
Help us make Spot.ph better!
Take the short survey
Load More Stories