Pandan Asian Café
76 Scout Limbaga Street, Barangay Laging Handa, Tomas Morato, Quezon City
Contact: 8353-9279, 8355-0998
Open daily from 11 a.m. to 11 p.m.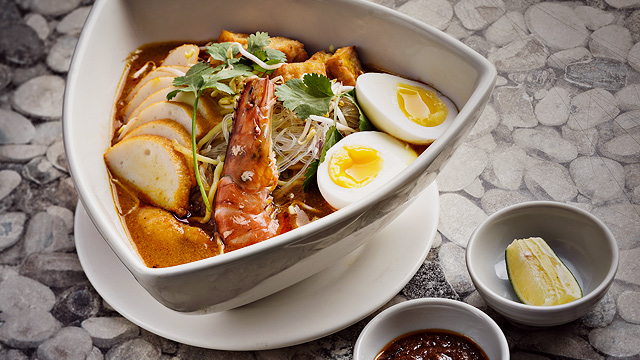 (SPOT.ph) If Crazy Rich Asians were shot in the Philippines, which restaurant would they go to? This was the actual thought and inspiration of Chef Myke Tatung when brainstorming for his latest restaurant, Pandan Asian Café, which opened toward the end of January. "Elegant, classy, rooted in tradition, but very 'now' was our goal," shares Chef Myke.
ADVERTISEMENT - CONTINUE READING BELOW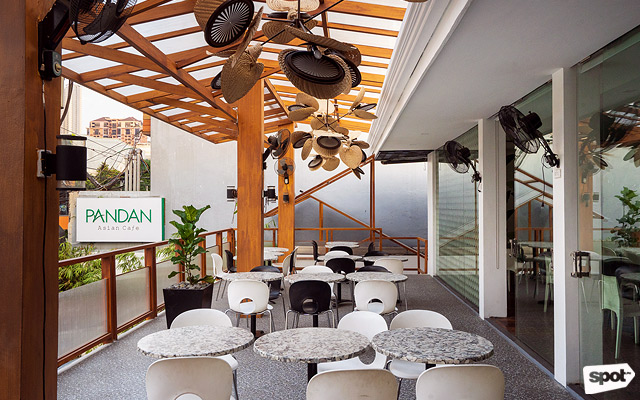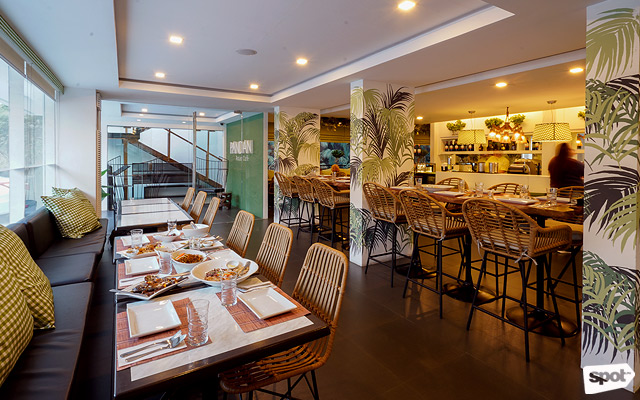 Walking into Pandan Asian Café is a breath of fresh air as an oasis of green foliage calmly welcomes you throughout the airy space. Designed by interior designer Ivy Almario, the aesthetic is fresh and inviting, enveloping dining patrons in warm natural light streaming in from the glass picture windows. Green gingham details on the pillows and lamps lend a touch of cozy elegance for diners to relax in. Hand-painted tropical leaves adorn the white pillars in the tranquil space; they pair perfectly with the plant cuttings gracefully draped from the ceiling. The luxurious tropical vibe of Pandan Asian Café makes for relaxed conversation, a plush dining experience, and striking Instagrammable shots anywhere you turn.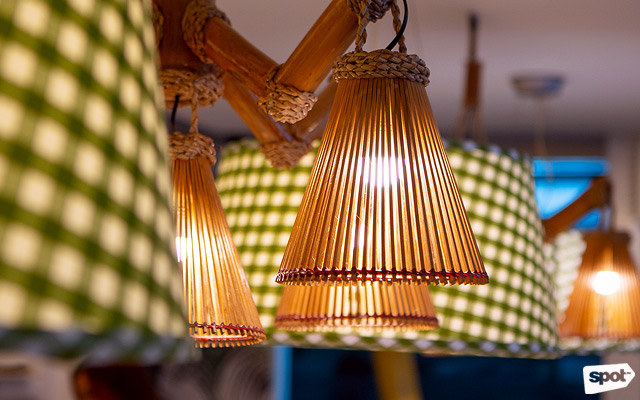 ADVERTISEMENT - CONTINUE READING BELOW
Chef Myke is a name already synonymous to Filipino food and traditional heritage recipes brought to life in the kitchen. But not many people know that right out of college, one of his first jobs was working as an editorial assistant for Sun Star Cebu's travel section. This brought on opportunities to travel and deepened his fascination and passion for the cuisine of this region.

"I really love Southeast Asian food. Deep inside, this is the food I love to eat and prepare. I've always been known for Filipino food but when I do my research, I always try to contextualize our local cooking based on our interconnections with our neighbors in Southeast Asia," he says. "If you look at our cuisine, geographically, we share the same ingredients. But we do not cook them the same."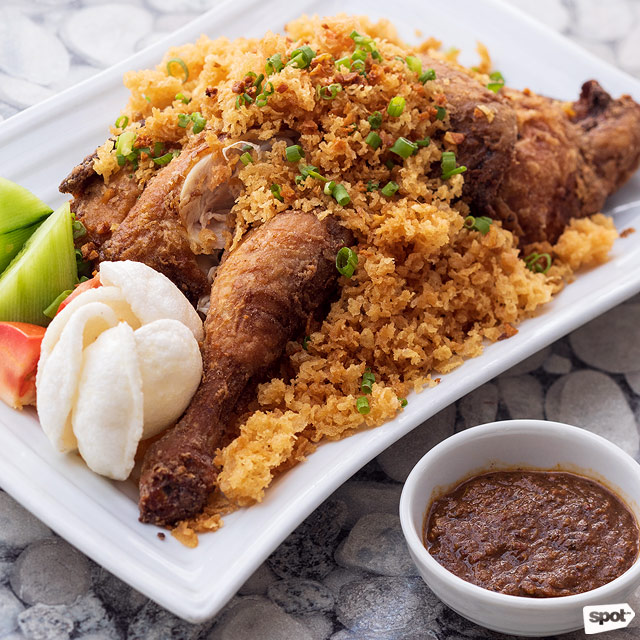 ADVERTISEMENT - CONTINUE READING BELOW
A good example would be the humble fried chicken. Every Filipino kitchen has their own version of this crispy family favorite, but the Indonesian take is in the form of the Ayam Goreng (P460). The chicken is coated with a dry rub made from sambal, infused with herbs and spices, and topped with crunchy deep-fried spiced flour flakes reminiscent of a tempura batter. Each juicy chicken bite with the crunchy flakes, dipped in sambal sauce, is a guaranteed palate-pleaser for diners of all ages.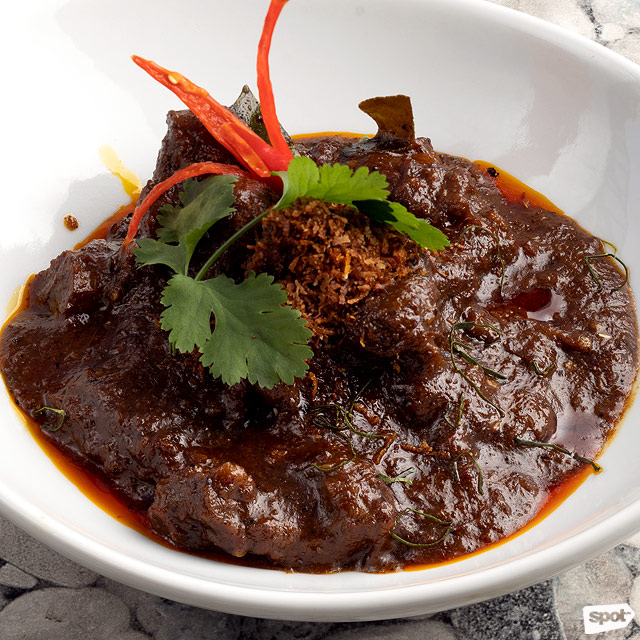 ADVERTISEMENT - CONTINUE READING BELOW
They cannot call themselves a Southeast Asian restaurant without its own take of the classic beef dish that originated from West Sumatra in Indonesia, and Pandan Asian Café's version of the Beef Rendang (P580) does not disappoint. The slow-cooked beef that is painstakingly stewed in coconut milk and spices for hours is truly a labor of love and with each fork-tender bite, the juicy beef and flavorful sauce will entice you to say "More rice, please!" in no time.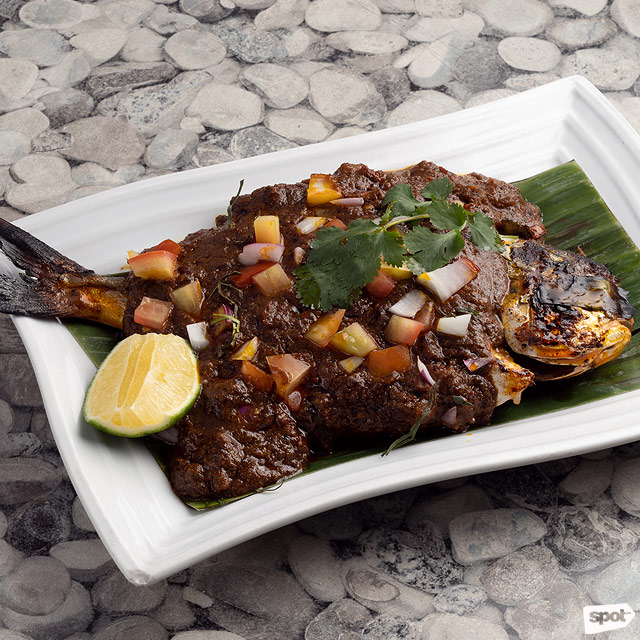 ADVERTISEMENT - CONTINUE READING BELOW
For the non-meat eaters, there is the Sambal Ikan (P650), a Malaysian/Singaporean hawker center favorite. The traditional way would use stingray as the fish but Chef Myke uses whole pomfret (a.k.a. our local pompano) for its fatty texture and mild flavor. Marinated with Pandan's homemade sambal paste, the fish is grilled over charcoal on a banana leaf to give the meat that distinctive fragrant smoky barbecue flavor smothered with the sambal sauce. A dash of fresh lime completes each flavor-packed flaky fish morsel in your mouth.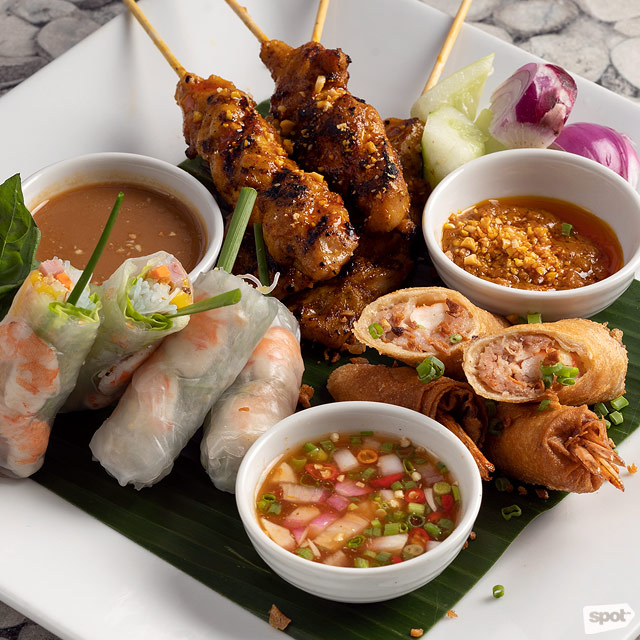 ADVERTISEMENT - CONTINUE READING BELOW
For discerning diners who want a little bit of everything on a plate, there are two types of sampler platters to choose from. The Vietnamese Platter (P590) features the freshness and delicate balance of fresh herbs, meat and selected spices that healthy Vietnamese cuisine is known for. The sampler includes the Goi Cuon or fresh spring rolls with crisp vegetables and fresh shrimp that are wrapped in soaked rice paper (bánh tráng) and served with a tasty peanut sauce for a refreshing burst of flavor; the Chicken/Pork Satay in skewers with peanut sauce and a special spice blend that provide the tasty barbecued meat part in this flavor mélange on a plate; and the Fried Shrimp Rolls, deep-fried crispy shrimp rolls with minced meat.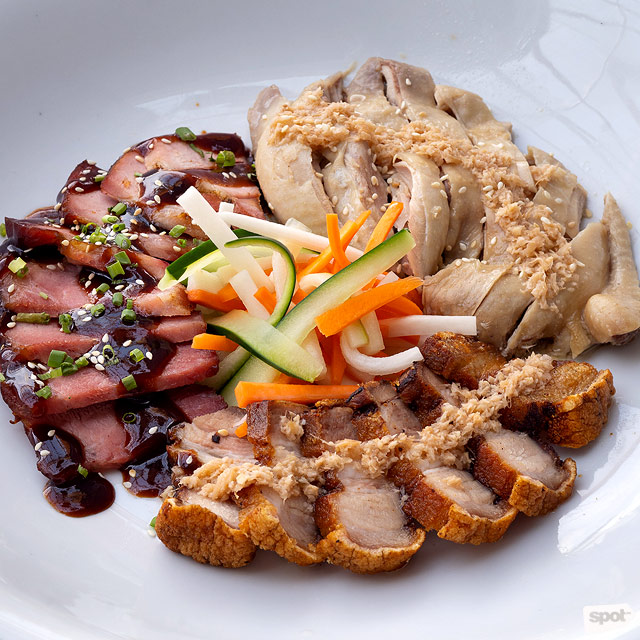 ADVERTISEMENT - CONTINUE READING BELOW
For meat eaters, the Singaporean Platter (P990) is a sure-fire hit with hawker-delights aplenty. There's Char Siu Pork, which is the sweet-salty-smoky Chinese-style barbecue pork; the crispy and succulent Lechon Macao, which is deep-fried pork belly infused with five-spice flavor and served with ginger scallion oil for that extra zing; and the gold-standard staple in any Singaporean food trip, the delicate but flavorful Hainanese Chicken. The three dishes go perfectly with the pickled vegetables on the side and make for a great sharing option for groups.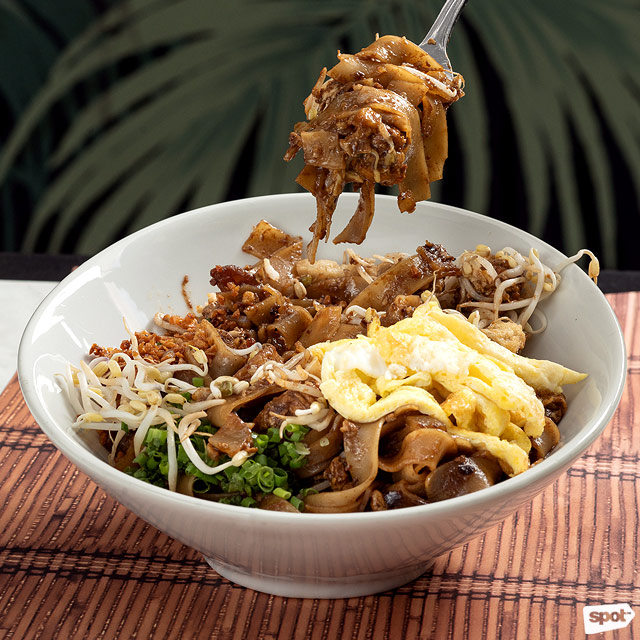 ADVERTISEMENT - CONTINUE READING BELOW
With these two diverse Asian platters, a noodle dish would seem perfect to partner all the flavors on your plate. Why not give the national favorite noodle dish of Singapore and Malaysia a try? The Char Kuey Teow (P380) is a Hawker-style noodle dish with stir-fried flat rice noodles tossed with strips of Chinese sausage, chicken, and fishcake. Each bite of this popular noodle dish has a slightly charred taste and smoky flavor profile—true to the authentic experience of eating the classic dish.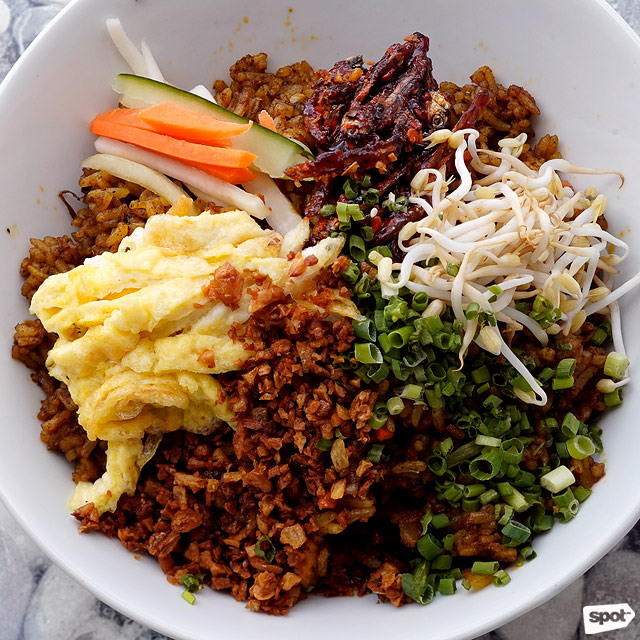 ADVERTISEMENT - CONTINUE READING BELOW
If you are more of a rice person, the Indonesian fried rice dish Nasi Goreng (P285) is right up your alley.  The aromatic and earthy fried rice is spiced with kecap manis (sweet soy sauce) and made hearty with chicken, eggs, and vegetables, topped with spicy dilis for an extra crunch in every bite. Pandan Asian Café's version of this classic dish will make you realize why this is a strong contender for the national dish of Indonesia.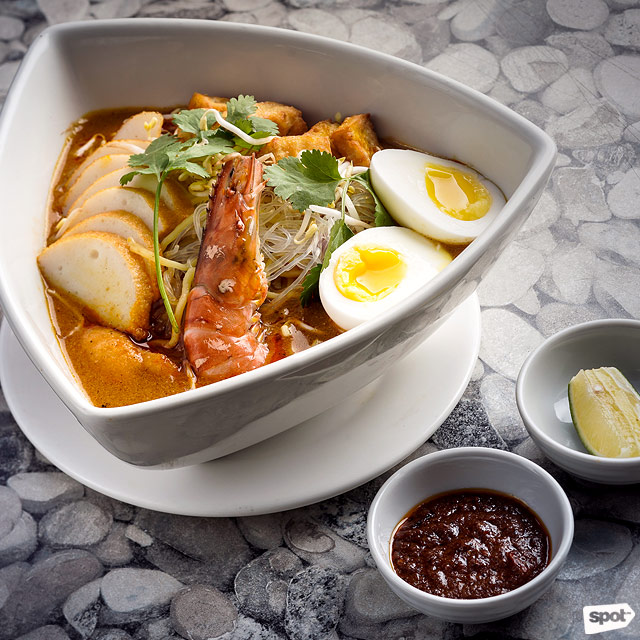 ADVERTISEMENT - CONTINUE READING BELOW
If there is a centerpiece for the Pandan Asian Café experience, the Seafood Laksa (P440) could very well be the crown jewel. Chef Myke wanted to stay true to the real straightforward laksa experience of the Peranakan culture of Southeast Asia. No bells and whistles here—the sambal is made in-house, mixed, and cooked down with the coconut milk. Seafood and noodles are then added, resulting in a very rich, spiced coconut broth. The thin noodles with the prawn, bean curd, fish cake, and hard boiled egg make for a complete meal good for two to three happy diners, perfect to enjoy while steaming hot in the bowl.
Also Read:
The Best Laksa and Laksa Kits You Can Order in Manila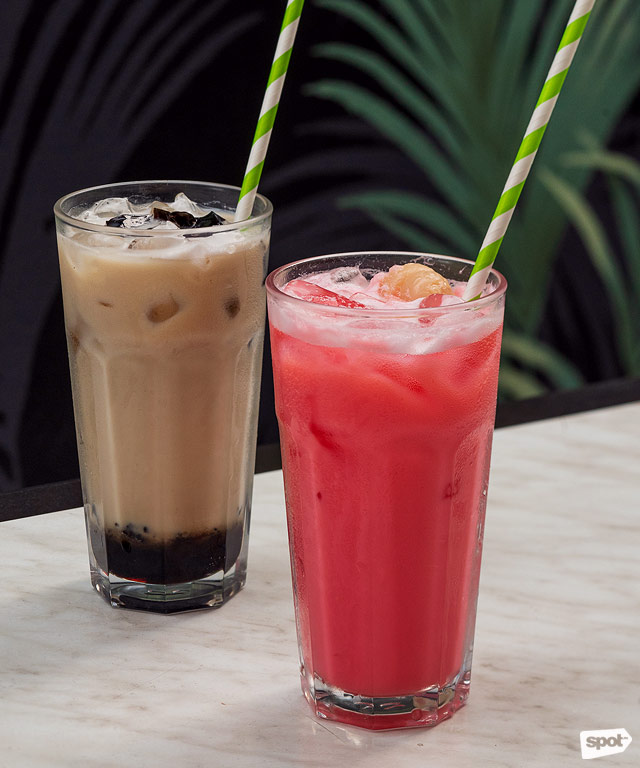 ADVERTISEMENT - CONTINUE READING BELOW
To tame the complex flavors of the dishes at Pandan Asian Café, there are beverage options that can satisfy even the pickiest of palates. For those missing their Singapore adventures, the Pink Milk Tea (P150) or rose bandung is infused with rose essence and lychee syrup that makes for a Legally Blonde-pink approved refreshing drink. They also have a Pinoy twist to the milk-tea craze: Milk Tea with Gulaman and Pearls (P180), which also doubles as a sweet treat. Those looking for something simpler can go for their Classic Lemon Iced Tea (P110).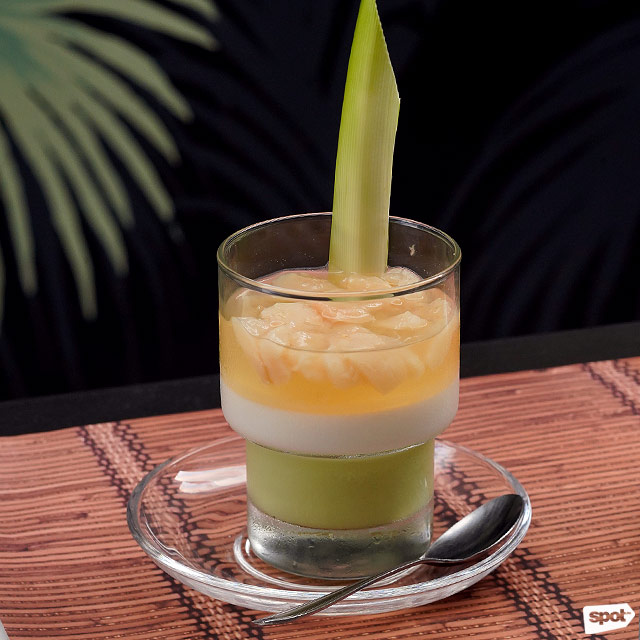 ADVERTISEMENT - CONTINUE READING BELOW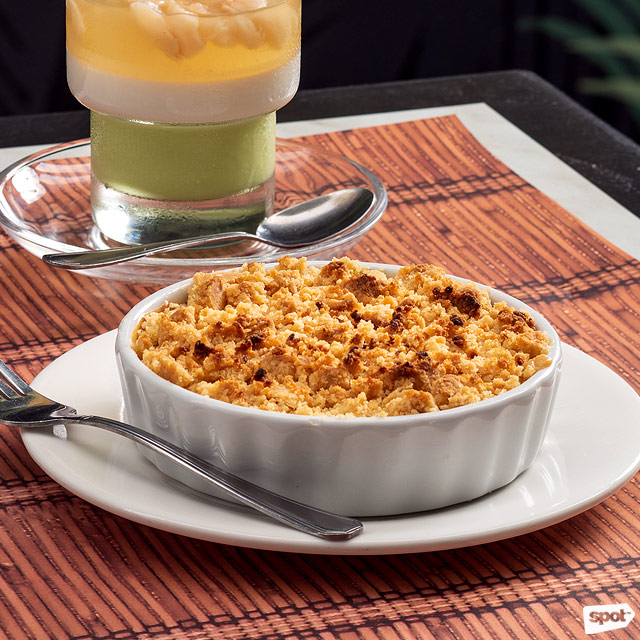 And speaking of dessert, be sure to save some room for Pandan Asian Café's sweet offerings. The Pandan Coconut Jelly (P220) with lychee is perfect for the dessert lovers who want something lighter to cleanse their palates after a beautiful meal. But the pièce de résistance of the dessert menu must be the Buko Crumble (P260) or Chef Myke Tatung's homage to the humble buko pie—a creamy and decadent take on it, anyway, with sweet and crunchy pastry crumbs on top.

If you're yearning for adventure and a certain food dish that brings back memories of a favorite Southeast Asian trip, head over to Pandan Asian Café for authentic Asian food prepared the traditional way.
ADVERTISEMENT - CONTINUE READING BELOW
Photos by Ian Santos
Share this story with your friends!
---
Help us make Spot.ph better!
Take the short survey
More Videos You Can Watch
Load More Stories