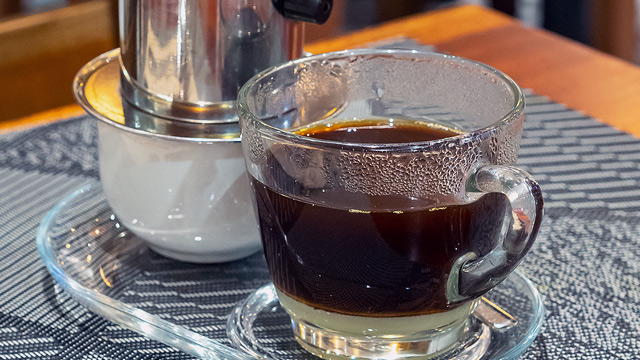 (SPOT.ph) In the midst of all the cafés and specialty coffee shops popping up all over the Metro, Vietnamese coffee has also seen a rise in popularity. You can't really score a good cup in a typical café—you need to go to the source, an authentic Vietnamese restaurant.
ADVERTISEMENT - CONTINUE READING BELOW
What makes Vietnamese coffee different from your usual blends is its incredibly strong Robusta flavor. If you're shying away from caffeine, Vietnamese coffee is a no-no. Sweetened by condensed milk, the coffee is usually served in a single drip cup, which may take a little bit of time to fully percolate. You know you've got a good cup in your hands by the strength of the coffee flavor, the sweetness offered by the condensed milk, and the way it's all presented. It's good to note that Vietnamese coffee is meant to be enjoyed leisurely—order it on a slow afternoon, when you've got time to savor every sip.
Also read:
Top 10 Vietnamese Coffee in Manila

All SPOT.ph Top 10 lists are researched, paid for, tested, and selected by the writers and editors. They are discreetly conducted without any notice made to the establishments or their owners.
Here are the places where you can get the best Vietnamese coffee in Metro Manila right now:
10. Ca phê sila da from Vina Trang (P145)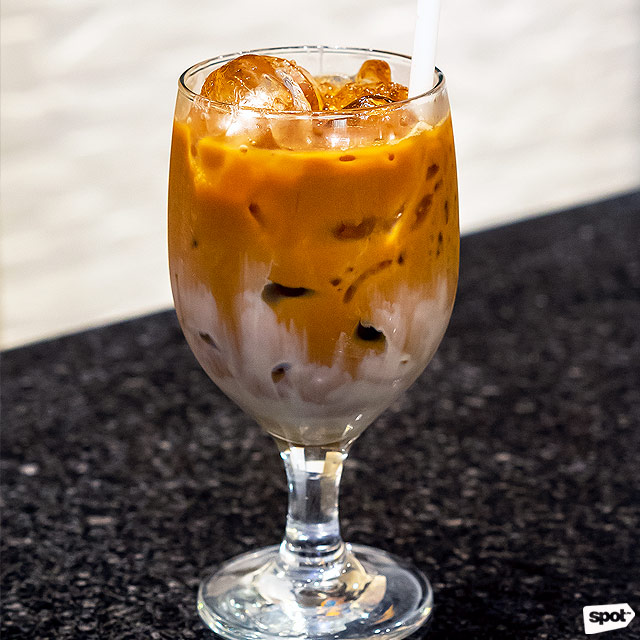 Vina Trang sells Vietnamese beans you can take home. But we suggest sampling their Brown Iced Coffee while you're there, so you know exactly the kind of taste you should go for when you DIY it at home. The coffee in this drink is so strong, it'd come through even if you've got a cold and can't taste anything. Dark and slightly burnt, the flavor is a great match for the sweet kick delivered by the sugary milk.
ADVERTISEMENT - CONTINUE READING BELOW
As far as Vietnamese coffees go, this one goes subtle on the condensed milk—it's just enough to make you consider this a dessert and a beverage all at once, but not too much that you'll want to surrender after your first few sips. Delivered to your table already blended and in record time, this is your go-to if you want a caffeine hit without the usual wait.
Vina Trang is at LG/F Century City Mall, Kalayaan Avenue, Poblacion, Makati City.
9. Ca Phê Sua Nuong from Bawai's Vietnamese Kitchen (P120)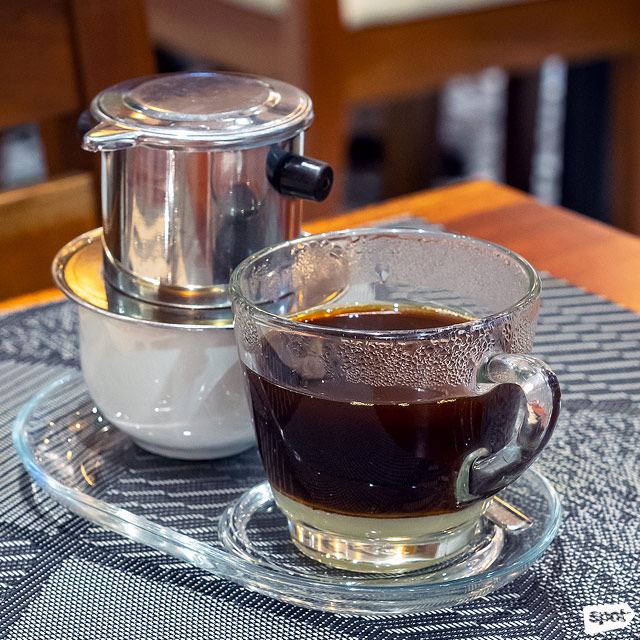 ADVERTISEMENT - CONTINUE READING BELOW
There are no surprises with Bawai's Vietnamese coffee—you'll get exactly what you're looking for. Bawai's coffee has a powerful aroma, something that will keep you company as you wait the five or so minutes it takes for your coffee to filter through. A great waker-upper, there is no mistaking the caffeine hit that will inevitably come with your very first sip. They've got the level of condensed milk just right, too—enough to counter the strength of the beans, but not so much that your coffee tastes like candy. If you're looking for a cup full of comfort, this one's for you.
Bawai's Vietnamese Kitchen has branches at White Plains and Greenhills. See a list of Bawai's Vietnamese Kitchen branches.
8. Hot Vietnamese Coffee from Banana Leaf (P80)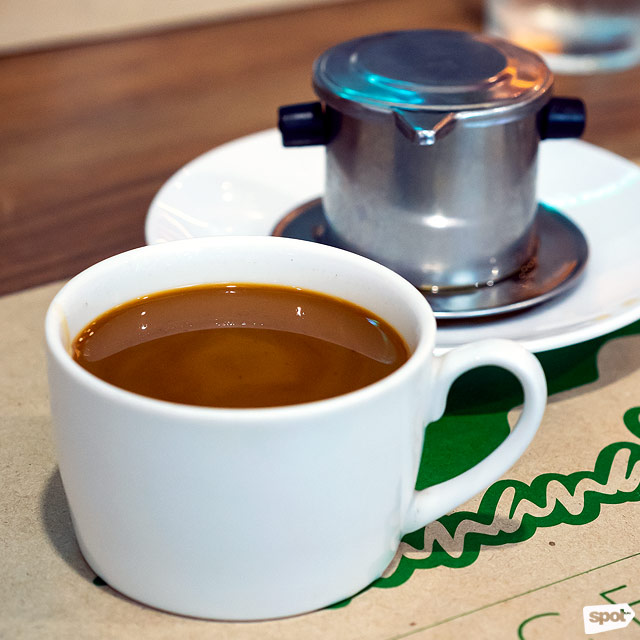 ADVERTISEMENT - CONTINUE READING BELOW
More watery than most Vietnamese coffees, Banana Leaf's blend would appeal to you if you're an Americano fan. If you like your caffeine slightly diluted without losing its potency, then you'll appreciate this lighter, easier-on-the-belly version of Vietnamese coffee. Because this one is particularly light, despite the sweetened condensed milk, it's a wonderful way to cap off a heavy meal.
Banana Leaf has branches at Trinoma and Power Plant Mall. See a list of Banana Leaf branches. 
7. Hot Vietnamese Coffee from Saigon Corner (P85)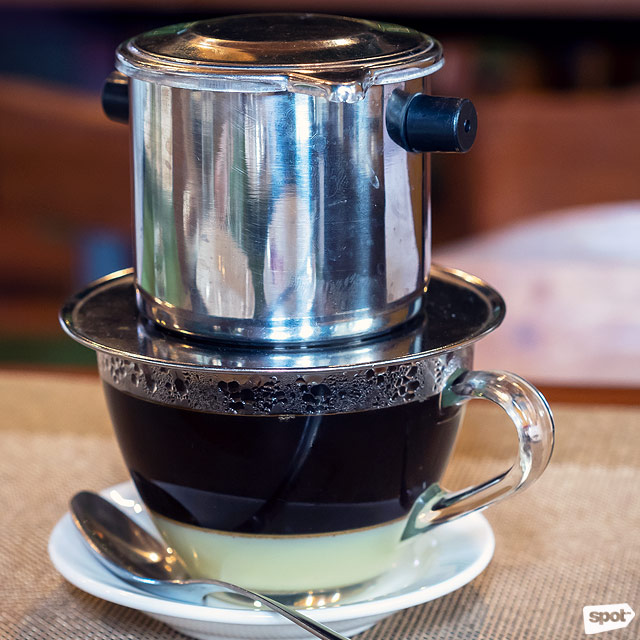 ADVERTISEMENT - CONTINUE READING BELOW
This little neighborhood restaurant in Quezon City offers Vietnamese coffee that's particularly interesting because of its caramel flavor. Yes, you get the oomph that Vietnam beans typically deliver, but the impression this drink leaves is one that is soothing, sugary, and satisfying. If you have a sweet tooth and require some perking up too, Saigon Corner's coffee does double duty.
Saigon Corner is at 40 Sergeant Esguerra Avenue, Diliman, Quezon City.
6. Kaphé sua nong from Wabi-Sabi (P75)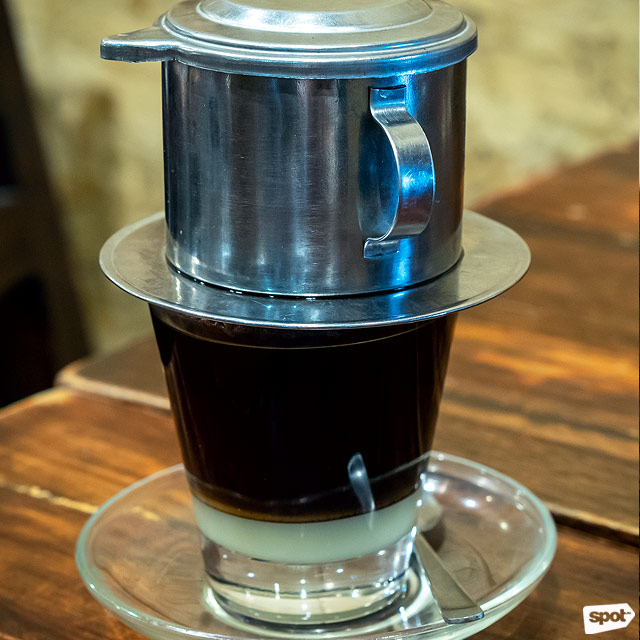 ADVERTISEMENT - CONTINUE READING BELOW
Wabi-Sabi's Vietnamese coffee delivers on size. Its flavor is as big as the generous cup it's served in. Even if drip coffee is designed so you'll have to wait to take a sip, you'll want to give this one a couple of minutes to rest too because the coffee is absolutely steaming hot—something that adds to its appeal because coffee is never great when it's lukewarm. There is also a good coffee-to-condensed-milk ratio in Wabi-Sabi's kaphé—even with the huge coffee cup, they were able to get the sweetness right smack in the middle, giving you a beautifully balanced Vietnamese coffee experience.
Wabi-Sabi is at 305 Pos Building, Scout Madriñan, Tomas Morato Avenue, Quezon City.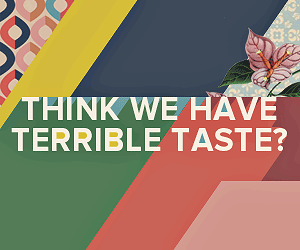 5. Hot Vietnamese Coffee from O Banh Mi or Pho Hoa (P95)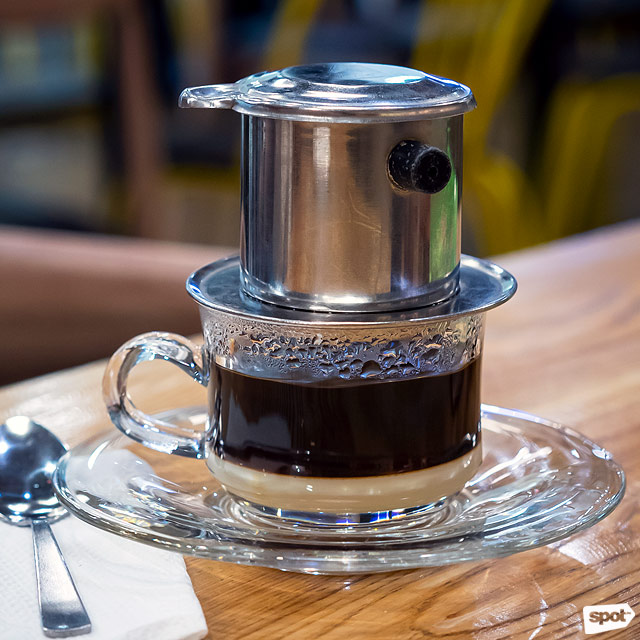 ADVERTISEMENT - CONTINUE READING BELOW
You know that this one is made fresh because you may have to wait 10 to 15 minutes for your coffee. Strong is the only way to describe the flavor of this cup—it'll keep you awake for hours on end, making it the cup of choice for people about to pull an all-nighter. To meet its coffee bean strength, this Vietnamese coffee is also extremely generous with its condensed milk. If you're a fan of yema, you'll enjoy having this entire cup all to yourself. If you're sweet-sensitive, then you may want to share this cup and get just half the dose of caffeine and sugar (in our opinion, even a half serving packs a punch).
O Banh Mi has branches at 4/F Cineplex Level, Gateway Mall, Araneta Center, Cubao, Quezon City and L/GF Ayala Malls the 30th, Meralco Avenue, Pasig City while Pho Hoa has branches at SM Mall of Asia and Greenhills. See a list of Pho Hoa branches.  
ADVERTISEMENT - CONTINUE READING BELOW
4. Cà phê from Ba Noi's (P120)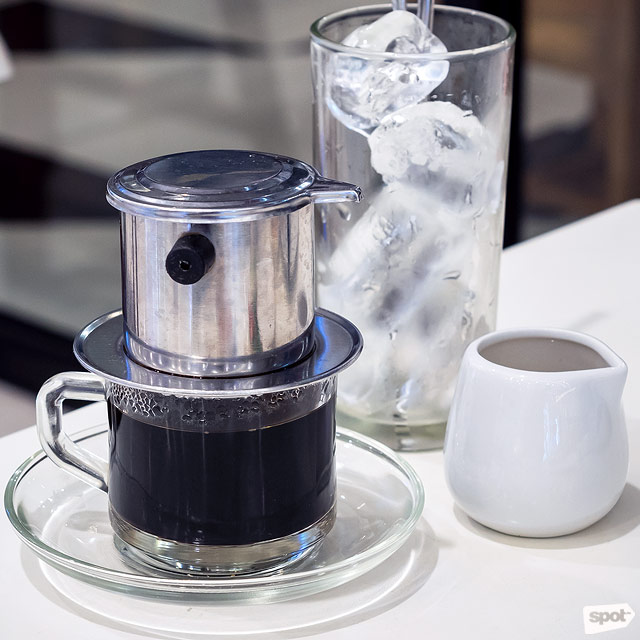 One sip of Ba Noi's coffee will transport you straight to Vietnam. The coffee taste sinks into your taste buds slowly and smoothly, and then you're dealt with that authentic Vietnamese coffee kick. Offering a lovely and rich bitterness, Ba Noi's coffee can be served either hot or iced. What's particularly nice about the way they serve their coffee is that they leave the condensed milk on the side, giving you the option to adjust the level of sweetness according to taste.
ADVERTISEMENT - CONTINUE READING BELOW
Ba Noi's has branches at UP Town Center and Estancia. See a list of Ba Noi's branches.  
3. Cà Phê Sua Nóng Vietnamese Hot Coffee from Nhà Em (P115)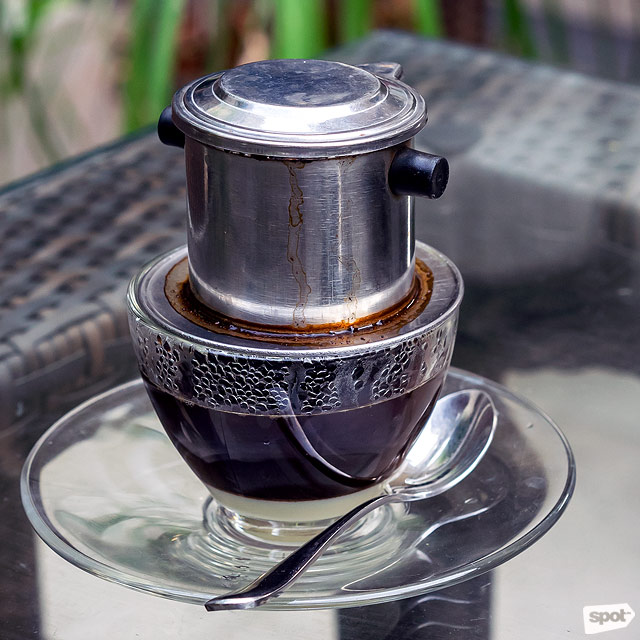 Robust and heady, Nhà Em's Vietnamese coffee is for people who prefer a cup that leaves an impact. Every sip of this strong blend snaps you right to attention. Nhà Em also keeps their condensed-milk level pretty low, so you're getting more coffee than sugar. If you're really serious about getting some bold bitterness into your system, then this will hit the mark.
ADVERTISEMENT - CONTINUE READING BELOW
Nhà Em has branches at 5F SM Aura Premier, C5 Road corner 26th Street, Bonifacio Global City and 3/F Uptown Place Mall, 36th Street corner 9th Avenue, Uptown Bonifacio.
2. Cafe Sua Da from DiCofi (PhP120)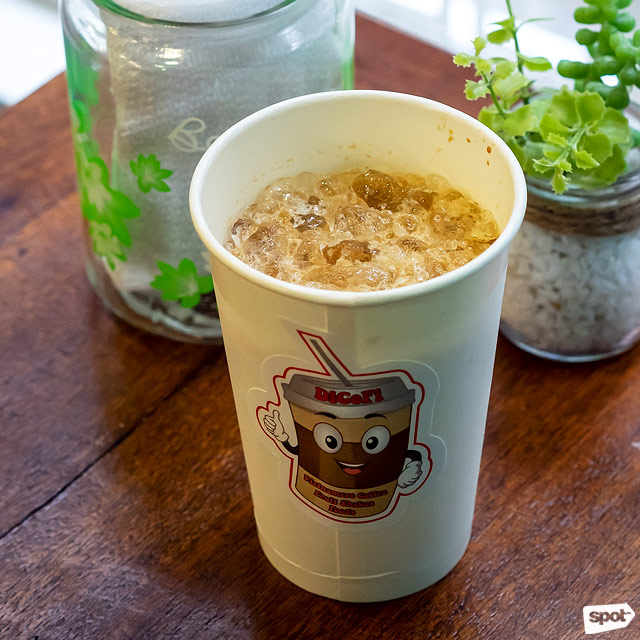 If you love your dairy and you love your coffee, you'll find this little Makati hole-in-the-wall's Cafe Sua Da pleasantly refreshing. DiCofi uses a mix of coffee, condensed milk and fresh milk in their iced coffee—giving you an indulgent glass that almost tastes like a coffee milkshake. If you're gunning for a Vietnamese coffee because you're looking for that distinctive condensed milk taste, then head on over to this adorable little haunt—you won't regret it.
ADVERTISEMENT - CONTINUE READING BELOW
DiCofi is at Valero Plaza Condominium, San Agustin Street, Salcedo Village, Makati City.
1. Vietnamese Coffee from P.H.A.T. Pho (P120)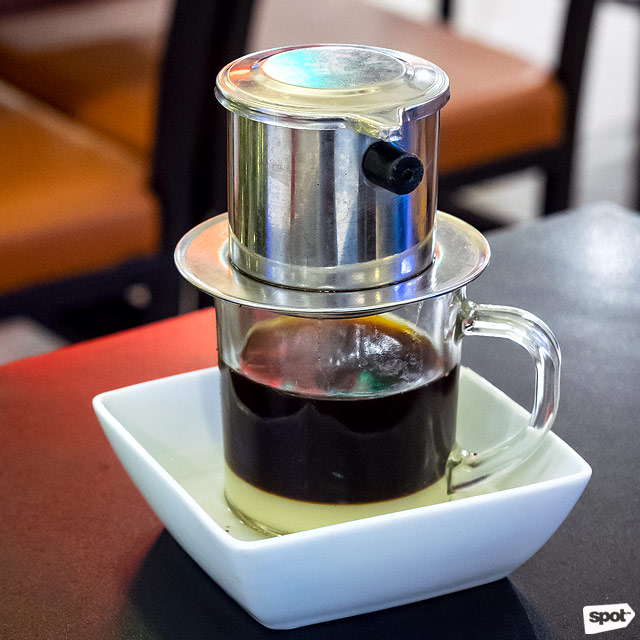 P.H.A.T. Pho goes full-on with its coffee—there's a lot of caffeine power packed in even the smallest sip. This version of Vietnamese coffee gets extra points for serving its drip extra aromatic, and extra hot. Take some time out of your lunch break to fully enjoy this as it's meant to be enjoyed—slowly and languidly.
ADVERTISEMENT - CONTINUE READING BELOW
P.H.A.T. Pho also gets the amount of condensed milk exactly right: you don't feel like a diabetes attack is coming at you with every sip—it still very much feels like you're taking a cup of coffee, and not actually drinking your dessert. The Vietnamese coffee jolt it provides will keep you up and about for a few hours and will leave you feeling like you've got a full tank of energy to tackle the rest of the day.
P.H.A.T. Pho is at LG/F Power Plant Mall, Rockwell, Makati City.
Share this story with your friends!
---
Help us make Spot.ph better!
Take the short survey
More Videos You Can Watch
Load More Stories