(SPOT.ph) You probably know Zubuchon and Sarsa for Filipino food, which are of completely different takes. Cebu-hailing Zubuchon is known for their lechon and other Filipino eats that stay true to tradition, making as many components made from scratch (using no MSG!). Sarsa, on the other hand, goes for a more playful approach to Filipino food that does not shy away from experimentation. You might not think they'd have anything in common, but this new collaboration lets you experience the best of both worlds for a limited time. Dubbed Zubuchon x Sarsa, this special partnership between Joel Binamira (a.k.a. Marketman) and Chef JP Anglo—owners of Zubuchon and Sarsa, respectively, who had once collaborated on the culinary travel show Show Me The Market—involves a special menu featuring dishes from both restaurants that'll be available at Zubuchon's BGC Stopover branch until March 10.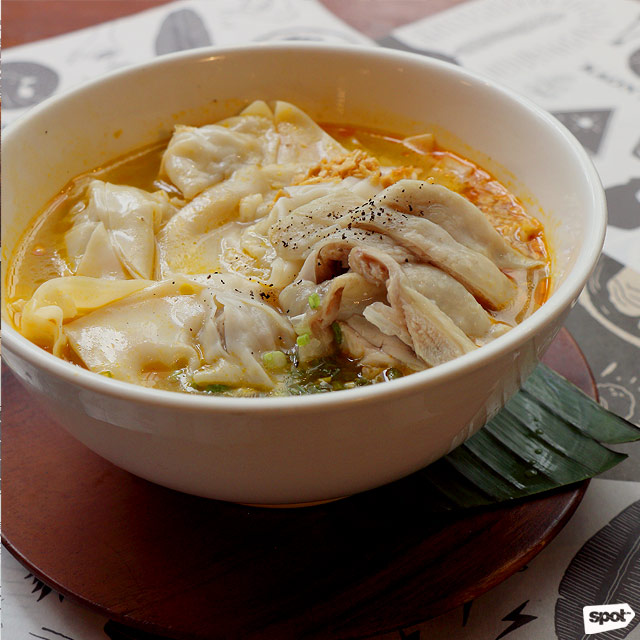 ADVERTISEMENT - CONTINUE READING BELOW
From Sarsa's end are special dishes that Chef JP Anglo has concocted for the pop-up. Some pay ode to tradition, such as the Pancit Molo (P290), a simple but flavorful take on the classic meat-dumpling soup done with no shortcuts. The soup is rich and heady with meaty flavor, while the dumplings are tender—perfect for slurping up on a rainy day.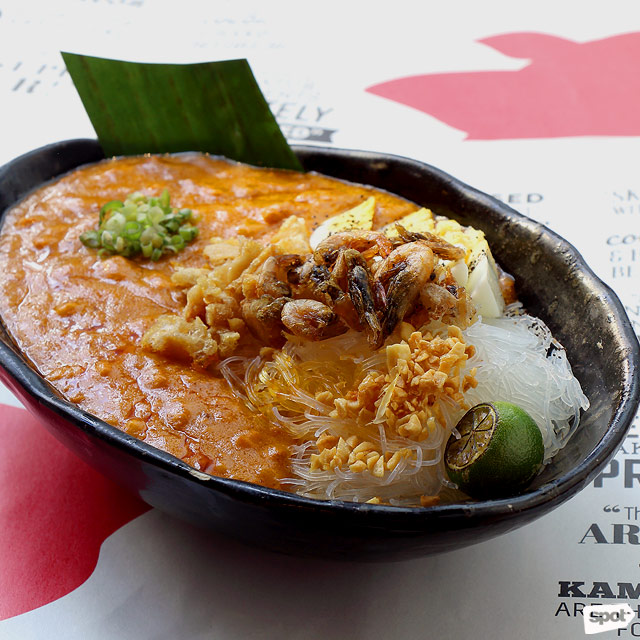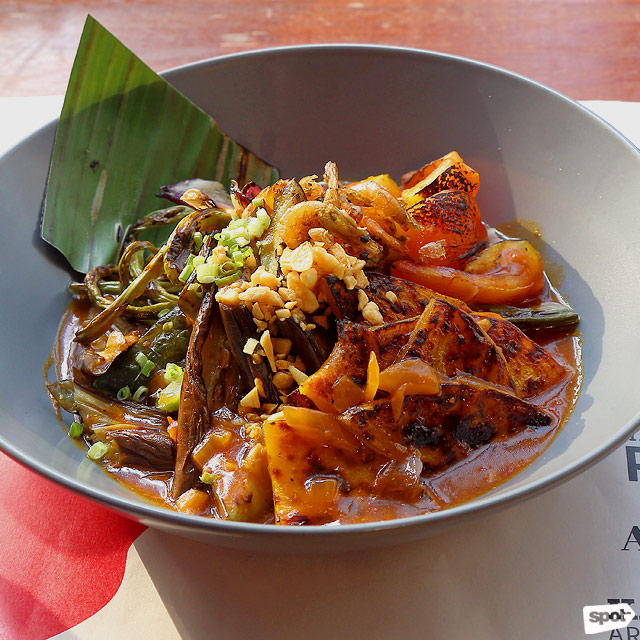 Elsewhere, however, Chef JP shows off his prowess for innovation, adding extra touches that help lift them from their humble origins without losing touch with their roots. For instance, the addition of the fried baby shrimps in the Palabok with Crispy Baby Shrimps (P270) adds more than extra umami to the already-flavorful dish; it also makes for a subtle crunch that enlivens the sauce made with taba ng talangka and ground pork. In the Grilled Pinakbet with Kalabasa Talangka (P270), the vegetables—eggplant, sitaw, ampalaya, tomatoes, and squash—are grilled for extra dimension, and tossed in an earthy kalabasa-talangka sauce. Trust us when we say it'll make you eat your veggies.
ADVERTISEMENT - CONTINUE READING BELOW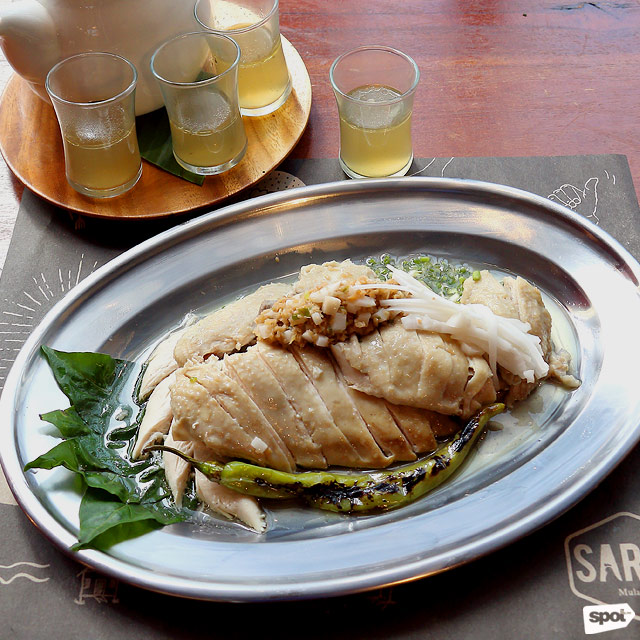 The Negrenese chef shows an open mind to taking inspiration from other cultures in producing new takes on Filipino classics. In the Chicken Binakol with Coconut Churi (P420), Chef JP reinterprets the original coconut water-cooked chicken soup as a coconut water-poached chicken dish, similar to Hainanese chicken. You are to first take a shot of slightly sweet coconut broth, then take a bite of the chicken, which is subtly flavored yet tender as can be. A chimichurri-inspired coconut "churri" then garnishes the plate and contributes a gingery aroma.
ADVERTISEMENT - CONTINUE READING BELOW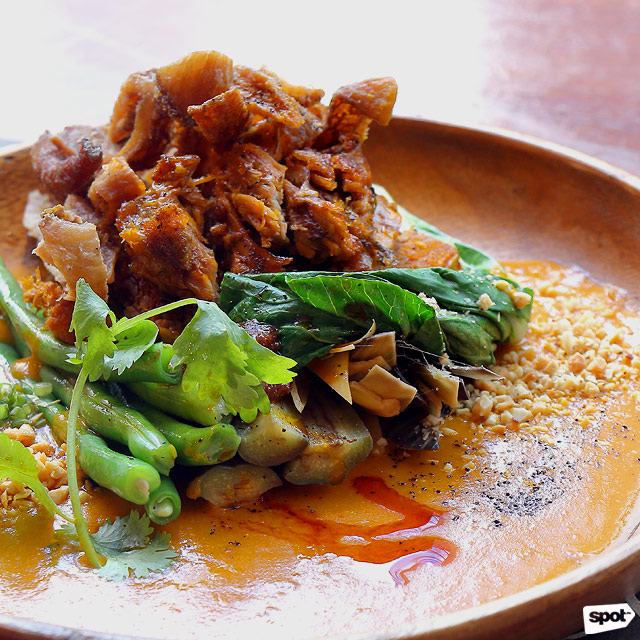 Chef JP also employs novel techniques that he's picked up from his experiences doing pop-ups and other cooking collaborations abroad—particularly smoking, a technique he learned when he did a pop-up with Singaporean restaurant Burnt Ends. Such is the case with the Kare-Kare with Crispy Tripe (P430), which takes the classic up several notches with a kare-kare sauce thickened with tendon that's smoked and puréed, making the sauce extra-luscious. It's then garnished with tripe that's confited (i.e., cooked in its fat) and fried to a crisp for a textural contrast.
ADVERTISEMENT - CONTINUE READING BELOW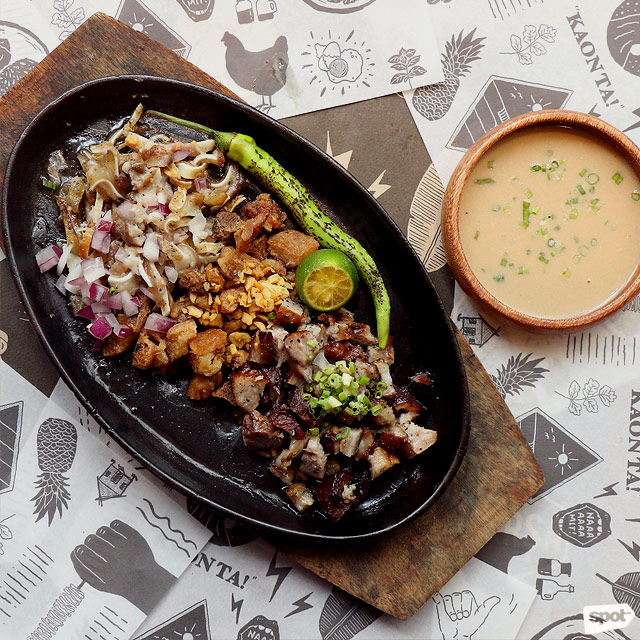 The 3-Way Pork Sisig (P320), on the other hand, employs pork cooked three ways. The ears are grilled, part of the cheeks fried, and other parts of the cheeks are smoked in coconut husk. Tossed together with a special sauce they make with pig brain (don't be shocked—traditional sisig's always had pig's brain), the mix of different pork parts make for a party of textures—from sinewy to gelatinous to crunchy and everything in between—and flavors, most notable of which is the brawny touch of smokiness that commands several heaps of rice.
ADVERTISEMENT - CONTINUE READING BELOW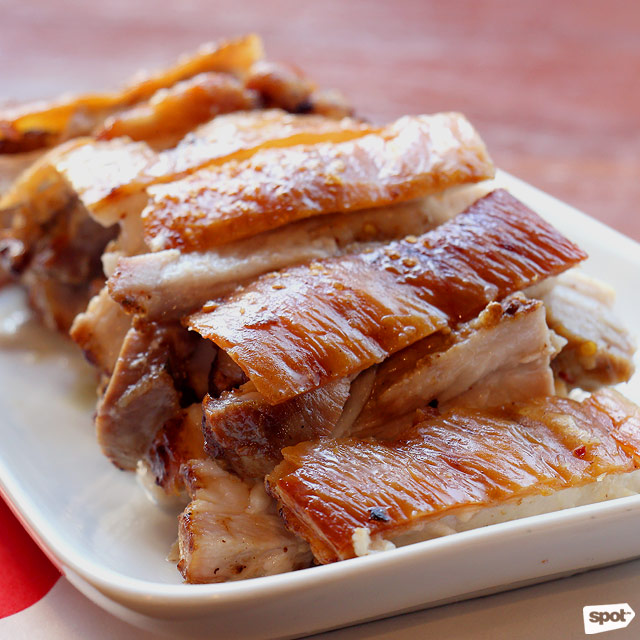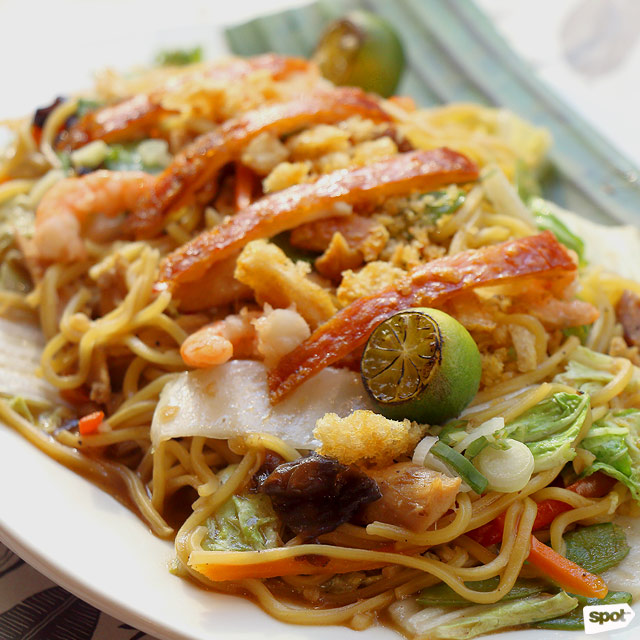 ADVERTISEMENT - CONTINUE READING BELOW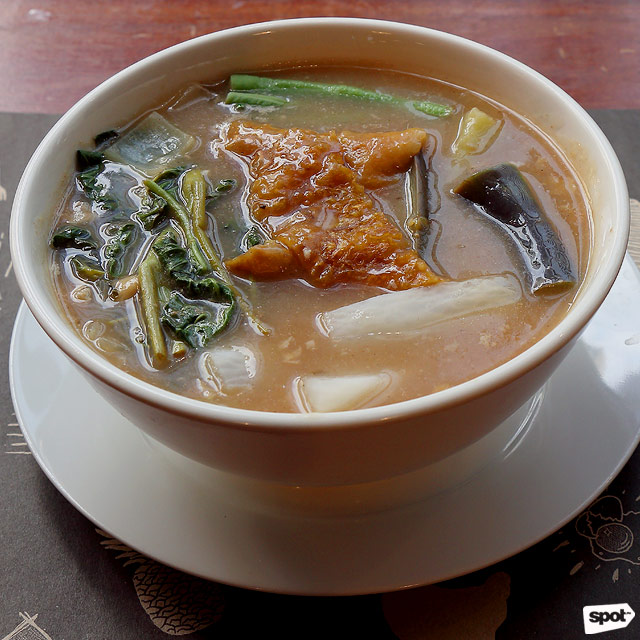 Zubuchon's part of the menu includes their best-selling dishes from over the years. Of these, of course, is their signature Lechon (P980/large). Once hailed by Anthony Bourdain as the "best pig ever," it's a distinctly Visayan take on the roast pork dish with aromatic meat that's flavorful even sans sauce. The skin, too, is notably thin and crisp, with a cracker-like crunch that'll have you hooked. The same roast pig is employed in their special Zubuchon Pancit (P270), which has egg noodles, shrimp, and vegetables enriched with lechon chunks and lechon broth. The Sinigang na Lechon (P360) on the other hand, takes lechon and cooks it with a tamarind-based sour broth and vegetables. It's still rich, as any lechon dish should be, but approaches it in a more soothing light.
ADVERTISEMENT - CONTINUE READING BELOW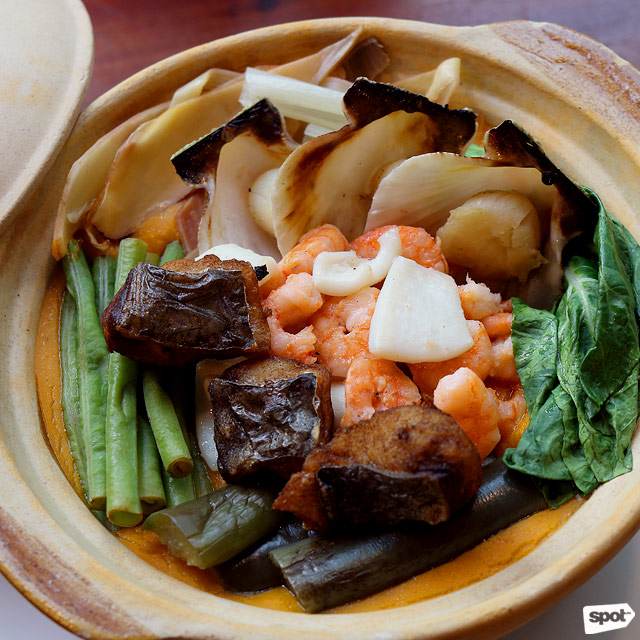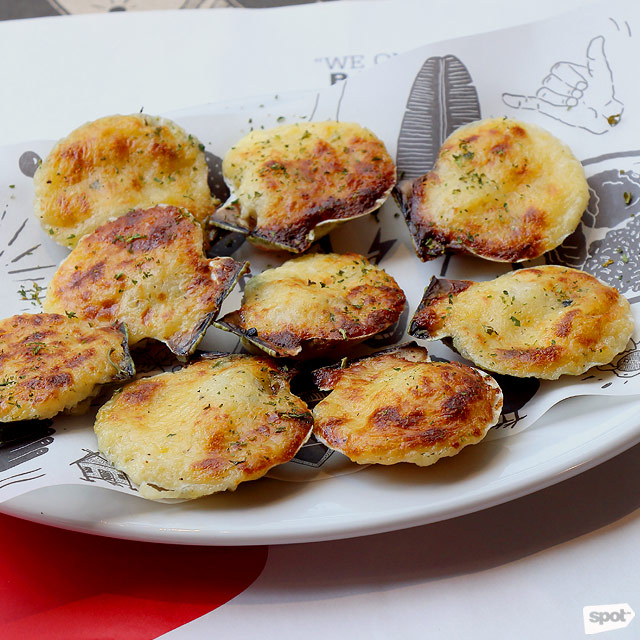 ADVERTISEMENT - CONTINUE READING BELOW
Also worth paying attention to are Zubuchon's seafood dishes, of which is the Seafood Kare-Kare (P450). The seafood and vegetables stew is interpreted as close to traditional as you can get, employing a sauce thickened with peanuts and toasted rice flour, for a thick sauce with a distinctive rustic consistency and nuttiness that's best balanced out with bagoong. The Baked Scallops (P270), on the other hand, is a fan favorite, with scallops from Bantayan baked with butter, garlic, and cheese.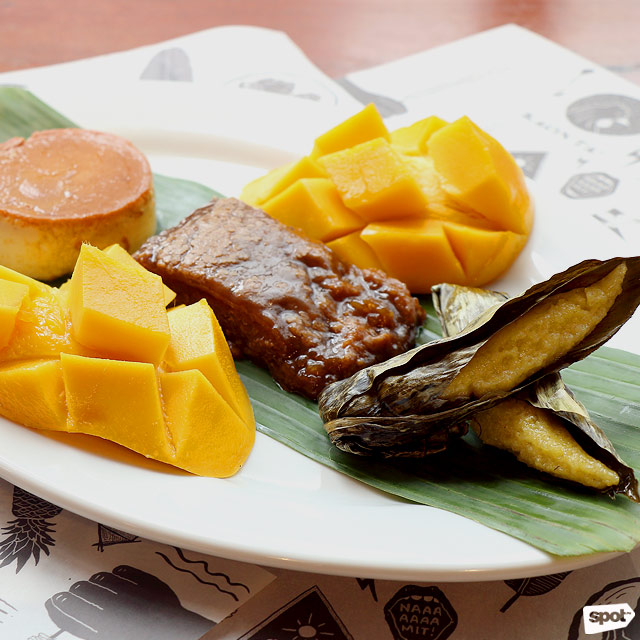 ADVERTISEMENT - CONTINUE READING BELOW
With all the savory bites, you'll want to conclude your meal on a sweet note—and for the indecisive, Zubuchon's Dessert Platter (P270) fits the bill. It's got a little of everything— budbud kabug, a millet-based cake (millet goes back all the way back to before Magellan's time, Binamirra shares), sweet and sticky biko (the recipe for which they learned from a lady they found on the side of a road, who still receives royalty fees for her special kakanin), leche flan, and juicy mangoes from Guadalupe. "It's not so fancy," Binamira admits, "but it has a heart and it has a history." And after a heavy Filipino feast, there's really no better way to end a meal here.
With both traditional and modern takes being well-represented, this limited menu will open your eyes to the wide range of possibilities of Filipino food. We say book those tables stat.
Share this story with your friends!
---
Help us make Spot.ph better!
Take the short survey
More Videos You Can Watch
Load More Stories