Heading out to get a good cup of joe is all good, but we know you won't mind the addition of nice interiors, comfy seats, and 'gram-worthy details while you sip your coffee. The Philippines has its fair share of beautiful coffee shops, but in a bid to blend in with its found environment and honor the heritage where they build their coffeehouses, Starbucks ocassionally establishes concept stores around the world, a.k.a. uniquely designed Starbucks shops. Below are 10 remarkably beautiful and distinctive Starbucks concept stores around the globe.
Ubud Village in Bali, Indonesia
ADVERTISEMENT - CONTINUE READING BELOW
This Starbucks is set in an unused temple in Bali, turning it into a full-fledged coffee sanctuary. Aside from relaxing within its calm, neutral-toned interior, this hallowed caffeine ground also hides an Instagram famous lotus pond often flocked by tourists yearning for the perfect snap.
Starbucks' Ubud Village store is at Jl. Raya Ubud, Ubud, Bali. It is open daily from 7 a.m. to 10 p.m.
Kitano Ijinkan in Kobe, Japan
CONTINUE READING BELOW
Recommended Videos
This Starbucks in Kobe, Japan stands in a historical western-style structure painted white and green outside to reflect the brand's colors. Meanwhile, the inside is a warmly lit lounge decorated with mismatched picture frames hung on its walls. It's also made up of antique furniture to replicate the old building's atmosphere before it was damaged in the 1995 Great Hanshin Earthquake. It was restored in 2001, and transformed into a Starbucks store in 2009. 
Starbucks' Kitano Ijinikan store is at 3-1-31 Kitanocho, Chuoku Kitano Monogatarikan, Kobe. It is open daily from 8 a.m. to 10 p.m.
Moving train in Geneva, Switzlerand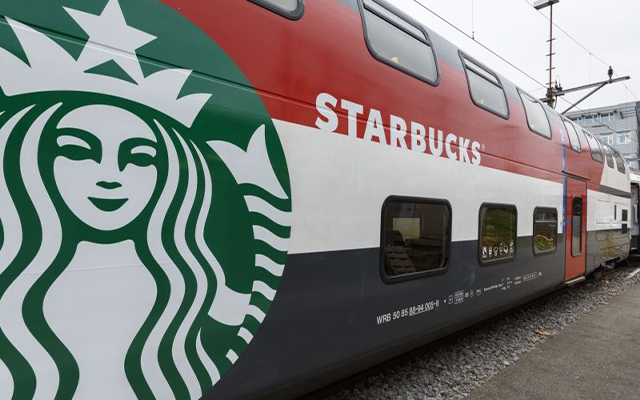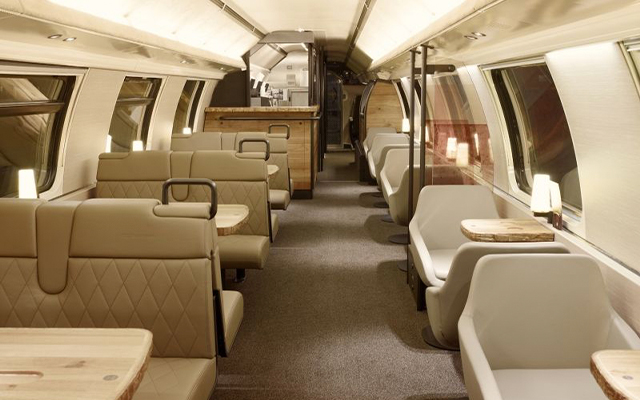 ADVERTISEMENT - CONTINUE READING BELOW
This literal moving Starbucks takes the cake. The first ever Starbucks train in Geneva, Switzerland, operated on November 21, 2013 from the Geneva Airport to St. Gallen in Switzerland. It boasts two levels and can accommodate 50 people with its coffee-colored seats. Imagine drinking your cup of joe with a moving view!
Dazaifu in Fukuoka, Japan
ADVERTISEMENT - CONTINUE READING BELOW
Fukuoka's concept Starbucks store is inspired by Dazaifu Tenmangu's historical roots. According to Starbucks, the inside is flanked by a matrix of 2,000 wooden batons to create a diagonally woven lattice.
Starbucks' Dazaifu store is at 3 Chome-2-43 Saifu, Dazaifu, Fukuoka. It is open daily from 8 a.m. to 8 p.m.
The Bank in Amsterdam, Netherlands
Dubbed The Bank, around 1,800 cut wooden blocks cover the ceiling of this Starbucks branch, situated in an old bank vault in Rembrandtplein, Amsterdam. Under the design direction of Liz Muller, over 35 artists and craftsmen filled the store with "floor-to-ceiling murals, repurposed Dutch oak throughout the space, antique Delft blue tiles, and a 'tattooed' mural that highlights the important role 17th-century Dutch traders played in exporting coffee around the world," according to the Starbucks website.
Starbucks The Bank is at Utrechtsestraat, Amsterdam. It is open from 7 a.m. to 11 p.m. on Sundays to Thursdays, and open from 7 a.m. to 12 a.m. on Fridays to Saturdays.
ADVERTISEMENT - CONTINUE READING BELOW
Porto Chino in Bangkok, Thailand
We all know how convenient it is to get our coffee fix via drive-thru, but Thailand's first drive-thru stands out: The concept store is a two-storey building in Porto Chino, Bangkok and is surrounded by wall plants.
Starbucks' Porto Chino store is at 99/120 Porto Chino, 4 Na Di, Mueang Samut Sakhon District, Samut Sakhon, Bangkok. It is open daily from 6 a.m. to 10 p.m.
Famille Park in Seoul, South Korea
ADVERTISEMENT - CONTINUE READING BELOW
A must-visit when in Seoul is Famille Park's Starbucks, which features a geometric glass dome. Once you step inside, your eyes will be drawn to the flock of artificial birds spiraling up its pointed ceiling.
Starbucks' Famille Park store is at 205 Sapyeong-daero, Banpo 4(sa)-dong, Seocho-gu, Seoul. It is open daily from 6:30 a.m. to 11 p.m.
ADVERTISEMENT - CONTINUE READING BELOW
Ninenzaka in Kyoto, Japan
It took 10 years to turn this traditional Japanese house into a full-blown Starbucks store. The first floor exudes a relaxed atmosphere with round wooden tables and benches for seats, while the second floor offers a more traditional Japanese way of dining with their tatami rooms.
ADVERTISEMENT - CONTINUE READING BELOW
Starbucks' Ninenzaka store is at 34 Masuyacho, Higashiyama Ward, Kyoto. It is open daily from 8 a.m. to 8 p.m.
Ketchum in Idaho, U.S.
Immerse yourself in a mountain cabin feel while you enoy your coffee at this Starbucks branch in Ketchum, Idaho. It with walls made up of logs stacked from floor to ceiling for a ski-lodge vibe.
Starbucks' Ketchum store is at 491 Sun Valley Road, Ketchum, Idaho. It is open daily from 6 a.m. to 7 p.m.
San Fang QiXiang in Fuzhou, China
ADVERTISEMENT - CONTINUE READING BELOW
This Starbucks concept store in Fuzhou takes inspiration from the Master of the Nets Garden in Suzhou, China, which is recognized as a UNESCO World Hertitage site. It blends right in the Sanfang Qixiang neighborhood, which is a historic district in Fuzhou.
Starbucks' San Fang QiXiang store is at GuLouQu Nan HouJie 101Hao, Fuzhou.
Share this story with your friends!
---
Help us make Spot.ph better!
Take the short survey
Load More Stories