From Aristocrats to the Alleyways: How One Family Recipe Changed Manila Barbecue
How do you make a culinary legacy last? Calle Reyes shows us the way.
Calle Reyes
G/F SM City Marikina, Marikina-Infanta Highway, Marikina City
Open from 10 a.m. to 9 p.m. (Monday to Thursday), 10 a.m. to 10 p.m. (Friday to Sunday)
(SPOT.ph) It's one thing to know what works; it's quite another to understand when change is due. And the two don't necessarily have to cancel each other out.
For one family, it's been a long and winding road to get from one kare-kare recipe that made it big in Navotas to today's ubiquitous chain of barbecue joints—you probably know said chain as Reyes Barbecue.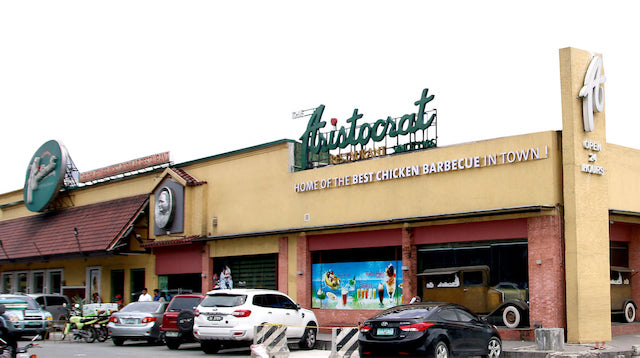 But in the earlier days of this century-old family business, it was Engracia Cruz Reyes' food truck that brought home the bacon—so to speak—making the stretch of road from Luneta Park to Roxas Boulevard (known then as Dewey Boulevard) its primary route. It seemed only appropriate that the standalone version of the eatery should be built along that same stretch, and that's where Aristocrat still stands today, and the founder known best by the fond nickname of Lola Asiang.
ADVERTISEMENT - CONTINUE READING BELOW
The tradition of one person cooking for a large family deciding to go start a business is what leads us to the bright, festive-looking store in SM City Marikina, which has replaced the Reyes Barbecue that once stood there. Calle Reyes, as told by Frank Reyes, came from a need to keep up with the times. "People's spending power is changing, as well as their tastes," he says without lament, "and that meant [admitting that we needed help changing along with them]." So now, it isn't only the Reyes family working on the new concept, but also a whole team of young professionals who know when to say no—even to the big boss. (Not that the boss seems to mind.)
CONTINUE READING BELOW
Recommended Videos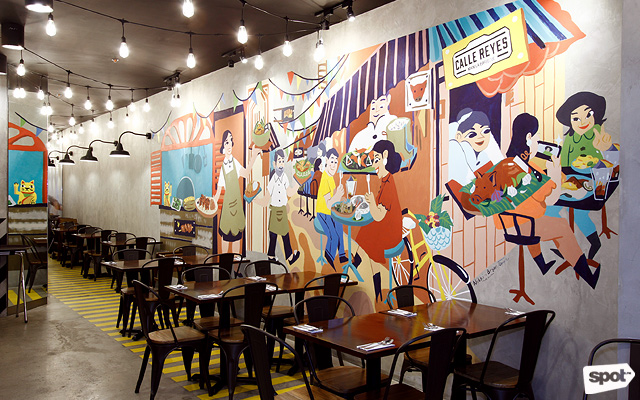 Indeed, it's pointless to mourn bygone eras when there is so much good to be had in said change. Reyes, though Asiang's grandson, has always been more of a business-minded person than a cook—but that doesn't mean he doesn't know how to eat. "I spent a lot of time biking around, trying all the street food, because that's where our real national flavor is," he recalls. "I took what I liked from everywhere and now we call [that combination] 'Manila barbecue.'" And that seems only right.
ADVERTISEMENT - CONTINUE READING BELOW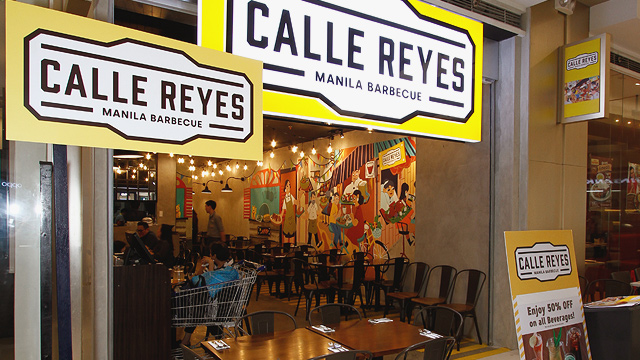 The thing about concentrating on Filipino food—as with any cuisine that can get very regional—is that every household has their own version of every dish. So how do you take a million and one versions of a dish and make it new and exciting?
The long and short of it is you spend a year nitpicking yourself and your old ways. They've taken no shortcuts; no deconstruction, no such-and-such reduction, really nothing fancy. "All of that time was spent training, recipe developing, making sure everything was just right," a member of their team recalls, "and we are confident it's paid off." 
That attention to detail is perhaps best exemplified in the Whole Boneless Chicken (P670). If you're familiar with Reyes Barbecue, you're in for a ride here—the ease with which one can eat this doesn't bar one's appreciation of the smoky, briny, slightly sweet marinade-slash-glaze. 
ADVERTISEMENT - CONTINUE READING BELOW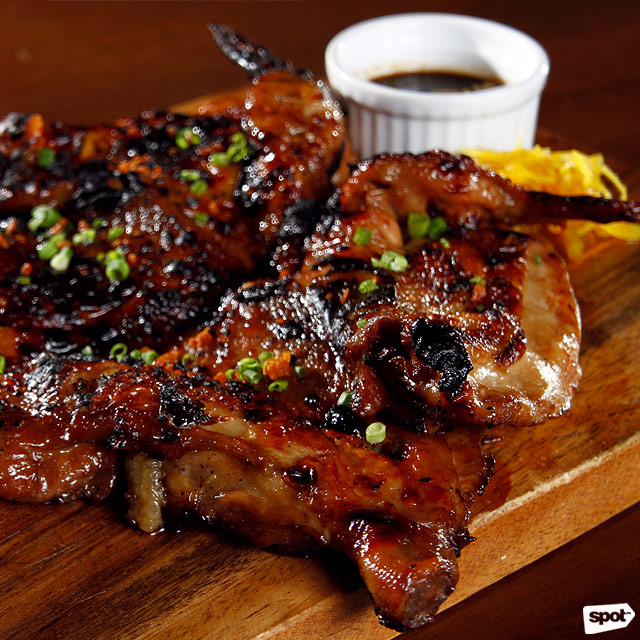 The squid in the All-Seafood Platter (P925) is tender in a way that seems achievable, but those who are home cooks, or at least used to barbecuing your own stuff, will shake your head in disbelief. It's not ridiculously soft, but it doesn't fight with you—in fact, you could cut it with a spoon. And the way Calle Reyes handles seafood can only be described as respectful—they don't rely heavily on char and sauce for flavor, so you can appreciate the fish and squid for what they are. (With a side of Java Rice, of course.)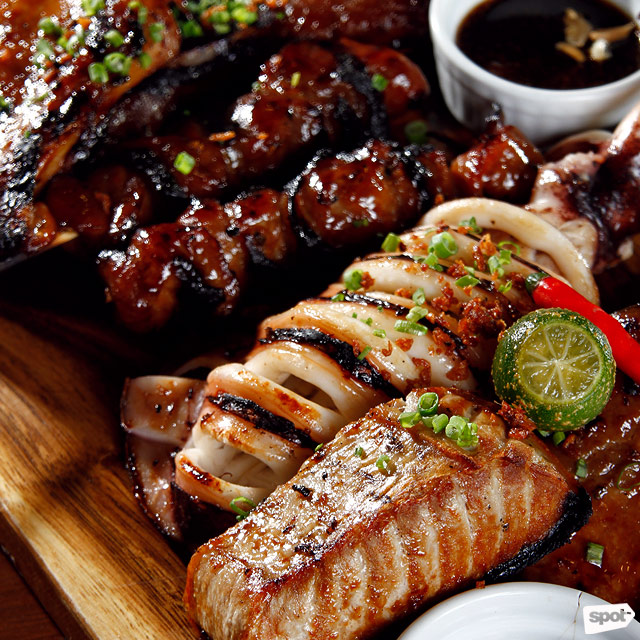 ADVERTISEMENT - CONTINUE READING BELOW
For fans of all things good and sour, the Ube Yammy Pork Sinigang (P425/regular, P815/large) more than delivers. We know some might recoil from the idea of ube in your sinigang, but at the end of the day, it's another iteration of a root crop that adds a rich sort of thickness to the sharp broth—this one just happens to add only a touch of sweetness.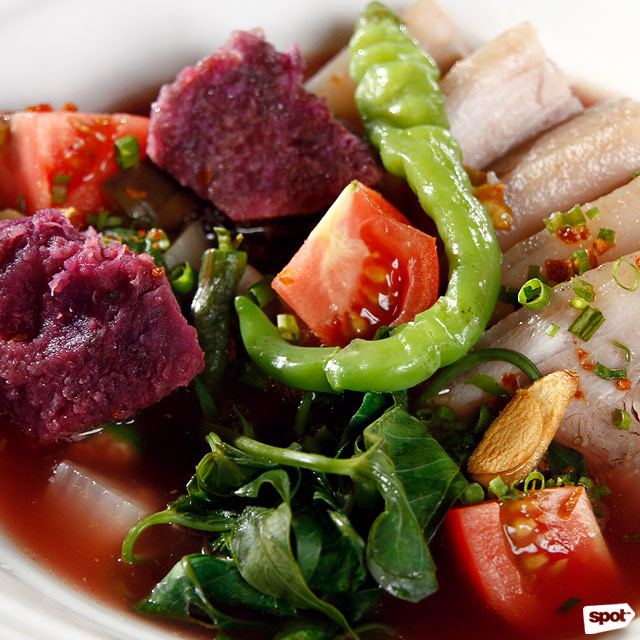 "We don't think it's bad to cater to millennials," says Inez Reyes, Frank's partner in life and in crime. "We [welcome that change], because what is life without its challenges? You evolve or you [fall behind], it's that simple." Simplicity is one thing—ease another entirely. Still, if you hadn't seen the year-old boards up in that mall but managed to walk by the place today, you'd guess that they had these colors, recipes, and team members in their back pockets all along, like some sort of secret weapon. And in an odd way, you'd be right.
ADVERTISEMENT - CONTINUE READING BELOW
Photos by Vincent Coscolluela
Share this story with your friends!
---
Help us make Spot.ph better!
Take the short survey
Load More Stories