This Deceptively Simple Egg Dish Is a Custardy Revelation
Here's where you can try it.
Ovo
Y2 Residence Hotel, 4687 Santiago Street cCorner B. Valdez and Singian Street, Poblacion, Makati City
Contact: 0927-728-8753
Open daily from 6 a.m. to 2 a.m.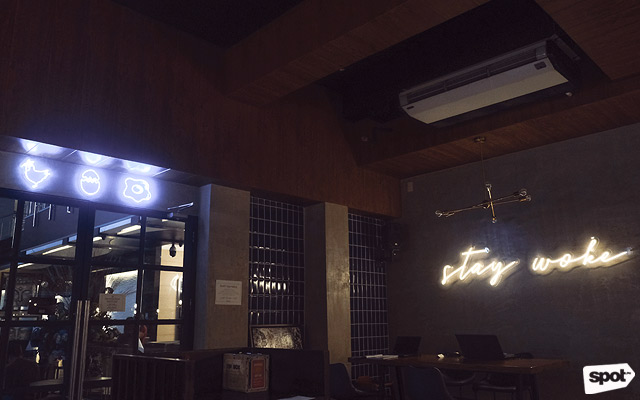 (SPOT.ph) You wouldn't think much from the name itself, so we wonder why Ovo's general manager John Patrick Ortega speaks so highly of it. But then, the Eggs & Toast with Mushroom & Truffle (P390) arrives on our table. It's served in a lidded pot, out of which smoke gushes as it's uncovered, filling the air with the earthy aroma of truffle. As simple as the dish sounds, Chef Kel Zaguirre's version is unlike any other: a cross between Korean steamed eggs and French oeuf en cocotte, it involves a base of eggs and cream that's mixed with dashi and cooked slowly over the stove until it forms soft, wispy clouds. Amazingly, the eggs are as delicate as they are marvelously creamy, melting in the mouth and leaving behind a subtle earthiness from the truffle. "This is the most perfect state of eggs for me," Chef Kel tells us. It's a strong word, "perfect"—but we're inclined to agree.
ADVERTISEMENT - CONTINUE READING BELOW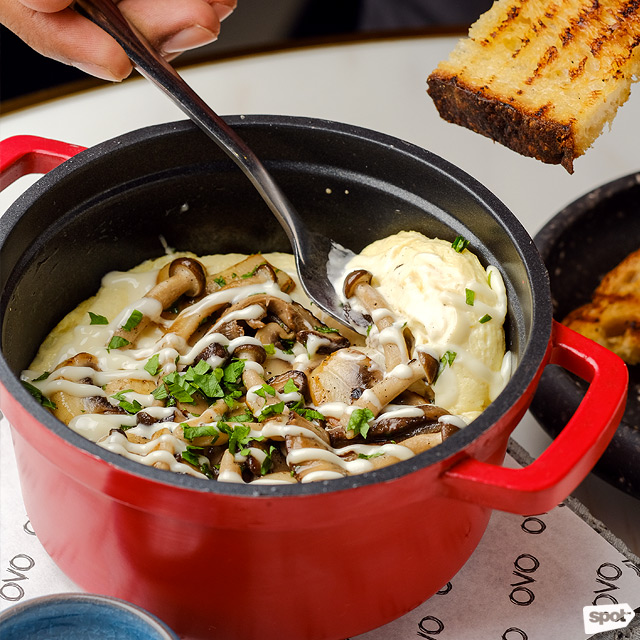 Believe what you will about breakfast being the most important meal of the day (we're looking at you, intermittent fasters). What we can agree on is that breakfast plays an important role in Filipino culture. Chef Kel is definitely no stranger to this—a former athlete himself, he grew up enjoying heavy, full-blown breakfasts every day with his family. "When I [was] with my lolo we'd always go out [to] hotels and restaurants; with my mom and dad [it was] home cooking; with my mother's side naman it was very old-school home cooking, very Pinoy," he relays. When the opportunity to open a place at Y2 Residence Hotel (formerly occupied by Pink Panda) presented itself, he took to it to base it around breakfast and brunch. "[It]'s one of my go-to dishes to eat," Zaguirre explains.
CONTINUE READING BELOW
Recommended Videos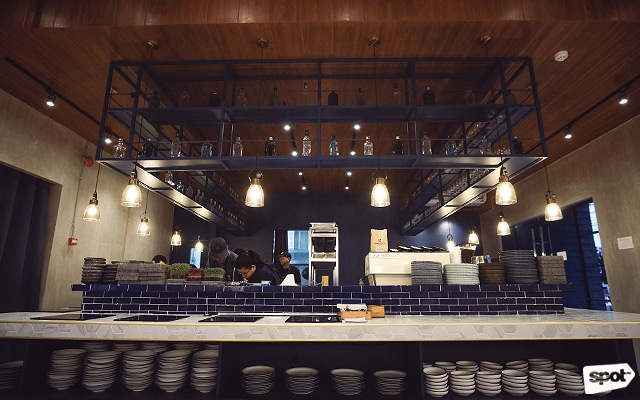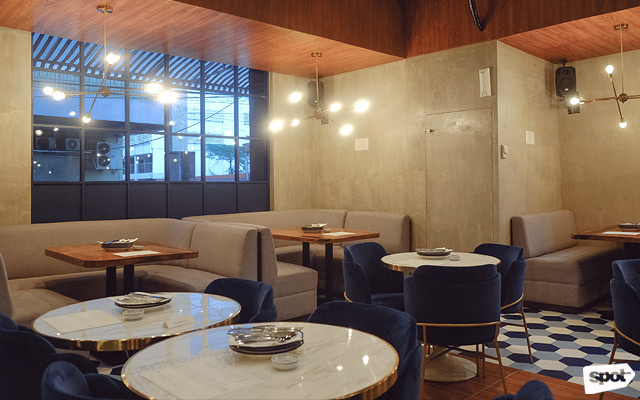 Ovo—Latin for "egg"—is Zaguirre's ode to Filipinos' love for breakfast food. He describes it as the kind of food that ties everyone together: "Whether you're an artist, a housewife, or an Olympian athlete, everyone loves breakfast," he explains. The restaurant serves a breakfast buffet from 6 a.m. to 11 a.m., an à la carte menu from 11 a.m. to 11 p.m., an after-hours menu from 11 p.m. to 2 a.m., plus a soon-to-debut midnight buffet from 2 a.m. to 6 a.m. Located at Y2 Residence Hotel in Poblacion, it has a mid-century feel with shades of blue on the chairs and on the tiles, plus wooden fixtures evoking an elevated but tranquil vibe. You'll find an open-kitchen setup toward the side, on which a La Marzocco machine rests, filling the air with the fragrant aroma of coffee.
ADVERTISEMENT - CONTINUE READING BELOW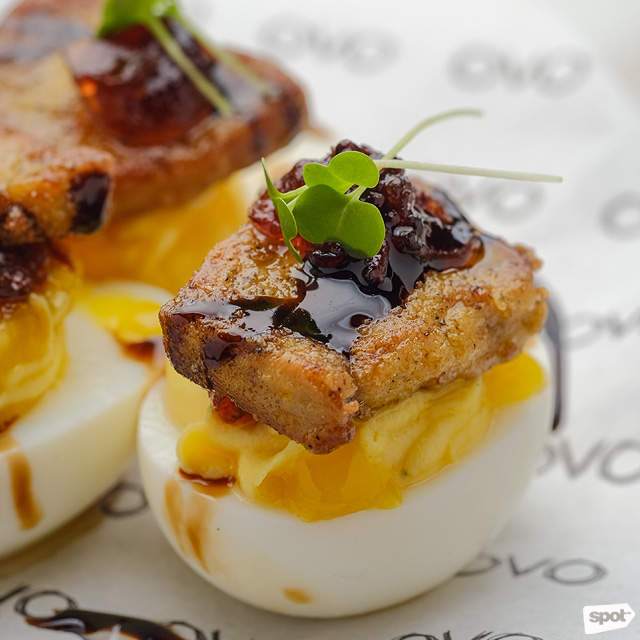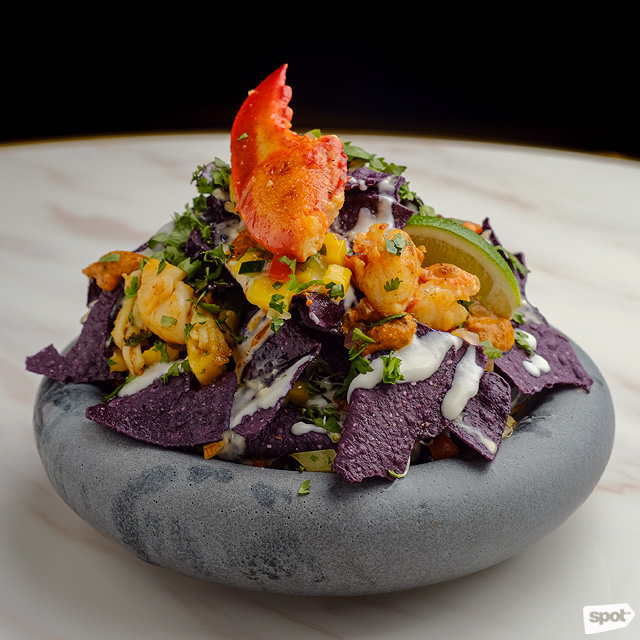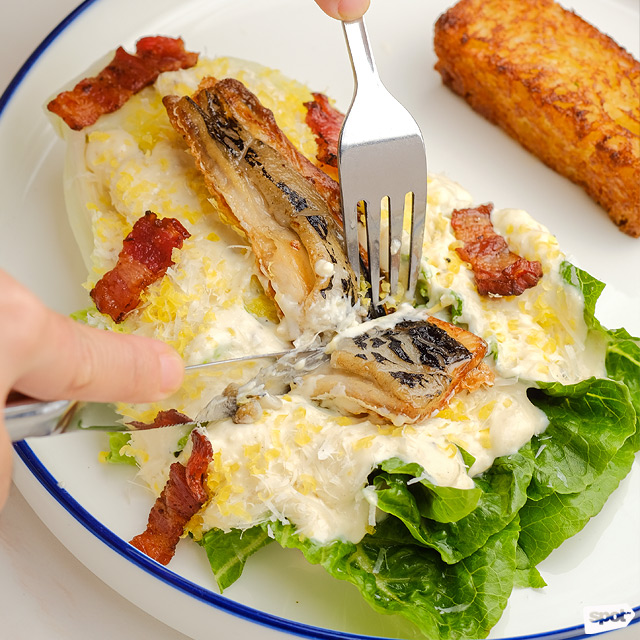 ADVERTISEMENT - CONTINUE READING BELOW
Chef Kel is known for his signature no-holds-barred, flavor-packed approach to food—and the à la carte offerings at Ovo are no exception. The Foie Deviled Eggs (P320) is their take on deviled eggs, topped with fatty slices of foie gras, homemade chili jam, cranberry compote, and a balsamic glaze. Pop it in your mouth in one bite for a combo that's sweet, savory, and absolutely rich. The Lobster Nachos (P888) features the said crustacean on a plate of nachos, in the form of chunks of lobster meat interspersed between blue corn tortilla chips, and a bisque dressing made from its shells that adorns every chip. A drizzle of piri-piri sauce adds an extra punch; garlic sauce gives a welcome pungency; and pico de gallo contributes a subtle tang and sweetness. And the Milkfish Caesar (P400) isn't a salad for wimps: It's got half a head of romaine lettuce topped with a generous serving of caesar dressing, plus milkfish belly, which contributes its telltale smokiness to the tangy, creamy mix. More umami comes via grated cured egg yolks and parmesan cheese, making every bite even bolder.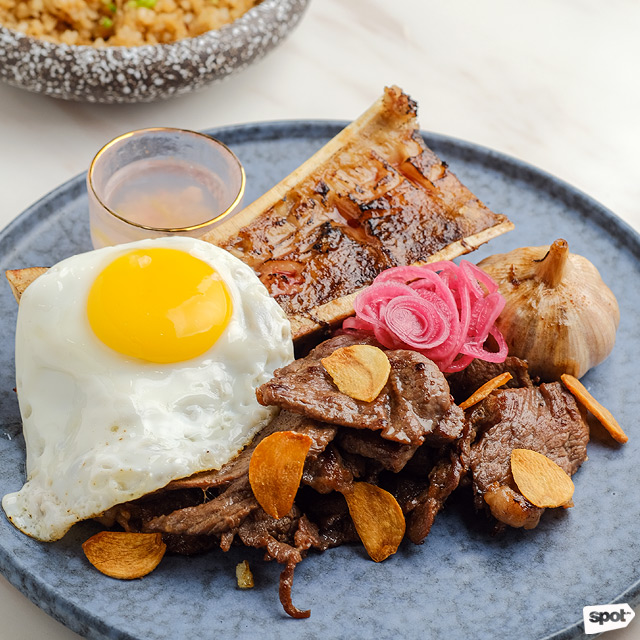 ADVERTISEMENT - CONTINUE READING BELOW
The rest of the à la carte menu features hearty dishes patterned after breakfast and brunch favorites, with as many components as possible made from scratch. In the Sirloin Daing (P490), beef sirloin is split open and marinated tapa-style. Deeply savory, it's served with pickled red onions, a fried egg, a whole head of garlic confit, Wagyu steak rice, and a whole hunk of bone marrow for extra richness. Splash some of the spiced vinegar on and try to get a little of each component in a spoonful and get a mix of sweet, sour, and salty—it's a party on a plate.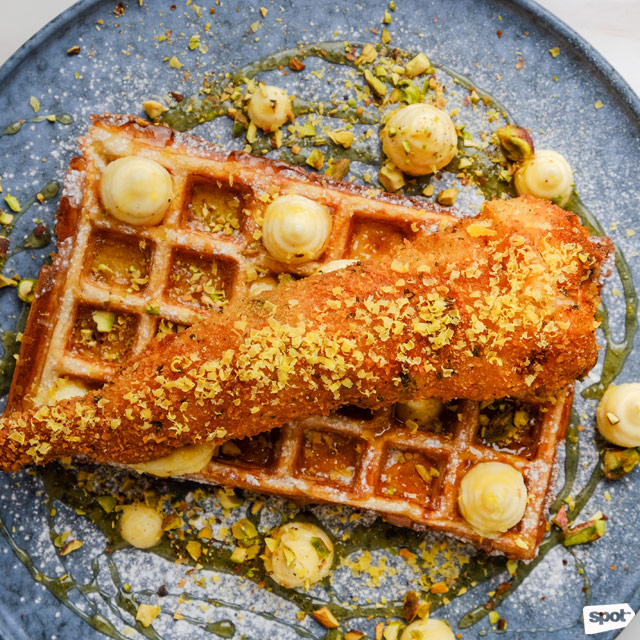 The Chicken & Waffles (P390) displays Zaguirre's characteristic penchant for indulgence, featuring chicken wings stuffed chicken Kiev-style with cream cheese and spinach, on house-made ensaymada sourdough waffles. The waffles, in particular, are excellent—slightly crispy on the outside and light on the inside, with the telltale tang of sourdough that balances the savory chicken and dollops of sweet buttercream. But it doesn't stop there; adorning the top are shaved house-cured egg yolks that really send the flavors into overdrive.
ADVERTISEMENT - CONTINUE READING BELOW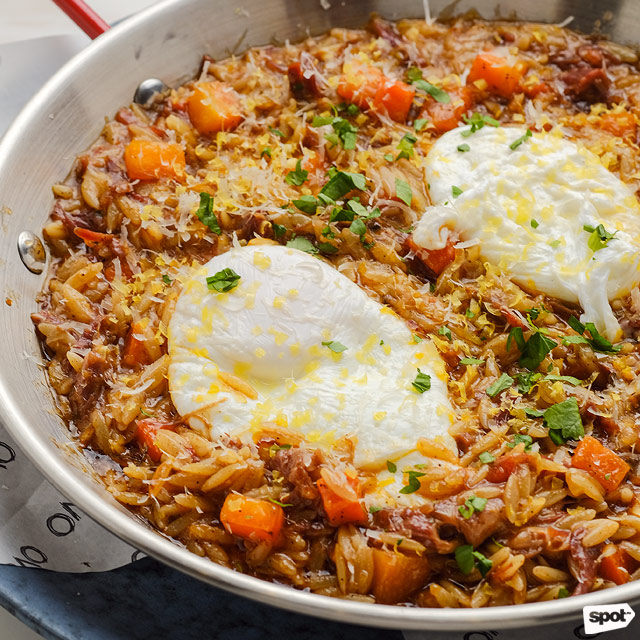 A number of dishes are inspired by the morning meals he himself has enjoyed over the years. The Corned Beef Bolognese (P590), for example, is a tribute to his childhood habit of eating corned beef mixed with rice and an egg. Here, they use house-made corned beef using short ribs, which gives it a supreme tenderness and bold, beefy flavor. It's mixed with risoni, a rice-shaped pasta with a silky texture and served straight from the pan, topped with two eggs which you'll want to mix in, adding extra richness to the tomato-y profile of the bolognese below.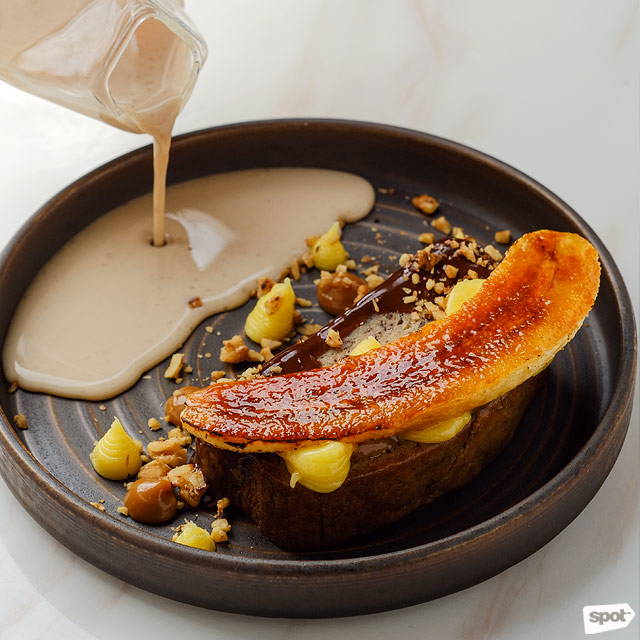 ADVERTISEMENT - CONTINUE READING BELOW
Zaguirre also adds a personal touch wherever he can, as he does in the Banana Tres Leches (P360). This dessert highlights a slice of banana bread—one that's from a special family recipe from his wife, and is made by his own mother-in-law—with dots of lemon curd and dulce de leche with kaya, plus dark chocolate and a bruleed banana. It comes with a small pitcher of house-made banana milk that you are to pour over the plate for the bread to soak up, and which gives it an even squidgier, pudding-like texture.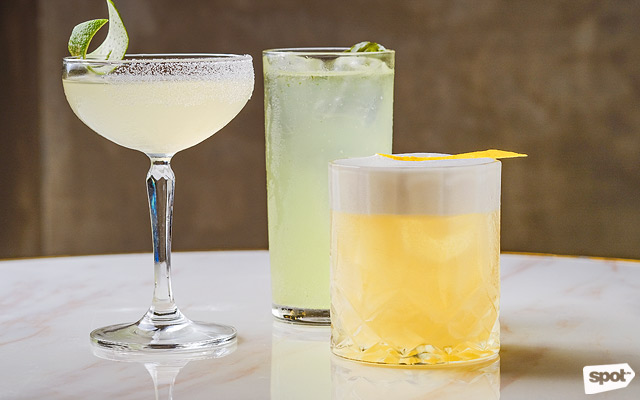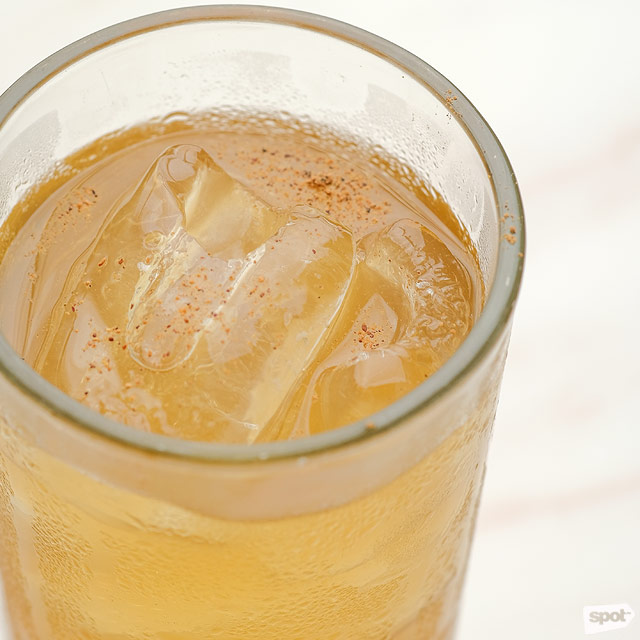 ADVERTISEMENT - CONTINUE READING BELOW
Of course, it ain't a proper brunch place without good draaanks, and Ovo delivers with special breakfast-inspired cocktails by bartender Aliuss Abrazado, with whom Zaguirre had won a competition hosted by Don Papa Rum, and traveled to London as part of their prize. Their selection is dominated by classics given unconventional twists—and as with the rest of their menu, they make as many components as they can from scratch. On the more refreshing end of the spectrum is the Basil Mojito (P320), their take on the rum-based classic given the floral aroma of the herb in the form of a house-made basil cordial; as well as the Mezcal Margarita (P320), which is also spiked with basil for an extra-vibrant mix that's oh-so-easy to sip. The Coffee G&T (P320) is the gin-based classic given a subtle depth from a coffee grounds-imbued syrup, while the Hickory Whisky Sour (P320) turns the whisky sour on its head by infusing it with hickory smoke—and it works.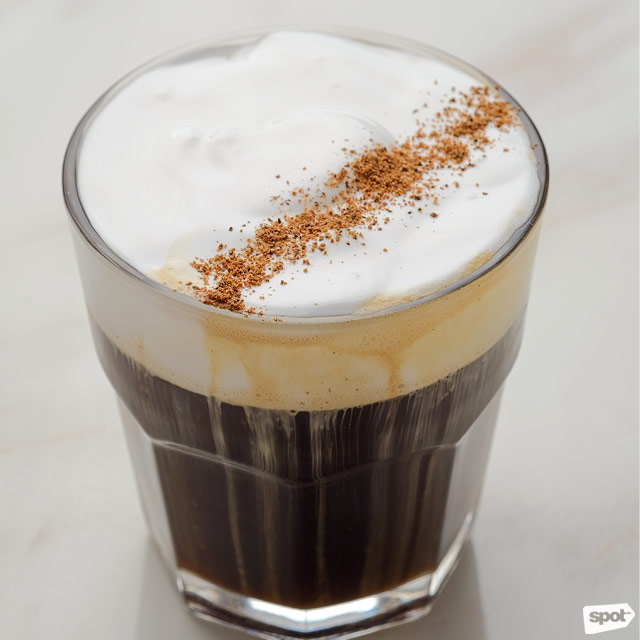 ADVERTISEMENT - CONTINUE READING BELOW
Most excellent, perhaps, is the Butter Irish Coffee (P320), which is inspired by a special drink they had during their London trip. Served in a short glass, it involves a whisky-spiked coffee libation that's mixed with a syrup infused with brown butter and topped with cream. It's served warm and has a full-bodied profile that evokes memories of Christmas mornings—making it the ideal way to start a chilly day, or a post-heavy meal nightcap.
The best thing about breakfast food is perhaps its versatility: everybody loves it, and it's great no matter what time of the day you have it. Couple that with a great ambience and Chef Zaguirre's distinctive food philosophy, and you have the makings of a place where you'd want to spend your morning, any day of the week.
Photos by Majoy Siason
Share this story with your friends!
---
Help us make Spot.ph better!
Take the short survey
Load More Stories