You don't need to be an expert chef or baker to satisfy your cravings at home. There are lots of food and cooking hacks you can try that let you make tasty treats in the kitchen. Here's one you might want to consider: make pastries at home using pancake mix! There are many more ways to use that packaged flour mixture than you might think. That's because pancake mixes already contain all the basic ingredients you need for baking many kinds of pastries: flour, a leavening agent, and additional flavorings and enrichers that will ensure that whatever you make is going to be puffy and delicious.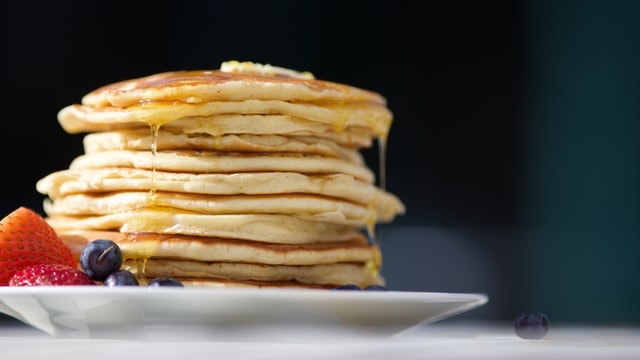 ADVERTISEMENT - CONTINUE READING BELOW
The trick to hacking pancake mix into a different pastry is this: use the same amount of flour as stated in the recipe you'd like to recreate. For example, if you want to make banana bread that contains two cups of flour, measure out two cups of pancake mix and use that instead of the flour, baking powder, and salt. Trust us, it'll cut your prep time in half and let you recreate your sweet cravings minus the struggle! Ready to brush up on your  skills?
Here are a few simple ways you can use pancake mix to make other kinds of pastries at home:
Flavored pancakes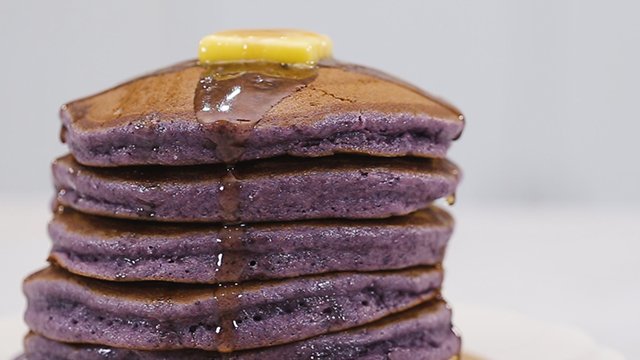 ADVERTISEMENT - CONTINUE READING BELOW
Recommended Videos
The best pancakes are pancakes that you can tweak to fit your cravings. Why not try stirring some ube halaya (purple yam jam) into your batter for a fun Pinoy twist? You can also bulk it up with sweet kalabasa or squash mash before drizzling on a peanut butter syrup, or load it with caramel sauce and chunks of bananas and nuts to give it some extra flavor and texture.
Muffins and cupcakes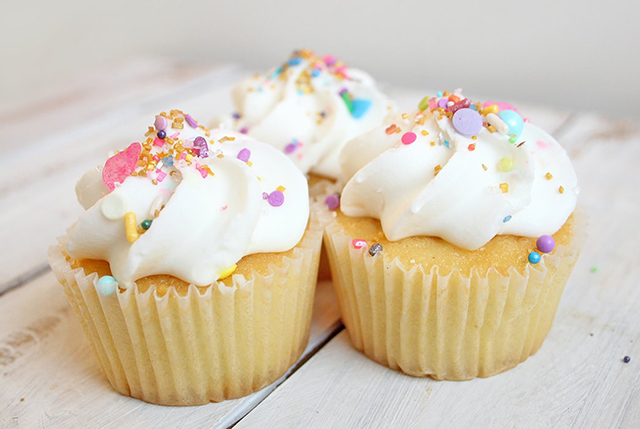 ADVERTISEMENT - CONTINUE READING BELOW
One of the easiest ways to hack pancake mix is to use it to make cupcakes and muffins. All you really have to do is make the pancake mix as directed and spoon the batter into lined cupcake tins—you can stir some ube jam, chocolate chips, caramel sauce, or whatever other ingredients you desire into the batter. Don't forget to finish it off with a frosting, syrup, or topping of your choice!
Corn dogs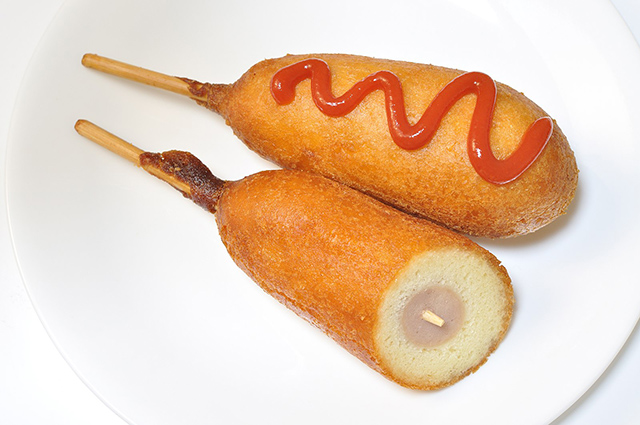 ADVERTISEMENT - CONTINUE READING BELOW
Yes, you can make corn dogs with pancake mix! To do this, add half the water the recipe on the packaging calls for then gradually add more to achieve a viscosity that can effectively coat your weiner of choice. Then simply skewer some hot dogs, dip them into the thick pancake batter one by one, and fry until fluffy and golden brown. If you're afraid of the hot dog not getting heated through, be sure to boil your hot dogs first before skewering!
Banana Bread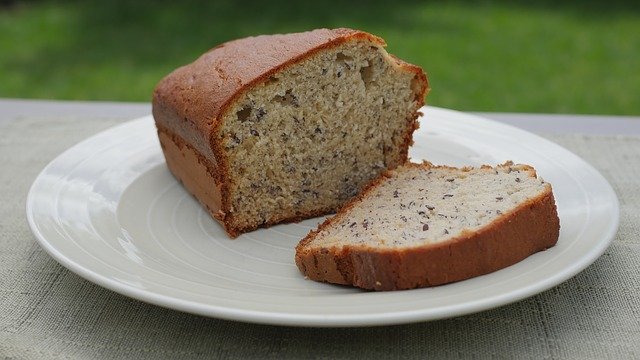 ADVERTISEMENT - CONTINUE READING BELOW
Bananas are one of nature's most versatile fruits. Plus, the crowd-favorite banana bread is one of the easiest loaves you can make at home—not to mention, a great way to use up bananas that are overripe. Just search for a simple banana bread recipe of your choice online and use pancake mix in place of flour, baking powder or soda, and salt. Mix in the remaining ingredients as directed and you're good to go. Throw some nuts into the batter for added crunch.
Crepes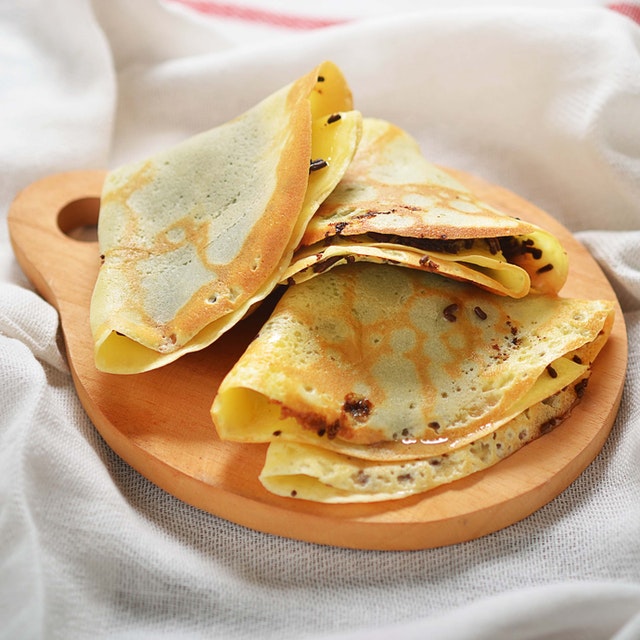 ADVERTISEMENT - CONTINUE READING BELOW
Add some extra water to your pancake mix to get a runny batter that's perfect for making crepes. Pour a ladle-full of your watery mixture into a nonstick pan and swirl it around to make it extra thin. Then just top it off with whatever your cravings are—whether it's something as simple and classic as butter and sugar or something as decadent as ice cream and chocolate syrup is up to you!
Quesadillas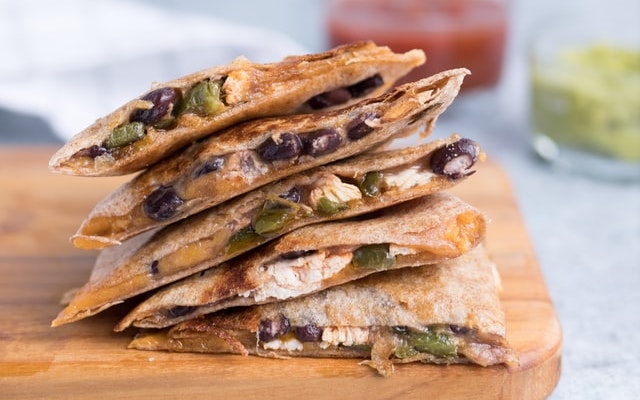 ADVERTISEMENT - CONTINUE READING BELOW
Craving Mexican food at home? Grab pancake mix and make pancakes as flat and as large as your pan allows—you may want to add water to the batter to make it extra thin and runny. Then add a filling of your choice into the center and fold in half—we recommend classic Mex toppers like tomato sauce, ground meat, grated cheese, jalapeños, baked beans, and cilantro.
Waffles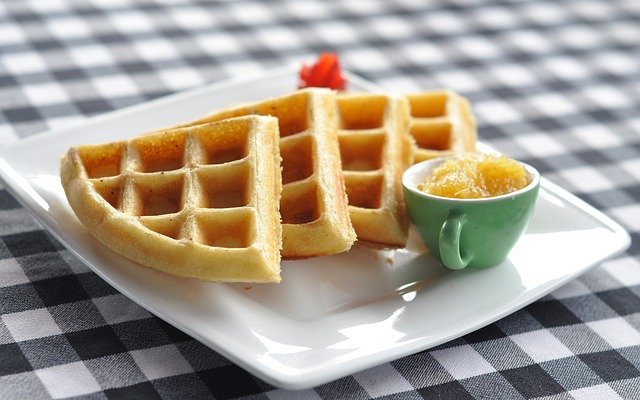 ADVERTISEMENT - CONTINUE READING BELOW
Using pancake mix in your waffle sounds like a no-brainer, but the problem with waffles made with pancake mix is that you don't quite get the same crispy texture you might be looking for. Try whipping the egg whites in the recipe with a whisk or hand mixer until they thicken up and form stiff peaks. Then, fold the beaten egg whites into your prepared pancake batter and pour into your waffle maker. This will create the crunch and crisp you're looking for in a waffle that basic pancake batter can't quite achieve.
Your guide to thriving in
this
strange new world.
Share this story with your friends!
---
Help us make Spot.ph better!
Take the short survey
Load More Stories