Yes, You Need Just 2 Ingredients to Make Dough
Use it for pizza, bagels, flatbreads, and more!
(SPOT.ph) With almost everybody at home with more free time nowadays, it's like you can't scroll through your social media feed and not see someone who's baked bread—or some form of it. It's definitely a fun kitchen project if you've got the baking skills, but for the rest of us, this easy hack lets you make your own rolls, pizzas, flatbreads, and more with just two ingredients: self-rising flour and Greek yogurt. According to Kitchn, recipes for this dough have been around since 2013, but it was around late 2017 to early 2018 that it especially came to fame—likely because it became viral among the Weight Watchers community. If you haven't tried it, now's a very good time to get going.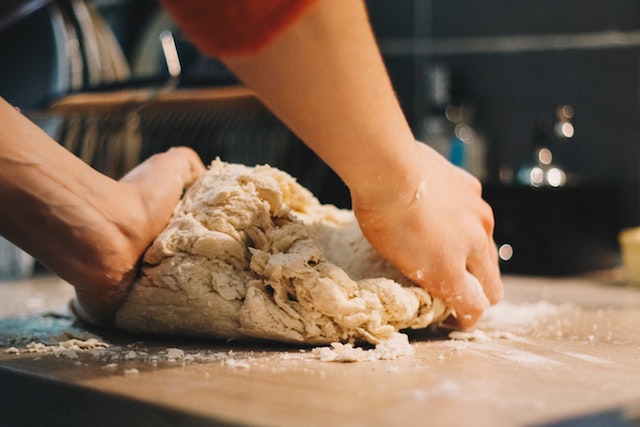 Self-rising flour is flour with simply flour with baking soda and salt mixed in. If you don't have it, you can make your own by whisking together four cups of all-purpose flour, two tablespoons of baking powder, and a teaspoon of salt. Meanwhile, you can get Greek yogurt at grocery stores, but if you don't have it, you can strain regular unsweetened yogurt so you get a thicker, creamier mix.
ADVERTISEMENT - CONTINUE READING BELOW
Making the dough is just a matter of mixing the self-rising flour and Greek yogurt. Different sites online specify different ratios—anywhere from one to two cups of flour to one cup of the yogurt—but you might want to try using one and three-fourths cups of flour to one cup of yogurt as  specified in these recipes by food blog The Big Man's World and Tasty. Mix them until a ball of dough forms.
Not all recipes specify having to knead the dough, but it does make for a better texture by helping form gluten. Dust your kitchen surface with flour, then use the heels of your hands to push the dough down and outwards. Keep extra flour handy and add more to the dough as needed—not too much, but just enough to keep it from sticking. Alternatively, you can also knead it using an stand mixer. Either way, you'll know it's ready when the dough feels smooth and elastic. From there, you can cut, shape, and bake the dough as needed.
CONTINUE READING BELOW
Recommended Videos
To make pizza, follow this recipe from Tasty and preheat the oven to 200°C. Use your hands to flatten the dough into about a 12-inch round circle, then transfer it to a greased baking sheet and top with tomato sauce, cheese, and other ingredients of your choice, then bake for 20 minutes or until the crust turns golden-brown.
For bagels, try this recipe by The Big Man's World. Preheat the oven to 180°C. Divide the dough into four, then use your hands to roll each piece into a sausage-like shape. Join the two ends of each "sausage" together to form a bagel shape, then transfer them to a baking sheet lined with baking paper. Brush the tops with milk (this gives them a slight sheen), and sprinkle sesame seeds if desired. Bake them for 20 to 22 minutes or until the dough gets golden-brown.
ADVERTISEMENT - CONTINUE READING BELOW
And if you don't have an oven, you can still make flatbread that you just need to cook in a pan. Take your cue from The Big Man's World—just divide the finished dough into eight, then use a rolling pin to flatten each portion. Heat a large non-stick skillet on medium heat, and place one piece of dough in the pan and let it cook for two to three minutes. Flip it and cook for two minutes, and ta-da, you've got flatbread you can use for wraps or serve with curries.
The resulting creations will have a texture that's similar to regular bread, but slightly denser and not quite as chewy. It'll still have a wonderful tang and sturdiness that goes great with any fillings or alongside soupy dishes. Feel free to experiment with other toppings or add-ons, too—use different cheeses or leftover meats if you're making pizza, or sprinkle on chopped fresh herbs if you're making bagels or flatbread. Such is the joy of playing around in the kitchen, after all.
Your guide to thriving in
this
strange new world.
Share this story with your friends!
---
Help us make Spot.ph better!
Take the short survey
Load More Stories