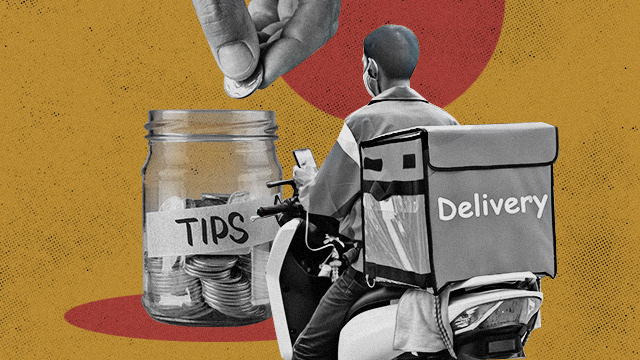 (SPOT.ph) The telltale rumble of a motorcycle rounds the corner of the street. Whether the doorbell or your phone chimes first is almost irrelevant; you've been waiting all week to treat yourself to this order. You throw on your mask, rub in some hand sanitizer, and retrieve the coveted paper bag from a person in a helmet. You might say thank you; you might tell them to keep safe on their way to the next delivery job. Either way, you have your burger or your boba, and they hop back on their vehicle and vroom out the way they came in.
ADVERTISEMENT - CONTINUE READING BELOW
It's not a surprise that the number of similar interactions has tripled over the course of the pandemic. Despite the fact that those of us lucky enough to be able to work from home are, well, always at home, the very idea of cooking right after clocking out seems completely unfathomable. For some, too, it's that little bit of the outside world that brings us back to what life was like before all this. But for the person on the motorcycle who brought you your order, it might be as though nothing—and, somehow, everything—has changed.
Tipping in the Philippines: The Unspoken Rule
We don't tend to really talk about tipping in the Philippines. The subject of money can be touchy all around, but other countries have hard and fast rules surrounding gratuity. Some have locked in a minimum to make sure restaurant servers are paid fairly for their work; certain cultures consider tipping a rude gesture, one that implies that the customer has a low opinion of the person who served them.
We have an actual law that specifies that service charge—when a restaurant tacks it onto your bill—must be distributed among the staff, so it's not farfetched to assume that servers must make enough, if that extra tariff is anything to go by. But that's not the case for delivery riders, in most cases employed not by the restaurants but by the delivery apps.
There's an App for That
Some food delivery apps include a tipping feature, others don't. The apps that do allow customers to tip assure the public that whatever amount one decides to input goes to the rider unscathed. (It's also important to mention that the option does not appear if the rider has been given a rating of fewer than five stars.) If we didn't have to practice social distancing, it wouldn't matter if you tipped through the app or in person; either way, those among us who make it a point to tip are at a fairly even split between people who trust the app implicitly, and people who feel better physically forking over the cash, to make sure it goes in the rider's pocket. 
ADVERTISEMENT - CONTINUE READING BELOW
We're not saying all delivery riders are absolute angels, or that Saint Vincent de Paul (patron saint of compassion and generosity, thank you) has his eyes on you. Or maybe he does, who's to say? The point is, while there is no wallet-policing happening here today, you could consider it worthwhile to reflect on the effects of gratuity, particularly here in the Philippines—and especially in the urban areas.
The Tipping Point: Why Should You Tip, Anyway?
The task of going from point A to point B with a package sounds simple enough, sure, but given the unpredictability of Metro Manila and, more recently, the matter of curfews in every form of community quarantine known to man, the daily grind for riders entails a little more adventure (or misadventure) than the average job.
Then there are the standout hardships. More than once over the past year and change, a story of a canceled order or—worse—delivery prank has gone viral, with ordinary, previously uninvolved members of the public having to pick up the pieces. Considering, too, that riders go to great lengths to get the job done, the idea that there are people who would pull such stunts tends to cast a very grim light on humanity. 
ADVERTISEMENT - CONTINUE READING BELOW
Given where we are, and the state of things now—not only over 15 months into a global health crisis, but also neck-deep in crowdfunding campaigns and community pantries—it's not much of a stretch to think of tipping as another form of mutual aid. What might be an inconsequential orange bill to one person could be the whole commission another person gets per task. And like participating in those campaigns and pantries, you don't have to do it. But it could be really—perhaps infinitely—helpful if you did.
So How Much Should You Tip, Really?
And just as those community pantries popped up all around the metro, these days, you're more likely to encounter people who tip no matter what; the only thing that changes is how much. Factors that affect the size of the tip range from how bad the weather is to how difficult the destination might be to find. Over the 2020 holiday season, it wasn't unheard of for riders to have to make multiple deliveries, but also be given a snack and an extra P100 for their trouble.
ADVERTISEMENT - CONTINUE READING BELOW
When asked, riders (particularly in the Philippines) tend to agree that it's really up to the customer to tip—they say they make enough to get by every day. They'd never dream of asking for anything more than a five-star rating, which tends to guarantee them more trips, as opposed to their colleagues with fewer stars.
The very nature of the job is one of definitive hustle; a reasonable amount of control over one's hours can go in either direction, but for many, it almost always spells a full day of deliveries and whatever other avenues of honest income are available, if not the rider's schooling. When it comes down to it, there's no requisite amount. But the average tip range of P20 to P50 seems like a small price to pay when someone has helped ensure that your house is well-stocked, or even that your latest craving is satisfied, without you having to endanger yourself.
ADVERTISEMENT - CONTINUE READING BELOW
Hey, Spotters! Check us out on Viber to join our Community and subscribe to our Chatbot.
Your guide to thriving in
this
strange new world.
Share this story with your friends!
---
Help us make Spot.ph better!
Take the short survey
More Videos You Can Watch
Load More Stories