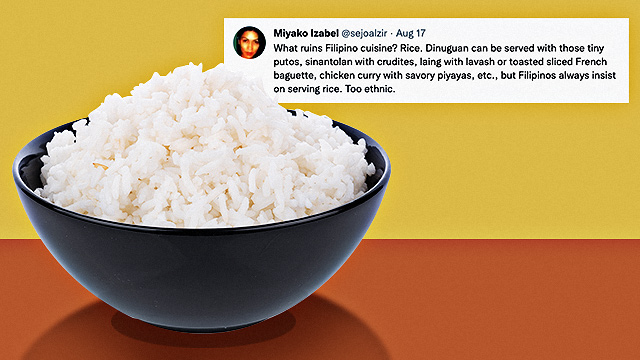 (SPOT.ph) If you've been on Twitter lately, you may have gotten a glimpse of people on your feed talking about rice. Specifically, a Twitter user named Miyako Izabel (a.k.a. @sejoalzir)—who describes herself as a "writer, independent publisher, political blogger, social media activist, existentialist and public anthropologist, Filipino, and citizen of the world" on her bio—drew flak from the Filipino community for blasting the staple carb and saying it should be done away with to promote our cuisine on a global scale.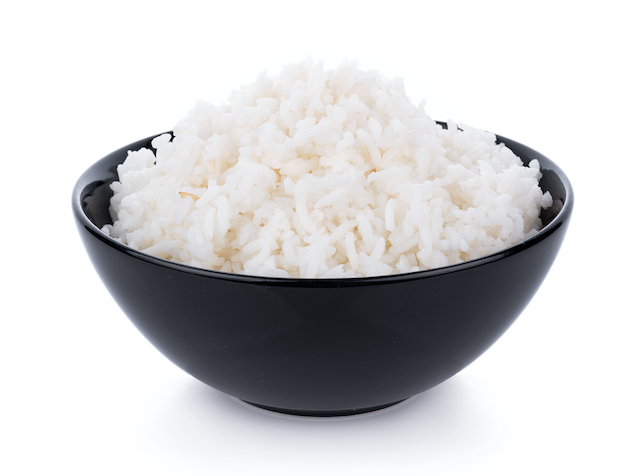 ADVERTISEMENT - CONTINUE READING BELOW
Here's why Filipino Twitter's been talking about rice:
What Went Down?
The tweet that started it all—or at least the one that sparked the most controversy—is one where Izabel states, "What ruins Filipino cuisine? Rice. Dinuguan can be served with those tiny putos, sinantolan with crudites, laing with lavash or toasted sliced French baguette, chicken curry with savory piyayas, etc., but Filipinos always insist on serving rice." The tweet especially drew ire from Filipino Twitter as she lamented how rice is—and we quote—"Too ethnic."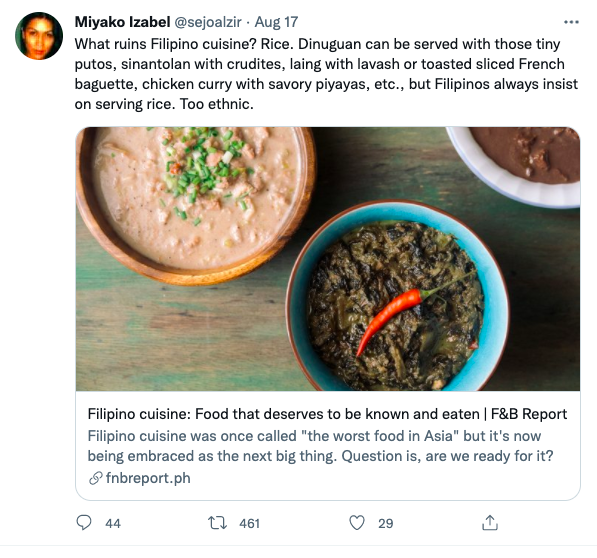 The backlash is understandable—after all, rice is a staple in the Filipino diet for many reasons. It's affordable and fills up one's stomach fast, keeping hunger at bay and thus helping millions of Filipinos survive. Its neutral profile also balances out the stronger flavors of most viands—plus it beautifully absorbs the liquid or juices of stews, soups, braises, and the like. 
It's worth noting that the tweet includes a repost of an article from F&B Report about Filipino cuisine going international, hinting that Izabel is going by that context rather than talking about how Filipinos in the Philippines should eat daily. Her next few tweets support this: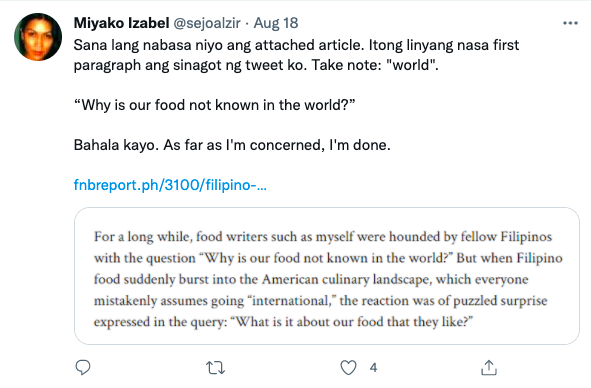 ADVERTISEMENT - CONTINUE READING BELOW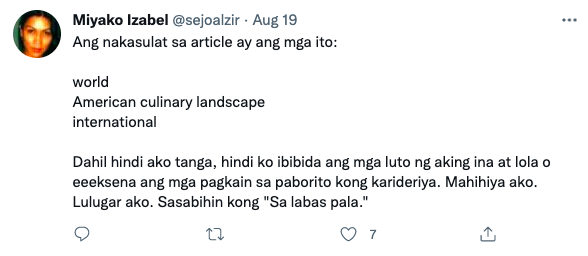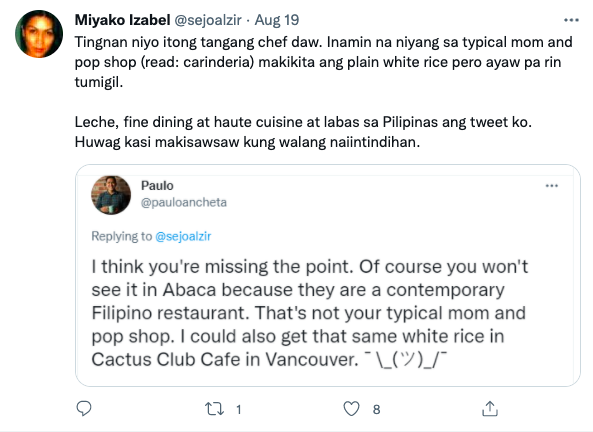 To be more precise, Izabel points out that to promote Filipino cuisine internationally, going the fine-dining or haute-cuisine route is the way—and plain, boiled white rice has no place in those genres.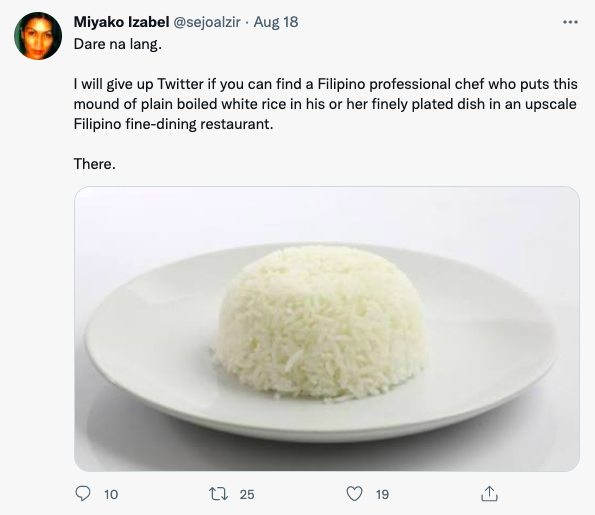 ADVERTISEMENT - CONTINUE READING BELOW

(Note that these tweets were selected from a number of others, which were posted as individual tweets rather than being compiled into a thread. You can check out Miyako Izabel's Twitter page to read all the tweets in full.)
But Is This Really the Case?
To begin, there's the question of whether fine-dining or haute cuisine really is the only route to global fame. "Not at all," says Chef Miko Calo of modern French restaurant Metronome. "It could be in a form of food trucks or bistros and cafes. What we need is more education on the diversity of our cuisine and produce."
Paris-based Filipina Chef Erica Paredes also disagrees with the notion. "Filipino food is, in nature, simple comfort 'homestyle' food, and unapologetically so. This is not something we should be ashamed of or feel we need to 'elevate'."
Calo, who graduated from the École Grégoire-Ferrandi in Paris and worked for no less than the late Joël Robuchon, also brings up the value of looking back at our origins. "Before we think about going global, let's study our roots more, protect our intangible heritage and produce that is endemic to our country. Make that foundation strong so 'going global' so to speak will be a natural next step."
"More than making it haute cuisine or fine dining is to find your creativity as a cook, to be able to interpret our food into something that also localizes the cuisine depending on where you are," adds Paredes, who graduated from Le Cordon Bleu and does Filipino pop-ups and private dinners (boodle fights included!) in Paris under her venture, Reyna. "For instance, I live in France and I like to incorporate local, seasonal ingredients to Filipino dishes or adding Filipino touches to French food. I've done street food pop-ups doing longganisa burgers from my Boracay memories, but with Roquefort cream and balsamic onions."
Paredes also brings up how international Filipino restaurants like Maharlika in New York, Pogiboy in [Washington] DC, Lasa in Los Angeles, Mate Burger in Sydney, and Sarap in London allude to how "creativity, authenticity as as cook and just plain good cooking, are the keys to making it 'big'."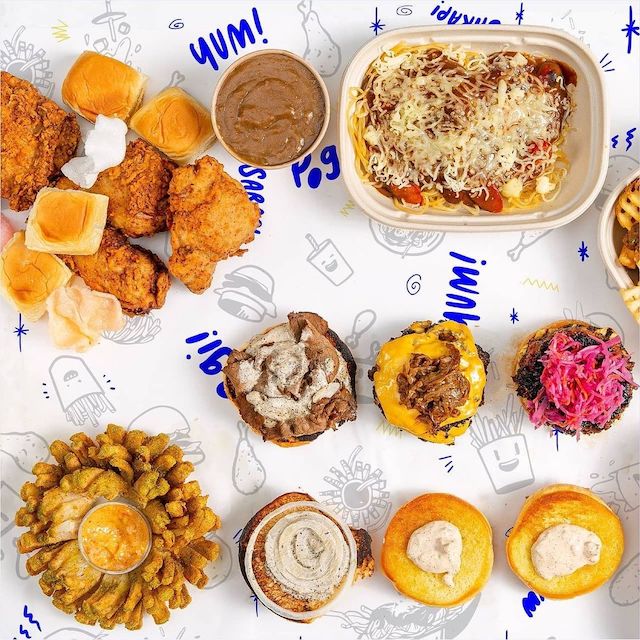 ADVERTISEMENT - CONTINUE READING BELOW
Even then, does plain, boiled rice have any place in haute-cuisine and fine dining—and should it be scrapped with if we are to go global with our cuisine? Paredes admits she has never seen rice while eating in a Michelin restaurant. "But again, why are we saying that fine dining is the one and only way to go? It may not fit into the 'fine-dining' experience, but it is definitely NOT a hindrance in making our food more famous internationally."
Calo, on the other hand, thinks it has potential. "It just takes a little more imagination and a lot of skill," she explains. "Also, why do we need to put everything in one plate? I mean, we can serve multiple plates in one course. In fine dining places, soup is served table side. Some carve fish and meat table side. Putting rice on a plate is not the only way you can present Filipino cuisine to the world."
"If I had a Filipino fine-dining place, I will definitely serve rice and I will look for all our heirloom varieties and try to deal with the farmers directly," Calo adds. "This way, we can support and create a sustainable system that will benefit our farmers."
Calo also emphasizes rice as a "foundation of our food identity"—similar to Italians and their pasta. "Were the Japanese asked to eliminate rice from their cuisine so it could compete globally? Thai food is so popular internationally and their cuisine is as rice-centric as ours." She also brings up the example of Michelin-starred restaurant Nahm in Bangkok: "It's fine dining and they serve rice."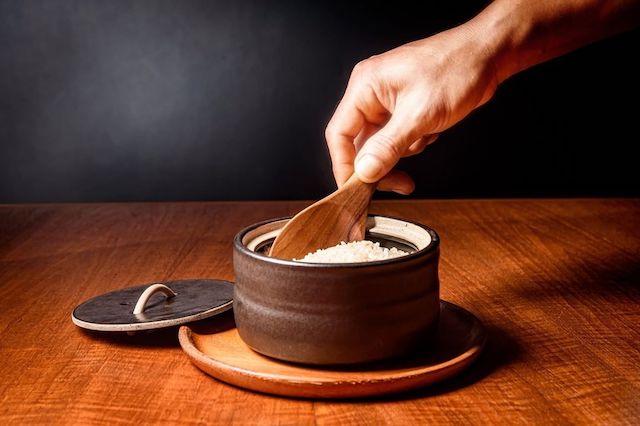 "I think [Izabel's] sentiment is an indirect effect of our post-colonial society," Calo adds.
Hey, Spotters! Check us out on Viber to join our Community and subscribe to our Chatbot.
Share this story with your friends!
---
Help us make Spot.ph better!
Take the short survey
More Videos You Can Watch
Load More Stories